This delicious Pumpkin Roll recipe combines moist pumpkin spice cake and a secret ingredient cream cheese filling. You'll love my easy no-mess rolling tips!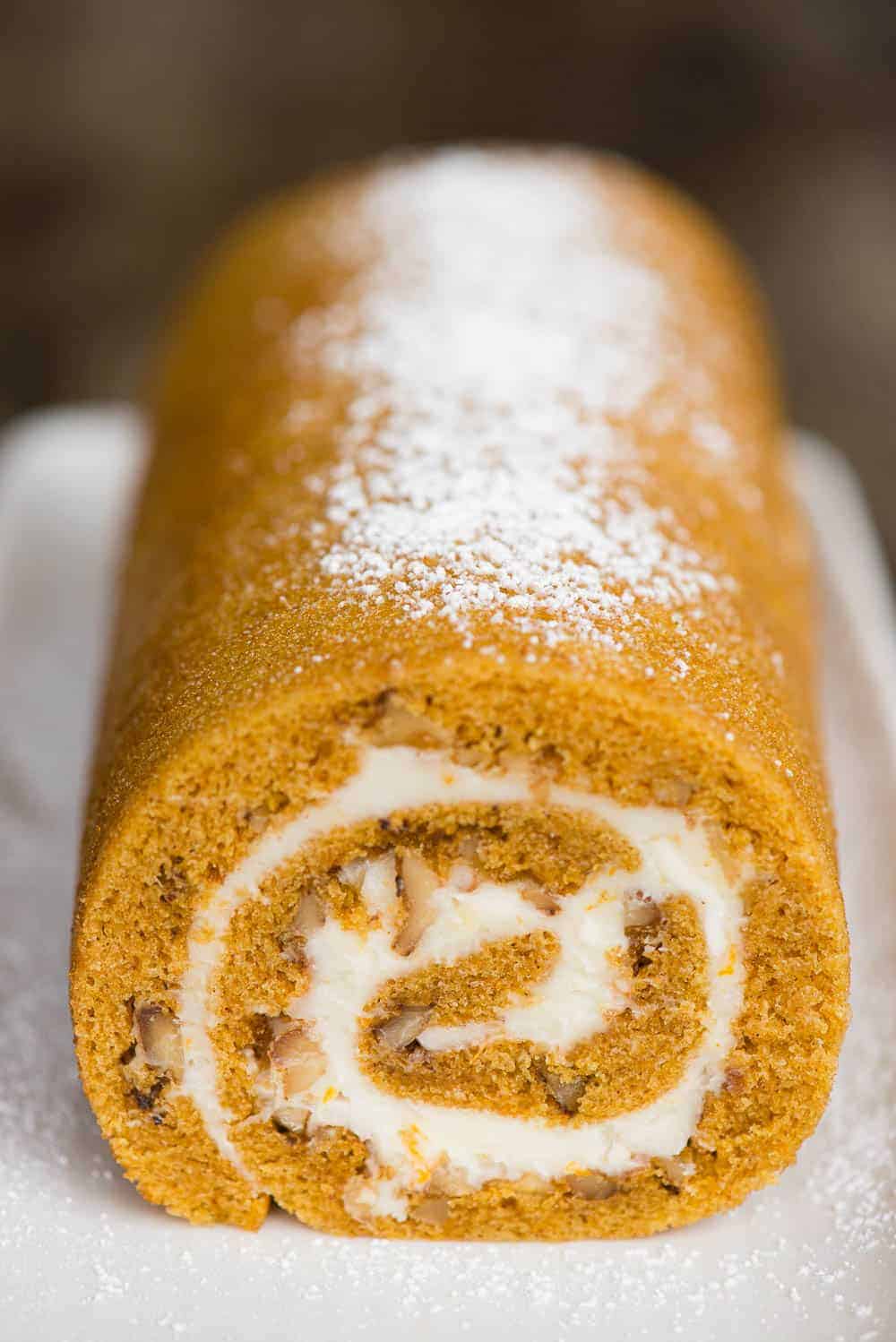 Most everyone is familiar with Libby's pumpkin roll. It's the gold standard of pumpkin roll cake recipes.
You know I love to take the best classic recipes and make them my own. I made a few little tweaks to the recipe to really make this pumpkin cream cheese roll beyond amazing, including a secret ingredient in the filling that makes all the difference.
Also, I really hate to use a kitchen towel to make Swiss roll cakes, so read on to find out how to simplify the rolling process, leave out the towel, and make for really easy clean up!
How to make the cake:
First step is to bake the cake. The batter for this pumpkin spice roll is very wet. You'll need to spread it across the base of your jelly roll pan and it will be a very thin layer.
I love to top the cake with a layer of nuts. The crunch is the best part! If you have nut allergy concerns, you can omit the nuts or replace with pumpkin seeds.
The cake should only take about 15 minutes or less to bake. While it's in the oven, make the cream cheese filling.
As soon as that cake comes out of the oven, you'll need to roll it up so that it cools in the rolled shape.
Once the cake is cool, you can spread the filling on top, then roll it back up. You will need to then wrap it tightly in plastic wrap and refrigerate for at least an hour. This will make slicing a breeze and it will hold it's shape fabulously!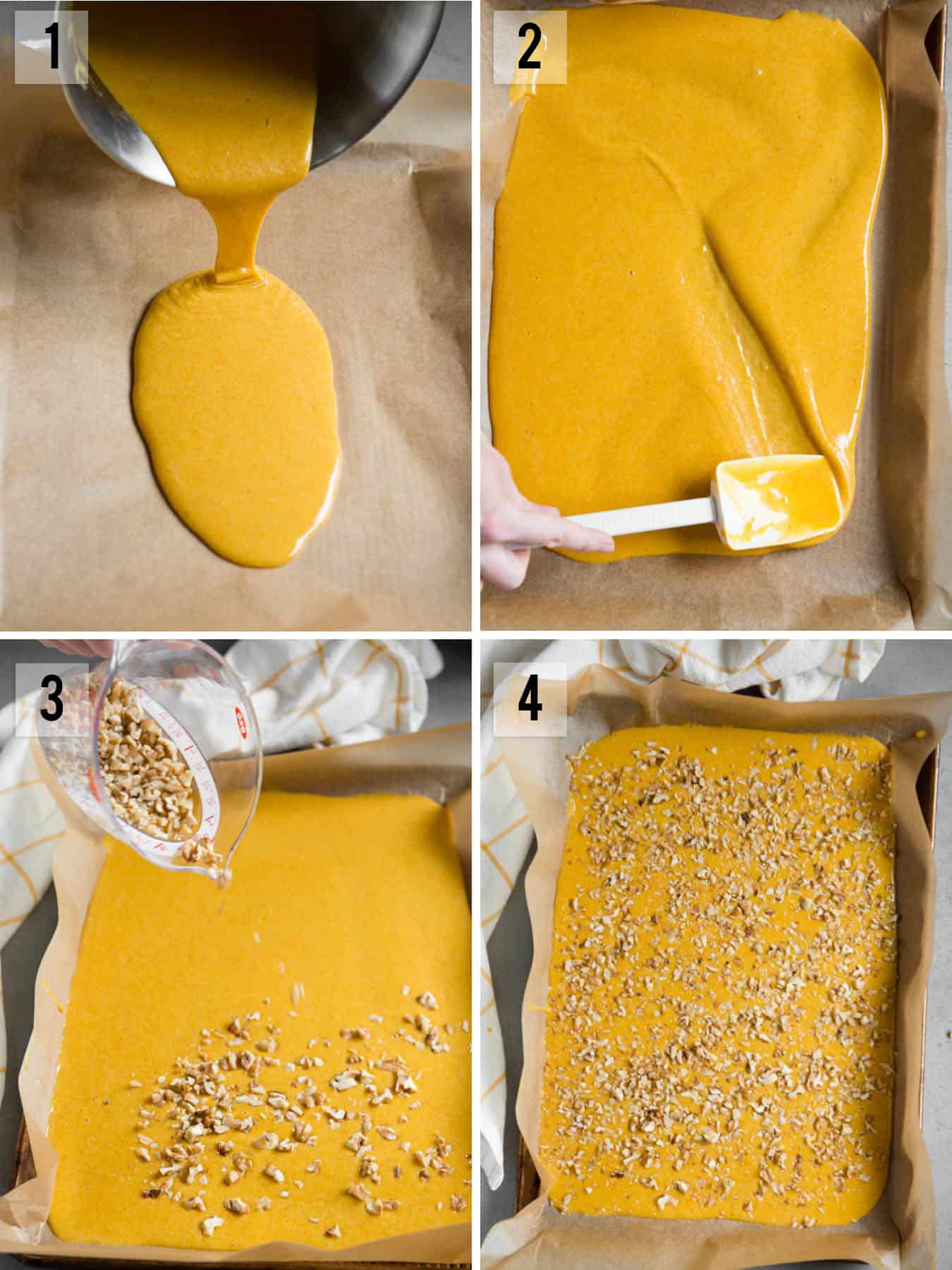 How to roll a pumpkin roll:
If you're looking for an easy pumpkin roll recipe, you've found it.
I've never liked swiss roll recipes that tell me to roll the cake up in a towel. Call me crazy, but even if a towel is straight out of the washing machine, I never consider it 100% clean. At least, not enough to press against my food.
Also, if you use a clean, crisp white kitchen towel, prepare to never have it look that good again if you wrap it around a moist pumpkin cake.
The trick is to use parchment paper!
You bake the cake right on the parchment, roll it up in the parchment, and then peel it right off the parchment for the final roll. No mess. No fuss.
The trick to rolling this pumpkin Swiss roll to to just move slowly and carefully. It may split a little as you can see in my photos, but it will all work out in the end!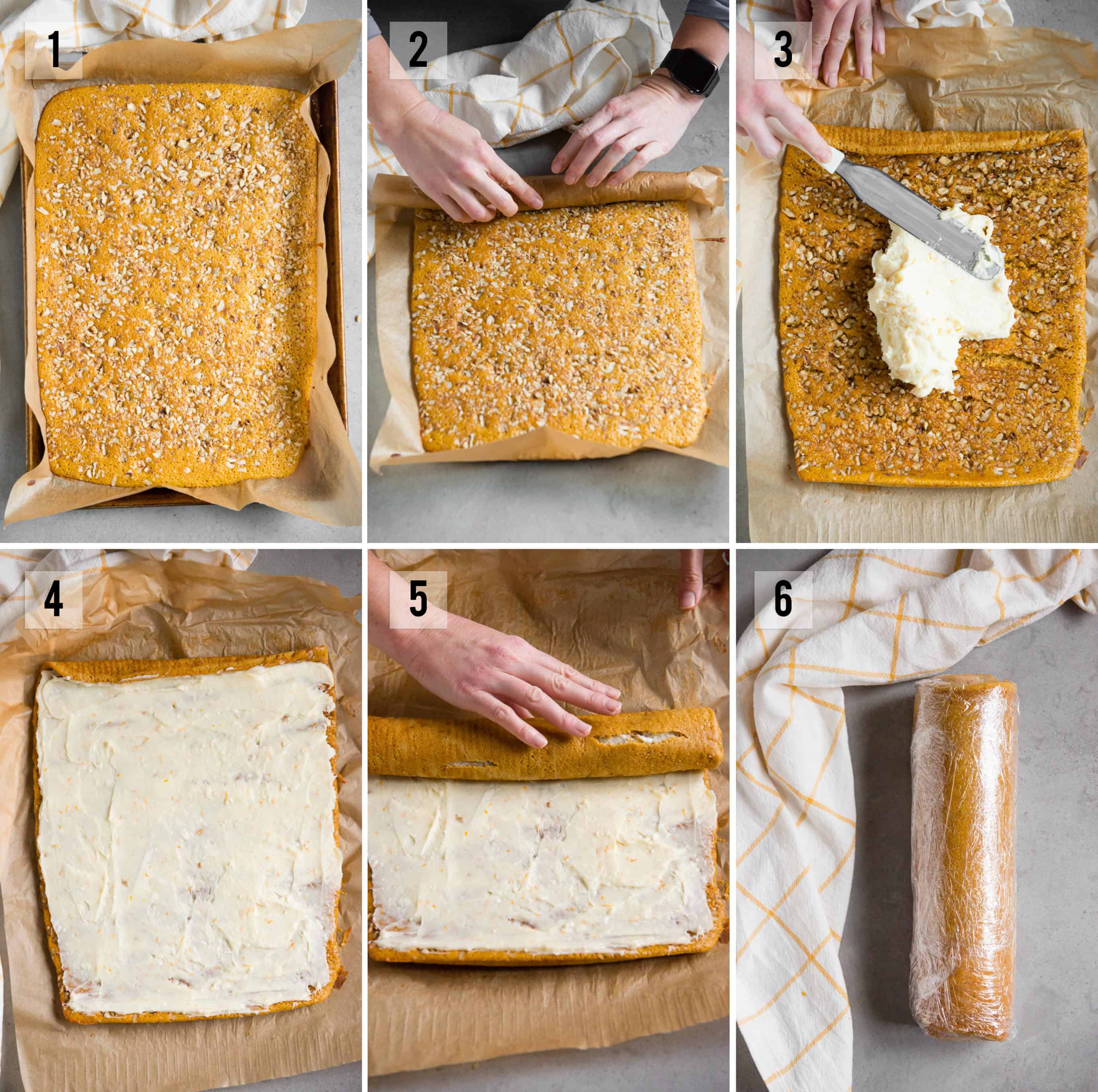 Freezing directions:
This cake makes a great make ahead fall dessert.
To freeze, just wrap tightly in plastic wrap and freeze whole.
Be sure to allow it to thaw fully before slicing and then you can easily slice and serve the chilled cake.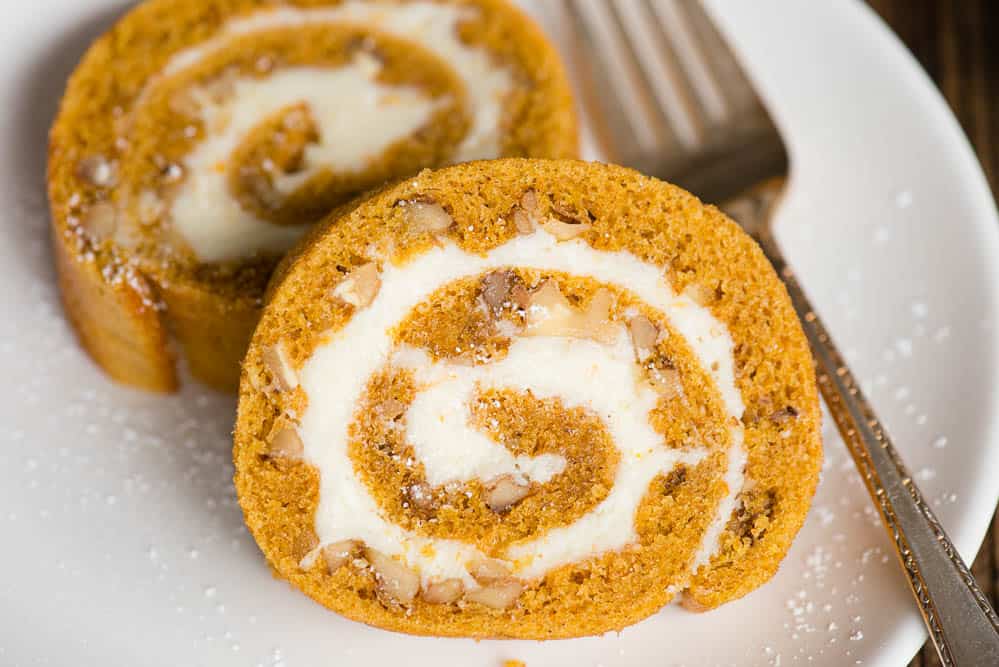 If you love pumpkin cake recipes as much as I do, you might also want to try my Pumpkin Cupcakes, Layered Pumpkin Cake, or my Chocolate Chip Pumpkin Bundt Cake!
Full Recipe Instructions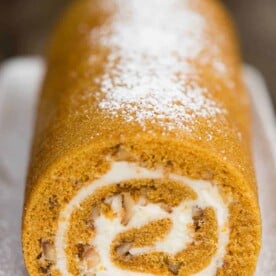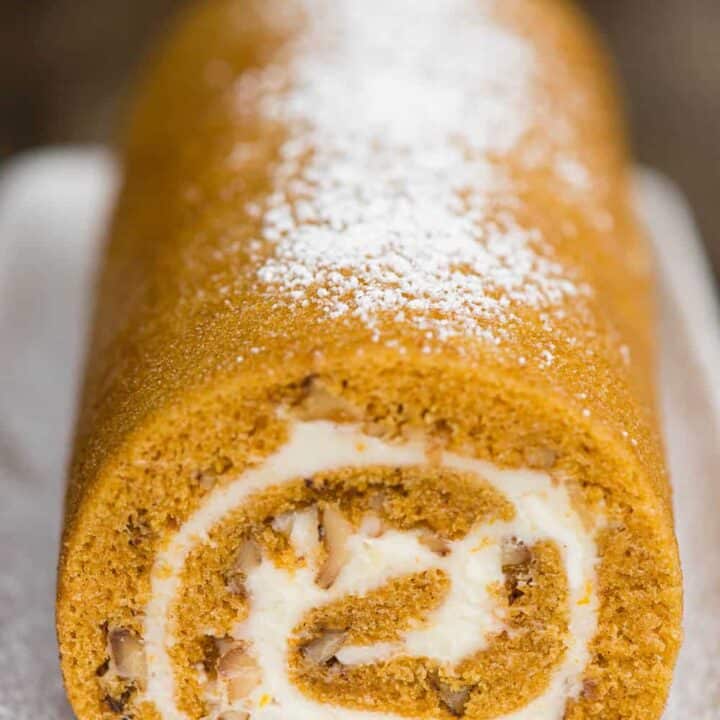 Instructions
To make the cake:
Preheat oven to 375°F. Line a 15x10-inch jelly-roll pan with parchment paper.

In a medium sized bowl, combine flour, baking powder, baking soda, pumpkin pie spice and salt. Set aside.

In a separate large bowl, beat together eggs, granulated sugar, and vanilla until combined. Mix in pumpkin. Stir in flour mixture. Spread evenly into prepared pan. Sprinkle with nuts.

Bake for 13 to 15 minutes in preheated oven, or until top of cake springs back when touched. While the cake is cooking, start making the filling.

When the cake is done cooking, with cake still on parchment paper, immediately roll up the cake and parchment together while the cake is hot, starting with the narrow end. Cool on a wire rack.
To make the filling:
In a stand mixer with the paddle attachment, beat cream cheese and butter until smooth. Add powdered sugar, orange zest, and vanilla extract and mix until smooth, scraping as needed.
To assemble cake:
Carefully unroll cake. Gently spread filling over cake.

Reroll cake while peeling away the parchment paper as you roll.

Wrap in plastic wrap and refrigerate at least one hour.

To serve, slice with a serrated edge knife. Sprinkle with powdered sugar before serving, if desired.
Notes
If using a dark-colored pan, begin checking for doneness at 11 minutes. If using a stone or ceramic pan, bake time will take longer.
You may also use a kitchen towel lined with powdered sugar to roll the cake, but I just think parchment paper is the easiest and cleanest method.
Try your best to prevent cake from splitting as your roll, but if it does, it will still turn out!
If you have nut allergy concerns, you can omit the nuts or replace with pumpkin seeds.
NUTRITION INFORMATION
Calories:
376
kcal
|
Carbohydrates:
41
g
|
Protein:
5
g
|
Fat:
22
g
|
Saturated Fat:
10
g
|
Cholesterol:
94
mg
|
Sodium:
244
mg
|
Potassium:
142
mg
|
Fiber:
1
g
|
Sugar:
33
g
|
Vitamin A:
2685
IU
|
Vitamin C:
1
mg
|
Calcium:
51
mg
|
Iron:
1
mg