Peppermint Candy Cane Cookies taste like peppermint candy but are simply candy cane flavored and shaped sugar cookies. They the best Christmas cookies!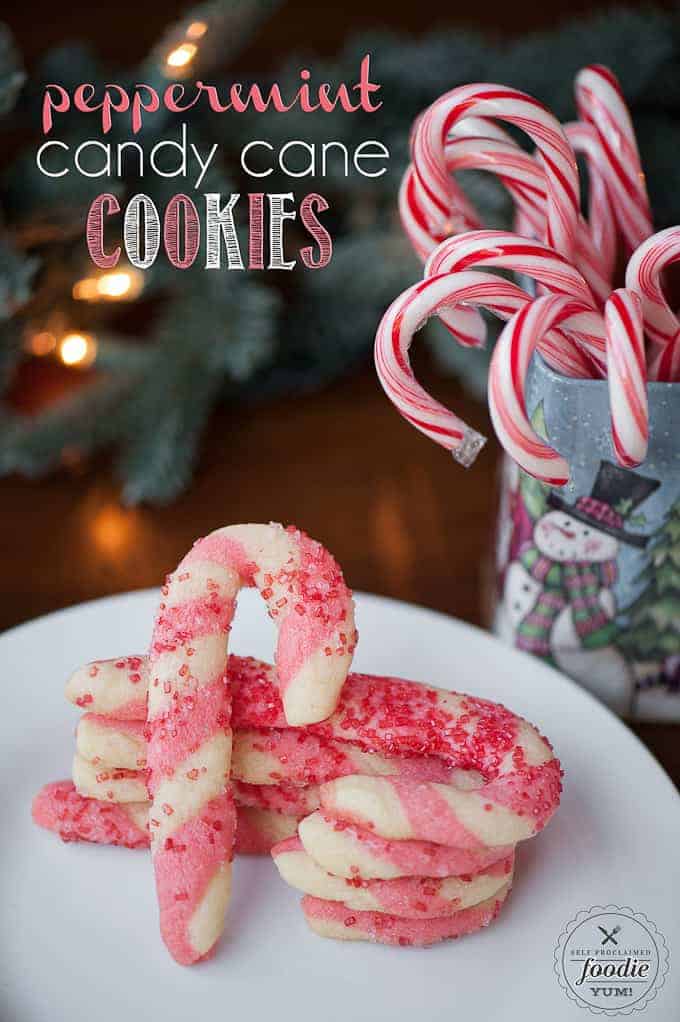 Peppermint Candy Cane Cookies are some of the best Christmas cookies I've ever made. They require a little more work than your typical roll and cut sugar cookie and are definitely not as easy to make as a quick five minute fudge, but I guarantee that these peppermint cookies will be loved by all.
If you're new to my blog, welcome! If you've visited before, you'll know that I'm not only a food snob, but I can be a little OCD about food at times. Do these candy cane cookies have to be exact? No. Do I get completely freaked out about proportions and perfectly striped and shaped candy canes? Yes. Should I? No. Am I able to overcome my weirdness and let my kids attempt to unsuccessfully roll one of these bad boys into a candy cane sugar cookie shape? Yes, but I have to look away and reassure myself that they all can't be perfect. Sheesh, I'm so weird.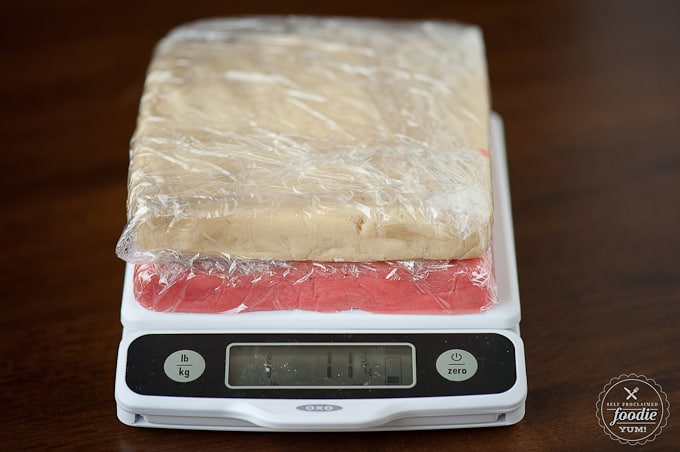 How to make Candy Cane Cookies:
I hate how freakish I am when I make my candy cane cookies. When I divide the dough, I weigh it to ensure the white and the red are the same size.
You might wonder if there's actual peppermint candy in the dough, but the peppermint flavor comes from extract and not actual peppermint candy.
I get crazy proud of myself when I can roll them out into a perfect square and then cut a beautifully straight line down the middle.
I'll give myself a high five when I can twist the cookie, roll it to uniform thickness with perfectly spaced stripes. Okay, okay, the examples in this post aren't perfect, but you get the idea. The fun part is that you shape the cookies yourself rather than use a candy cane cookie cutter.
And finally, I love to maximize my baking sheet real estate so I alternate direction when I bake the candy cane cookies.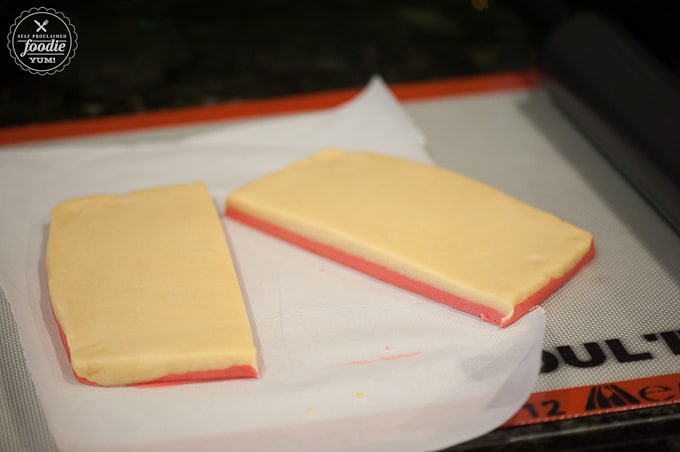 Total obsessive compulsive behavior. What can I say? The result is a perfectly crisp, yet perfectly soft, peppermint flavored cookie with just the right amount of sweet. What do you consider the best Christmas cookies? I'm always on the hunt for amazing Christmas cookie recipes, so please share your ideas and be sure to check out all of my Christmas treats at the bottom of this post!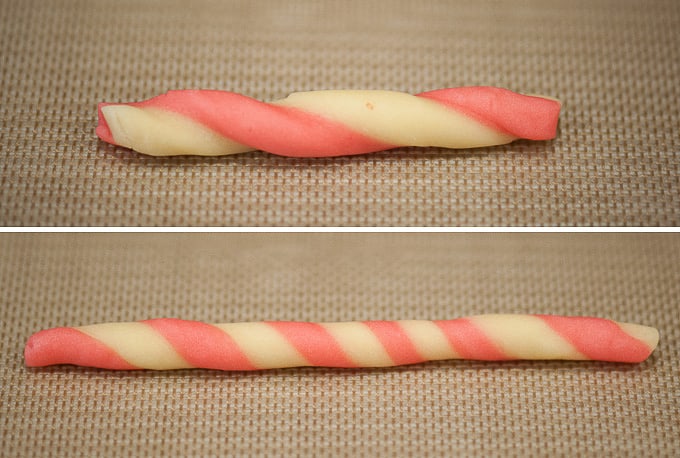 Kitchen tools used to make these Candy Cane Cookies:
Kitchen scale: I started off using a 5 pound scale and quickly upgraded to the 11 pound scale. It's worth it to have the larger size, especially if you garden and want to keep track of your annual harvest quantities!
Stand mixer: This is a kitchen must-have. I use mine almost any time I bake. It's one of the few appliances I will allow to always remain on the counter rather than be put away.
Silicone spatula: Any time you're working with a batter, you'll need a good quality scraper. These are the ones I use because they do the job right and don't leave a nasty silicone taste when I like the batter off at the end!
Baking Sheet: I've been using this one for years. I love that it's made in the USA, the sides are high enough to keep anything from spilling over, and it's warp resistant.
Silpat Silicone Baking Mat: Any time I bake cookies, I always use my Silpat. Turn ANY pan into a non-stick surface and save time cleaning up!
Rolling Pin: This is the best rolling pin I've ever owned. It has great weight which means you have to push less, and the handles are shaped to your hands.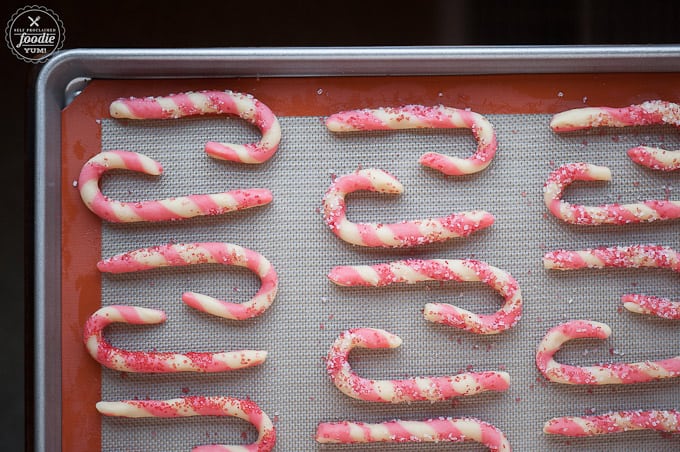 Peppermint Candy Cane Cookies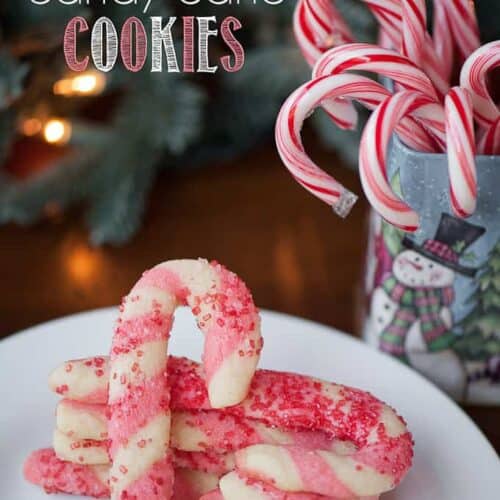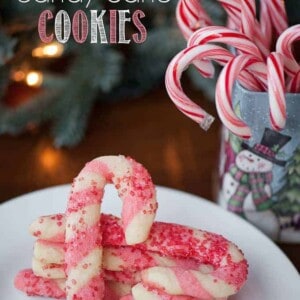 Peppermint Candy Cane Cookies taste like peppermint candy but are simply candy cane sugar cookies and are the best Christmas cookies!
Instructions
In a small bowl, combine flour and salt. Set aside.

In a stand mixer with the paddle attachment, beat the butter on high speed until light and fluffy, about 4-5 minutes. Scrape the sides, add the granulated sugar and powdered sugar and continue to beat until very light in color and fluffy, another 2-3 minutes. Scrape sides again and add the egg yolks, peppermint extract and vanilla, beat on low speed until well combined.

With the mixer running on low speed, spoon in the flour and salt mixture until all of the dry ingredients have been added and fully combine. Do not over mix.

At this point, remove half of the dough and place on a sheet of plastic wrap. If you're a perfectionist, you should have about 28 ounces total, so you'd want to take out about 14 ounces of the dough. Add food coloring to remaining dough in bowl and mix just until the color has evenly blended in. Add the red dough to a separate piece of plastic wrap.

Shape both dough balls into a square that's about 5-6 inches in length. Wrap tightly in plastic wrap and refrigerate 2 hours or overnight (or longer if you're making them ahead of time).

Preheat oven to 325 degrees F and prepare two baking sheets with parchment paper or a silpat.

Roll each dough to a 9x9 inch square, then stack them on one another and roll to seal them together. Cut the dough down the center and refrigerate both halves. After the dough has chilled a bit, after maybe 15 minutes, take out one of the halves and start cutting short strips that are about 1/4 inch thick. Roll each strip to lengthen and slightly twist at the same time. Roll in decorating sugar and then lay out on baking sheet in the shape of a candy cane. Refrigerate or freeze the baking sheet until the dough is cold again prior to baking (this will help prevent them from spreading while they bake).

Bake until just slightly brown on the bottoms, 13 to 15 minutes. Rotate your baking sheet half way though if your oven doesn't bake evenly. Remove from oven and allow to cool on sheets for 5 minutes before transferring to cooling rack. Continue baking process with remaining dough, keeping it cool until ready to bake (otherwise your cookies expand too much).

Store in airtight container and segregate from other cookies as the peppermint flavor will transfer.
Nutrition
Calories:
111
kcal
,
Carbohydrates:
14
g
,
Protein:
1
g
,
Fat:
5
g
,
Saturated Fat:
3
g
,
Cholesterol:
24
mg
,
Sodium:
33
mg
,
Potassium:
10
mg
,
Sugar:
8
g
,
Vitamin A:
170
IU
,
Calcium:
4
mg
,
Iron:
0.4
mg
Nutrition information is automatically calculated, so should only be used as an approximation.