We started a tradition of sending out Funny Family Holiday Cards each year.
It is a challenge to come up with a fun idea, but some how we make it happen. Eventually we will run out of ideas, but for now I will enjoy the fact that my kids used to hate the process and now look forward to it!
If you've never seen our family's holiday cards, allow me to give you a little history. This is our 9th year doing funny holiday cards. Each year is different, but they are always a 5x7 folded card and have a funny photo on the front cover with our real family photo on the inside spread. Our kids weren't thrilled about participating for the first couple of years, but with appropriate bribery they turned into willing participants. Now, they get a kick out of not only taking the funny photos, but love seeing people's reactions when the cards are opened.
2010. We'll start at the beginning.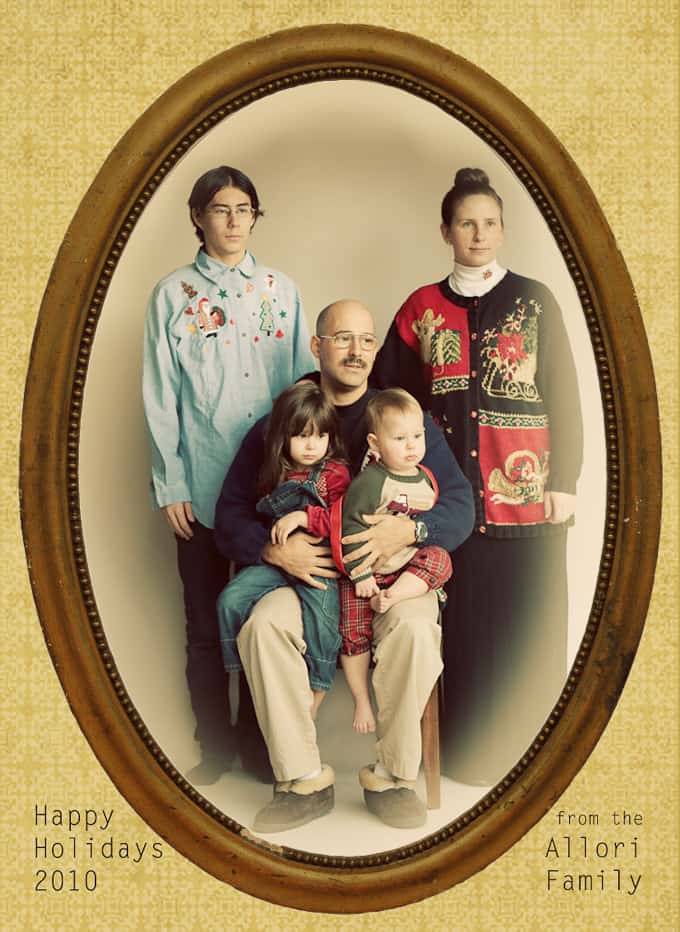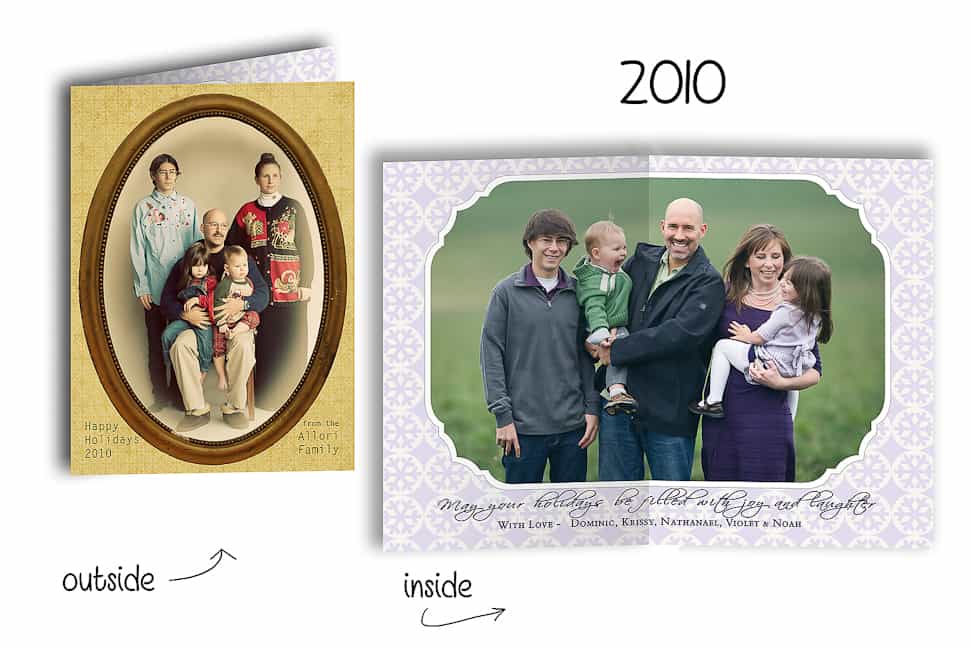 This was our very first year doing a funny card. We had no idea it would turn into an annual tradition.
My poor teenage stepson was not thrilled about wearing his festive holiday shirt.
The kids were a little too young to take direction but we knew we wanted them to have very stoic expressions while looking in the same direction. How did we do it? We played Dora the Explorer on the laptop. They were completely oblivious to the fact that we were taking a photo.
Our good friend took the inside photo with his 200 mm f/2 lens. If you're not familiar with photography equipment, this is the kind of lens that will make any photographer drool. See how creamy the background is? We took this photo in the field across the street from our house. The kids refused to look at the camera and smile so we resorted to tickling. Its one of my favorite photos and hangs as a 24x36 canvas off of my kitchen.
Some people didn't realize we were trying to be funny. They thought the cover photo was real. That made it extra funny.
After the first card went out, we got so many great responses that we decided we would do something funny every year. Then the real challenge began - trying to come up with a new idea each year!
2011: Matching outfits and selective color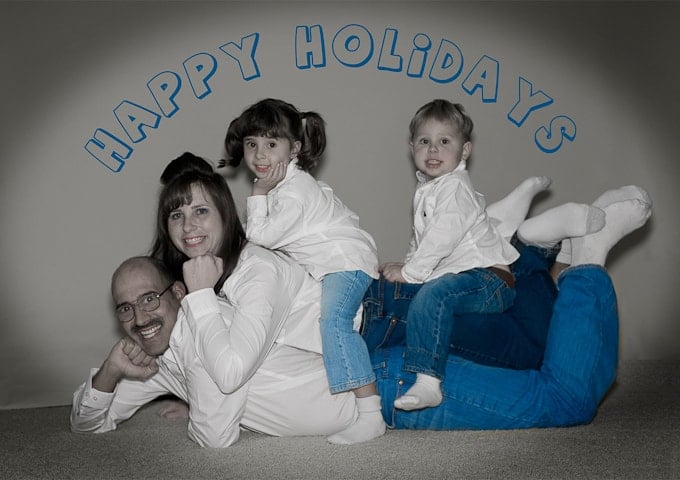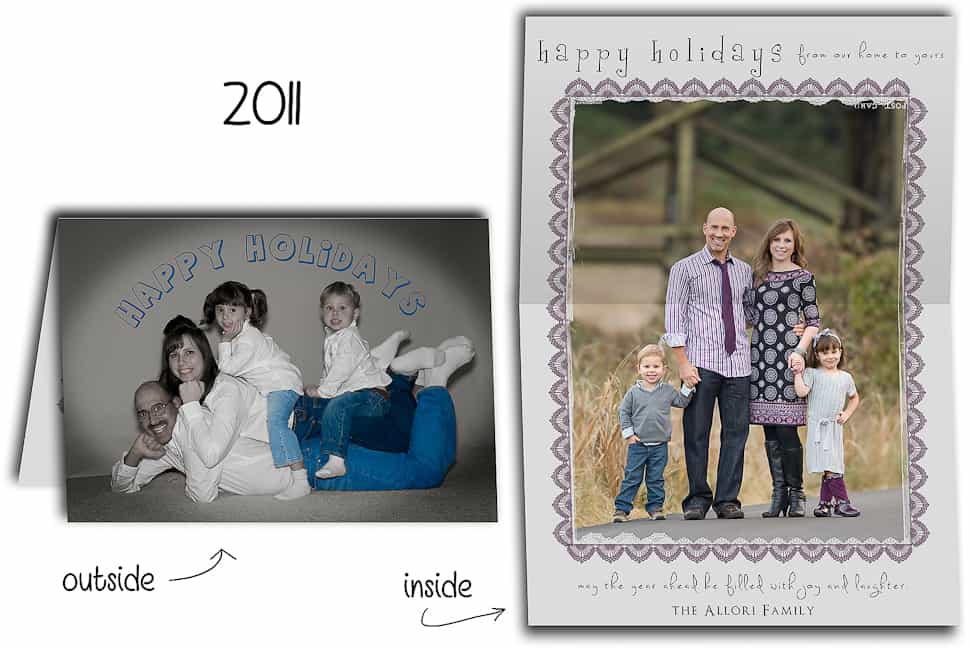 This was the year that I was VERY busy with portrait photography. The running theme in the photography community was that you could spot a "wannabe" photographer by their use of selective color. I'm guilty of that very same Photoshop hack myself from my very early days. I desaturated the outside photo and boosted the saturation of the blues.
I also boosted the red saturation and colored back in the color of our lips.
Matching white button down shirts were purchased from, and then returned to, Gap. I didn't just say that, did I?
The glasses enlarged my husband's eyes, but I made them even bigger in photoshop to increase the "awkwardly creepy" factor.
I actually paid a professional photographer money to take my photo back in the late '90s. I was wearing jeans and socks in those photos and they were sadly similar to this photo.
2012: Floating heads
For the following year, we were lucky enough to have my stepson back in our family photo. You'll notice the lighting on his face was completely different from ours. That's because I took his picture outside in the open daylight on a summer day. Ours were taken months later in the garage with directional light. Oh well... at least we got him in this year's photo!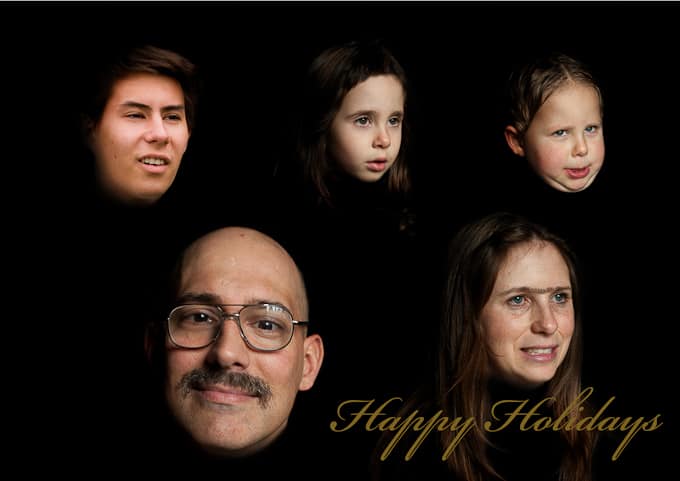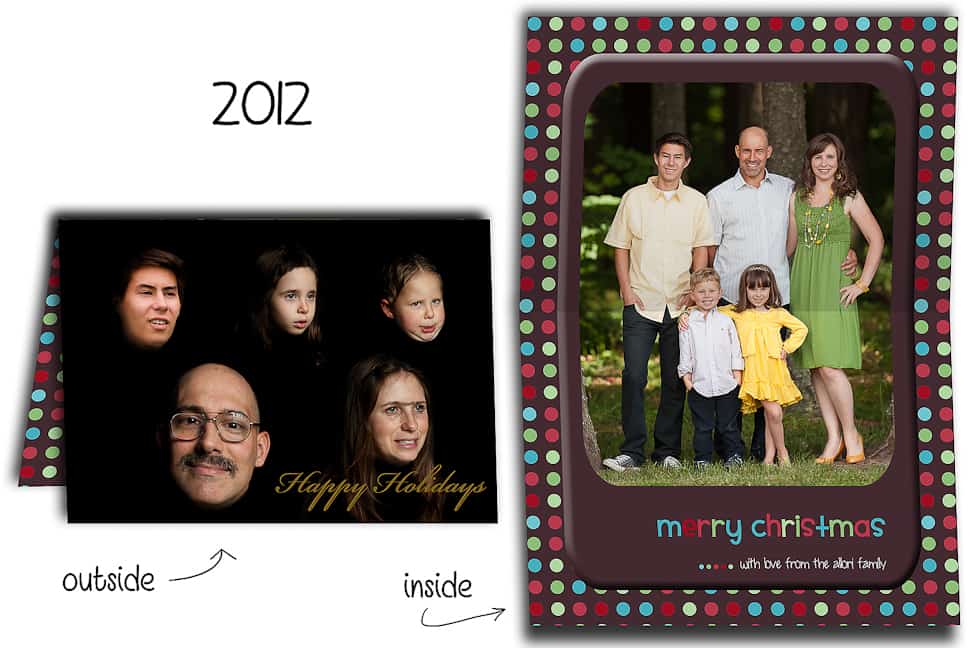 Just days before we took our funny photos, my daughter decided to cut her own bangs. Yeah. She cut them down to the scalp. Turns out it just made our card all that more funny.
Yes, I photoshop'd a unibrow on my forehead.
This is the only version of the card so far where our "good" photo was taken during the summer. I'm very anti-summer-photo in holiday cards, but my husband can't stand it when I "wait til the last minute" to get the photo. Next year, we might just dress up like its cold outside when in fact its a 100 degree day in the middle of August.
I could not stop laughing when I was taking the photos of my kids and my husband. The kids were only 4 and 5-years-old at the time and their expressions are priceless.
If you're completely creeped out by my husband's floating head, we consider the card a success.
2013: White trash
Next comes our most memorable (in my opinion) and my most favorite card. I love both photos equally, but for completely different reasons.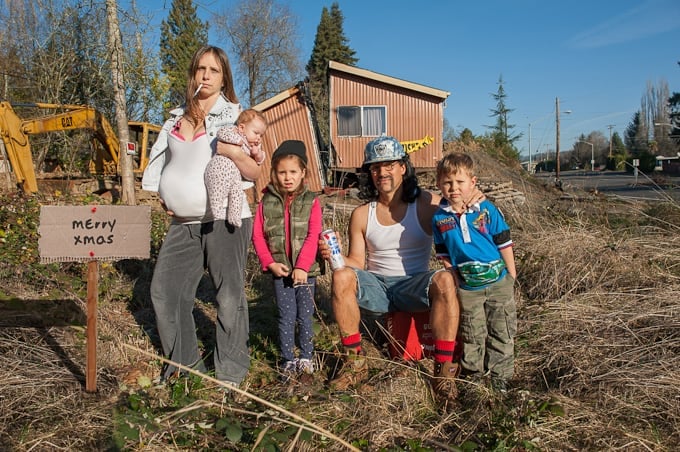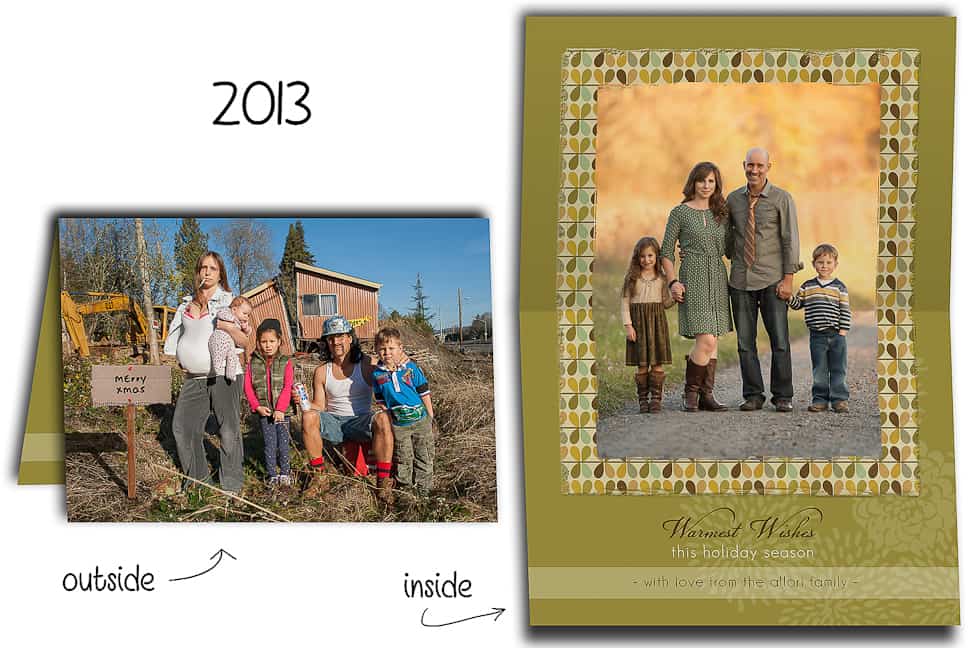 I borrowed my friend's baby for the photo and I wasn't really pregnant.
We were technically trespassing and had to be super quick with the shot. I could tell the neighbors nearby wanted to tell us we were trespassing, but at the same time they were afraid to talk to us.
This was taken on a clear day in December. I'm pretty sure the temperature was right around freezing.
The cigarette hanging out of my mouth is real, however the lit up ash was photoshop'd. The merry xmas sign was completely digital and photoshop'd as well. You thought it was real, didn't you? The shadow fooled you.
I plan on turning our "white trash" photo into a big canvas that I will proudly hang on our wall. I'm especially proud of my daughter who has the unique skill of relaxing her eyes and letting them go lazy, or opposite-cross-eyed. Good girl. My son was super unhappy about having to put on those clothes I picked up from the Good Will, so his expression is genuine. Good boy.
On to 2014...
2014: Snow globe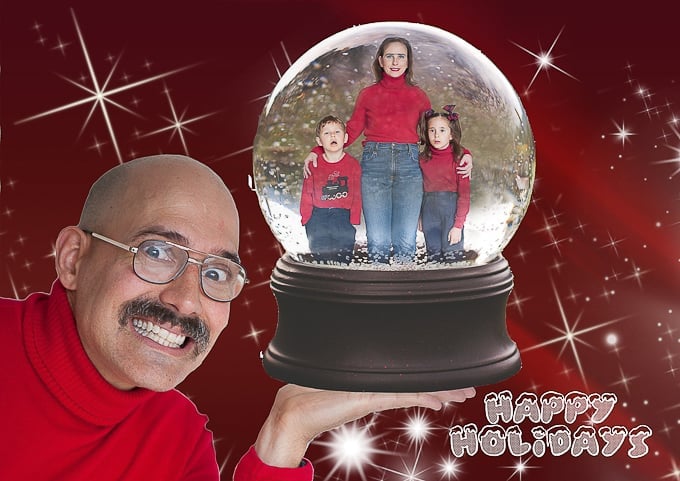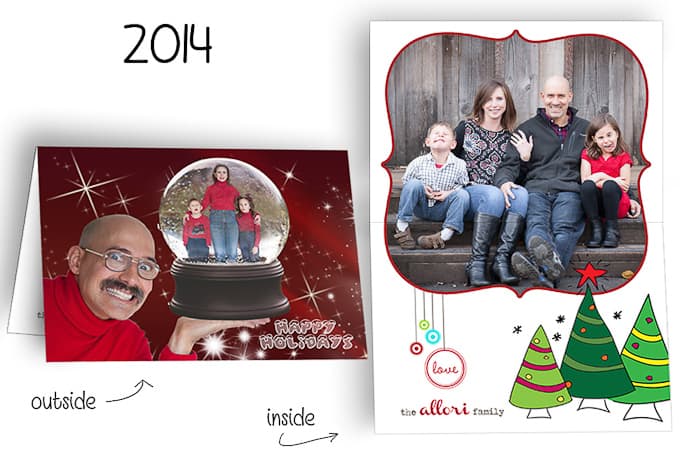 Another photography trend was to take a cute styled photo of your kids and put them in a snowglobe. I just took it to the next level.
I was sporting another great unibrow paired with some heavy blue eye shadow.
I hiked my jeans up as far as I could, but brought them up even higher and slightly enhanced the camel-toe effect in photoshop. Apologies if that was too much information.
I waited until the last minute to get our "good" photo for the inside of the card and it was downright freezing outside. We had the camera on the tripod and all the while I thought my kids were smiling and looking cute, they were making faces in EVERY. SINGLE. PHOTO. I went with it and ended up loving the photo.
Again, if you're completely creeped out by my husband, we consider the card a success.
2015: Scout family


None of us are involved in the scouts. Our attire was completely borrowed from friends.
I happened to have the box of Samoas stashed away in my freezer. For the photo, we melted one in our hands and spread it all over my daughter's face. She completed the look by doing her famous "lazy eye" expression.
We had originally planned a much more inappropriate and offensive version of this photo but decided to go with the tamer version. If you'd like details, just message me. It had to do with the sausage-on-a-stick placement, if you were wondering.
The fire and the tent are completely photoshop'd.
The inside photo was taken at my favorite tree farm just a couple miles from our house. Reason #67 why I love living in Oregon.
2016: Presidential election
During this year, the cards went out two months early for a very special election edition!!! That means they were received before the 2016 presidential election vote.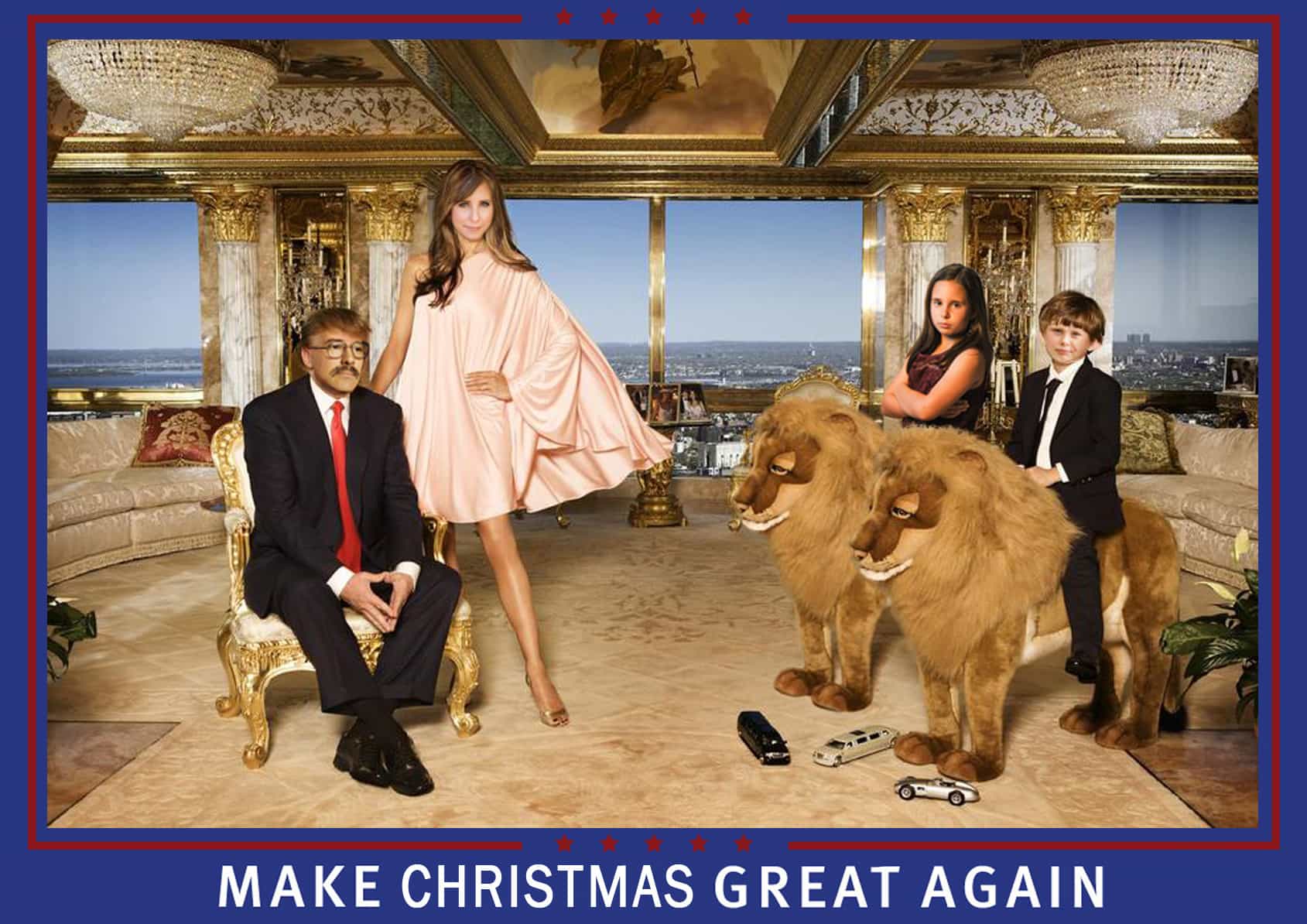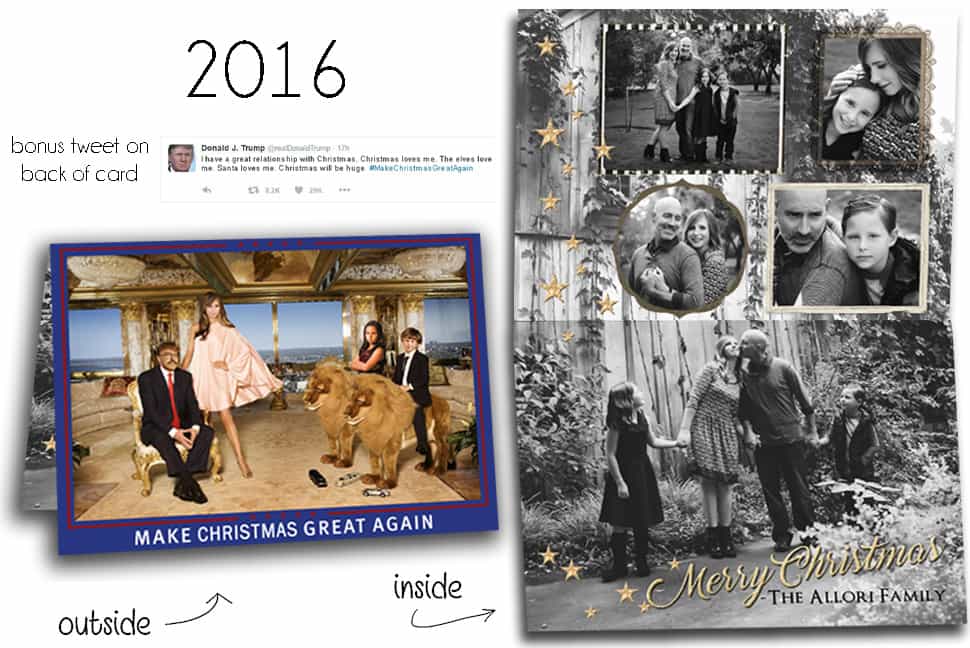 I couldn't help myself. I just couldn't.
Don't I look good? After the way I've looked on the cover of the 2010-2015 cards, I figured I deserved a proper Melania-makeover. And simply because I couldn't resist, the back of the card had a very special tweet from the @realDonaldTrump, himself:

Whether you're incredibly passionate about politics or you don't really care, and no matter who you voted for - you gotta admit this was funny. I had to get my holiday cards out by November 8th. My hope was that by Christmas the election would have been be purposefully purged from everyone's mind. 2 years later and we're all still talking about it.
I now know what I would look like if I lost 40 pounds. My biggest concern, however, would be falling over with legs that thin. I don't now how skinny girls have the confidence to walk - in high heels nonetheless!
The only new photo I took was of my daughter. My photo was from a series of photos I took a few years back. Its pretty much the photo I use for everything. My son's photo was from the pumpkin patch and entire year ago. He was not interested in having his photo taken at the time, hence the expression. My husband's face is from the series of photos we took from the 2012 card. I could have easily taken another picture of him for this card, but I avoid having to look at him with a mustache, thick glasses, and his lazy eye expression at all costs. The fact that I didn't have to experience that again this year was a bonus!
Donald - please don't sue me.
Yes - our card was based on an actual Trump family photo. I found that half the people I gave the card to didn't realize my funny photo was adapted from an actual real photo. When my kids saw the original they asked three questions: 1. Why does that little boy look so sad? 2. Why is her dress blowing in the wind? 3. Are those toy limos? The original photo is below: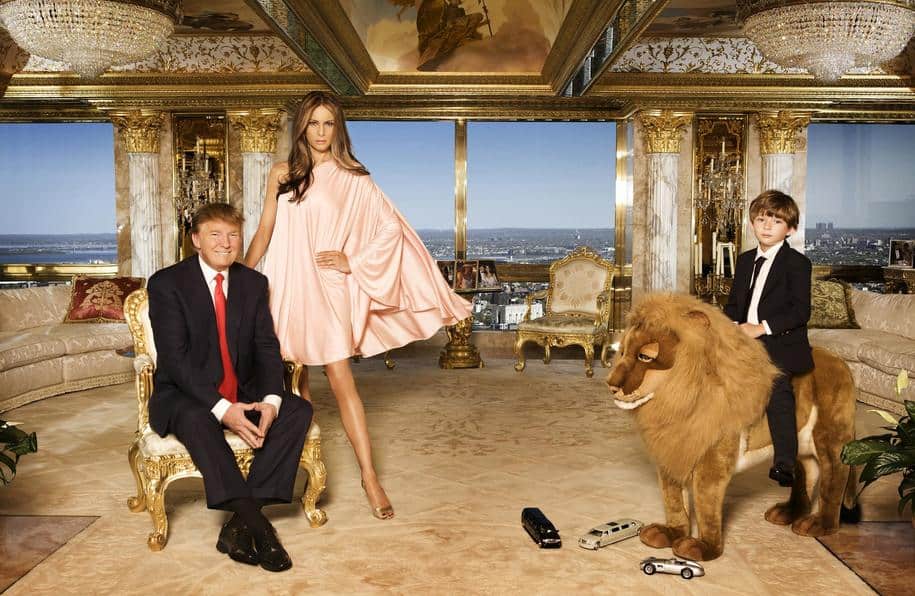 2017 - Baby Jesus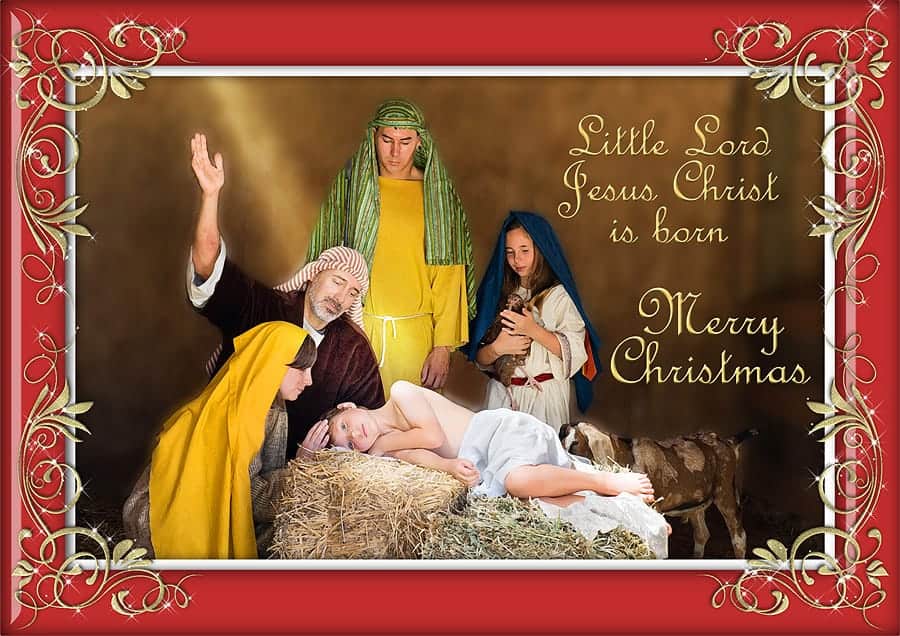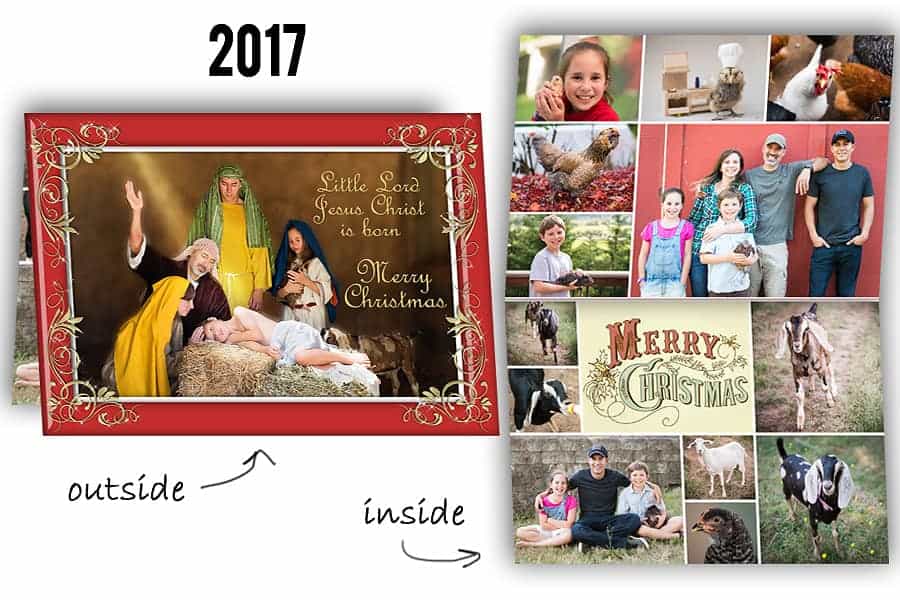 I'm still in shock that my son was willing to lay on a bale of hay and be our baby jesus.
Fortunately my stepson was in town so he made it into this year's card along with all of our newly acquired chickens and goats. I'm a farm girl now, if you didn't know.
We took the photo in our barn. I tried to make it look like a painting. That warm ray of light shining on baby Jesus was created in Photoshop. Had it occurred naturally, our card would have been even more epic.
We borrowed the clothes from our old Catholic school and they freakin' loved the card.
Of our four goats, Poopers made it onto the cover photo. Everyone loves Poopers.
2018: Napolean Dynamite
I really struggled to come up with an idea for this year's card. My husband has threatened in the past to scrap the whole thing if the photos weren't taken by September (he hates it when I procrastinate, and I ALWAYS procrastinate). Anyway, in true fashion I waited til the last minute but it all came together in the end.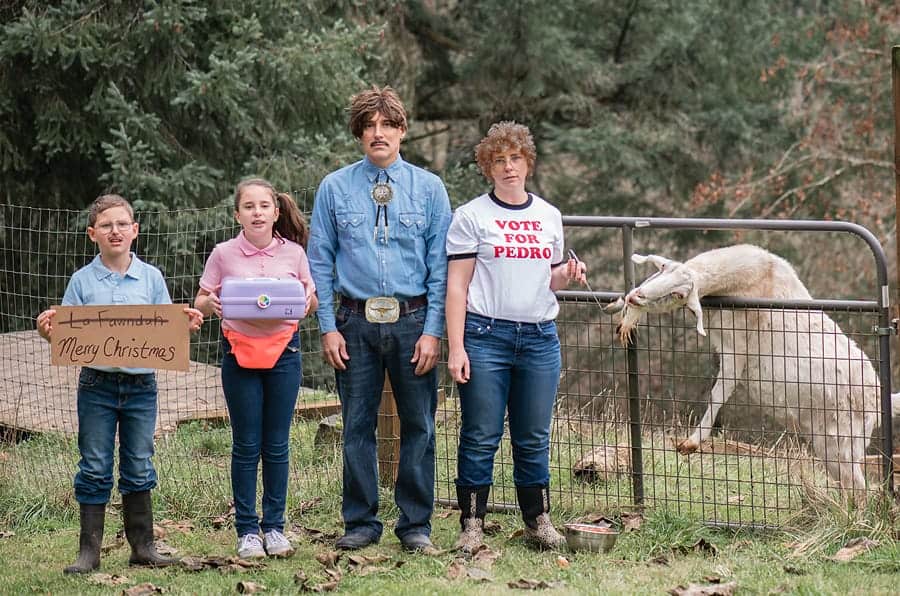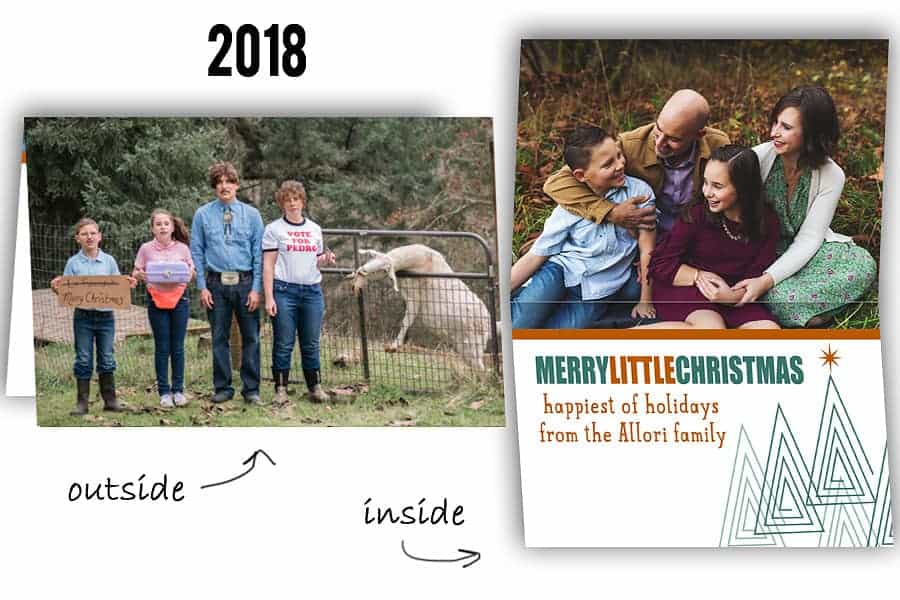 If you don't understand this year's card, please OH please watch... no... experience the movie.
For all you die hard fans out there, I know "EAT THE FOOD TINA!" involves a brown llama, but our old-inherited-goat-who-will-live-forever is seriously named Tina after the movie. People ask how I got her to do that. The answer is easy. Place any kind of food in front of her and she'll nearly strangle herself to get it. There was a banana peel in my ladel.
They sell retro caboodles at Target. You want one now. I know it.
My husband's facial hair used to be black but now it's grey, so I had to darken it with eye liner. Because he likes to be creepy, he wore it like that the rest of the day. Because my son takes after his father, he wore his mustache all day too.
I really regret not holding a bag of tots.
That's it!!!
What will be our funny holiday card next year?!?
2019 will mark 10 consecutive years of funny holiday cards. What should we do?