Classic homemade Pecan Pie is always a favorite dessert, especially on Thanksgiving! Homemade pie crusts and a sweet pecan filling are the best.
Pecan Pie is right up there with pumpkin pie, apple pie, and all of your other favorites! Whether you've made this dessert dozens of times or are about to embark on your first try, let me walk you through how to get perfect results.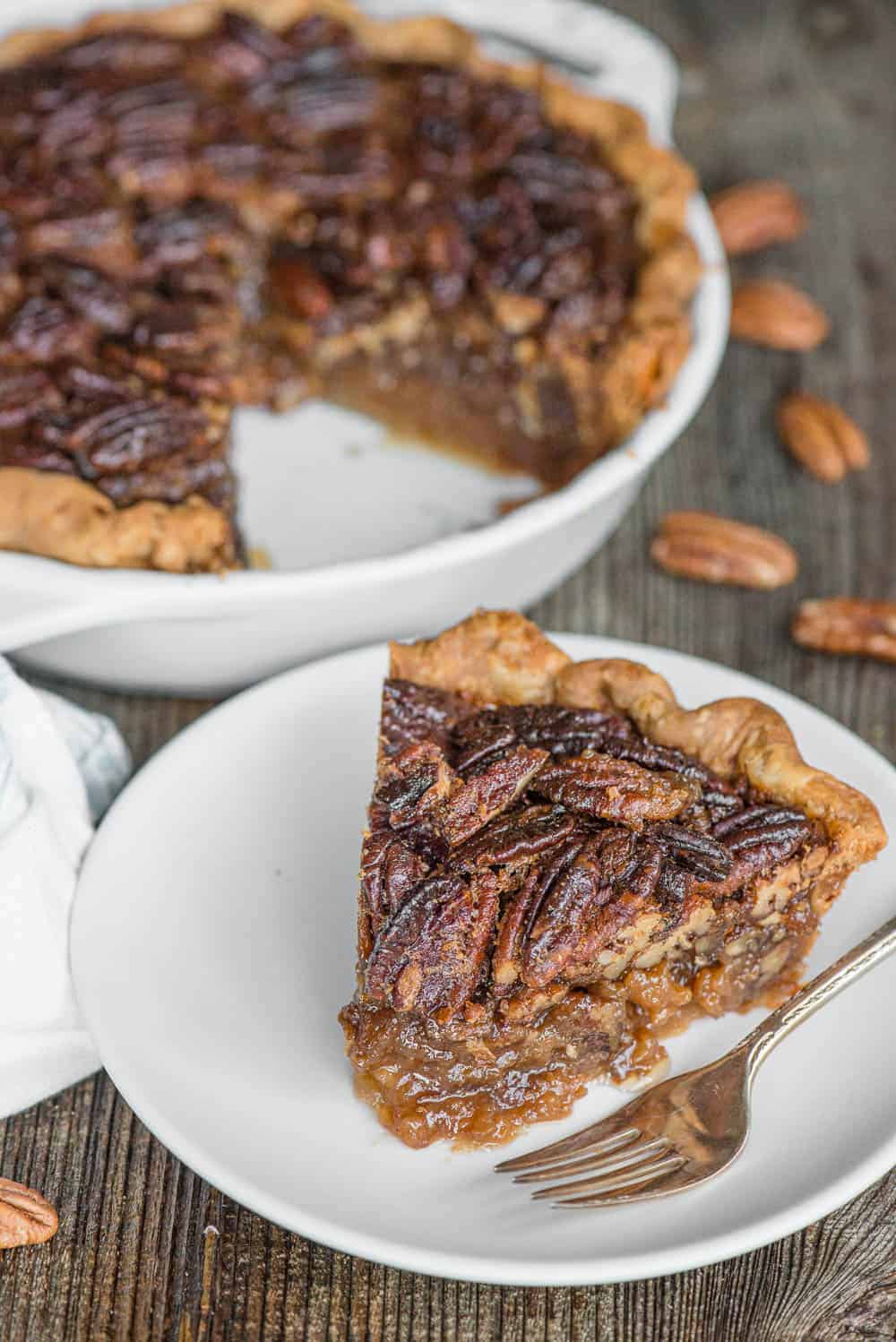 Why this recipe works:
This is honestly one of the easiest pies you can make.
The hardest part is making the homemade crust, which you absolutely should do. Homemade flaky, tender, and flavorful pie crust is half of the pie!
The filling is an incredibly sweet custard with tons of pecans!
How to make this recipe:
Like I said, the first step is to make the homemade all-butter pie crust. This involves following my step-by-step instructions for my pie crust. You won't regret it. Just remember that the crust needs at least an hour to chill and rest in the refrigerator before you roll it out, so plan accordingly.
The pecan pie filling consists of sugar (both granulated and brown), a pinch of salt, pumpkin pie spice, light corn syrup, melted butter, vanilla, eggs, and of course pecans.
To make the filling, you will whisk all of the ingredients together except for the pecans until they are fully combined. Then, all you need to do is stir in the pecans and you're done.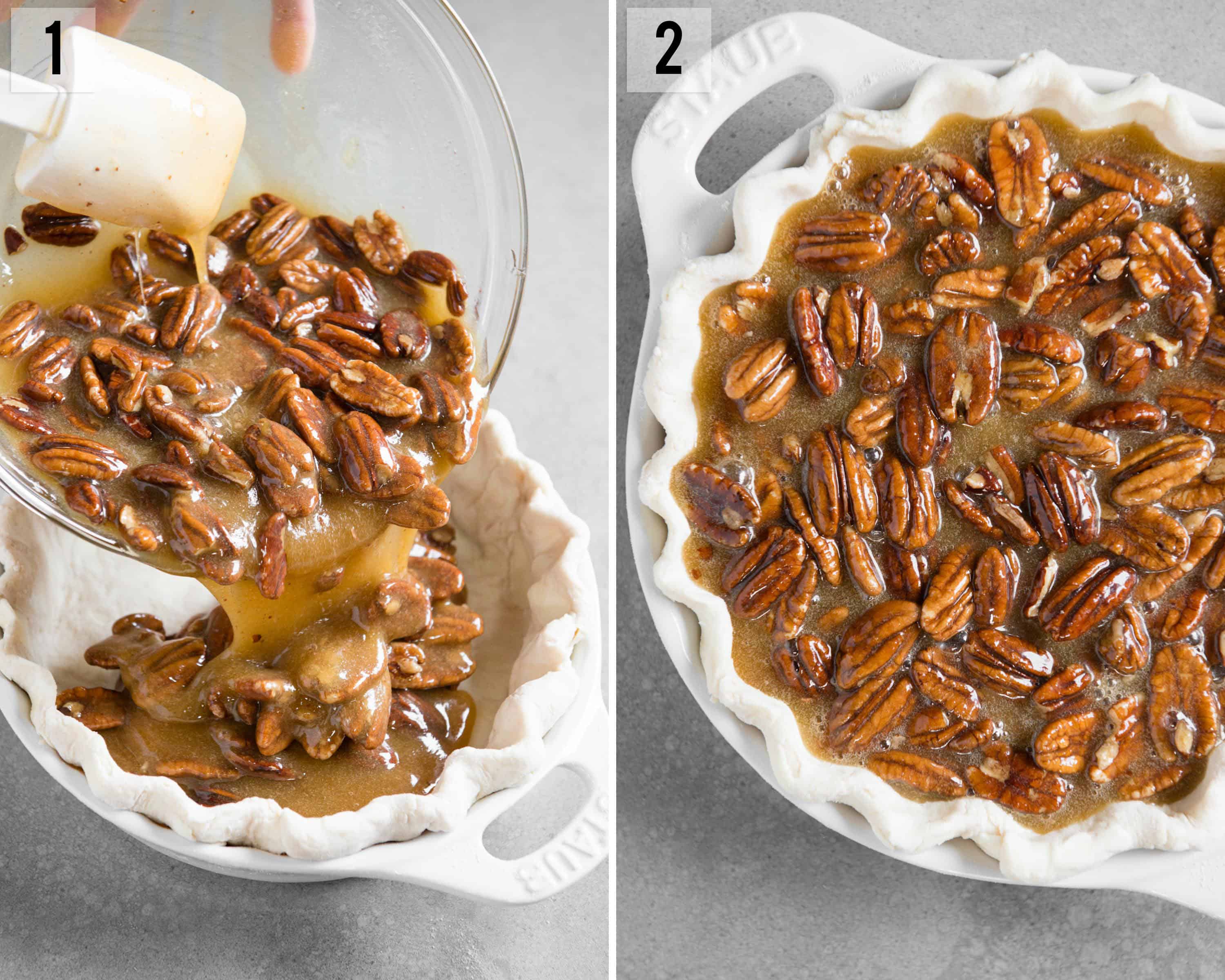 Pecan options:
I'm all about rustic desserts. I want them to taste good first and look pretty second.
I've seen plenty of pecan pies where the pecans are beautifully set in concentric circles. You can most certainly achieve that result by pulling the coated pecans out of the mixture and strategically placing them in a pretty pattern.
For me, that step is unnecessary, but if you desire pretty, feel free to go for it.
You can also use chopped pecans if you like. I actually think chopped pecans make it easier to slice and eat this pie, but they're not as pretty as whole pecan halves. So, I guess I lied just a little bit about wanting it to look pretty.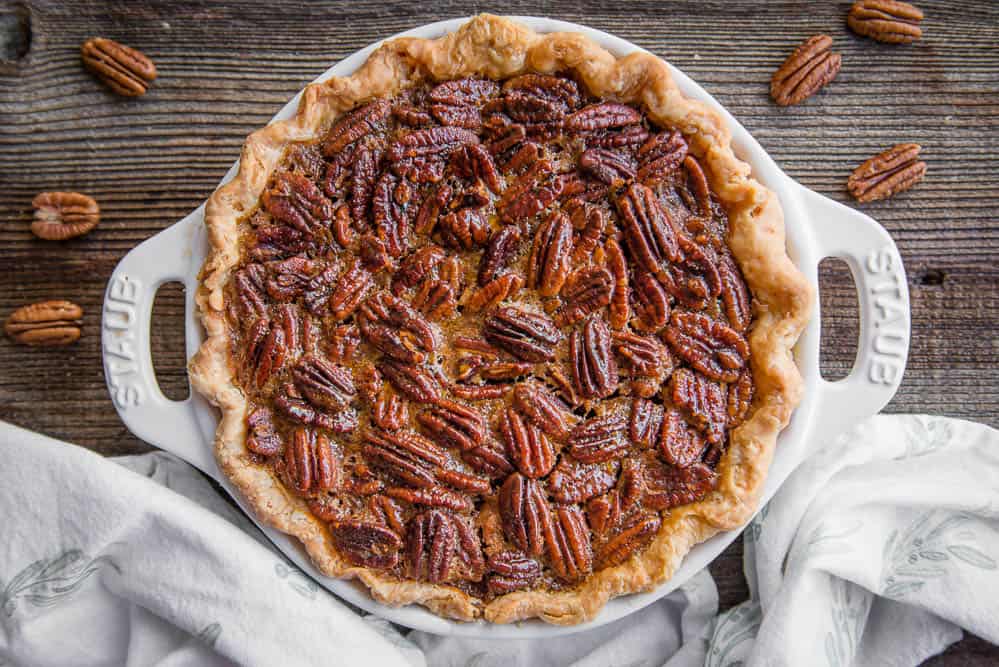 Avoid these common mistakes:
If you're making pecan pie with a homemade crust full of butter like I recommend, it will leak all over your oven. Be sure to have a baking sheet or heavy duty piece of foil under your pie while it bakes to catch all of the grease that will ooze out of your pie dish. Otherwise, your oven (and eventually your kitchen) will be filled with a ton of smoke.
Don't take the pie out too early. Otherwise, you will end up with a liquid center and essentially a ruined pie. If you aren't sure, give it a few more minutes. If you're worried about the top of your pie getting over cooked, simply loosely cover with a piece of foil. This will allow the center to continue cooking while keeping the top a nice golden brown.
Not all pie dishes cook the same. Metal and glass will cook faster than ceramic. Take this into consideration when you're baking your pie. The depth and size will also matter. The more surface area, the quicker the pie will cook.
If you accidentally take your pecan pie out of the oven too early and it still hasn't set after cooling, have no fear. You actually can stick it back in the oven and should be able to recover it. Event he best home cooks make this mistake now and again.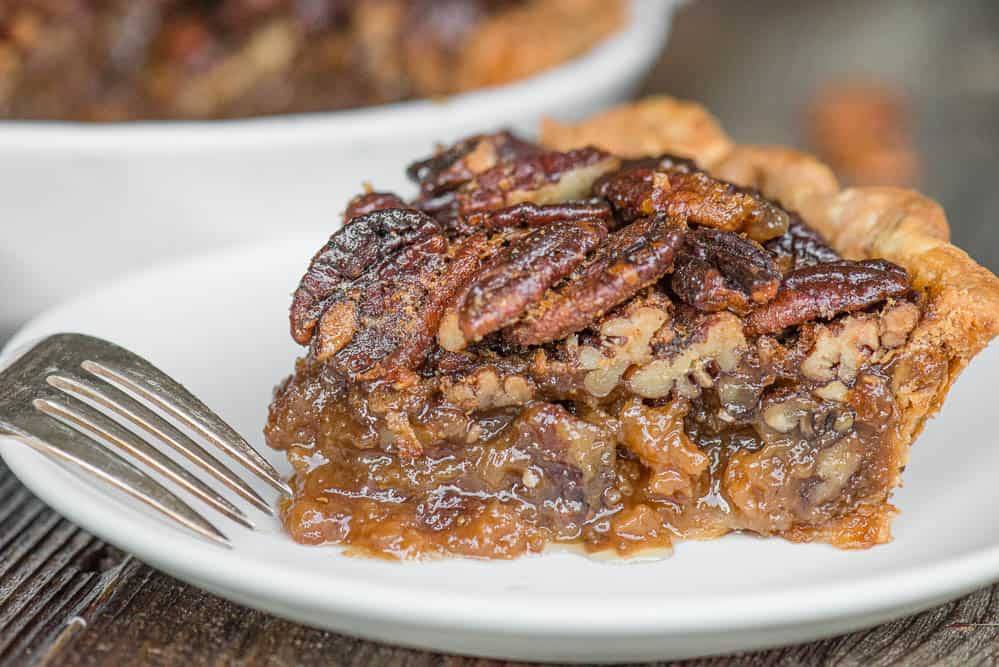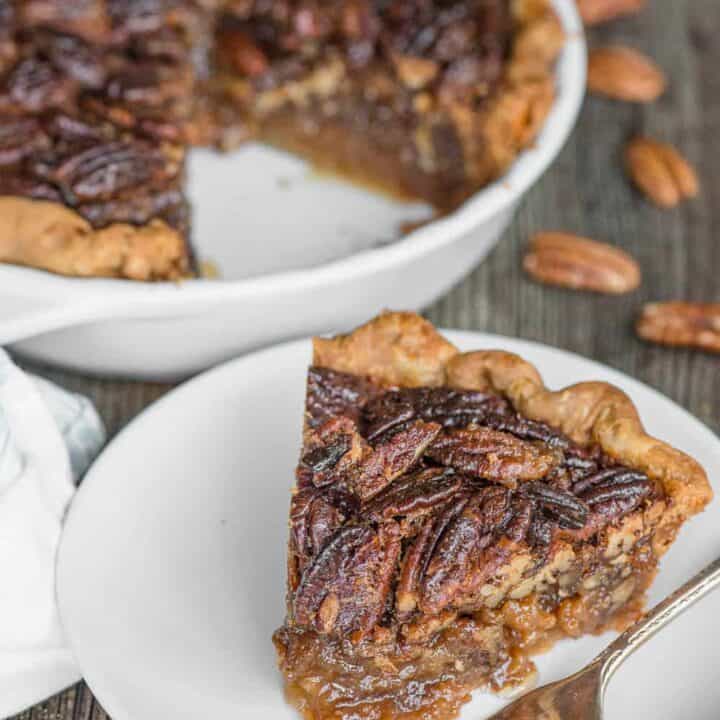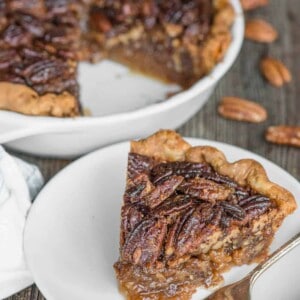 Classic homemade Pecan Pie is always a favorite dessert, especially on Thanksgiving! Homemade pie crusts and a sweet pecan filling are the best.
Instructions
To prepare the crusts:
To prepare crust, either make the best homemade crust ever using the link in the notes or you can use pre-made store bought crusts.
To prepare the pecan pie filling:
Mix the granulated sugar, brown sugar, salt, corn syrup, melted butter, vanilla and eggs together in a bowl.
To bake the pie:
Preheat the oven to 350 degrees with a baking sheet on a rack that is in the lower third of the oven. Roll out one dough half on a lightly floured surface to fit your pie pan. Pour the pecan mixture into the crust. Loosely cover the top of the entire pie with foil.

Place the pie on the preheated baking sheet in the oven and bake, covered, for 30 minutes. Remove the foil, and then continue baking for 20 minutes. If done, the pie will jiggle just slightly and will set once cooled. If pie is still very jiggly, loosely cover with foil once again and continue cooking for another 5-25 minutes.

Allow to cool for several hours or overnight. Do not cover until completely cool. Can be stored at room temperature or in the refrigerator.
Notes
The best pie crust recipe link. I only use butter and a secret ingredient to make it flaky!
Total cooking time for this recipe will depend heavily on the type of pie dish you use. Glass tends to cook the pie quicker than ceramic. If using a stone or ceramic baking dish, be prepared to cook the pie longer and you may need to loosely cover the top with foil to prevent over browning.
Recipe makes one pie.
Nutrition
Calories:
422
kcal
,
Carbohydrates:
49
g
,
Protein:
5
g
,
Fat:
25
g
,
Saturated Fat:
6
g
,
Cholesterol:
66
mg
,
Sodium:
196
mg
,
Potassium:
130
mg
,
Fiber:
2
g
,
Sugar:
40
g
,
Vitamin A:
246
IU
,
Vitamin C:
1
mg
,
Calcium:
38
mg
,
Iron:
1
mg
Nutrition information is automatically calculated, so should only be used as an approximation.