Mini Rainbow Fruit Pizzas transform flaky puff pastry, sweetened mascarpone, & fresh fruit into a colorful sweet treat perfect for breakfast or dessert.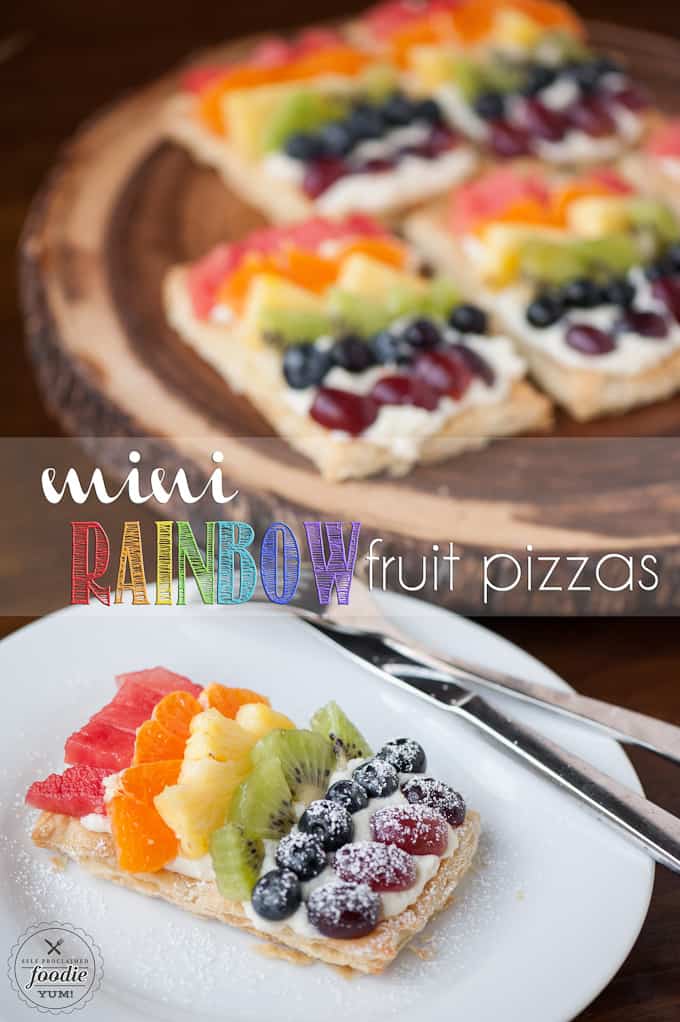 I really love using puff pastry. Its so easy. You just buy the package, allow it to get close to room temperature, then you work your magic. Of course, you can make it yourself, and someday I plan to, but for now I'm totally content buying the pre-packaged stuff and saving myself some time. Each box usually comes with two sheets and I made this recipe using only one, so if you have an extra sheet lying around that you don't know what to do with, you can make some snickers apple bites, roasted garlic cocktail pups, cranberry pecan brie en croute (I made this for the holidays but it was so good I would enjoy anytime), wrapped bacon jalapeno poppers, or how about some easy petite palmiers.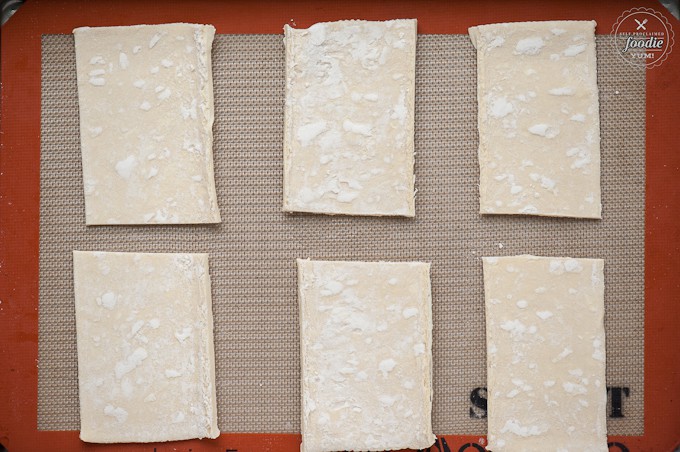 To make the pastry portion of this recipe, all you have to do is cut your sheet into individual serving sizes and bake them up. Puff pastry does just that – it puffs. So when you take them out of the oven, you're gonna want to gently smash them down so the mascarpone and fruit actually has a flat surface.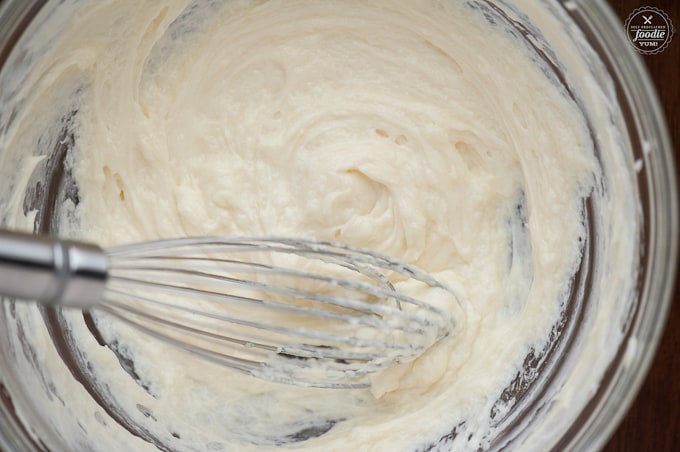 If you've never had mascarpone, its very similar to cream cheese but isn't as tangy. Its kind of like a distant relative of cream cheese and butter. I usually buy it just to spread on my cinnamon raisin toast in the morning. It melts oh so good. For this recipe, I sweetened it with some honey and whipped it up real smooth.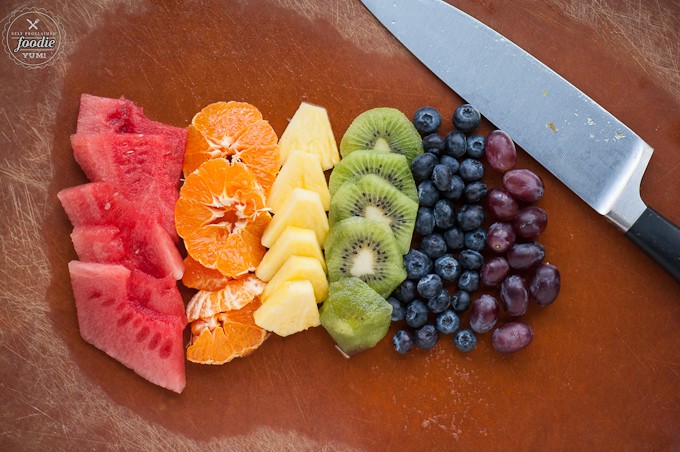 I couldn't call these mini rainbow fruit pizzas if I didn't have fruit in shades of red, orange, yellow, green, blue, and purple. If you ask my kids, however, its not purple – its indigo and violet. Let's just say the grapes count as both. I thought strawberries would work better for this recipe as my red component and thought for sure I had bought some, but couldn't find them in the refrigerator, so I ended up using watermelon. As it turns out, those damn strawberries were in there! Oh well, it turned out just fine and the kids loved them just the same, although I still think the strawberries would have tasted better. Watermelon is better suited for a blended margarita, in my opinion.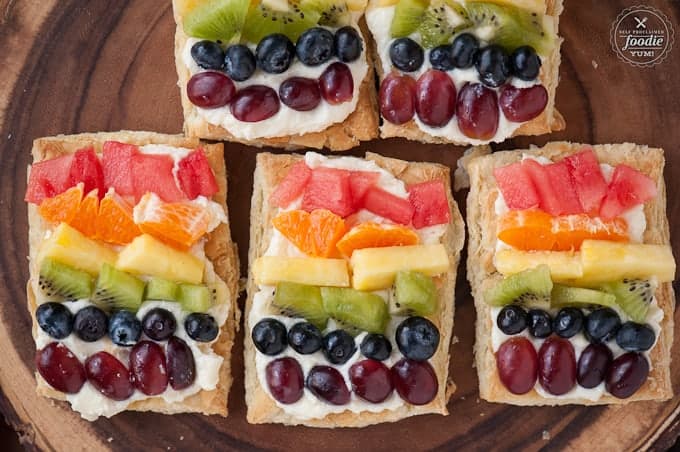 Aren't they just the cutest? The kids' eyes lit up when they came home from school and saw them. Needless to say they were eaten up rather quickly.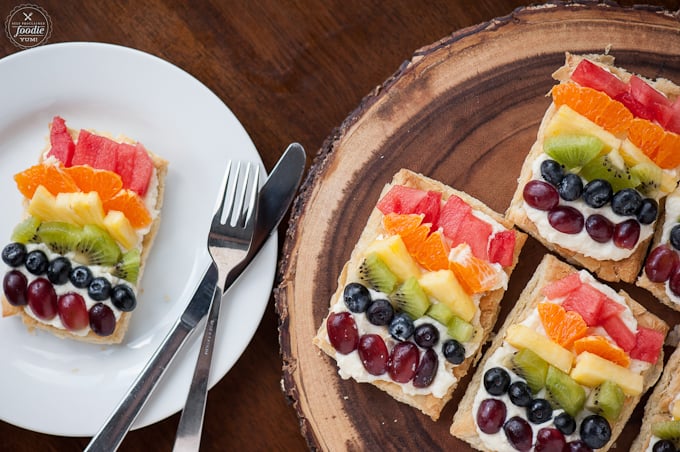 I dusted them with powdered sugar simply because I thought it looked pretty. Besides, doesn't everything taste better with a dusting of powdered sugar?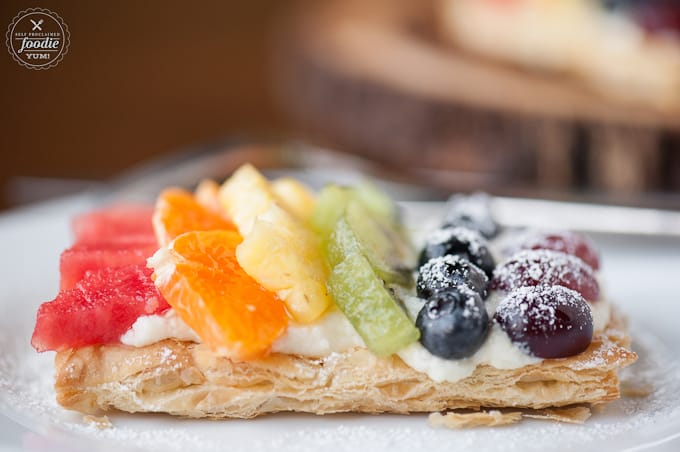 So, if you've been looking for a fun fruit filled treat to enjoy with your kids, try out some mini rainbow fruit pizzas. You'll get nothing but smiles.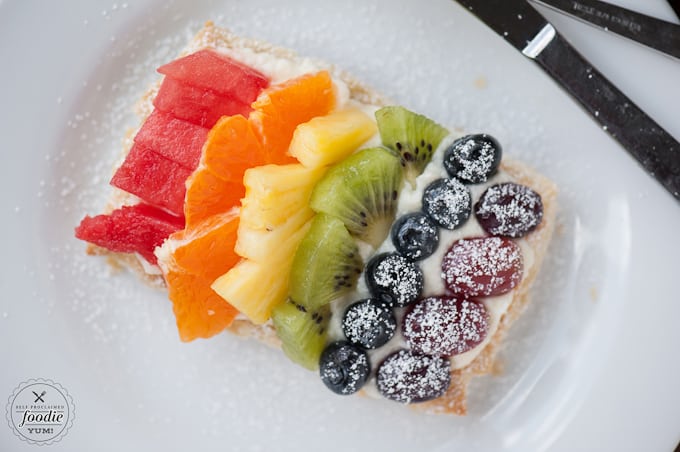 Mini Rainbow Fruit Pizzas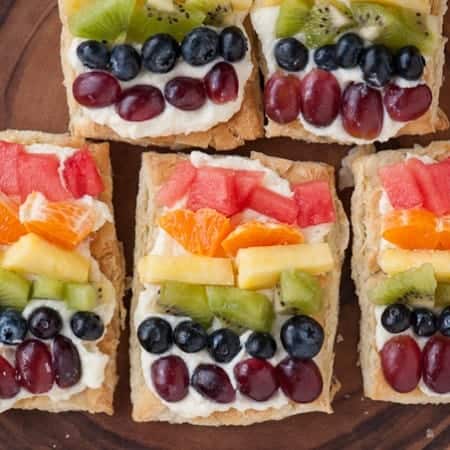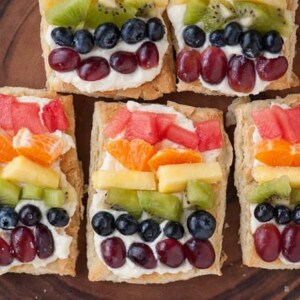 Mini Rainbow Fruit Pizzas transform flaky puff pastry, sweetened mascarpone, & fresh fruit into a colorful sweet treat perfect for breakfast or dessert.
Ingredients
8

ounces

puff pastry sheet

ready to bake

8

ounces

mascarpone cheese

1

tablespoon

honey

4

cups

Fruit of your choosing
Instructions
Allow frozen puff pastry sheet to thaw at room temperature for about 40 minutes.

Preheat oven to 400 degrees F. Prepare a baking sheet by lining with parchment paper or a silpat silicon liner.

Unfold puff pastry dough and cut into 6 rectangles. Bake on prepared sheet in preheated oven for 15 minutes. Allow to cool at least 10 minutes on a cooling rack. Gently smash down to flatten.

In a large bowl, whisk together mascarpone and honey until very smooth. If needed you can microwave in 10 second increments to soften.

Spread sweetened mascarpone onto puff pastry rectangles, then cover with fresh fruit. Dust with powdered sugar, if desired. Serve immediately.
Nutrition
Calories:
420
kcal
,
Carbohydrates:
28
g
,
Protein:
6
g
,
Fat:
32
g
,
Saturated Fat:
14
g
,
Cholesterol:
38
mg
,
Sodium:
116
mg
,
Potassium:
170
mg
,
Fiber:
2
g
,
Sugar:
8
g
,
Vitamin A:
541
IU
,
Vitamin C:
56
mg
,
Calcium:
72
mg
,
Iron:
1
mg
Nutrition information is automatically calculated, so should only be used as an approximation.