Take a break from the norm and make that midday meal interesting and delicious for both you and your kids with these Lunch Box Pizzas.
If you love things like Rustic Flatbread Pizza, this is basically the fun kid sized version!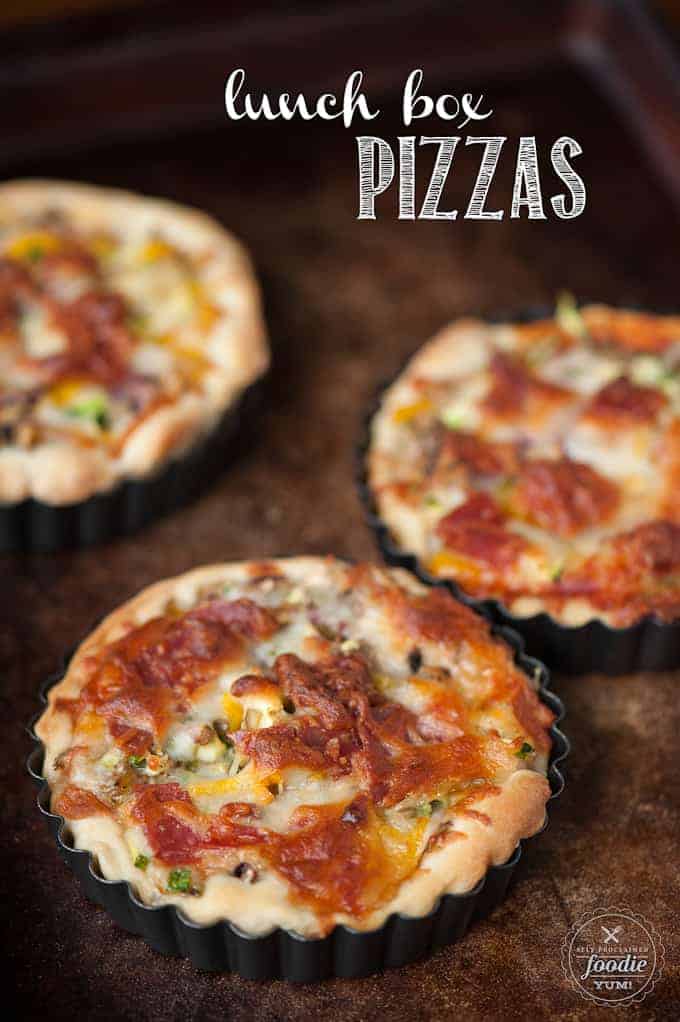 My kids get real sick and tired of PB&J, so I like to keep things interesting for them. One food that my kids absolutely love is pizza. For that matter, so do their dad and I. To give them a fun shape, I decided to use mini tart pans. Plus, when they're all the exact same size, it minimizes the fighting over who gets the bigger pizza.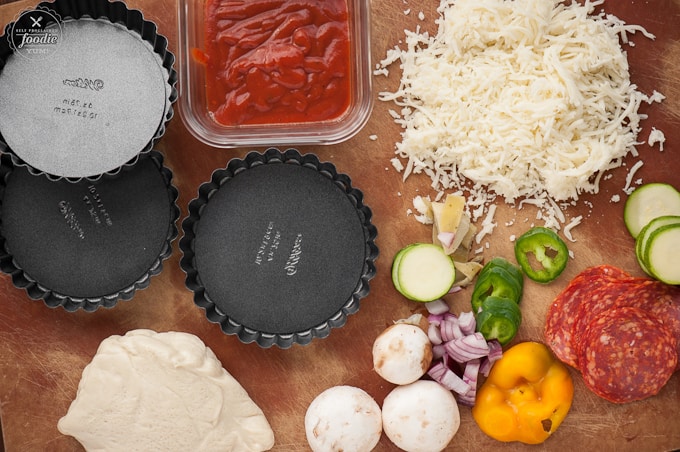 I love making homemade pizza dough with the kids, but we don't always have the time or the best planning, so pre-made store bought pizza dough works just fine. Just divide it evenly between 8 of the mini tart pans and press the dough flat against the bottom and up the sides. It likes to stretch back into place so I usually press it over the edge a bit to keep it from moving.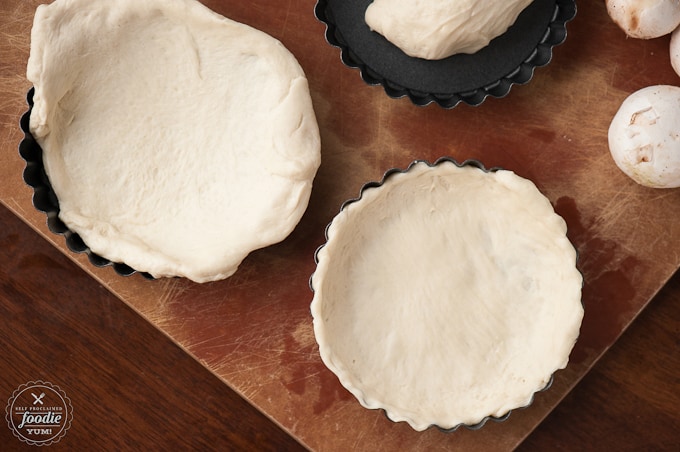 No matter how old your kids are, they'll love spreading the sauce. There's something soothing about it.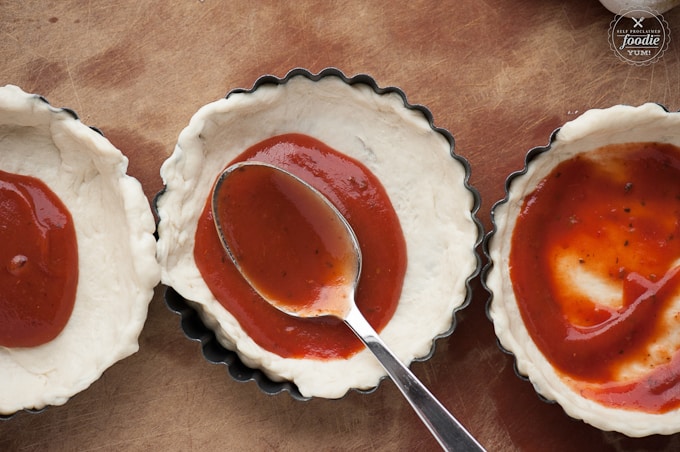 I learned this little trick when we used to make individual personalized pizzas at my kids' co-op preschool: If you chop the veggies up so small that they can't really feel the chunks, you can usually get them to eat some that they otherwise wouldn't. I've tricked many children into eating all sorts of veggies and they always ended up liking them. You can, of course, just stick to cheese and pepperoni, but where's the fun in that?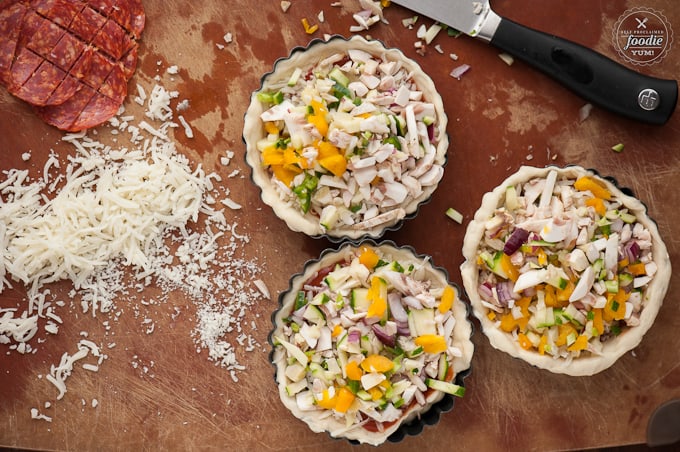 I always put the pepperoni on top of the veggies. I do this for three reasons: 1) it hides the veggies and 2) the grease seeps into the veggies making them oh so delicious and 3) I prefer crispy pepperoni.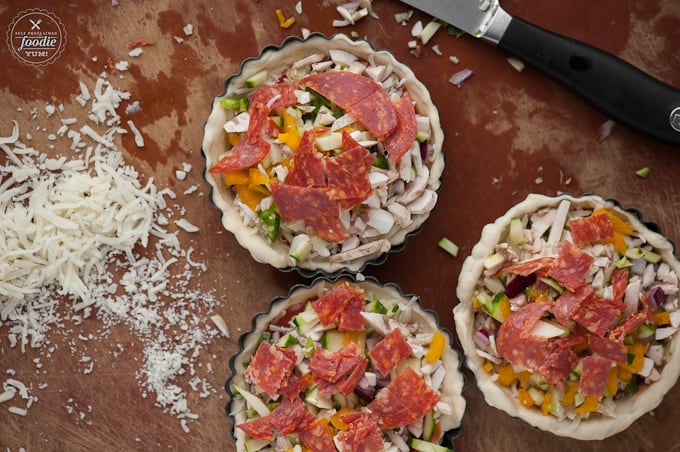 And you always gotta top with more cheese. Always.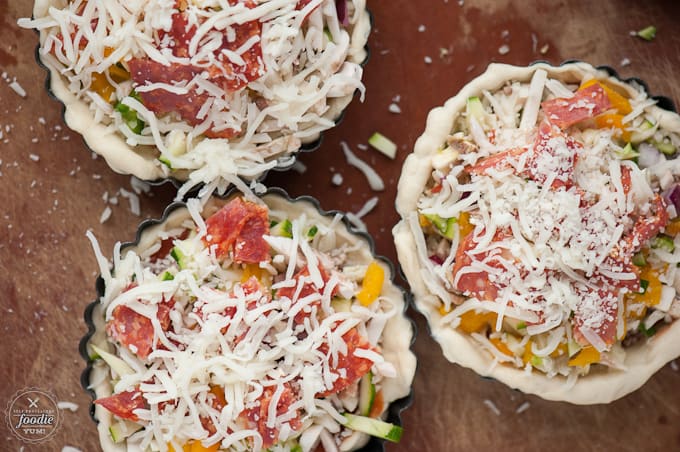 Aren't the finished pizzas so delicious looking? YUM!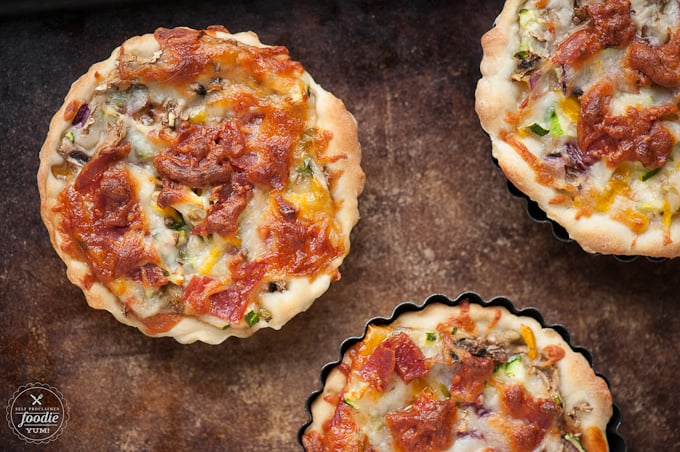 You can see that they easily pop out of the tart mold. If you put a lot of veggies on like I did, you may have to give them a few more minutes without the mold in the oven to crisp up the bottom.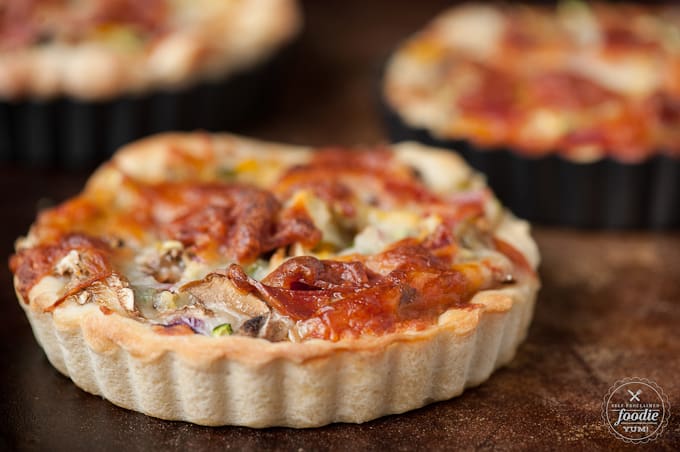 The result is a perfectly shaped mini pizza that is perfect for anyone's lunch.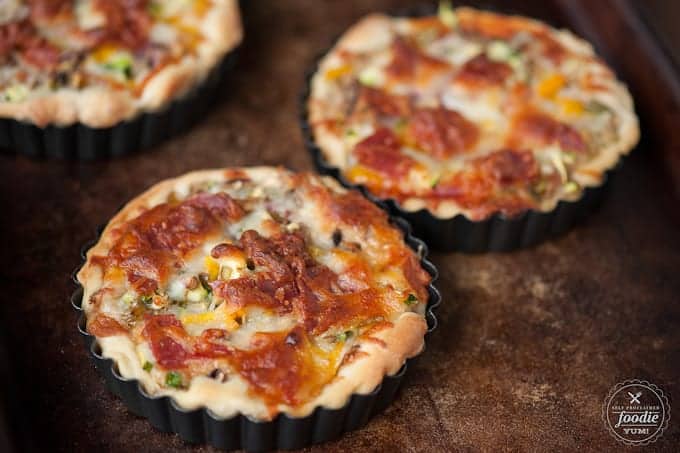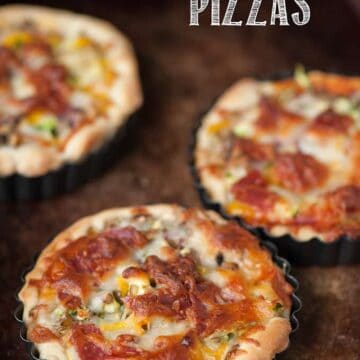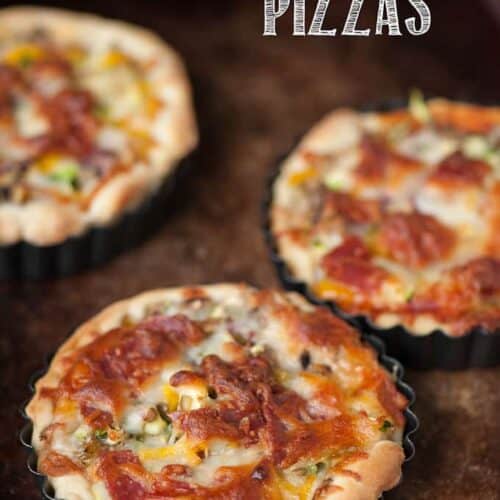 Lunch Box Pizzas
Take a break from the norm and make that midday meal interesting and delicious for both you and your kids with these Lunch Box Pizzas.
Print
Pin
Rate
Hover to scale:
8
servings
Ingredients
1

package pizza dough

(or make your own)

16

ounces

pizza sauce

16

ounces

shredded mozzarella

optional ingredients: pepperoni

(mushrooms, olives, peppers, onions, etc.)
Instructions
Preheat oven to 425 degrees F.

Using 6-8 mini tart pans, divide dough evenly and press against bottom and sides.

Spoon a couple tablespoons into each pan and spread evenly.

Top with shredded cheese. Add additional toppings if desired.

Bake on bottom rack 15-20 minutes or until golden brown. Once removed from oven, remove from tart pan. If bottom needs to be more crisp, place on aluminum foil on bottom rack for a few more minutes.
NUTRITION INFORMATION
Calories:
304
kcal
|
Carbohydrates:
28
g
|
Protein:
17
g
|
Fat:
14
g
|
Saturated Fat:
8
g
|
Cholesterol:
45
mg
|
Sodium:
1006
mg
|
Potassium:
231
mg
|
Fiber:
2
g
|
Sugar:
6
g
|
Vitamin A:
629
IU
|
Vitamin C:
4
mg
|
Calcium:
294
mg
|
Iron:
2
mg