Rustic Flatbread Pizza, with a homemade garlic herb crust, is topped with pesto, roasted red peppers, sundried tomatoes, pinenuts, and salami. Alessi's authentic Italian food makes it easy to cook a fresh and delicious meal for your friends and family. Pair this delicious homemade flatbread pizza with a chilled bottle of KRIS Wine Italian Pinot Grigio. It is a fresh, fun,and easy to drink wine that is perfect with any occasion.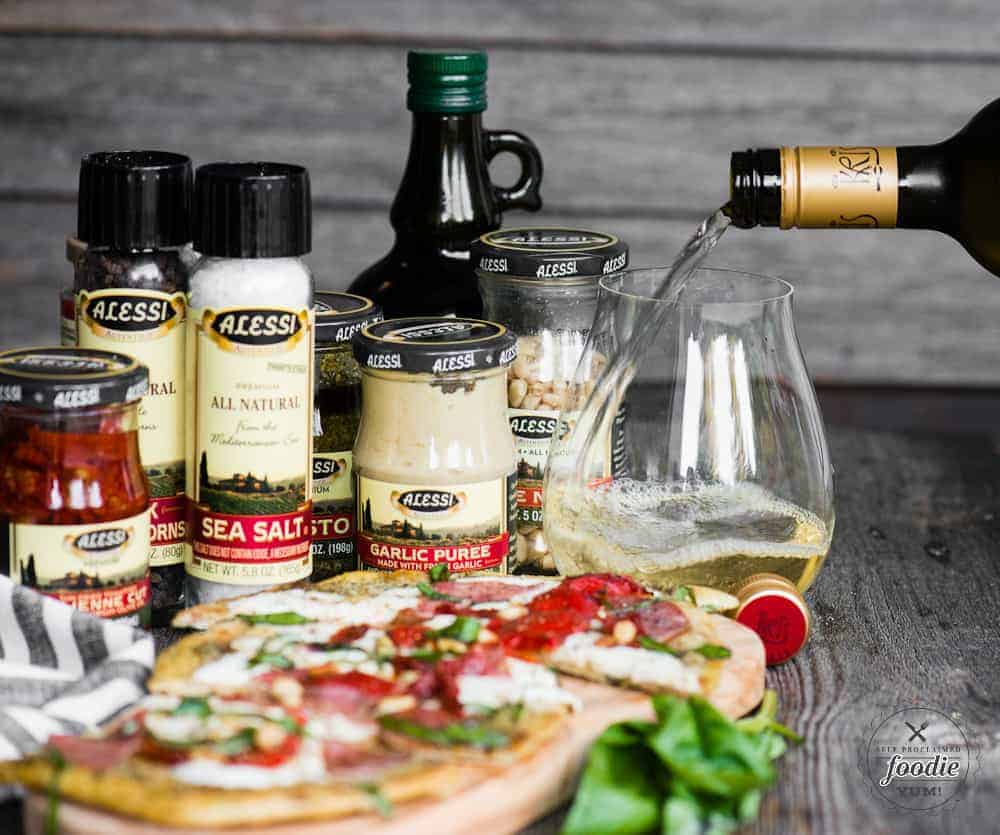 This is a sponsored post written by me on behalf of Alessi Foods and Kris Wine. All opinions are 100% mine.
We love a good pizza, and this Rustic Flatbread Pizza has everything you could possibly want. The homemade garlic herb crust is super simple to make and bakes up to crisp and flavorful perfection. My husband raved about how delicious the crust was. Everything that went on top of these flatbread pizzas was the perfect balance of flavor, texture, sweet and savory. Aside from the fresh mozzarella and salami, all of the toppings were made by Alessi Foods. They believe in the power of all-natural ingredients and rich flavors. Just fresh, clean ingredients straight from Italy. Alessi Foods easy to use, versatile products stay true to tradition and maintain a pure, authentic flavor. The pesto, roasted red peppers, sun dried tomatoes, pine nuts, and balsamic reduction all came together to create a harmonious blend of flavorful perfection. And what would a hot and crispy rustic flatbread pizza be without an outstanding glass of wine? KRIS Wine pairs incredibly well with this flatbread pizza. All of the different flavors come into balance with the dry crispness of the Pinot Grigio. Pair a glass of this refreshing wine with your meal, or sip on a glass while you're cooking, or both!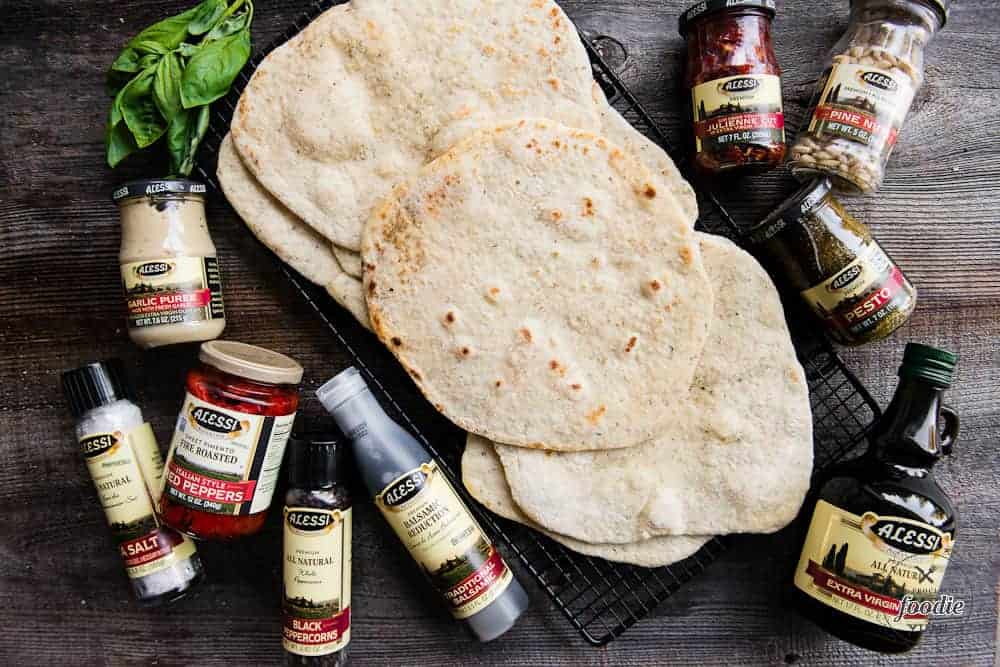 Is flatbread the same as pizza?
Yes and no. This question can be answered in so many different ways, so I'll give you my take on it. Flatbread is usually very thin and crispy. You can have a thin crust pizza, however I find the crust on pizza never to be as crisp as what you would find on a flatbread pizza. This is due the fact that I precook my flatbread crusts on a very hot oiled pan prior to baking them with the toppings. Additionally, the toppings on a flatbread pizza are generally more sparse than what you would find on a traditional pizza. I called this flatbread pizza rustic because there really is no proper shape or style to making an Italian flatbread pizza like this. It's all about the flavor. Because each pizza turns out slightly differently, they just look rustic to me.
If your whole family loves pizza, you might want to make my fun Lunch Box Pizzas.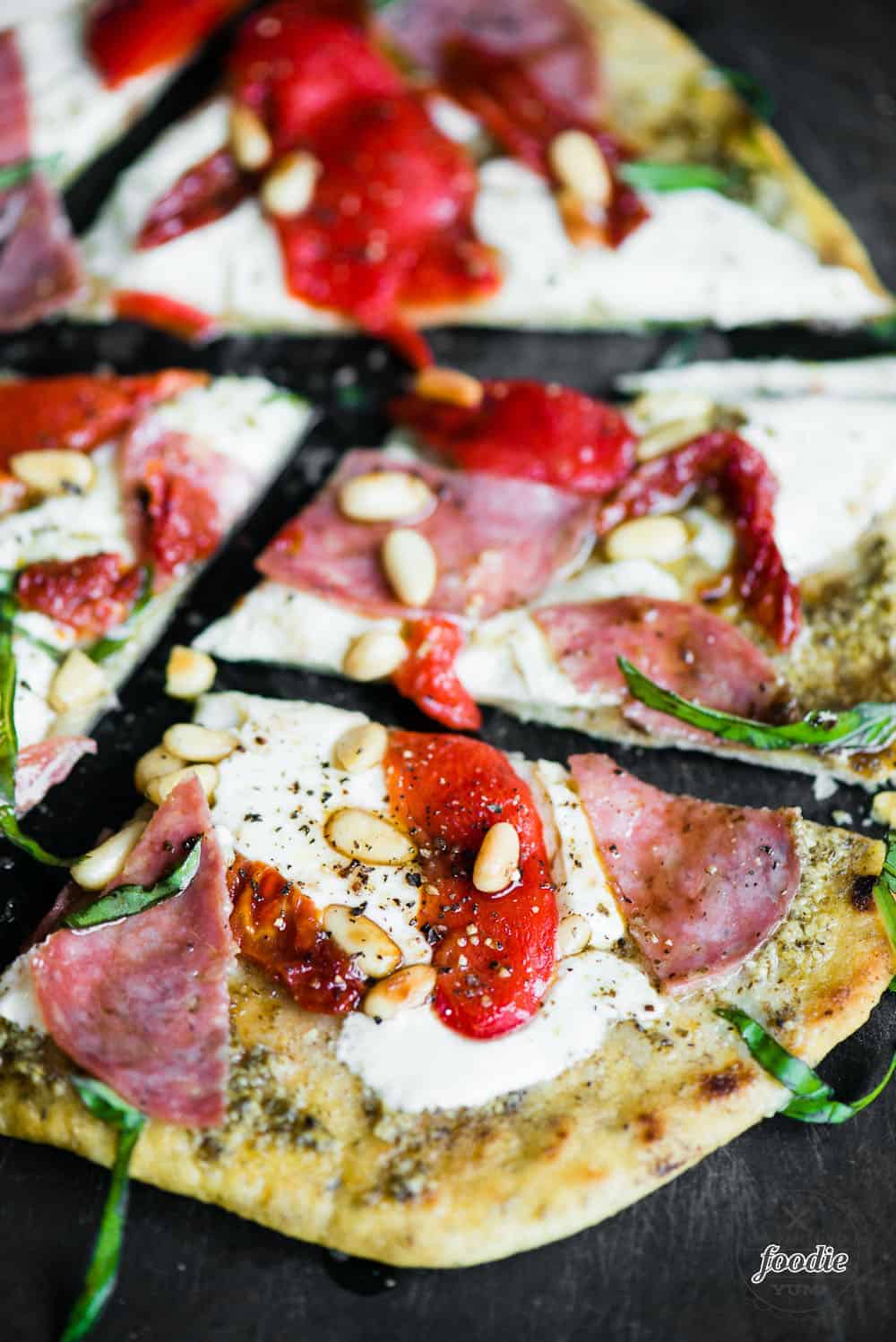 How to you make pizza with flatbread:
With traditional pizza, you roll or toss your dough into a large thin circle, top with sauce and toppings, and bake everything together. With flatbread pizza, you cook the dough for a few minutes on each side first before adding any sauce and toppings. It is common for flatbread pizzas to be smaller in size so that you can easily cook the dough. Sometimes it's just more enjoyable to have your own individual pizza, which is another reason why I love making and eating homemade rustic flatbread pizzas. Other than rolling the dough quite thin and precooking the dough, a flatbread pizza isn't that much different than a traditional pizza.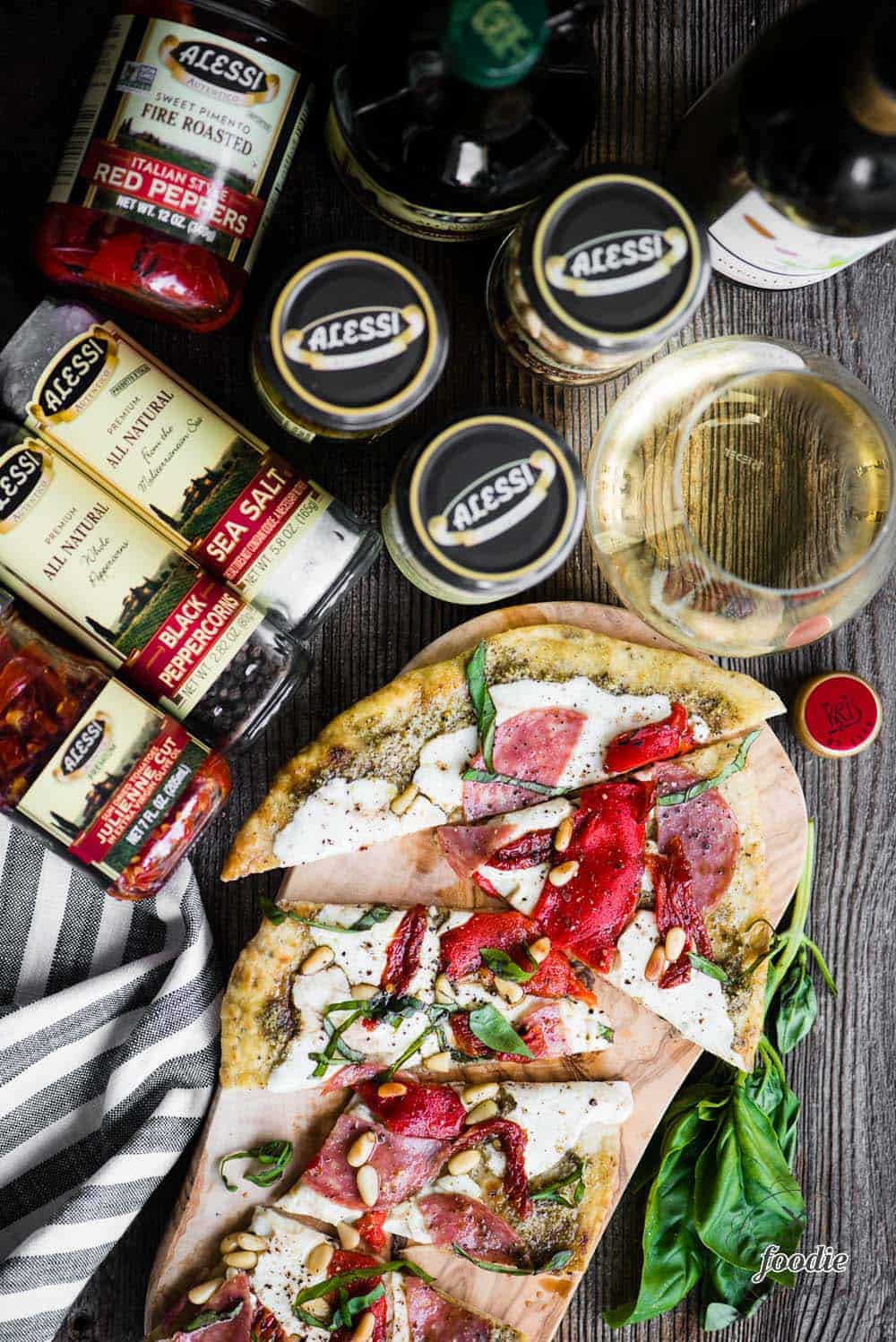 How long do you bake a flatbread pizza?
With this recipe, I cooked each flatbread dough for a few minutes on each side. Then, once the pesto, cheese, and toppings were added, I baked the entire flatbread pizza for another 10 minutes or so until the cheese was melted. How long you cook your flatbread pizza depends mostly on your cheese. You will want to cook it long enough to melt the cheese, so the thicker and colder your cheese is, the longer it will take to cook.
What temperature do you bake flatbread pizza?
Flatbread pizza, or traditional pizza for that matter, are best when cooked in a very hot oven. I cooked the dough on a very hot pan. I actually heated it as hot as I could without having the olive oil smoke, so for my stove that was about a medium high heat. Then, when I baked the flatbread pizza I used an oven temperature of 400 degrees F. You can go higher than that and your pizza will just cook faster, but I would not recommend using an oven temperature lower than 400 degrees F.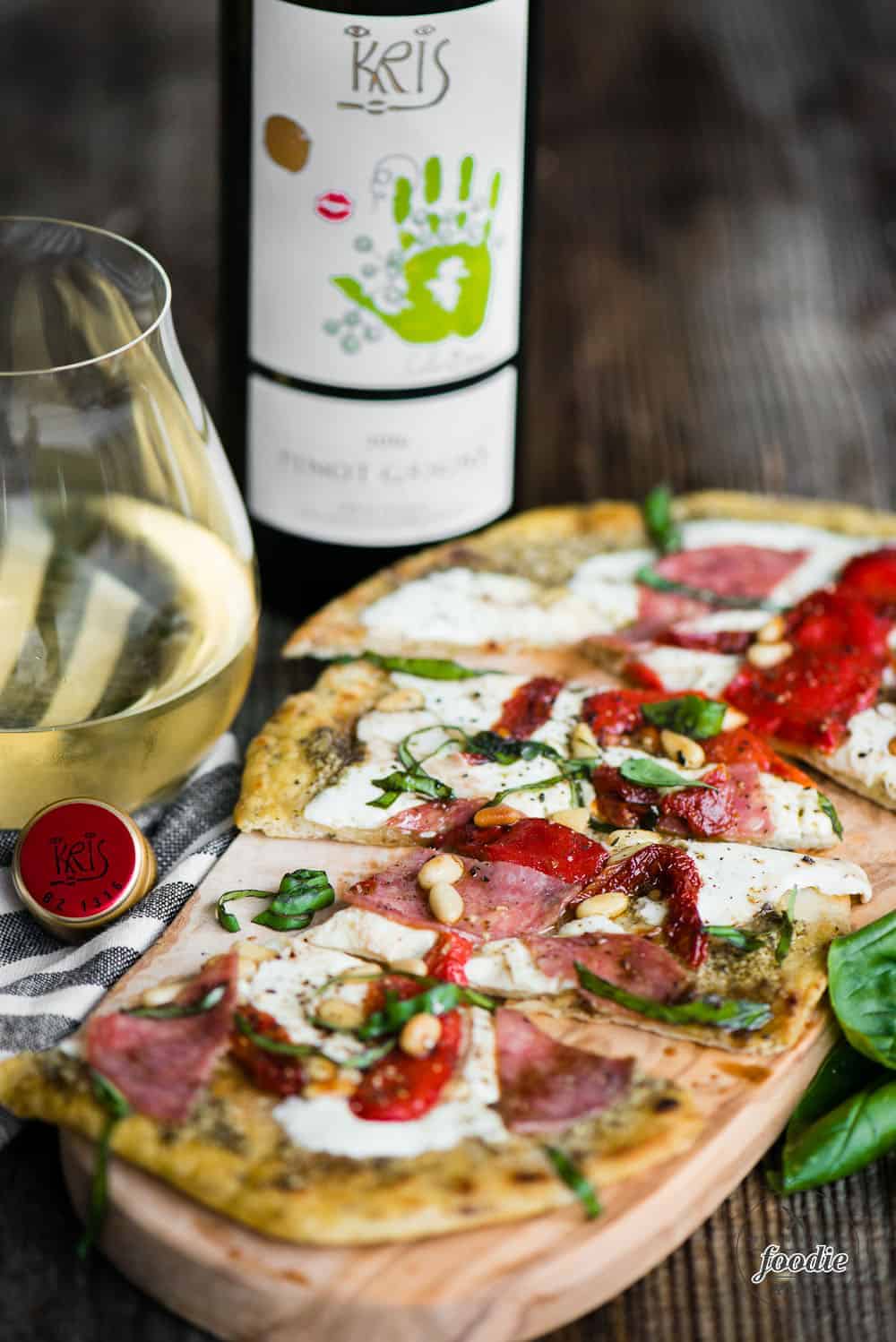 WP Recipe Maker #37489

remove

Course: Main Course

Cuisine: Italian

Prep Time: 40m

Cook Time: 15m

Total Time: 55m

Dough rise time: 60m

Servings: 6 pizzas

Author: Krissy Allori

Flatbread dough:

- 1 packet active dry yeast

1 packet yields 2 ¼ tsp

- 1 tablespoon Alessi Garlic Puree

- 1 tablespoon dried Italian herbs

- ¾ teaspoon Alessi Sea Salt

- ½ teaspoon granulated sugar

- 2 cups All-Purpose Flour

- 1 tablespoon Alessi Extra Virgin Olive Oil

plus more for coating bowl

- ¾ cup warm water*

about 110 degrees F

Flatbread pizza:

- 3 tablespoon Alessi pine nuts

- 6 tablespoon Alessi Pesto

- 16 oz fresh whole milk mozzarella

- 6 oz Alessi Julienne Cut Sun Dried Tomatoes

- 6 oz Alessi Italian Style Red Peppers

- 6 oz salami

- 2 tablespoon Alessi Balsamic Reduction

- Alessi Black Peppercorns and Sea Salt

to taste

To make the flatbread:

1) To a large mixing bowl, add yeast, garlic, herbs, sea salt, sugar, and all-purpose flour. Whisk together to fully mix.

2) Make a well in the dry ingredients and add olive oil and ½ cup of the warm water, reserving the rest for later. Stir with a wooden spoon to mix. Add more water as needed until a dough forms.

3) Transfer to a clean, well-floured surface and knead until smooth and elastic - about 2 minutes - adding more flour as needed to prevent sticking. Alternatively, knead on medium low speed using the dough hook in your stand mixer for about 2 minutes.

4) Add 1 teaspoon of olive oil to clean bowl. Add dough and roll around until it is fully coated. Cover with a damp towel or plastic wrap. Set in a warm place to rise for 1 hour. See note 1.

5) Once doubled in size, punch down and cut dough into 6 even pieces. Arrange on a clean surface, and lay a damp towel on top. Let rest at least 15 minutes.

6) While the dough is resting, heat a large skillet to medium-high heat.

7) One at a time on a lightly floured surface, roll each piece of dough into a large circle that's about an ⅛th of an inch thick.

8) Lightly grease preheated skillet with olive oil and lay down flatbread. Allow to cook undisturbed for 2-3 minutes. Flip and cook for another 2-3 minutes on the other side. Repeat, adding more oil to coat surface, until all flatbread is cooked.

To make the Rustic Flatbread Pizza:

1) Add pine nuts to a small skillet and cook over medium heat for about 5 minutes while stirring constantly. You want them to turn golden brown. Take care not to burn. Remove from heat and set aside.

2) To assemble pizzas, cover each cooked flatbread with one tablespoon of pesto. Top with mozzarella, sun dried tomatoes, roasted red peppers, toasted pine nuts, and salami. See note 2.

3) To bake the pizzas, preheat oven or grill to 400 degrees F. Set pizzas directly on grill and bake just until the cheese has melted, about 5-10 minutes. Remove, drizzle with balsamic reduction, and season with salt and pepper.

4) Serve hot with a chilled glass of KRIS Wines Pinot Grigio.

If your house is cold, there are a couple options to get your dough to rise properly. You can always preheat the oven to 200 degrees F, turn it off and crack the door. I've also heard of running the dryer for a few minutes, then setting your dough inside with the dryer off to allow it to rise. Quanities and ratios of toppings can be varied based on user preference. Amounts listed in recipe are how I made the pizzas, but feel free to adjust according to your taste.