Italian Cheese Bombs take only minutes to prepare using pre-made biscuit dough wrapped around melty Italian cheese and salami and are everyone's favorite.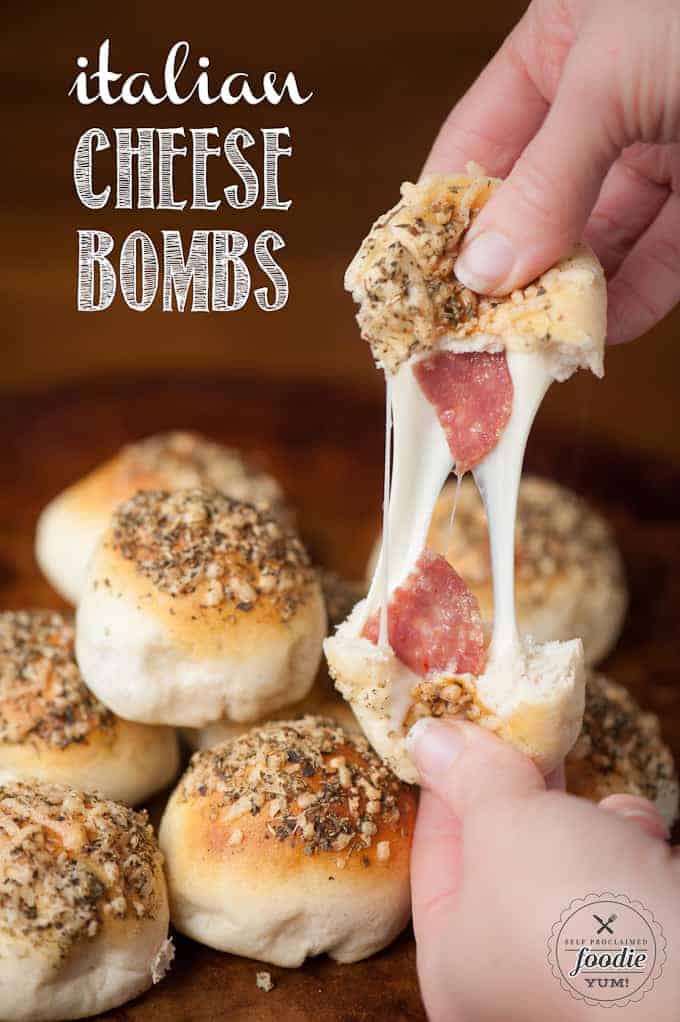 Italian Cheese Bombs are naughty little savory treats that get a 10 out of 10 in my book because they a) taste really good and b) are freakin' easy to make. That's a win-win combination right there. These wonderful cheese bombs filled with cured Italian sandwich meat and melted mozzarella originated because I had a tube of biscuit dough in my refrigerator that had to be used up. You see, I won't use premade biscuit dough to make biscuits because I prefer to make my own homemade flaky buttermilk biscuits and because, well, its boring when you can use that dough for so many other things.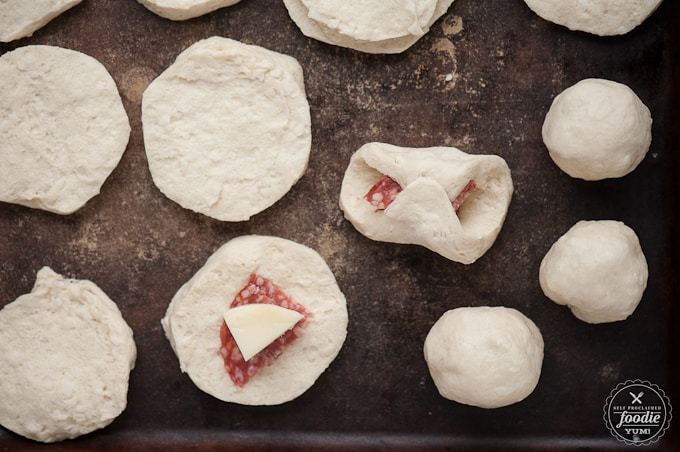 How to make cheese bombs:
I use the Trader Joe's biscuit dough which is one of those fat tubes that has 8 biscuits. I split each biscuit in half which created 16 flat disks.
I used a small block of mozzarella but any kind of Italian cheese will work. You can just as easily cut up string cheese, because what household in America with kids ages 4-10 doesn't have string cheese at the ready at all times? Very few, I imagine.
I quartered each slice of salami so that it would fit nicely in the ball – a whole round slice would have created to much work to wrap around, plus I was already planning on looking like a pig when I inhaled these cheese bombs, and didn't need people to watch me saw through a large piece of salami while I was at it. There are lots of recipes out there for garlic cheese bombs and cheddar cheese bombs, but I think every good cheese bomb requires some kind of tasty meat.
These cheese bombs really only took about 5 minutes to prepare and cooked up so beautifully! Just place the cheese bombs on your baking sheet and wait until they're golden brown and that Italian cheese starts to ooze.
Now get ready, this is the best part. You grab hold of your cheese bomb when when it's still super hot but just cool enough to touch without burning your fingers. Give it a gentle squeeze and pull [that's what he said – sorry, couldn't resist].
So. Damn. Delicious. Doesn't it look tasty? I'm pretty darn proud of my then 8-year-old daughter for taking the photos. Not to shabby considering she had to hold a Nikon D700 DLSR with a battery pack and a heavy macro lens, all while toggling the manual focus point. Not only is she already starting to be a great cook, but her photography skills rock too!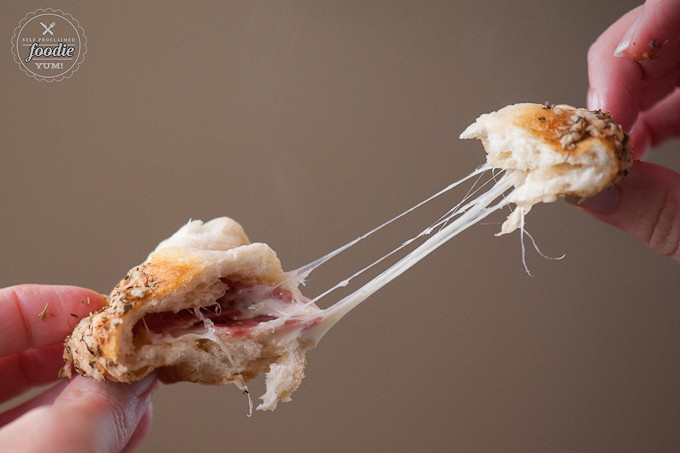 Things to make with biscuit dough:
I'm not gonna lie – there's a reason why Granny's Monkey Bread is one of the first posts you'll see when you search for monkey bread recipes. Super naughty yet always delicious!
Garlic knots – very similar to a cheese bomb… but without the cheese! Let's just call them garlic biscuits deconstructed
Chicken and dumplings in your slow cooker! That reminds me, I need to create a good chicken and dumplings recipe.
And of course, there are a million other varieties of cheese bombs you could make. You should give my pesto cheese bombs a try!
Be sure to check out the video below of me making these delectable cheese bombs!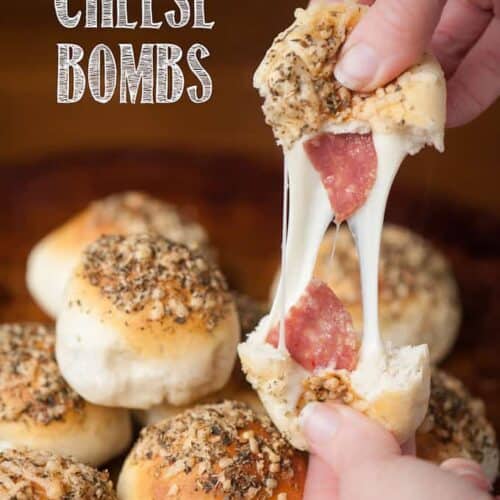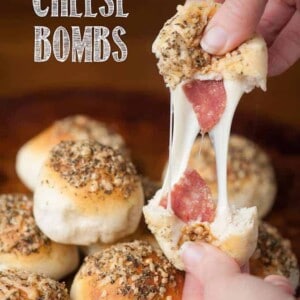 Italian Cheese Bombs take only minutes to prepare using premade biscuit dough wrapped around melty Italian cheese and salami and are everyone's favorite.
Ingredients
16

ounces

biscuit dough

6

ounces

part skim low moisture mozzarella

(can substitute cheese sticks)

2

ounces

salami

about 16 slices

1-2

tablespoons

olive oil

1/4

cup

parmesan cheese

1/4

cup

dried Italian seasoning
Instructions
Preheat oven to 400 degrees F.

If package has 8 biscuits, split each biscuit in half to make 16 flat disks. Divide cheese into 16 equal portions. Cut each piece of salami up into 4 pieces.

One biscuit at a time, add chunk of cheese and 4 pieces of salami on dough and then wrap ends around to create a ball. Be sure to fully seal.

Add olive oil to a shallow cup. Add parmesan and seasoning to another shallow cup.

Once all the balls have formed, dip each ball in the olive oil and then roll the top in the parmesan seasoning mixture. Place on a baking sheet with the parmesan seasoning side up.

Bake in preheated oven until golden brown, about 10-15. Serve immediately so the cheese is nice and melty.
Nutrition
Calories:
166
kcal
,
Carbohydrates:
15
g
,
Protein:
6
g
,
Fat:
9
g
,
Saturated Fat:
3
g
,
Cholesterol:
10
mg
,
Sodium:
442
mg
,
Potassium:
96
mg
,
Fiber:
1
g
,
Sugar:
1
g
,
Vitamin A:
89
IU
,
Calcium:
122
mg
,
Iron:
1
mg
Nutrition information is automatically calculated, so should only be used as an approximation.