Instant Pot Cabbage Roll Soup is such a hearty meal!
Not only does this recipe has everything you want in a satisfying hot bowl of soup, but it's a quick and easy to make in the pressure cooker!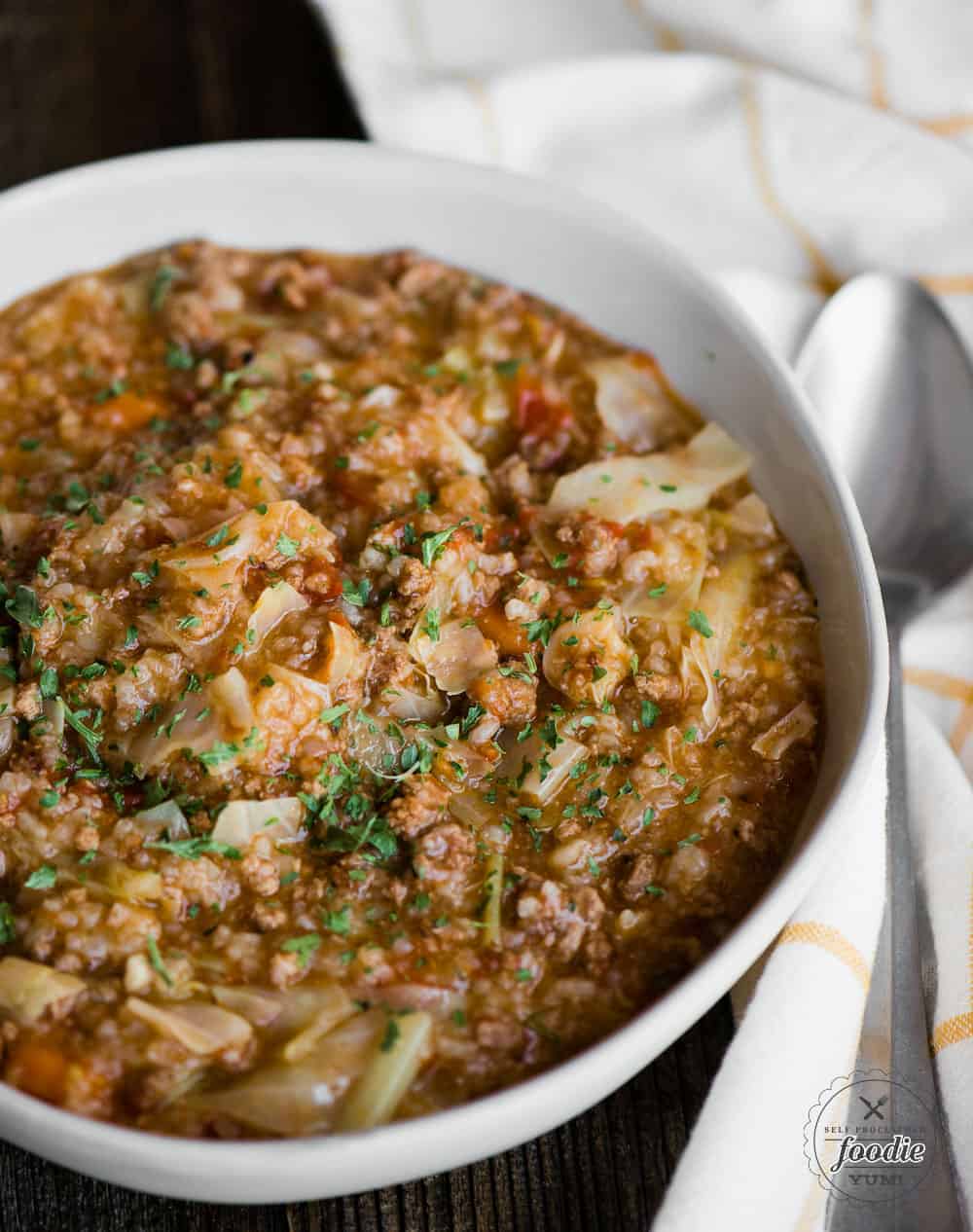 This post may contain affiliate links. That means that I will earn a teeny tiny (seriously, it's ridiculously small) commission on anything that you buy, at no added cost to you. By supporting me this way, I can deliver more delicious recipes! Read my disclosure policy here.
CABBAGE ROLL SOUP
Pin it to your SOUP BOARD to SAVE it for later!
Follow Self Proclaimed Foodie on Pinterest for more great recipes!
I'll admit, I have never made cabbage rolls, let alone cabbage roll soup. But I have to tell you that this Instant Pot Cabbage Roll Soup is not only super delicious, but it's way easy to make in the Instant Pot. I love me a good soup! From a Creamy Chicken and Rice Soup to a Kale Soup with Italian Pork & White Beans, there's just something about a one pot meal that makes you feel good inside that I crave this time of year.
What goes into a traditional cabbage roll?
Since I've never made them myself, I had to do a little research. There are a ton of cabbage roll recipes out there that vary widely, but the general theme I found is that they have meat, typically ground beef or pork or a combination, rice, tomatoes, and they are wrapped in a leaf of cabbage.
Now, the rolling part sounded like more work than I wanted to deal with, so I decided to basically make a deconstructed cabbage roll, add some homemade beef broth, and call it a soup! I'll be the first to admit that it's not very pretty. In fact, it may be the ugliest meal I've ever had to try and photograph, but if you can get past that you'll be pleasantly surpised at how delicious this Instant Pot Cabbage Roll Soup truly is!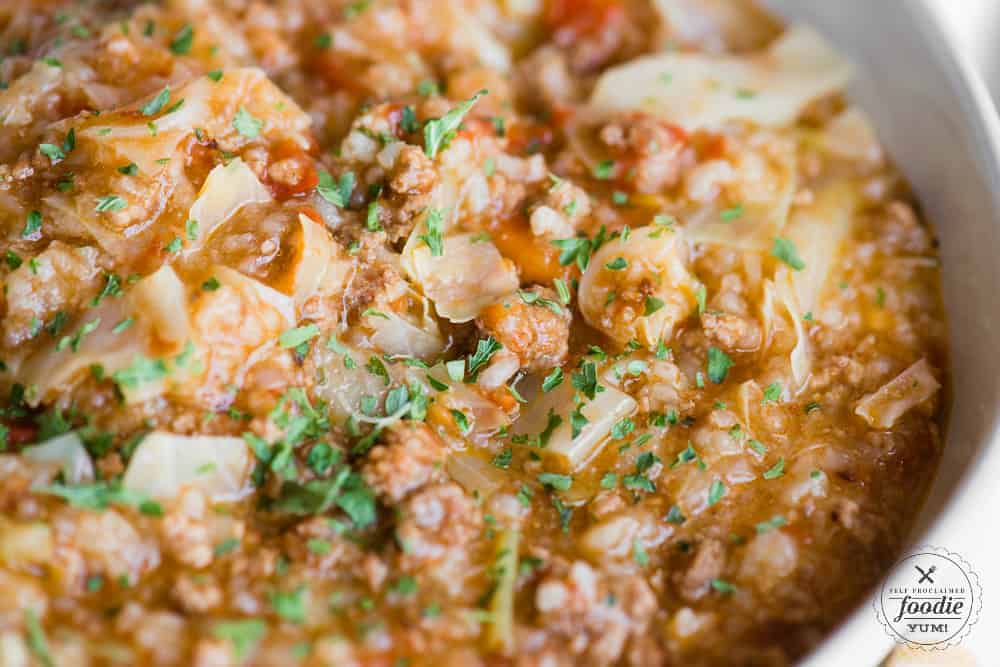 How to make Instant Pot Cabbage Roll Soup:
One of the many reasons I love cooking in the Instant Pot is because you can brown or sear your ingredients before you add the liquid and pressure cook them. That means only one pot to clean when you're done cooking. Win!
The first step in this recipe is to brown the ground beef and pork. Then I add the onion and cook it until the onion is soft and has absorbed all of that awesome flavor. Next I like to add tomato paste and garlic and cook it a little bit longer, but not so long that the garlic burns.
Next you'll add all of the other ingredients except the cabbage. You'll see that I added uncooked rice. As a result, the rice ended up getting a little mushy. It still tasted great, but again, it made ugly soup. Plus it thickened the soup to the point where it more closely resembled a stew. Next time I make this cabbage roll soup, I plan on using frozen pre-cooked rice (like the kind from Trader Joe's) and adding it in at the very end.
The final step is to add your chopped cabbage and cook it just for a couple more minutes. Since the soup will already be screaming hot when you add the cabbage, it will only take a few minutes to come to pressure unlike when you first started the soup.
What if I don't have an Instant Pot? How to make this Cabbage Roll Soup in the slow cooker or on the stove top:
No problem! This soup can totally be made without an Instant Pot. It will just take longer.
How to make in the slow cooker: You'll need to brown the meat, onion, tomato paste and garlic in a separate pan and then transfer everything over to your slow cooker. You can cook the soup on low for 6-8 hours or on high for 2-3 hours. I still recommend addining in the cabbage at the end and just allow it to cook long enough to get soft.
How to make on the stove top: You'll just need a heavy bottom soup pot. You can cook everything in that one pot just like you would the Instant Pot. You'll want to keep it covered if you don't want too much liquid evaporating. You'll follow the same process and brown the meat, onion, tomato paste and garlic in the pot and then add all the ingredients except the cabbage. To be totally honest, you'll just need to cook it long enough to heat everything thru, but soup tastes best the longer you cook it to allow the flavors to fully combine.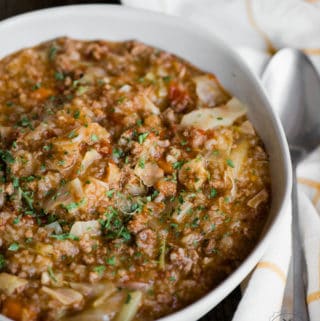 Instant Pot Cabbage Roll Soup
Instant Pot Cabbage Roll Soup is not only a hearty meal that has everything you want in a satisfying hot bowl of soup, but it's a quick and easy recipe!
Print
Pin
Rate
Time needed to come to pressure:
15
minutes
Ingredients
1

T

olive oil

1

pound

ground pork

1

pound

ground beef

1

tsp

kosher salt

1

tsp

pepper

freshly ground

1

large

onion

diced

1

T

tomato paste

2

cloves

garlic

minced

2

carrots

peeled and diced

8

cups

beef broth

3 1/2

cups

tomatoes

I used fresh but you can substitute with a 28oz can of diced tomatoes in juice

1

T

Worcestershire sauce

1

cup

long grain rice

uncooked

1

bay leaf

6

cups

green cabbage

coursely chopped
Instructions
Heat the olive oil in the Instant Pot using saute mode. Add the ground beef and pork and season with salt and pepper.

Cook, breaking up the meat with a spatula, until beef is browned, approximately 4-5 minutes. Add the onion for 2-3 minutes. Add the tomato paste and garlic cook for an additional minute.


Add the carrots, beef broth, tomatoes, Worcestershire sauce, rice, and bay leaf to the pot.


Close lid and cook on high pressure 12 minutes. Release pressure, open lid, add cabbage, and cook for an additional 3 minutes on high pressure. Release pressure, open lid, and Remove bay leaf and discard.

To serve, season with additional salt and pepper, to taste.
Nutrition
Calories:
453
kcal
|
Carbohydrates:
28
g
|
Protein:
25
g
|
Fat:
26
g
|
Saturated Fat:
9
g
|
Cholesterol:
81
mg
|
Sodium:
1315
mg
|
Potassium:
829
mg
|
Fiber:
3
g
|
Sugar:
5
g
|
Vitamin A:
63.5
%
|
Vitamin C:
38.5
%
|
Calcium:
8
%
|
Iron:
16.1
%
Are you a Foodie? We have a group that's just for you!
I invite you to join so you can share your love of food and cooking with other foodies.
We're building a community one meal at a time!