Creamy Chicken and Rice Soup is an easy and comforting dinner that your family will love.
You can use store bought rotisserie chicken and broth, or you can make your own from scratch. Either way, this creamy chicken soup with rice will satisfy your craving!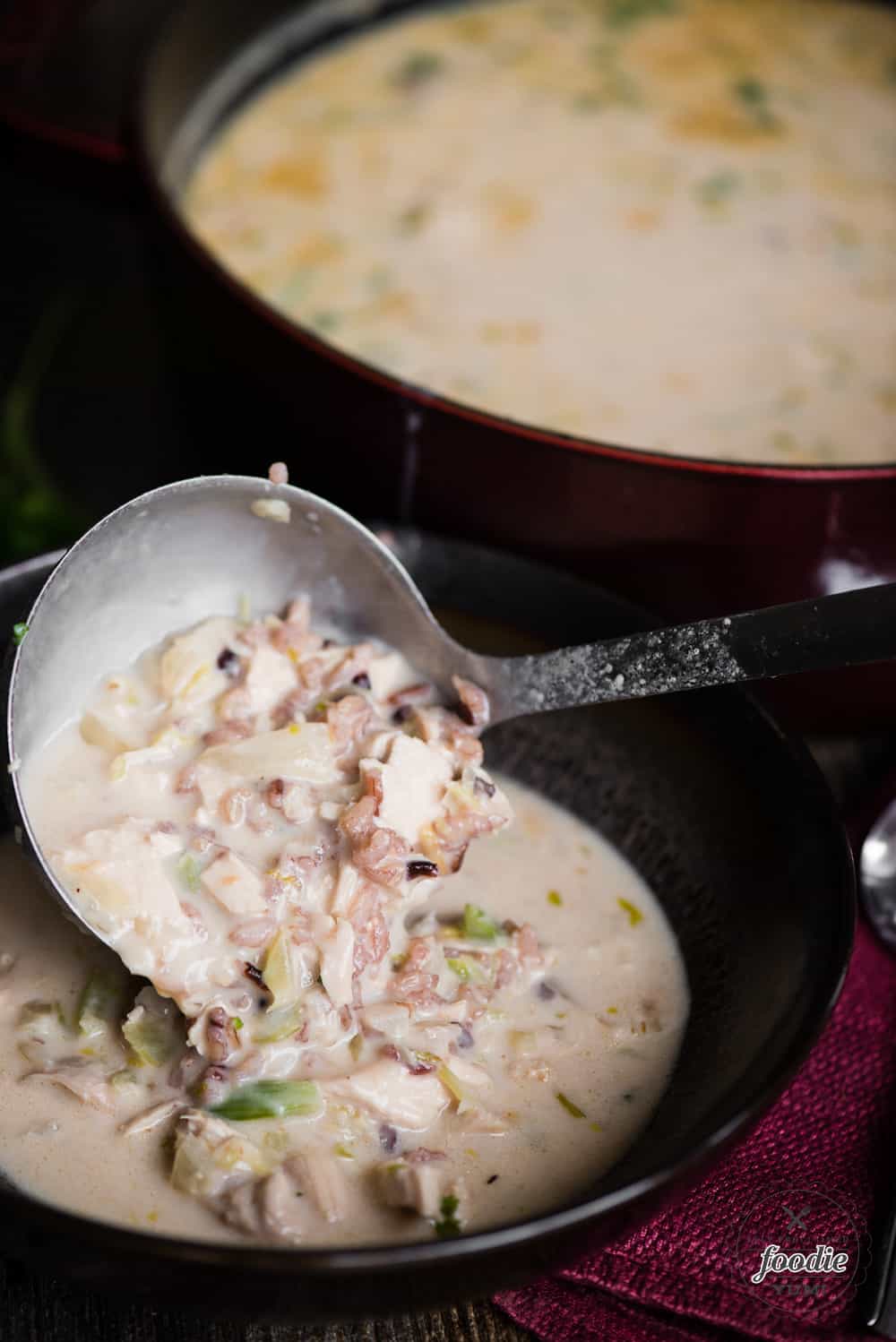 MY OTHER RECIPES
Chicken and Rice Soup is what I crave. As I look outside on this dark, grey, stormy January day, nothing sounds better than homemade chicken and rice soup. Well, that, plus an electric blanket and some uninterrupted Netflix.
Chicken and wild rice satisfies any kind of comfort food craving. It's warm, delicious, and downright satisfying. This soup can be super simple to make if you buy pre-cooked or rotisserie chicken and boxed broth from the store. Or, if you're like me and will do anything for scratch made recipes, you'll cook your own chicken in the Instant Pot or Crockpot. From there, you can shred the meat and continue to make a rich, savory bone broth. Either way, this soup will be loved by all.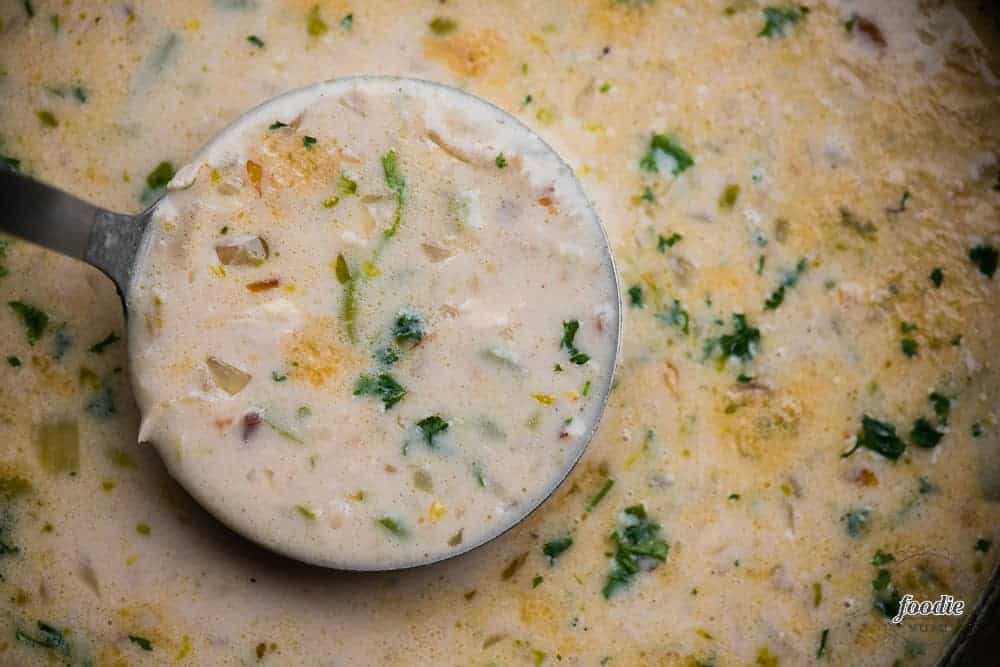 Do you have to cook rice before you put it in soup?
When you make soups like this creamy chicken and rice soup, you have a few different options when it comes to the rice. I've used all three methods below.
If you want to use uncooked rice, be sure to rinse it several times if the cooking instructions indicate so. This will remove additional starch. You would add the uncooked rice to the soup just after you add the broth and have brought it to a roaring boil. Keep in mind that rice tends to triple in size when you cook it. Since this recipe calls for two cups of cooked rice, you would want to add about 2/3 cups uncooked rice. Also be aware that wild rice will often take longer to cook than brown rice, and brown rice will take longer to cook than white rice.
A second option would be to use cooked rice, you only need to add it at the very end of your recipe.
A third, and my preferred option, is to use cooked rice that has been frozen. Trader Joe's makes excellent frozen rice that is pre-cooked. No need to rinse or dirty another pot. Just throw the rice in and allow enough time for it to heat through.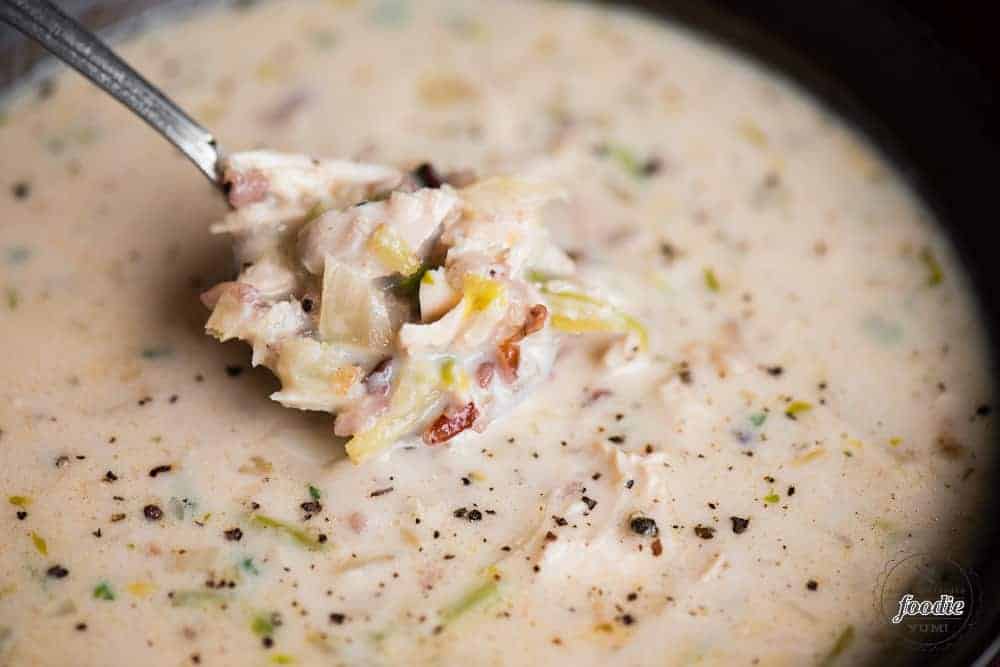 Can you freeze homemade chicken and rice soup?
Absolutely. Any time I make soup, I try to make double or triple the amount my family will eat at dinner just so that we'll have ample leftovers. There's nothing worse than being sick and not having any homemade soup on hand. Likewise, there's nothing better than not knowing what to make for dinner and being able to grab some homemade chicken soup out of the freezer.
I've used two different methods to freeze my homemade creamy chicken and rice soup. First, you can easily use a resealable plastic gallon sized freezer bag. I will lay it flat in the freezer until it gets frozen solid. At that point you can store it vertically, if needed. Second, you can use a plastic reusable quart sized container. This is my preferred method because the containers can be used over and over again. Plus, they are the perfect serving size for one really hungry person or two moderately hungry people. They stack well too.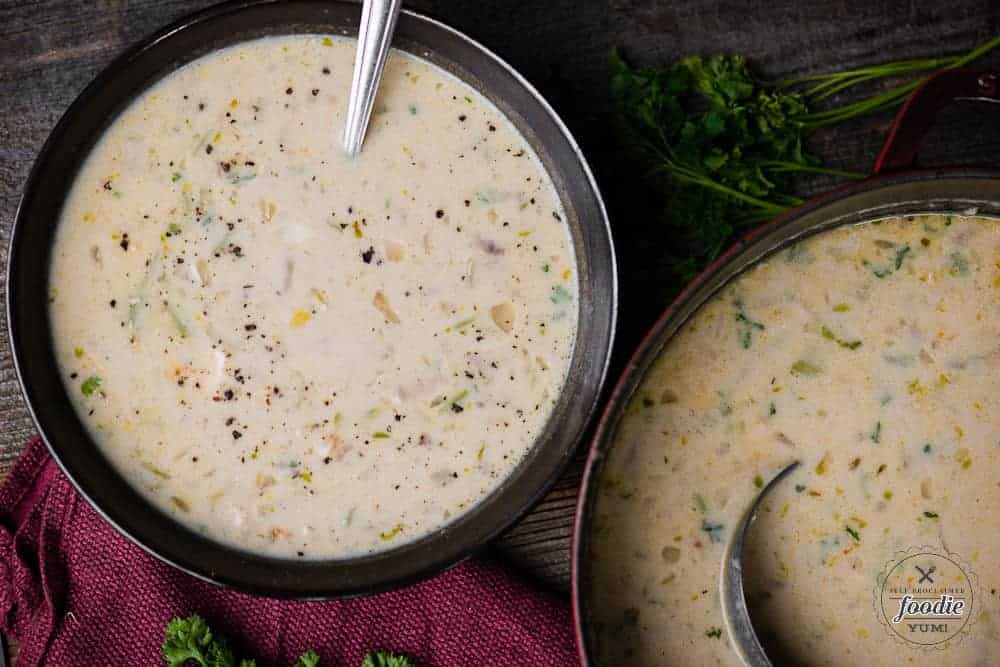 Ingredients
1 tablespoon olive oil
1 medium yellow onion, diced
4-5 stalks celery, diced (you want the same onion:celery ratio)
4 cloves garlic, minced
4 tablespoons unsalted butter
6 tablespoons flour
4 cups chicken broth
1 1/2 cups milk
1/2 cup heavy whipping cream
2 cups cooked wild rice
2 cups shredded cooked chicken
1 tablespoon kosher salt
freshly ground pepper
Directions
In a large heavy bottom stockpot or dutch oven, heat the olive oil over medium high heat. Saute the onion and celery until golden and fragrant, stirring occasionally, about 5-8 minutes. Add the garlic and allow to cook for 2-3 more minutes.
Add butter to onion mixture and allow to melt. Sprinkle flour on top, stir, and allow mixture to cook for several minutes until fragrant, stirring frequently, about 3-5 minutes. Whisk in the chicken broth and continue to whisk until until mixture begins to thicken. Stir in milk and the heavy whipping cream. Add cooked rice and shredded chicken. Add salt and pepper, adjusting amounts to taste.
Serve hot to enjoy. Will keep in the refrigerator for several days. This soup freezes well in an air tight container.
Recipe Notes
You can use a rotisserie chicken for the meat and then make your own broth from the carcass if you don't want to use store bought. You can also cook an entire chicken in the pressure cooker or crockpot for the meat and homemade broth.