Homemade Raspberry Marshmallows, made with fresh raspberry puree, are surprisingly easy to make and are a fun summer dessert your family will love!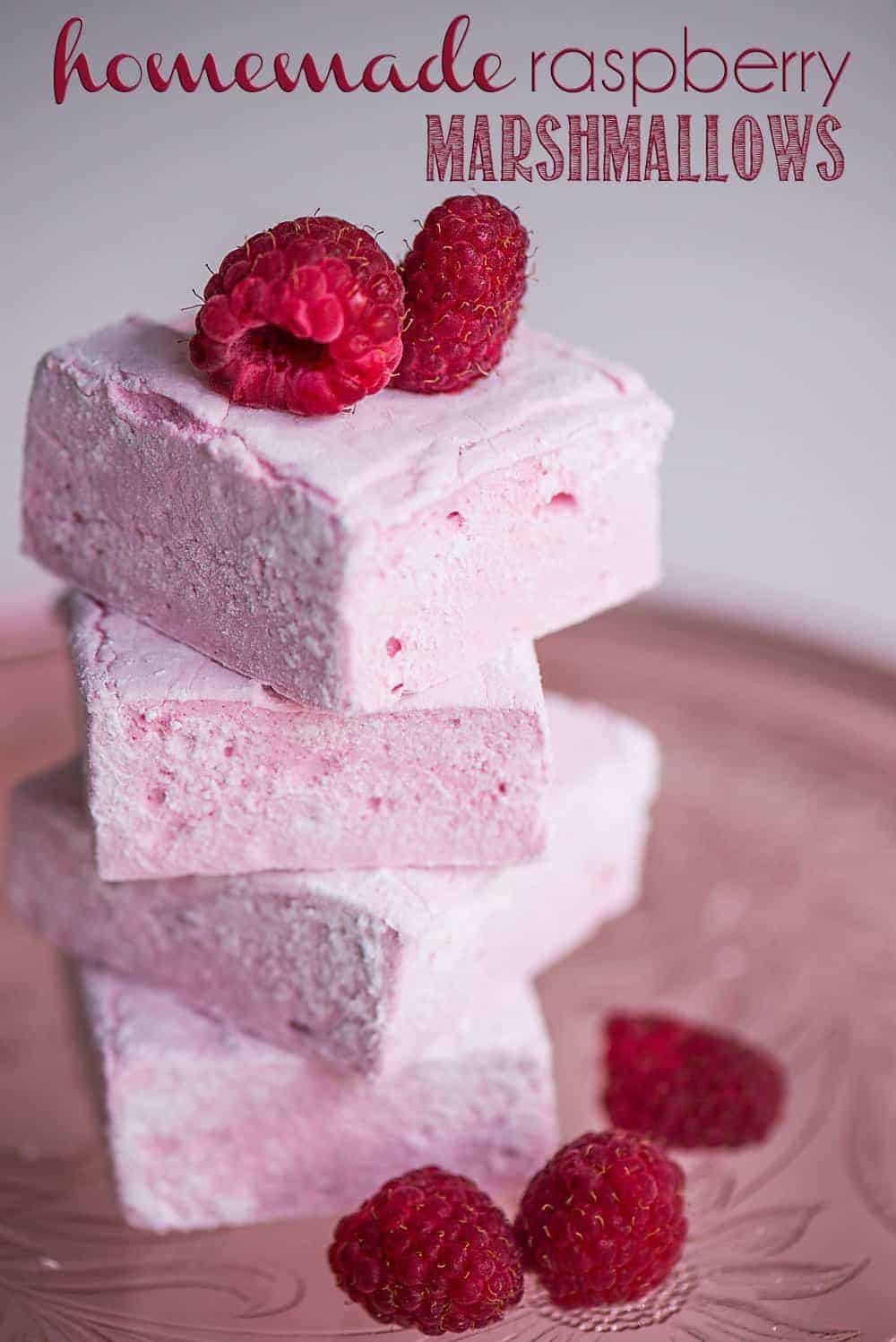 This post first appeared over at Real Housemoms where I was a contributor.
The first time I made homemade marshmallows was when I wanted something different for my holiday cookie trays, so I took a stab at making peppermint marshmallows. I've always been afraid to work with boiling sugar ever since my tragic gingerbread house building accident where my sister accidentally spilled boiling sugar on the top of my hand. Sure, it was just a drop, but I will forever remember that moment!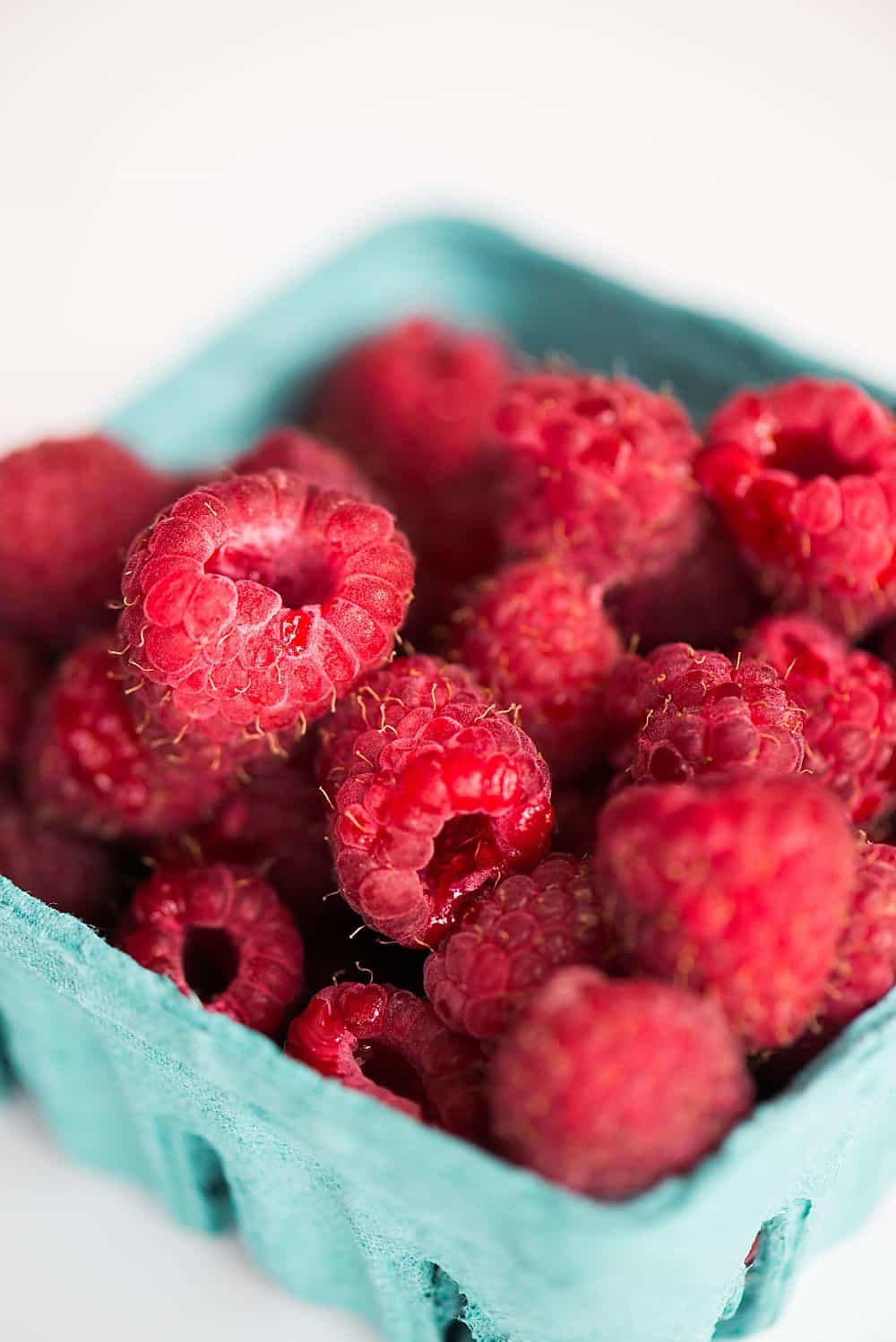 Anyway, at some point in my late-30s I finally mustered up the confidence to boil sugar, and I'm happy to say I've encountered zero third-degree burns as a result! This summer I wanted to integrate one of my favorite berries into these fluffy little treats, hence Homemade Raspberry Marshmallows were born!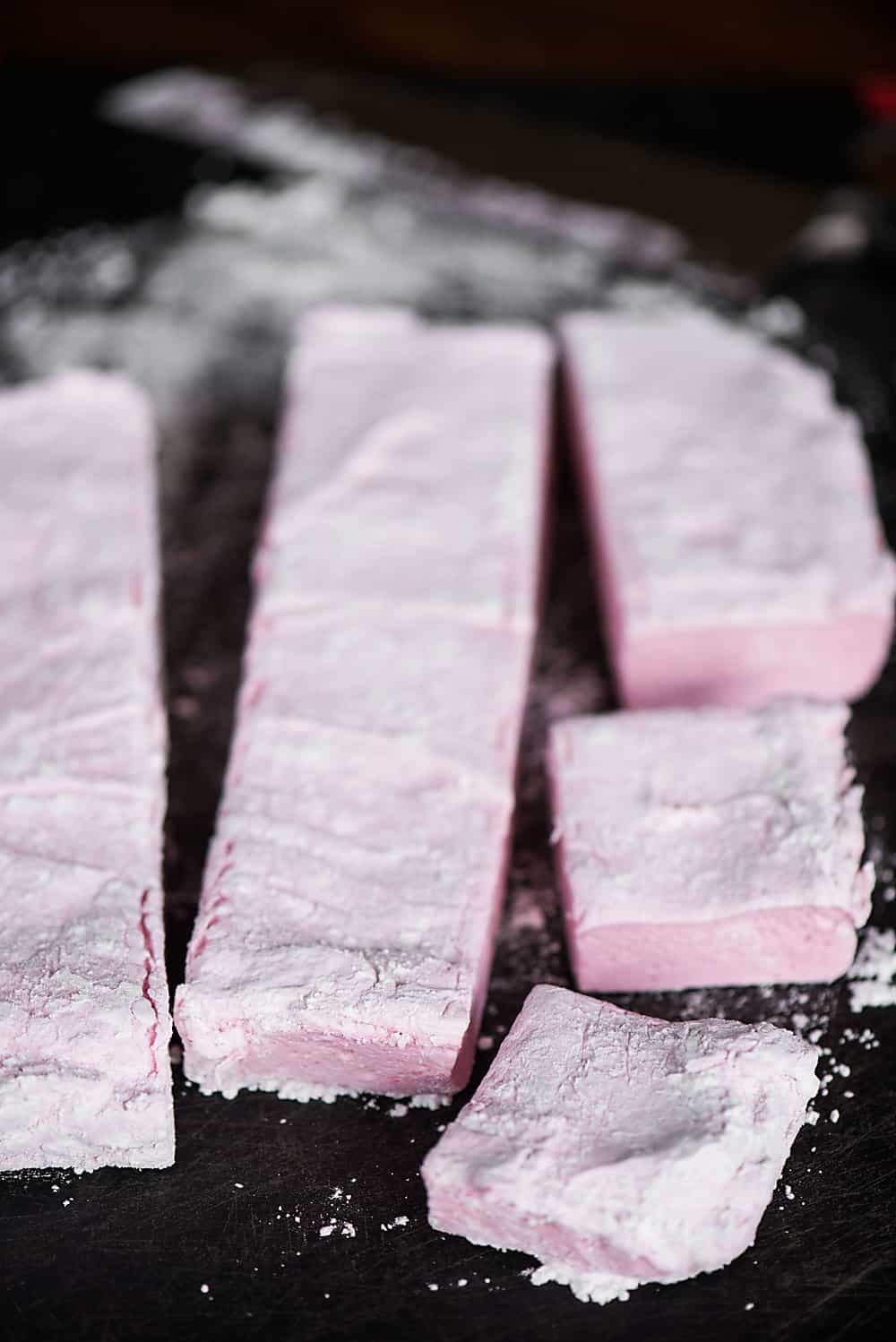 If you've never made marshmallows, there are a few things you should know:
They are incredibly easy to make
They taste a heck of a lot better than the bagged marshmallows you buy at the store
Your life will be forever changed once you roast them over the fire and smash them between two graham crackers and a chunk of dark chocolate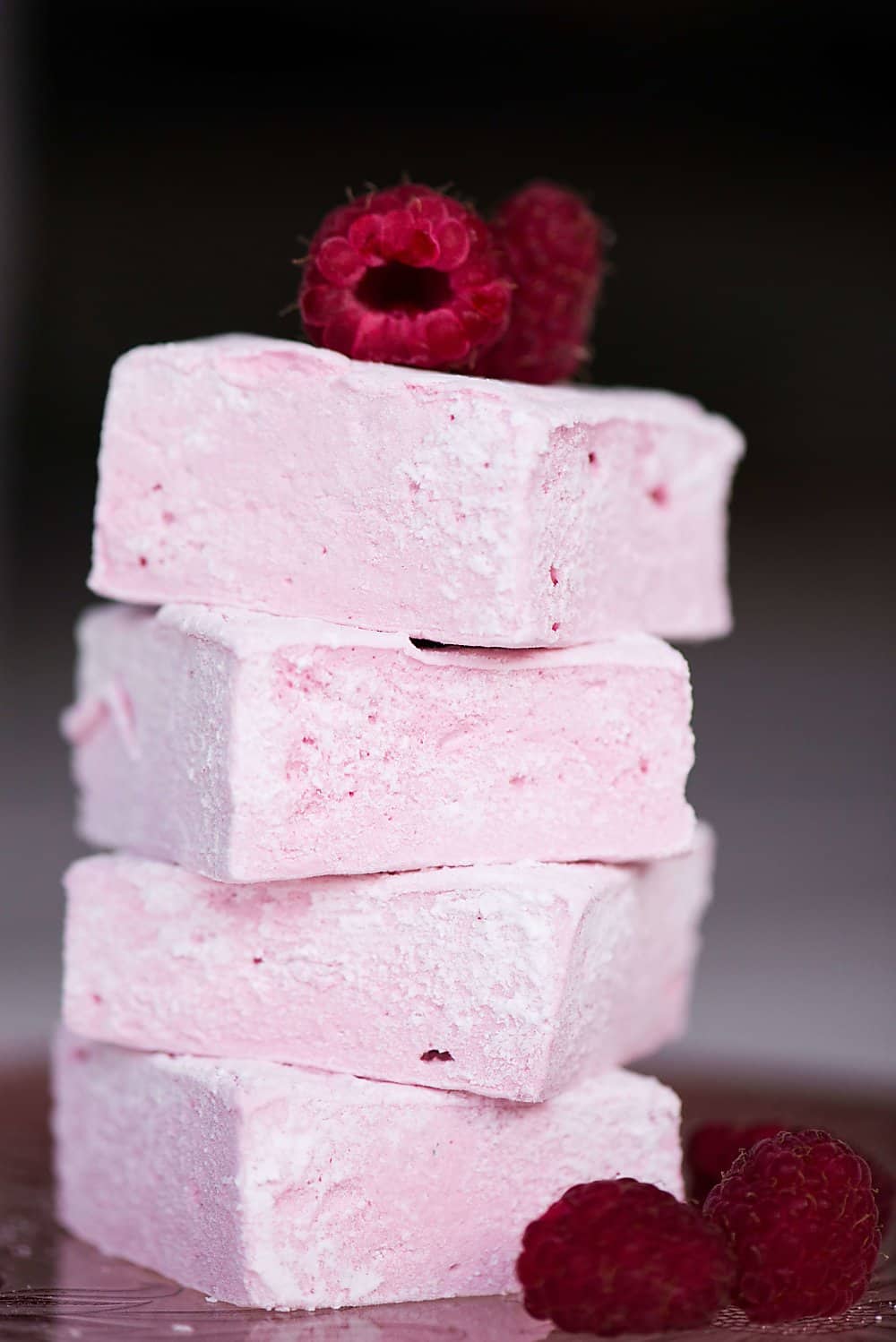 So far I've made peppermint, strawberry, and now raspberry marshmallows, and they are all outstanding in their own way. I have 15 over producing blueberry bushes in my backyard so I'm going to make some blueberry lemon marshmallows at some point this summer. Wish me luck! If you make these, I expect you to turn at least one marshmallow into a s'more and report back on how your live has changed for the better because of it. Enjoy!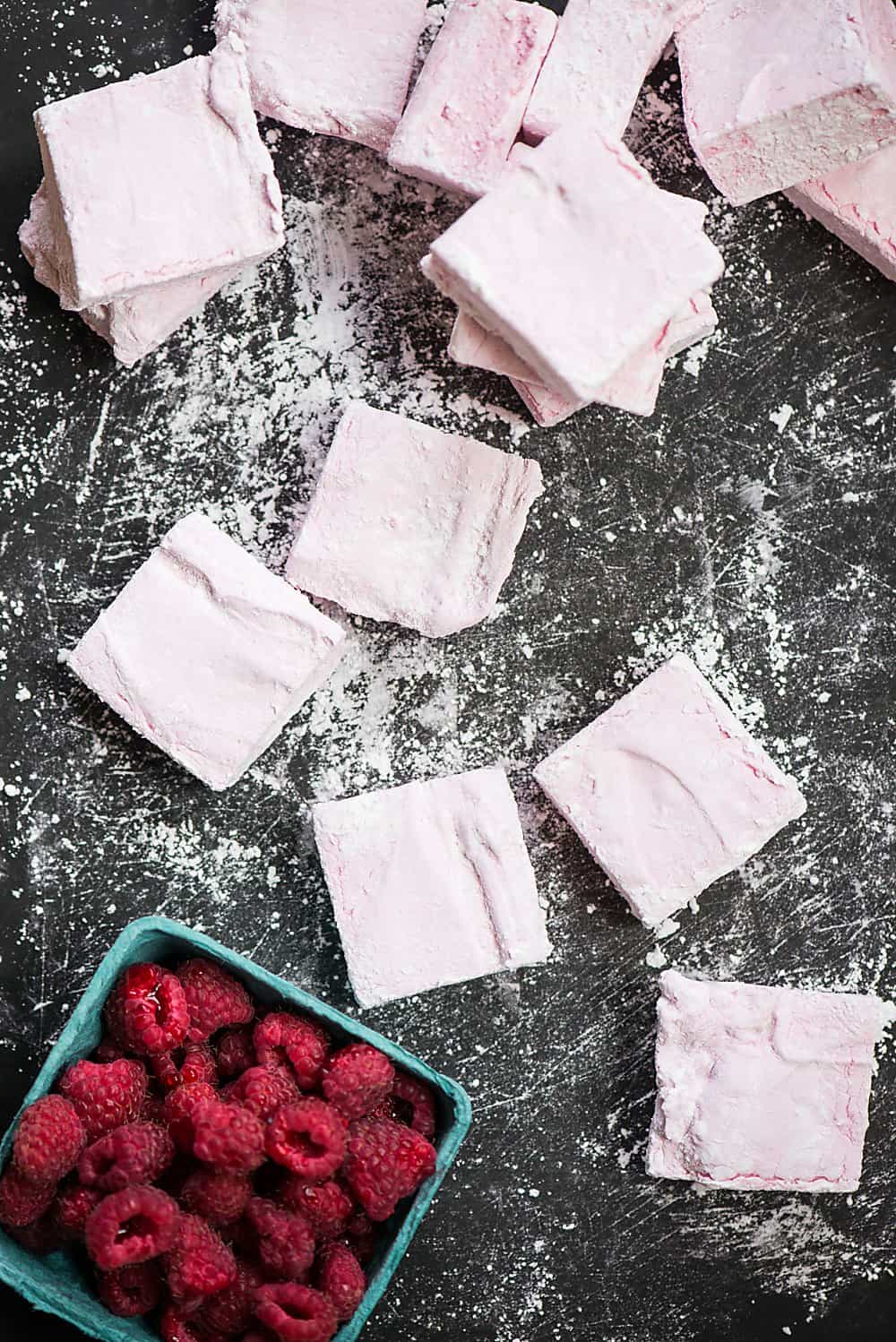 Homemade Raspberry Marshmallows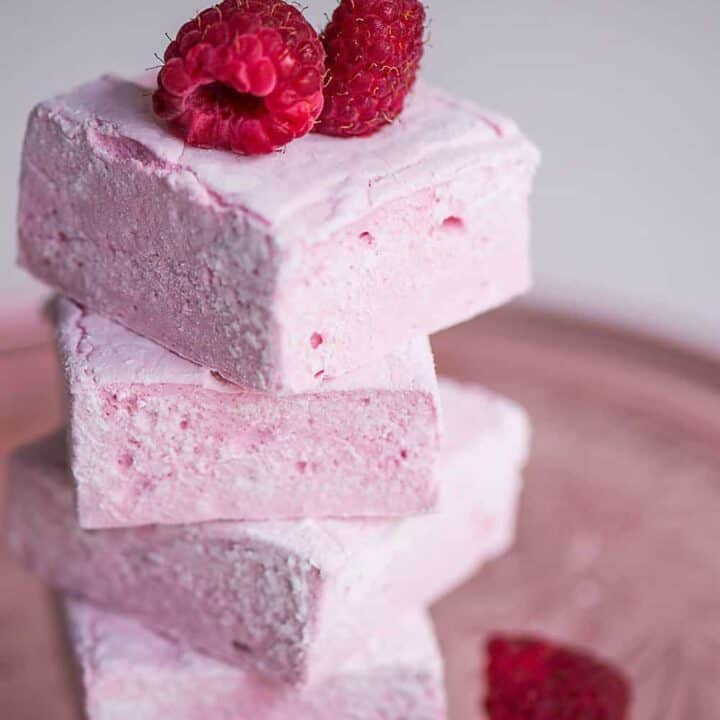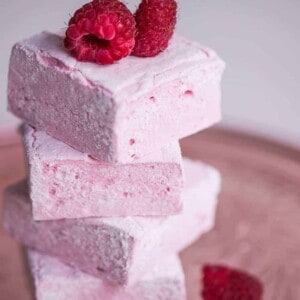 Homemade Raspberry Marshmallows, made with fresh raspberry puree, are surprisingly easy to make and are a fun summer dessert your family will love!
Instructions
To make the raspberry puree, wash raspberries and then blend on low speed until a smooth puree forms. Press through a fine mesh sieve.

In the bowl of a stand mixer, combine the gelatin with the raspberry puree and give it a swirl to ensure the gelatin doesn't clump. Let sit.

In a small saucepan, combine sugar, corn syrup, salt, and water. Heat on medium-high with the lid on for a few minutes to bring it to a boil. Then, remove the lid and heat over high heat until a candy thermometer reads exactly 240 degrees F. This can take 4-8 minutes. As soon as it reaches temperature, remove it from the heat.

With the whisk attached to the stand mixer, start mixing the gelatin and puree on low speed. Slowly pour the hot sugar mixture into the bowl. Once all of the hot sugar mixture has been added, turn the speed to high and continue to mix until you get a beautiful pale pink marshmallow mixture that is just warm to the touch, about 13-14 minutes.

While you're mixing the marshmallow, combine cornstarch and powdered sugar in a separate bowl. Spray an 8x8 inch baking dish well as a rubber spatula with cooking spray. You can line your dish with foil ahead of time if you wish and then spray the foil. Add about 1/3 of the sugar and corn starch blend, then shake the pan to evenly coat the bottom and sides. Use the spatula to transfer the finished marshmallow mixture from the bowl to the baking dish and spread into an even layer. Top with half of the remaining sugar and cornstarch mixture, and spread it across the top to cover. Allow the marshmallows to sit uncovered 4-10 hours (I let mine sit overnight).

Lift the marshmallows out of the pan and transfer to a cutting board. Cut into desired shapes and then roll each individual marshmallow in remaining sugar and cornstarch mixture to coat all sticky sides.

Store in air tight container. They can also be frozen if needed.
Nutrition
Calories:
85
kcal
,
Carbohydrates:
21
g
,
Protein:
1
g
,
Fat:
1
g
,
Saturated Fat:
1
g
,
Sodium:
9
mg
,
Potassium:
11
mg
,
Fiber:
1
g
,
Sugar:
19
g
,
Vitamin C:
2
mg
,
Calcium:
3
mg
,
Iron:
1
mg
Nutrition information is automatically calculated, so should only be used as an approximation.