Impress your Thanksgiving guests by serving some Damn Good Roast Turkey. Its unbelievably moist from the apple cider brine and flavorful from all the herbs.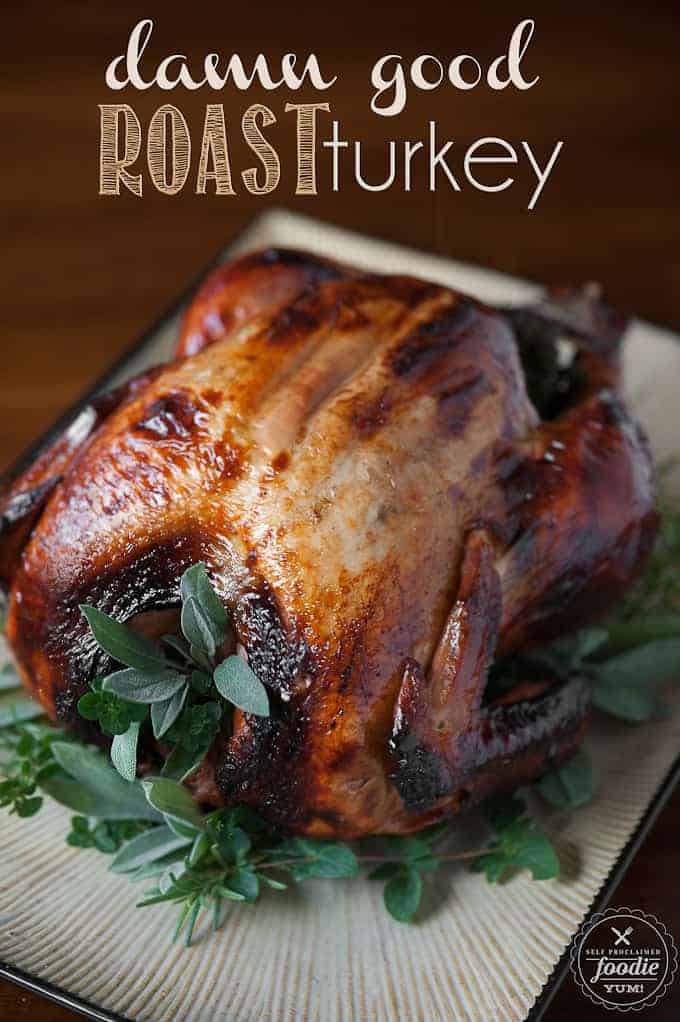 MY OTHER RECIPES
I make my Thanksgiving turkey every year. Always trying to perfect it. Always trying new methods. The weirdest thing about this year's turkey was that I made it a full month ahead of Thanksgiving! When I started this food blog, I immediately realized I had a steep learning curve ahead of me. Staying 1+ months ahead of all food trends through a curve ball. Guess what I'm doing today on this tenth day of November? I'm making all of my Christmas treats. Seriously! I'll be doing a 12 Days of Christmas Treat series starting on Black Friday. Okay, you can stop jumping up and down now. I know its exciting.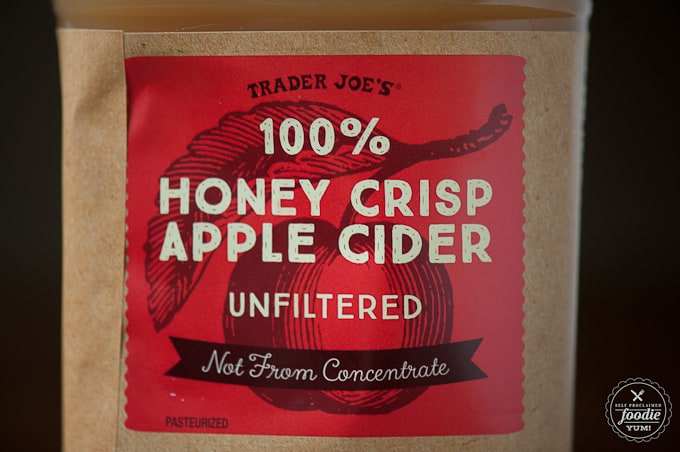 You know I love Honeycrisps. I couldn't get enough this Fall. I made several batches of Vanilla Bean Honeycrisp Applesauce. I made a Buttercup Squash Cake with a Honeycrisp filling. Fall wouldn't be complete without a batch of Applesauce Muffins. I made a Vanilla Bean Cheesecake with Honeycrisp Apple Compote. I even made some Maple Bourbon Cider out of a batch of applesauce I cooked to long – a happy mistake. Well, I just about had tears of joy when I saw that Trader Joe's had Honey Crisp (I always thought it was one word) Unfiltered Apple Cider. It was only three bucks too! This stuff was soooo good. I couldn't wait to soak my turkey in it. Don't get me wrong – any kind of apple cider will work, but this stuff is AMAZING.
I love cooking with tons of fresh herbs. You can never go wrong. This bird was cooked in our Traeger grill, but the same approach works equally as well in the oven. This turkey ended up being so moist and flavorful. Everything a turkey should be. This is definitely my new favorite method. And yes, your guests will be saying its Damn Good.
I did pretty much a full Thanksgiving line up on the blog. If you're looking for other great recipes to serve up this year, be sure to check out my fresh cranberry sauce, wild mushroom stuffing, perfect green bean casserole, my very own sweet potato casserole, roasted garlic mashed potatoes, savory herb gravy, and easy rosemary dinner rolls. And you can't forget the drinks! Why not try a cranberry pear moscato cocktail, a cranberry martini, a sparkling cranberry rosé some Autumn punch (can be made sans the booze for the kiddies), or, dare I suggest, a rich pumpkin pie martini. Enjoy!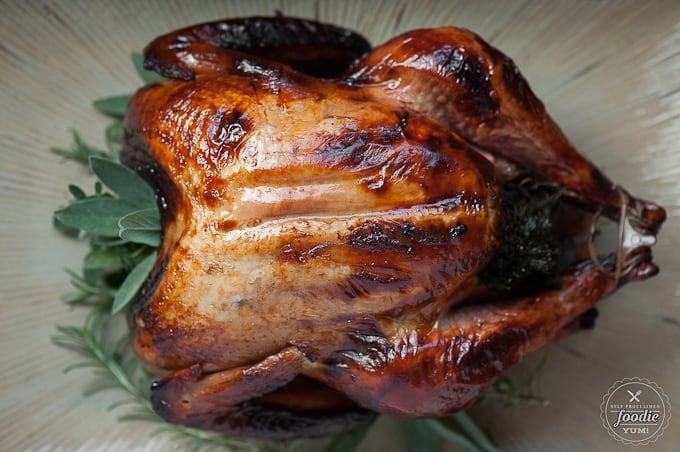 Impress your Thanksgiving guests by serving some Damn Good Roast Turkey. Its unbelievably moist from the apple cider brine and flavorful from all the herbs.
Ingredients
Brine
8

cups apple cider

2/3

cup kosher salt

1

tablespoon black peppercorns, coarsely crushed

1

tablespoon whole allspice, coarsely crushed

6

whole cloves

2

bay leaves

1

(12-pound) turkey (ensure its fully thawed if previously frozen)

2

valencia oranges, quartered

6

cups ice
Roasted turkey
As many fresh herbs as will fit into cavity (sage, rosemary, thyme, marjoram, oregano, basil)

2

cups chicken broth

2

tablespoons unsalted butter, melted

freshly ground black pepper, divided

1

teaspoon salt
Instructions
To prepare brine:
Combine apple cider, salt, peppercorns, allspice, cloves, and bay leaves in a large saucepan and bring to a boil. Cook 5 minutes until salt dissolves. Cool completely.
Remove giblets and neck from turkey, refrigerate until ready to use, and reserve for gravy. Rinse turkey with cold water and pat dry. Trim excess fat. Stuff body cavity with orange quarters. Place a turkey-sized oven bag inside a large stockpot. Place turkey inside bag. Add cold cider mixture and ice. Squeeze as much air out of bag as possible. twist top and secure with twist tie or tuck end so that it stays put. Refrigerate for 12 to 24 hours, turning occasionally.
To roast the turkey:
Preheat oven or grill to 450º.
Remove turkey from bag, and discard brine, orange quarters, and bag. Rinse turkey with cold water and pat dry. Cut a small slit in the breast skin so that you can tuck wing tips under to keep in place. Tie legs together with kitchen string if the turkey didn't already come with a fastener. Place herbs in the cavity of the bird. Pour the broth in the bottom of a roasting pan that will be under the bird (this will also catch the drippings). Place roasting rack in pan if roasting in the oven or if using a rack and roasting pan on your grill. I cooked mine on the trager and put a pan on the grease tray under the rack, and the turkey directly on the rack.
Arrange turkey, breast side down, on roasting rack. Brush turkey with 1 tablespoon of the butter and sprinkle with salt and pepper. Roast at 450º for 30 minutes.
Reduce oven temperature to 350º.
Carefully turn turkey over (breast side up). Brush turkey breast with 1 tablespoon butter; sprinkle with more salt and pepper. Bake at 350º for 1 hour and 15 minutes* or until a thermometer inserted into meaty part of breast registers 150º. Remove turkey from oven, tent with foil with thermometer still inserted, and let stand until internal temperature reads 160-165º , about 20 minutes. Reserve pan drippings for gravy.