Classic Deviled Eggs are a favorite appetizer for parties and holiday celebrations. This traditional deviled egg recipe is simple and perfect. Unlike other deviled egg recipes, this one is easy and uncomplicated, so it will not only be your favorite recipes, but it will be a favorite of anyone who eats them too!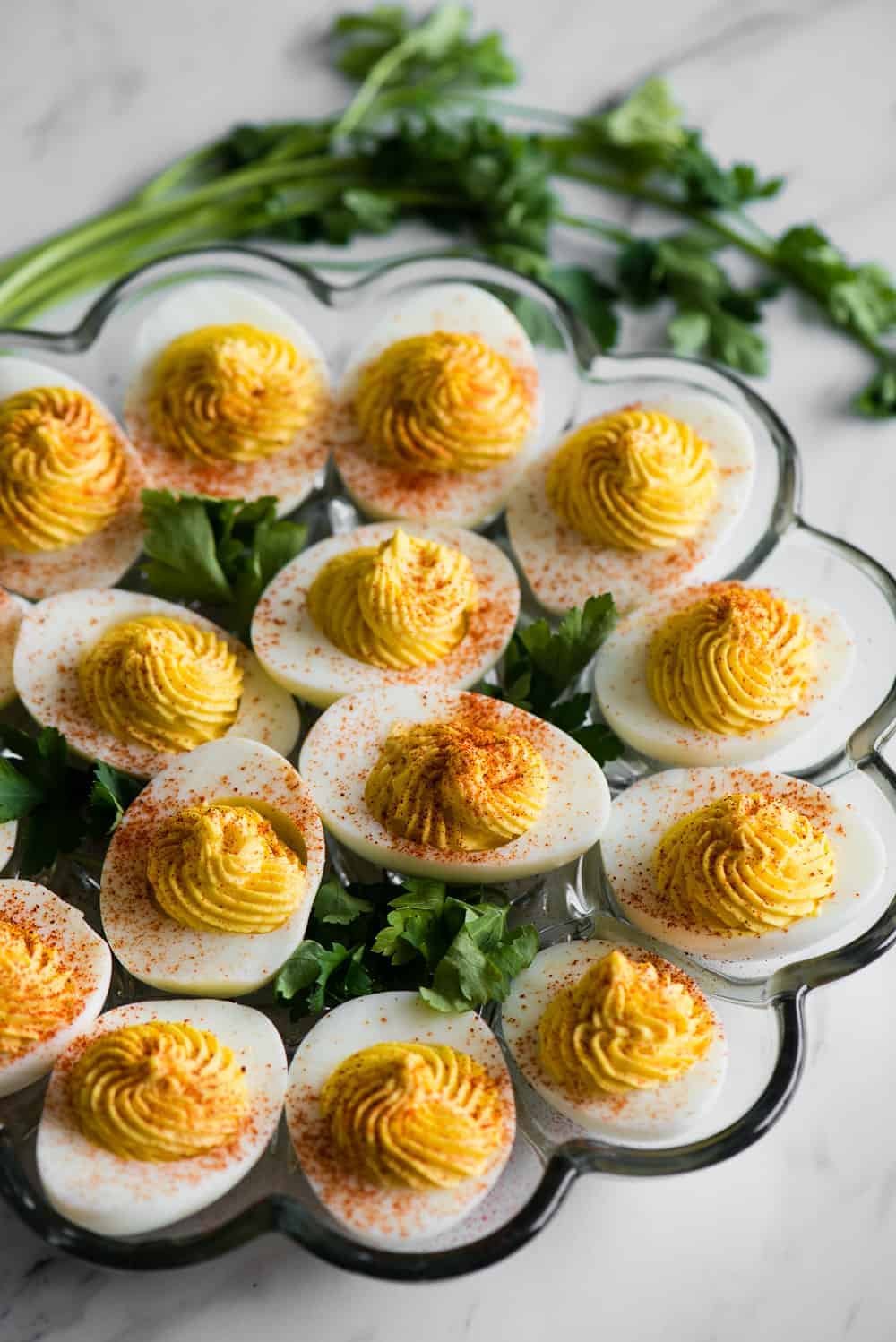 Why this recipe works:
This deviled egg recipe is the best one you'll find because it's simple and easy. You won't find any vinegar or pickle juice or weird ingredients in these deviled eggs – just mayonnaise and dijon mustard.
Those, combined with a little salt, are all you need to make a delicious deviled egg that everyone will love.
I've made plenty of different kinds of deviled eggs with different mix-ins and toppings, but nothing quite beats a classic deviled egg.
This recipe is made especially delicious because I use my very own homemade mayonnaise.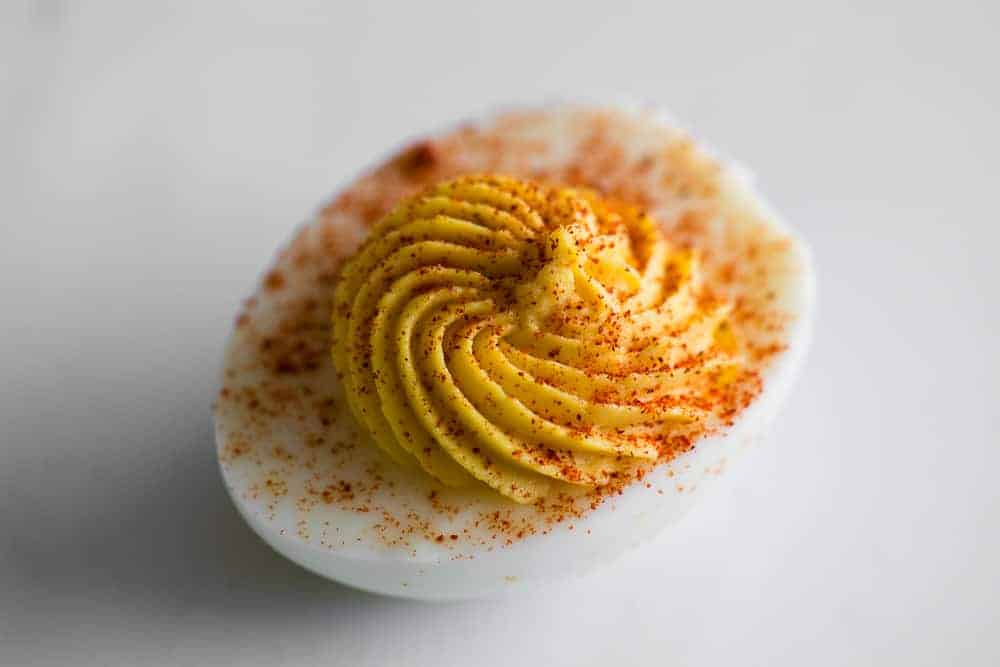 How to make classic deviled eggs:
First, you must hard boil your eggs. You can do this on the stove top or in your Instant Pot. Just be sure to put the hard boiled eggs in a bowl of ice water to stop the cooking and make them easier to peel.

Next step is to slice the peeled eggs lengthwise. To make a nice clean cut to keep the egg whites from getting yolk all over them, simply give your knife a quick rinse or wipe in between cuts.

Transfer the egg yolks to a separate bowl. Use either a fork or a masher to mash the yolks and combine them with the mayo, mustard and salt. You really need to mix the egg yolks well until they are light and creamy. If the mixture seems dry or clumpy, add more mayonnaise. You can't over mix this part.

Finally, all you need to do is add the egg yolk mixture back to the egg white. If you don't care about presentation, a couple small spoons will do the trick. But, if you want your deviled eggs to look fancy, it's worth the time, effort, and extra clean up to use a pastry bag with a large star tip.
Never made them before?
Simply put, deviled eggs are simply eggs that have been hard boiled and cut in half. The yolks are then removed, mixed with other ingredients to make them creamy and add flavor, and then put back in the egg white.
Deviled eggs are commonly made as appetizers and make great finger food at parties, but they also are a fantastic snack to keep in the fridge. A lot of people rely on hard boiled eggs for a quick, healthy, and filling grab-and-go snack, but deviled eggs are so much better!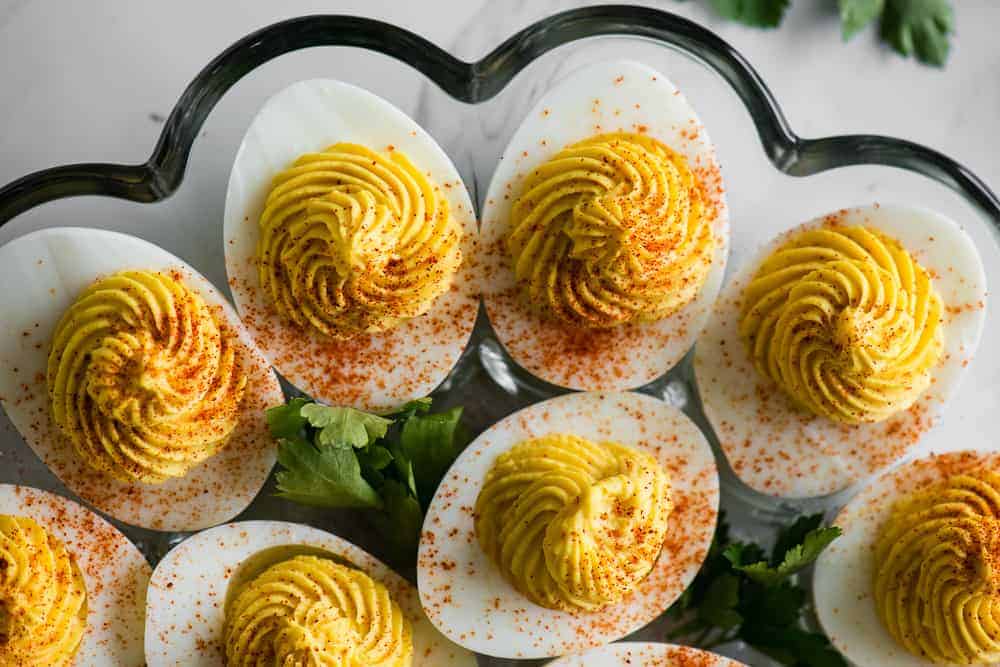 They make a great snack!
If you're looking for a snack that will give you energy and keep you full, deviled eggs are the perfect option.
In one deviled egg, as I've prepared them in this recipe, you're looking at consuming just over 60 calories and 2 grams of protein.
If I'm hungry and need a mid-meal snack, two deviled eggs and a handful of celery is the perfect option!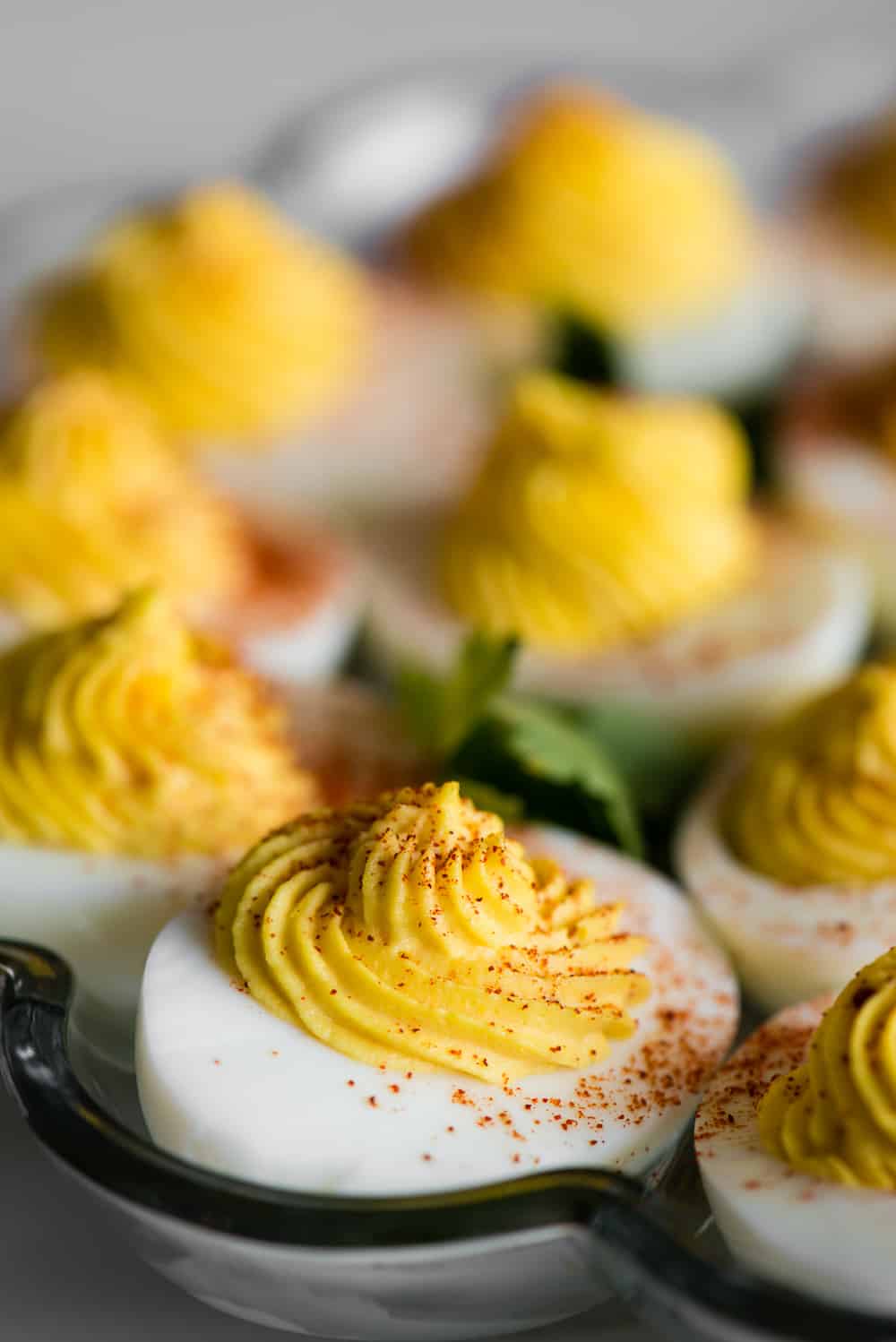 Love deviled egg recipes?
You'll have to try these:
I love hearing from my readers to be sure to leave me a comment below!
Best Classic Deviled Eggs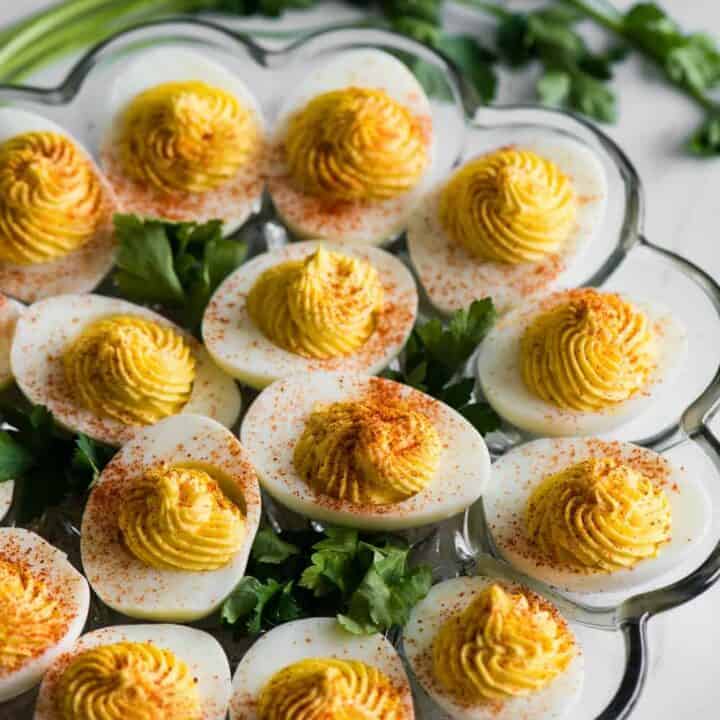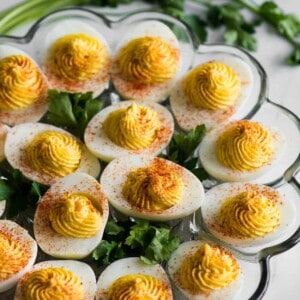 These Classic Deviled Eggs are fantastic as appetizers for parties and holiday celebrations. This traditional deviled egg recipe is simple and turns out perfect every time. 
Instructions
To hard boil eggs in Instant Pot (recommended):
Cook on low pressure with eggs on rack with 1 cup of water in pot for 6 minutes, allow to sit in Instant pot for 6 additional minutes, then transfer to ice bath for at least 6 minutes.
To hard boil eggs on stove:
Arrange eggs in a single layer in a pot. Cover with at least an additional inch of cold water. Turn heat on high and heat, uncovered, until the water starts to boil. Cover and remove from heat. Allow to sit in covered pot for 15 minutes. Drain off hot water and immediately submerge eggs into ice water. Ensure there's enough ice so that it doesn't all melt. Allow to sit in ice water for at least 15 minutes.
To make deviled eggs:
Carefully peel eggs and rinse. Cut in half lengthwise. Transfer yolks to a separate bowl.

Add mayonnaise, Dijon mustard, and salt to yolks. Mash well with fork until smooth and creamy. Continue to add additional mayonnaise, if needed, to create a very creamy texture. Taste and adjust ingredients, if needed.

Fill cooked egg white halves with egg yolk mixture either by spooning it in or piping it in with a wide star tip. Lightly sprinkle with paprika before serving.
Notes
Nutritional information based on one deviled egg as a single serving.
Use very sharp knife (non-serrated) to cut eggs in half and wipe clean between eggs.
You can mash yolks with a fork or use something like a potato ricer.
Nutrition
Calories:
63
kcal
,
Protein:
2
g
,
Fat:
5
g
,
Saturated Fat:
1
g
,
Cholesterol:
83
mg
,
Sodium:
162
mg
,
Potassium:
30
mg
,
Vitamin A:
120
IU
,
Calcium:
12
mg
,
Iron:
0.4
mg
Nutrition information is automatically calculated, so should only be used as an approximation.
This post was originally created for The Recipe Critic where I was a contributor and has been updated with more fun facts and tidbits for your reading pleasure.