Zucchini boats stuffed with flavorful sausage and fresh veggies makes for a tasty low carb meal that you can serve for breakfast, lunch or dinner!
Hollowed out zucchini halves take the shape of zucchini boats. Cook up some tasty sausage with the remaining zucchini along with some other vegetables and the final dish is absolutely delicious.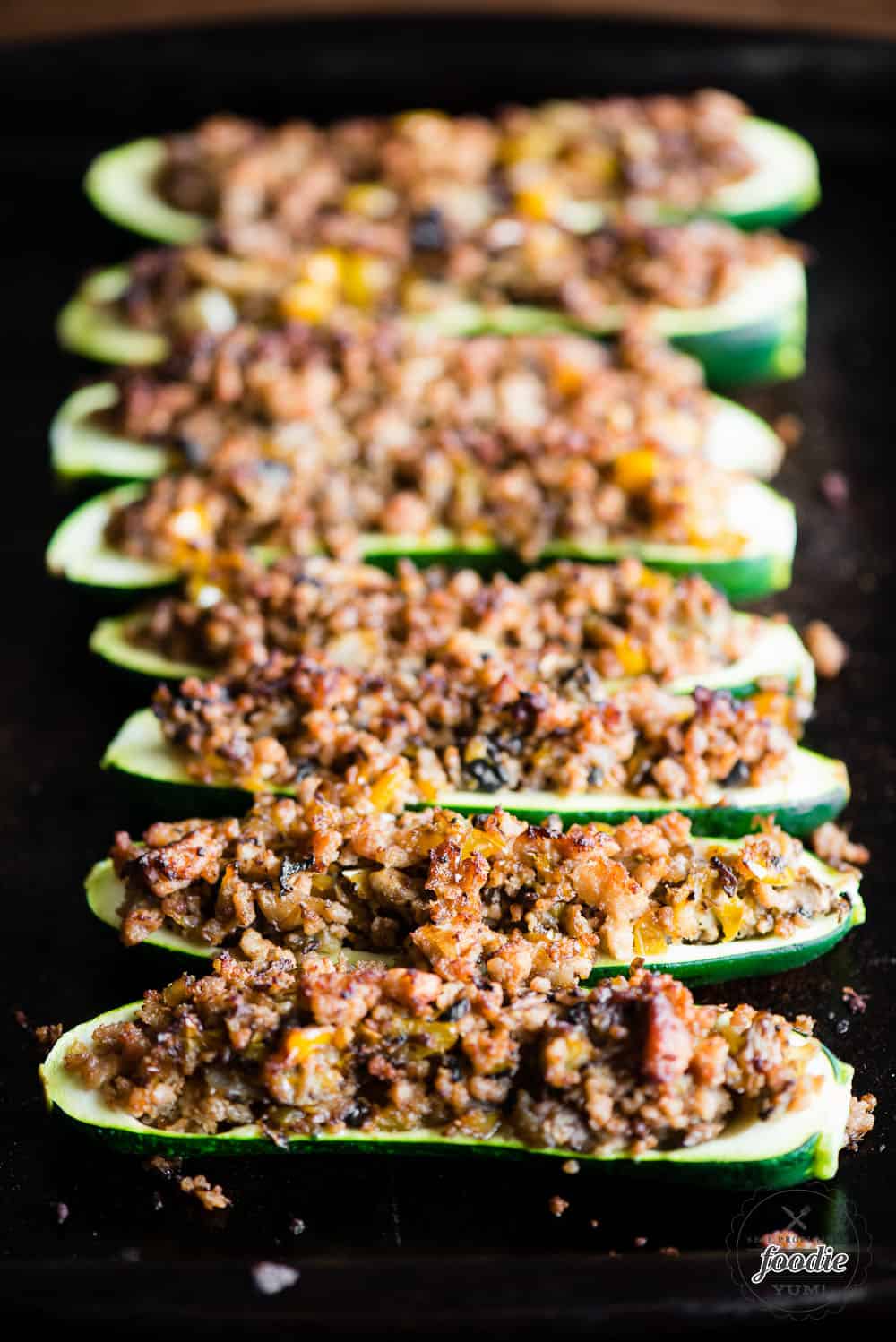 Sausage and Veggie Stuffed Zucchini Boats are such a tasty way to use up the abudant zucchini that grows in your garden as well as fuel your body with a complete meal of meat and veggies.
Much like my Classic Stuffed Peppers, these zucchini boats are an all-inclusive meal. Nothing else is needed to satisfy those hunger pains.
It's not often that I make a meal and don't serve it with some kind of starch or carbohydrate. That's just how I like to eat. But for whatever reason, I thought these sausage stuffed zucchini boats were so good all by themselves.
I ate them for lunch.
Then I ate the leftovers for dinner the next night.
Finally, I finished them off with some scrambled eggs on the third day. They were that good.
How to make zucchini boats:
To start, you must turn your zucchini into a boat. To do this, you'll need to slice them lengthwise and then hollow out the flesh. I used a rounded teaspoon and it did the trick beautifully. Refer to the picture in the recipe.
Don't throw that scooped zucchini away! You'll be adding it to your stuffing.
For this particular version of zucchini boats, I decided to just make a simple stuffing consisting of mushrooms, onions, bell pepper, garlic, ground pork, salt, and the remaining zucchini.
To avoid over cooking the vegetables, I recommend cooking the pork half way and then adding in the diced veggies. To make prep easier, using a food processor to chop the veggies cuts the time in half.
Once the meat and veggies are all cooked up, all you need to do is stuff the zucchini boats and pop them in the oven until heated through.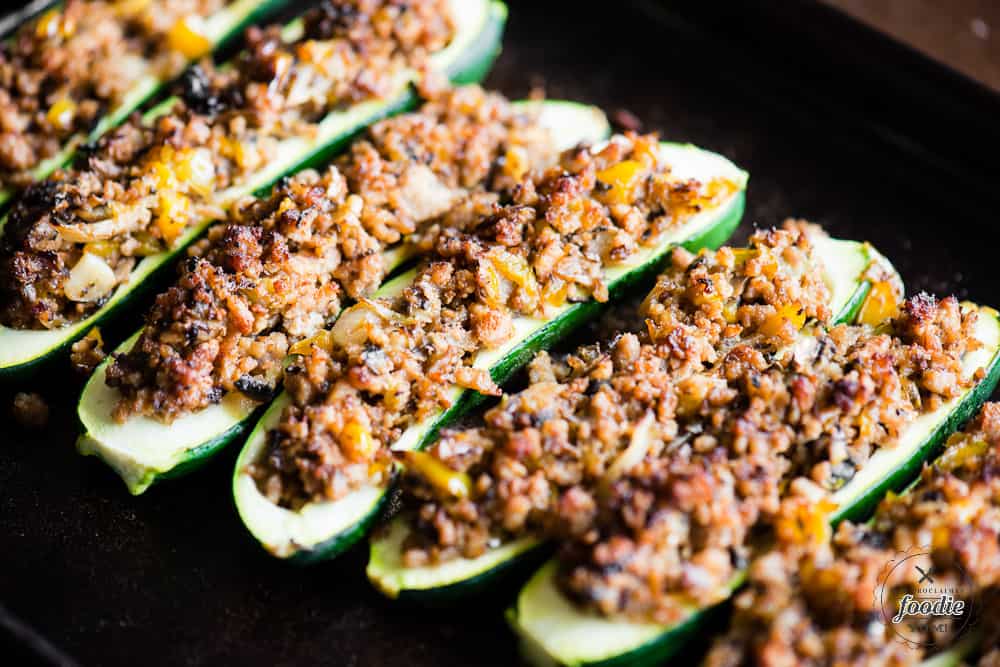 How long does it take to bake a stuffed zucchini?
The total time to bake a stuffed zucchini can be broken down into two parts – the time it takes to prepare the stuffing and the time it takes to bake the stuffed zucchini boat.
I was able to cook my sausage and veggie stuffing in about 10 minutes. While the pork is cooking, you can save on prep time by cutting up the vegetables.
Once you stuff your zucchini boats, I found that it took about 20 minutes in a preheated oven to heat them completely through.
If you make your zucchini boats ahead of time and refrigerate, this final cook time might take longer because you'll be heating them up from a cold state.
Do you need to parboil zucchini when making stuffed zucchini?
When I make stuffed peppers, I always parbake my peppers by steaming them in the oven before stuffing them. I don't do that when making stuffed zucchini.
It might just be my personal preference, but I like my zucchinis to have a little bite. I want them to be firm enough after they bake in the oven that they won't fall apart.
For that reason, I don't parbake my zucchinis.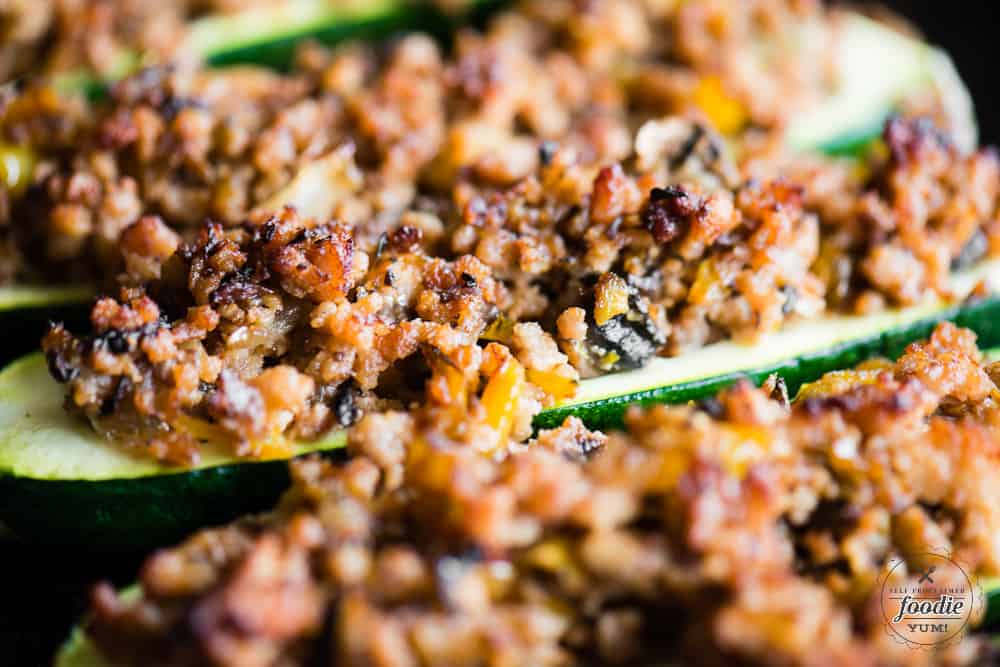 If you have a ton of extra zucchinis from the garden, you should make some chocolate zucchini bread for dessert!
Sausage and Veggie Stuffed Zucchini Boats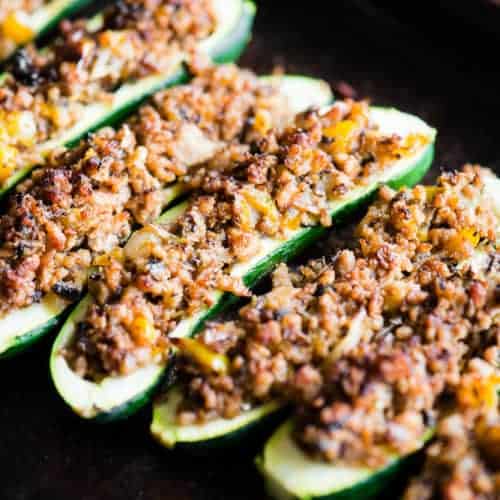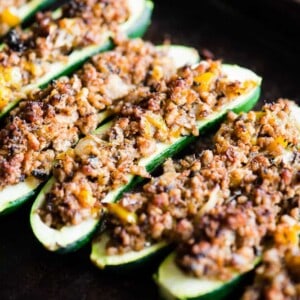 Zucchini boats stuffed with flavorful sausage and fresh veggies makes for a tasty low carb meal that you can serve for breakfast, lunch or dinner!
Ingredients
4

zucchinis

medium to large size

8

ounces

mushrooms

half

large

yellow onion

1

bell pepper

yellow recommended, stem and seeds removed

1

pound

ground pork

4

cloves

garlic

minced
Instructions
Using a rounded teaspoon or melon baller, scoop out insides of zucchini leaving a wall that's about 1/4 inch thick. Put all of the zucchini you scooped out in a food processor.

Add mushrooms, onion, and bell pepper to the zucchini in the food processor. Pulse until you achieve somewhere in between a diced and chopped size. Add garlic and pulse once more to combine.
In a large saute pan, cook ground pork over medium high heat. When it's about halfway in between raw and dark and crumbly, add all of the veggies from the food processor. Stir well to combine and continue cooking until the meat is crumbly.
While the sausage is cooking, preheat the oven to 400 degrees F.

Add the zucchini boats to a baking sheet. Fill with sausage mixture. Cook in preheated oven until heated through, about 10-20 minutes.
Nutrition
Calories:
178
kcal
,
Carbohydrates:
5
g
,
Protein:
11
g
,
Fat:
12
g
,
Saturated Fat:
4
g
,
Cholesterol:
40
mg
,
Sodium:
41
mg
,
Potassium:
546
mg
,
Fiber:
1
g
,
Sugar:
3
g
,
Vitamin A:
660
IU
,
Vitamin C:
38
mg
,
Calcium:
26
mg
,
Iron:
1.1
mg
Nutrition information is automatically calculated, so should only be used as an approximation.