Mushroom Spinach Quiche is a rich and savory meal baked in an all butter pie crust.
This homemade quiche recipe is perfect as breakfast or lunch when served with lightly dressed greens.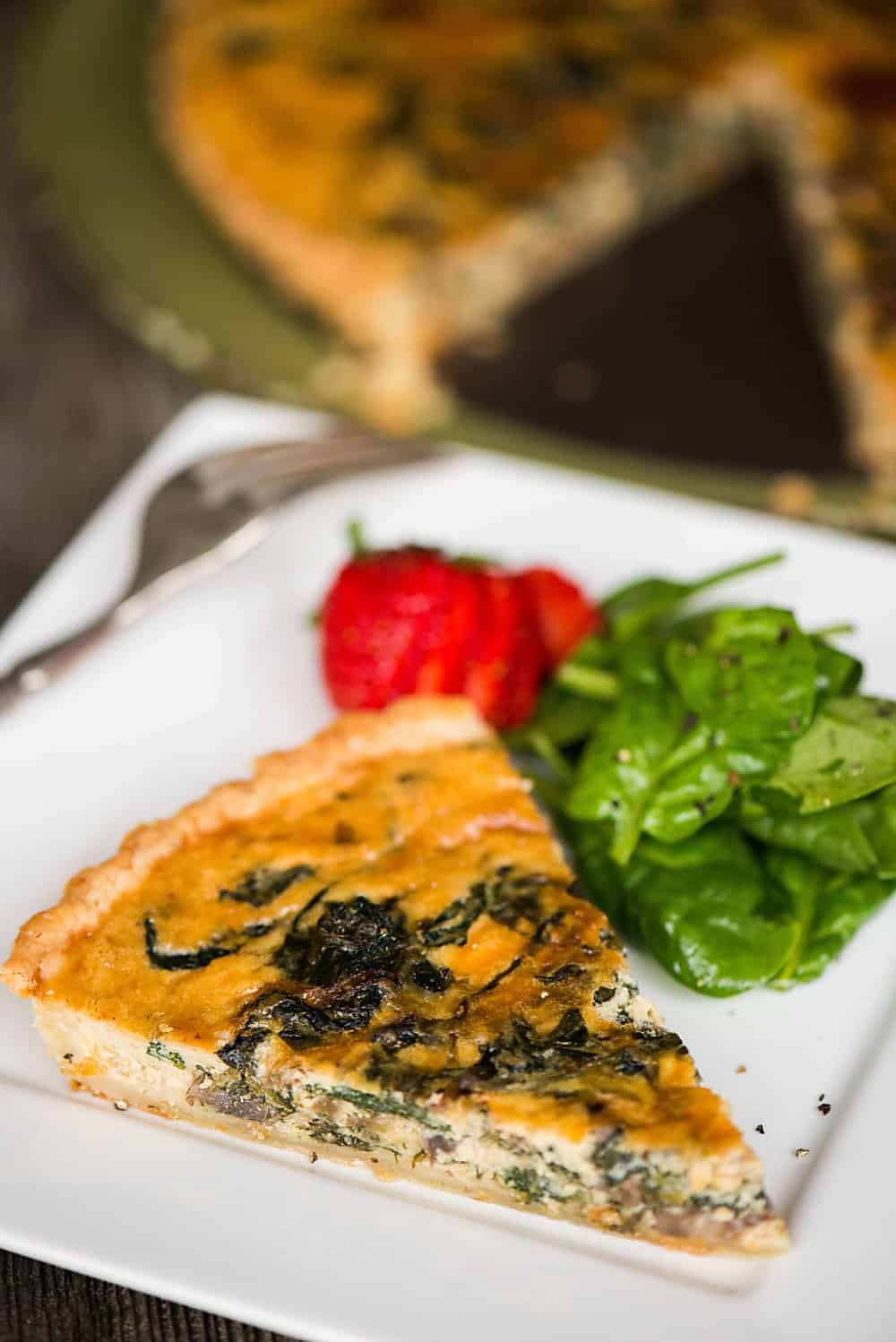 Spinach quiche is one of my favorite things to eat. Add in some sauteed mushrooms and this savory and decadent meal only gets better. Many people might prefer a crustless quiche, but not me. No way. Put a flaky homemade all butter pie crust under this rich and creamy layer of eggs, cream, and veggies, and the result is heaven.
I would recommend creating this recipe as a breakfast quiche. Since I love serving it with lightly dressed greens, like fresh spinach with a squeeze of lemon and a swirl of extra virgin olive oil, it also makes a fantastic lunch option. Heck, I could eat eggs in some form or another with any meal. That statement is even more true now that I have my own chickens.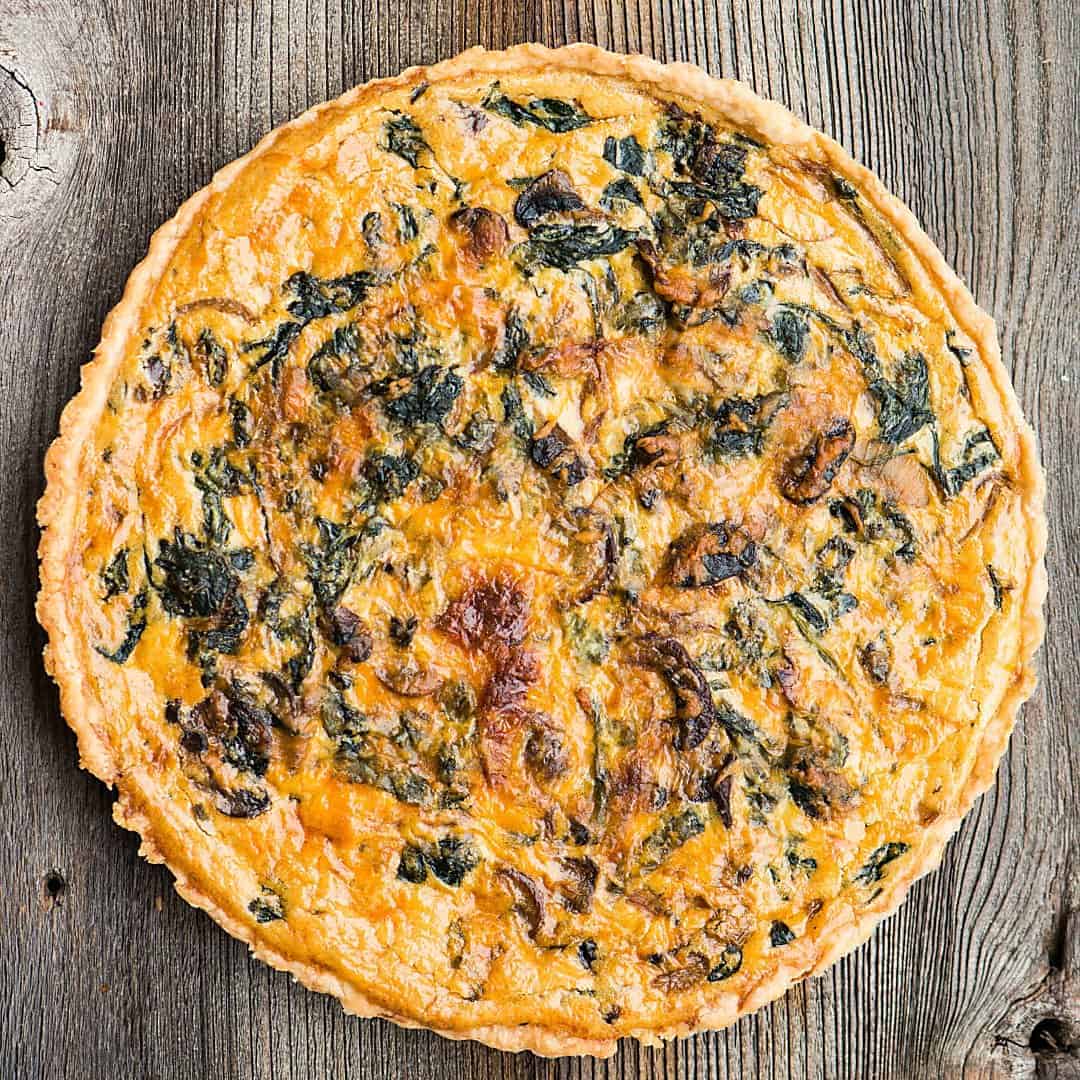 How to make this quiche:
This mushroom spinach quiche starts with an all butter pie crust that get's parbaked in a tart tin. You can easily use a pre-made pie crust that you buy from the store, but homemade pie crusts are 1000 times better. Especially when you use a high quality butter and take care to create luscious flaky layers by not over mixing.
Be gentle with your pie crust. Line the tart pan and use the roller to cut any excess dough. I recommend covering the pie crust with foil and then weighing down with pie weights or dry beans. This allows your crust to cook without browning too much.
To be efficient with your time, prepare the filling while the crust is cooking. Allow the onions and mushrooms to brown in butter by not stirring to frequently. Don't add the spinach and garlic until the onions and mushrooms are browned nicely. I prefer to use fresh spinach in this quiche.
Use the white wine to deglaze your pan. You don't want to lose any of that wonderful flavor. The wine will lift all of it and the alcohol will burn off, leaving only the flavor.
Be sure to whisk the eggs with the cream and milk first before combining with the sauteed veggies and cheese. This will ensure the eggs are properly mixed.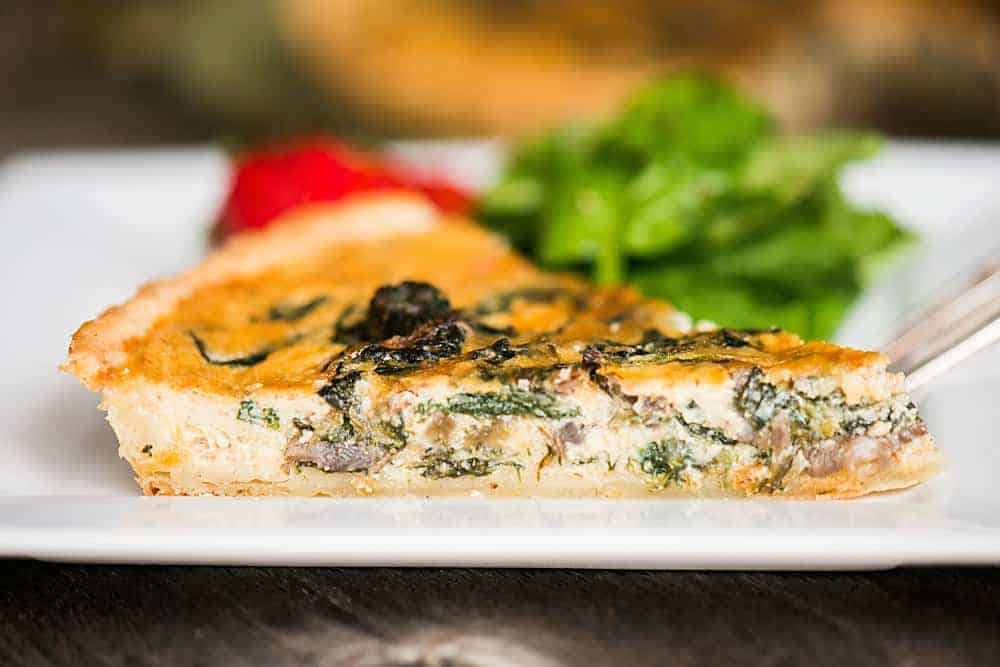 What is the difference between a quiche and a frittata?
I have made both kinds of recipes on my blog. In addition to this mushroom spinach quiche, I've also made a Bacon Leek Mushroom Quiche Lorraine. I've also made many frittata recipes as well. For my frittatas, I've made everything from Tomato Arugula and Goat Cheese to Sweet Potato and Bacon to Spring Vegetable Goat Cheese.
If you've been wondering what the differences are between a frittata and a quiche, my main explaination is that a quiche is more creamy. A quiche is basically an unsweetened custard pie with savory fillings such as as spinach, mushrooms, or bacon. The custard is made from eggs and a combination of dairy including cream, milk, and/or cheese. A frittata is like a an unfolded omelet. A frittata is not as soft and creamy as the filling of a quiche and is heavier on the eggs. I've never seen a frittata made with a crust, either.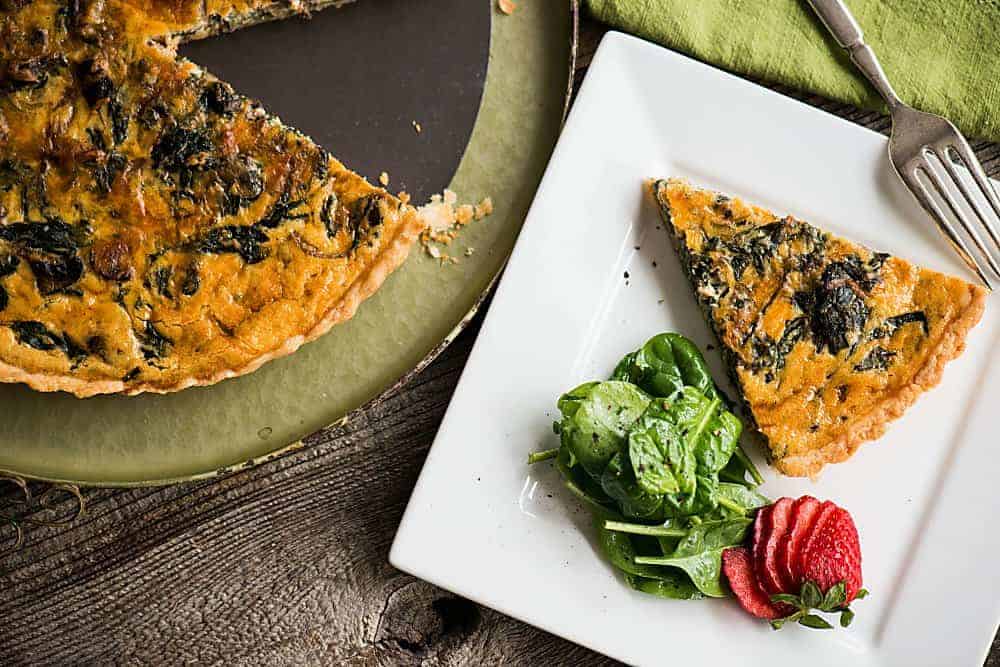 Kitchen tools used to make this:
Tart pan: These are a fabulous addition to any cook's kitchen tools. From sweet dessert tarts to savory meals like quiche, a good quality tart pan with a removable base is essential.
Pie weights: Dry rice or beans work just fine, but if you are a frequent baker, I highly recommend pie weights. They are heavier than beans and therefore work better. Use any time you need to parbake a crust and keep it from rising and browning too much.
Fry pan: I've been using Staub cookware for years. It gives your food a great crispy outside and distributes the heat evenly.
Cutting Board: These are my go-to cutting boards. They are super easy to clean, never hold a smell (onion transferred to apple is gross), and because they are so thin, they are really easy to store.
Knives: There is nothing more frustrating than having to use a poor quality knife. I've been using this set for years. I found it to be affordable yet incredibly durable and versatile. Whether you're filleting a salmon or slicing a super ripe tomato, these are great knives for the everyday chef.
Flexible Measuring Cups – My sister and I first found these at a cooking class and we thought they were just the best invention. Any time you are measuring and/or pouring liquid, these are simply the best to have on hand. They make a great gift for your favorite cook, too!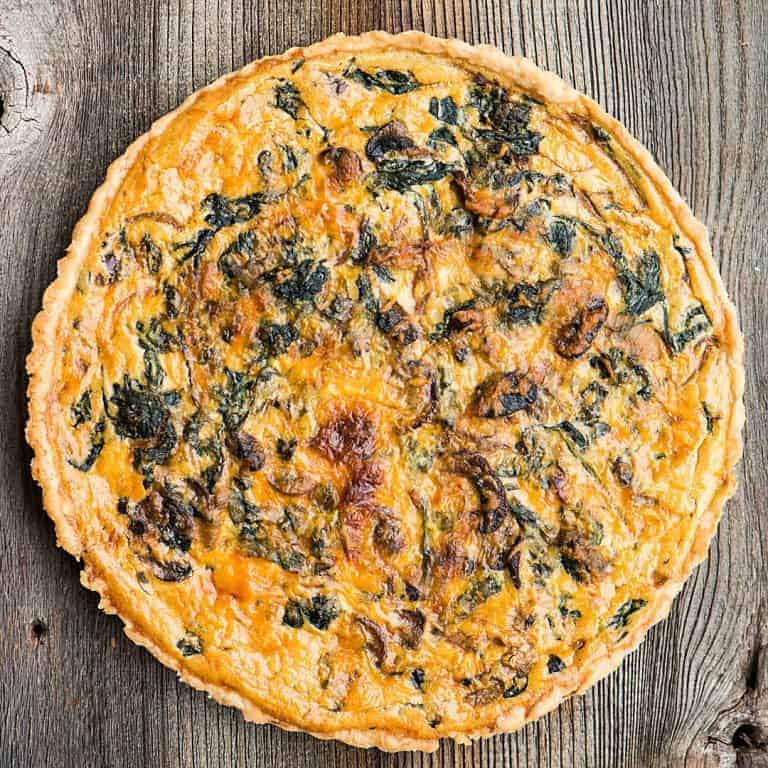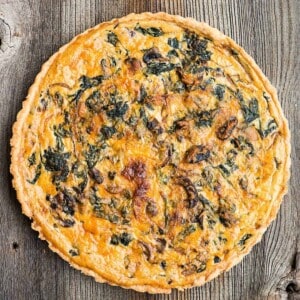 Mushroom Spinach Quiche is a rich and savory meal baked in an all butter pie crust. This homemade quiche recipe is perfect as breakfast or lunch when served with lightly dressed greens.
Ingredients
1

9-inch all butter pie crust

2

tablespoons

butter

1

medium

yellow onion

thinly sliced

8

ounces

mushrooms

fresh , sliced

10

ounces

spinach

fresh

1

teaspoon

garlic

minced

1/4

cup

white wine

3

eggs

1/2

cup

heavy whipping cream

1/2

cup

whole milk

1/4

teaspoon

salt

1/2

cup

shredded cheese

divided (cheddar, gruyere, Mexican blend - your choice)
Instructions
Preheat oven to 400 degrees F.

Make your pie crust according to the directions in the post. Roll out into a large thin circle that is larger than your tart pan so that when you transfer it to your pan, it will cover the bottom and go up the sides.

Gently fold dough into quarters, transfer to tart pan, unfold, and press dough up the sides. Use the rolling pin to roll over the top and cut off any excess dough. Use your fingers to push up the sides to raise the dough up a little taller than the edge all around.

Directly cover the dough with aluminum foil and weigh down with pie weights, dry rice, or uncooked beans. Bake in the preheated oven 8-9 minutes covered and then another 2-3 minutes uncovered. Remove from oven just when dough is starting to turn golden.

While the crust is cooking, prepare the filling. Over medium high heat, melt butter in large saute pan and add the onion and mushrooms. Stir occasionally and allow to cook until golden brown, about 10min. Add spinach and garlic. Continue cooking until all of the liquid has evaporated, about another 5-10 minutes. Add wine and scrape the bottom of the pan with a wooden spoon to release any goodness and deglaze pan. Allow to cook until all liquid has evaporated, about another 5 minutes.

Reduce oven temperature to 375 degrees F.

In large bowl, whisk together eggs, cream, and milk. Stir in sauteed veggies and half of the shredded cheese. Gently pour into pastry shell - it will go all the way to the top. Sprinkle top of quiche with remaining cheese.

Bake in preheated oven until slightly puffed and golden brown, about 25-30 minutes. Remove from tart pan to cut.

Serve warm with baby spinach that has been lightly dressed in olive oil and lemon juice.
Nutrition
Calories:
254
kcal
,
Carbohydrates:
16
g
,
Protein:
8
g
,
Fat:
18
g
,
Saturated Fat:
9
g
,
Cholesterol:
96
mg
,
Sodium:
295
mg
,
Potassium:
393
mg
,
Fiber:
2
g
,
Sugar:
2
g
,
Vitamin A:
3790
IU
,
Vitamin C:
12
mg
,
Calcium:
114
mg
,
Iron:
2
mg
Nutrition information is automatically calculated, so should only be used as an approximation.