Michelada is a spicy and tart cocktail made from a chilled Mexican beer.
This easy recipe is the perfect drink for a hangover breakfast or afternoon tacos!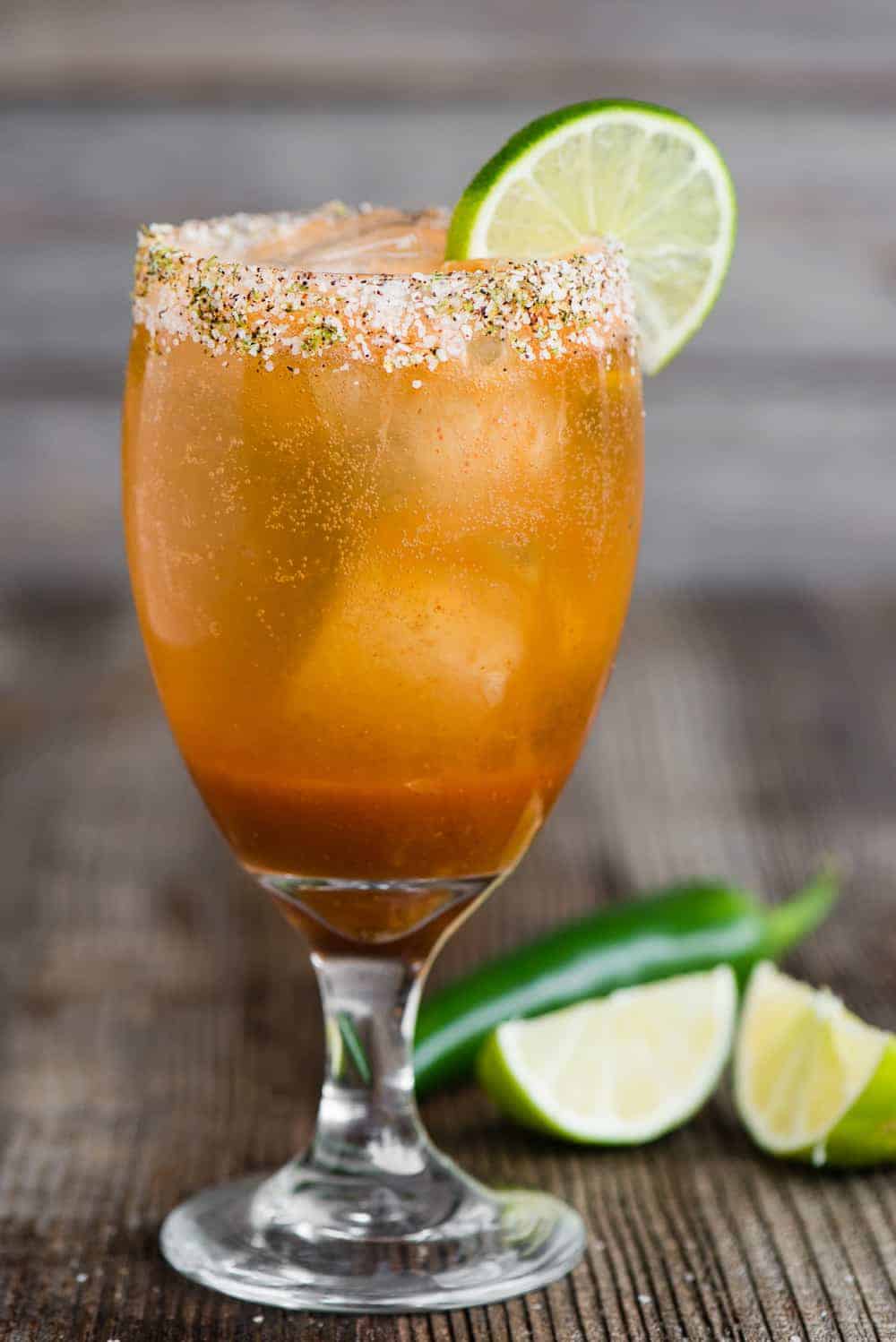 Despite not loving beer all that much, I actually really loved sipping on this Michelada.
The spicy kick reminded me of a bloody mary, which I absolutely love.
This Mexican cocktail certainly tasted like beer, but there was so much more going on that my mouth was equally confused and satisfied at the same time.
What is in a Michelada?
My Michelada recipe consists of beer, Worcestershire sauce, hot sauce, and lime juice. Kind of a weird combination of ingredients, right? Well, it works.
If you're wondering what kind of beer to use, I think any Mexican beer would work great. This is a Mexican cocktail, after all. I used Corona because that's what we had in the fridge.
As you might imagine, the lime juice adds acid and the hot sauce adds heat. But Worcestershire sauce? The only way I can describe why this ingredient is important is because it adds a depth of flavor to the drink and really makes it interesting.
How do you make a Michelada?
To make a Michelada, or any cocktail really, you need to prepare your glass. Lining the rim of your glass with salt is totally optional, but I highly recommend because it's my own personal preference. To kick up the heat and acid factors, I mixed the salt with a bit of chili powder and lime zest. To get that mixture to stick, simply rub your leftover lime around the rim of the glass and then press the glass into the salt mixture. Be sure to tap off any extra!
Next you'll fill that glass with ice.
This cocktail doesn't require any special kind of mixing. Simply add all of the ingredients except the beer to the glass, give it a stir, and then top with beer.
Depending on the size of your glass, you might have leftover beer. Just serve the remaining beer in the bottle along with the Michelada so that it can be added to the cocktail as it is consumed.
What is the difference between a Chelada and a Michelada?
Ever hear of a Chelada? It's basically the combination of beer and lime. Any time we serve Mexican beer, we always serve lime, so I guess we've been making Cheladas all along.
It's not until you add additional flavors and/or spices to this beer lime combo that your drink goes from being a Chelada to a Michelada.
What beer is best for a Michelada?
Since this is a Mexican inspired cocktail, I recommend Mexican beers.
You can choose from Corona, Dos Equis, Bohemia (I've never tried that one), Sol, Tecate, and many other varieties.
What does a Michelada taste like?
It's really hard to describe. A Michelada does taste like beer, but there's just so much more going on. It's tart, salty, spicy, and fizzy.
The best part about a Michelada is that you can enjoy it any time of day. I can't think of a better hangover drink than this. I can also imagine sitting on a beach in the afternoon enjoying a Michelada with some tacos. YUM!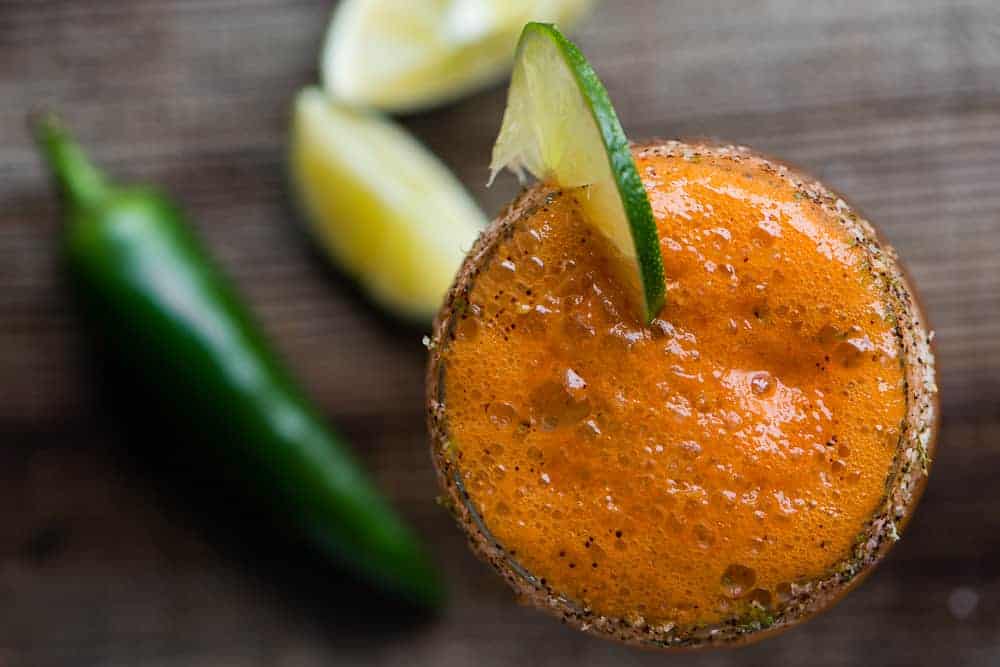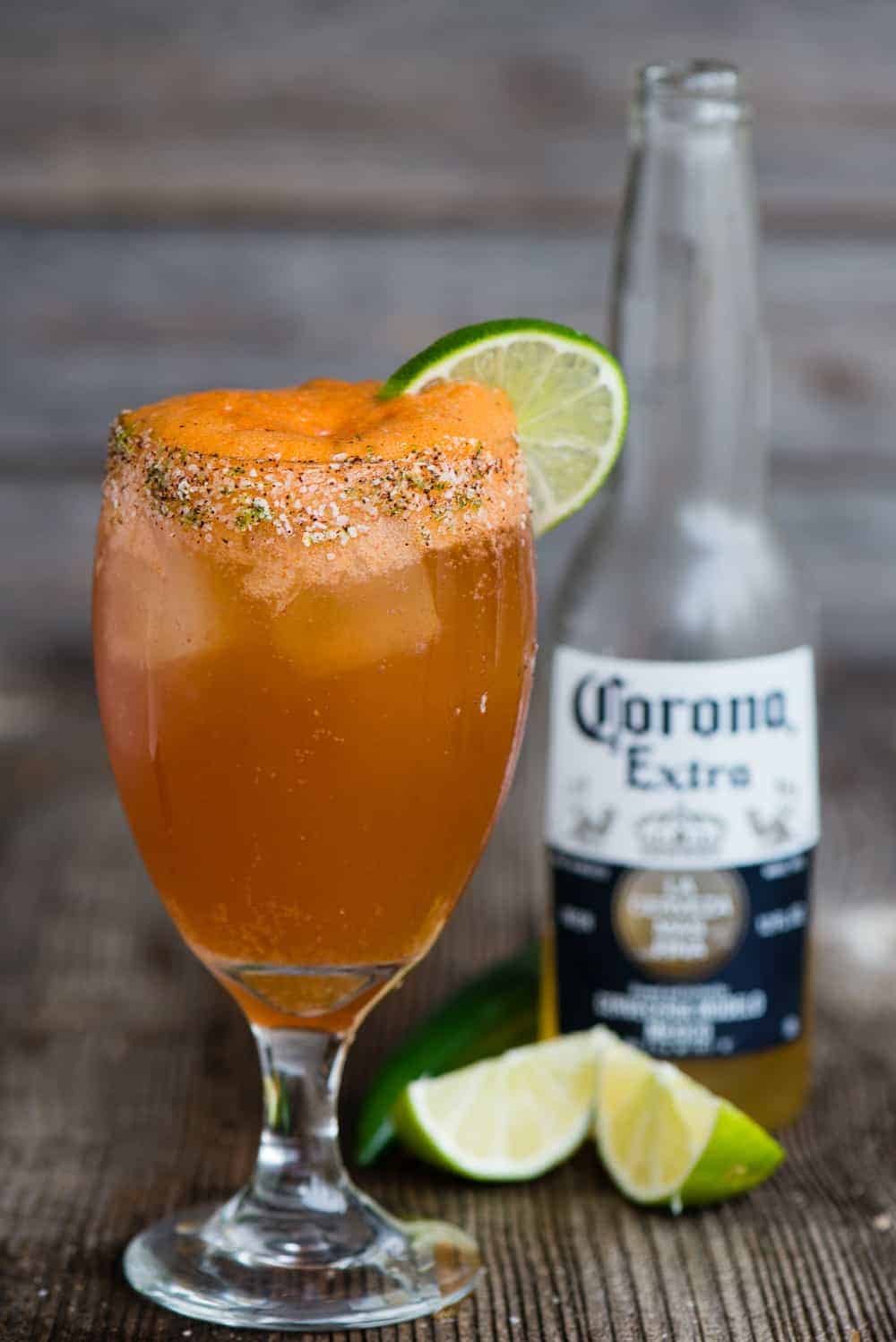 If you love easy cocktail recipes
You'll definitely have to try these: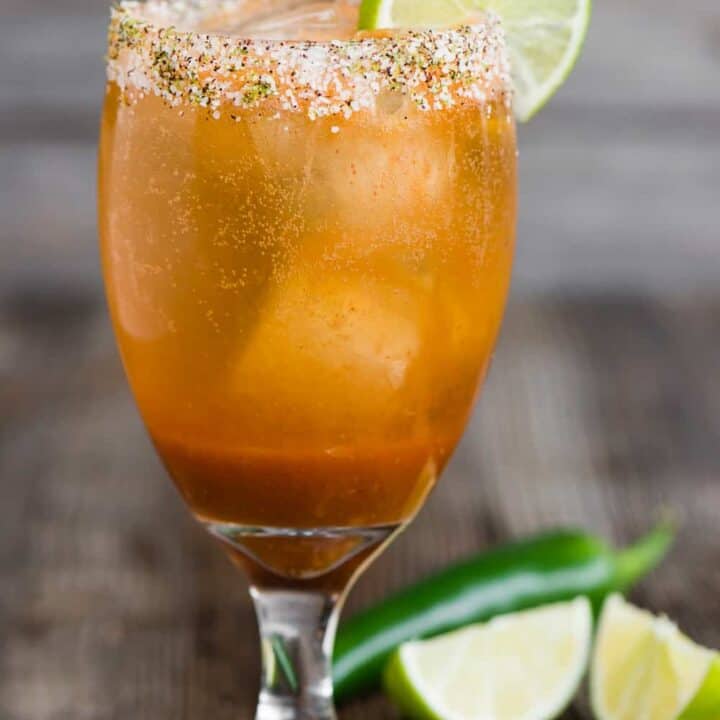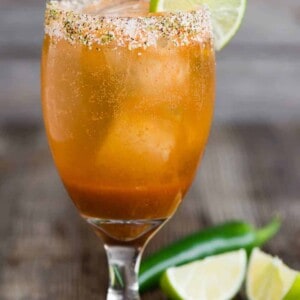 Michelada is a spicy and tart cocktail made from a chilled Mexican beer. This easy recipe is the perfect drink for a hangover breakfast or afternoon tacos!
Instructions
Combine salt, zest, and chili powder in small bowl. Use leftover lime to rub the edge of the glass to moisten. Roll in salt mixture to coat the rim of the glass. Fill glass with ice.

Fill with lime juice, hot sauce, and Worcestershire sauce. Add beer. If entire beer doesn't fit in glass, serve along side Michelada and continue adding as you make room in the glass. Stir gently if desired.
Nutrition
Calories:
168
kcal
,
Carbohydrates:
18
g
,
Protein:
1
g
,
Sodium:
2621
mg
,
Potassium:
206
mg
,
Sugar:
1
g
,
Vitamin A:
200
IU
,
Vitamin C:
23
mg
,
Calcium:
14
mg
,
Iron:
0.3
mg
Nutrition information is automatically calculated, so should only be used as an approximation.