Italian Wedding Soup is absolutely delicious. Bite-sized homemade meatballs and tender green vegetables create the most rich and hearty soup. This recipe is easy to make and will surely be a family favorite.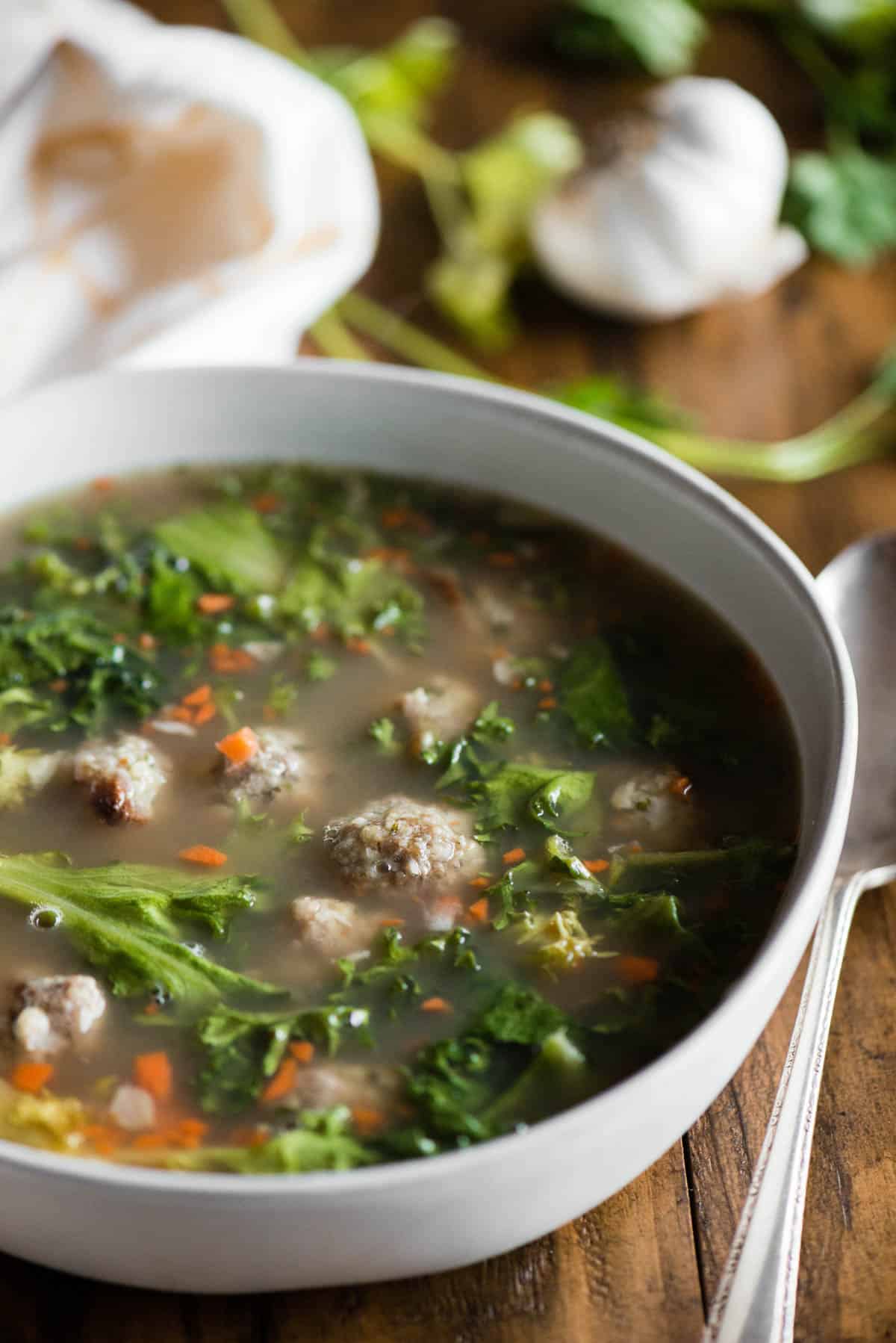 👉 Why This Recipe Works So Well
Delicious soup: This easy soup recipe is the perfect marriage of flavors. The mini meatballs are incredibly tasty and, because of their small size, have a nice crisp outer layer. There is a perfect ratio of meat, flavorful broth, tender pasta, and cooked vegetables.
Perfect any time of year: Although this is one of the most comforting soups I've ever made, it works great as a starter to any Italian meal year-round.
🥣 What is Italian Wedding Soup?
The term "wedding soup" refers to the marriage, or a combination of, meat and greens. Contrary to popular belief, this married soup did not get its name because it is served at Italian weddings.
There are so many variations of Italian Wedding Soup recipes out there, but the basic commonalities are that they all have some kind of meat and some kind of green. I suppose my Kale Soup with Pork and Beans could even qualify as an Italian Wedding soup.
Is it really Italian? Minestra Maritata (Italian for wedding soup) is actually made and prepared in Italy. I'm sure my version of this recipe, along with the dozens of different Italian Wedding Soups served in restaurants and contained in cans at the store, vary significantly from authentic wedding soup served in Italy.
🍖 Ingredients Needed
See the recipe card below for exact measurements. Continue reading for substitution ideas and recipe variations.
Meatball Ingredients
The meatballs in this homemade soup are made with ground pork, ground beef, onion, garlic, parsley, salt, a large egg, bread crumbs, and parmesan cheese.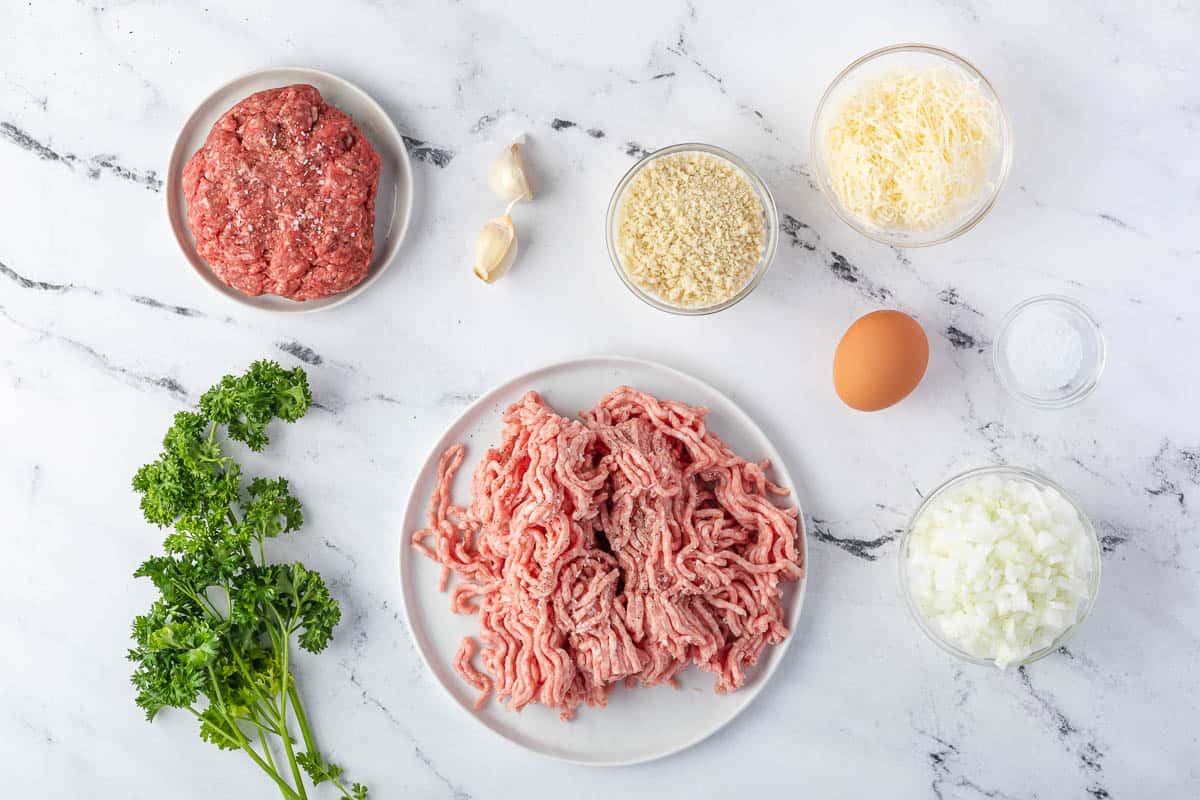 Soup Ingredients
My homemade Italian wedding soup recipe is made with the cooked meatballs, chicken broth, white wine, carrot, curly endive, and pasta.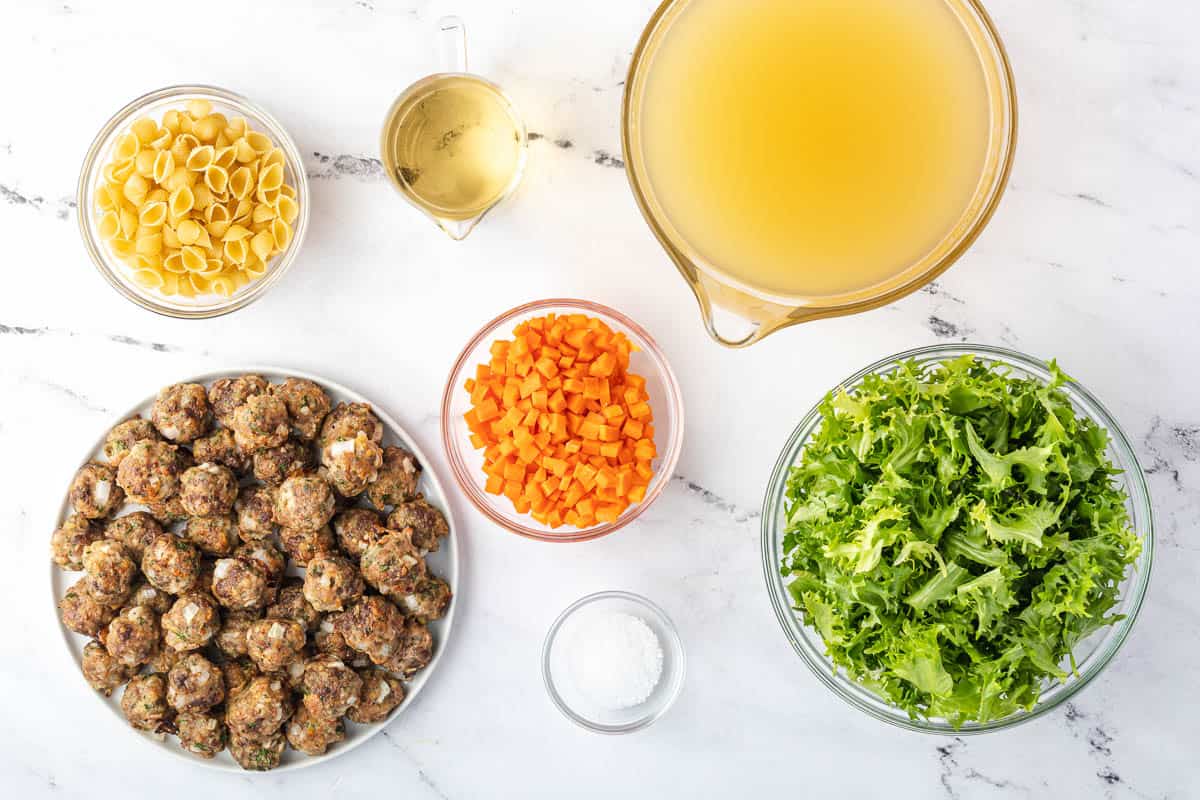 🔪 How to Make Italian Wedding Soup
The best Italian wedding soup is actually made in a two-step process. The tiny meatballs are made first, and then the soup is cooked on the stove.
Cook the meatballs
In a large bowl, combine all of the meatball ingredients.
Using a small scoop, portion out inch-sized amounts and round them into small meatballs in between your hands. Place them on a large baking sheet lined with parchment paper.
Bake and then broil until golden brown. Transfer to a paper towel-lined plate to absorb excess grease.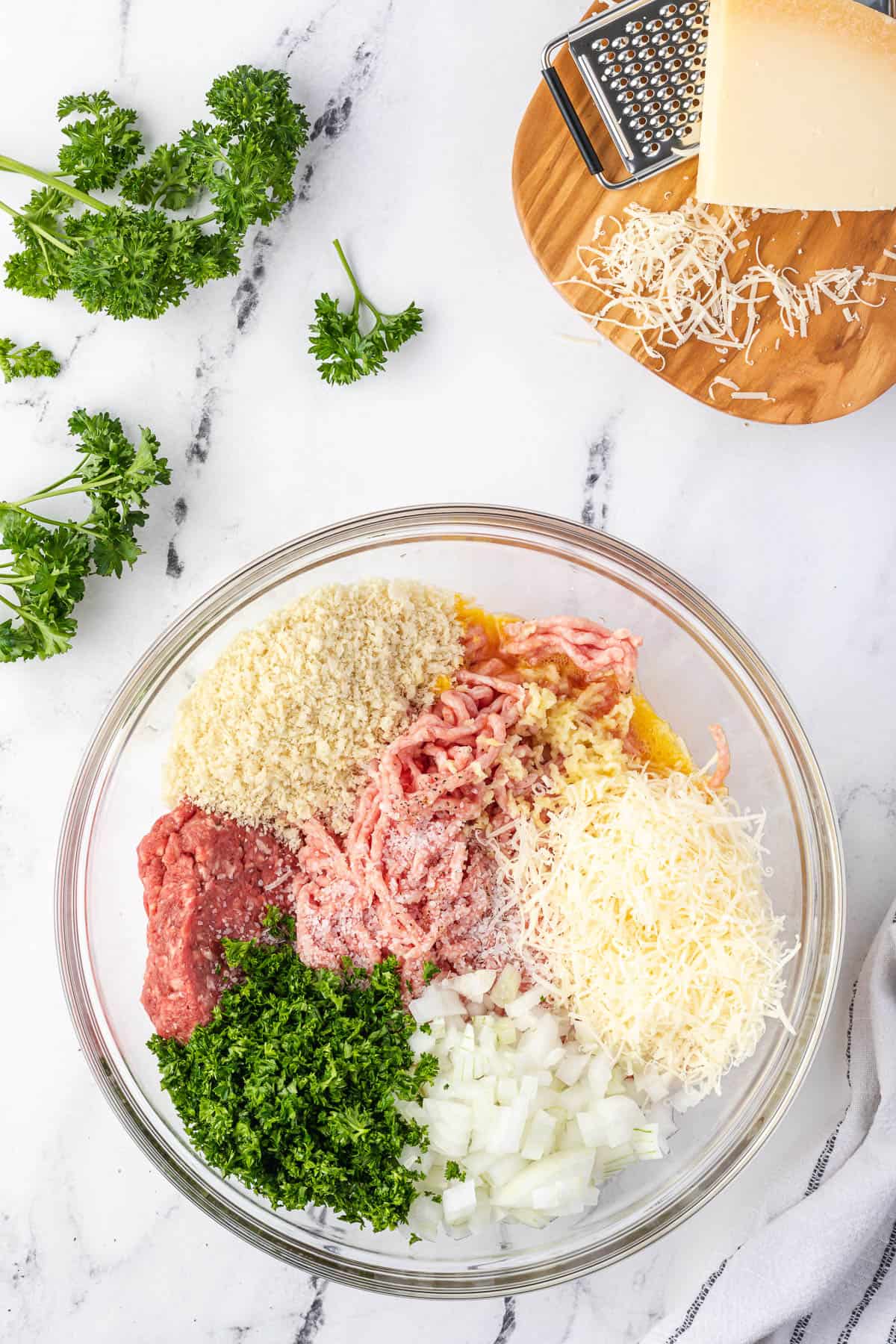 Make the soup
While the meatballs are cooking, you can get the broth heated in a large pot or Dutch oven. When the meatballs are done, add them to the broth along with the wine, carrot, endive, and salt.
The soup is ready to enjoy when the endive has wilted slightly. If using pasta, add it at the very end.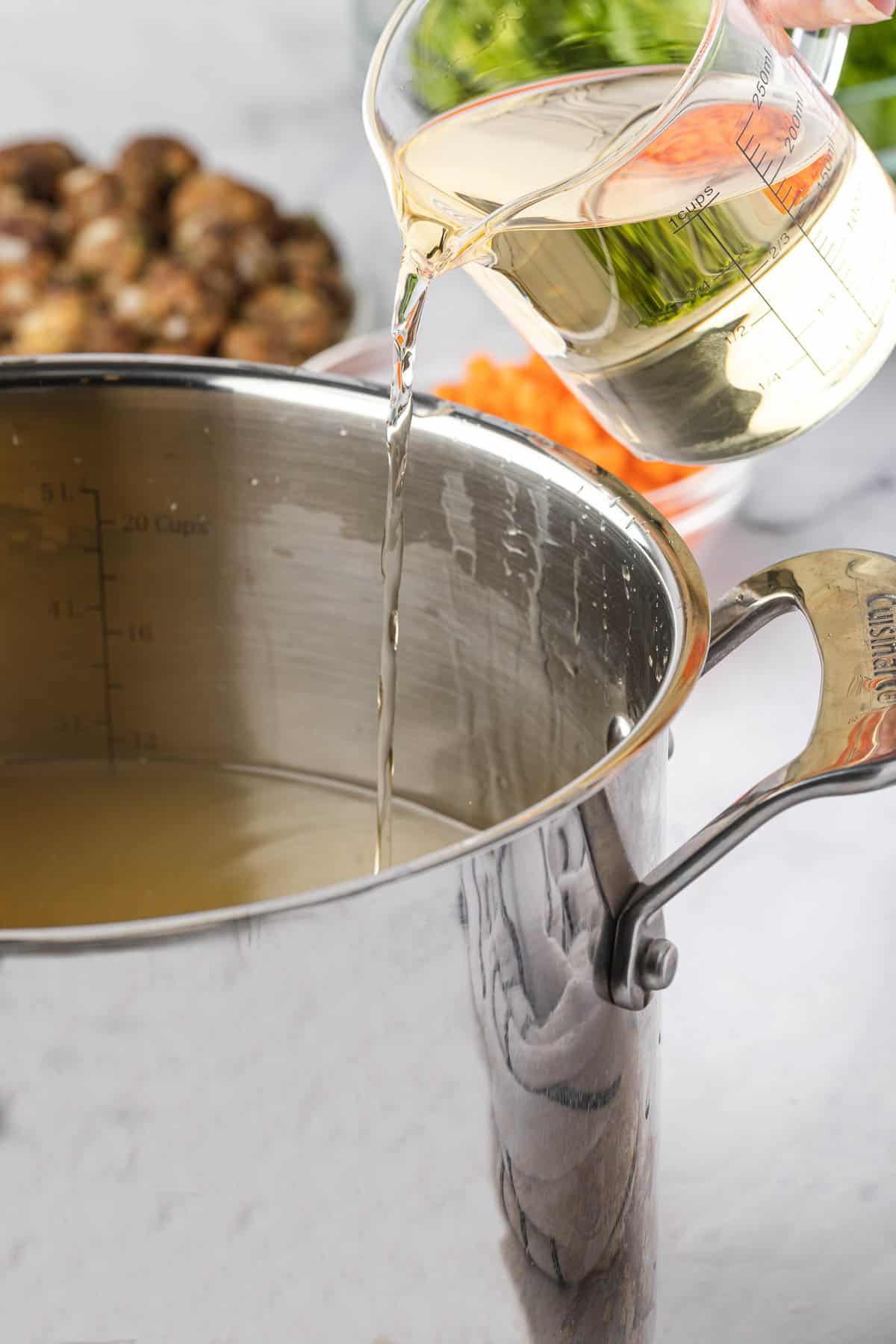 🍽️ Recipe Variations
Meatballs: You can make chicken meatballs by replacing the pork and beef with ground chicken. Same applies to ground turkey. Alternatively, you can make all pork meatballs by replacing the ground beef with more ground pork. Likewise, all beef meatballs can be made by replacing the ground pork with more ground beef. Store-bought meatballs can be used, however they will not have the same great flavor. Frozen meatballs are often larger meatballs than what you would want in this soup since they are intended for spaghetti.
Broth: Although I use chicken broth in this recipe, you can easily use vegetable or beef broth instead. The wine can also be omitted and replaced with additional chicken stock.
Greens: Curly endive is perfect if you are looking for a bitter green that maintains it's texture, but any leafy greens can be used including baby spinach, kale, etc.
✔️ Cooking Tips
Food processor: Use a food processor to dice up the onion, garlic, and parsley for the meatballs. The smaller they are, the better they will mix into the meatball mixture. Once those vegetables have been scraped out of the food processor, use it to then chop your carrot. It makes little work with easy cleanup and the result is a nice rustic uneven chopped carrot.
Adding pasta: If you're not planning on having leftovers, you can add the entire amount of pasta. If you think you will have leftover soup, you may want to portion off your estimated leftover amount and then add a reduced amount of pasta to the soup. Why? Any pasta in leftover soup will continue to absorb liquid and will continue to soften. If this is your preference, you can add the entire amount of pasta to the soup. If you prefer your pasta to be cooked al dente, only add the amount that will be eaten and store leftovers without any pasta in the broth.
Make ahead directions: If planning on making this soup ahead of time, make the entire soup all the way up to the point where you add the pasta. Then, store it in quart sized plastic containers and refrigerate (if eating within 1-2 days) or freeze. You can also freeze before adding endive and add it when reheating. Only add pasta when ready to serve.
Storage: Any leftovers can be kept in the refrigerator in an air tight container. Best if consumed within 3-5 days.
Serving suggestions: Warm crusty bread or homemade garlic bread is all that is needed to make a large bowl of soup a complete meal. Alternatively, a cup of soup makes a great pre-meal starter.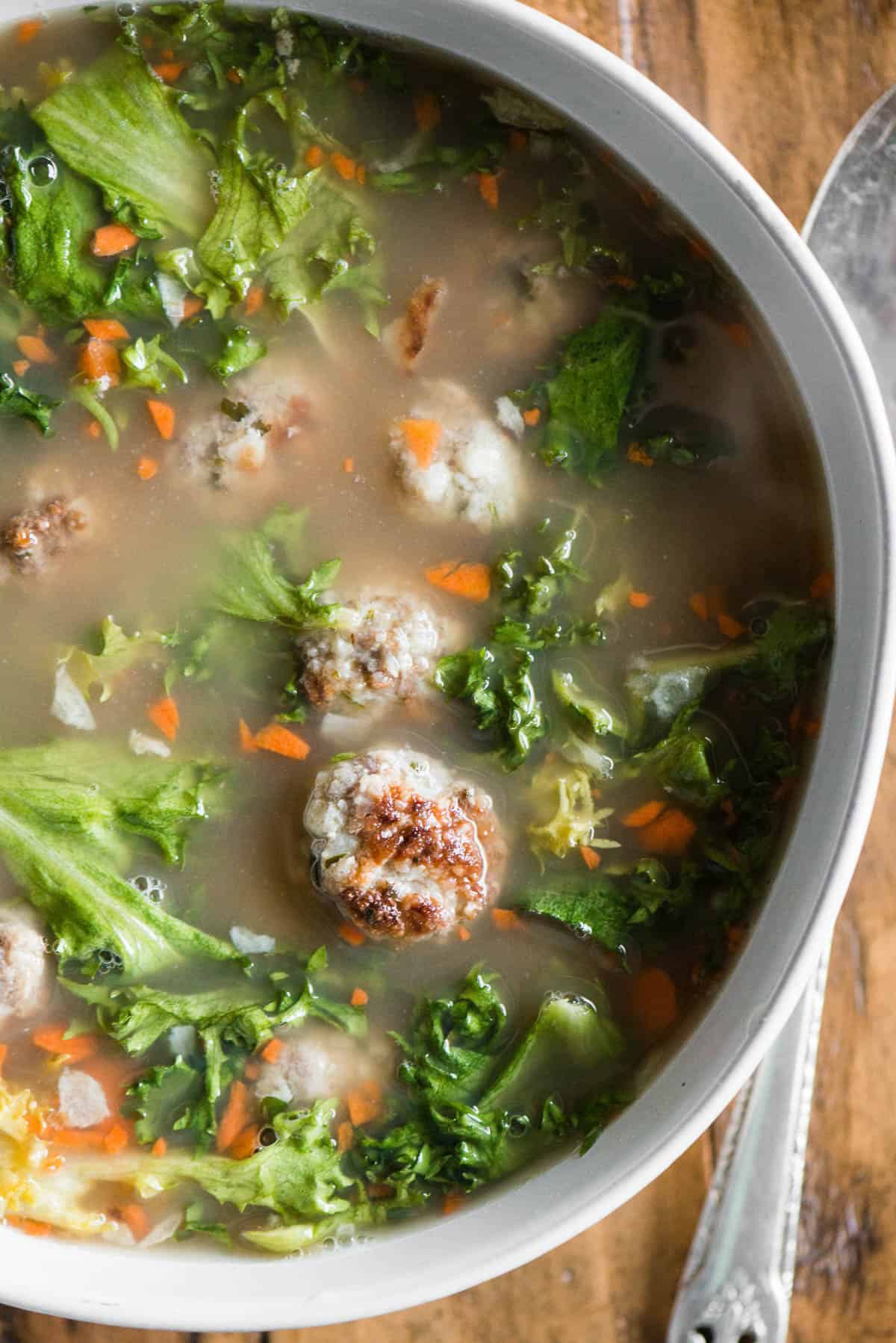 ☑️ FAQs
Can you freeze this soup?
Yes! My Italian Wedding Soup is a great soup recipe to freeze. I always make an extra large batch so that I can store a few quarts in the freezer.
Just be sure that you chill the soup in the refrigerator before freezing it. To reheat, you can either run some hot water around the outside of your container to release it and then reheat on the stove while still frozen, or you can fully thaw in the refrigerator before reheating.
What does curly endive taste like?
Curly endive isn't one of the more popular green vegetables. I don't know why – it tastes phenomenal in Italian wedding soup.
Curly endive is bitter and a bit tough. For both those reasons, I love adding it to this soup. The bitterness in the greens is perfectly balanced with the saltiness of the broth and the heartiness of the meatballs. The fact that it's a bit tough is perfect in a hot brothy soup because it gives you something to chew.
I've seen Italian Soup Recipes with spinach. I am a true lover of spinach, but I don't love it in soup because it is so tender, you're left with nothing to chew. Curly endive is really one of the best vegetables you can add to this soup.
When you do add it to the broth, don't panic. At first it may seem like you added way too many greens to your soup and that they'll never wilt, but they do.
What type of pasta works best?
Again, this is a matter of preference. I prefer very tiny pasta in this soup. Acini de pepe pasta, which translates to "seeds of pepper", is the most common variety of pasta used in Italian Wedding soup and is the size of rice or pearl couscous. That is what I used in the original photos. Orzo, tiny stars, even small letters like what you would use in alphabet soup all work similarly.
You may, however, use any variety of your favorite pasta that you'd like. For example, in the ingredient and process photos, I used small shells.
Do you have to cook the meatballs first?
I've seen Italian Wedding Soup recipes where you place the raw meatballs in the hot broth to cook them. I did not want to do this for two reasons.
First, I love meatballs that are brown and crispy on the outside. You won't get this if you drop the raw meat into the broth.
Second, I like to make my meatballs with ground pork and beef, but both release a fair amount of fat when cooked. I would rather pre-cook the meatballs in the oven and drain off the fat than have all that fat dissolved in my soup.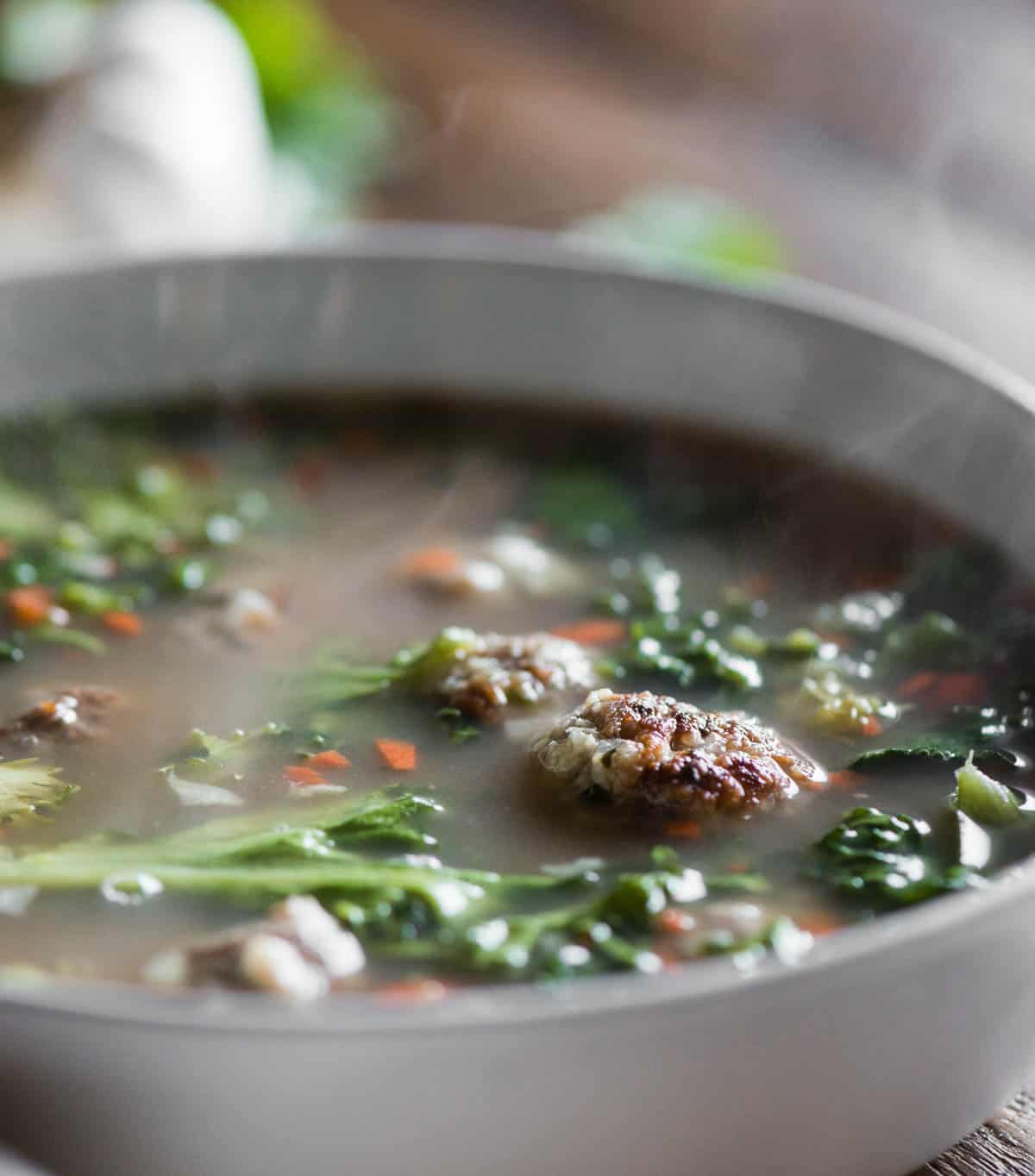 If you've made this or any other recipe on my site, let me know in the comment section how it turned out. I love hearing from my readers!
You can also follow along on PINTEREST, FACEBOOK and INSTAGRAM to see more amazing recipes to satisfy any foodie craving!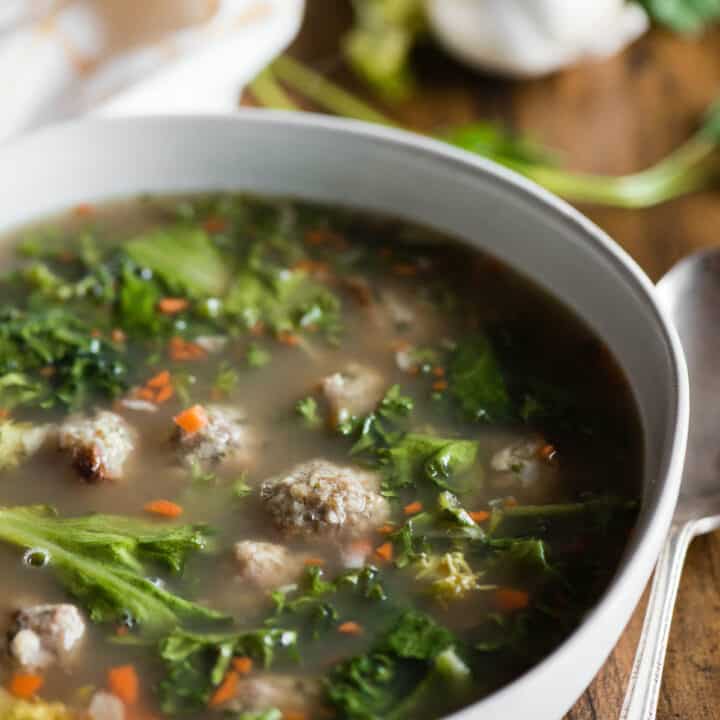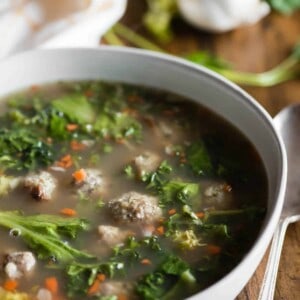 Italian Wedding Soup is a healthy and delicious easy to make homemade soup filled with flavorful small bite sized meatballs and tender green vegetables.
Ingredients
Meatballs:
1

pound

ground pork

1/2

pound

ground beef

1

small

yellow onion

diced

2

cloves

garlic

minced

1/2

cup

fresh Italian parsley

2

tsp

kosher salt

1

large

egg

1/2

cup

panko bread crumbs

1/2

cup

parmesan cheese

grated
Optional:
1

cup

small pasta

orzo, acini di pepe, tiny stars
Instructions
To make the meatballs:
Preheat oven to 400° F. Line a large baking sheet with parchment paper.

Combine all of the meatball ingredients in a large bowl and use hands to combine. Make sure all of the ingredients are thoroughly mixed but try to avoid over working the meat.

Use a small cookie scoop or a teaspoon to measure small portions and roll them into a meatball shape. Set the formed meatballs onto the prepared sheet. You can get them close but be sure that they aren't touching. You may have to bake the meatballs in two batches.

Bake in preheated oven for 10 minutes. Change heat to broil and cook for an additional 5 minutes. They will most likely be fully cooked, but if not they will finish cooking in the soup. You just want to give them a nice brown on the outside and melt away some of the fat.

Transfer meatballs to a paper towel lined plate to allow some of the grease to drain off.
To make the soup:
Heat the broth, wine, carrot, endive, and salt in a large pot over medium high heat. Add the meatballs. Reduce heat as needed to maintain a gentle simmer. Cook until the endive wilts, about 20 minutes.

If using pasta, add to soup about 5 minutes before you're ready to serve. Keep in mind that if you'll have leftovers, the pasta will continue to expand which may or may not be your preference.
Notes
Nutritional info is based on the soup NOT having the pasta.
Nutrition
Calories:
221
kcal
,
Carbohydrates:
5
g
,
Protein:
13
g
,
Fat:
14
g
,
Saturated Fat:
5
g
,
Cholesterol:
61
mg
,
Sodium:
2113
mg
,
Potassium:
528
mg
,
Fiber:
1
g
,
Sugar:
1
g
,
Vitamin A:
2355
IU
,
Vitamin C:
28.2
mg
,
Calcium:
110
mg
,
Iron:
1.9
mg
Nutrition information is automatically calculated, so should only be used as an approximation.
This recipe was originally published in February 2019 and has been updated with helpful information, ingredient and process photos, as well as recipe tips. Don't worry – the recipe hasn't changed!