Homemade Taco Seasoning is so easy to make with ingredients you probably already have in your pantry! Once you make your own taco seasoning you'll love it.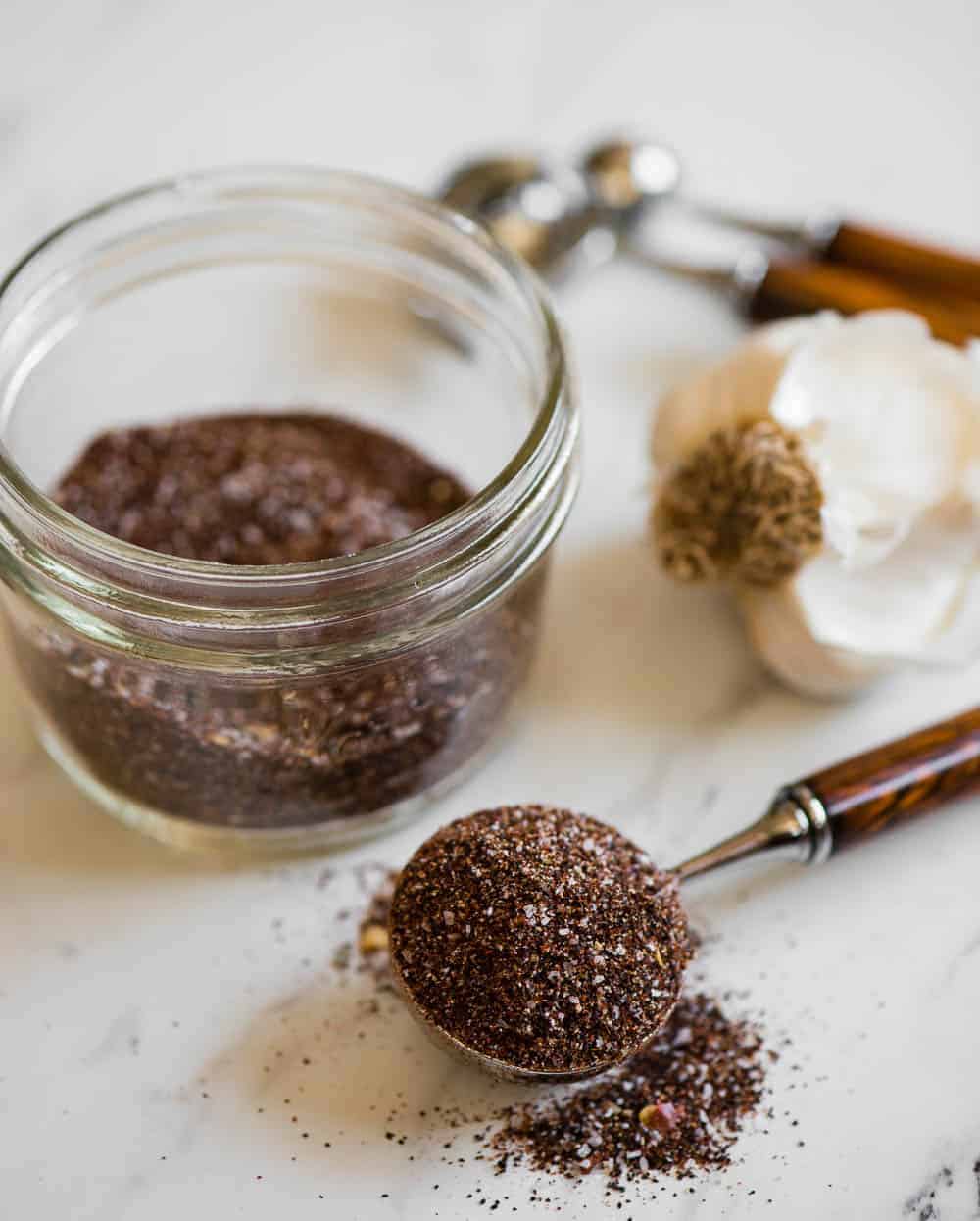 Why this recipe works:
I have three main reasons for you to make your own taco seasoning:
If you make your own, you'll never run out.
You won't put any preservatives in your own mix.
You can make it exactly how you want it to taste
If you're like me, you've just been buying packs of taco seasoning at the store your whole life. It wasn't until I started to wonder what is in taco seasoning that I bothered to look at the ingredient list.
In one of the most popular brands of taco seasoning, the listed ingredients include chili pepper, cumin, paprika, oregano, onion, salt and garlic – all good.
BUT, you will also find whey (milk), sugar, potato starch and natural flavor. If you ask me, none of these ingredients belong in this mixture of spices. All the more reason to make your own taco seasoning mix recipe.
Also, if you have extreme dairy allergies or need a gluten free taco seasoning, it's always best to make your own in case you don't know what's lurking in the "natural flavors".
Much like my homemade cajun seasoning, I've come to realize that homemade spice mixes are simply the best. You can use this easy DIY taco seasoning to not only flavor your tacos, but you can add it to recipes like Taco Chili.
Ingredients needed:
This is the list of the spices I used in my mix. If you follow this recipe, I recommend you start off with my recommendations and then tweak to your liking. Everyone's preferences are a bit different, but I found this is a great recipe for what my family likes.
chili powder
cumin
kosher salt
black pepper
paprika
garlic powder
onion powder
oregano
red pepper flakes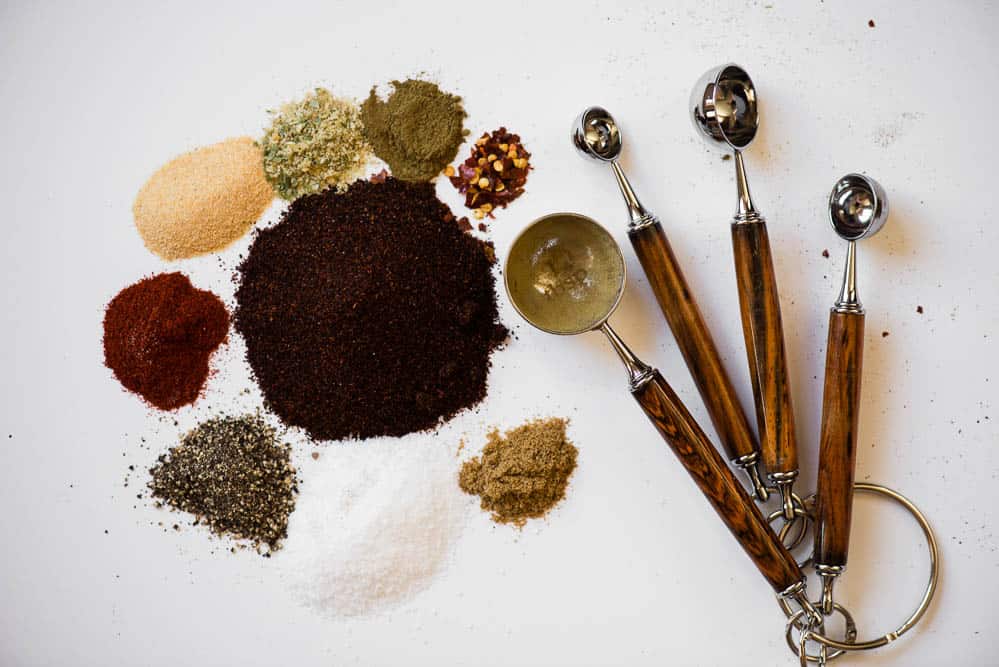 How to make this recipe:
All you need to do is combine all the ingredients and store them in an air tight lid in the pantry.
I like to use mason jars or old spice jars that I would have otherwise discarded.
Since you don't add any anti-caking ingredients, you may see some clumping. Just give the jar a good shake to mix the ingredients before you use them and you'll be good to go!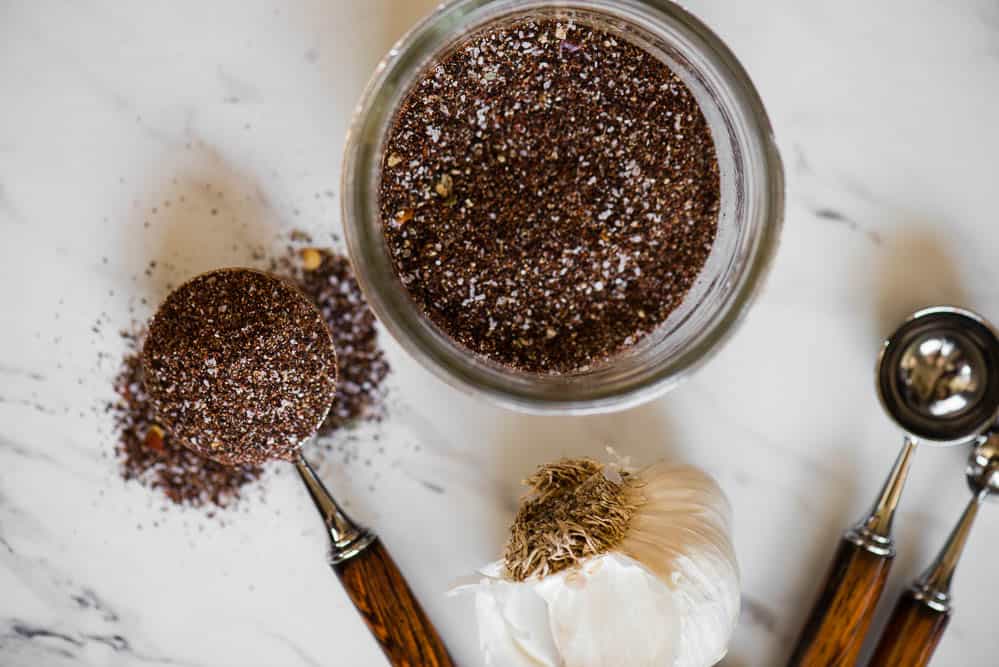 How to make this recipe mild:
Most kids (and some adults) can't handle the heat. In my recipe, the spicy heat comes from the red pepper flakes, followed by the black pepper, and then the chili powder.
You can easily omit or reduce any of these ingredients.
I actually make two versions of this recipe, a mild and a spicy, simply because my husband and I like things HOT whereas the kids do not.
You can also make a mild version for your pantry and after you've used it as a taco meat seasoning or a chicken taco seasoning and served the kids their portions, you can add a little more red pepper flakes for those who like it spicy.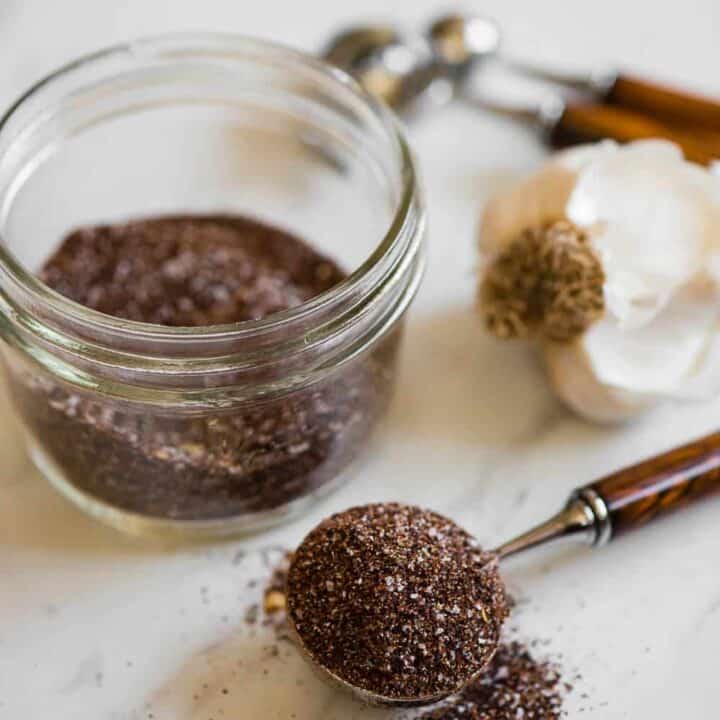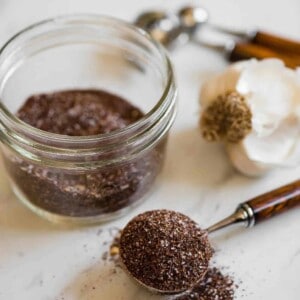 Homemade Taco Seasoning is so easy to make with ingredients you probably already have in your pantry! Once you make your own taco seasoning you'll love it!
Instructions
Combine all spices in small bowl or jar. Cover tightly and store at room temperature until ready to use.

To make taco meat, mix 1-2 tablespoons of seasoning per pound of ground meat while cooking. Amount used will depend on taste.
Notes
Amount of seasoning should work for about 3 pounds of ground beef.
Nutrition
Calories:
12
kcal
,
Carbohydrates:
2
g
,
Protein:
1
g
,
Fat:
1
g
,
Saturated Fat:
1
g
,
Sodium:
628
mg
,
Potassium:
68
mg
,
Fiber:
1
g
,
Sugar:
1
g
,
Vitamin A:
905
IU
,
Calcium:
16
mg
,
Iron:
0.9
mg
Nutrition information is automatically calculated, so should only be used as an approximation.