The BEST Homemade Banana Pancakes are fluffy and delicious.
This scratch made breakfast recipe with mashed banana is easy to make too! This recipe is especially easy when you use the Whiskware™ Batter Mixer to mix and pour the pancake batter, reducing the mess and dirty dishes while creating perfectly round pancakes.
This post was sponsored by Whiskware™ by BlenderBottle but all opinions are my own.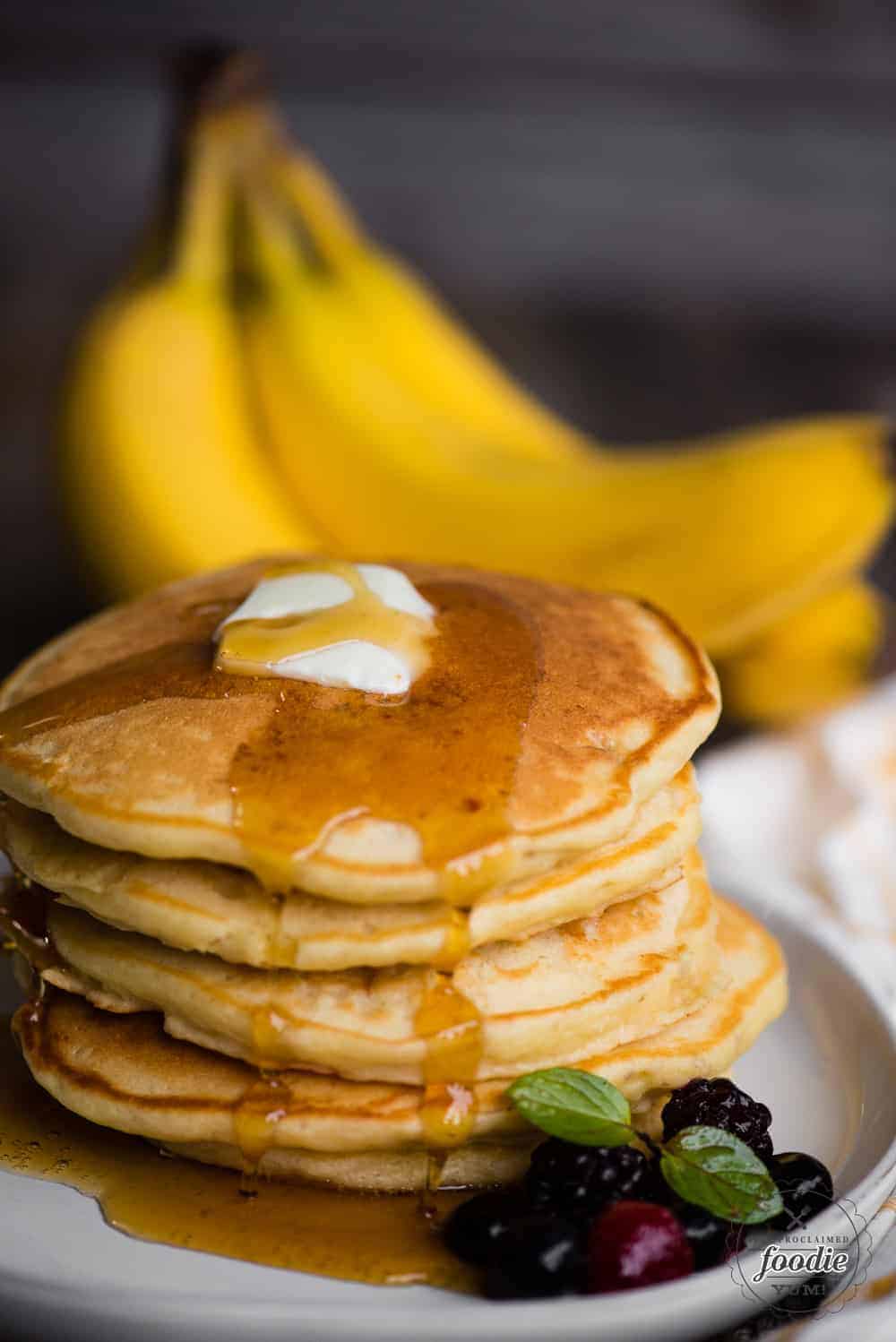 BANANA PANCAKES
Pin it to your BREAKFAST BOARD to SAVE it for later!
Follow Self Proclaimed Foodie on Pinterest for more great recipes!
The BEST Homemade Banana Pancakes are one of the best breakfasts you can enjoy at home with your family. There are a ton of banana pancake recipes out there. Many of them use the banana in lieu of traditional pancake ingredients to create a vegan, low carb, gluten free, paleo, or keto pancake. This is not one of those recipes.
This banana pancake recipe is a traditional homemade fluffy and great tasting pancake with mashed banana mixed right into the batter. The mashed banana not only gives a delicious, yet somewhat subtle, banana flavor, but it adds to the soft, fluffy texture of the pancake. Topped with a pad of butter and pure maple syrup, you're about to enjoy a delicious comfort food breakfast that everyone will love.
Making homemade pancakes has never been easier.
I make breakfast for my family nearly every single day. We reserve the cereal eating for an after school snack or the occasional dinner when mom is just too darn tired to cook. I confess! But breakfast? I always like to make breakfast.
That being said, you can imagine pancakes make a regular appearance on our breakfast table. I've always made them by measuring out ingredients into a bowl and then spooning the batter onto the griddle. Most of the time I make a decent sized mess and I regularly spill the batter on the stove. I do much better after I've had my coffee, but nonetheless I always seem to make a mess.
My pancake making experience has now forever changed.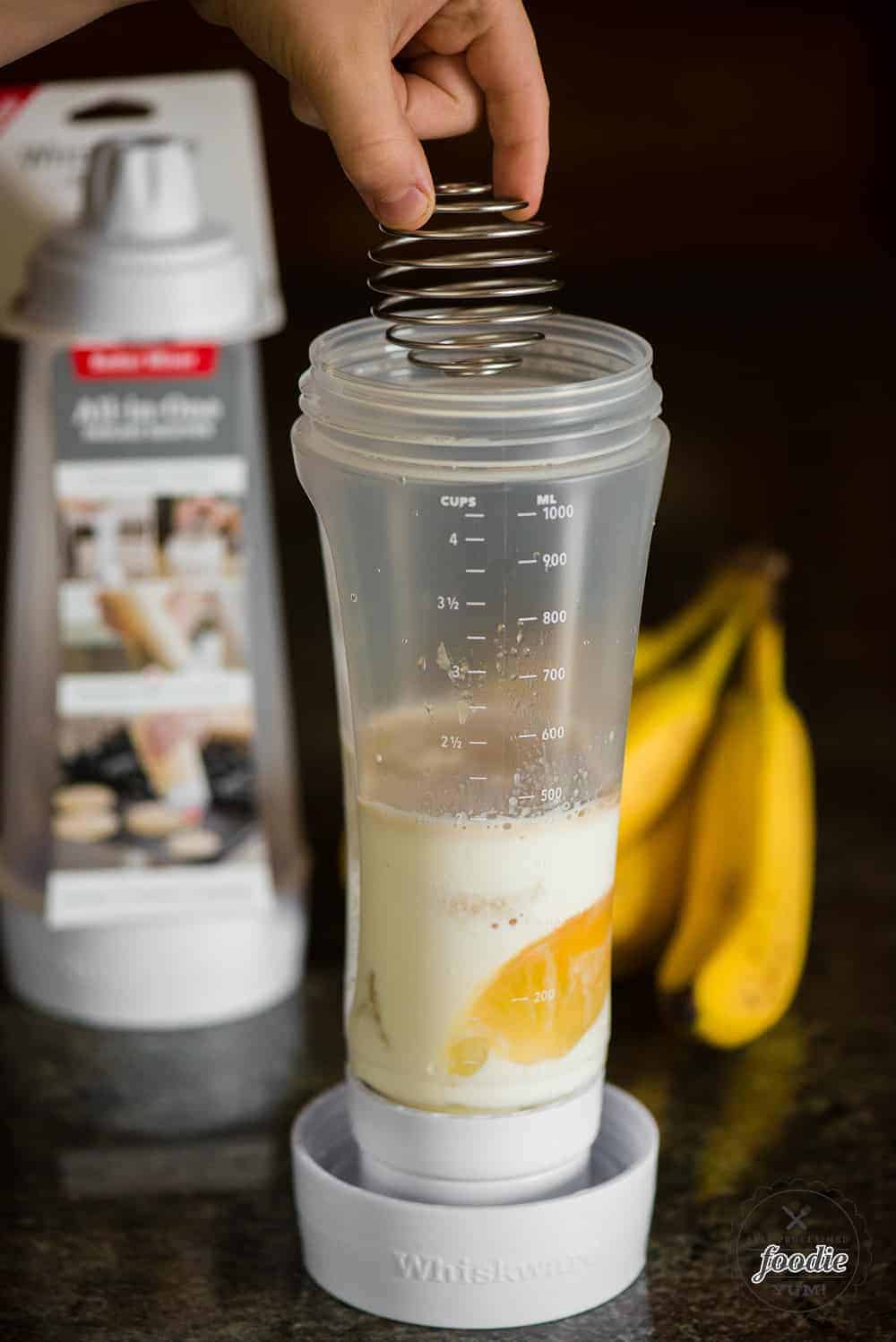 Now that I've used the Whiskware™ Batter Mixer to make my homemade pancakes, I'll never go back to using a bowl and spoon. I was so pleased with the clever design. After you read this post, I'm pretty confident you'll want to order one for yourself and one for every one of your friends and family. Let me explain why the Whiskware™ Batter Mixer is so awesome for making pancakes:
The Whiskware™ Batter Mixer mixes, dispenses, and stores batter, eliminating the mess of dirty utensils and bowls.
The Batter Mixer has a dual-purpose base. Simply unscrew the base and then it acts as a stand. The sealed top of the bottle rests on top of the very stable and sturdy base which allows you to easily add the ingredients to the wide part of the bottle.
The Whiskware™ Batter Mixer comes with their stainless-steel BlenderBall wire whisk which mixes the ingredients while you shake it. I must admit, I was skeptical that it would be able to mix up the batter with an entire whole ripe banana, but the whisk blended it up perfectly.
There's a pressure release cap. Keep it closed while you shake up the ingredients. Then, simply unscrew it and the built up pressure gets released. Super easy with no mess.
The Whiskware™ Batter Mixer is topped with a heat resistant silicone tip. That means that the griddle won't melt it when you're pouring the batter. I also noticed that the pancake batter is so easy to pour. I've never made such perfectly round and uniform pancakes. It kind of felt like I was cheating.
I'm not a fan of doing dishes, but the Whiskware™ Batter Mixer is actually kind of fun to clean. A little soap and warm water is super fun to shake around. Give it a good rinse and in about 30 seconds, the Batter Mixer is perfectly clean. If you don't wash it right away, you can always throw it in the dishwasher too.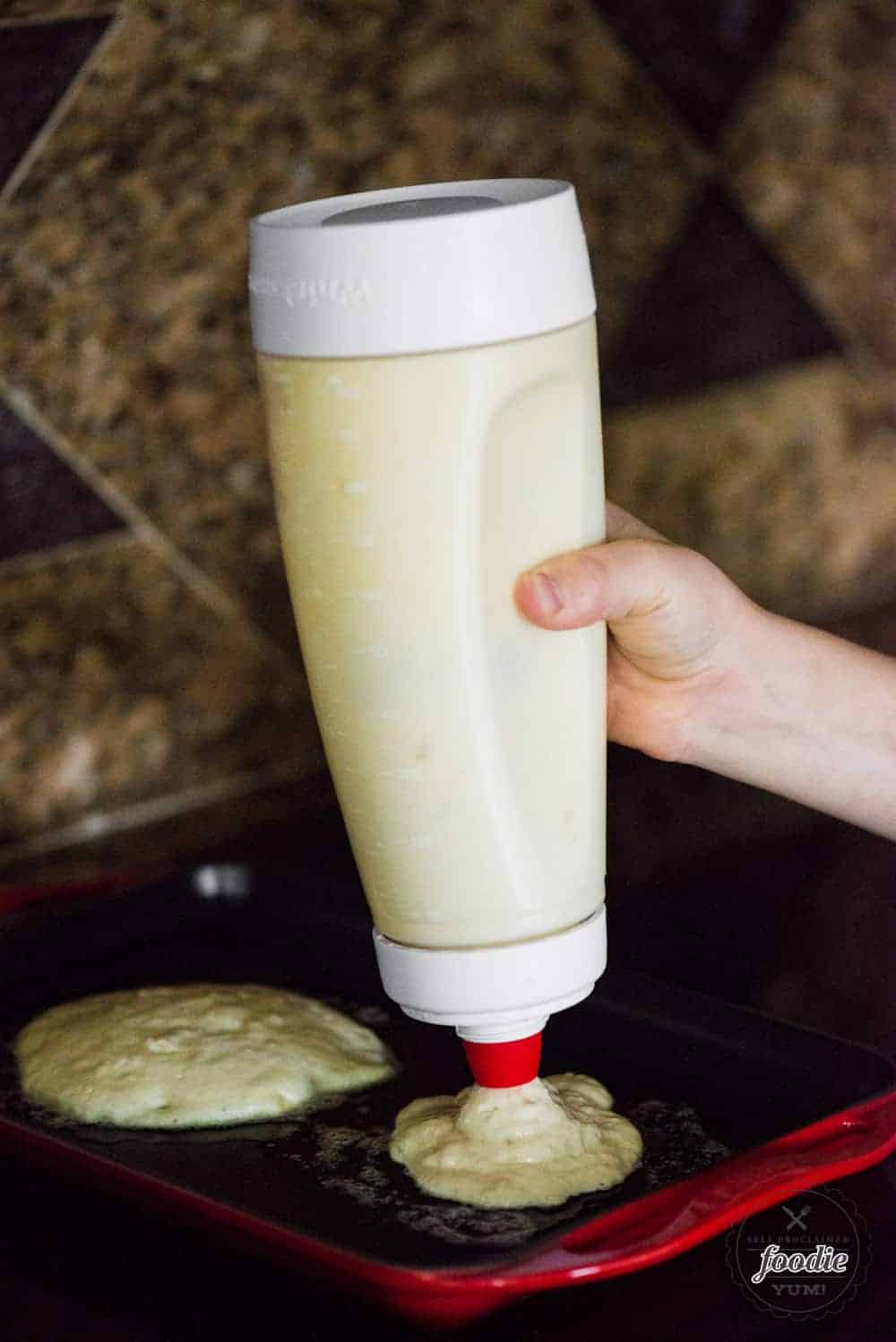 How to prevent pancakes from burning:
Since this pancake recipe has mashed banana as well as brown sugar in the recipe, it will burn at higher cooking temperatures. A hotter griddle will also make it diffult to flip the pancakes because the outside will be cooked while the inside remains raw.
The trick to achieving perfectly cooked pancakes is:
Allow your griddle to get fully hot before adding the batter. I personally use a cast iron griddle on an induction cooktop but you can use other types of griddles and heating sources. This trick is to allow the griddle to fully come up to temperature before the pancake hits the surface. This will also prevent the pancakes from sticking.
Low and slow is the way to go. My cooktop ranges from 1-9 as far as heat intensity, and I cooked these banana pancakes on a 3. So, try to use heat that's in the low to medium range. It will take longer to cook the banana pancakes, but the result will be a perfectly golden brown and fluffy pancake.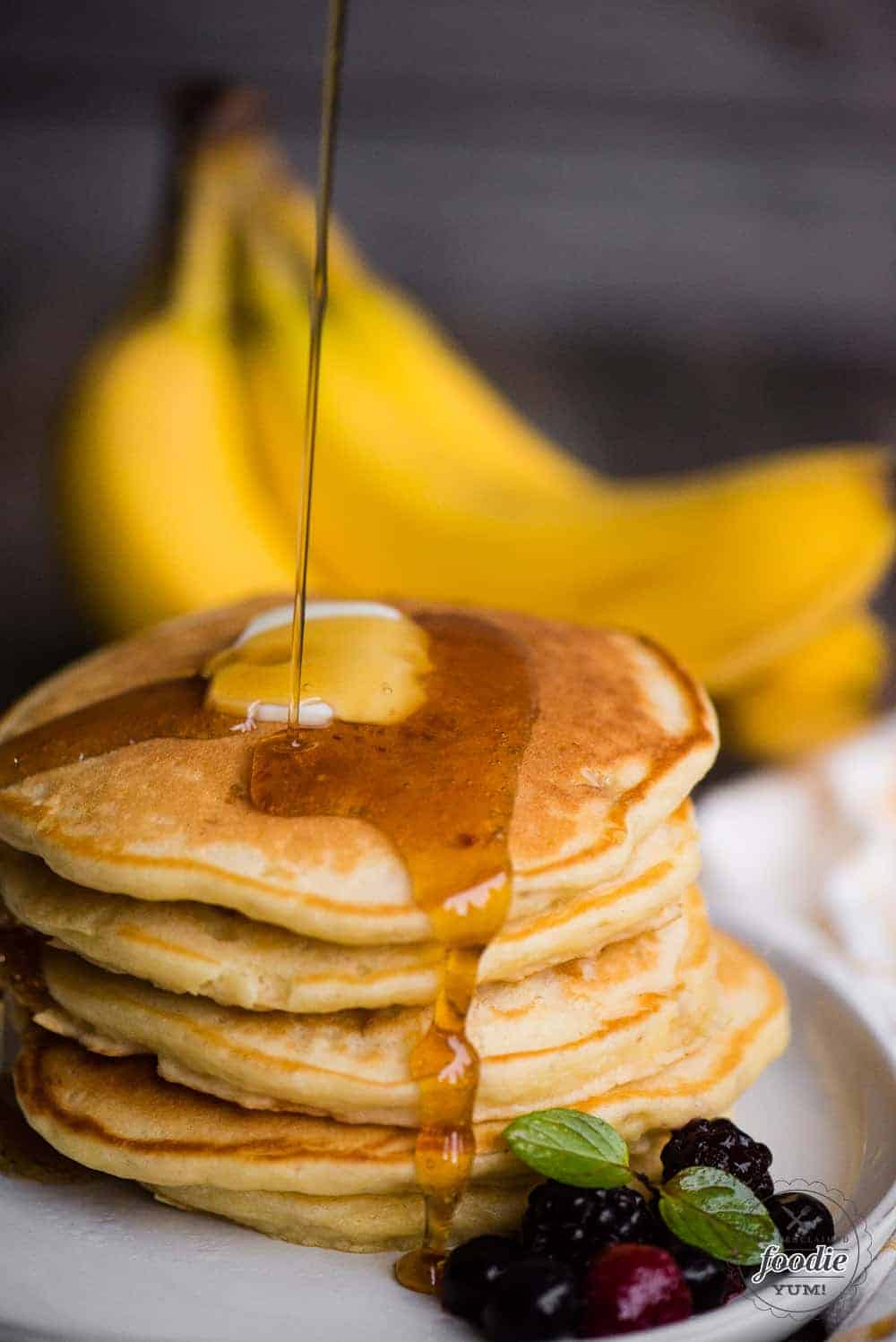 What to serve with pancakes:
Whether you make these homemade banana pancakes or any kind of traditional pancake, here are some of my favorite ways to enjoy a good old fashioned pancake breakfast:
Real butter and real maple syrup. You just can't go wrong here.
Lately I've been adding hemp seed to the top of my pancakes. They add great texture, taste, protein, and all sorts of other nutrients. If you haven't given them a try yet, you should!
Cooked apples or pears. Any time we have apples or pears on the counter that are ripening faster than we can eat them, I peel and slice them and cook them down with some cinnamon and maple syrup. YUM!
Sliced banana on top! That seems like a no brainer, but sometimes people forget how good that tastes.
And no matter what type of pancake you enjoy, a few pieces of freshly cooked bacon always takes them to the next level!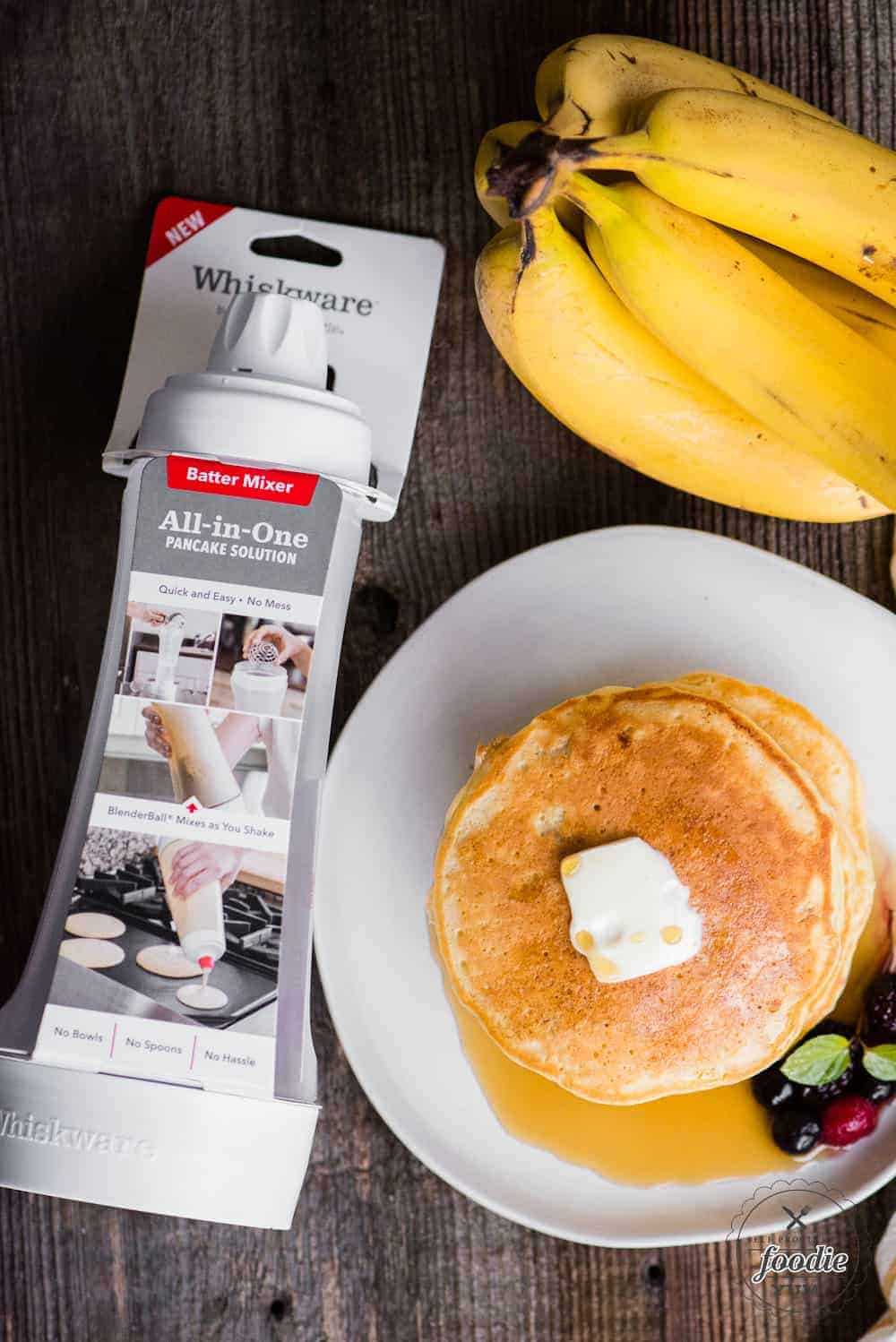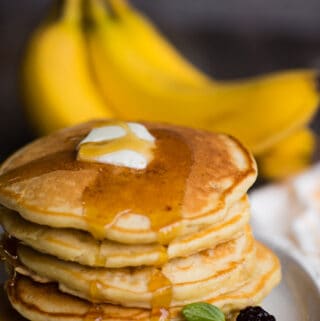 Homemade Banana Pancakes
The BEST Homemade Banana Pancakes are fluffy and delicious. This scratch made breakfast recipe with mashed banana is easy to make too!
Print
Pin
Rate
Ingredients
1

large

egg

1

cup

whole milk

can also substitute with buttermilk or sour cream

2

tbsp

melted butter

slightly cooled

2

small

ripe bananas

mashed, two small or one large banana - see recipe notes

1

tsp

vanilla extract

1

cup

all-purpose flour

1

tbsp

brown sugar

2

tsp

baking powder

1/4

tsp

salt

additional butter or oil for pan
Instructions
Add egg, buttermilk, melted butter, mashed ripe banana, and vanilla extract to Whiskware™ Batter Mixer. Shake to combine.

Add flour, sugar, baking powder and salt to the Whiskware™ Batter Mixer and shake to combine.

Heat griddle on medium low heat and be sure to allow it to fully heat before adding pancake batter. Grease with butter or oil. Use Whiskware™ Batter Mixer to pour your hassle-free mess-free banana pancakes. Because you're cooking at a low temperature, allow pancakes to bubble around the edges before you flip. Once bubbly and golden brown on the bottom, flip only once, and allow to continue cooking until golden brown. Serve hot with additional butter and real maple syrup.
Notes
My favorite way to mash a banana is actually to squeeze it while still in the peel. Simply give it a good massage and be gentle enough to keep the peel from splitting but firm enough to mush the banana well. Then, simply peel it and add it to your pancake batter.
Recipe makes six 4-6 inch sized pancakes. Serving size based on a single pancake.
Nutrition
Calories:
181
kcal
|
Carbohydrates:
26
g
|
Protein:
4
g
|
Fat:
6
g
|
Saturated Fat:
3
g
|
Cholesterol:
45
mg
|
Sodium:
162
mg
|
Potassium:
352
mg
|
Fiber:
1
g
|
Sugar:
7
g
|
Vitamin A:
245
IU
|
Vitamin C:
2.3
mg
|
Calcium:
126
mg
|
Iron:
1.3
mg