This tart Hawaiian Stone Sour made with whiskey and pineapple juice will make your mouth pucker while you daydream about relaxing on a tropical beach.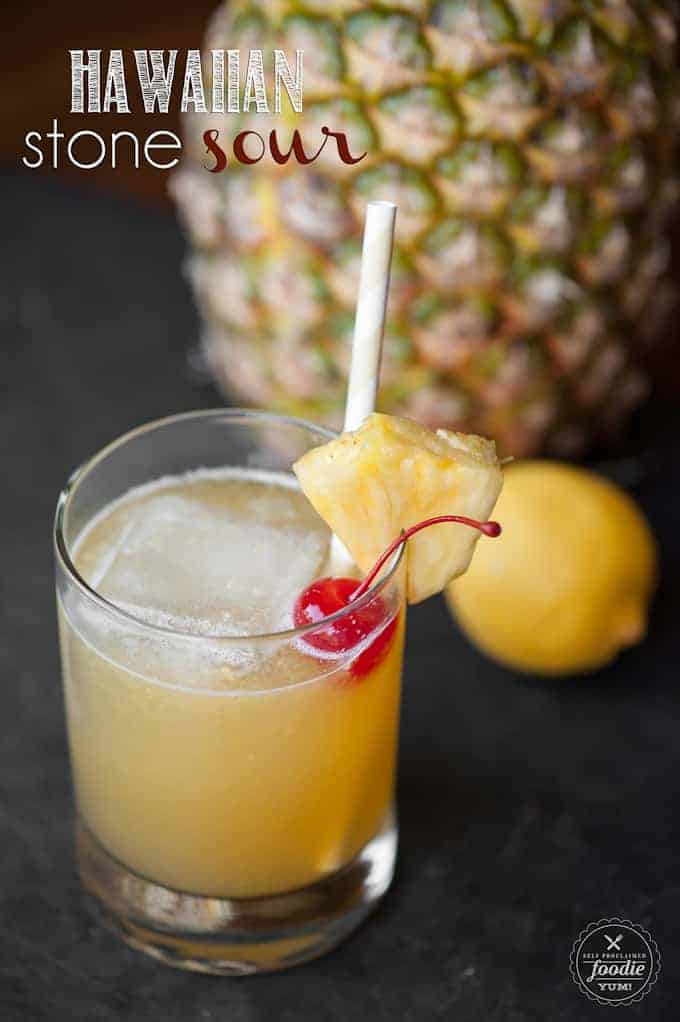 I love tropical drinks. Wanna know why? Aside from the fact that they taste amazing, they completely transport me to a tropical island, even if its just for the few minutes it takes for me to guzzle down said drink. I had a pineapple that needed to be used up along with a lonely little lemon. Sure, I could have just sliced up the pineapple and called it good, but where's the fun in that? Alas, the poor little pineapple and lemon looked rather bland all by their lonesome.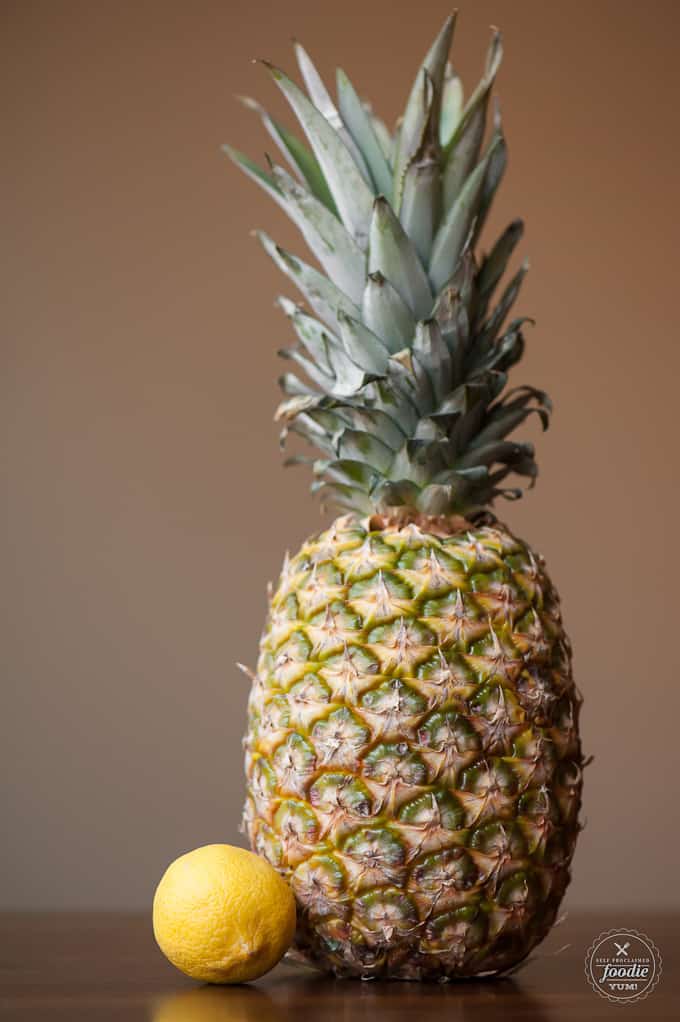 Enter one shot of whiskey. That shot glass only has an ounce of whiskey in it and I use a full 1.5 ounces in this cocktail. I like to round up. Now, doesn't this picture below look more complete? Canned pineapple juice would work perfectly well. In fact, I highly recommend just buying juice. Is that what I did? Nope. I had the grand idea of juicing the fresh pineapple. Did it taste better? Probably. Was it worth the work and the mess it created? Probably not. Just buy the juice.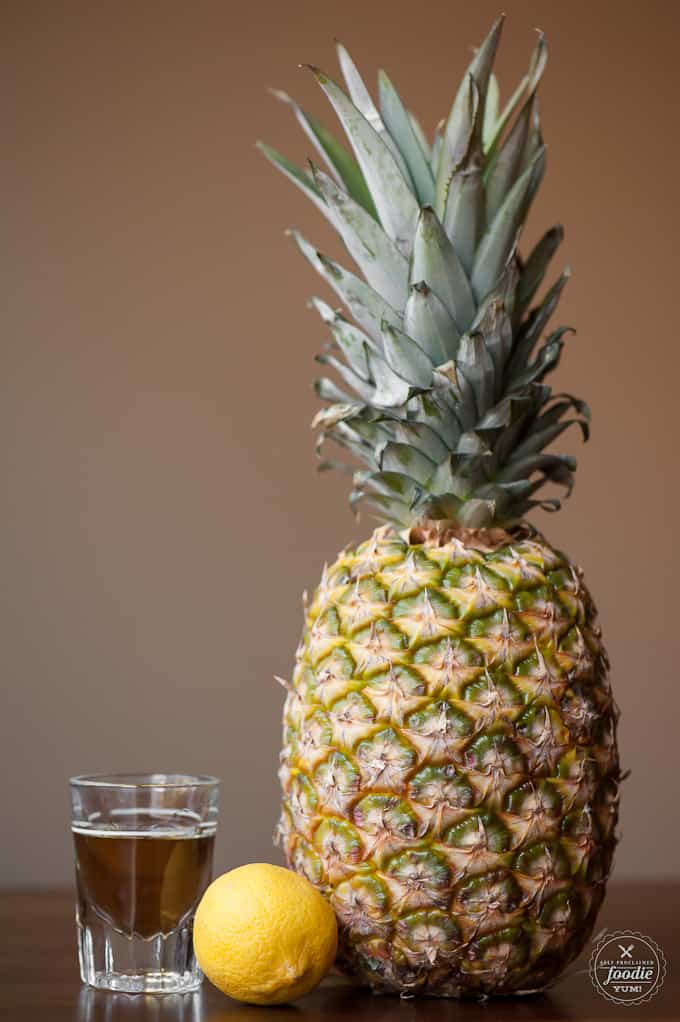 I'm not a huge whiskey fan, to be completely honest. I don't know how, but my husband can drink it straight - along with just about any other type of booze. There is something, however, about a whiskey sour that I just love. If its made properly, there's just the right amount of sweet versus tart and they perfectly compliment the take-your-breath-away intensity of the whiskey.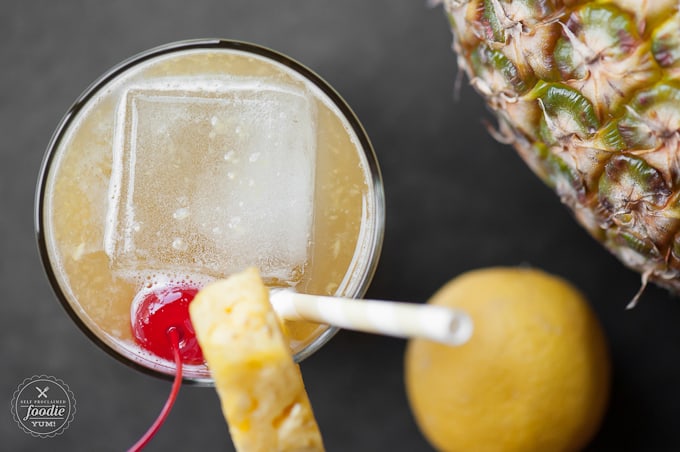 Related recipes:
Can't get enough whiskey sours? Well then, you'd better be sure to try my Strawberry Lemonade Whiskey Sour. Or how about my Pomegranate Whiskey Sour.
Full Recipe Instructions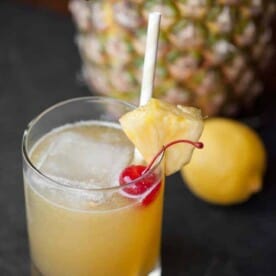 Instructions
Shake all ingredients in a cocktail shaker with ice. Strain and serve in an old-fashioned glass over fresh ice.

Garnish with fresh pineapple, a cherry, or one of those paper umbrellas if you have them!
NUTRITION INFORMATION
Calories:
211
kcal
|
Carbohydrates:
28
g
|
Protein:
1
g
|
Fat:
1
g
|
Saturated Fat:
1
g
|
Sodium:
18
mg
|
Potassium:
55
mg
|
Sugar:
26
g
|
Vitamin C:
15
mg
|
Iron:
1
mg
This post first appeared over at Real Housemoms where I used to be a contributor.