Grilled Peaches and Cream is an elegant, yet incredibly simple, three ingredient dessert.
Warm grilled peaches are topped with a sweetened sour cream! When you're craving something sweet to enjoy after a late summer dinner, this peaches and cream recipe will surely satisfy!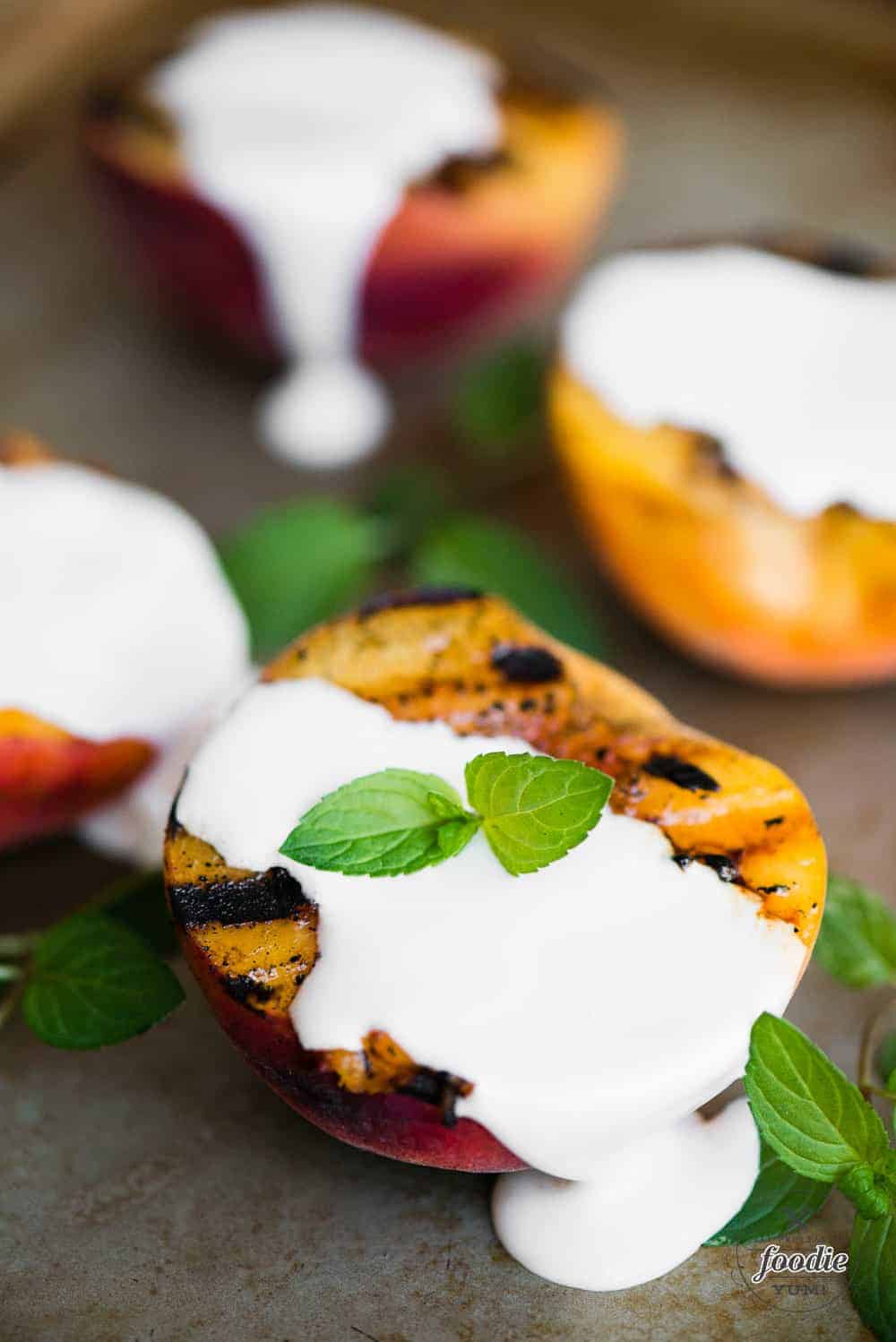 Grilled Peaches and Cream is one of my favorite summer dessert recipes. When I was a kid, we used to enjoy peaches and cream, but it was a completely different experience.
When we went camping, my mom would peel and slice fresh peaches and then allow a pint of vanilla Haagen Daaz to melt over them. We'd divide that into exactly four equal portions and every drop would be devoured in a matter of minutes.
This recipe for peaches and cream is just as simple to make, but is less sweet and a heck of a lot more elegant!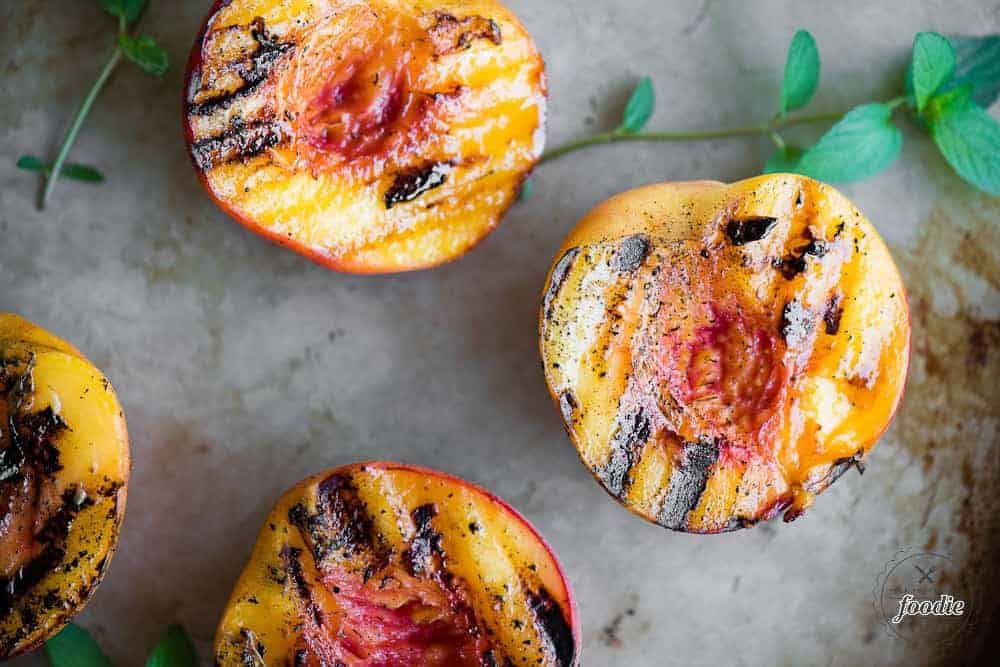 How to make this recipe:
Simply put, you just need to grill the peaches and spoon the sweet cream on top.
To grill the peaches, cut them in half lengthwise. You're going to want to use freestone, or cling free peaches, so that the fruit comes off of the pit easily. If you have a peach that is completely connected to the pit, this method won't work. Frankly, I only buy freestone peaches. Especially if I'm planning on canning my own Canned Vanilla Bean Peaches or making something like Super Easy Peach Cobbler. It's just easier.
To grill the peaches, you need to place them on a very hot grill. You can use something like a cast iron grill pan, or you can set them directly on the grill of your BBQ. If you're worried about sticking, I recommend spraying the grill with oil first.
The cream portion of this peaches and cream recipe is a combination of sour cream and brown sugar. The sugar makes it just sweet enough without taking away from the tartness of the sour cream too much.
This peaches and cream recipe is not something you want to make ahead. It's easy enough and quick enough that you want to make it right before you serve it. Even if you're entertaining, it really is a super simple dessert recipe.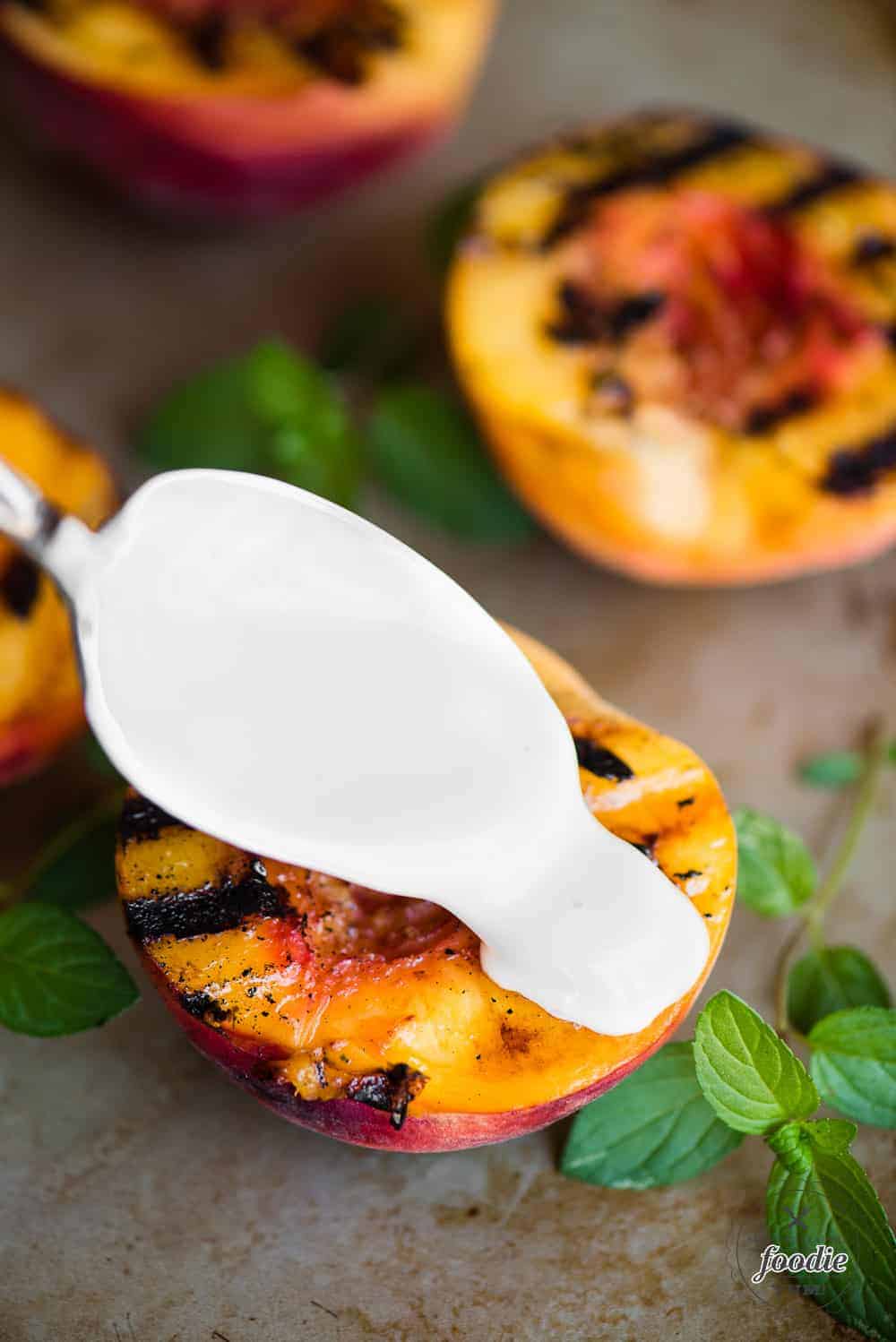 Recipe variations:
If you google peaches and cream, you'll see all sorts of weird stuff including Prince's video for the song. If you're looking for a recipe (which you shouldn't need to after finding this recipe), do yourself a favor and google the words peaches and cream recipe. It'll filter out a lot of the weird stuff!
I highly recommend fresh peaches, especially if you're planning on grilling them. However, if fresh peaches are not in season, you can make peaches and cream with canned or thawed frozen peaches. Although grilling might not work as well, you could always broil them in the oven to bring out their natural sweetness.
I chose to use sour cream as the cream in this recipe. You have several options here if you don't have sour cream or don't like it. You could blend up a can of full fat coconut cream if you're looking for a vegan or dairy free option. Alternatively, you can use heavy whipping cream. If you think you'll like the tartness that sour cream adds but you don't have any, whole milk greek yogurt would be a great substitute as well. With any of these options, I would still add a sweetener.
If you prefer not to use brown sugar to sweeten the cream, you can use honey, maple syrup, or even something like Stevia.
Grilled Peaches and Cream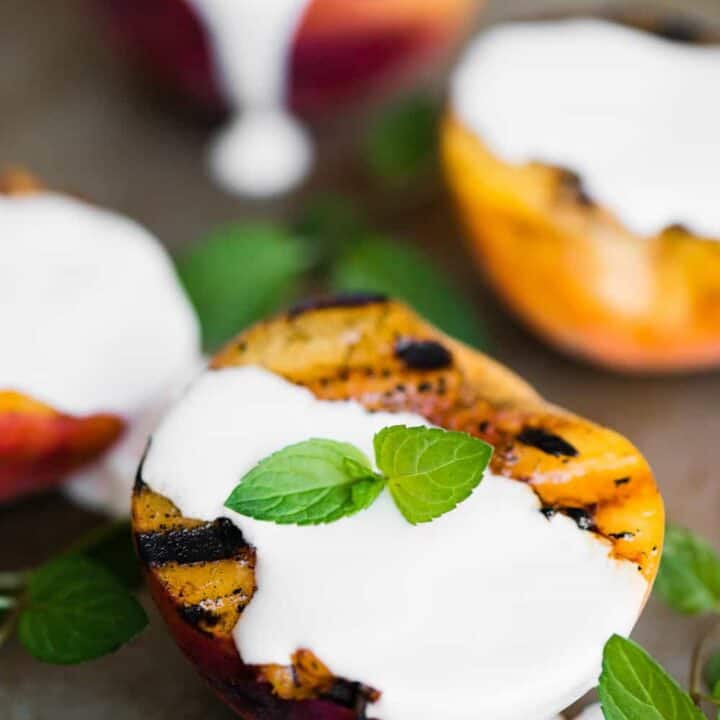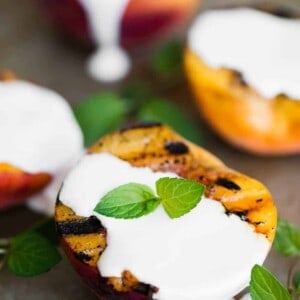 Grilled Peaches and Cream is an elegant, yet incredibly simple, three ingredient dessert. Warm grilled peaches are topped with a sweetened sour cream!
Ingredients
2

large

peaches

freestone (cling free)

1/2

cup

sour cream

1

T

brown sugar
Instructions
Cut peaches in half and remove pit. Heat grill pan or grill to high heat. Coat with olive oil spray. Place each peach half down on the grill and cook over high heat, undisturbed, for about 5 minutes or until grill marks appear.

Meanwhile, combine sour cream with brown sugar.

To serve, place grilled peach half, cut side up, on dish and top with a spoonful of sweetened sour cream. Serve immediately.
Nutrition
Calories:
101
kcal
,
Carbohydrates:
12
g
,
Protein:
1
g
,
Fat:
5
g
,
Saturated Fat:
3
g
,
Cholesterol:
14
mg
,
Sodium:
23
mg
,
Potassium:
206
mg
,
Fiber:
1
g
,
Sugar:
11
g
,
Vitamin A:
465
IU
,
Vitamin C:
6
mg
,
Calcium:
37
mg
,
Iron:
0.3
mg
Nutrition information is automatically calculated, so should only be used as an approximation.