While there may be a million recipes for meatloaf available, this recipe is what you've been looking for. If you want to make the best old-fashioned perfect meatloaf topped with the most delicious sticky sauce, this is the recipe to make.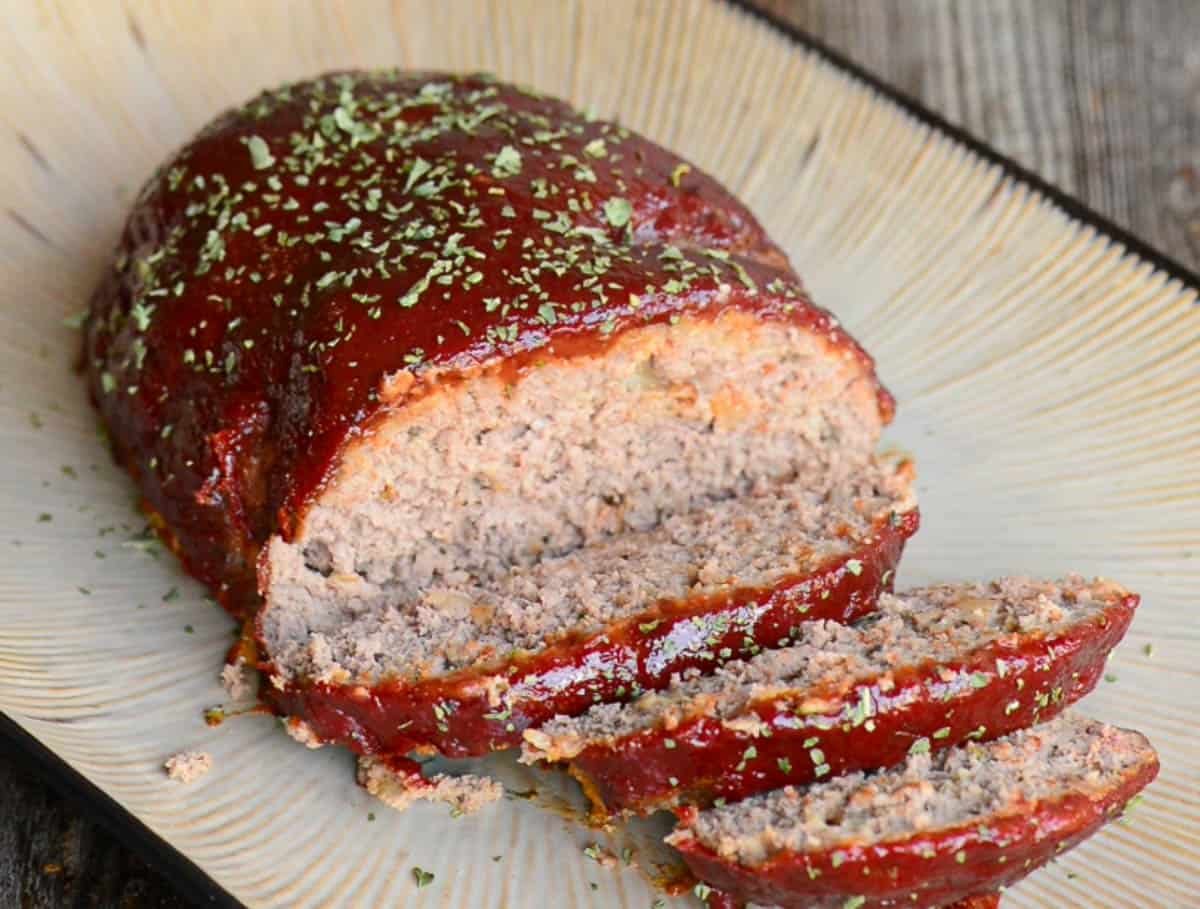 In this post, I'll explain what makes this recipe different than all the others, why it works, recipe variations, and you can see how easy it is to make with the step-by-step photos or the recipe video.
This recipe has been viewed almost 2 million times, and so many of you agree that this is the best meatloaf recipe out there!
Why This Recipe Works So Well
If you're wondering what to cook for dinner tonight, and are craving some good old comfort food, you can't go wrong with a Classic Meatloaf. These are just a few reasons why people love this recipe.
Amazing flavor – A really good meatloaf requires the perfect balance between a delicious, perfectly cooked, ground beef mixture and a tangy glaze. This recipe incorporates sauteed onions into the meatloaf which adds amazing texture and flavor. The sauce on top couldn't be easier to make, and it compliments the flavors perfectly.
Secret ingredient – This recipe uses milk. It may seem odd, but the milk adds richness to the meatloaf, softens the bread crumbs, and is the secret to moist meatloaf.
Leftovers – This is one of those recipes that might just be even better the next day. If you like making a family dinner big enough so that it can also be enjoyed throughout the week, then this recipe is for you!
That meatloaf sauce – Most importantly, the simple sauce added towards the end of the cooking process adds a tremendous amount of flavor. Plus, it gets wonderfully sticky as it cooks.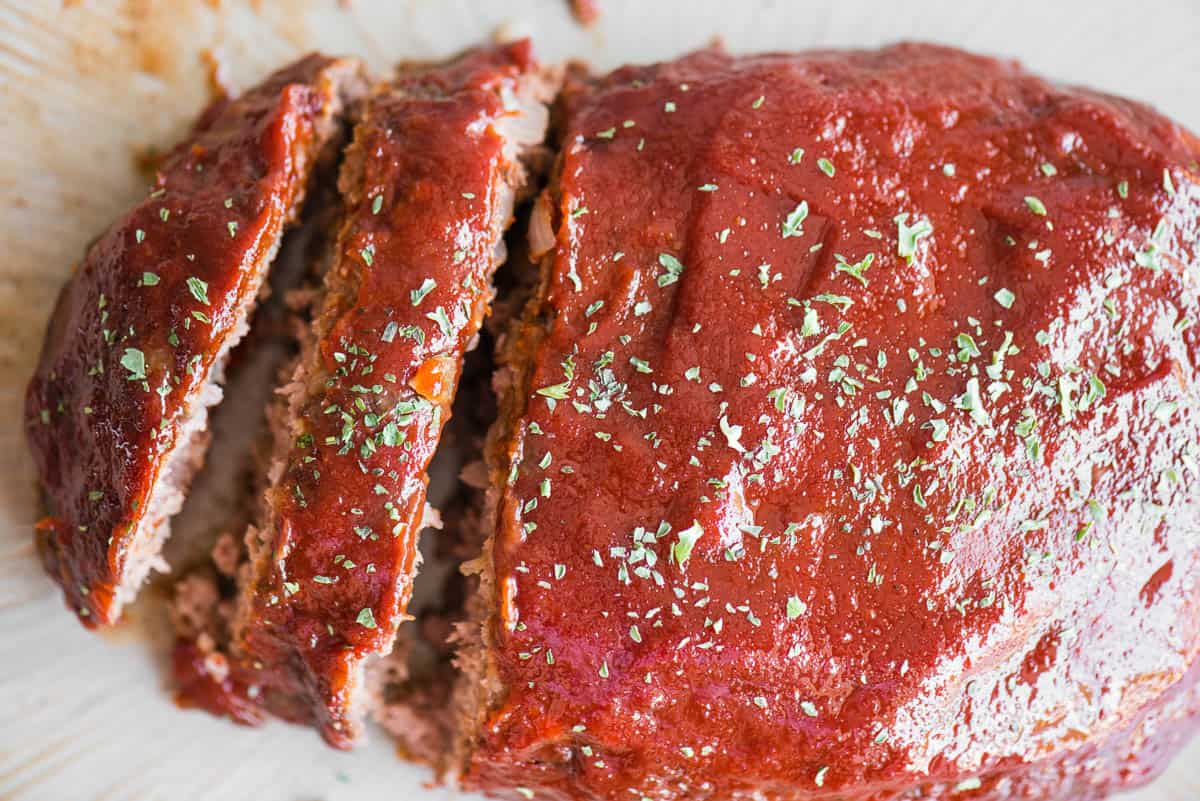 Ingredients Needed
The exact measurements are listed in the full printable recipe card below, but here is a list what you will need to make this for dinner tonight.
Meatloaf ingredients
Sauce ingredients
onion
garlic
butter
ground beef
a large egg
bread crumbs
milk
Worcestershire sauce
thyme
salt
ketchup
brown sugar
spicy brown mustard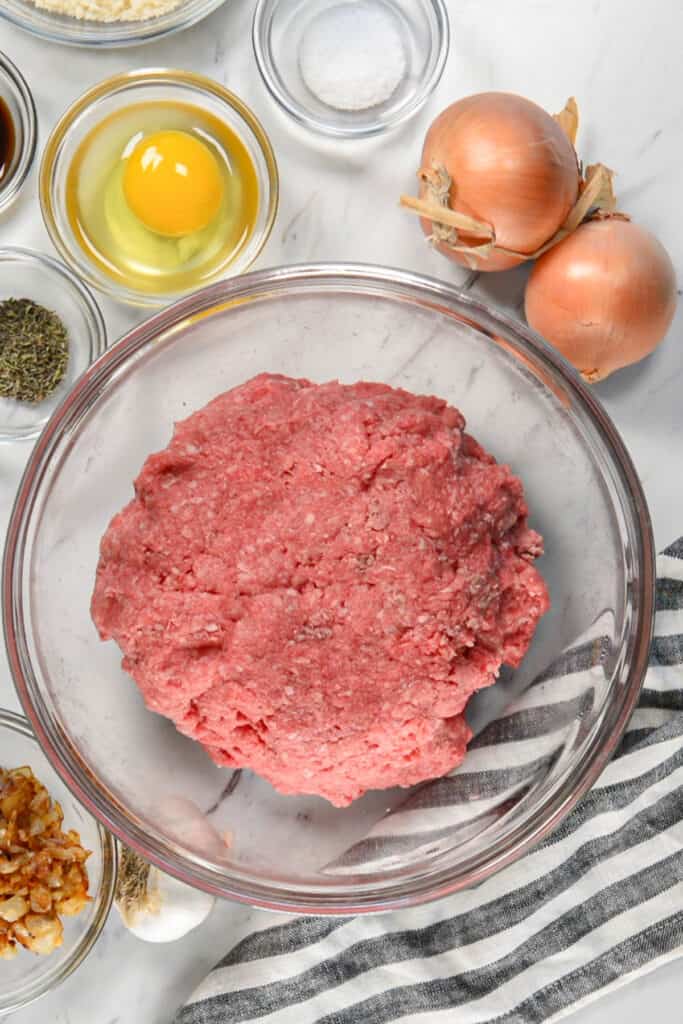 How to Make This Easy Meatloaf Recipe
This classic recipe consists of two parts: the meatloaf and the sauce on top.
Prior to cooking, you will need to prepare the sheet pan or baking dish by covering it with parchment paper or aluminum foil. This makes for easy cleanup.
Step 1: Soak the breadcrumbs
Combine the bread crumbs with the milk in a small bowl. This softens them while they absorb the liquid. (Note: this step was not shown in the pictures and recipe video and can be skipped, however it is highly recommended).
Step 2: Sauté the onion
Sauté the onion and garlic in butter or olive oil. Adding raw onion and garlic to the meat mixture would be too intense. Cooking them in butter first allows you to get the best onion and garlic flavors without them being too harsh or intense.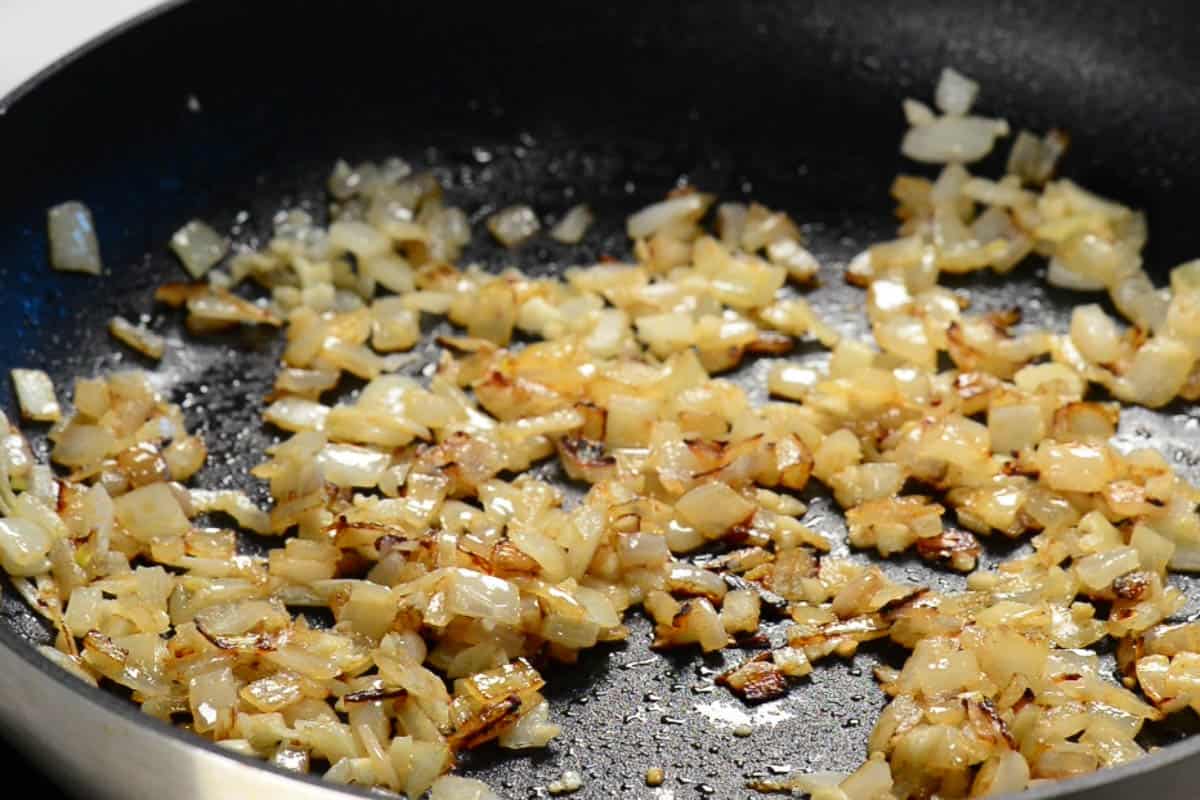 Step 3: Mix meatloaf ingredients
Combine the soaked breadcrumbs, onion and garlic mixture, and the remaining meatloaf ingredients in a large bowl. The best way to mix everything together is with your hands. Once mixed, the meatloaf mix gets transferred to the prepared pan.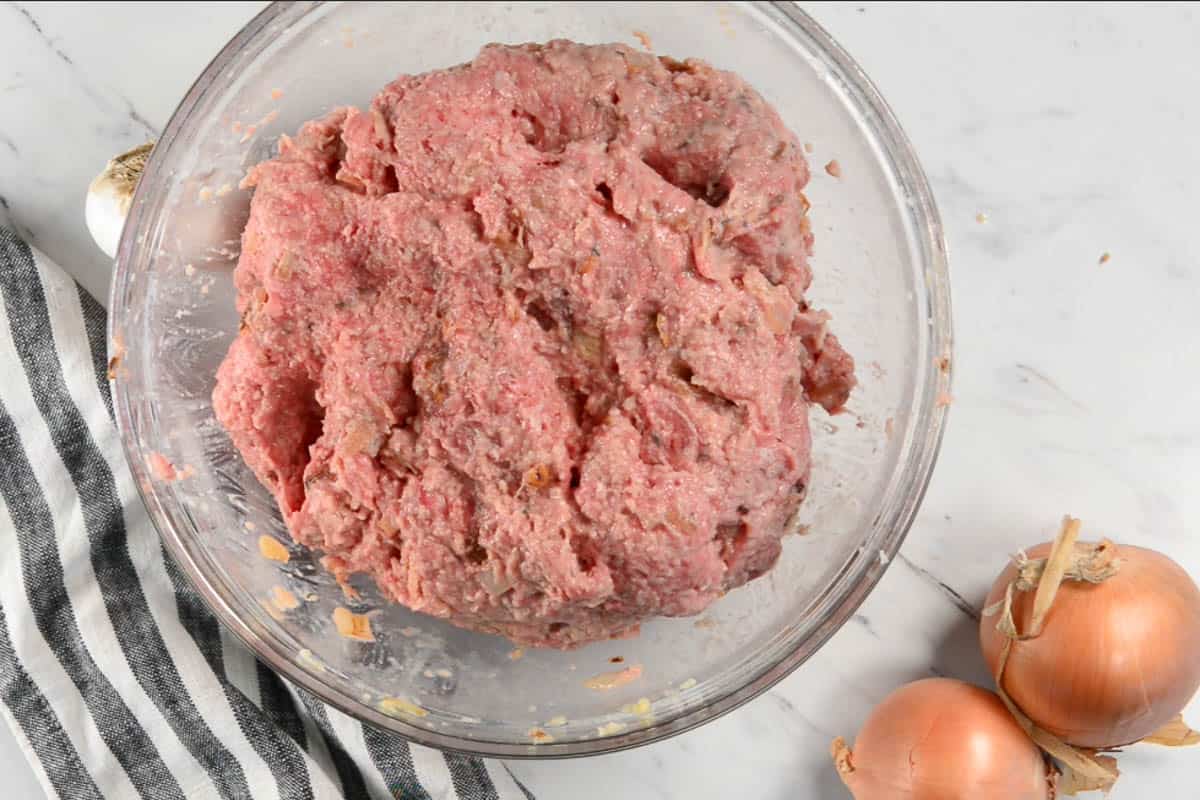 Step 4: Shape the meatloaf.
Use your hands to create a loaf shape. I also like to use a sharp knife to create a crisscross pattern on top. This just helps create an extra crispy exterior.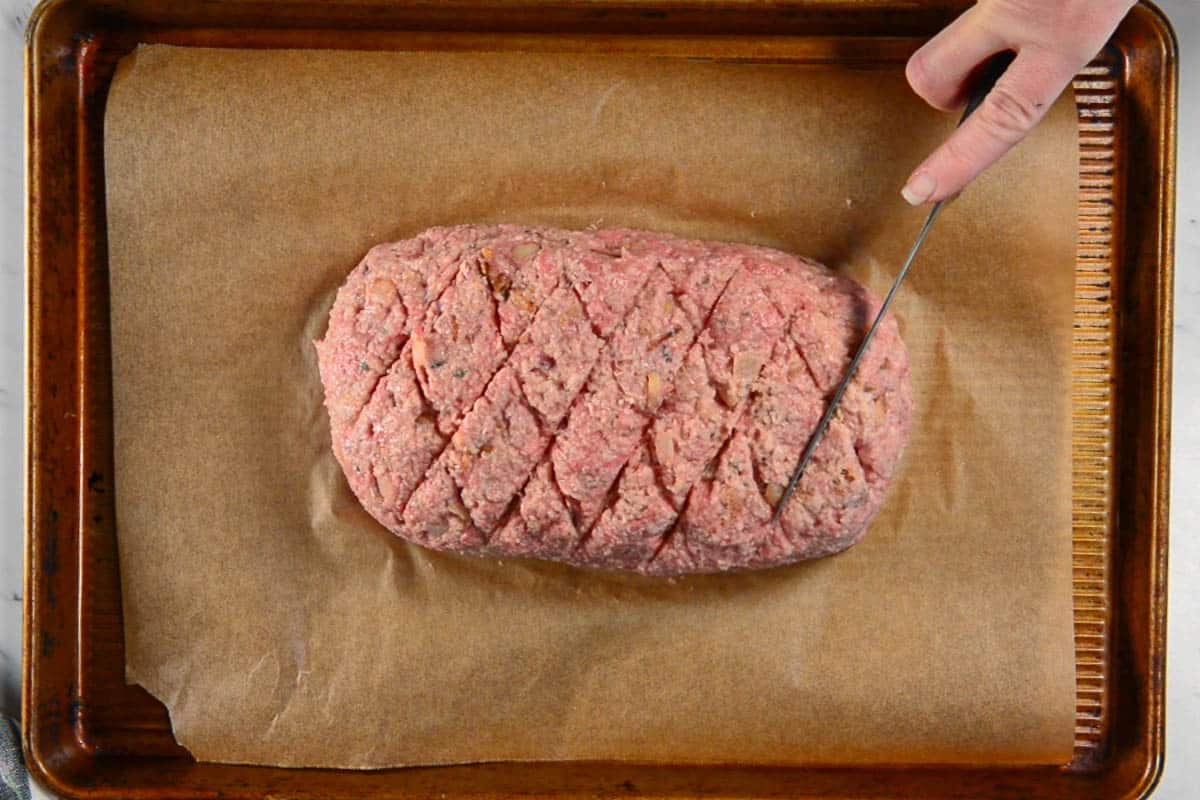 Step 5: Bake the meatloaf
Place the baking sheet in the preheated oven and bake the meatloaf, uncovered, for about 40 minutes. Mix the sauce while it is cooking.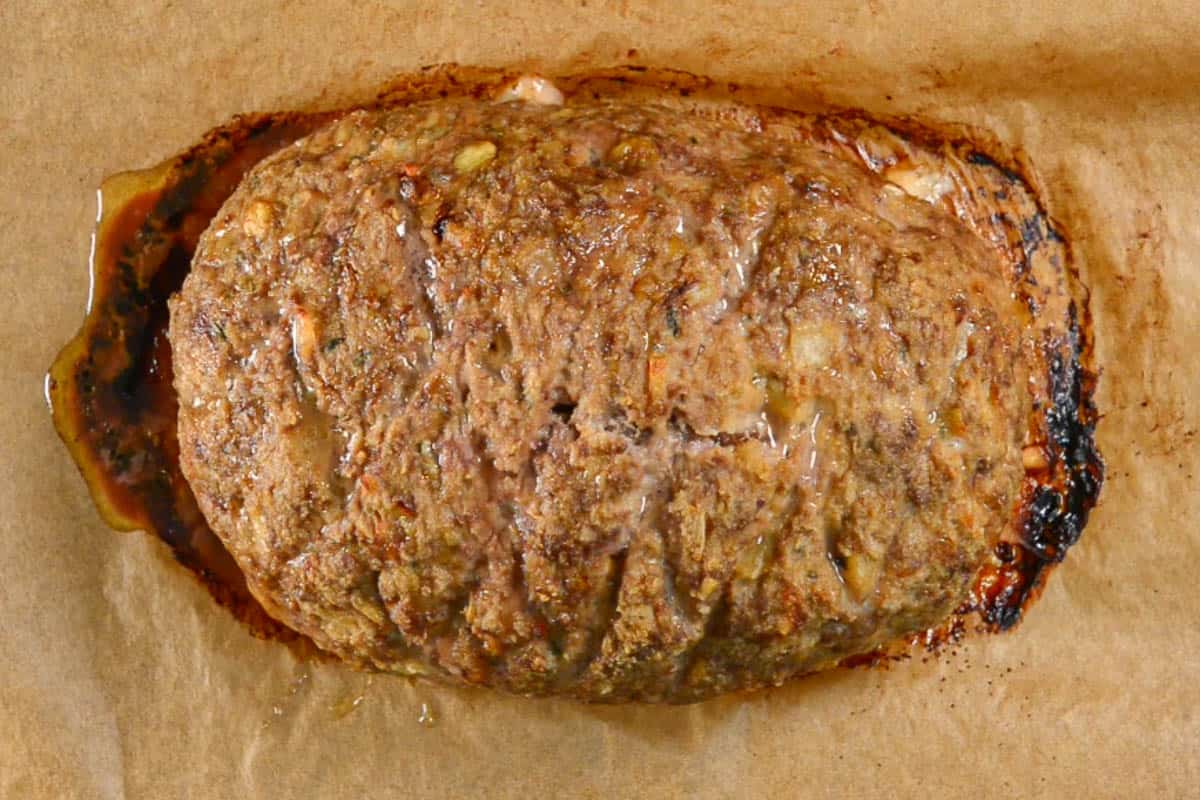 Step 6: Make the sauce
Combine the ketchup, brown sugar, and spicy brown mustard in a small bowl.
Pro tip: if you think you'll really like the sauce, double this portion of the recipe.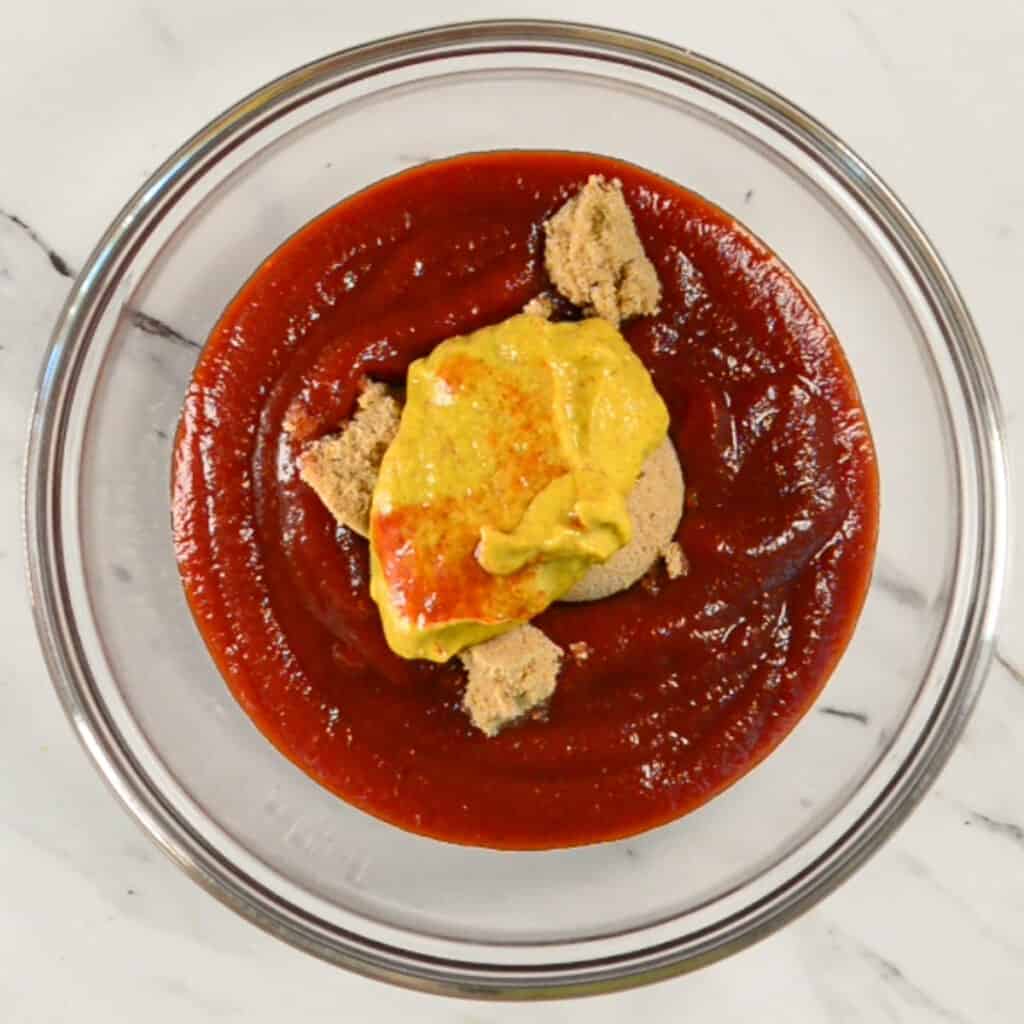 Step 7: Add the sauce
Pour the sauce over the top of the meatloaf about halfway through the cooking time, after about 40 minutes, and continue to cook for at least another 30 minutes or so.
This process will allow the meatloaf to have a nice crispy outside and the sauce will get wonderfully sticky as it cooks.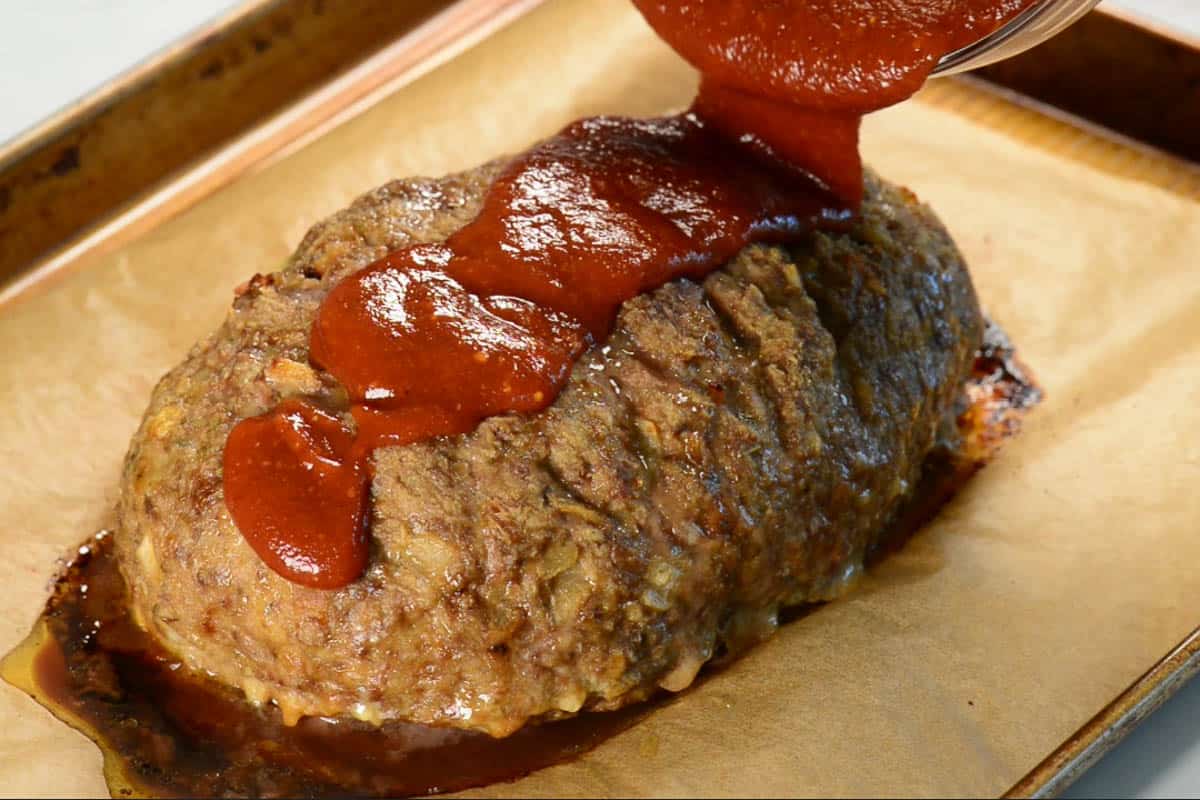 Step 8: Let meatloaf rest
Once the sauce-covered meatloaf has reached an internal temperature of 160°F, remove it from the oven.
For best results, let the meatloaf rest for a few minutes before serving.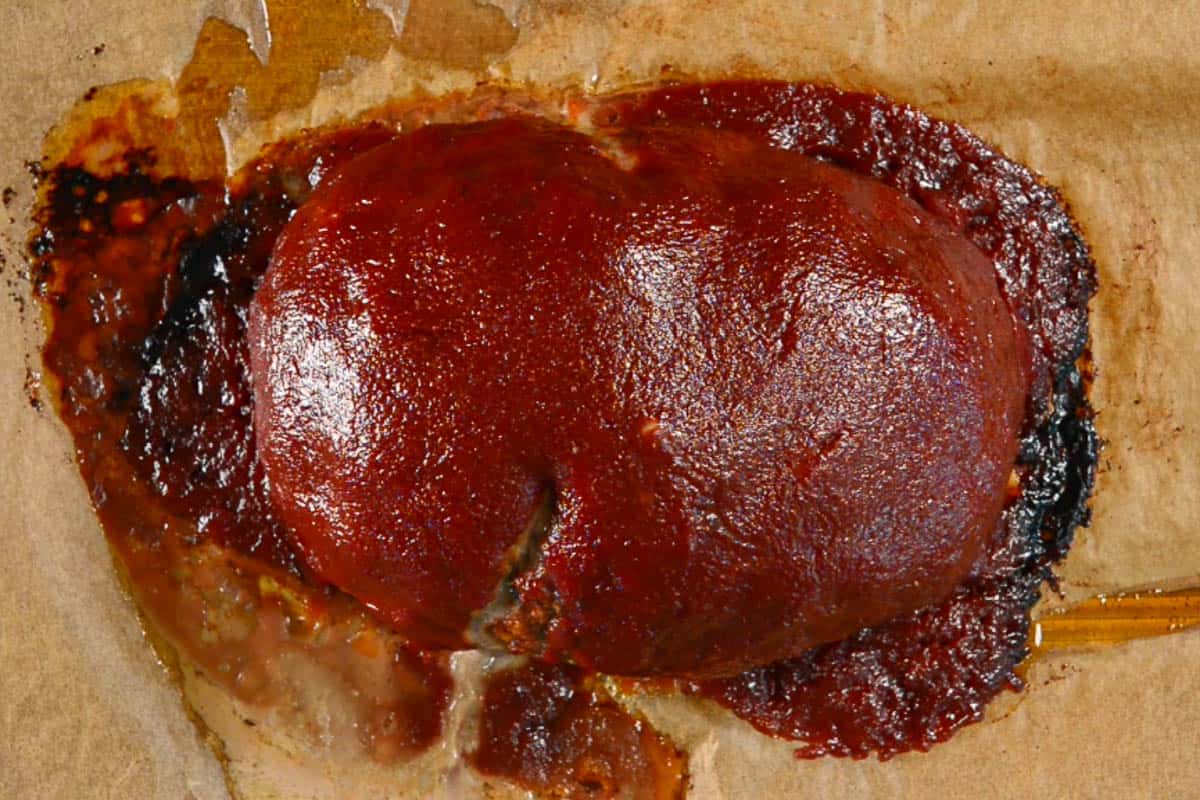 Recipe Variations
Meat – You can use any kind of ground meat in this recipe. For traditional beef meatloaf, anything from ground chuck to lean ground beef will work. Keep in mind that fat will release during the cooking process, and lean meat will have less grease. This can also be made with ground pork, chicken, turkey, or any combination thereof. If you really want to take this meatloaf to the extreme, you can lay strips of bacon over the top prior to cooking it. This is similar to how I make my mini bacon meatloaf recipe.
Breadcrumbs – Panko bread crumbs work great in this recipe, but you can also use plain bread crumbs or stale chewy bread that is run through a food processor. Many readers have recommended using crushed crackers as well. Gluten-free breadcrumbs work just as well as traditional ones.
Milk – If you need a non-dairy milk substitute, you can replace the cup of milk with something like chicken stock, oat milk, etc.
Sauce – If you don't want to mix the sauce, traditional barbecue sauce actually works quite well. It will give a different flavor, but will still produce finger-licking sticky results. You can also add chili sauce to the recipe's sauce mixture to add a little heat. If you like the sauce on the thicker side, you can mix in a tablespoon of tomato paste.
Onion and Garlic – If you don't want to sauté the onion and garlic, you have a few options. Simply adding about a tablespoon of onion powder and a teaspoon of garlic powder will create a similar flavor. Other options include using crispy fried onions (the kind you put on top of green bean casserole), onion dip mix, or dried onion soup mix.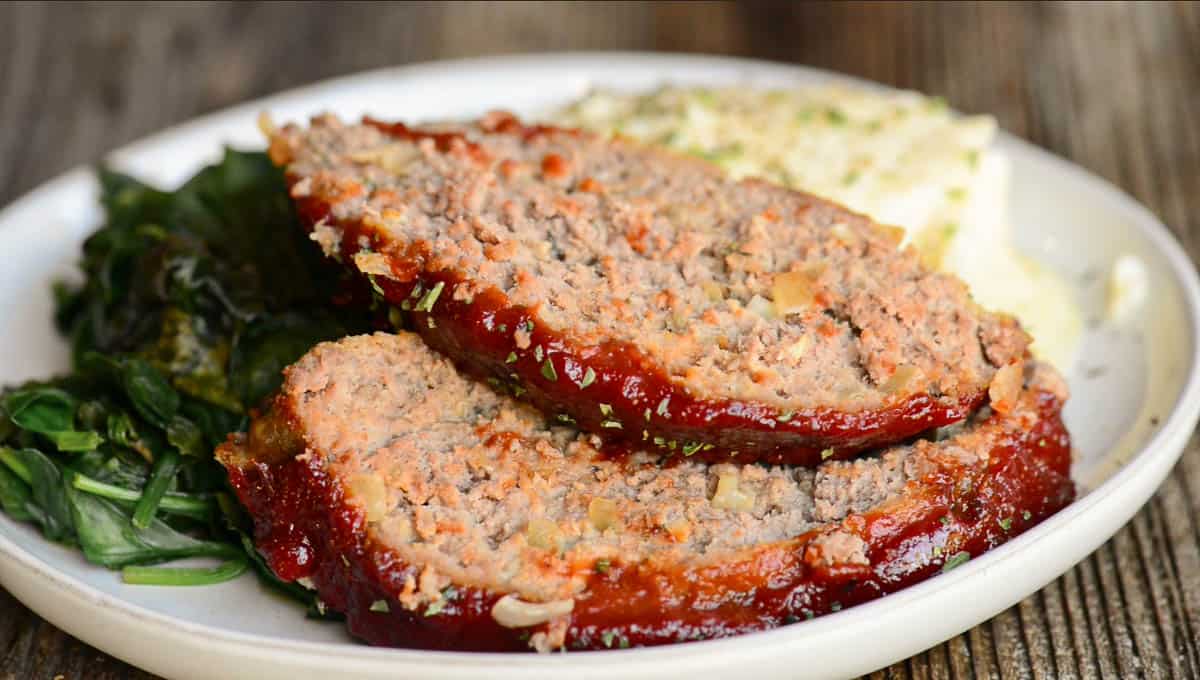 Pro Tips for the Best Results
Don't overwork the meat mixture while combining the ingredients. Mix it just until everything is combined.
If you really like the ketchup topping, double that part of the recipe!
If you prefer the crunchy outer texture of the meatloaf, consider shaping the meatloaf flatter so that you have more surface area to get crispy. This will also reduce the cooking time.
Always use a trusted meat thermometer to verify that the meatloaf is done. The recommended internal temperature of ground beef is 160°F.
Join today and start saving your favorite recipes
Create an account to easily save your favorite recipes and access FREE meal plans.
Side Dish Recommendations
You can't enjoy the perfect homemade meatloaf without some tasty side dishes to go alongside it. The most classic options to serve alongside this amazing homemade meatloaf recipe are mashed potatoes and green beans or sauteed spinach.
Storage and reheating
Store any leftover meatloaf in an airtight container and refrigerate. Meatloaf is best if consumed within 3-5 days.
To reheat, microwave in 1-minute increments at 50% power until heated through. It can also be reheated in the oven, covered, until heated through.
Enjoy it as a meal with leftover mashed potatoes or turn it into a meatloaf sandwich!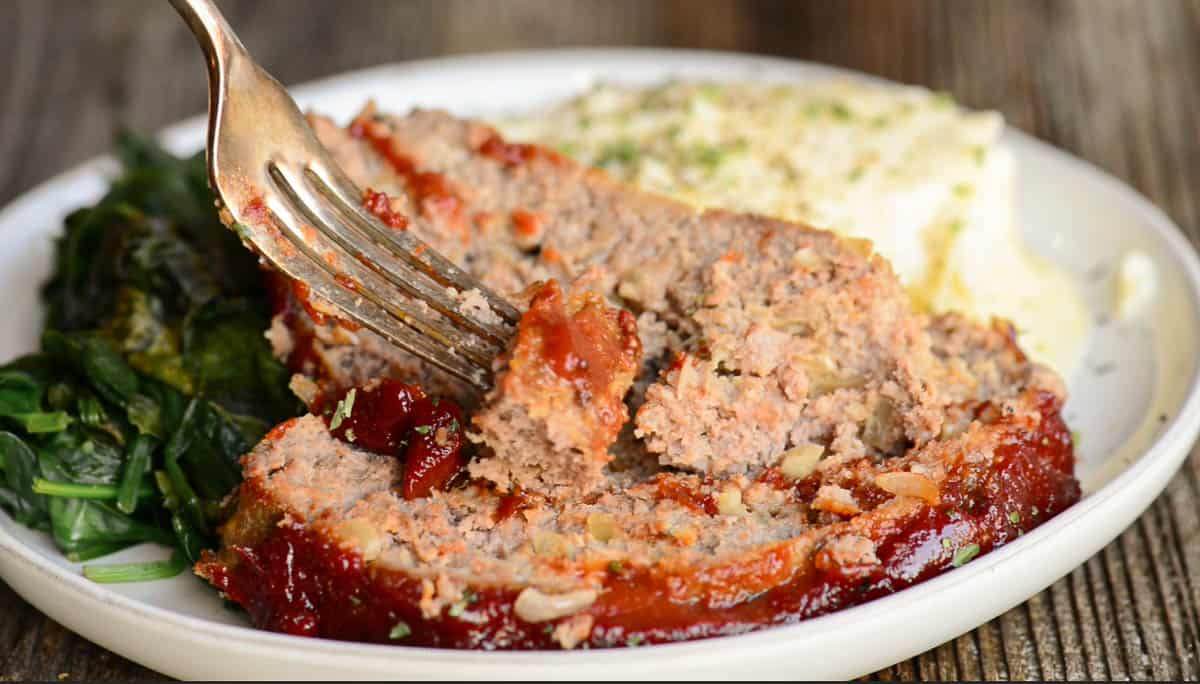 Meatloaf FAQs
What is the secret to moist meatloaf?
If you grew up eating dry meatloaf, you're in luck. This recipe is quite the opposite. The secret to a deliciously moist meatloaf is soaking the breadcrumbs in milk. The addition of sauteed onions adds a ton of moisture and flavor as well.
What ingredient keeps the meatloaf from falling apart?
Egg is used as the binder in recipes like meatloaf, meatballs, salmon patties, etc. If you need an egg replacement, there are other options that work including a flax egg or chia egg.
Should meatloaf be covered when it's baking?
Meatloaf is not covered when baking. If it were covered, the outside would not get crispy and the sauce would not get sticky, and you definitely want the whole family to enjoy this crispy delicious meatloaf topped with sticky sauce!
The only exception is if you reheat the meatloaf in the oven. An aluminum foil cover would prevent your leftovers from drying out.
How long does it take to cook?
Depending on the size and shape of the meatloaf you make, the time will vary.
If you bake it in a loaf pan, your cooking time could be longer because the meatloaf is taller and more compact.
If you bake it on a baking sheet as I did, the shape of the meatloaf will generally be flatter, thus increasing its surface area and allowing it to cook faster.
A general cooking time range would be anywhere from an hour to an hour and twenty minutes.
The only sure way to know when your homemade meatloaf is done cooking is to verify the internal temperature is 160°F.
Did you know you can turn this traditional meatloaf recipe into a holiday appetizer? Check out my meatloaf meatballs if you're looking for a party recipe that will fly off the platter!
Pin this now to save it for later
Pin It
Classic Meatloaf with Sticky Sauce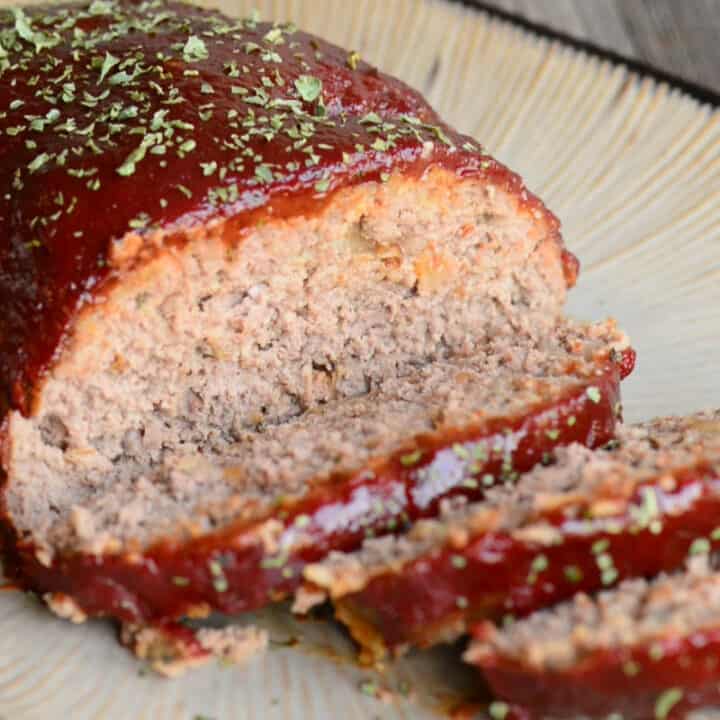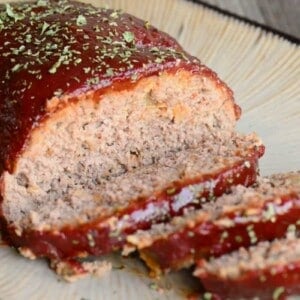 This is the best easy meatloaf recipe you can make using ground beef and a tasty stick sauce on top. It's super moist and delicious.
Instructions
Preheat oven or grill to 350°F. Line a baking sheet with parchment paper or foil for easy cleanup.

In a small bowl, combine bread crumbs and milk. Stir to combine.

Melt the butter in a large sauté pan over medium-high heat. Cook the onions until they are fragrant and slightly brown while stirring occasionally, about 3-5 minutes. Reduce the heat to low and add the garlic. Cook for 2-3 additional minutes. Remove the pan from heat and set it aside to cool.

In a large bowl, combine the ground beef, egg, soaked bread crumbs with the milk, Worcestershire sauce, thyme, salt, and the cooked onions and garlic. Use your hands to combine the mixture, but try not to overwork the meat. Shape the mixture into a loaf on the parchment-lined baking sheet. Use a sharp knife to cut a crisscross pattern on top.

Bake uncovered in the preheated oven 40 minutes. While the meatloaf is cooking, combine ketchup with mustard and brown sugar in a bowl. Set aside.

After 40 minutes of cooking, spread the sauce mixture over the top of the meatloaf and continue baking for about 30-35 minutes to an internal temperature of 160°F (70°C).
Notes
Cooking tips for perfect results:
Don't overwork the meatloaf while mixing. Mix it just until everything is combined.
Since it was rec
If you prefer the crunchy outer layer, consider making the meatloaf flat so that you have more surface area to get crispy. This will also reduce your cooking time.
Always use a trusted meat thermometer to verify that the meatloaf is done.
Nutrition
Calories:
388
kcal
,
Carbohydrates:
15
g
,
Protein:
23
g
,
Fat:
26
g
,
Saturated Fat:
10
g
,
Polyunsaturated Fat:
1
g
,
Monounsaturated Fat:
11
g
,
Trans Fat:
1
g
,
Cholesterol:
111
mg
,
Sodium:
639
mg
,
Potassium:
464
mg
,
Fiber:
1
g
,
Sugar:
7
g
,
Vitamin A:
212
IU
,
Vitamin C:
2
mg
,
Calcium:
90
mg
,
Iron:
3
mg
Nutrition information is automatically calculated, so should only be used as an approximation.
This recipe was originally created in October 2018 and has been updated with helpful information and cooking tips. Don't worry – I didn't change the recipe!