These Ginger Pear Mini Tarts are Fall inspired bite sized desserts that will be loved by everyone and would be the perfect Thanksgiving treat.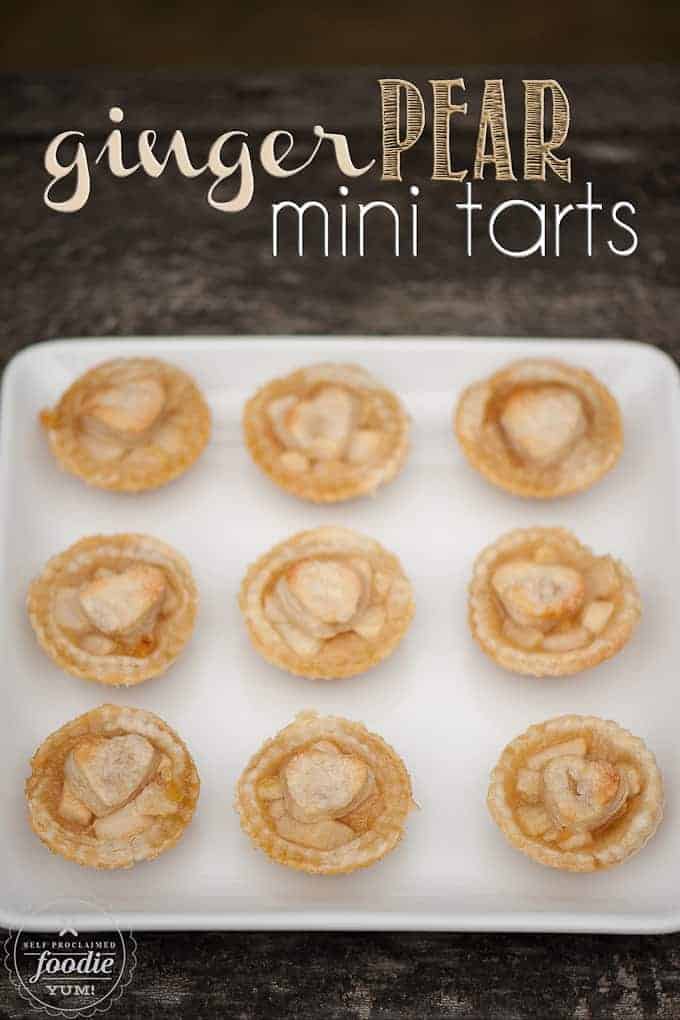 Once again, it pays to have talented friends. I choose to surround myself by people who can knock my socks off in the kitchen, because I basically love to eat as much, if not more than, any other activity. Or couldn't you tell from my blog? I wish I could take credit for these bite sized scrumptious morsels full of tender pair, Fall spices, and a hint of ginger, all cradled in a tender flakey butter crust. But I can't. These are once again another creation from my friend Trista who owns and runs Cheery Pies. She's the one who brought you the hard cider caramel apple pie and the coconut macaroon pumpkin pie. And if your pants weren't tight enough, I have two more pies that will be featured in the coming weeks!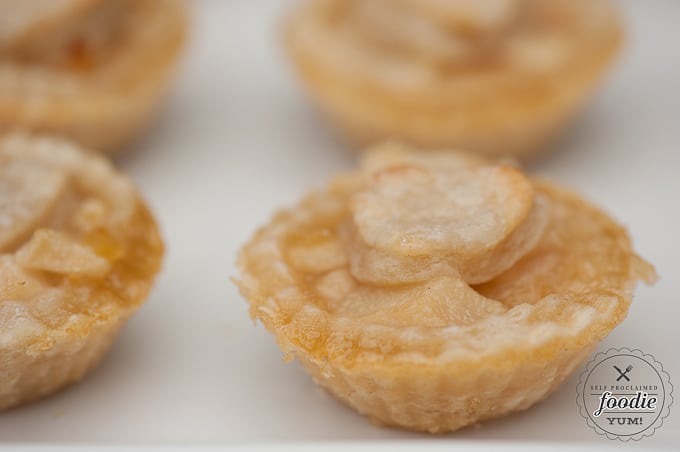 I brought about four of these home to share with my family. Four mini tarts, four people. One would assume that meant each person got one tart, right? I did go to college to study Engineering, so I thought I was correct when I did the division in my head. But according to my convert-foodie husband, four divided by four equals him eating all four mini tarts. I'm wondering if I slept through that part in my Differential Equations class where 4/4 = 1 sneaky husband. I was just glad to have eaten one before I brought the rest home.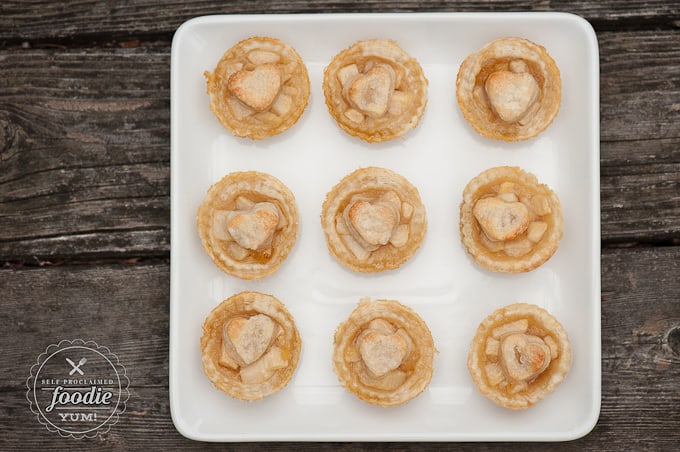 You can totally make these into a standard nine inch pie. I personally thought the little tarts were fun and a nice break from your standard holiday pies. Pretty much everything I post on my blog between Thanksgiving and the New Year will be in bite sized form because this time of year is all about entertaining, and entertaining is all about bite sized food. Don't you think?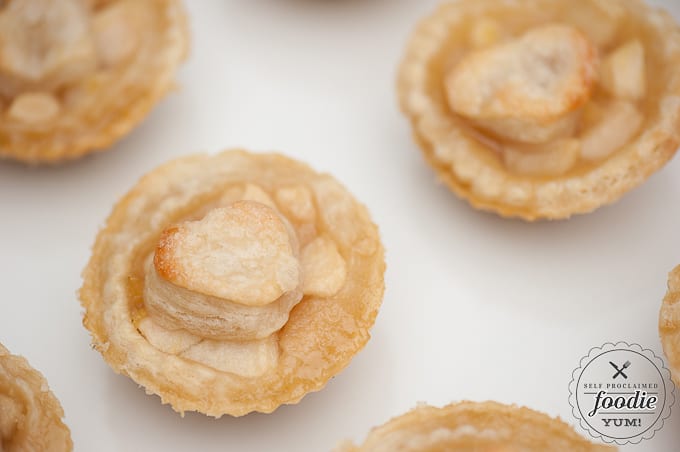 If you walked around with a tray of these, you'd be referred to as the best party hostess that every was. Hey – you like the old weathered wood we're shooting on? I have a particular fondness for these photos because so many food bloggers use a backdrop paper that looks like weathered paper to shoot on. I hate clutter and props, and frankly I'm too lazy to go find a good paper, so I just use real weathered wood. And that there in the background is good old fashioned Oregon moss. I love it!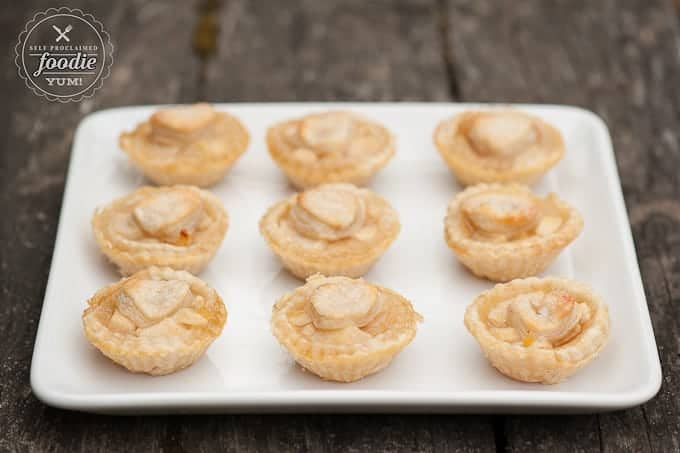 And I'll close this post with a super duper close up top view shot. How cute is that mini heart pie crust cut out? I wish I had one of these in front of me right now!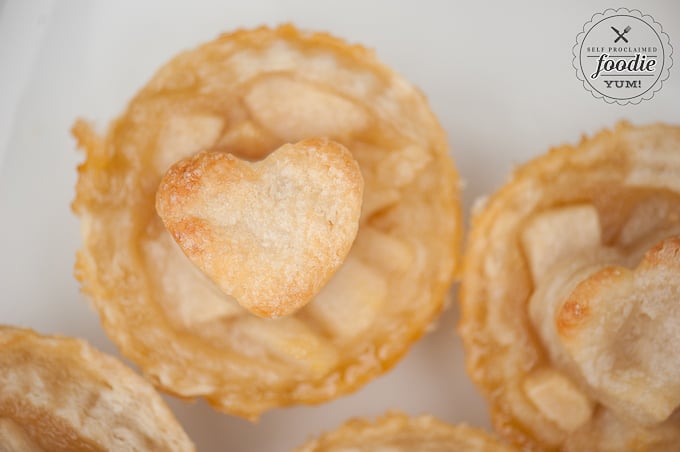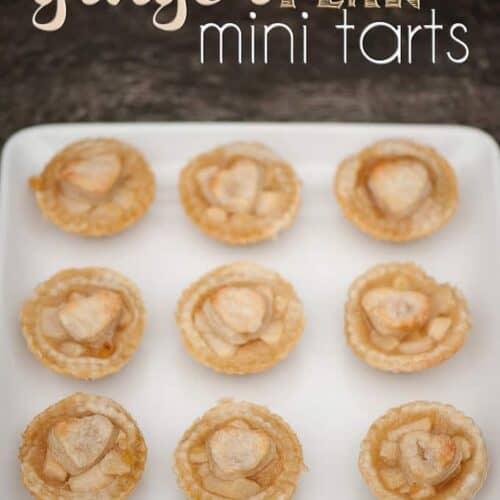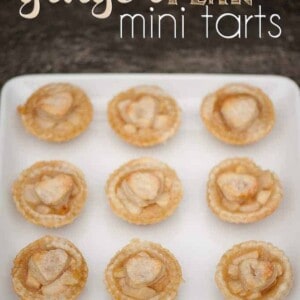 These Ginger Pear Mini Tarts are Fall inspired bite sized desserts that will be loved by everyone and would be the perfect Thanksgiving treat.
Ingredients
Crusts:
Two 9 inch all butter crust

one for bottom and one for top or cutouts
Filling:
3

pounds

firm but ripe Bartlett pears

peeled, quartered, cored, cut into 1/3-inch-thick wedges

1/3

cup

pure maple syrup

1/3

cup

sugar

2

tablespoons

tapioca flour

2

tablespoons

fresh lemon juice

3

tablespoons

minced crystallized ginger

1

teaspoon

vanilla extract

1

teaspoon

lemon zest

2

tablespoons

whole milk

1

tablespoon

sugar
Instructions
To make the crust:
If making a pie, roll out each round to a size that is big enough for your pie pan. If making mini tarts, roll out smaller circles. Top crust can either cover pie(s) or you can make cutouts.
To make the filling:
Position rack in center of the oven and preheat to 375°F.

Combine pear wedges, maple syrup, sugar, tapioca flour, lemon juice, crystalized ginger,

vanilla extract

, and lemon zest in large bowl to coat.

Place filling ingredients into pastry shell(s).

Top with pastry top crust or pastry cut outs such as leaves. If using a solid top crust make sure to cut slits or cut a center hole in the crust to allow steam to escape.

Brush top crust or cut outs with milk and sprinkle with sugar.

Place pie(or tarts) on a baking sheet so that the bottom of the pie crust will brown. Cover all of the edges of the pie crust so that they don't over brown.

Place pie (or tarts) on the center rack of the oven. Bake until crust is golden brown and juices bubble, about 1 hour.

Transfer to rack and cool.

Makes one 9 inch pie that serves 6-8 or one dozen mini tarts.
Nutrition information is automatically calculated, so should only be used as an approximation.