Cheddar Zucchini Bread with Jalapeno Honey Butter made with freshly grated zucchini is a delicious no-added sugar quickbread. Talk about a tasty sweet and savory summer quick bread!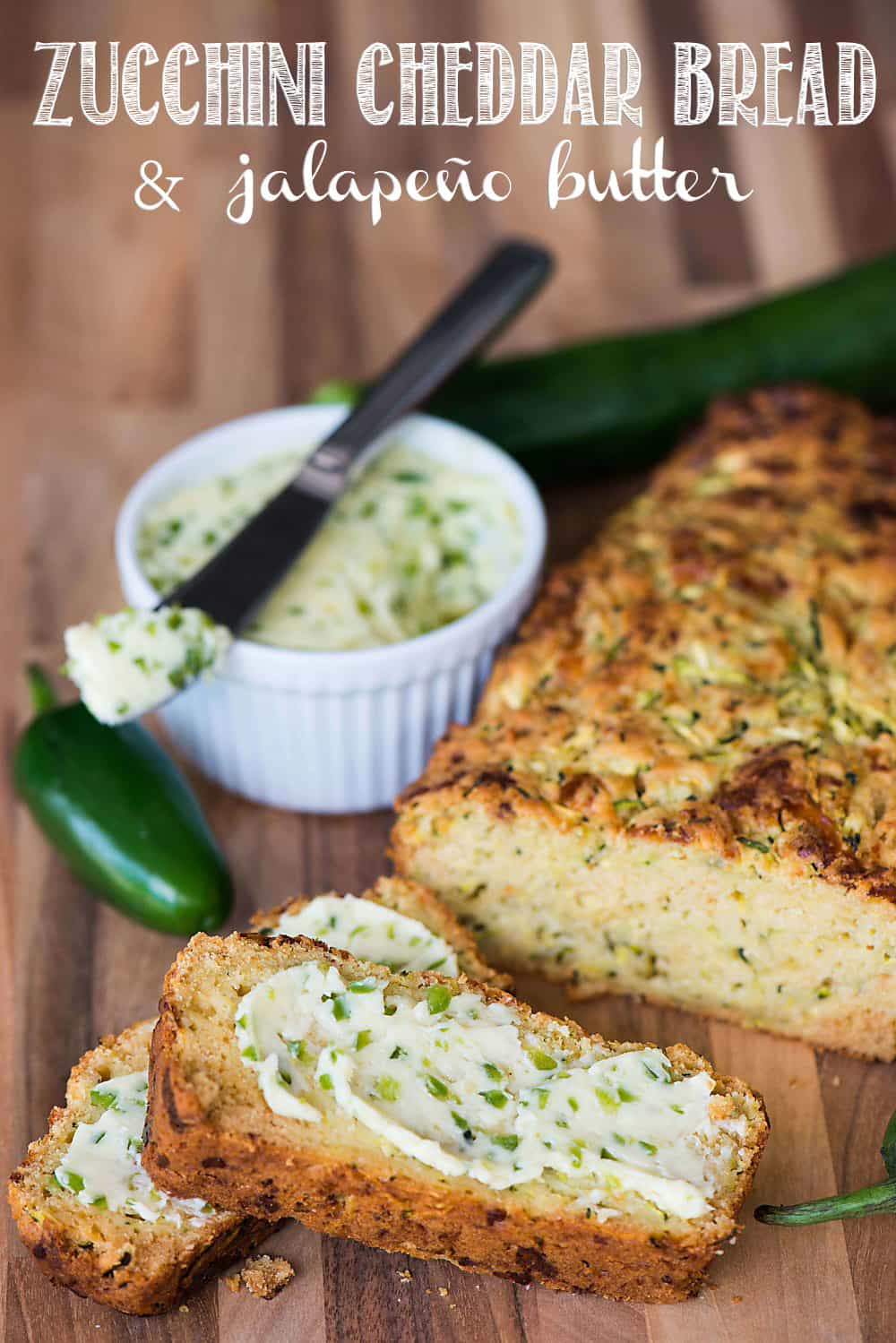 This post was sponsored by Organic Valley.
All Organic Valley products are: USDA certified organic, free of synthetic hormones, toxic pesticides, antibiotics and GMOs. There are far more than five reasons why you should eat organic. But these are the top five reasons why eating organic benefits you:
Because leaving out the bad stuff makes more room for the good stuff. Research shows that organic foods are higher in antioxidants and other nutrients, like omega-3 and CLA essential fatty acids. And organic crops have been shown to contain significantly less concentrations of cadmium—a toxic metal on par with lead and mercury. Organic food really is better for you. And it tastes better too
Because chemicals are bad for you. Organic farmers use sustainable methods of pest-control. Non-organic farms use toxic pesticides and herbicides. These chemicals are really harmful to wildlife and human health, contaminating our food, air, and water, and accumulating in our cells. Organic farming practices, however, strictly forbids the use of these chemicals—making bees happier and food more nutritious
Because organic dairy cows and kids should grow at their own pace. Synthetic hormones and antibiotics are frequently given to non-organic farm animals to change their reproductive cycles and speed up their growth. Cows are healthiest and happiest when they're allowed to live without being pumped full of chemicals—it helps them produce the highest quality milk
Because antibiotic-resistant infections are very real. When non-organic farmers feed their animals antibiotics to keep them from getting sick, they kill many of the pathogens—but not all of them. The germs that survive go on to reproduce, leading to antibiotic-resistant infections that pose a real threat to animals and people alike. Instead of relying on antibiotics, Organic Valley's organic farmers use natural holistic measures to promote and maintain animal health—keeping everyone healthier in the process
Because we've all heard "GMOs are bad," but do you know why? That's because genetically engineered crops are a relatively recent invention with potentially harmful impacts on the ecosystem and on human and animal health. We still don't know a lot about them. Organic standards forbid the use of genetically engineered seeds or animals—including clones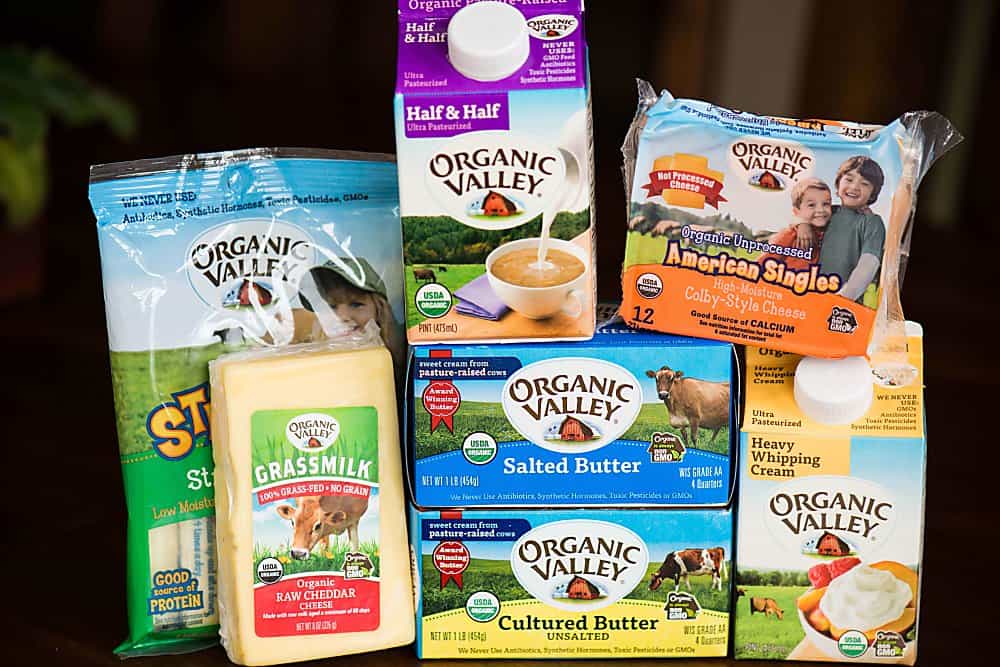 I decided to make this bread for a few reasons:
Being inspired by the farm experience, you can't celebrate a gorgeous summer day better than taking gorgeous zucchini from your own garden or from the local farmers market. Since we just moved into our new property a couple months ago, my garden won't happen until next year, so the farmers market is where I got mine. Oh, how I love supporting my local farmers. The honey was also harvested from local farmers!
We're trying really hard to stay away from processed sugar. I know I share a ton of dessert recipes on my blog, but I love to incorporate my share of wholesome recipes too, and this bread doesn't have any added processed sugar.
Does it get much better than having rich creamy butter in and on the bread? That's double delicious. The grass milk raw cheddar was an amazing addition as well.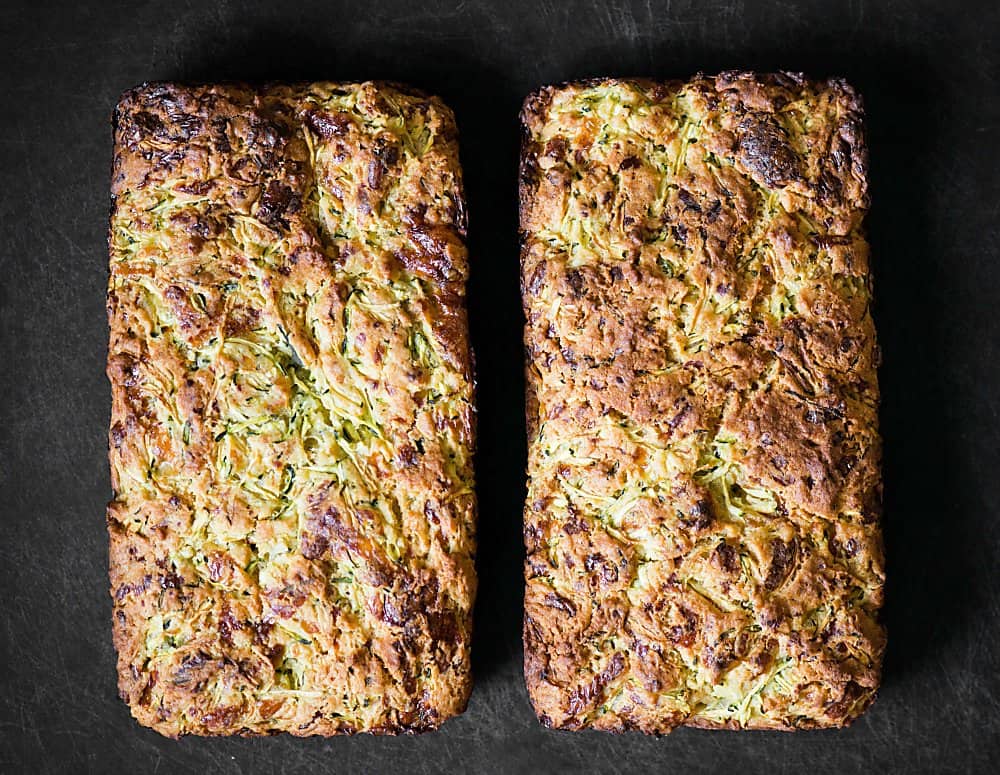 The bread is a slightly sweet, slightly savory, perfectly moist treat.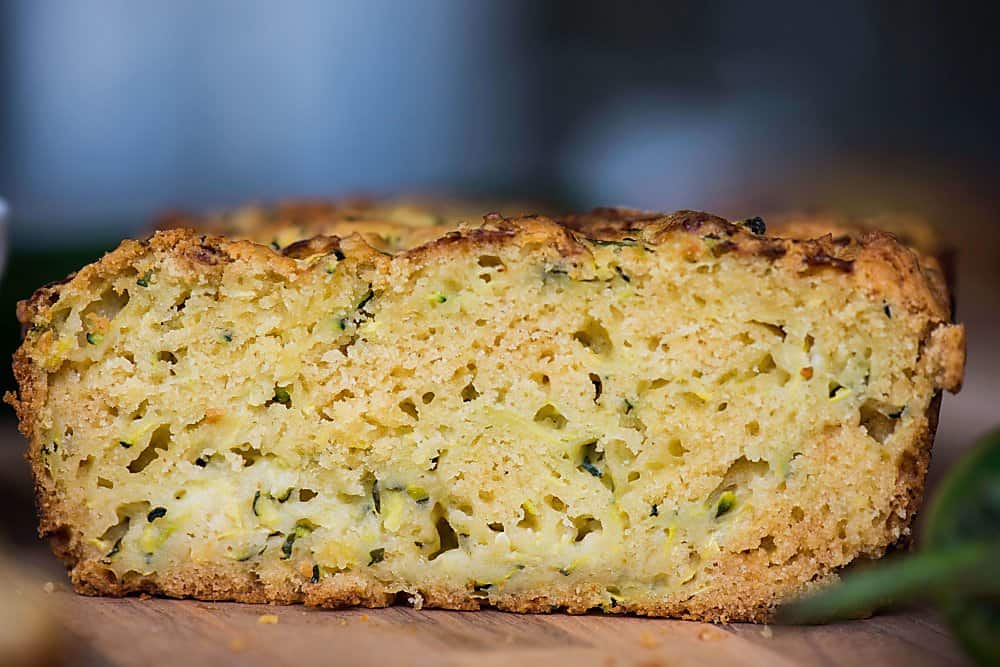 But what would bread be without butter?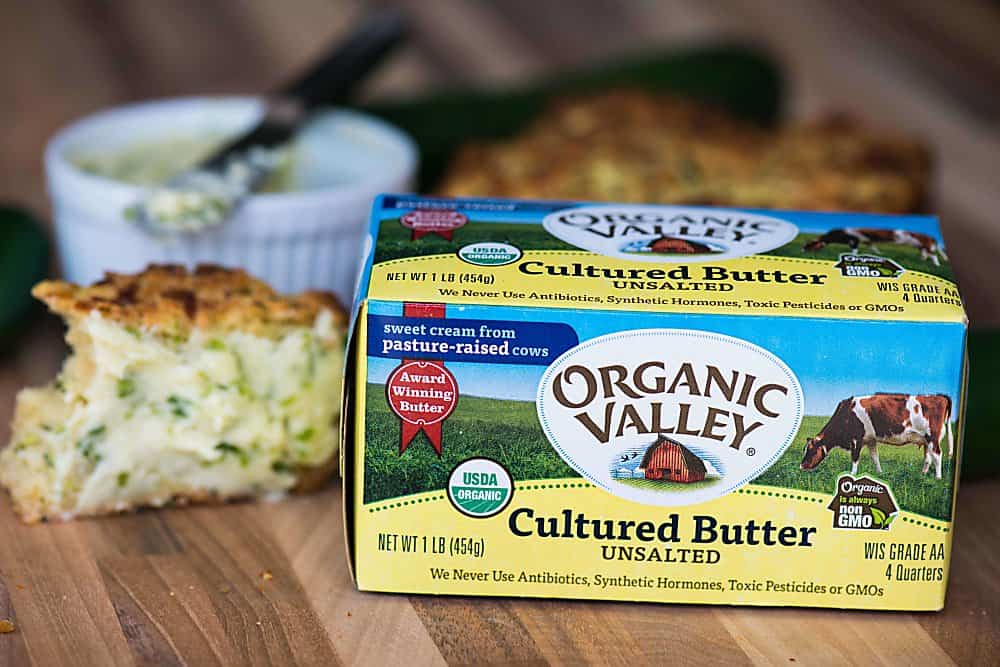 I took some of this delicious creamy butter and blended it up with fresh, minced jalapeno and a hefty drizzle of honey and a sprinkle of flaked sea salt. Oh yes.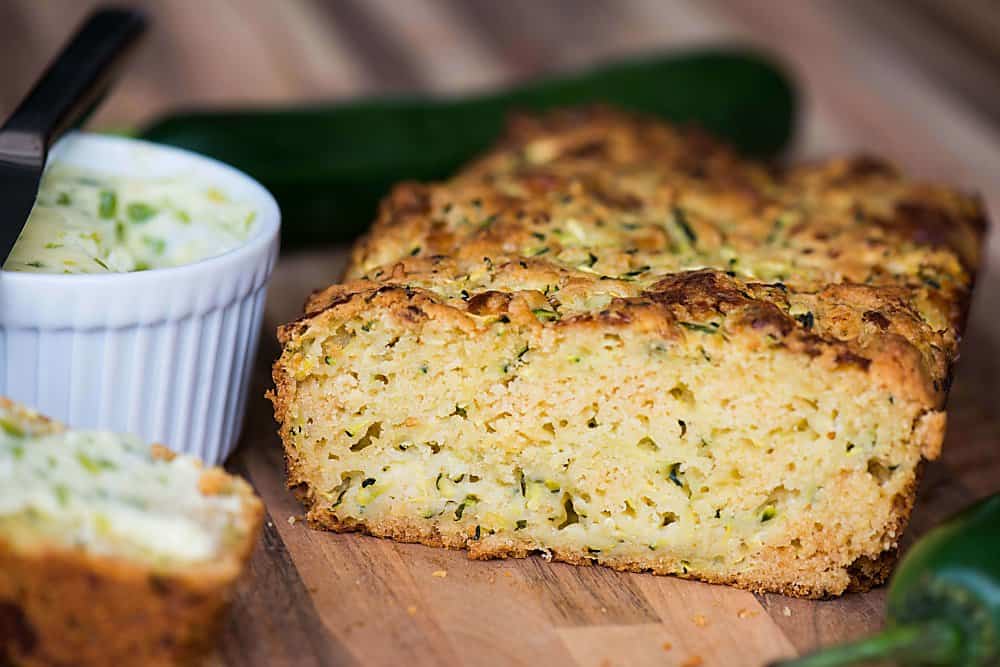 I found myself craving this bread, and I enjoyed every piece until both loaves were gone. Yes, I shared it with my family, but I watched them like a hawk to ensure I got my fair portion. It was that good!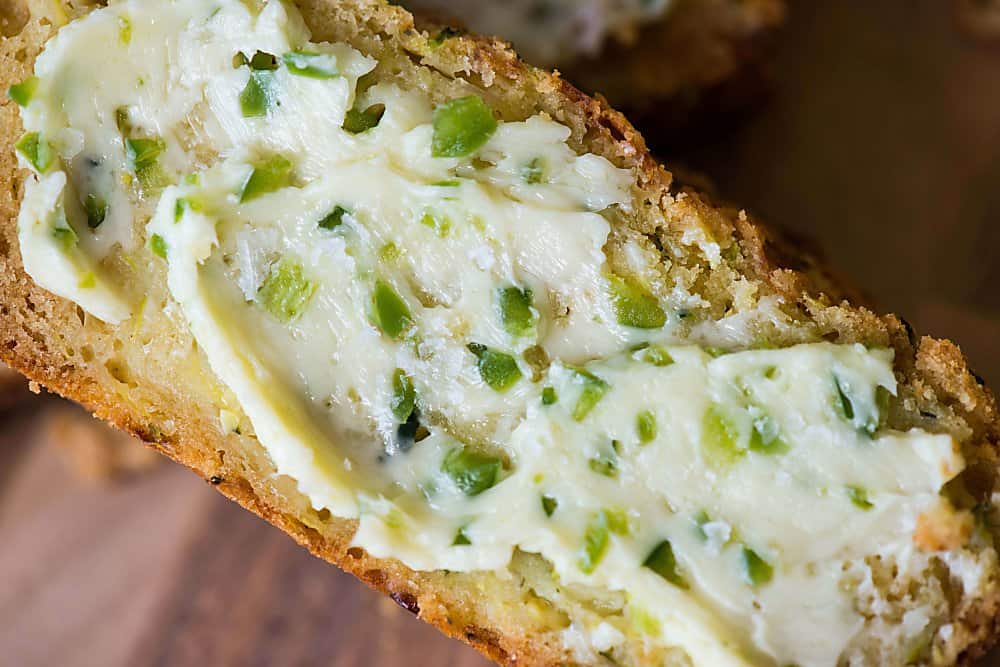 I hope you enjoyed hearing about my Organic Valley farm visit as well as the recipe. Hopefully I'll get to share more future farm discovery visits with you too! To Find Organic Valley products at a store near you, just click this product locator tool. Feel free to visit them on instagram, twitter, pinterest, facebook, or youtube and be sure to tag them using #BringingTheGood #FarmDiscovery and #OrganicValley.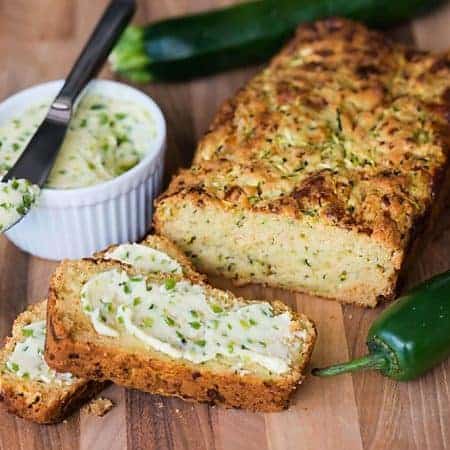 Cheddar Zucchini Bread with Jalapeno Honey Butter
Freshly grated zucchini turns this no added sugar Cheddar Zucchini Bread with Jalapeno Honey Butter into a tasty sweet and savory summer quick bread.
Print
Pin
Rate
Hover to scale:
16
servings
Ingredients
Cheddar Zucchini Bread:
3

cups

all-purpose flour

2

teaspoons

baking powder

1/4

teaspoon

baking soda

1/4

teaspoon

salt

3/4

cup

unsalted butter

(melted and cooled)

1/2

cup

raw honey

2

eggs

4

cups

zucchini

(grated (about 1 pound or 3 medium sized, ends removed))

8

ounces

raw cheddar cheese

(shredded)
Jalapeño Honey Butter:
1/2

cup

unsalted butter

(softened)

2

tablespoons

diced jalapeño

(about half of a pepper, add more or less or to taste)

2

tablespoons

raw honey

Top with flaked sea salt and an additional drizzle of honey

(if desired)
Instructions
Preheat oven to 400°F. Grease two 8 x 4-inch loaf pans with butter and set aside.

In a large bowl, whisk together flour, baking powder, baking soda, and salt. In a separate bowl, combine melted butter with honey and stir to combine. Once butter mixture has cooled, whisk in eggs. Stir just until moistened.

Add grated zucchini and cheddar cheese and fold into mixture. Batter will be so thick that you may have to use your hands to incorporate. Try not to over mix.

Divide batter between prepared pans and bake in preheated 400°F oven for 5 minutes and then reduce heat to 350°F to continue cooking for an additional 40 to 50 minutes or until loaves are lightly browned and toothpick inserted in center of loaves comes out clean. Let cool in pan on rack for 5 minutes.

While bread is cooking, make Jalapeño Honey Butter. In a small bowl, cream together softened butter, jalapeño, and honey. Some liquid may separate from the jalapenos. You can drain off before serving or leave in.

Slice and serve warm with Jalapeno Honey Butter, a pinch of sea salt flakes, and an additional drizzle of honey, if desired.
NUTRITION INFORMATION
Calories:
324
kcal
|
Carbohydrates:
30
g
|
Protein:
7
g
|
Fat:
20
g
|
Saturated Fat:
12
g
|
Cholesterol:
73
mg
|
Sodium:
155
mg
|
Potassium:
191
mg
|
Fiber:
1
g
|
Sugar:
12
g
|
Vitamin A:
697
IU
|
Vitamin C:
8
mg
|
Calcium:
140
mg
|
Iron:
1
mg