This is a sponsored conversation written by me on behalf of Organic Valley. The opinions and text are all mine.
Do you know your farmer? I'm happy to say that I do! I got to spend the day at an incredible Oregon Organic Valley dairy farm and learn all about organic, sustainable farming, happy cows, and how to produce incredibly delicious milk. Then, I transformed some creamy Organic Valley products and freshly grated zucchini into a no added sugar Cheddar Zucchini Bread with Jalapeno Honey Butter. Talk about a tasty sweet and savory summer quick bread!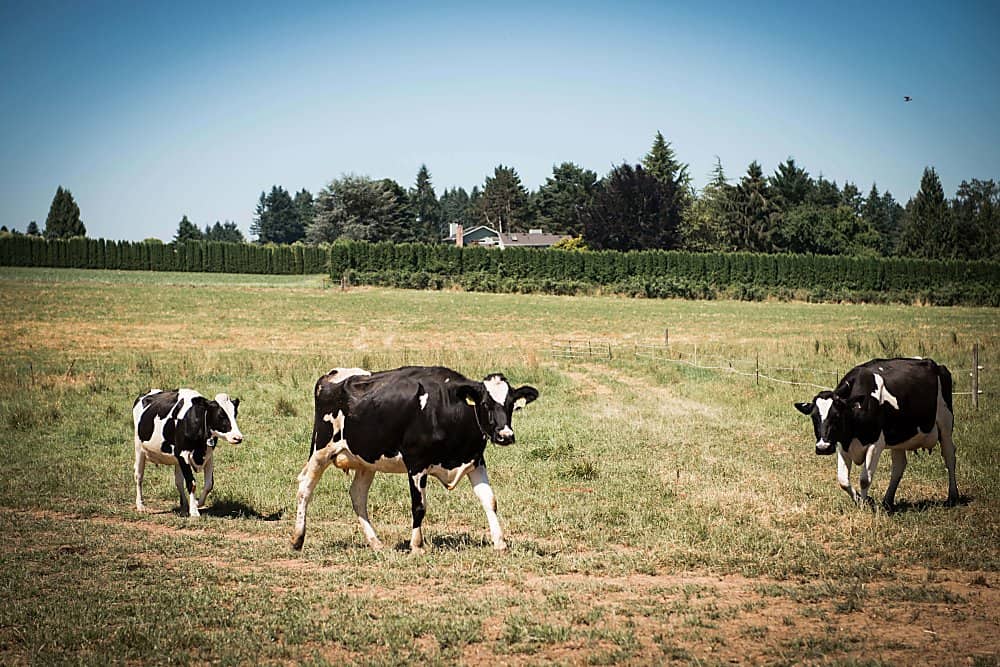 Sit back, relax, and prepare to enjoy a rather lengthy post. I have a ton of pictures from my Farm Discovery experience as well as the recipe. I feel extremely passionate about Organic Valley for what they stand for and the products they produce, so be prepared to fully enjoy the farm experience as if you were there! I'm confident you'll learn something!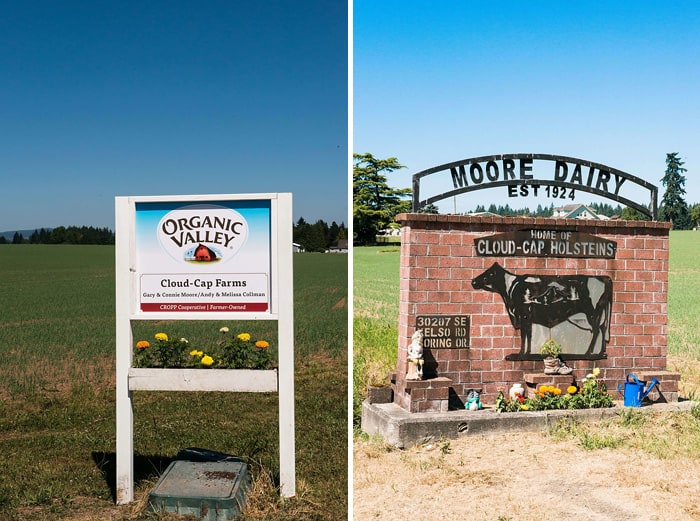 The kids and I spent a gorgeous, warm summer day at Cloud Cap Farms in Boring, Oregon. Yes, the "Welcome to Boring" sign sparked quite the conversation in the car!  Comments like "where do you go to school?" with funny answers like "I go to boring middle school".  My kids crack themselves up.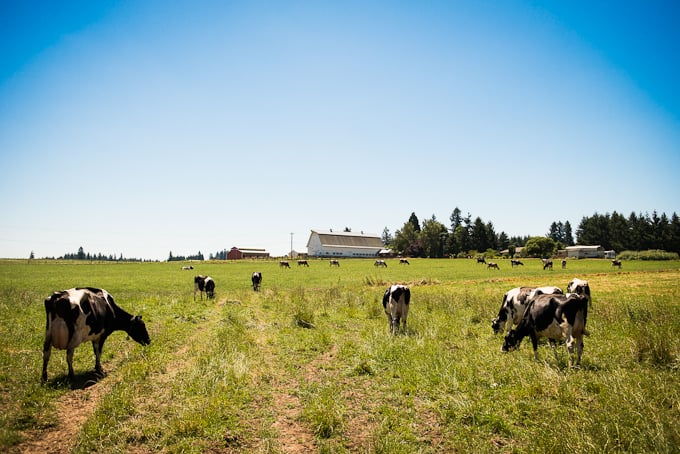 We thoroughly enjoyed ourselves all day long. From watching the ladies enjoy ample green pasture and fresh air to getting to meet the farmers to enjoying a delicious lunch, it was a day we won't soon forget. Cloud Cap Farms is one of Organic Valley's many farms across the country.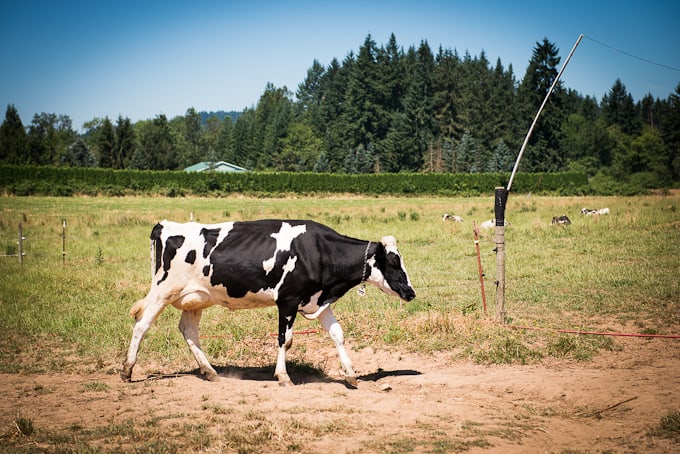 Did you know that Organic Valley is a cooperative made up of more than 2,000 family farms across the country? This means the farmers actually own the business. Organic Valley started back in the '80s, pooling the products of a group of organic farmers and sharing in the profits. One of their mottos is that they are farmers first, and business people second. In a world where corporations seem to call the shots, this philosophy really appeals to me. Since 1960, corporations have taken over more than 600,000 family-owned farms. Meaning that when the shareholders of those big companies demand higher profits every year, farmers are pressured to produce more for less pay.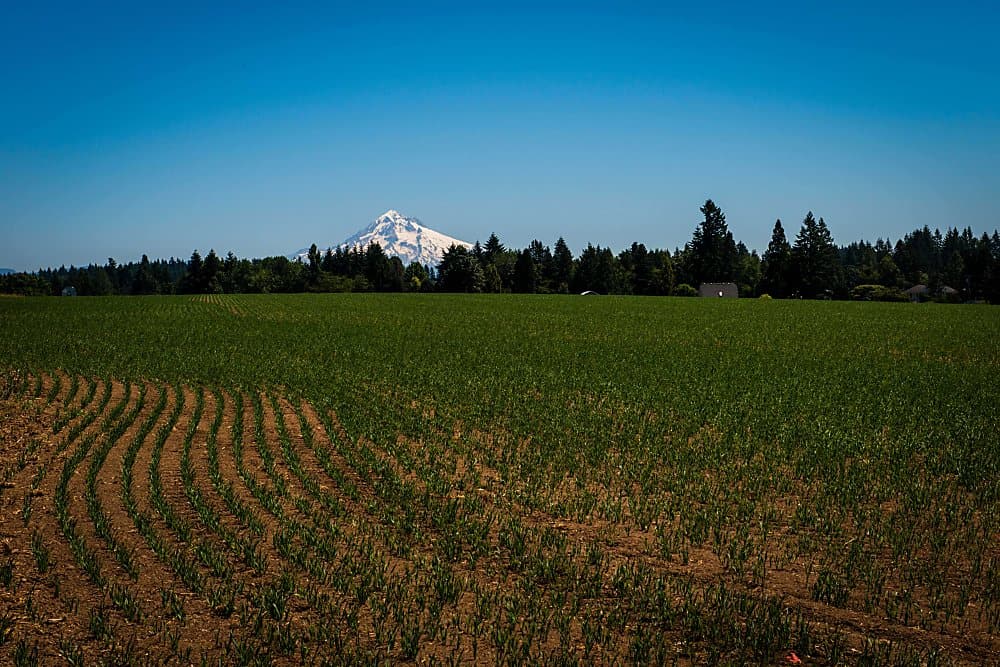 But since Organic Valley is not one of those big companies, the only people they have to listen to are their customers and their farmers. They listen to nature and the wisdom of generations of organic farming. Best part is that their farmers make a decent living, too.  Because the co-op is not beholden to shareholders or outside investors, the business can prioritize paying farmers a stable price each month, as well as providing other valuable shared services, such as world-class veterinary care, and soil and pasture improvement programs. The company's mission has always been to produce delicious, organic food in a way that keeps the family farm alive, and the way they do that is not through corporate agriculture.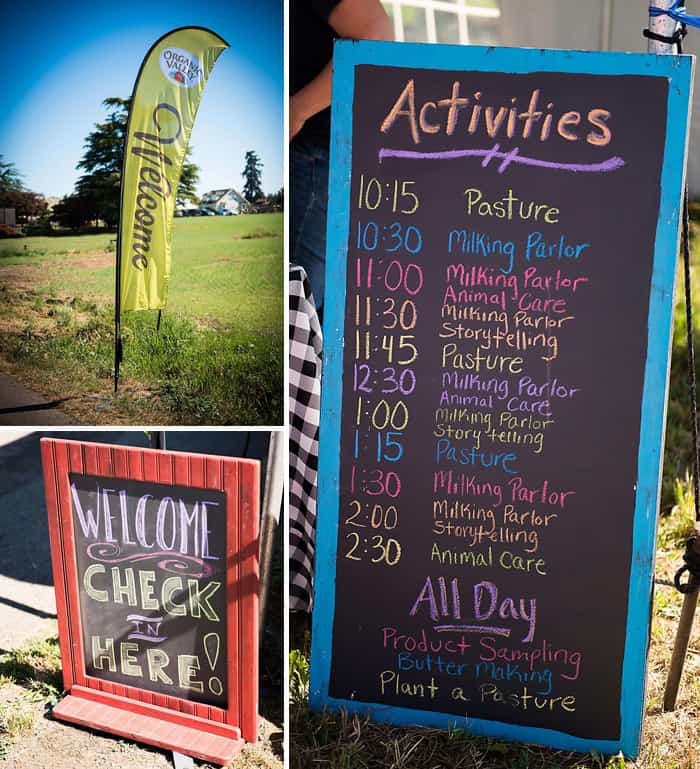 Our day was filled with fun and educational activities. Our first stop was the milking parlor where one of the owners, Andy, explained to us how the milking is done twice a day – at 3am and 3pm. Every day, 365 days per year.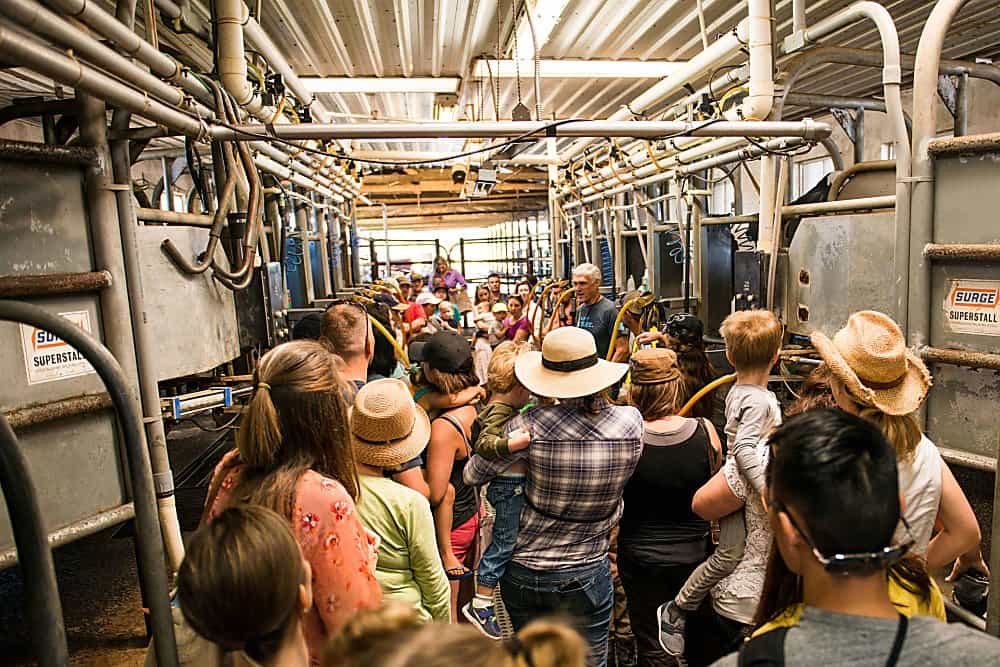 It was fun to learn about the process. The cows come in and get a nice undercarriage wash. I would assume that feels quite refreshing on a hot summer day. Then they walk single file into two lanes, each lane having six stalls. Before and after they get milked, the plumbing system gets flushed with high pressure hot water – much like a dishwasher. Their udders get sprayed with an iodine solution to sterilize them and then they get wiped clean. Everything was extremely hygienic and well cared for . All four udders get their own suction device hooked on. We got to stick our fingers in to feel the suction. I have to admit it was a super enlightening experience.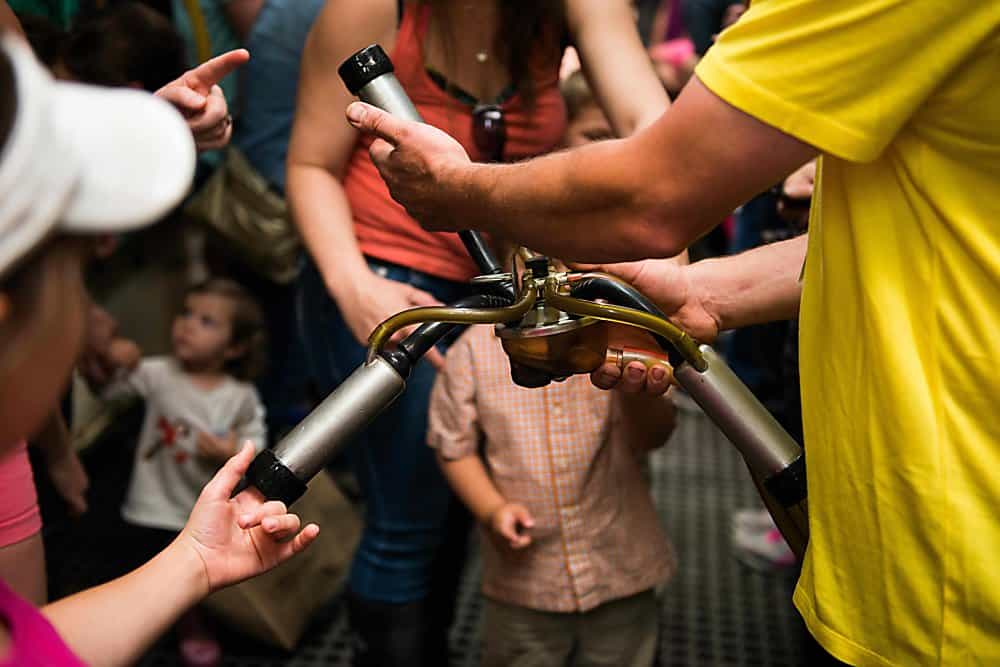 The difference in milk quality from an Organic Valley farm to your table is quite remarkable. Across all the farms, cows are usually milked twice a day with milk quickly moving from the cows to the 37°F holding tank. Organic Valley rewards farmers with quality premiums for paying close attention to cow udder health, efficient cooling of the milk and the cleanliness of their systems. Their milk goes through 62 – that's right, 62! – quality checks from cow to shelf. This ensures their superior products reach your table tasting as fresh as can be.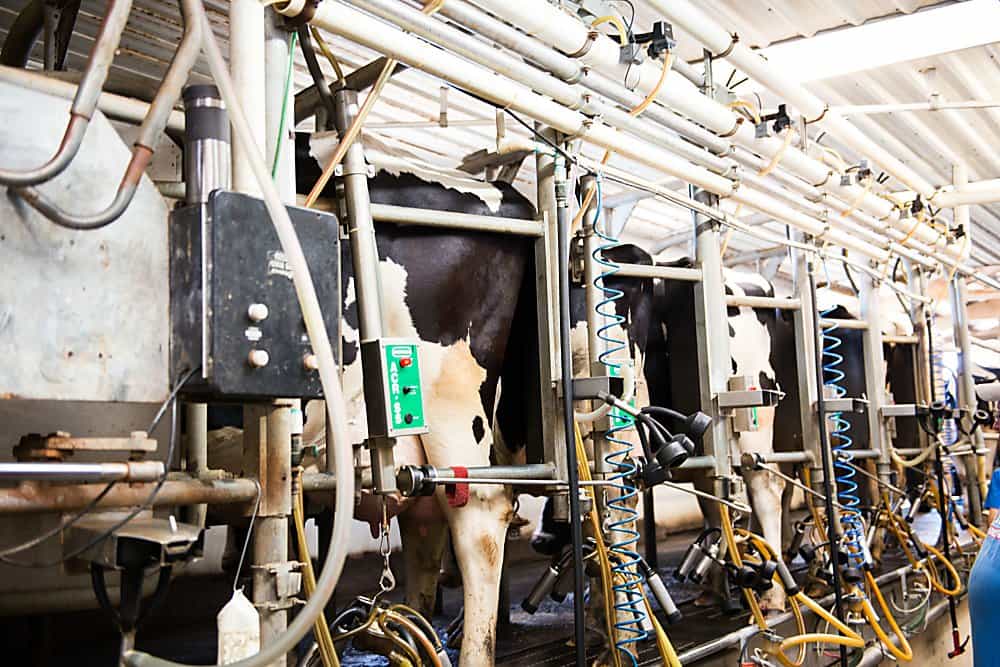 Have you ever seen a newborn cow? I hadn't until my day at the farm. The little lady below was only a couple hours old and she was the cutest little thing ever. If she looks a little unstable, its because she was trying to figure out how to take her take her first steps. The experience of watching her try to learn coordination and balance at only a couple hours old was completely astonishing. The little ladies get their own hutch (aka preschool) when they are around 1 week old. They use their hutches to help keep them healthy and so they can take individual care of each animal ensuring their individual needs are met. Like children, if one calf gets a cold they can give their friends a cold; hutches are just one way for them to help prevent them from getting sick altogether. The calves always have access to fresh water, hay, grain, and fresh air – and, of course, fresh organic milk twice a day.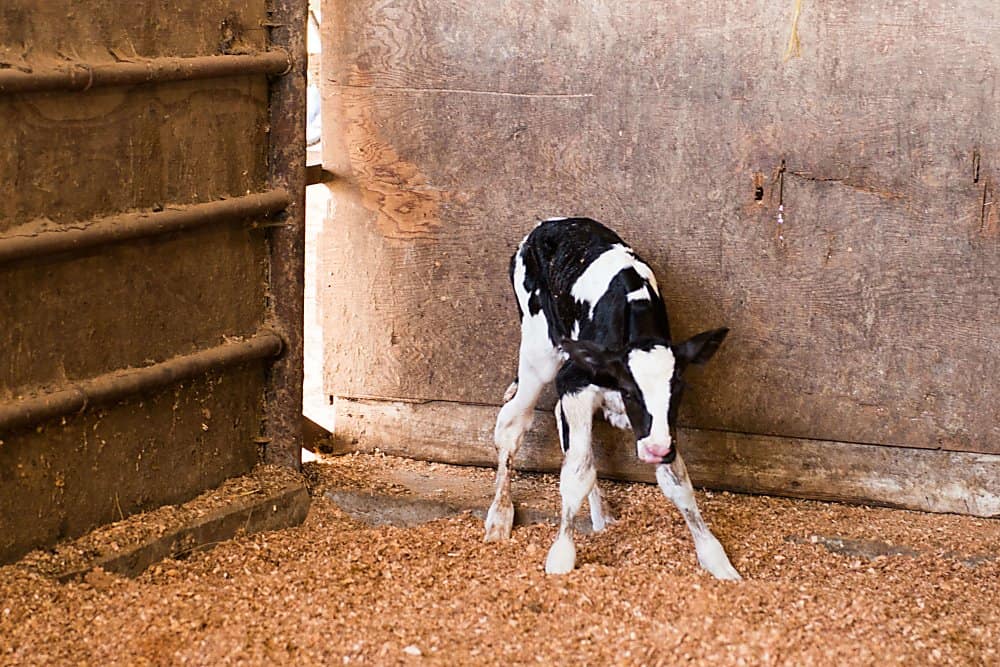 One of my favorite things at the farm was seeing how every cow had a name. My favorite was a baby Brown Swiss cow named Daffodil. Her mom is named Daisy and she just so happened to be a show cow. These animals are not only well taken care of, but they are obviously well loved.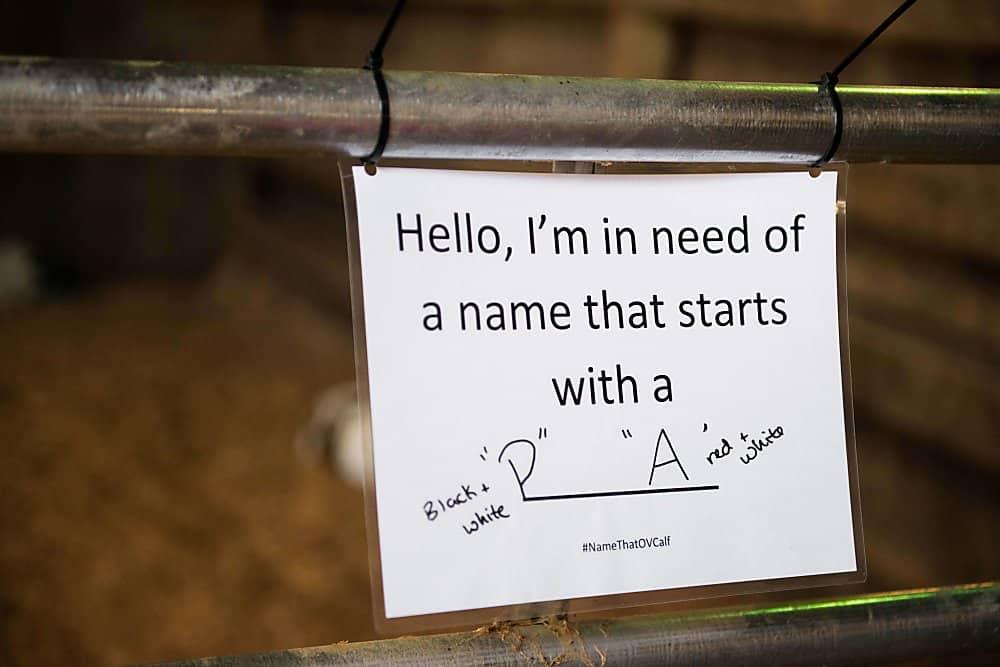 This is the Transition Pen (aka Kindergarten). This pen is where their little ladies go after they leave their newborn hutches at about 2-3 months of age. This space allows them to learn to play, share, and bond with their herd mates who become lifelong friends before they are moved to a slightly larger group pen.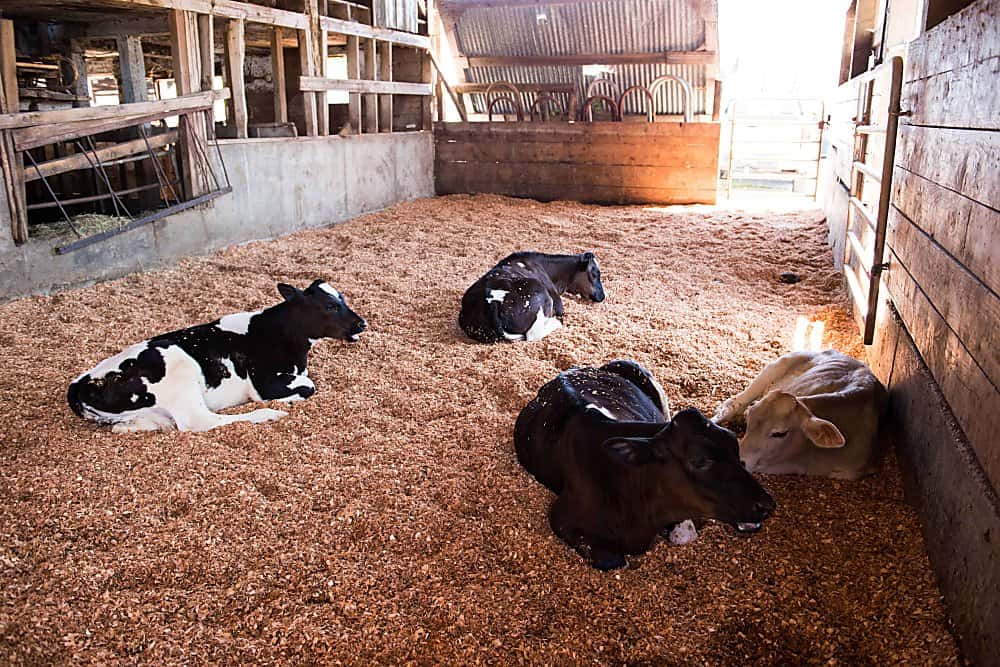 The farm had all sorts of fun activities. Everything from a "plant a pasture" that allowed kids to plant their own seeds to getting to milk a cow where kids got to sit on little stools and "milk" the cow (rubber udders filled with water). That, alone, occupied at least 45 minutes of my kids' day. They also had a butter making activity where they got to shake the cream that comes from their milk and watch it transform into butter right before their eyes. At first the cream became fluffy, like whipped cream. Then, all you do is shake it some more and, voila, the cream separates into fresh butter and buttermilk! A sprinkle of salt and a fresh piece of bread turned into my idea of heaven.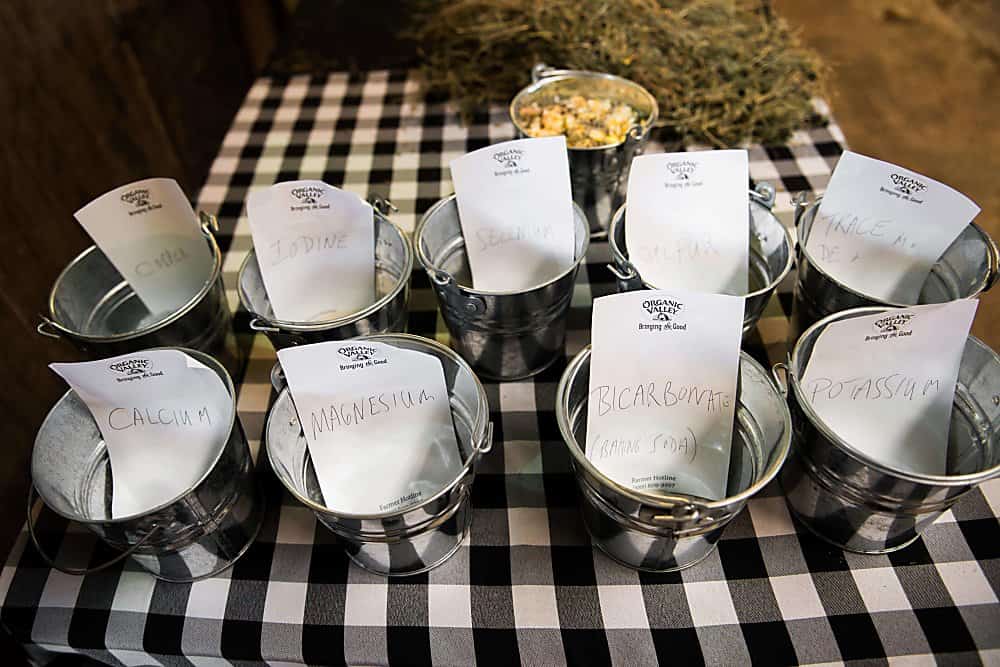 Having just moved to my own 10 acre farm, I particularly enjoyed learning about the feeding regime. I've always thought cows just ate grass, but its important to offer free choice minerals to help aid in digestion. It's like taking a daily vitamin to ensure all of their nutritional needs are met.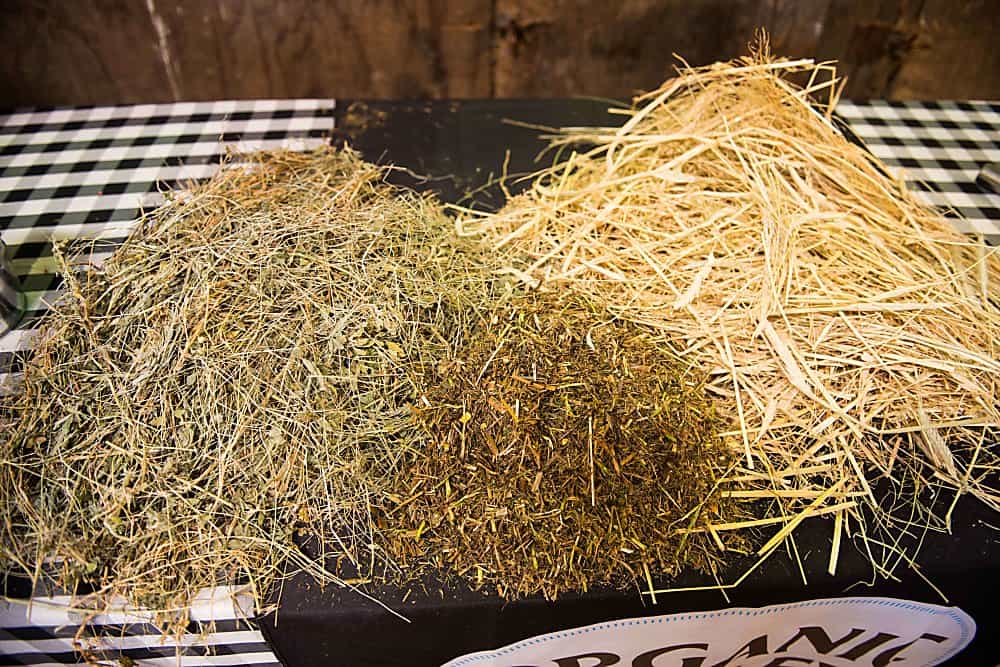 Next, we headed into the free stall barn. This is the barn where the ladies go when they are not out on fresh pasture. There are enough beds for every cow (which are cleaned daily), free-choice minerals, fresh water, grass silage, and plenty of room to walk around. There are also brushes they can use when they are feeling a little itchy. The water troughs are cleaned regularly and have fish in them to eat any goodies the cows drop while getting a drink.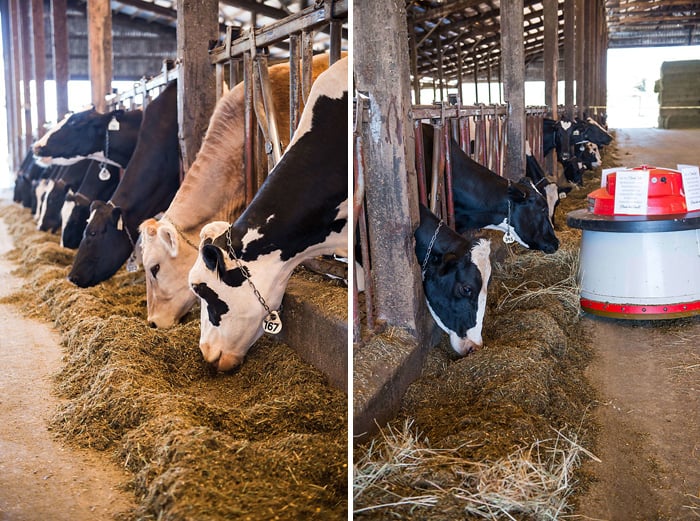 That red and white robot was a highlight for my son (I admittedly enjoyed watching it too). "Feedy Bob" is the feed pusher robot. Every hour he moves around the barn and pushes the feed closer to the cows. Then he self-docks to charge himself up for the next round.
Throughout the farm there were a ton of educational signs explaining how, what, and why they do what they do. After learning everything, it truly makes me wonder why farming deviated from organic to conventional in the first place.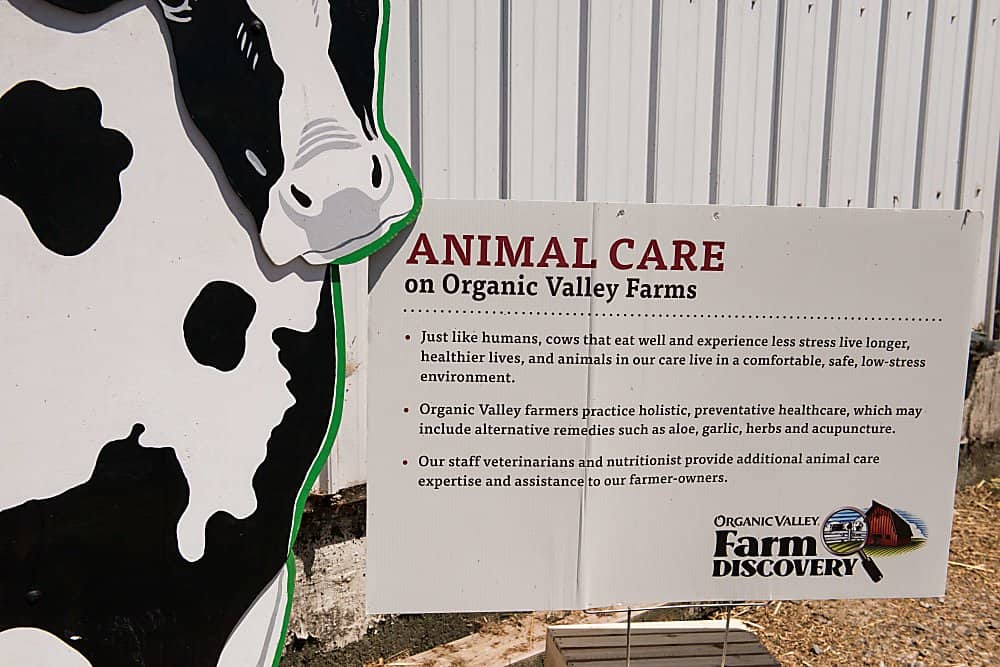 We then got to head out to the pasture to learn from more farmers and their very own veterinarian. Pasturing is considered the cornerstone of organic dairy. Listening to Steve Pierson (below on the left), a first generation Willamette Valley dairy farmer, talk about his farming experience and his reasons for going organic was incredibly enlightening. He said that when he first started farming, he followed conventional methods. When there were problems with his cows or his fields, the treatments only addressed the symptoms, not the actual problem. When he went organic, not only did the symptoms he used to have (sick cows, pasture issues, etc.) go away, but those issues essentially became non existent. Organic farming resulted in happier healthier cows producing far superior milk. He said, "we wouldn't be standing here if we hadn't transitioned to grazing and organic."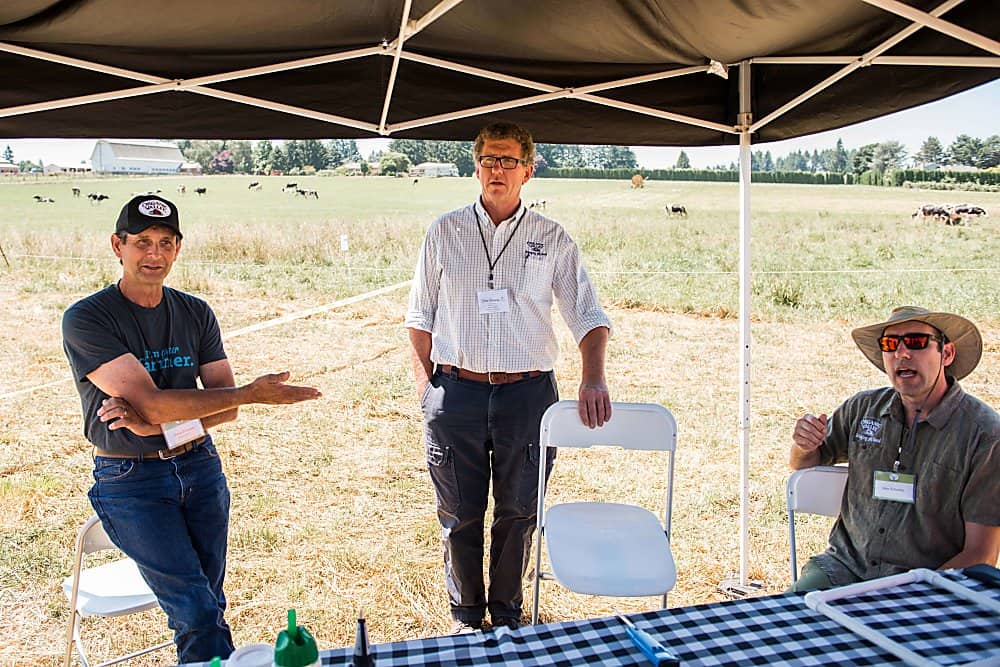 The same things that are good for you and your family – fresh air, sunshine, exercise, and eating right – are also good for cows. Just look at that crystal clear water! Here's another fun fact for you: these cows drink about 30 gallons of water each, per day. Wowzers!
Healthy soil is full of life! One teaspoon of soil is home to more than 7.5 billion organisms, including insects, protozoa, bacteria, and fungi. That's more living organisms than there are people on Earth! In the photo below, I got to walk through the pasture with the cows and one of the farm's owners, Melissa. Her parents, Gary and Connie, live on the farm and I got to meet them too.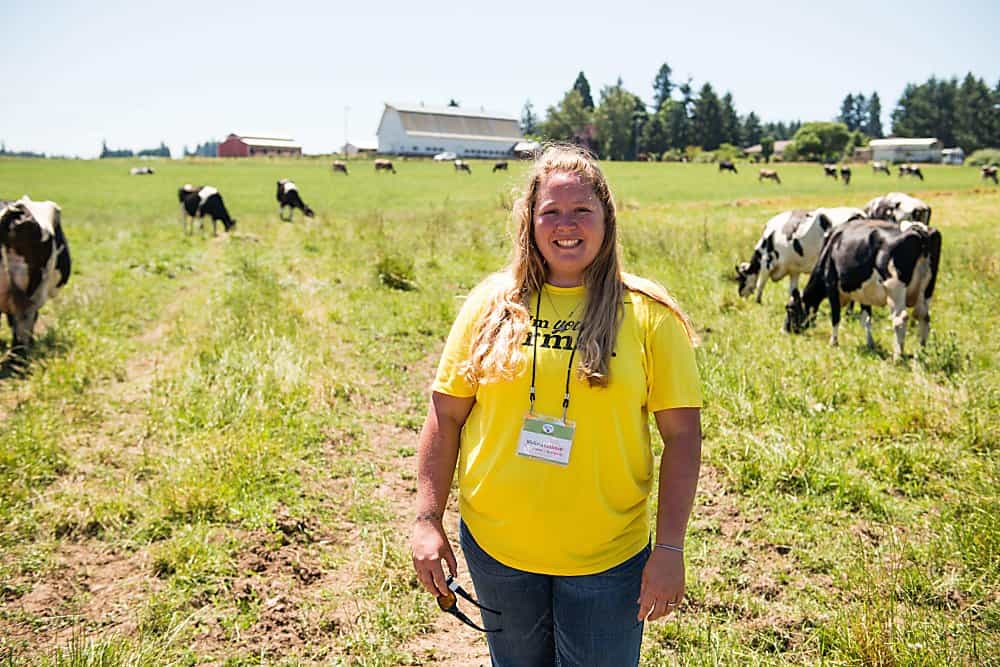 I learned that pasture plants are the best possible food for a cow, and the best organic milk begins in pastures where cows graze on healthy plants grown in healthy soil. That's good for people and the planet. When cows are raised this way, they way nature intended, they are carbon neutral. What they take from the earth is put right back in.
One of my personal highlights was getting to meet Organic Valley's CEO, George Siemon (far right below). His visit to the farm was a surprise, and it was awesome getting to meet him. He was just one of the many farmers who are part of the co-op, but I have tremendous respect for the company he helped start as well as the mission, vision, and values that they started with and continue to maintain.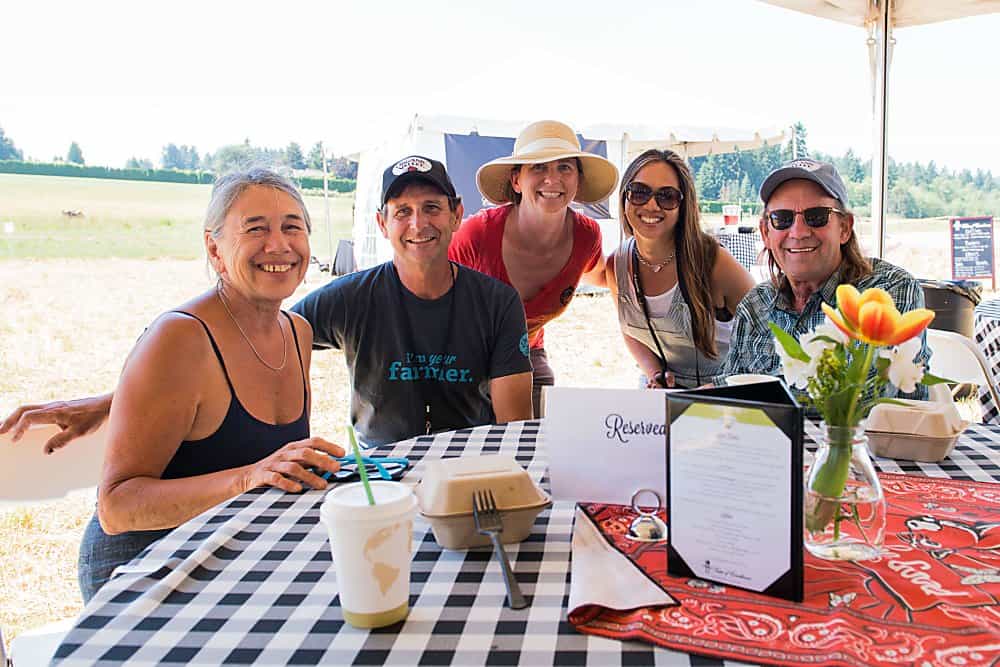 Now, I couldn't really talk about the brand if I didn't bring you a recipe made with their products, right?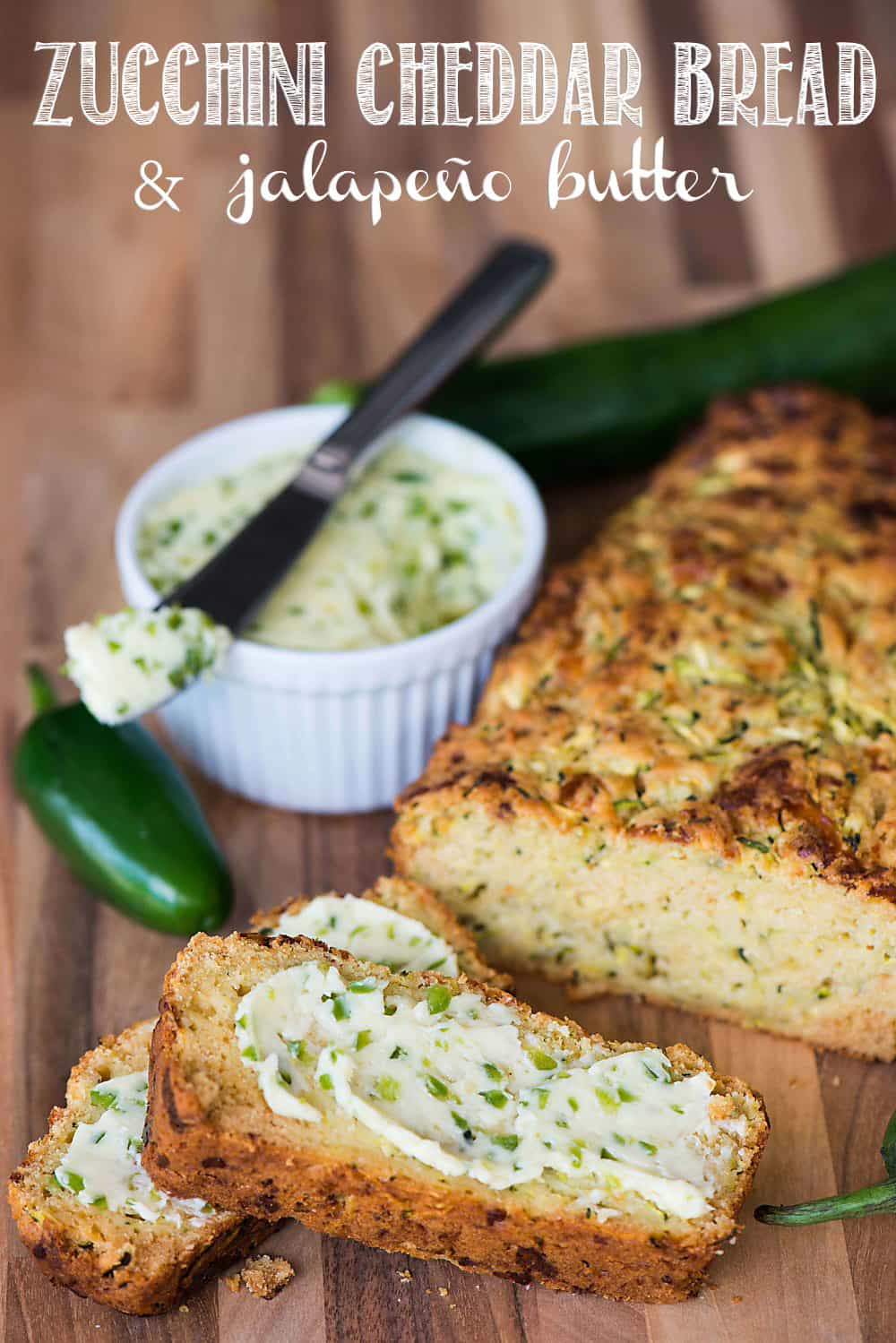 All Organic Valley products are: USDA certified organic, free of synthetic hormones, toxic pesticides, antibiotics and GMOs. There are far more than five reasons why you should eat organic. But these are the top five reasons why eating organic benefits you:
Because leaving out the bad stuff makes more room for the good stuff. Research shows that organic foods are higher in antioxidants and other nutrients, like omega-3 and CLA essential fatty acids. And organic crops have been shown to contain significantly less concentrations of cadmium—a toxic metal on par with lead and mercury. Organic food really is better for you. And it tastes better too
Because chemicals are bad for you. Organic farmers use sustainable methods of pest-control. Non-organic farms use toxic pesticides and herbicides. These chemicals are really harmful to wildlife and human health, contaminating our food, air, and water, and accumulating in our cells. Organic farming practices, however, strictly forbids the use of these chemicals—making bees happier and food more nutritious
Because organic dairy cows and kids should grow at their own pace. Synthetic hormones and antibiotics are frequently given to non-organic farm animals to change their reproductive cycles and speed up their growth. Cows are healthiest and happiest when they're allowed to live without being pumped full of chemicals—it helps them produce the highest quality milk
Because antibiotic-resistant infections are very real. When non-organic farmers feed their animals antibiotics to keep them from getting sick, they kill many of the pathogens—but not all of them. The germs that survive go on to reproduce, leading to antibiotic-resistant infections that pose a real threat to animals and people alike. Instead of relying on antibiotics, Organic Valley's organic farmers use natural holistic measures to promote and maintain animal health—keeping everyone healthier in the process
Because we've all heard "GMOs are bad," but do you know why? That's because genetically engineered crops are a relatively recent invention with potentially harmful impacts on the ecosystem and on human and animal health. We still don't know a lot about them. Organic standards forbid the use of genetically engineered seeds or animals—including clones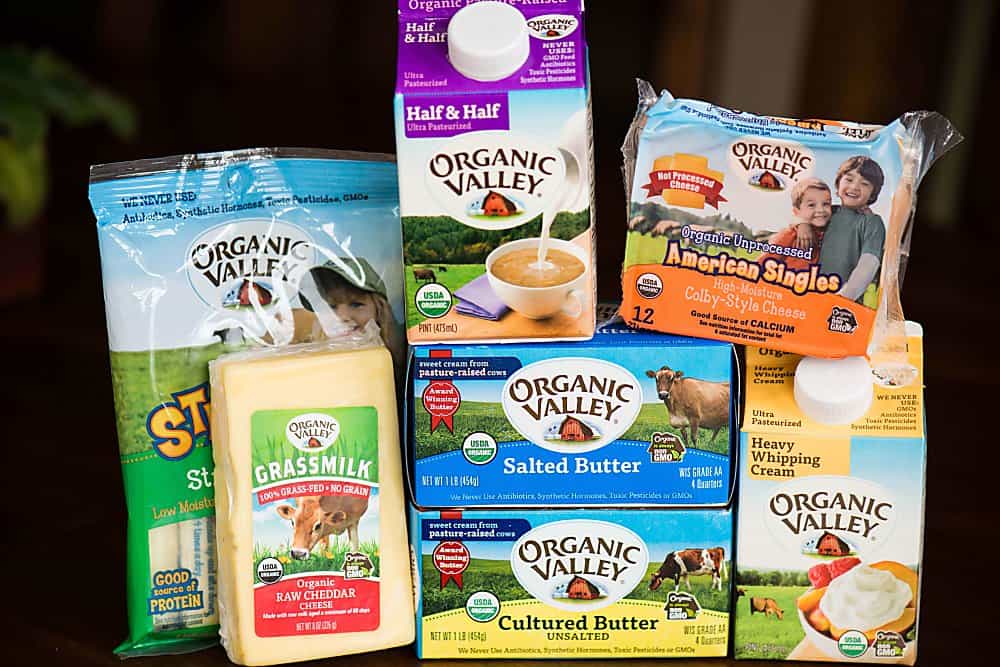 I decided to make this bread for a few reasons:
Being inspired by the farm experience, you can't celebrate a gorgeous summer day better than taking gorgeous zucchini from your own garden or from the local farmers market. Since we just moved into our new property a couple months ago, my garden won't happen until next year, so the farmers market is where I got mine. Oh, how I love supporting my local farmers. The honey was also harvested from local farmers!
We're trying really hard to stay away from processed sugar. I know I share a ton of dessert recipes on my blog, but I love to incorporate my share of wholesome recipes too, and this bread doesn't have any added processed sugar.
Does it get much better than having rich creamy butter in and on the bread? That's double delicious. The grass milk raw cheddar was an amazing addition as well.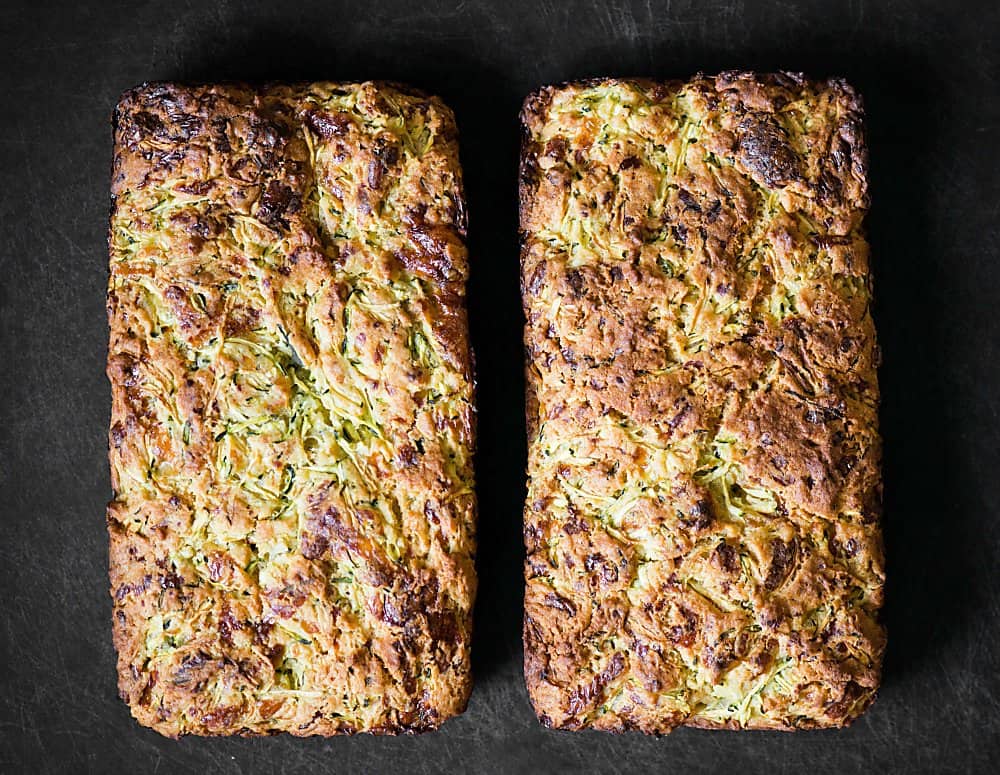 The bread is a slightly sweet, slightly savory, perfectly moist treat.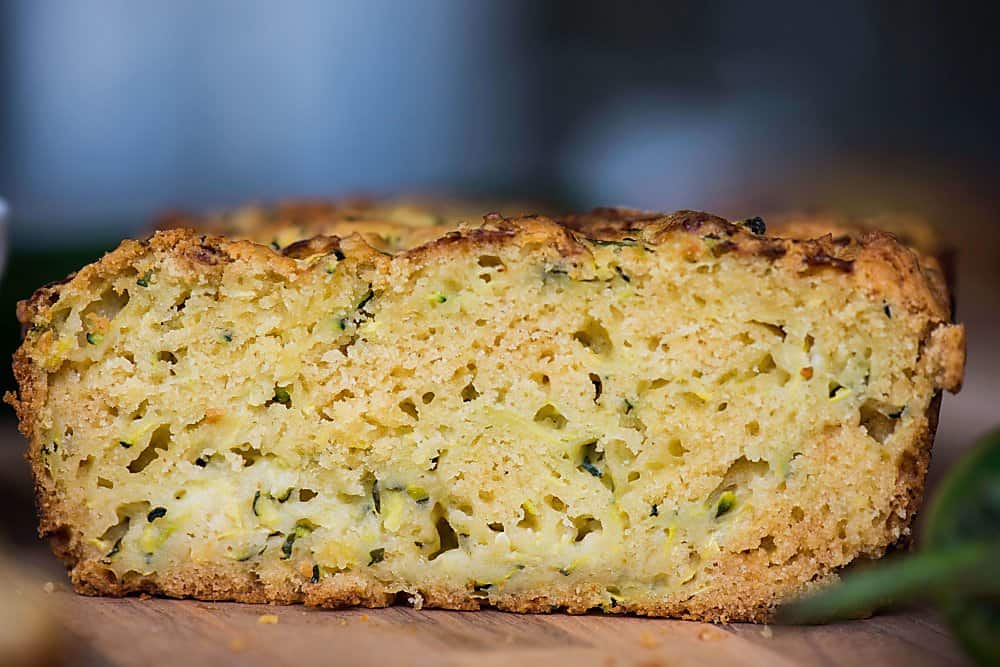 But what would bread be without butter?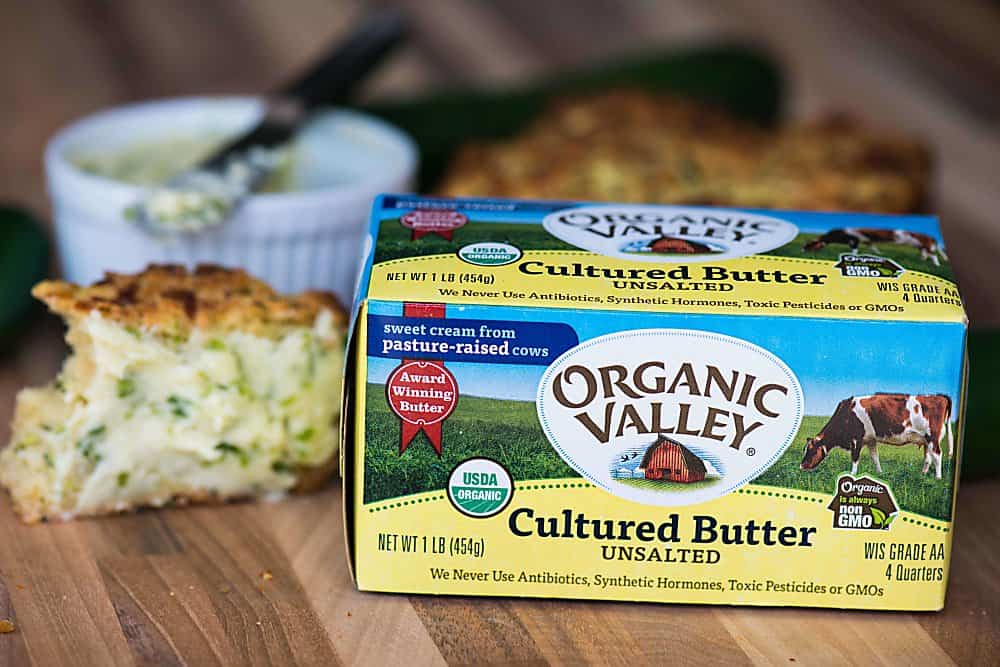 I took some of this delicious creamy butter and blended it up with fresh, minced jalapeno and a hefty drizzle of honey and a sprinkle of flaked sea salt. Oh yes.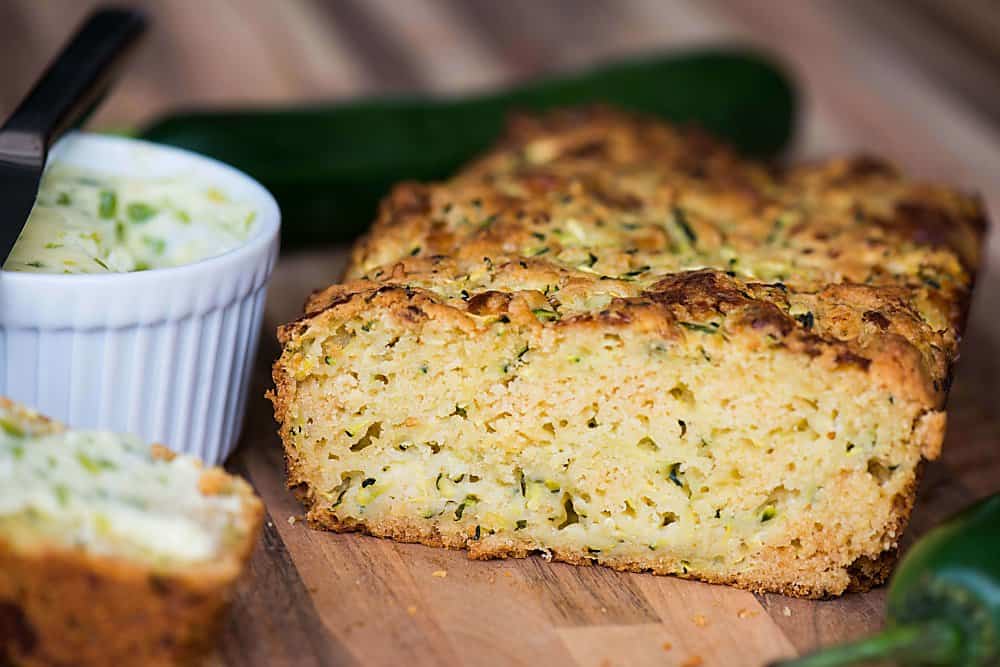 I found myself craving this bread, and I enjoyed every piece until both loaves were gone. Yes, I shared it with my family, but I watched them like a hawk to ensure I got my fair portion. It was that good!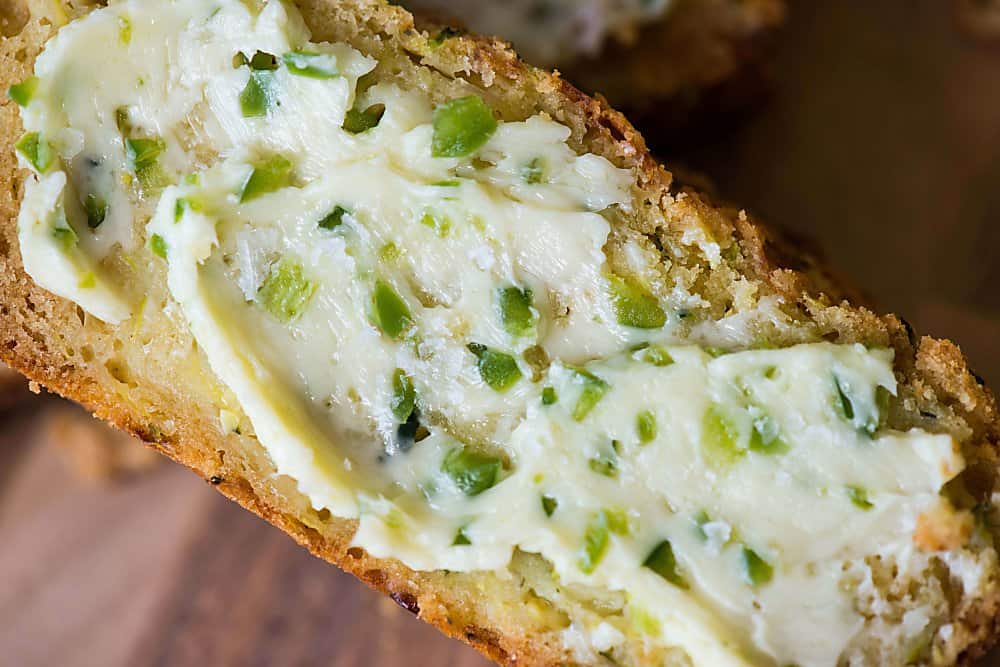 I hope you enjoyed hearing about my Organic Valley farm visit as well as the recipe. Hopefully I'll get to share more future farm discovery visits with you too! To Find Organic Valley products at a store near you, just click this product locator tool. Feel free to visit them on instagram, twitter, pinterest, facebook, or youtube and be sure to tag them using #BringingTheGood #FarmDiscovery and #OrganicValley.
Cheddar Zucchini Bread with Jalapeno Honey Butter
Freshly grated zucchini turns this no added sugar Cheddar Zucchini Bread with Jalapeno Honey Butter into a tasty sweet and savory summer quick bread.
Total Time
1
hour
15
minutes
Ingredients
Cheddar Zucchini Bread:
3

cups

all-purpose flour

2

teaspoons

baking powder

1/4

teaspoon

baking soda

1/4

teaspoon

salt

3/4

cup

Organic Valley unsalted butter

melted and cooled

1/2

cup

raw honey

2

eggs

4

cups

zucchini

grated (about 1 pound or 3 medium sized, ends removed)

8

ounces

Organic Valley raw cheddar cheese

shredded
Jalapeño Honey Butter:
1/2

cup

unsalted butter

softened

2

tablespoons

diced jalapeño

about half of a pepper, add more or less or to taste

2

tablespoons

raw honey

Top with flaked sea salt and an additional drizzle of honey

if desired
Instructions
Preheat oven to 400°F. Grease two 8 x 4-inch loaf pans with butter and set aside.

In a large bowl, whisk together flour, baking powder, baking soda, and salt. In a separate bowl, combine melted butter with honey and stir to combine. Once butter mixture has cooled, whisk in eggs. Stir just until moistened.

Add grated zucchini and cheddar cheese and fold into mixture. Batter will be so thick that you may have to use your hands to incorporate. Try not to over mix.

Divide batter between prepared pans and bake in preheated 400°F oven for 5 minutes and then reduce heat to 350°F to continue cooking for an additional 40 to 50 minutes or until loaves are lightly browned and toothpick inserted in center of loaves comes out clean. Let cool in pan on rack for 5 minutes.

While bread is cooking, make Jalapeño Honey Butter. In a small bowl, cream together softened butter, jalapeño, and honey. Some liquid may separate from the jalapenos. You can drain off before serving or leave in.

Slice and serve warm with Jalapeno Honey Butter, a pinch of sea salt flakes, and an additional drizzle of honey, if desired.