When it comes to satisfying our taste buds, Cajun Shrimp Pasta is a go-to dish that never disappoints. This recipe combines succulent shrimp, a rich cream sauce, and a tantalizing blend of spices to create a meal that bursts with flavor.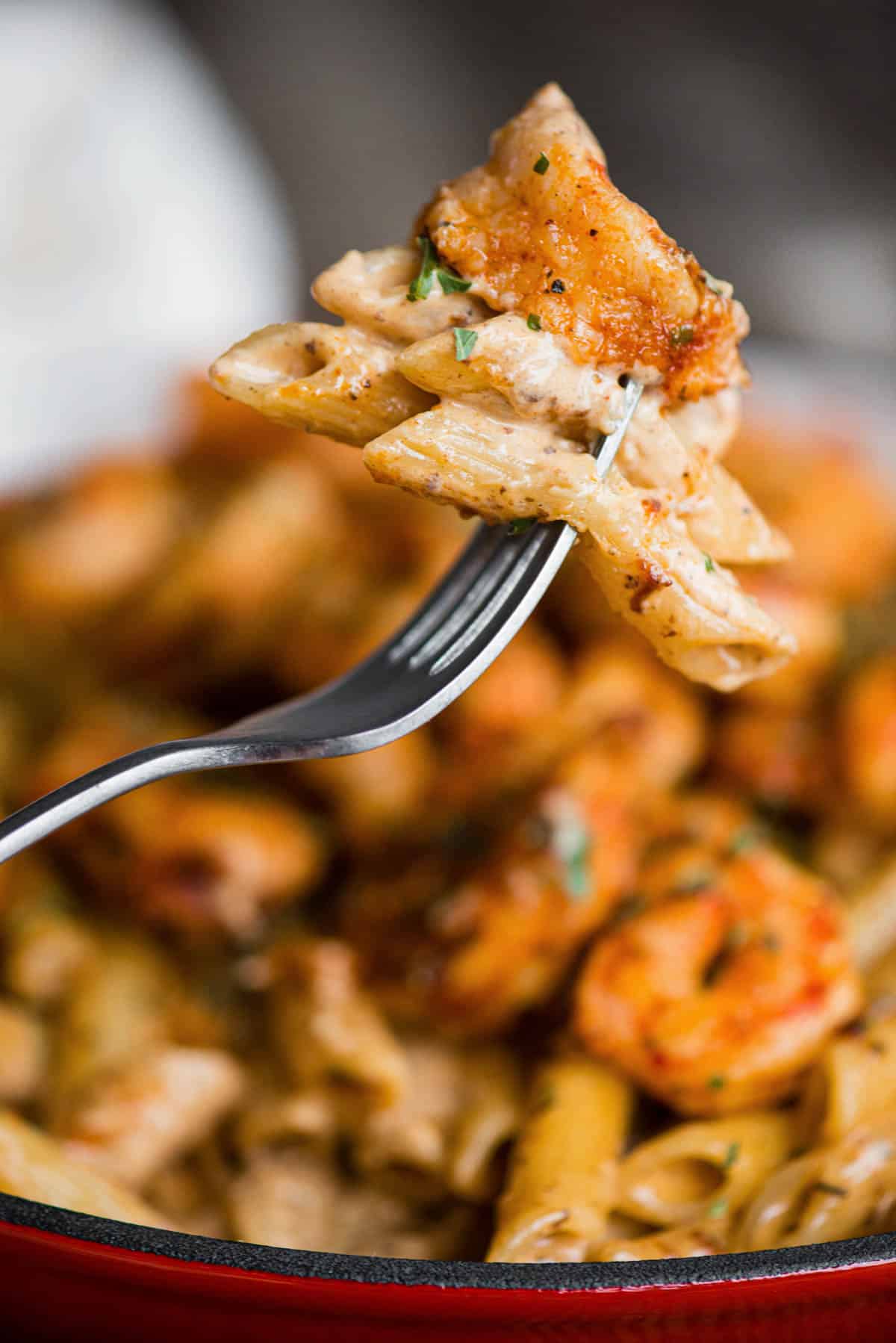 Whether you're a fan of spicy cuisine or simply looking for a quick and easy dinner recipe, Cajun Shrimp Pasta is a must-try dish that will please the entire family.
Continue reading to see why this recipe works, what it tastes like, and why you should add it to your repertoire of pasta recipes.
Quick and Easy for Busy Weeknights
With its simple preparation and cooking process, Cajun Shrimp Pasta is an ideal choice for easy weeknight meals. In just a few steps, you can have a satisfying dinner ready on the table in no time.
Since there is little measuring and no chopping, the entire recipe can pretty much be cooked in the amount of time it takes to cook the pasta. That means that in 10-15 minutes, you can have a complete dinner.
By following the package instructions for cooking the pasta and sautéing the shrimp in a large skillet over medium-high heat, you'll have a hearty and delicious meal without the fuss.
The Perfect Combination of Spices
Cajun Shrimp Pasta owes its distinct flavor to the harmonious blend of spices used in the dish.
The homemade Cajun seasoning, featuring spices like smoked paprika, cayenne pepper, garlic powder, onion salt, herbs, and black pepper, imparts just the right amount of kick without overpowering the other flavors.
This heat level can be adjusted to suit your preference, making it versatile for those who enjoy both mild and spicy food.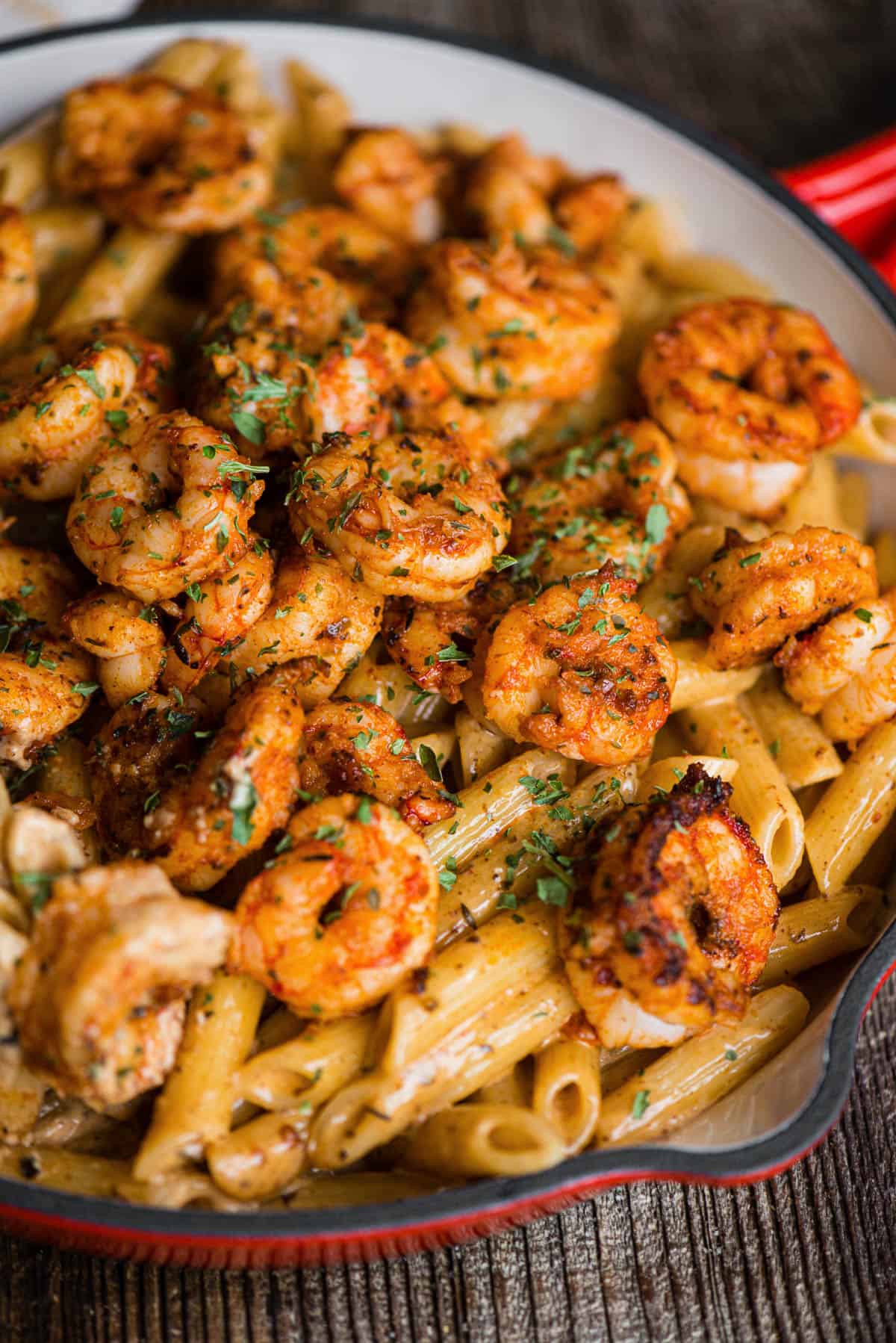 A Creamy Sauce That Makes a Difference
The spicy alfredo sauce is the heart and soul of this pasta dish. With ingredients like heavy cream, Parmesan cheese, and butter, the sauce becomes velvety and indulgent, enveloping the penne pasta and shrimp in a luscious coating.
It adds depth and richness to the overall flavor profile, ensuring each bite is a delight for the senses.
Tender Shrimp
One of the highlights of this recipe is undoubtedly the succulent shrimp. The Cajun spice brings out the best in the shrimp, enhancing its natural sweetness while adding a touch of heat.
Each bite offers a burst of flavor, perfectly complementing the creamy sauce and al dente pasta.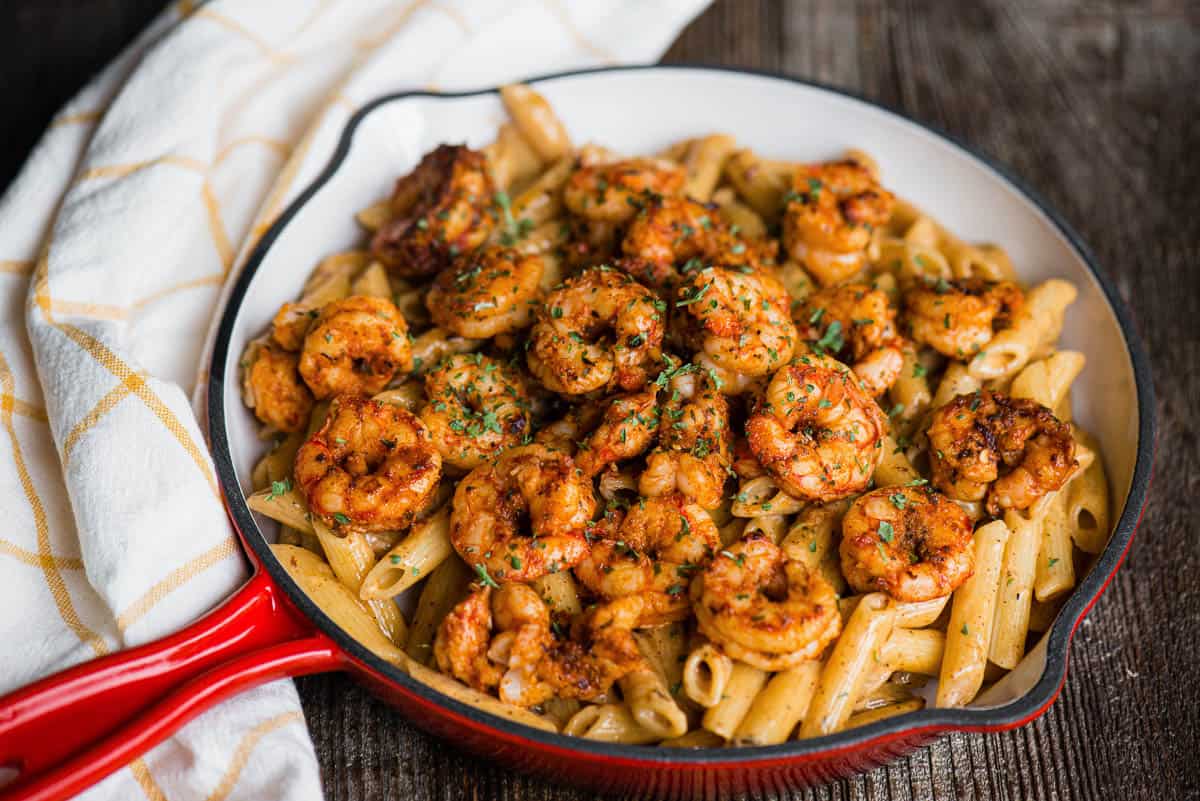 Versatility in Ingredients
Cajun Shrimp Pasta is highly adaptable to personal preferences and dietary needs. You can experiment with different types of pasta, such as whole wheat or gluten-free options, to make it even healthier. Additionally, you can incorporate colorful veggies like green and red bell peppers, diced tomatoes, or even andouille sausage to further enhance the dish's depth of flavor.
Join today and start saving your favorite recipes
Create an account to easily save your favorite recipes and access FREE meal plans.
How to Make It
This recipe starts by boiling the pasta in salted water. It's important to use a full tablespoon of salt in your pasta water because the salt will flavor the pasta. Before you drain the pasta, be sure to reserve some of the pasta water to thin out the sauce later, if needed.
While the pasta is cooking, saute the shrimp. They will cook quickly over relatively high heat. You'll remove the shrimp from the pan and set them aside and then use that same pan to make the sauce.
The cajun cream sauce is simply a mixture of heavy cream that you bring to a boil and parmesan cheese that melts in creamy smooth. There's enough cajun seasoning ont he shrimp and in the pan to give the sauce plenty of flavor. The sauce thickens within minutes and then you simply toss everything together to serve.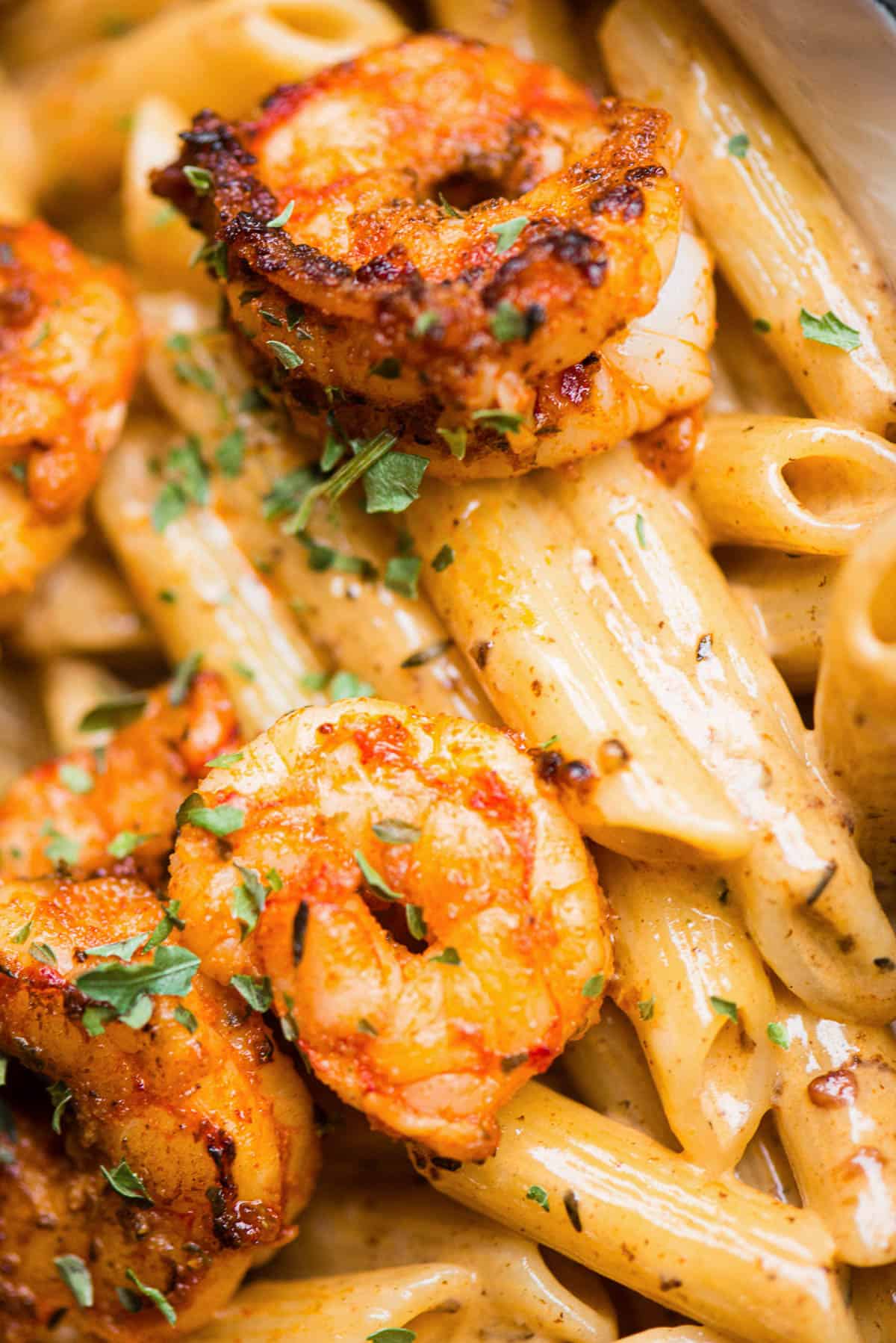 FAQs
Can I use a different type of pasta for Cajun Shrimp Pasta?
Yes, you can use any type of pasta you prefer, but penne pasta works well as it holds the sauce and seasonings effectively.
How spicy is Cajun Shrimp Pasta?
The spiciness can be adjusted to your taste by controlling the amount of Cajun seasoning used. It offers a flavorful kick without being overwhelmingly hot.
Can I substitute the shrimp with another protein?
Absolutely! While shrimp adds a delightful seafood element, you can substitute it with chicken, sausage, or even vegetables to suit your preferences or dietary restrictions.
Can I make Cajun Shrimp Pasta ahead of time?
It's best to enjoy Cajun Shrimp Pasta immediately after cooking, as the creamy sauce may thicken upon refrigeration. However, you can store leftovers in an airtight container and reheat them the next day for a tasty meal.
Can I make my own Cajun seasoning?
Definitely! In fact, with this recipe, it is recommended so that you can control the amount of salt. Making your own Cajun seasoning allows you to adjust the flavors according to your preference.
Can I make Cajun Shrimp Pasta dairy-free?
Yes, you can substitute the heavy cream and butter with dairy-free alternatives like coconut milk or cashew cream. Vegan parmesan cheese can also be used to achieve a similar flavor.
Can I add extra vegetables to Cajun Shrimp Pasta?
Yes! Feel free to add colorful vegetables such as bell peppers, diced tomatoes, or even spinach to incorporate more nutrients and textures into the dish.
Can I freeze Cajun Shrimp Pasta?
It is not recommended to freeze the dish, as the creamy sauce may separate upon thawing. It is best enjoyed fresh for the optimal taste and texture.
How can I make Cajun Shrimp Pasta less spicy?
If you prefer a milder flavor, reduce the amount of cayenne pepper or omit it entirely from the Cajun seasoning. Adjust the heat level to suit your taste preferences.
What can I serve with Cajun Shrimp Pasta?
Cajun Shrimp Pasta pairs well with a healthy green salad, steamed broccoli, or a side of crusty bread to soak up the creamy sauce. It's a versatile dish that allows for a range of complementary sides.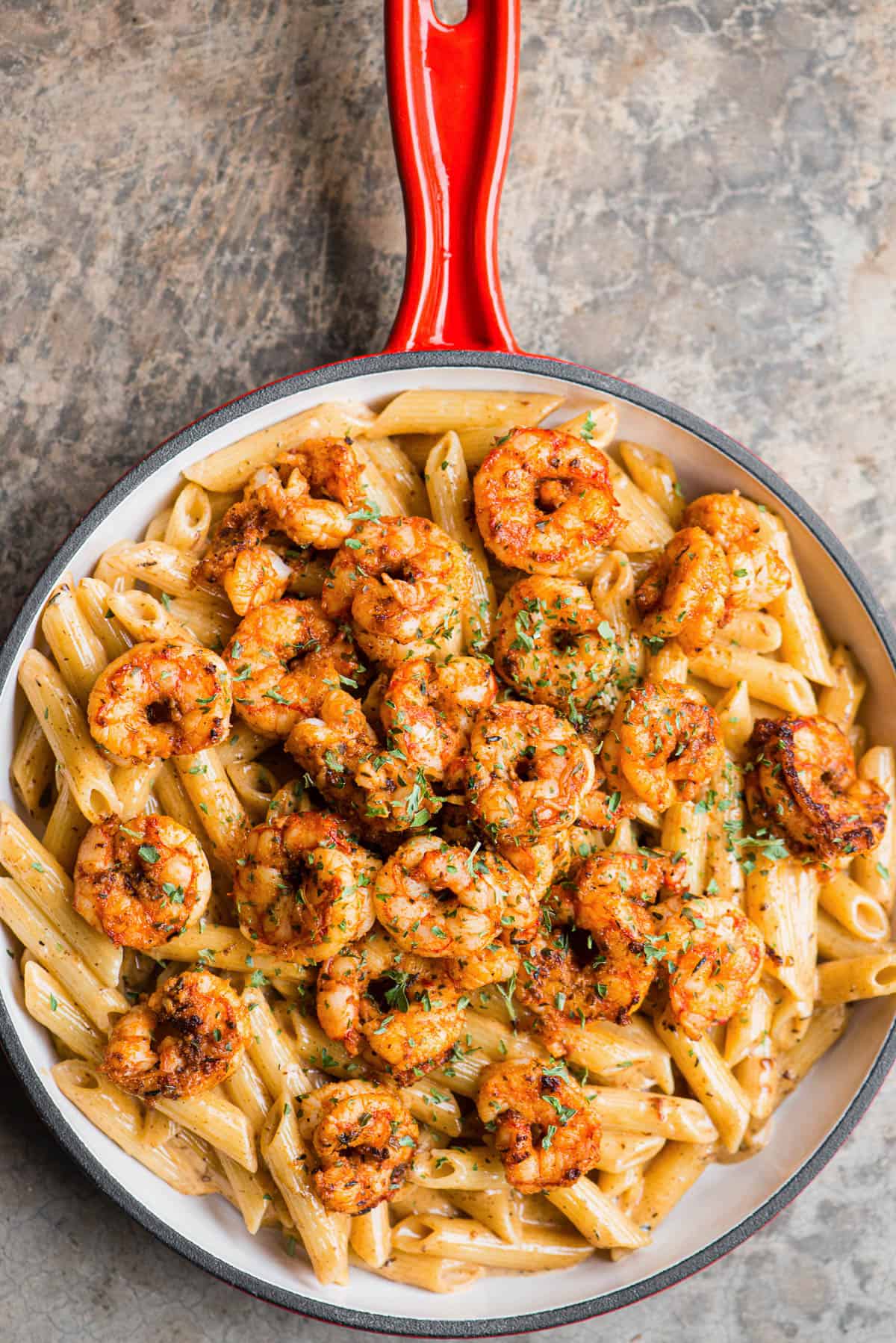 Pin this now to save it for later
Pin It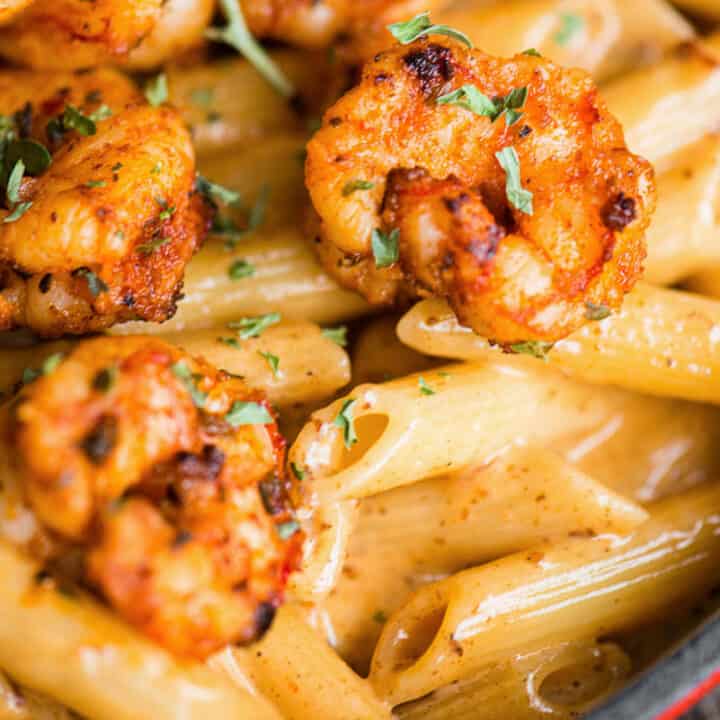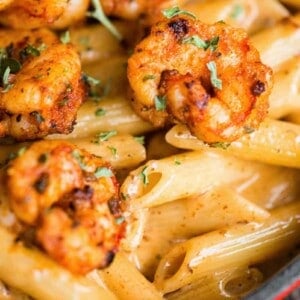 Cajun Shrimp Pasta with a spicy and rich cream sauce is a quick and easy dinner recipe with just the right amount of kick!
Ingredients
1

tablespoon

kosher salt

8

ounces

penne pasta

1

pound

raw shrimp

deveined, cleaned, tail removed

2

tablespoons

cajun seasoning

*see note below, use this quantity if making my homemade seasoning blend; may turn out too salty if using store bought

1

tablespoon

olive oil

1

tablespoon

butter

1

cup

heavy cream

1/2

cup

parmesan cheese

finely grated from a block (a microplane works best); pre-grated or not real authentic parmesan won't melt as nicely
Instructions
Add salt to pot of water and bring to a boil. Cook pasta to al dente doneness. Before draining, scoop out at least 1/2 cup of the cooking water. Drain pasta and set aside.

While the pasta is cooking, cook the shrimp and sauce. Combine shrimp with cajun seasoning and olive oil in bowl. Toss to combine.

Heat large skillet over medium high heat. Add butter and melt. Add shrimp in a single layer and cook until golden brown on each side, turning only once. You may have to cook shrimp in two batches to allow enough room. Once done cooking, transfer cooked shrimp to a clean plate and reduce heat to medium low.

Add heavy cream to pan and scrape bottoms to release any food that is stuck to the bottom. Allow cream to bubble. Reduce heat to low and stir in parmesan cheese to melt. Add cooked pasta and shrimp and stir to coat. If sauce needs to be thinned, add pasta water, one tablespoon at a time, until desired consistency is achieved.

Add drained pasta to pan with shrimp and sauce. Toss to combine. Taste and add additional salt, if desired depending on your tastes.
Notes
I've had a few viewers comment that this recipe turned out too salty. If you use my homemade Cajun seasoning (link below), then it will turn out perfectly delicious. If you use a store bought Cajun seasoning blend, which most likely contains much more salt than I use in my blend, you should start with a small amount, taste, and continue to add to your liking.
Note: because my seasoning blend is purposely less-salty, you may need to add additional salt to your serving depending on your tastes.
https://selfproclaimedfoodie.com/homemade-cajun-seasoning-mix/
Nutrition
Calories:
429
kcal
,
Carbohydrates:
30
g
,
Protein:
24
g
,
Fat:
22
g
,
Saturated Fat:
12
g
,
Cholesterol:
255
mg
,
Sodium:
1919
mg
,
Potassium:
235
mg
,
Fiber:
2
g
,
Sugar:
1
g
,
Vitamin A:
1855
IU
,
Vitamin C:
3.3
mg
,
Calcium:
247
mg
,
Iron:
2.7
mg
Nutrition information is automatically calculated, so should only be used as an approximation.
This post was originally created for Centsless Meals where I was a contributor. It was originally published in 2019 and has been updated with more information to make the recipe more helpful.