These buttermilk Brown Butter Blueberry Muffins rise beautifully & finish with a nice crispy top. They're perfect for brunch or a breakfast treat on the go.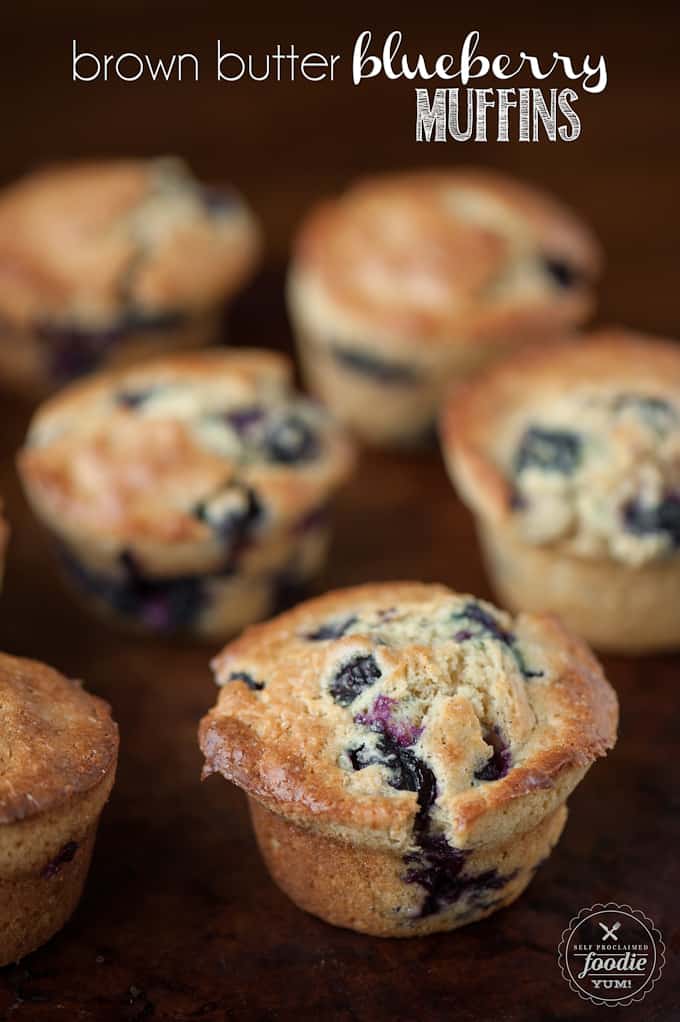 Oh man, these turned out good. I have had some serious muffin fails in my past. I'm not too proud to admit it. That's why I loved these muffins so much. There are three reasons why these muffins were so delicious.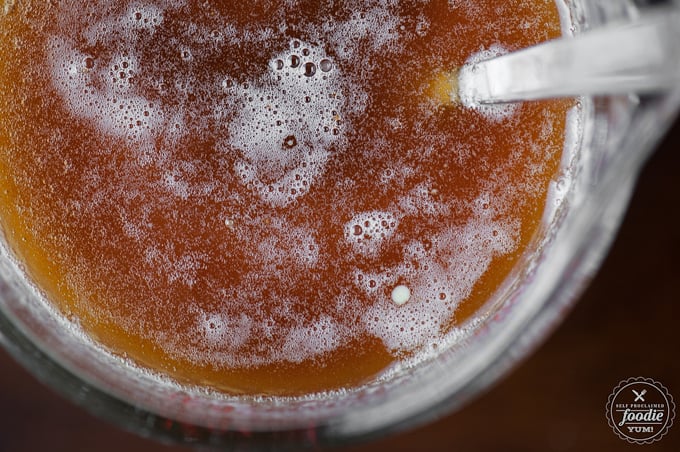 First, the brown butter. If you've never enjoyed the magic of brown butter, you need to correct that. Now. Brown butter is magical. Don't know what brown butter is? To make brown butter, you basically melt your butter in a pan and take it past the point of where it is just melted and boring. No. You go that extra step by continuing to heat and swirl the pan. Then, before you know it: magic. You get these little brown specs on the bottom of the pan and the most wonderful caramel-y nutty aroma starts wafting up out of the pan. That's when you know you've turned your butter into brown butter.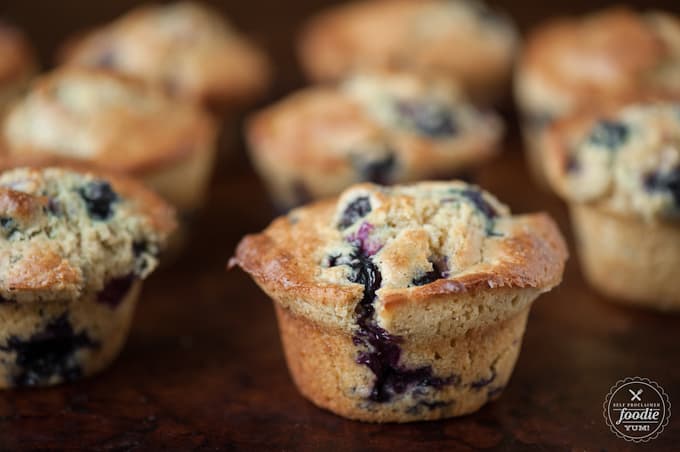 The brown butter adds so much to these muffins. The top is perfectly golden and crispy and the inside of the muffin is soft and light. You don't get that when you cook with vegetable oil. Yes, vegetable oil will yield a super soft muffin, but if you're looking for a big soft squishy muffin, just get go buy some at your favorite major chain store grocery bakery. You can't just buy muffins like these.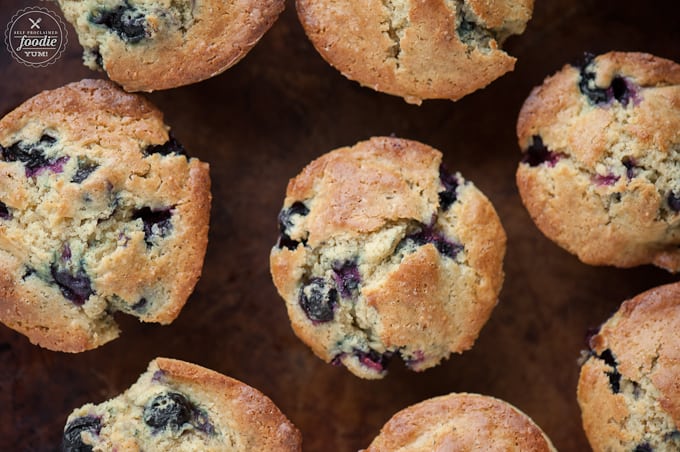 The next component to making these muffins awesome is the buttermilk. I don't understand the science behind it but I have a lot of baker friends who can. I think it has something to do with the fat content. That, or I'm just completely making up nonsense. But either way, I think the buttermilk not only adds to the flavor, but it contributes a great deal to the rise you get from these muffins. I don't know why, but it drives me bat shit crazy when I make a muffin and it doesn't rise one bit. I want to open up that hot oven and see beautiful tall golden muffins. That's what makes Krissy happy.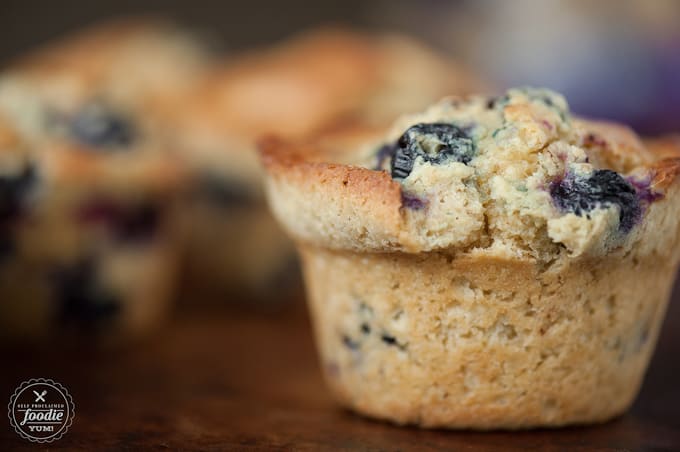 The final component to these gorgeous muffins is the blueberries. Yes, of course, you can just buy frozen blueberries at the store. I have no problem with that and will try to not come off as the typical food snob I am on this subject. I, however, think the organic sun kissed blueberries I picked last summer in this beautiful state of Oregon are the best damn blueberries on the planet. Every year I pick as many berries as my kids will tolerate (their time out in the field turns from fun to extremely bored at which time we have to leave) and then I freeze them to use year round. I use my beautiful berries in all sorts of smoothies, pancakes, drinks, and desserts. I like lots of berries in my muffins because every bite needs to have a significant amount. I'm one of those weird proportional eaters where every bite needs to be the same. I just can't have a single bite where the muffin:berry ratio is larger than the next.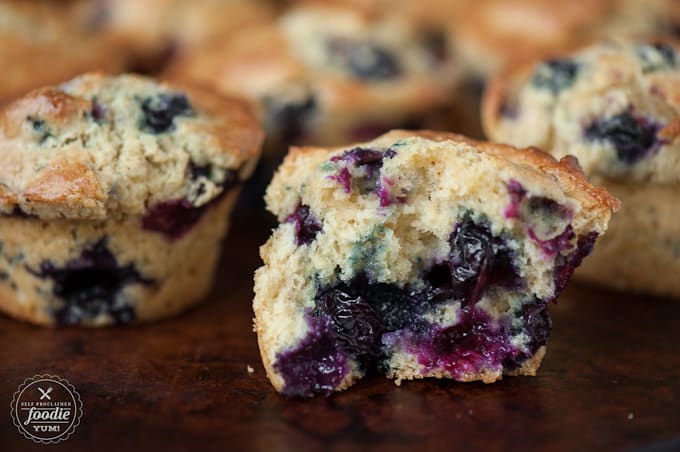 So there you have it. The ultimate buttermilk brown butter muffin. They're perfect for brunch, so with Easter being tomorrow and Mother's Day being only a month away, I've got you covered!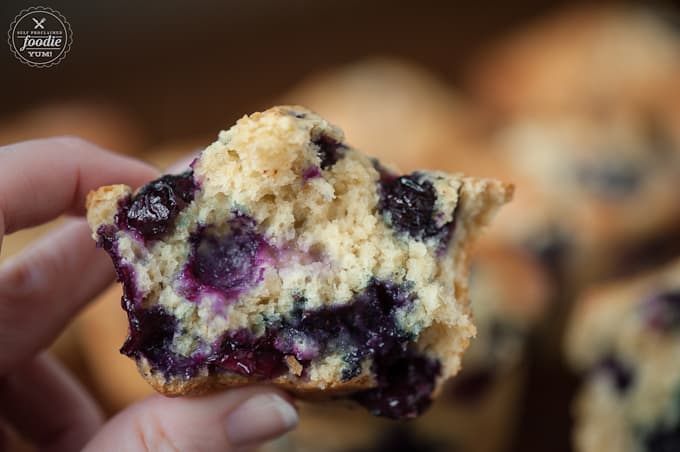 Brown Butter Blueberry Muffins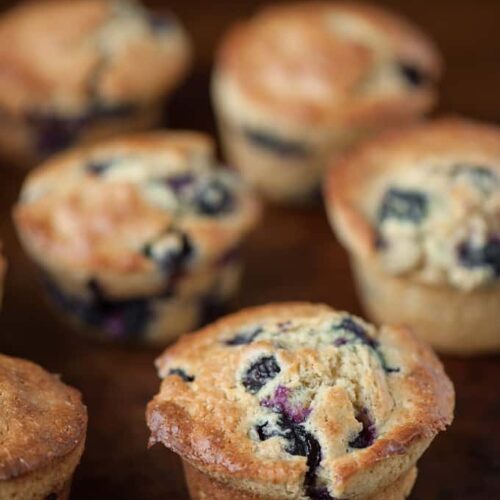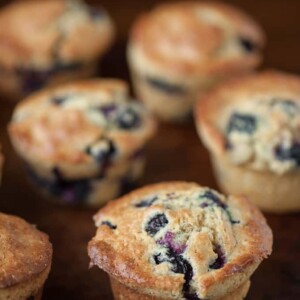 These buttermilk Brown Butter Blueberry Muffins rise beautifully & finish with a nice crispy top. They're perfect for brunch or a breakfast treat on the go.
Instructions
Preheat oven to 400 degrees F and grease muffin tins with butter.

In a large bowl, sift together flour, baking power, baking soda, sugar, and salt.

In a medium sized pan over medium heat, melt the butter. Swirl occasionally to ensure butter is cooking evenly. As the butter melts, it will begin to foam and the color will get darker. Scrape bottom to release any browned specs. Once you start smelling the nutty aroma, remove browned butter from heat and allow to cool.

In a separate bowl, whisk eggs, buttermilk, vanilla, and mostly cooled browned butter together. Make a well in the dry ingredients and pour in the liquid ingredients. Fold together and do not over mix. Fold in the blueberries.

Spoon batter into greased muffin tins and bake in preheated oven until golden brown, about 20-30 minutes (mine took longer because I used a stone muffin pan). When done cooking, immediately remove from muffin tins and allow to cool on cooling rack.
Notes
Serving size based on one muffin
Nutrition
Calories:
250
kcal
,
Carbohydrates:
38
g
,
Protein:
5
g
,
Fat:
9
g
,
Saturated Fat:
5
g
,
Cholesterol:
50
mg
,
Sodium:
178
mg
,
Potassium:
141
mg
,
Fiber:
1
g
,
Sugar:
16
g
,
Vitamin A:
319
IU
,
Vitamin C:
2
mg
,
Calcium:
60
mg
,
Iron:
1
mg
Nutrition information is automatically calculated, so should only be used as an approximation.