Beef Enchiladas with tender shredded beef, melted cheese, and smothered in red sauce are easy to make with this delicious dinner recipe!
This tasty Mexican meal is made with Instant Pot Shredded beef that is flavorful and tender. Plus, after years of making homemade enchiladas, I've discovered how to make them super easy to roll while still tasting the most delicious!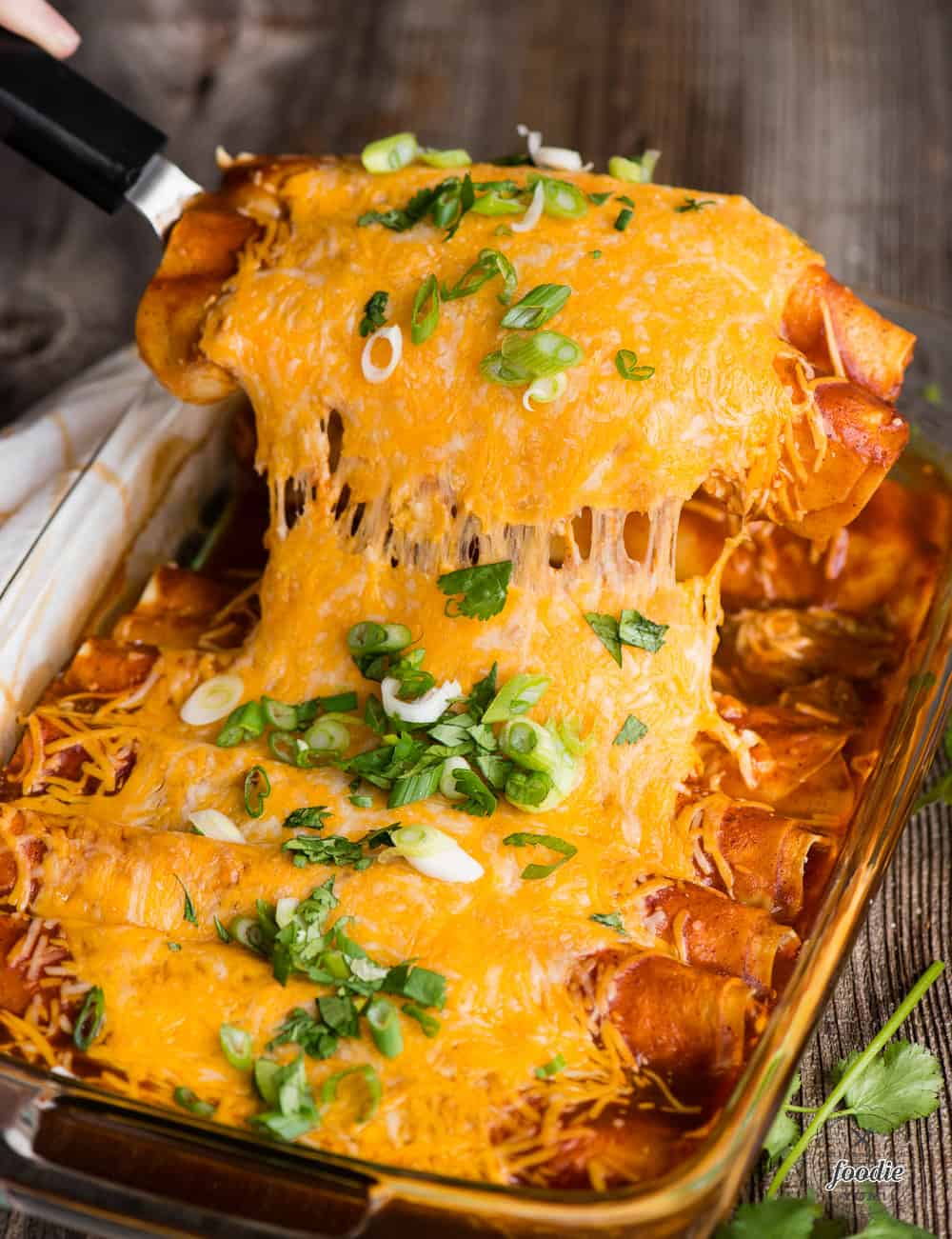 Shredded Beef Enchiladas are such an easy dinner. Sometimes I get the meanest craving for enchiladas and it won't go away until it's satisfied.
To me, an outstanding enchilada needs to be swimming in melted cheese and a flavorful sauce. The ratio of the ingredients is important. Too little cheese or sauce will lead to a bland, dry, flavorful enchilada. No one wants that, now do they?
What goes in enchiladas?
An enchilada is a tortilla, traditionally a corn tortilla, rolled around a filling, which almost always includes cheese, and covered with a chili pepper sauce. Enchiladas can be filled with a variety of ingredients, including various meats, cheese, beans, potatoes, vegetables or combinations.
So, basically, the sky is the limit when you want to make enchiladas. You can make them as simple or complex as your mouth and stomach desire.
Do you use corn or flour tortillas for enchiladas?
Traditional authentic enchiladas use corn tortillas made from masa. In my opinion, they taste the best when properly made. There are a few downsides to using corn tortillas, however. Depending on your corn tortilla, they can be very difficult to roll, even when steamed. I can't tell you how many times I've attempted to make rolled enchiladas with corn tortillas and it ended up turning into an enchilada casserole.
Many Americans will make enchiladas with flour tortillas. Yes, they are much easier to roll, but when they're smothered in sauce and cheese and baked, flour tortillas get super doughy.
I have found a solution that I'm very happy with – tortillas that are made from a corn/flour blend. This type of tortilla still tastes similar to a traditional corn tortilla, but it's not as dry and rolls much much easier. Whenever I make rolled enchiladas, I always use corn/flour tortillas.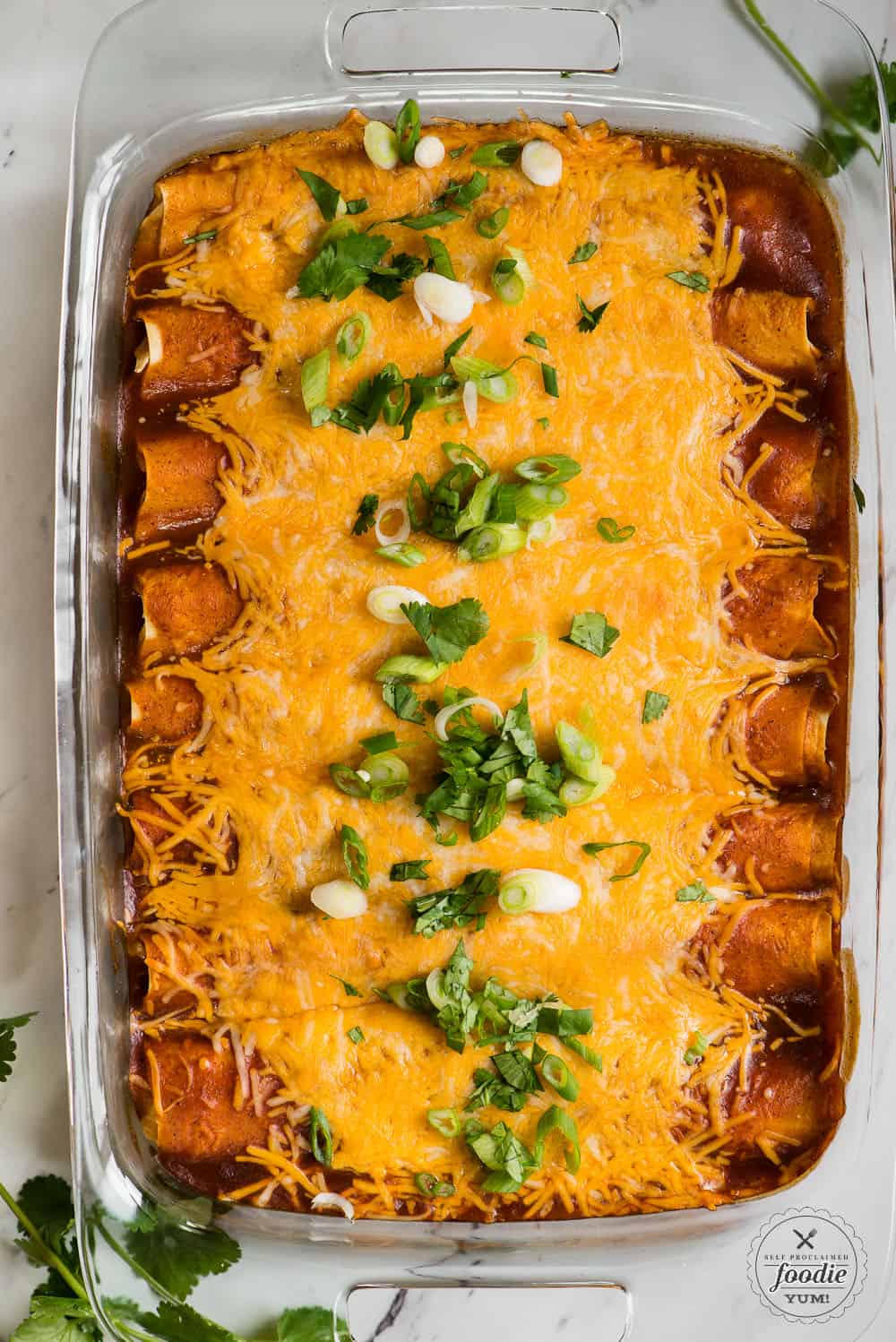 What exactly is enchilada sauce?
Enchilada sauce is typically made from chili peppers that have been toasted slightly to enhance their flavor, cooked in liquid, and blended until smooth.
I've made homemade red enchilada sauce as well as green enchilada sauce and can tell you that homemade is always better than store bought. Well worth the effort and time. You can make a huge batch and can it for later. Plus, the cost of homemade enchilada sauce is much less than store bought.
If you need to use canned store bought enchilada sauce (no judgement here), it is carried in most grocery stores in the Hispanic/Latin foods section. If you can find Hatch brand, that's my personal favorite.
How to roll an enchilada:
First, I really like to cut the ends off of the tortillas (see picture in recipe). This step makes it easier for the tortillas to fit in the casserole dish, but also allows you to create a more evenly filled enchilada. Life would be so much easier if they made square or rectangle shaped tortillas!
To fill an enchilada, simply add your filling in a single line about 1/3 of the way over. Then take the side where the filling is closest and start rolling.
When I add my rolled enchiladas to the casserole dish, I always place them seam side down to help them stay closed and tightly rolled.
How to make them:
Although there are about a million different ways to make enchiladas, I think this recipe is not only super easy, but these beef enchiladas are ridiculously flavorful.
First step is to make your shredded beef in the Instant Pot. A chuck roast is the absolute best cut for this. My recommendation is to make my shredded beef with peppers and onions recipe and save half for another recipe like burritos or a quesadilla.
You'll take about a quarter of your sauce and spread it across the bottom of a casserole dish. This ensures your enchiladas are covered with sauce, top and bottom, but will also prevent them from sticking to the dish.
Next step is to fill your enchiladas. For this recipe, I only added the shredded beef and grated cheese. You can add cooked potatoes, sauteed veggies, or anything else your heart desires, but I kept this enchilada recipe super simple. Place each of the rolled and filled enchiladas in the casserole dish.
Pour the rest of the enchilada sauce on top of the rolled enchiladas and add a whole lot more cheese. Like I said, lots of sauce and cheese make the best enchiladas.
Then, simply bake until heated through.
What to serve with enchiladas:
If you order enchiladas at any Mexican restaurant, they will almost always come with a side of rice and beans. These are my favorite sides to serve with enchiladas. Maybe because it's what I'm used to, maybe because I just like the way they taste with all of that extra sauce and cheese I'm always talking about.
Not the healthiest meal, but I never said it was.
To make this dinner recipe feel a bit more healthy, I like to serve with some shredded lettuce or cabbage. Oh, and a big blended margarita.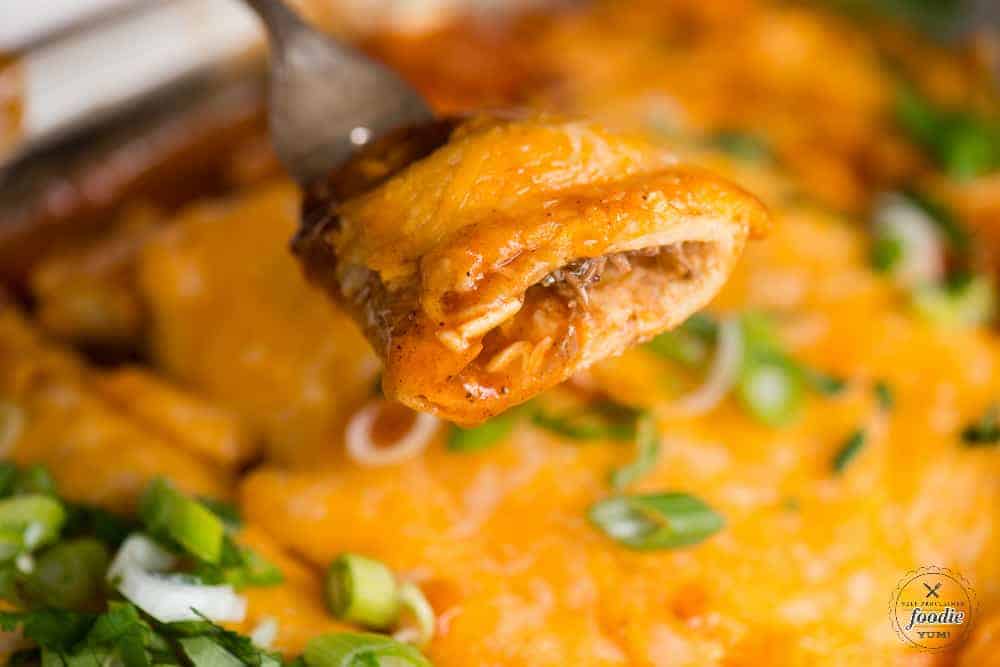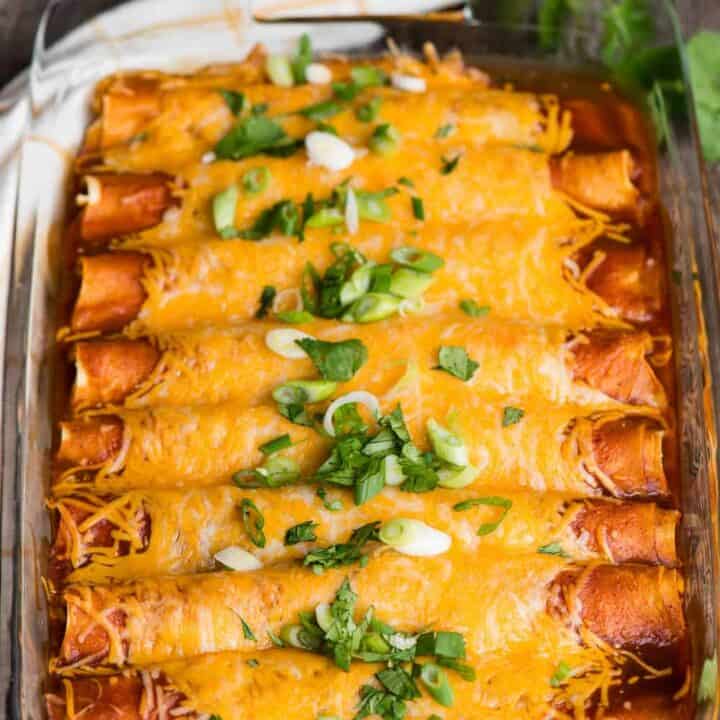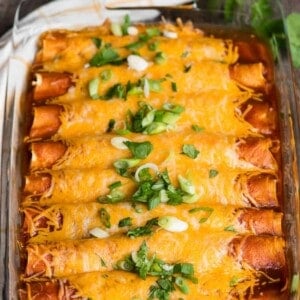 Beef Enchiladas with tender shredded beef, melted cheese, and smothered in red sauce are easy to make with this delicious dinner recipe!
Ingredients
30

ounces

red enchilada sauce

two cans or make your own homemade sauce – recipe link in notes

17.2

ounces

tortillas

use a corn/flour blend, quantity 8

12

ounces

Mexican cheese blend

I used a blend of sharp cheddar, monterey jack, asadero, queso blanco, all shredded

1 1/2

cups

shredded beef

recipe in notes – can substitute with 1 pound of ground beef, cooked
Instructions
Preheat oven to 375 degrees F. Pour enough of the enchilada sauce in a 9×13 inch casserole dish to thinly coat the bottom of the dish.

If needed, trim ends off of tortillas so that, when rolled, they will fit into the casserole dish. Fill each of the tortillas with a couple spoonfuls of meat (you want to divide the meat evenly between the 8 tortillas) as well as some cheese (you will want to reserve about half of the cheese for the top of the enchiladas).

Roll each enchilada and place seam side down in the casserole dish.

Cover rolled enchiladas with remaining sauce and top with remaining shredded cheese.

Cover casserole dish with aluminum foil and bake in preheated oven for about 20 minutes until heated through. If needed, remove foil during last few minutes of cooking to fully melt cheese. Serve hot and garnish with sour cream and fresh cilantro, if desired.
Notes
Recipe for homemade red enchilada sauce: https://selfproclaimedfoodie.com/authentic-red-chile-enchilada-sauce/
Recipe for Instant Pot Shredded Beef: https://selfproclaimedfoodie.com/instant-pot-shredded-beef/
Serving size based on one enchilada.
Nutrition
Calories:
437
kcal
,
Carbohydrates:
40
g
,
Protein:
26
g
,
Fat:
18
g
,
Saturated Fat:
8
g
,
Cholesterol:
66
mg
,
Sodium:
1659
mg
,
Potassium:
273
mg
,
Fiber:
3
g
,
Sugar:
10
g
,
Vitamin A:
990
IU
,
Vitamin C:
2.1
mg
,
Calcium:
353
mg
,
Iron:
3.8
mg
Nutrition information is automatically calculated, so should only be used as an approximation.