Avocado Egg Salad combines creamy mashed avocado with traditional egg salad for a delicious quick and easy lunch.
If you love avocado on toast, but also love the flavor of egg salad, then this recipe is for you. Make a big batch and have lunch ready to go for the whole week! And since avocados and eggs are so great together, be sure to check out my recipes for Avocado Deviled Eggs and Avocado Eggs with Warm Basil Tomatoes.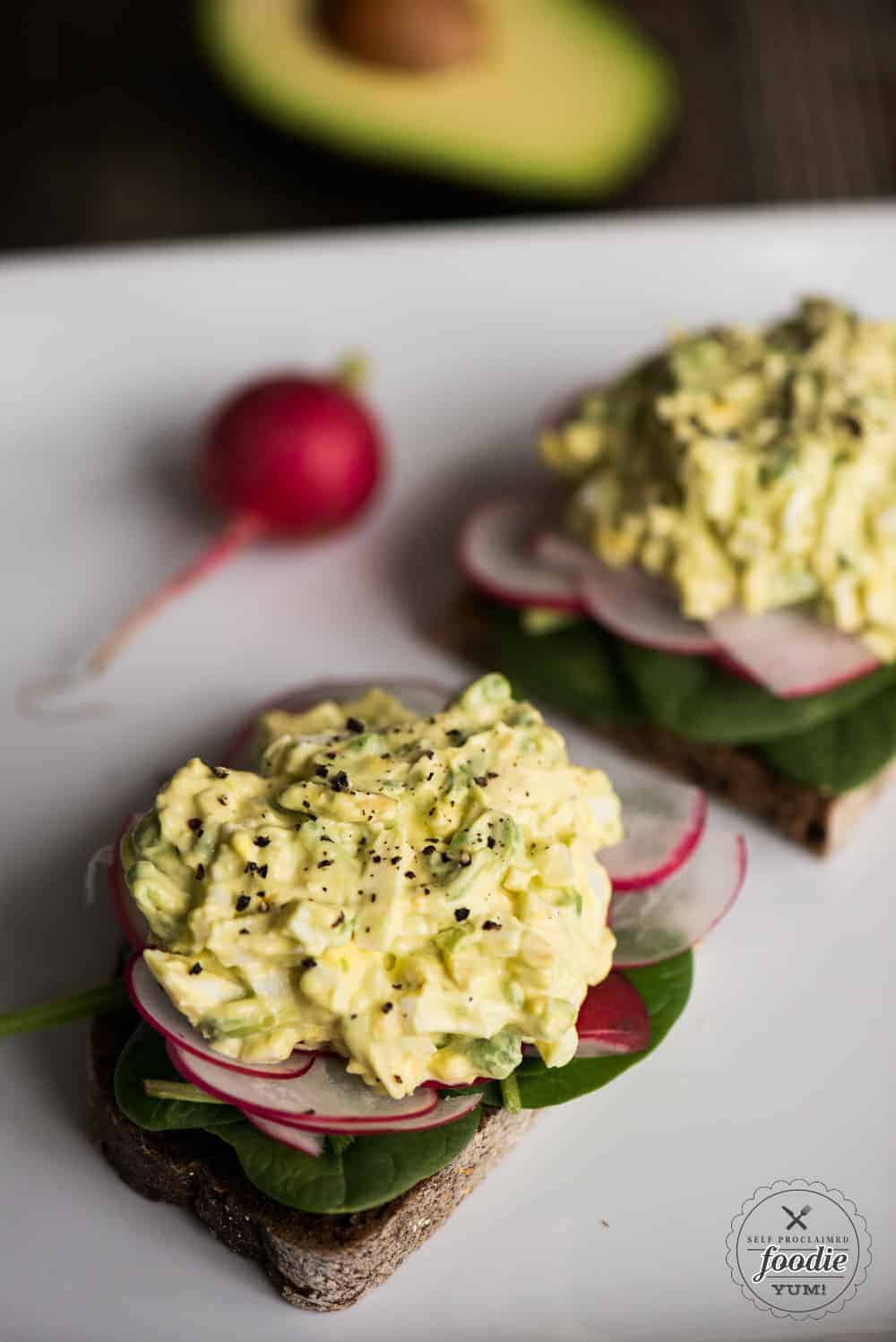 Know what's better than egg salad? Avocado egg salad. That's right. All I did was take my basic egg salad recipe which is nothing fancier than diced hard boiled egg, mayo, and a dash of mustard. Then I added a diced avocado that was perfectly ripe. I mixed that slightly green but incredibly creamy avocado egg salad up and served it on a slice of pumpernickel with spinach and radish. Yum. Oh so yum.
Did you know I have my own chickens? They make the best eggs I've ever enjoyed, so plan on seeing lots more egg recipes in the future. These eggs are so good, in fact, that I am officially ruined. I can never order eggs from a restaurant again because they just don't compare.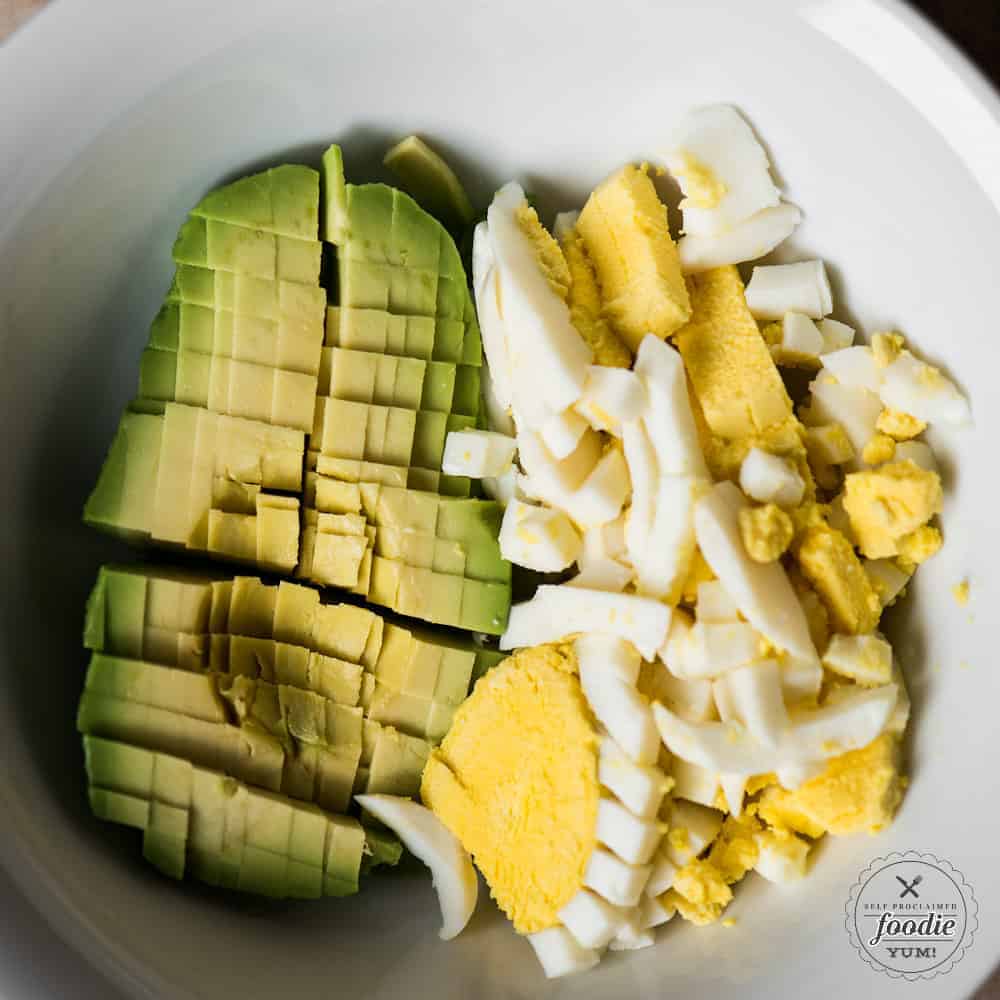 What can you do with egg salad?
My husband is always begging me to make egg salad. Sure, hard boiling and peeling the eggs takes time, but I have perfected that process by using the Instant Pot to hard boil my eggs. If I'm making a large batch of egg salad, I always use an egg slicer to speed up the process. Simple tools like that make recipes like egg salad a breeze.
When we make egg salad, we do a few things with it.
First off, I like to make a big batch. If I'm going to go to the trouble of making it, I want more than enough for a single sandwich. I typically boil a dozen eggs at a time.
Our favorite go to use for egg salad is to make an egg salad sandwich. My kids and my husband prefer fluffy white bread with their egg salad and nothing else. I prefer a rustic rye bread. Something that is a bit chewy with a lot of flavor. I also love sneaking in fresh veggies like this spinach and radish.
Nothing is needed to enhance this avocado egg salad, but I've been known to add bacon and jalapeno to just about anything.
Egg salad is a quick and easy choice for your kid's school lunch.
Sometimes if I need a quick snack with a bit of protein, I'll have a small amount of egg salad with some crackers. It's the perfect tide-me-over snack before dinner.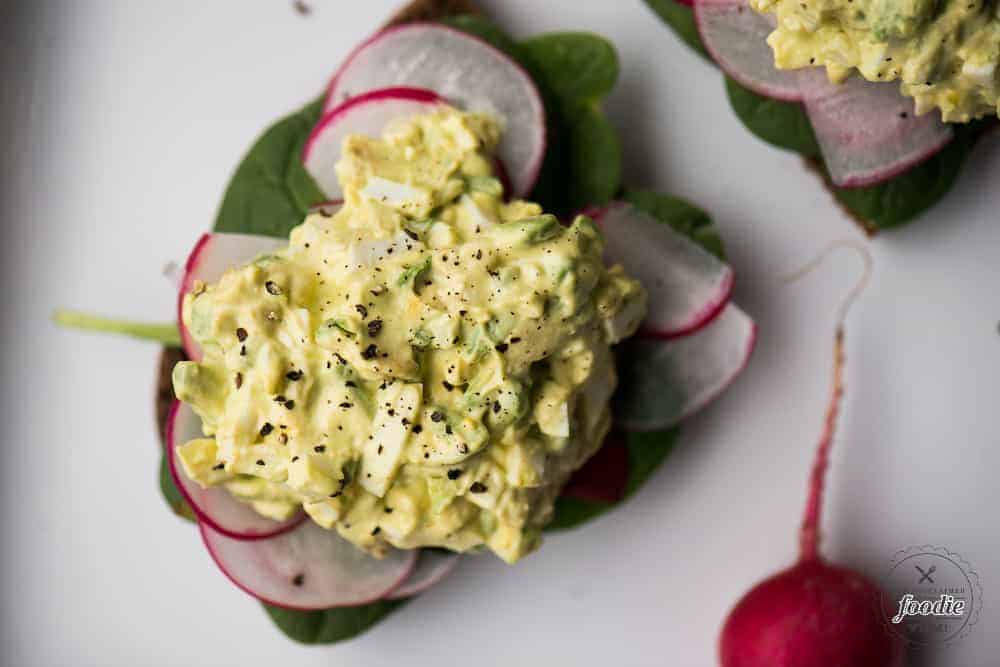 What do you put in avocado egg salad?
I put hard boiled eggs, ripe avocado, mayonnaise, and a bit of mustard. I know there are people out there who don't like mayonnaise, and there are options for you. If you want to make egg salad without mayo, you can easily substitute sour cream or greek yogurt for the mayo. If you're making avocado egg salad, you can completely omit the mayo and/or dairy and use the avocado to make it creamy. A bit of olive oil can thin it out if it's too thick.
The only other thing needed for egg salad is salt and freshly ground pepper. I like to go above and beyond and use Jacobsen's black garlic salt. It's not cheap, but it's harvested by hand from the Oregon Coast and is worth every penny.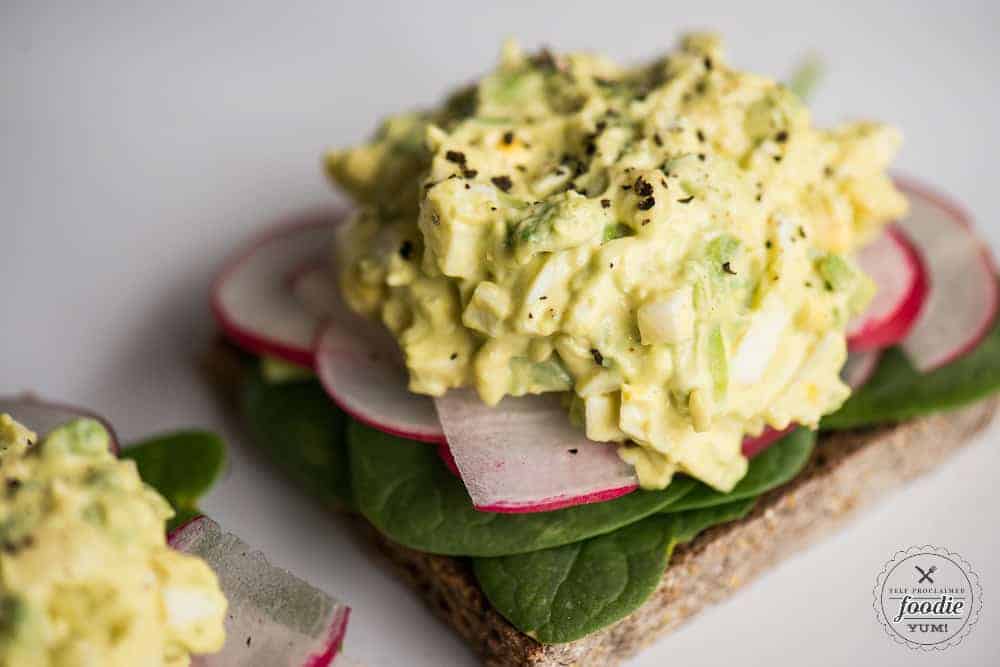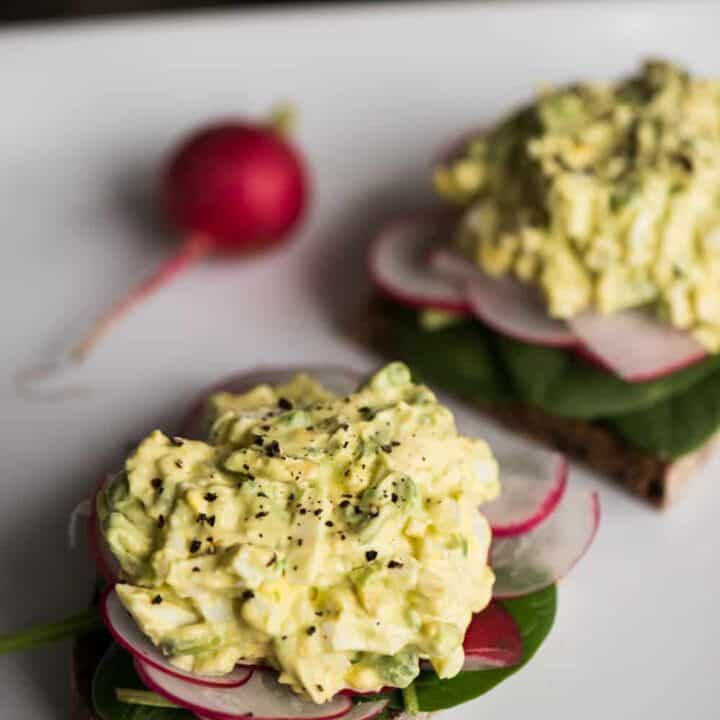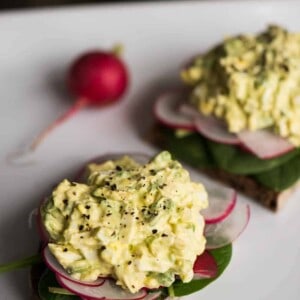 Avocado Egg Salad combines creamy mashed avocado with traditional egg salad for a delicious quick and easy lunch.


Instructions
Cook and peel the hard boiled eggs. You can either follow my stovetop method, or use the Instant pot to cook on low pressure for 6-7 minutes with the eggs on the trivet and 1 cup of water in the base. Either way, transfer cooked eggs to an ice bath before peeling.

Chop the hard boiled eggs and add to a large bowl.

Chop or mash the peeled avocado. Add to the eggs. Add mayonnaise and mustard. Stir well to combine. You can add more mayo and/or mustard if you prefer. Add salt and pepper, to taste.
Notes
Egg salad will keep in the refrigerator for at least 5 days if stored in an air tight container.
Nutrition
Calories:
306
kcal
,
Carbohydrates:
3
g
,
Protein:
11
g
,
Fat:
27
g
,
Saturated Fat:
5
g
,
Cholesterol:
335
mg
,
Sodium:
255
mg
,
Potassium:
283
mg
,
Fiber:
2
g
,
Vitamin A:
535
IU
,
Vitamin C:
3.4
mg
,
Calcium:
53
mg
,
Iron:
1.8
mg
Nutrition information is automatically calculated, so should only be used as an approximation.
Love avocado recipes?
Then you'll certainly love these tasty options: