Apple Fritter Monkey Bread combines homemade dough with a flavorful cinnamon sugar apple filling and sweet glaze for the ultimate overnight breakfast treat!
Inspired by my ever-so-popular Granny's Monkey Bread Recipe and my no sugar added Vanilla Bean Honeycrisp Homemade Applesauce, this monkey bread recipe goes a step further by using homemade dough from scratch! You can always use biscuit dough from a tube if you don't want to wait. No judgement here!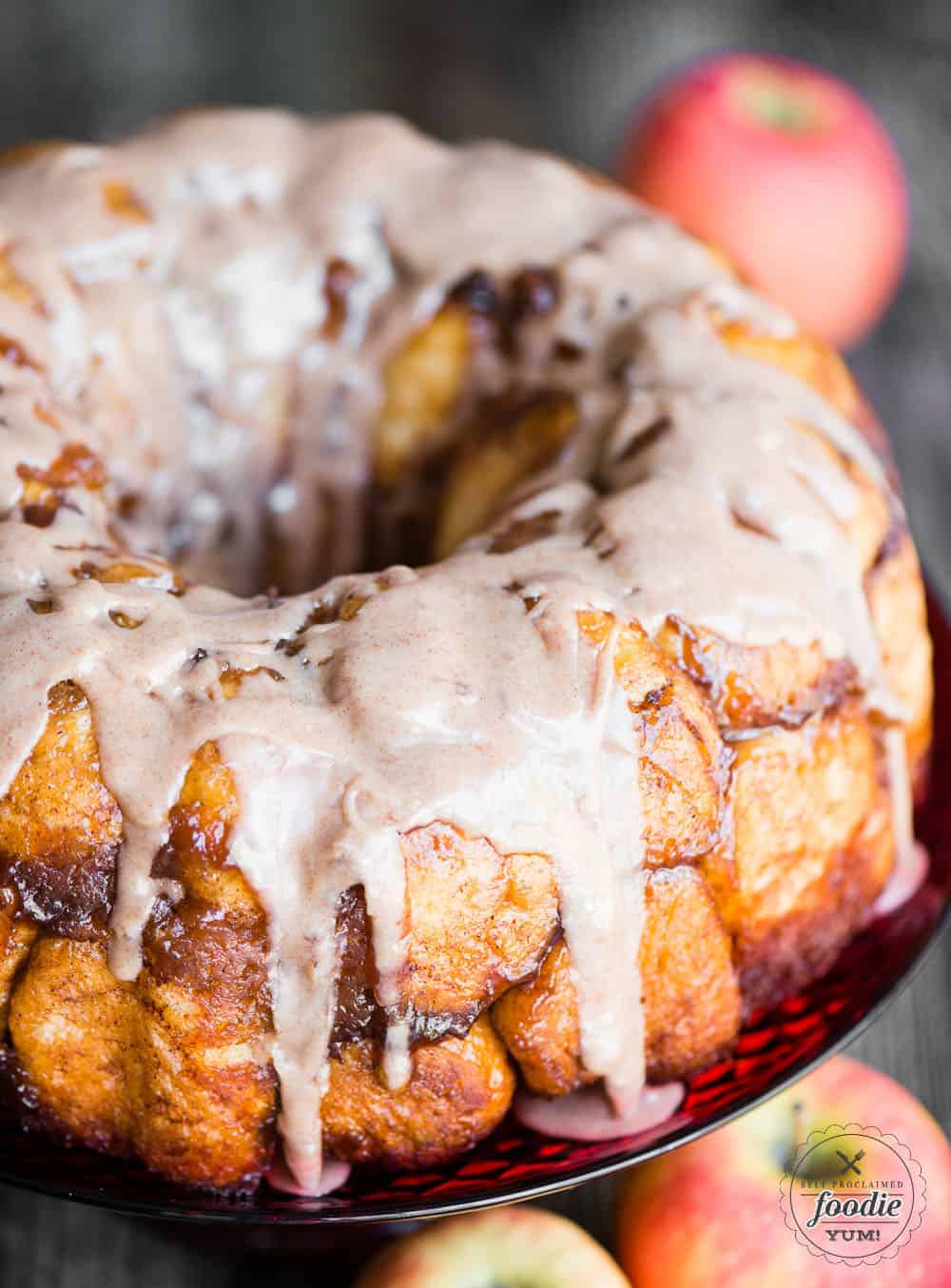 Apple Fritter Monkey Bread is like the regular monkey bread, full of sugar, cinnamon, and butter, only better. Way better. Why? Because it tastes like an apple fritter. Plus it's made with homemade dough and smothered with a sweet glaze. What's not to love?
My standard monkey bread recipe that everyone knows is a bit of a cheat because I use biscuit dough from a tube. My poor readers outside the US don't even know what that is! I personally don't like the way that tubed biscuit dough tastes, and opening that pressurized package nearly gives me a heart attack every time, but you can't argue with the fact that it's ridiculously easy. Making homemade apple fritter monkey bread with homemade dough is definitely not the easiest recipe in the world, but if you love to bake or are just in the mood to bake, you'll love it!
How to make apple filling:
I had two options: use cut apples or applesauce. The decision on which one to use was actually quite simple for me. I figured that if I used chunks of apples, they likely wouldn't stick to the pull apart bites of the monkey bread, no matter how sticky sweet and ooey gooey they were. I knew that if I cooked down my homemade applesauce with a bit of sugar and spice and everything nice, it would add intense apple flavor to my monkey bread.
How do I know that cooking down homemade applesauce turns into something wonderful? Well, one year when I was making my applesauce in the crockpot, I sort of forgot about it and it cooked wayyyyyy longer than it should have. It transformed from apple sauce to apple compote which got turned into the most heavenly cheesecake. Let's just call that a happy accident.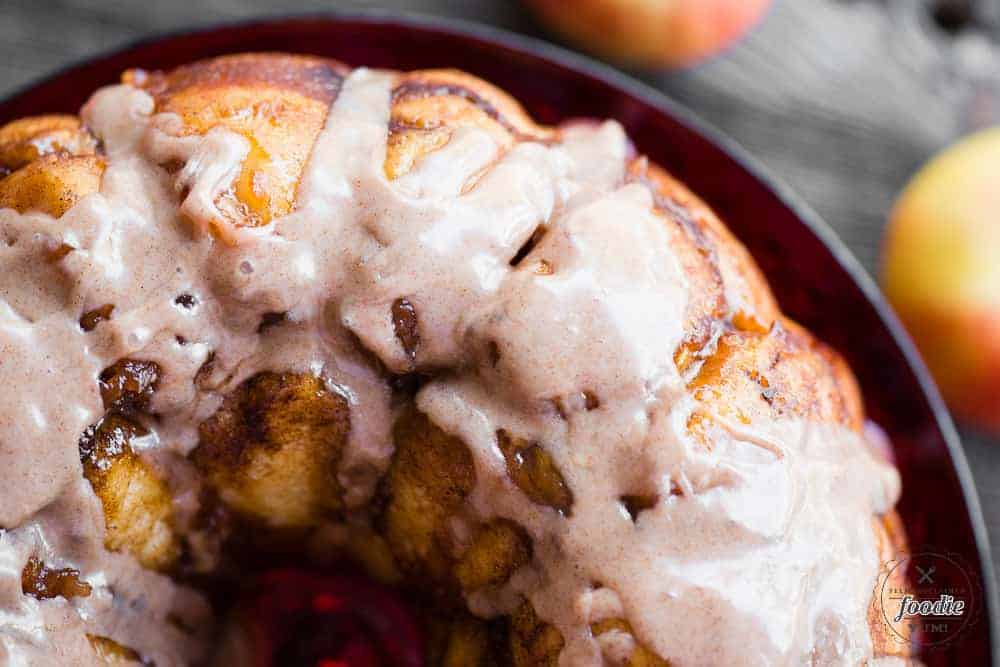 How to make overnight monkey bread:
When you make your own homemade dough for recipes like this apple fritter monkey bread, turning it into an overnight treat is easy.
You see, when you use homemade dough, you must let it rise not once, but twice. If you've never made homemade dough, don't let this part scare you away. It's actually quite satisfying to watch it rise and then knock the air out of it.
The first rise if after you mix and knead the dough. Then you get to punch it down. I make homemade bread purely to enjoy this single step. It is beyond satisfying.
The second rise comes after you roll each dough ball in melted butter and sugar and cinnamon and sweetened apple filling. Yes, you read that right. No one said this apple fritter monkey bread was going to be healthy. You can do this second rise on the counter at room temperature pretty quickly, or you can stick the monkey bread in the covered bundt pan refrigerator overnight.
Overnight is my preference because I love to be able to stick it straight into the oven when the mess has already been cleaned up. Plus, our family loves to enjoy monkey bread in the morning, and unless you like to wake up several hours before the sun rises, you won't be able to have this ready by breakfast time.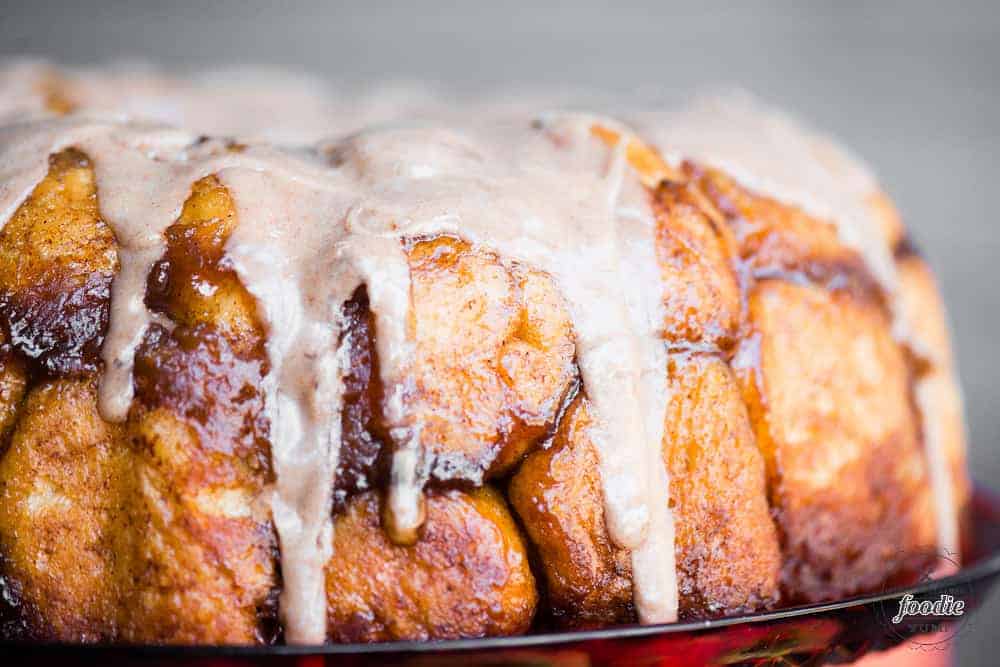 Apple Fritter Monkey Bread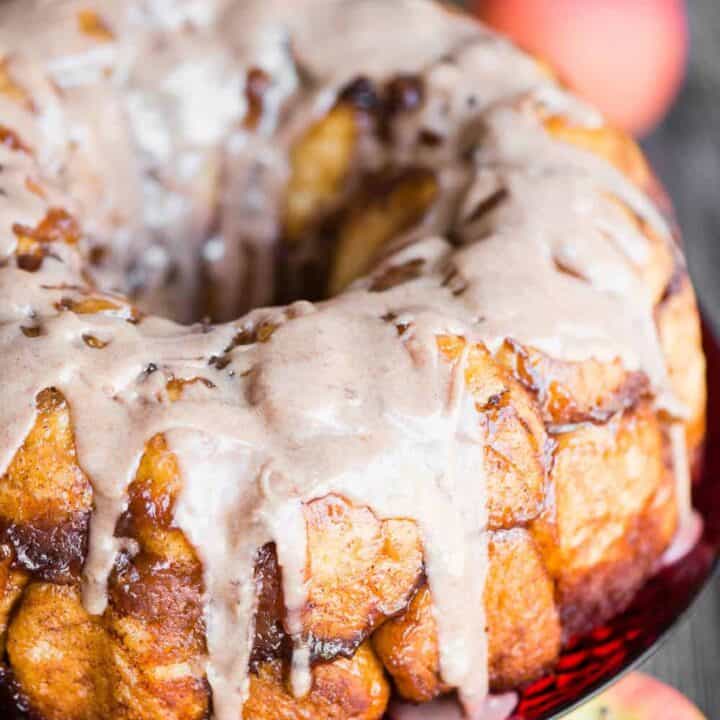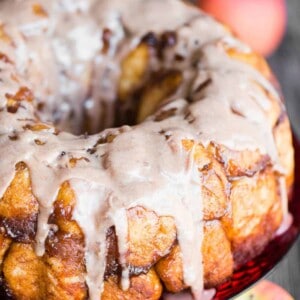 Apple Fritter Monkey Bread combines homemade dough with a flavorful cinnamon sugar apple filling and sweet glaze for the ultimate overnight breakfast treat!
Ingredients
Instructions
To prepare the apple filling:
Combine applesauce, sugar, cinnamon, lemon juice and butter in medium sized pot. Cook over medium high heat until it cooks down and most of the moisture has evaporated. Set aside.
To make the dough:
In bowl of large stand mixer, whisk together yeast, 1/2 cup flour, warm milk and sugar until smooth. Allow to stand 15 minutes until foamy (like the top of a latte). The presence of foam is the indicator that your yeast is good.


Mix beaten egg with the melted butter and salt. Add to the yeast mixture and stir to combine. Add 3 cups flour.


Using a dough hook, mix on low speed to combine ingredients and then knead dough, 5-6 minutes. If after a minute or so you have ingredients sticking to the sides or the bottom of the bowl, use a spatula to loosen and continue the mixing and kneading. Dough should be slightly sticky and elastic but not actually stick to a spatula when poked.


Transfer dough to another work surface. Wipe out bowl and drizzle olive oil. Form dough into smooth ball. Place in oiled bowl, cover with plastic wrap, and leave in warm room to rise and double in size, about 1-2 hours.

When ready to assemble monkey bread, punch down dough. Transfer to a floured work surface and cut into 64 pieces (cut in half, then each piece in half, etc until you have 64). roll each piece into a ball.
To make the monkey bread:
Butter or oil spray a 12-cup bundt pan. Combine the brown sugar and cinnamon from the coating ingredients in a small bowl. To assemble, take each dough ball, dip it in the melted butter, roll in brown sugar cinnamon mixture, and place in bundt pan. Add half the dough to the pan, top with half of the cooked down applesauce, add remaining dough balls, and finish with remaining cooked down applesauce. If there is any remaining melted butter or brown sugar, throw it in as well!

Cover pan tightly with plastic wrap and allow to rise at room temperature for at least an hour or in refrigerator overnight.

To bake, preheat oven to 350 degrees F, remove plastic wrap, and bake in preheated oven about 35-40 minutes or until top is deep golden brown.

Remove from oven, allow to cool in pan on wire rack for about 5 minutes, then invert onto plate.

To make the glaze, whisk ingredients together in small bowl. Drizzle over hot monkey bread on plate. Best if served warm and fresh!
Notes
Recipe for honeycrisp applesauce: https://selfproclaimedfoodie.com/honeycrisp-applesauce/
Nutrition
Calories:
361
kcal
,
Carbohydrates:
70
g
,
Protein:
6
g
,
Fat:
6
g
,
Saturated Fat:
3
g
,
Cholesterol:
26
mg
,
Sodium:
243
mg
,
Potassium:
181
mg
,
Fiber:
3
g
,
Sugar:
39
g
,
Vitamin A:
195
IU
,
Vitamin C:
1.2
mg
,
Calcium:
60
mg
,
Iron:
2.2
mg
Nutrition information is automatically calculated, so should only be used as an approximation.