These tasty and fool proof Tailgate Carnitas are slow cooked in the crockpot with green chile and Dr Pepper ahead of time and crisped up hot on game day.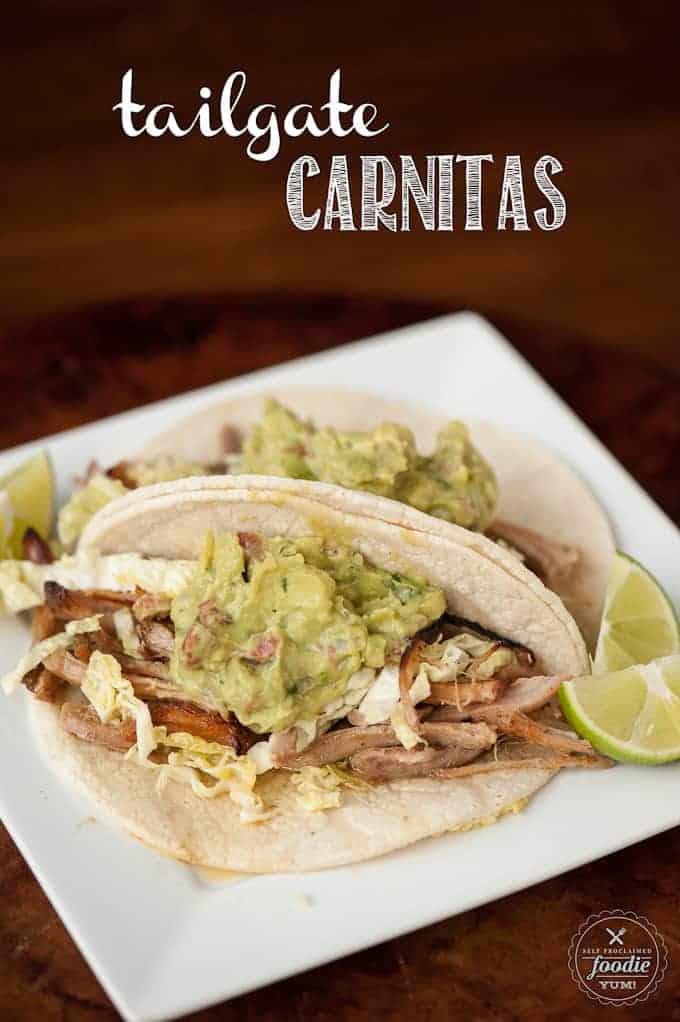 Have you ever cooked a large hunk of meat in the crockpot with Dr Pepper? If not, you're missing out. I have no idea why something like Dr Pepper + a roast + a slow cooker work so magically well together, but they do. All I did to make these carnitas was to throw a pork roast in the crockpot along with an onion, a bottle of Dr Pepper, a can of diced green chiles, and a spoonful of cumin. You can totally walk away at that point, but I prefer to rotate the roast a couple of times just to make sure all the sides get a chance to evenly bathe in the Dr Pepper bath.
It's like pure magic. The meat just falls off the bone and shreds beautifully. Then, the secret is to strain the liquid and cook it down until it becauseomes even more flavorful. This is a perfect recipe for tailgating because you can do all the work the day before the big game and then just crisp up the meat on a little burner right there in the parking lot. The smell alone will drive all the surrounding fans totally bonkers with envy.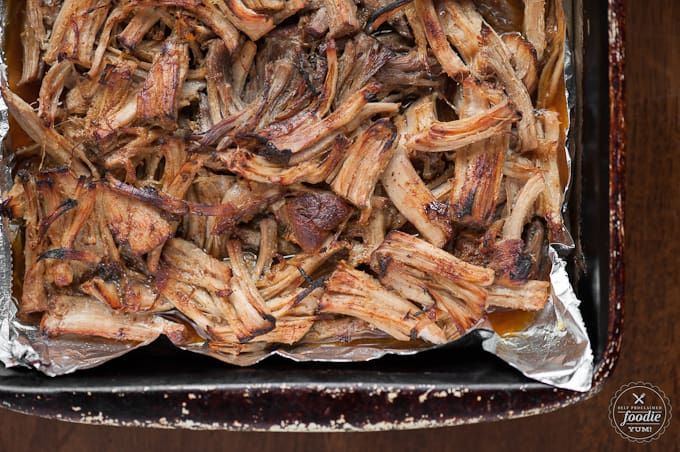 I'm a simple girl when it comes to eating carnitas. I start with some fresh corn tortillas and prefer to double them up for each taco for added support.
Load those tortillas up with that hot sizzling meat.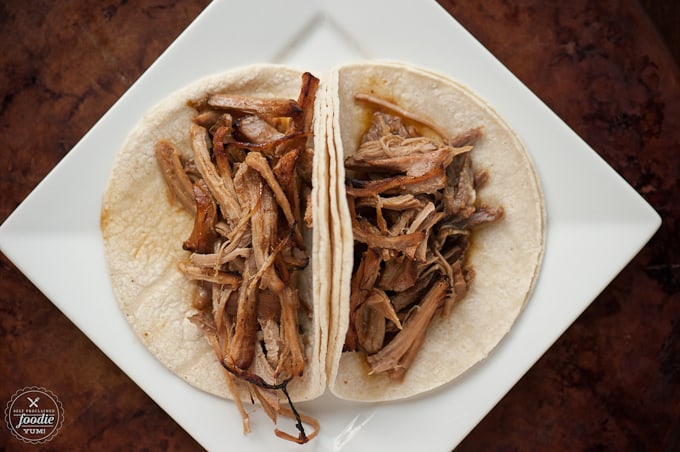 Top with a bit of delicious citrus cumin cole slaw.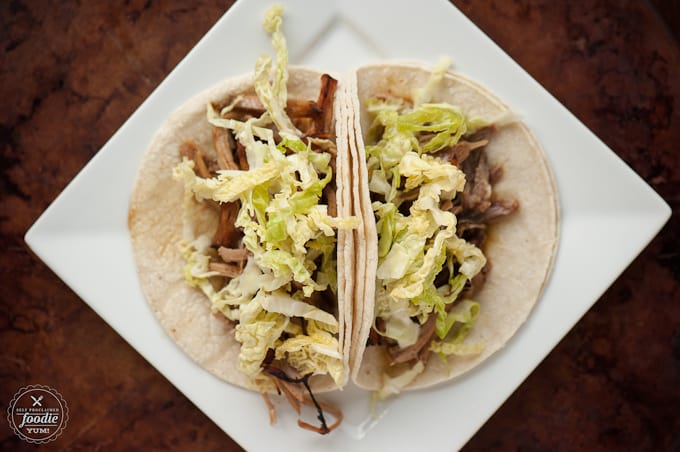 And a scoop of guacamole for good measure. YUM! I'm a total game day fan because I really couldn't care less about which team wins or loses. Heck – I don't even understand most football rules. But the thing I love most about football is the game day grub. The idea of driving to a game and hanging out in the parking lot on a crisp cool autumn day with good friends all decked out in their favorite team gear with all of us standing around, laughing, having a good time, with an endless supply of delicious hot food… yeah, that's my kind of day. Perhaps someday I'll start caring about which teams play or even the technical aspects of the game, but in the meantime I'm happy being one of those fans who cares more about the food and the friends than the actual game.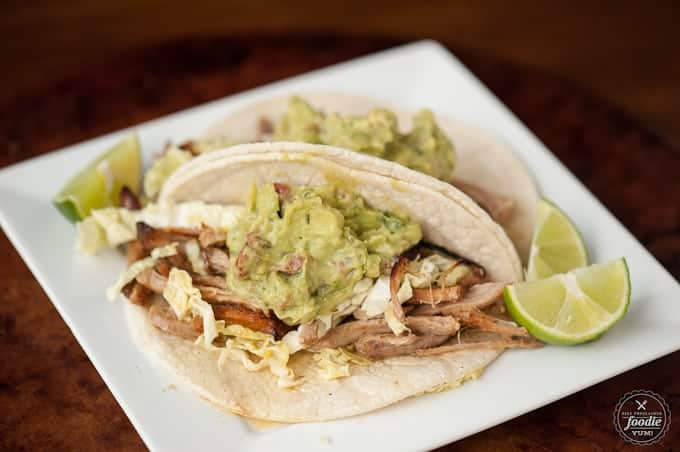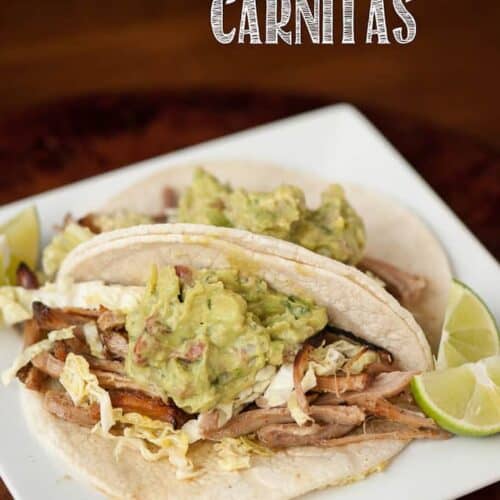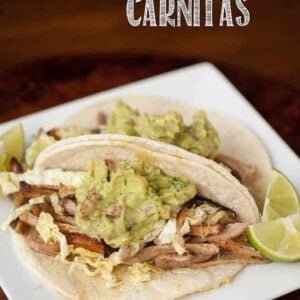 These tasty and fool proof Tailgate Carnitas are slow cooked in the crockpot with green chile and Dr Pepper ahead of time and crisped up hot on game day.
Instructions
Place onion in slow cooker. Rinse roast and place on top of onion, fat side up. Add Dr Pepper, green chiles, and cumin. Set slow cooker to low and cook for 6 hours. If you're around, rotate the roast a couple of times do that the different sides are in the liquid for at least an hour. Be sure to start and finish the cooking process, however, with the fat cap up.

After 6 hours, the roast should easily fall apart and the bone should separate from the meat. If it doesn't, allow roast to cook on low for another 2 hours.

Transfer roast to cutting board and allow to cool enough to shred meat away from fat and bone.

Meanwhile, strain crockpot liquid from solids and discard the solids. Transfer the liquid to a medium sized saucepan and add salt. Boil over high heat for about 15 minutes to reduce.

When ready to eat, combine shredded meat with reduced liquid. To crisp up in a broiler, spread meat in a thin layer on a baking sheet and drizzle with oil. Broil on high for about 5 minutes. To crisp up in a frying pan, heat oil in large pan over high heat and then add meat. Do not stir. Allow to cook in hot oil for about 5 minutes.
Nutrition
Calories:
207
kcal
,
Carbohydrates:
10
g
,
Protein:
21
g
,
Fat:
9
g
,
Saturated Fat:
4
g
,
Cholesterol:
70
mg
,
Sodium:
429
mg
,
Potassium:
386
mg
,
Fiber:
1
g
,
Sugar:
8
g
,
Vitamin C:
4
mg
,
Calcium:
21
mg
,
Iron:
1
mg
Nutrition information is automatically calculated, so should only be used as an approximation.