This blended non-alcoholic Strawberry Coconut Lava Flow made with fresh strawberries, pineapple juice and coconut cream is the perfect tropical mocktail.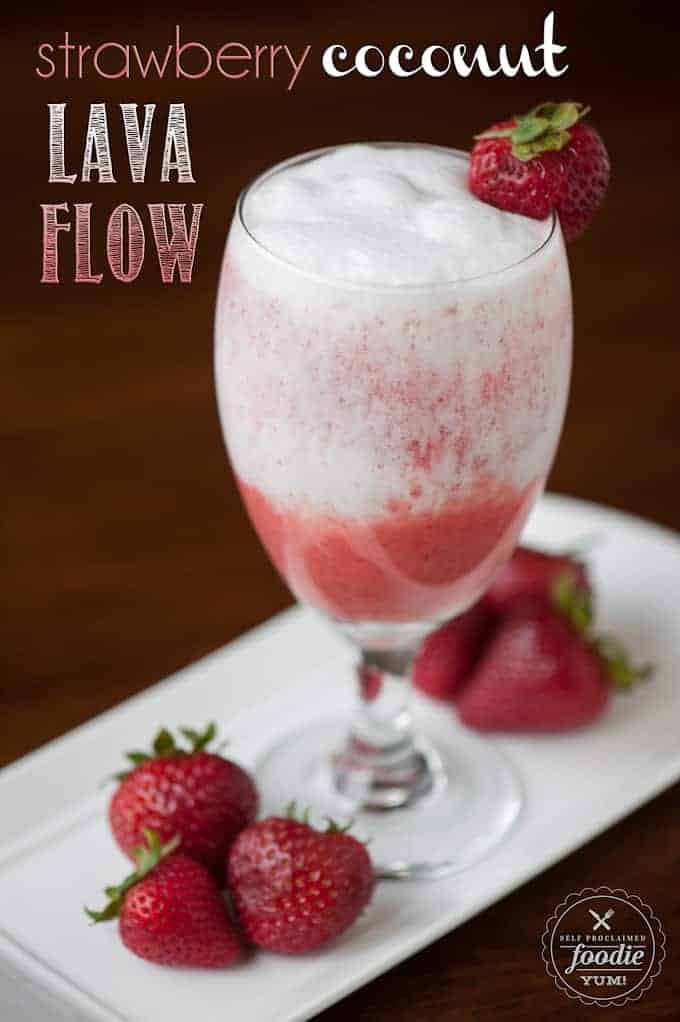 I saw the most beautiful red and white layered drinks the other day while I had a 15 minute block of time to fill and I used it staring at food photos on the internet. I got the bright idea that I would make said red and white layered drink. It can't be that hard to blend up something delicious that settles into perfectly uniform layers, right?  Well, I got the delicious part down, just not so much the layered part. Not to worry. Your mouth won't care - I promise you. I still ended up alternating the pour of my red and white layers, they just mixed to together a little more than I had wanted. I'll tell you one thing though: This drink was DE-LIC-IOUS. Oh my. I made it for my kids because it was a rare thing for me to make a delicious drink that wasn't filled with booze, but I figured I'd better let the kids have something special once in awhile too. I will never admit, however, to the fact that any time they turned their heads I stole a sip of their drinks.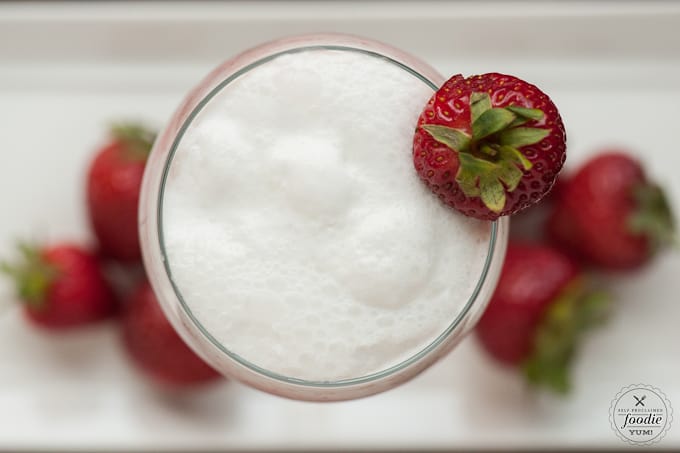 The combination of the pina colada flavors from the pineapple juice and coconut cream mixed with the fresh strawberries made tart by fresh lime juice and sweetened up with simple syrup - ugh. It was pure perfection. It was creamy and tropical and perfectly sweet. It made me feel like I was sitting on a white sand beach with warm clear water. Oh yes, this drink was tasty!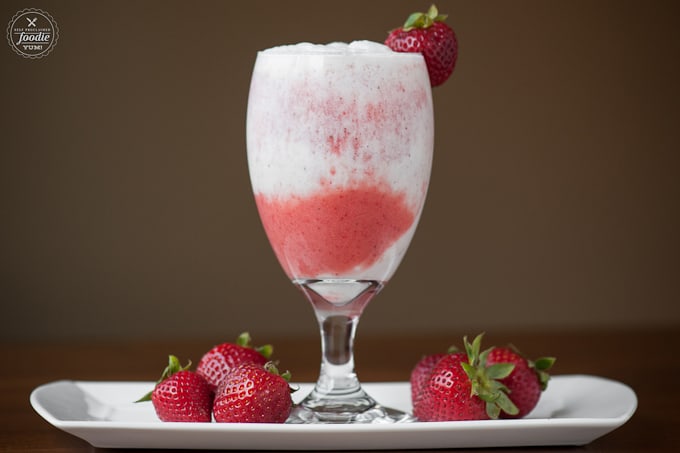 Full Recipe Instructions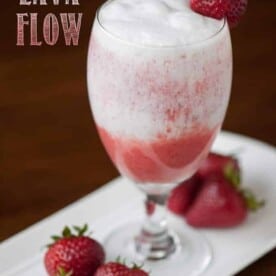 Instructions
First, blend the coconut cream, pineapple juice, and a handful of ice until smooth. Pour into a separate measuring cup and set aside. Wash out blender.

Second, blend together strawberries, simple syrup, lime juice, and a handful of ice.

Alternate pouring coconut mixture with strawberry mixture into a large glass. Garnish with a fresh strawberry. Enjoy!
Notes
If you don't have simple syrup on hand, its easy to make. Just combine equal volumes of water and sugar in a saucepan and heat while swirling just until sugar dissolves. Cool before using and store in air tight container in the refrigerator.
NUTRITION INFORMATION
Calories:
508
kcal
|
Carbohydrates:
66
g
|
Protein:
4
g
|
Fat:
30
g
|
Saturated Fat:
26
g
|
Sodium:
39
mg
|
Potassium:
533
mg
|
Fiber:
3
g
|
Sugar:
54
g
|
Vitamin C:
62
mg
|
Calcium:
23
mg
|
Iron:
5
mg
Love fresh strawberry recipes?
Well then you'll have to make these summer favorites: