This sweet and rich Lemon Pistachio Cake is sure to impress with its pistachio cookie crust, melt-in-your-mouth lemon cake, and lemon zest icing.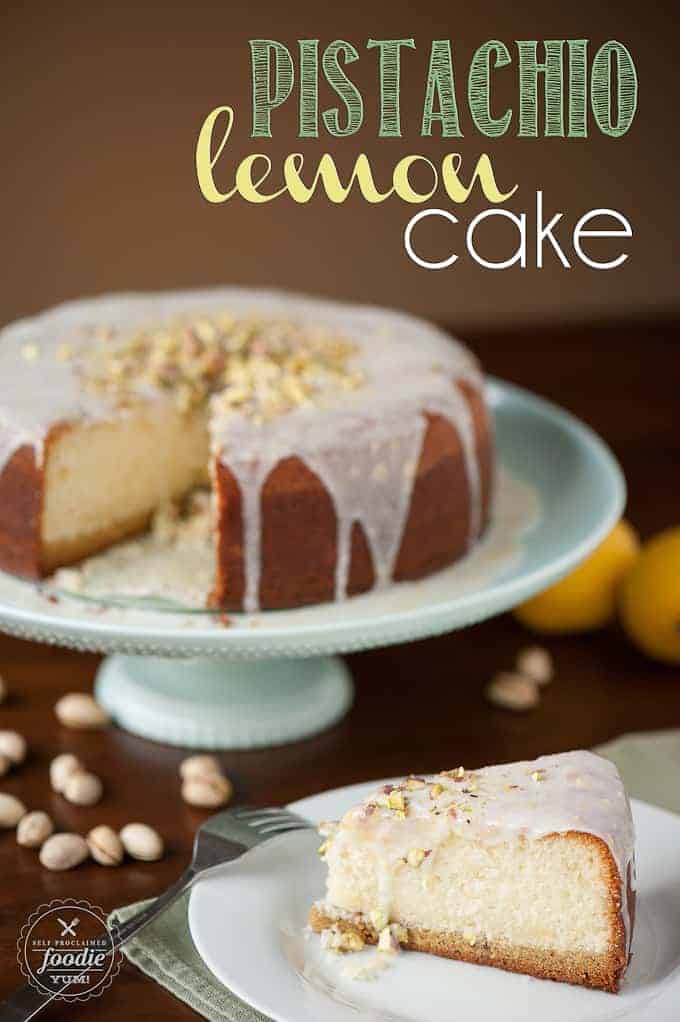 Isn't that cake pretty? I feel like I should insert a pause or something to allow you a minute to look. Or am I the only one that can just sit and stare endlessly at food? Maybe so.
One of my most favorite flavors is pistachio. I love to eat them and frankly, I just think they're a beautiful nut. Again, allow me to ask if you think I am a total weirdo for saying that something like a nut is beautiful. But have you ever taken a few minutes to fully appreciate the rich green and purple colors you see on each of the nuts? Gorgeous.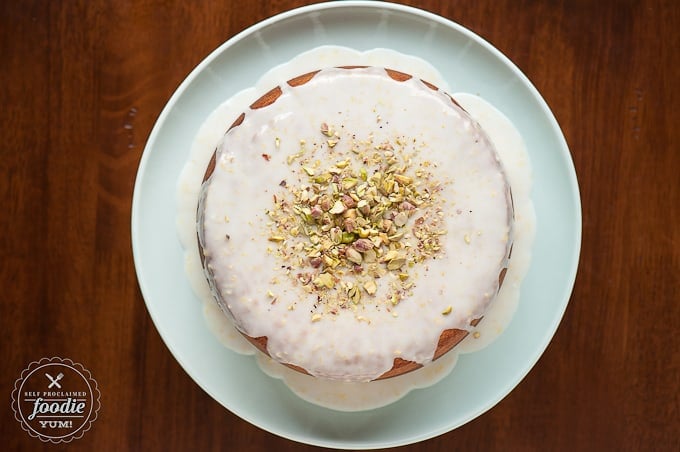 After some soul searching, I realized I wanted to make a pistachio lemon cake. I wanted the cake to have a pistachio cookie crust and a moist, flavorful lemon cake with a tight crumb on top. Lemon is such a strong flavor that I didn't want it to over power the pistachio. It turns out, using a super strength oil can pack a lot of punch! I wanted the two flavors to dance together in my mouth, so a teeny bit of the pistachio oil was the perfect amount to give my pistachios the bump they need to match the tart lemon flavor.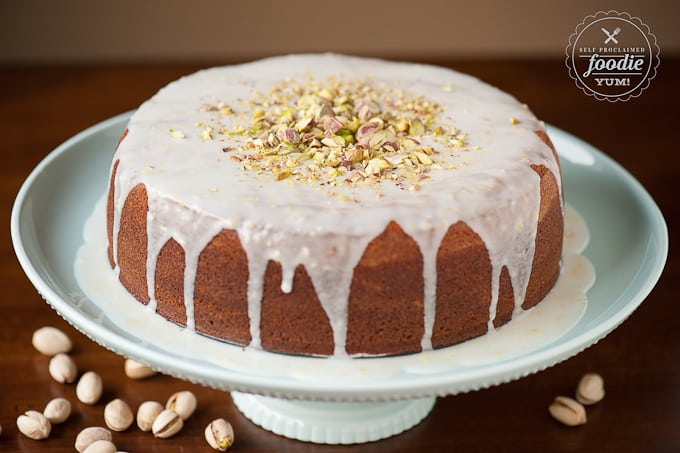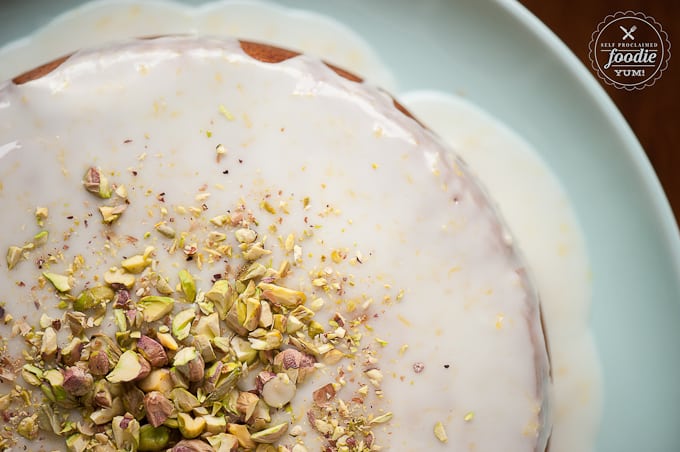 This pistachio lemon cake turned out so delicious. I was very proud of myself. If you wanted, you could easily double the pistachio recipe and half the lemon cake recipe for a completely different result. This one turned out great as is though, because you get the luscious wonderful lemon cake but it is smack dab in the middle of a tart and sweet icing with crunchy raw pistachios, and a rich crunchy pistachio cookie crust. YUM YUM and more YUM.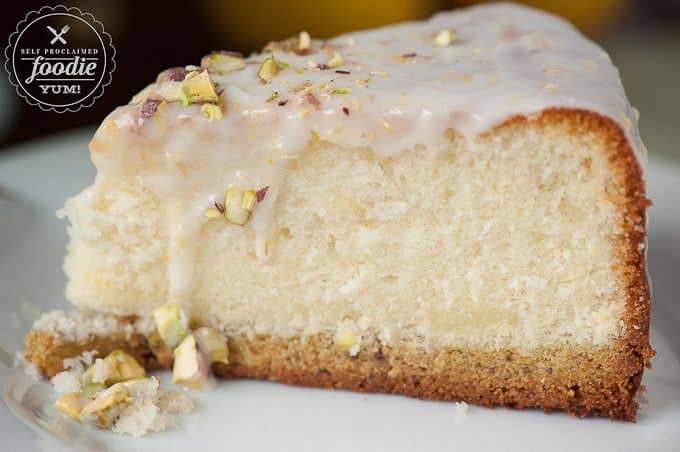 And in true Self Proclaimed Foodie fashion, I had to enjoy that first bite as soon as I got my photographs. Don't you just want to reach into your screen and shove that fork in your mouth? As you might now, I love any kind of bite where I get a little bit of everything on my fork.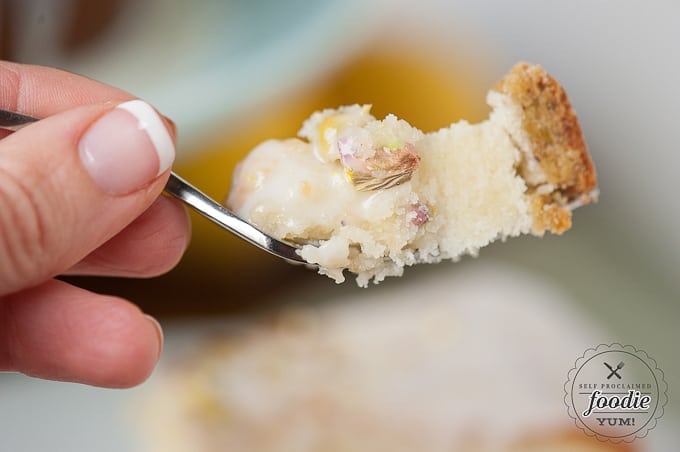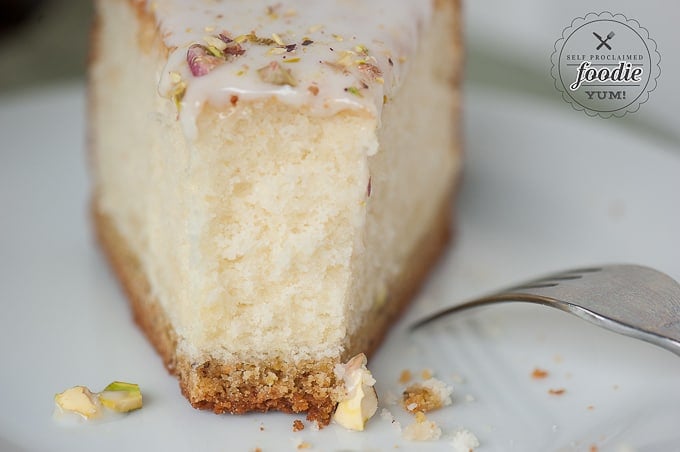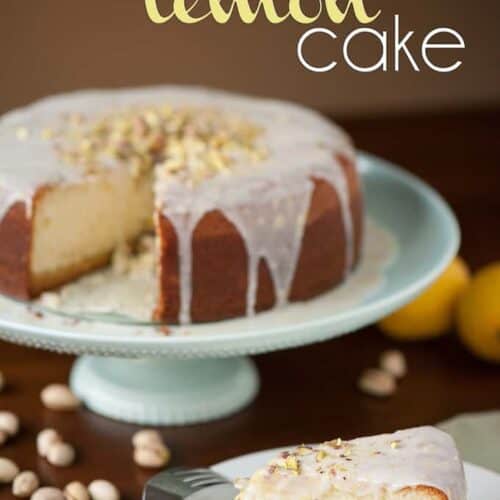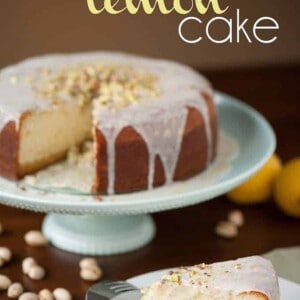 This sweet and rich Lemon Pistachio Cake is sure to impress with its pistachio cookie crust, melt-in-your-mouth lemon cake, and lemon zest icing.
Ingredients
Cake layer:
9

ounces

cake flour

9

ounces

granulated sugar

1

tablespoon

plus 1 teaspoon baking powder

3/4

teaspoon

kosher salt

6

ounces

unsalted butter

softened

8

ounces

milk

3

large eggs

2

ounces

vegetable oil

2

teaspoons

lemon extract

zest from one lemon

1/4

cup

lemon juice
Garnish
additional chopped pistachios
Instructions
Preheat oven to 350 degrees F. Line bottom of a springform pan with parchment paper and grease the sides with butter.
Prepare the pistachio layer:
Add flour, pistachios, and powdered sugar to food processor. Process until pistachios are fine and ingredients are well combined. Add the butter, salt, and LorAnn Pistachio flavor. Process until dough forms, about 10 seconds. Press evenly into the base of the springform pan.
Prepare the cake layer:
Add cake flour, granulated sugar, baking powder, and salt to the bowl of a stand mixer. Combine well. With the paddle mixing on medium speed, add butter in small chunks until the entire mixture becomes uniform and crumbly. This takes about a minute and the flour should be well coated with the butter.

In a separate bowl, whisk together milk, eggs, oil, lemon zest and lemon juice.

With the stand mixer running on low speed, add just enough of the liquid mixture (shouldn't be more than half) to the flour to barely moisten the batter. Increase speed to medium and mix until light and fluffy, about 2 minutes. Scrape bowl, add remaining liquid, and mix on low speed until well combined, scraping as necessary.

Pour the cake batter on top of the pistachio layer.

Bake the cake for 45 minutes. Remove when it is set and a toothpick inserted comes out clean. Allow to cool in pan before removing.
To make glaze:
Whisk together powdered sugar, lemon juice and lemon zest. Add small amounts of warm water until your desired consistency is achieved.

Once the cake is entirely cool, remove it from the pan and pour the glaze over the top, spreading to the sides to allow it to drizzle over.

Top with roughly chopped pistachios
Nutrition information is automatically calculated, so should only be used as an approximation.