This Country Bacon Gravy is a simple milk gravy recipe made with bacon drippings. It is perfect for homemade biscuits and gravy.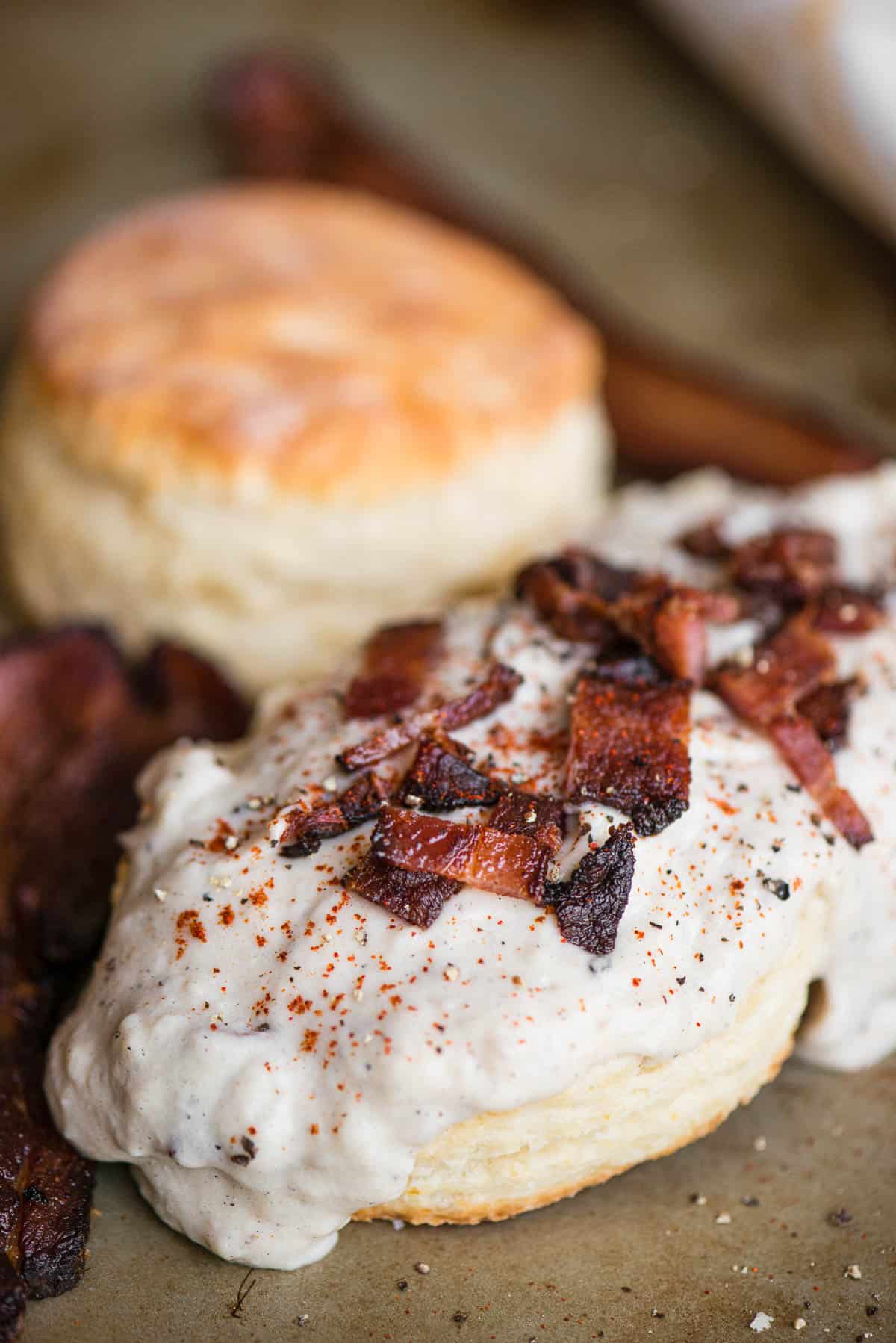 If you love biscuits and gravy with traditional sausage gravy for breakfast, you'll love this bacon country gravy version. Whether you're a star in the kitchen or this is your first time making homemade white gravy, the simple instructions will walk you through every step.
Why I love this recipe
Homemade gravy with complex flavor
Hearty breakfast when served over warm biscuits
Super easy to make
Ingredients needed
The exact quantities are listed in the printable recipe card below, but here are the simple ingredients you will need:
bacon grease along with crisp bacon bits
all-purpose flour
whole milk
salt and black pepper
How to make creamy bacon gravy
Combine the bacon grease and flour
You'll need about a quarter cup of bacon grease. If you already have rendered bacon fat available, simply measure out the amount needed. If not, you'll need to cook some bacon and reserve the drippings. See my bacon cooking tips below.
Add the bacon grease to a large skillet over medium-low heat and add the flour.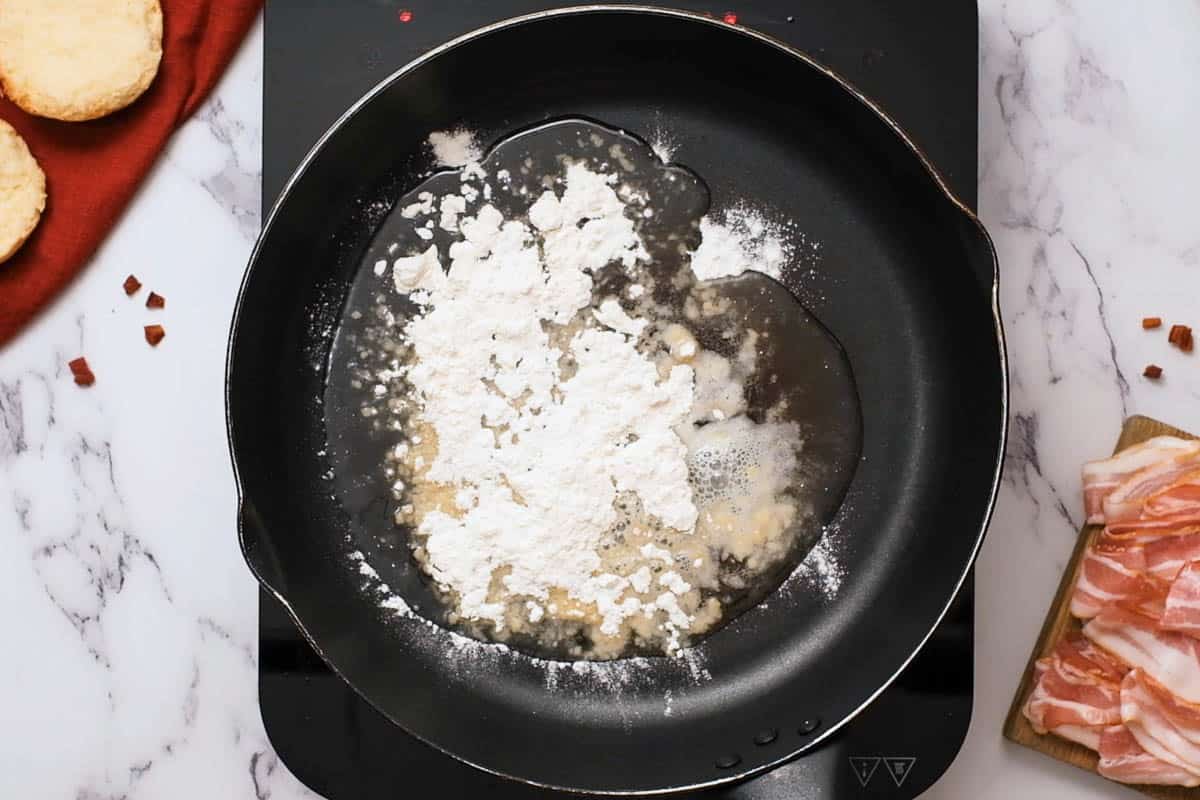 Develop the roux
Whisk the grease and the flour together regularly. It takes about 5 minutes for the roux to develop to a deep golden brown color.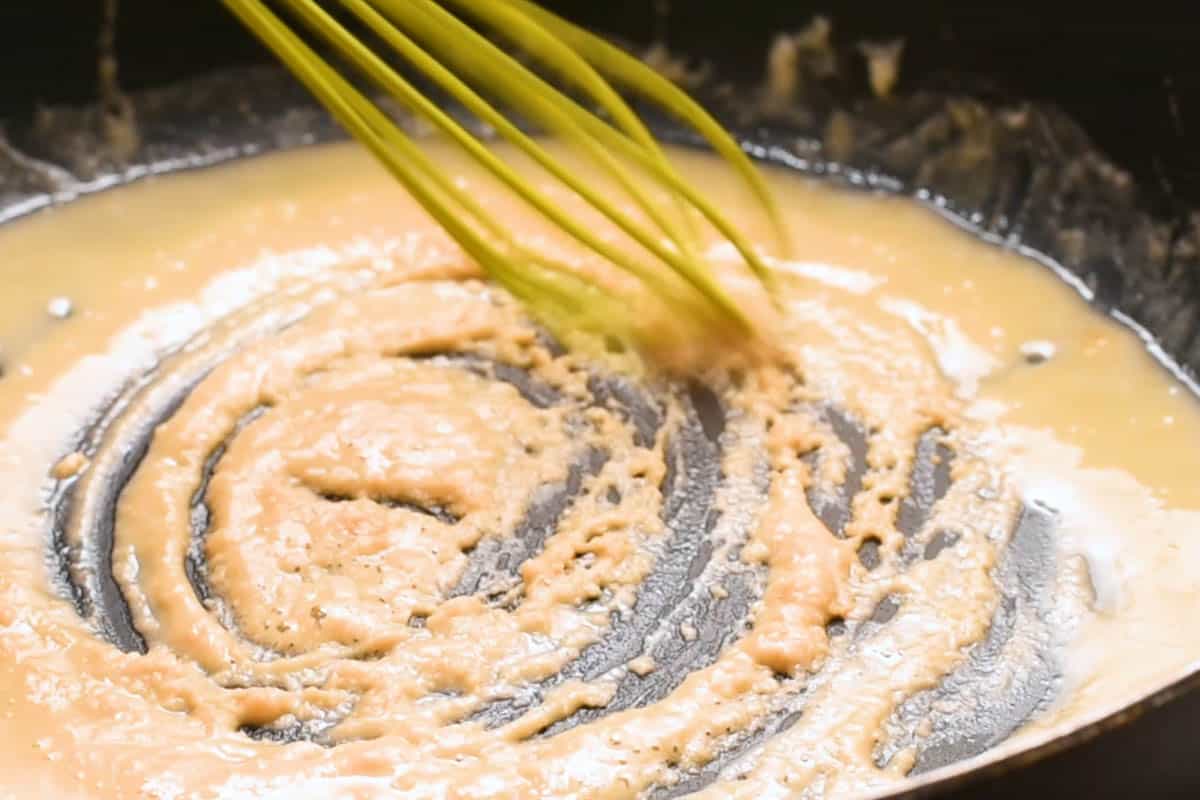 Make the savory bacon gravy
Add one cup of milk at a time and whisk the mixture together until it's nice and smooth. It might not seem like it will thicken at first, but if you continue to whisk the mixture over the heat, it will thicken.
Once all the milk has been added and it is heated through, it will be the right consistency.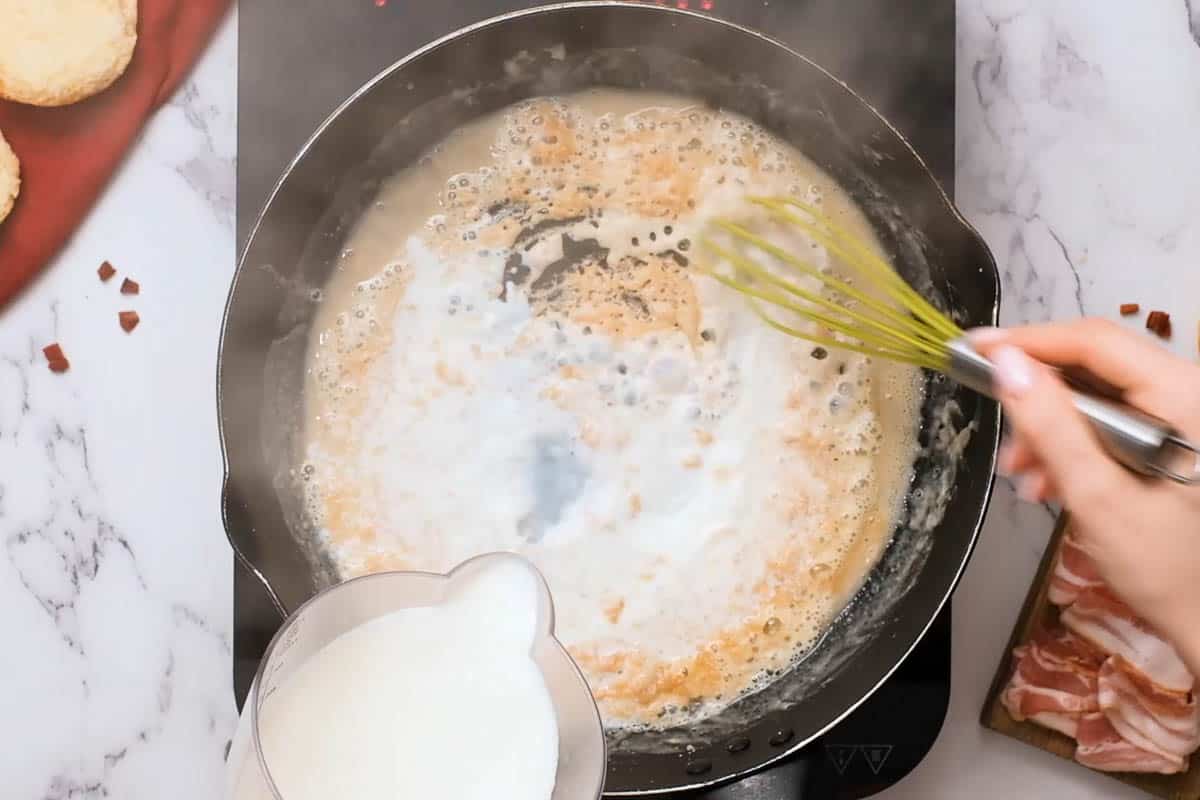 Add seasonings
Finally, add salt and pepper and give it a good taste. Adjust the seasonings as desired.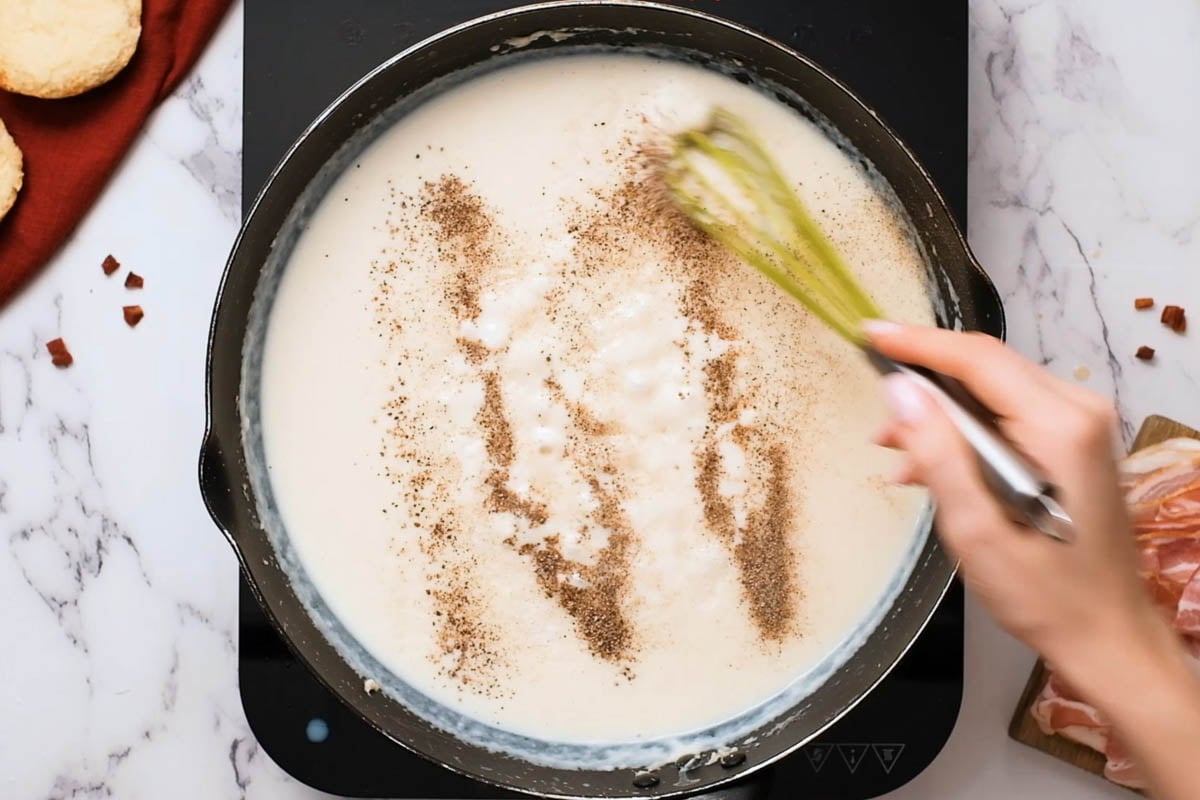 Serve and enjoy
Spoon the gravy over warm biscuits. For additional flavor and crunch, crumble bacon and sprinkle on top.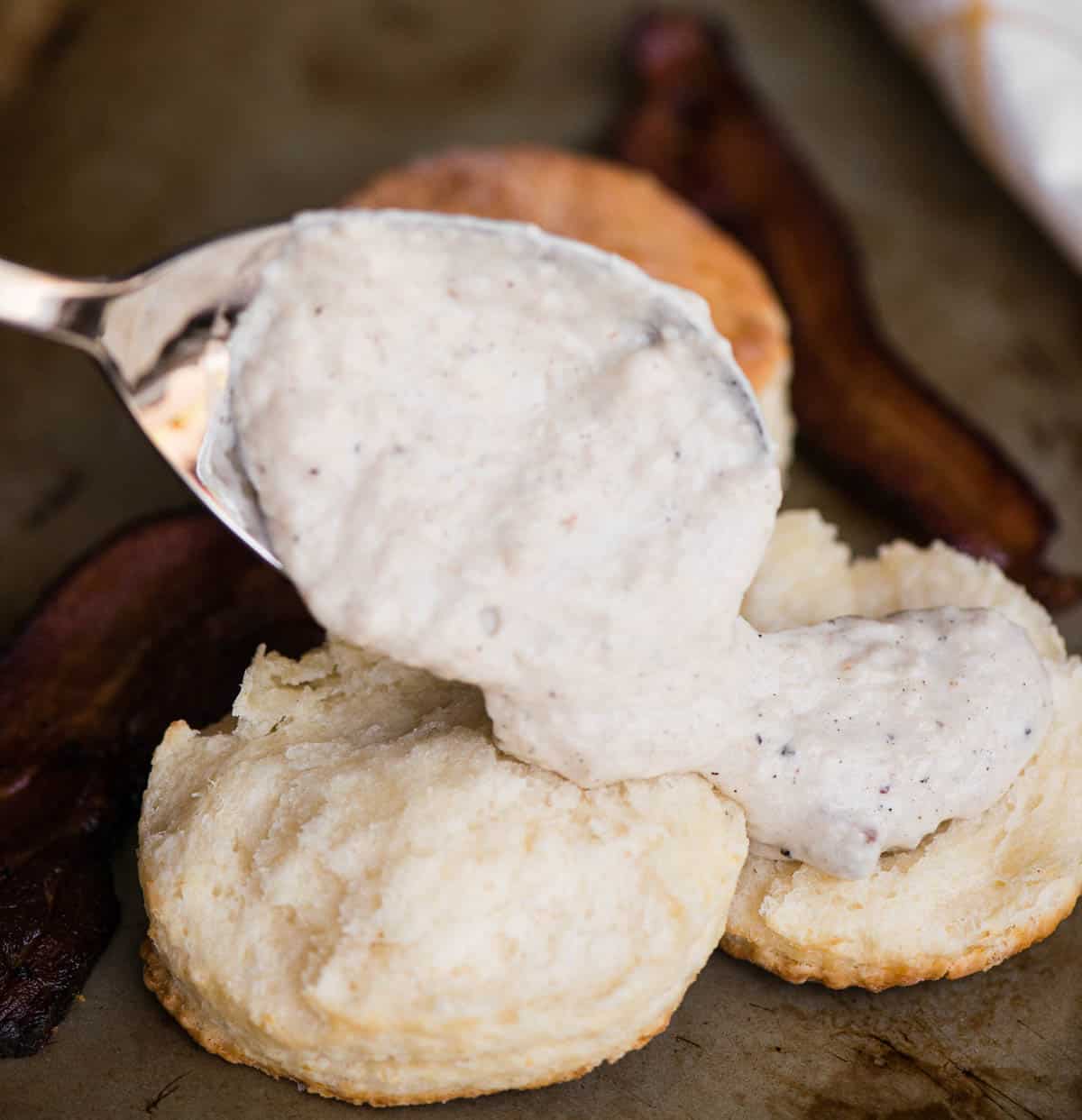 Storage and reheating
Any leftover gravy can be stored in an airtight container and refrigerated. It's best consumed within a few days.
This easy bacon gravy recipe is best reheated in a pan over very low heat. You can, however, reheat it in the microwave in one-minute increments at 50% power.
Recipe tips for best results
Thick gravy – If you find your gravy is too thick, there are several ways to thin it. You could add additional milk, but I also recommend thinning any kind of gravy with chicken stock or chicken broth. Simply whisk in small amounts until you've reached the desired consistency.
Always save the bacon grease – Any time you have cooked bacon, you'll have excess grease. Not only can you use it to make a bacon grease gravy recipe, but you can use the rendered fat to make eggs in the morning. Simply store it in a glass mason jar for future use.
Extra flavor – This recipe is fantastic as-is, but there are a few things you can add to change up the flavor. A dusting of cayenne pepper can make them extra spicy. A drizzle of maple syrup can add a sweetness that compliments the salty rich flavor.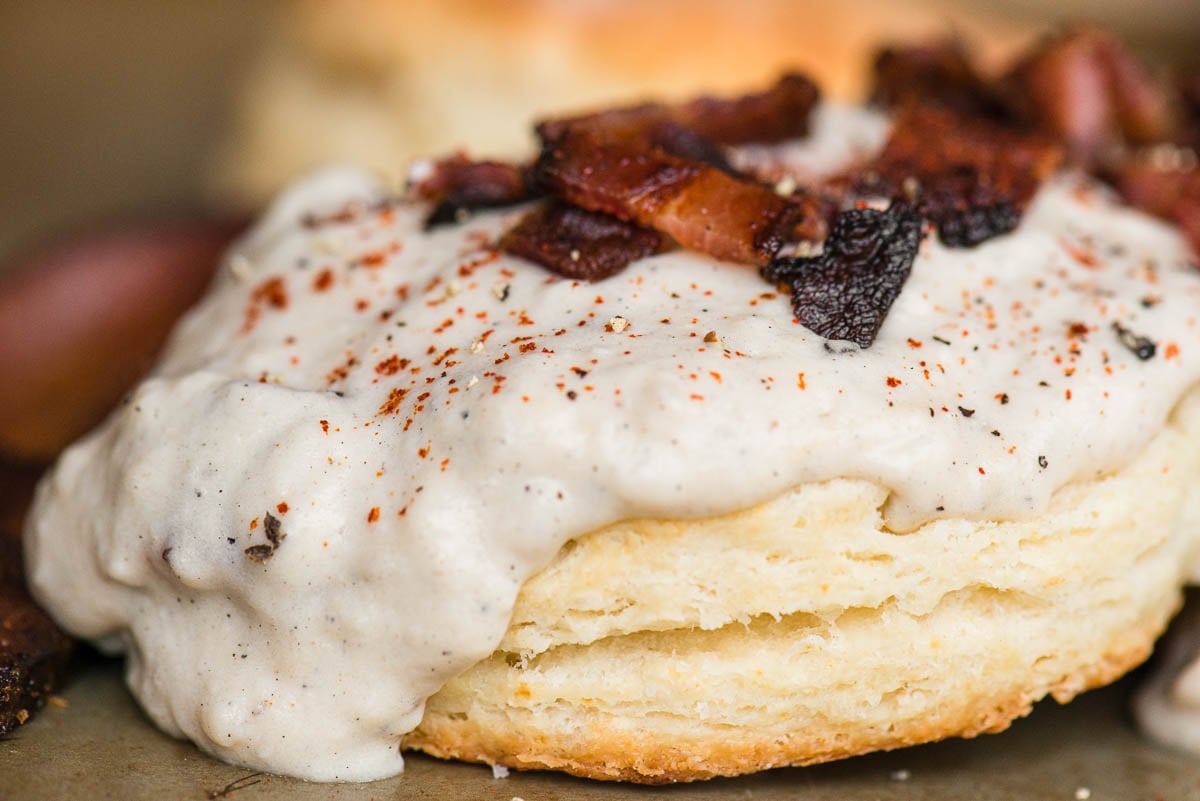 How to cook bacon properly
In order to use the reserved bacon drippings, you must either cook the bacon on the stove or in the oven, not in the microwave.
The amount of bacon needed to get the needed amount of grease will vary depending on the quality and fat content of the bacon, as well as whether you're using thick cut bacon.
Cooking bacon on the stove
My favorite way to cook bacon pieces or chopped bacon is to use a heavy bottom Dutch oven. Simply start over high heat and when the bacon pieces start to bubble and brown, consistency lower the temperature.
When the bacon is done, use a slotted spoon to transfer the bacon to a paper towel lined plate and you should have a significant amount of the reserved grease.
Cooking bacon in the oven
If you like to cook bacon slices in the oven for easy cleanup, you can still use the leftover grease. Just be sure to line the baking sheet with parchment paper and when the bacon is done cooking, the residual grease can easily be transferred to a measuring cup to make the gravy.
Other serving ideas
Although I would argue that a country-style gravy like this is perfect over fluffy biscuits, I've also found it delicious with:
Pork chops
French fries
Breakfast casseroles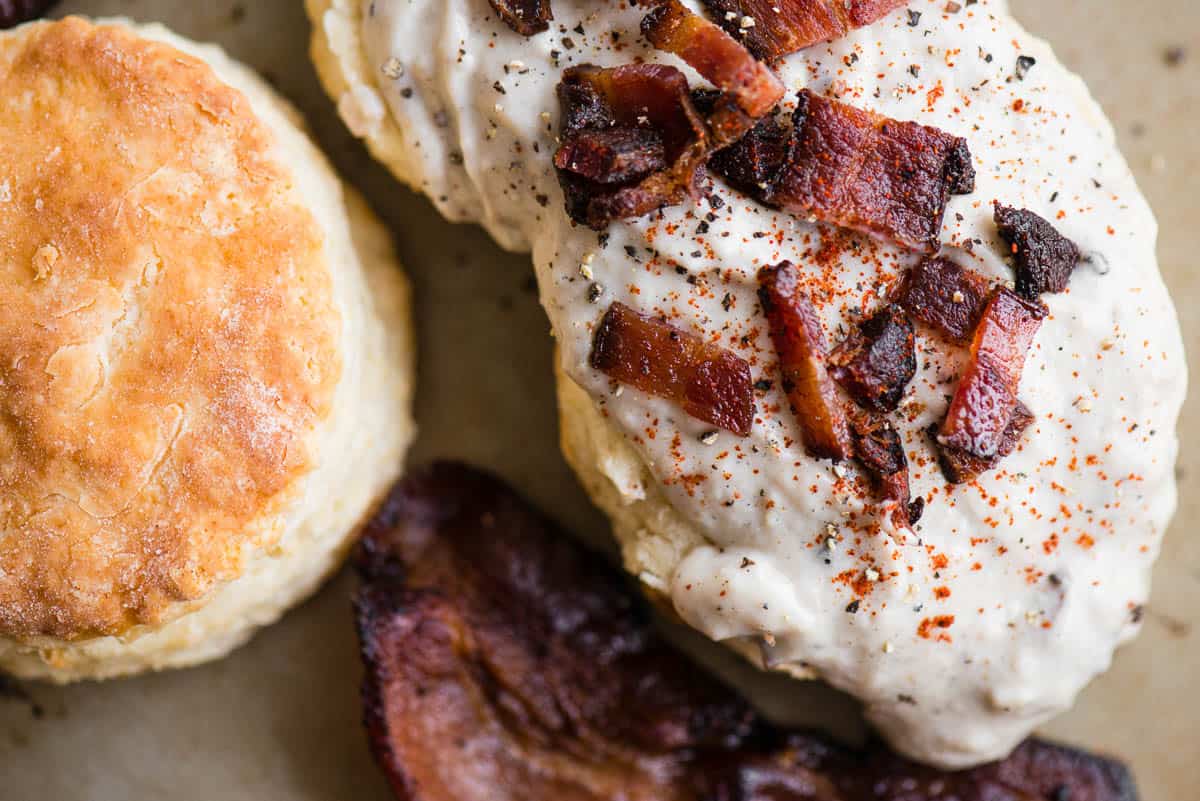 If you've made this or any other recipe on my site, let me know in the comment section how it turned out. I love hearing from my readers!
You can also follow along on PINTEREST, FACEBOOK and INSTAGRAM to see more amazing recipes to satisfy any foodie craving!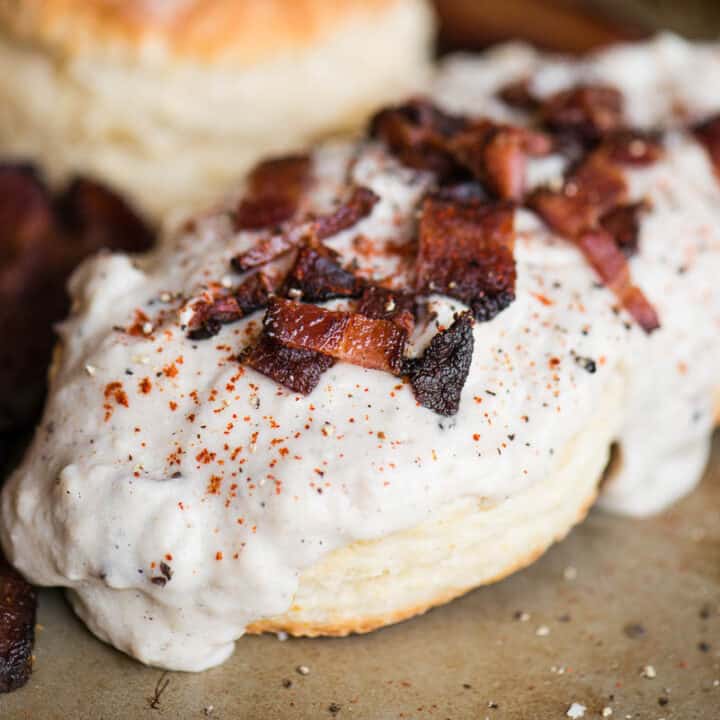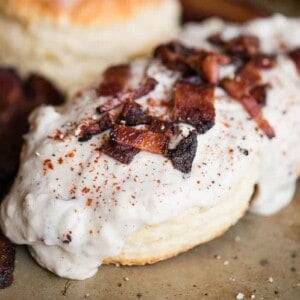 Country Bacon Gravy is a simple milk gravy recipe made with bacon grease. If you love biscuits and gravy for breakfast, you'll love this bacon gravy!
Instructions
In a heavy bottom stock pot or skillet, whisk together bacon drippings and flour over medium heat. Continue to cook until the mixture browns slightly, about 5 minutes, but be careful not to let it burn.

Add milk, 1 cup at a time, whisking thoroughly with each addition. Continue to whisk over medium heat until gravy is smooth and begins to thicken. Add salt and pepper.

Serve over warm biscuits and top with chopped bacon pieces.
Notes
1. In order for me to get 1/4 cup of bacon drippings, I had to cook an 18-ounce package. Since some people already have bacon drippings on hand, I didn't say that an 18-ounce package of bacon was necessary. Plus, depending on your bacon, you might need less to get that 1/4 cup of drippings (my bacon was pretty lean). I do, however, recommend reserving 4 pieces of cooked bacon to chop and add to the top of the bacon gravy.
2. Love my recipe for Flaky Buttermilk Biscuits! Homemade is always best!!!
Nutrition
Calories:
242
kcal
,
Carbohydrates:
10
g
,
Protein:
6
g
,
Fat:
19
g
,
Saturated Fat:
8
g
,
Cholesterol:
31
mg
,
Sodium:
552
mg
,
Potassium:
190
mg
,
Sugar:
6
g
,
Vitamin A:
200
IU
,
Calcium:
138
mg
,
Iron:
0.3
mg
Nutrition information is automatically calculated, so should only be used as an approximation.
This recipe was originally published in August 2018 and has been updated with helpful information, ingredient and process photos, as well as recipe tips. Don't worry – the recipe hasn't changed!