Country Bacon Gravy is a simple milk gravy recipe made with bacon grease.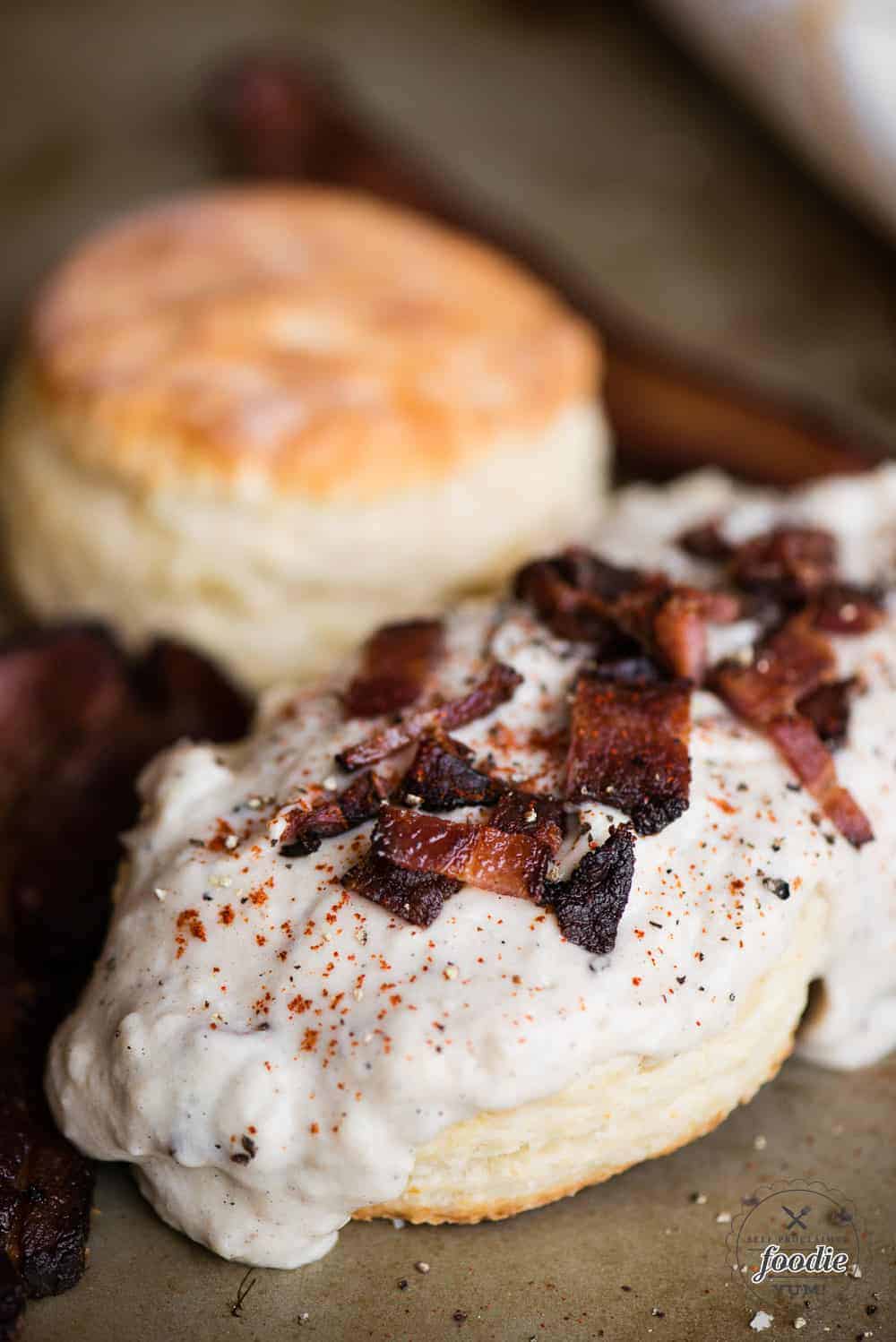 Why this recipe works:
If you love biscuits and gravy with traditional sausage gravy for breakfast, you'll love this bacon gravy!
For best results, use a high quality, applewood smoked, uncured bacon and make your own Flaky Buttermilk Biscuits.
This recipe is just as easy to make as a traditional sausage gravy.
Who doesn't love bacon? Since bacon grease is used to flavor the gravy and crisp bacon pieces are added on top, the flavor is tasted in every bite.
Ingredients:
bacon grease along with crisp bacon pieces
flour
milk
salt and pepper
Here's how to make it:
First step is to accumulate a quarter cup of bacon grease. To do this, I cooked 18 ounces of bacon in a dutch oven on the stove. The bacon was pretty lean, so the total amount of grease that I got was ¼ cup. If you have pretty fatty bacon, you could probably get away with less. I always like to have cooked bacon available in the refrigerator, so cooking an 18 ounce package is a regular thing in our house.
Once the bacon grease is all measured out, add the flour. You'll want to whisk the grease and the flour together regularly over medium heat. It takes about 5 minutes for the roux to develop.
Then all you need to do is add the milk. I like to add about a cup at a time and whisk it together until it's nice and smooth. It might not seem like it will thicken at first, but if you continue to whisk the mixture over heat, it will thicken.
Finally, add your salt and pepper and give it a good taste.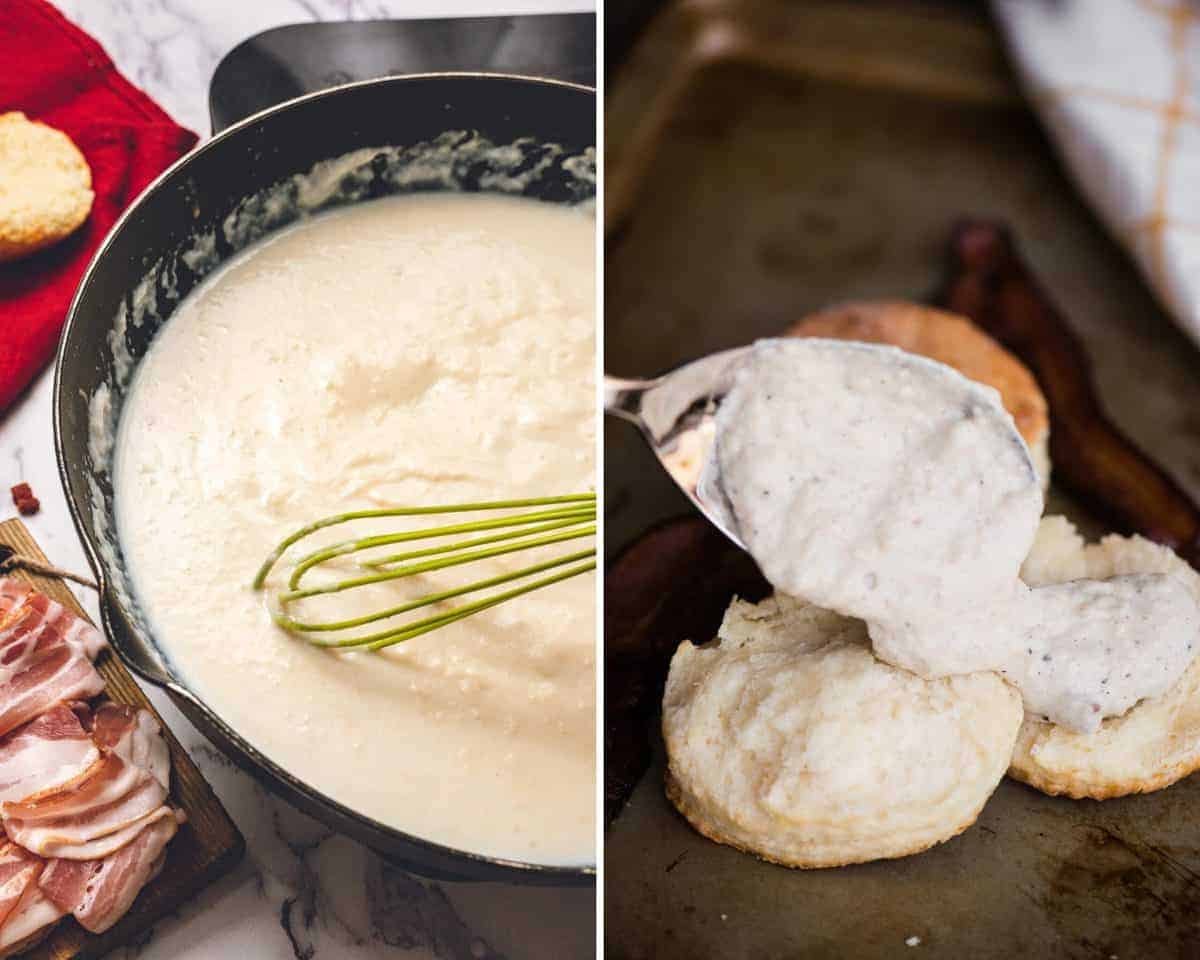 Why bacon grease gravy is so good:
The basic formula to any gravy recipe is fat and flour combined and cooked to make a roux. Then liquid is added. The roux thickens the gravy.
The fat can be butter, oil, or in the case of this recipe, fat. One of my favorite fats to cook with is bacon grease. It has so much flavor.
The trick to a good roux is to cook it hot enough to develop a rich flavor and darker color, but not so hot that you burn it.
Typical gravy is made with either broth or milk. When making biscuits and gravy, you'll almost always be making a milk gravy. This bacon grease gravy recipe really is so incredibly fast and simple to make. You might be confused as to why I have salt in the recipe, especially considering how salty bacon typically is. For whatever reason, bacon grease really isn't that salty, so I felt the salt was necessary.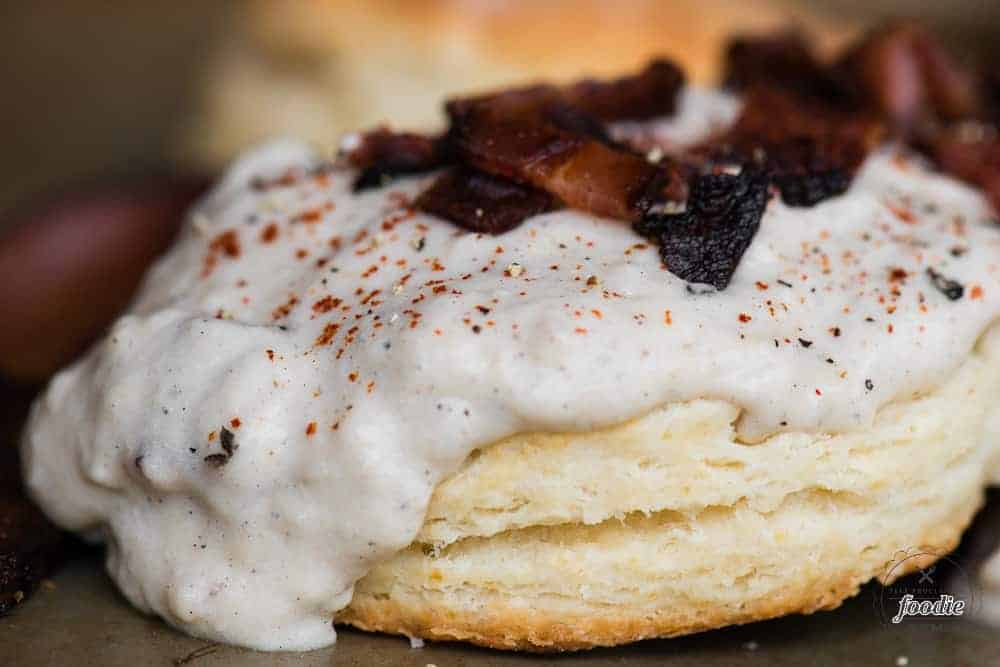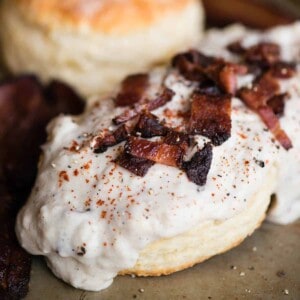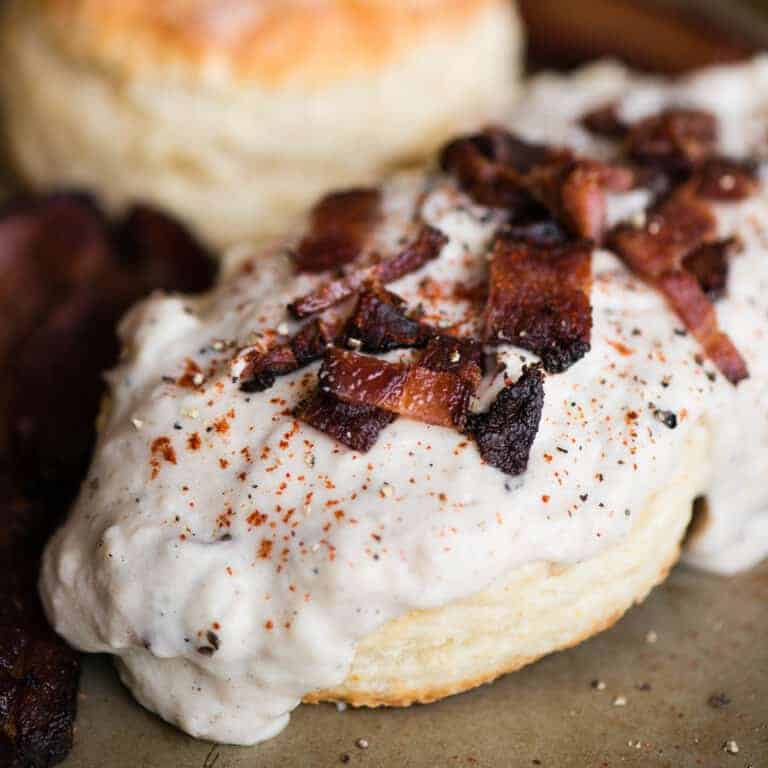 Country Bacon Gravy
Country Bacon Gravy is a simple milk gravy recipe made with bacon grease. If you love biscuits and gravy for breakfast, you'll love this bacon gravy!
Print
Pin
Rate
CLICK TO PLAY RECIPE VIDEO
Ingredients
¼

cup

bacon grease

(see note 1)

¼

cup

all-purpose flour

3

cups

whole milk

1

teaspoon

kosher salt

1

teaspoon

freshly ground pepper

4

slices

bacon

(chopped)

flaky buttermilk biscuits

(see note 2)
Instructions
In a heavy bottom stock pot or skillet, whisk together bacon drippings and flour over medium heat. Continue to cook until the mixture browns slightly, about 5 minutes, but be careful not to let it burn.

Add milk, 1 cup at a time, whisking thoroughly with each addition. Continue to whisk over medium heat until gravy is smooth and begins to thicken. Add salt and pepper.

Serve over warm biscuits and top with chopped bacon pieces.
Notes
1. In order for me to get ¼ cup bacon drippings, I had to cook an 18 ounce package. Since some people already have bacon drippings on hand, I didn't say that an 18 ounce package of bacon was necessary. Plus, depending on your bacon, you might need less to get that ¼ cup of drippings (my bacon was pretty lean). I do, however, recommend reserving 4 pieces of cooked bacon to chop and add to the top of the bacon gravy.
2. Love my recipe for Flaky Buttermilk Biscuits! Homemade is always best!!! https://selfproclaimedfoodie.com/flaky-buttermilk-biscuits/
NUTRITION INFORMATION
Calories:
242
kcal
|
Carbohydrates:
10
g
|
Protein:
6
g
|
Fat:
19
g
|
Saturated Fat:
8
g
|
Cholesterol:
31
mg
|
Sodium:
552
mg
|
Potassium:
190
mg
|
Sugar:
6
g
|
Vitamin A:
200
IU
|
Calcium:
138
mg
|
Iron:
0.3
mg
This recipe was originally published in September 2019 and has been updated with helpful information, ingredient and process photos, as well as recipe tips. Don't worry - the recipe hasn't changed!