I wanted to see if I could replicate my favorite brown sugar bon bon to share as a holiday treat and the result was a perfect Copycat See's Bordeaux!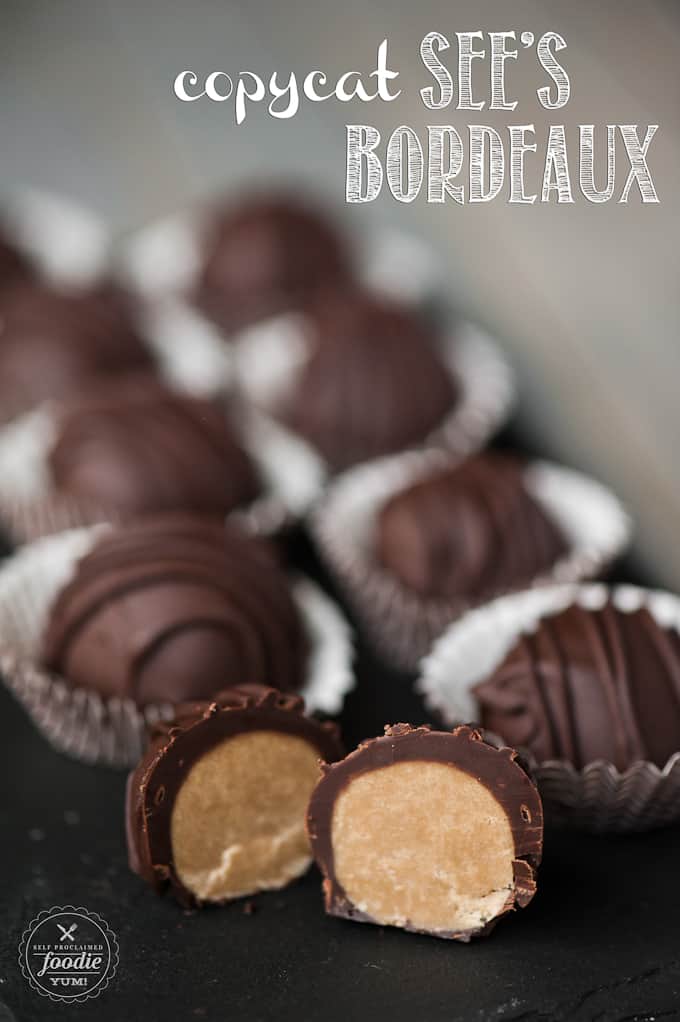 Have you ever had a See's Bordeaux? I grew up on that stuff. Every Christmas and Easter there would be no shortage of See's candy around us, and I would always go for the Bordeaux first. I'll take this creamy, rich, sugary bon bon over anything with nuts or caramel. I'm one of those uniquely talented folks who can identify every See's candy from the outside before even taking a bite. I had to avoid biting into that nasty one that tastes like fruitcake, afterall. When I figured out I could actually replicate my favorite bon bon from the comfort of my own kitchen, I was a little thrilled, to put it mildly.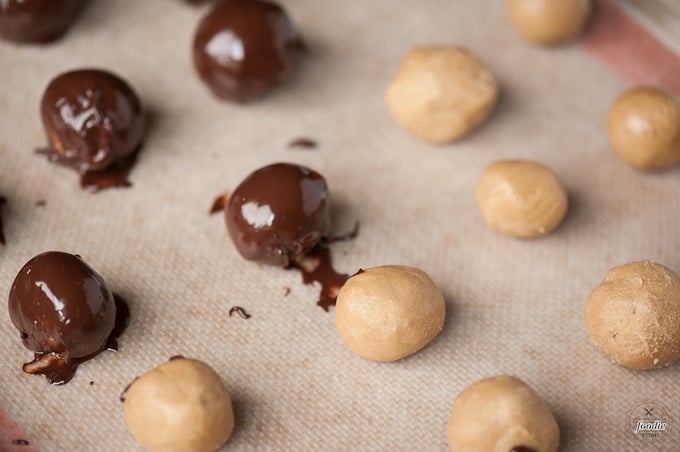 The inside consists of brown sugar, butter, heavy cream, and coffee. No wonder it tastes good, right? Those four ingredients alone could satisfy every sweet tooth craving I'll ever have!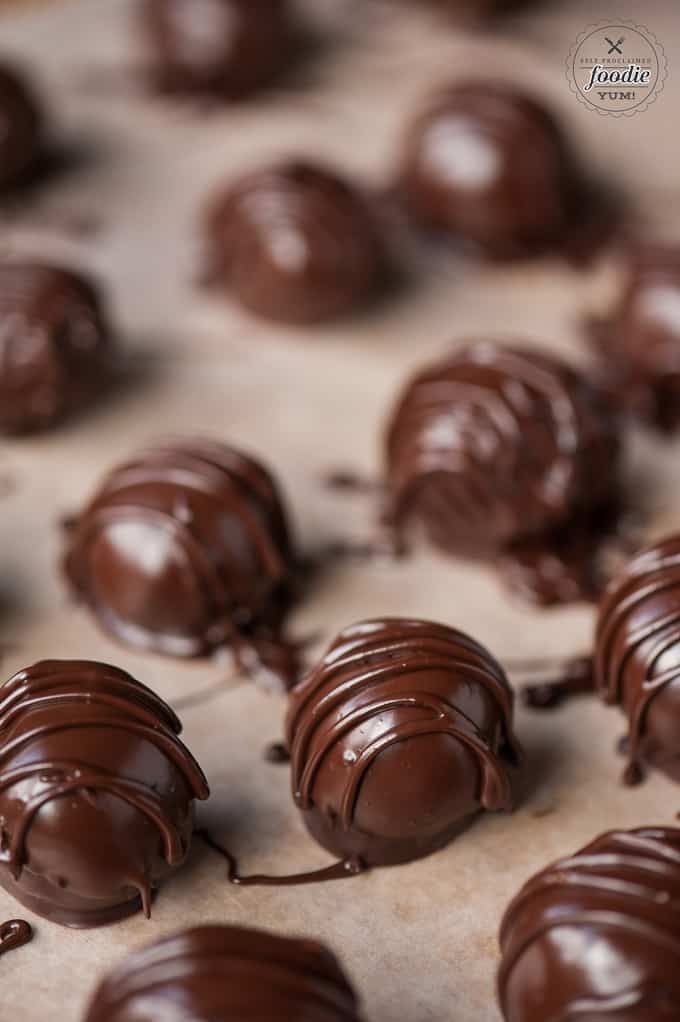 I'm not the best chocolate dipper in the world. In fact, I think I kind of suck at it. Because my first dip wasn't very pretty, I ended up throwing them back in for a double dip and that did the trick! I didn't have chocolate cake sprinkles like you see on the real Bordeaux's but knew I had to pretty them up a bit, so I just put my extra chocolate in a plastic bag, snipped off the corner, and drizzled it on top. Perfection.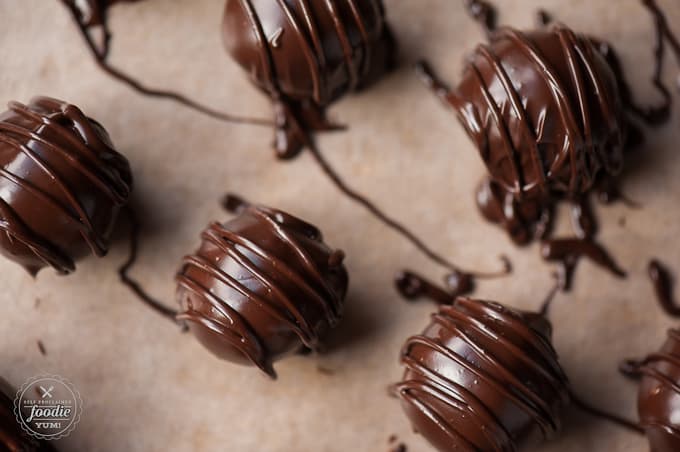 Before I took my final photos, I threw my dried bon bons in the freezer with all of my other holiday treats. I can't remember if i simply ran out of time or ran out of daylight, but the final photos didn't happen on the day I made them. Pity, because once you stick them in the freezer and then pull them out, the chocolate loses its shine, but we'll just pretend I didn't do that, mmmm kay?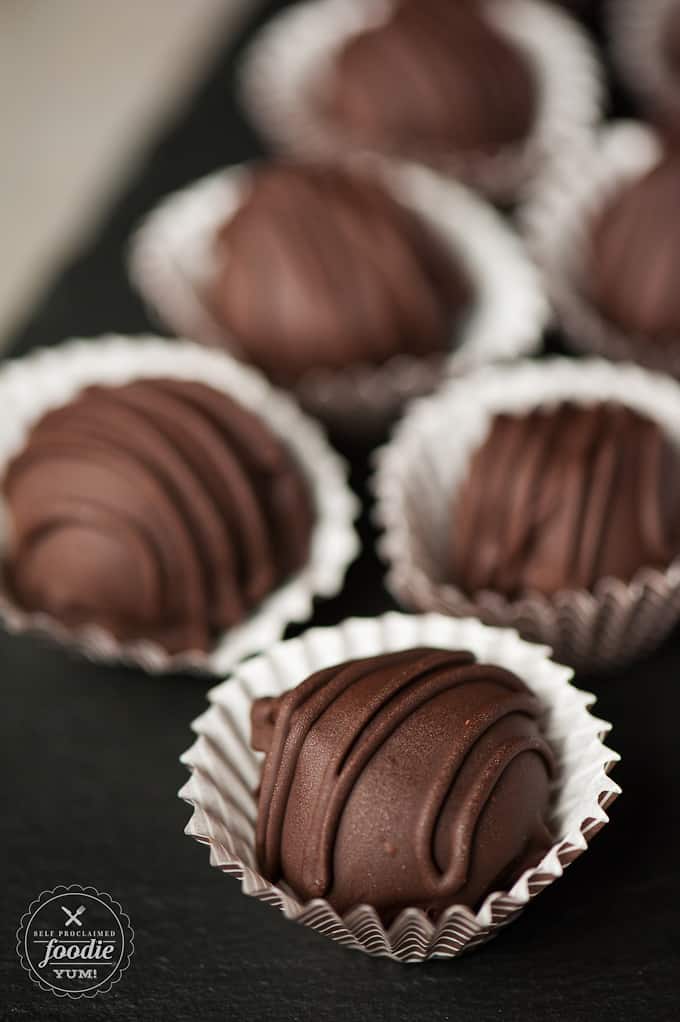 The inside is a wonderful, sweet, rich, creamy, naughty center. Again, had I not been in a rush and actually allowed these beauties to come to room temperature instead of cutting a frozen one in half, they would have looked even more awesome, but I'm not too proud to admit my mistakes! It didn't stop me from eating them either!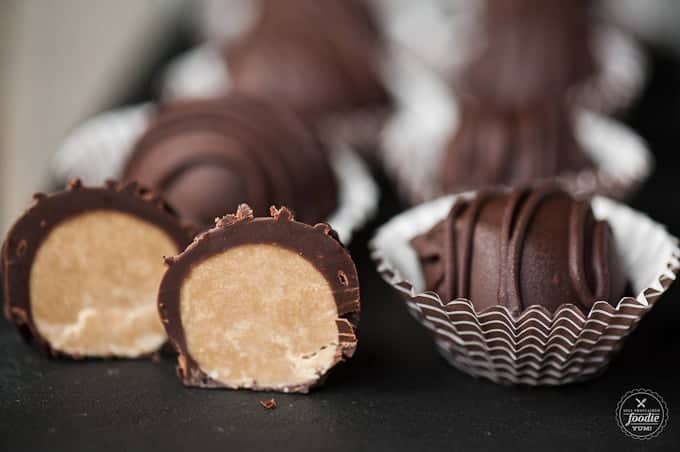 Be sure to scroll down past the recipe to see all of my past year's holiday treats too!!!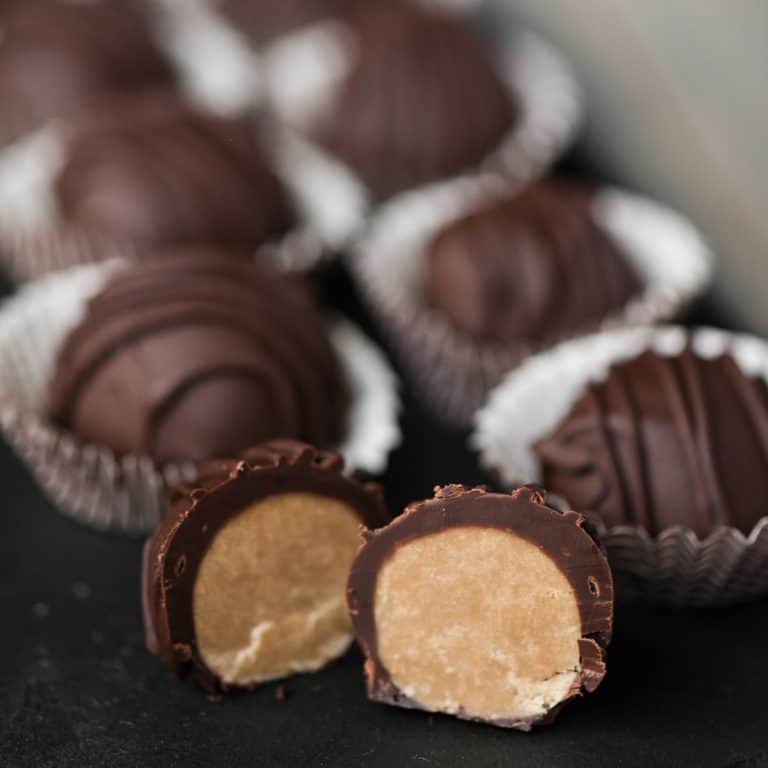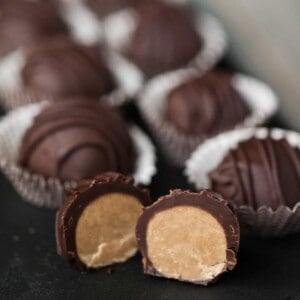 I wanted to see if I could replicate my favorite brown sugar bon bon to share as a holiday treat and the result was a perfect Copycat See's Bordeaux!
Ingredients
Inside filling:
1

cup

golden brown sugar

packed, C&H brand recommended, other brands may result in a more grainy texture

1/2

cup

butter

1/4

cup

heavy cream

1

teaspoon

instant coffee (finely ground)

Optional, See's Bordeaux does not have coffee, but I liked the flavor it added (I used Starbucks Via)

pinch

salt

2

cups

sifted powdered sugar
Outer chocolate coating:
12

ounces

dark chocolate

1

tablespoon

butter
Instructions
Using a heavy bottom saucepan, melt butter and brown sugar together over medium high heat and bring to boil. Allow to boil for about two minutes.

Stir in cream, instant coffee (if using), and salt and allow to come to a boil again for about 30 seconds while stirring constantly to avoid scorching. Remove from heat and allow to cool for 10 minutes. Add sifted powdered sugar to mixture and stir in well until a consistent dough is formed. Chill until mixture holds shape similar to play dough, about 2 hours.

Roll sugar dough into 1-inch balls and set on a wax paper lined sheet. Freeze for about 10 minutes for easier dipping.

Melt chocolate and butter at 50% power in 1 minute increments in microwave, stirring after each minute, until melted.

Dip candy balls into melted chocolate and allow to set on the wax paper. Either sprinkle with chocolate cake sprinkles or pipe a very thin stream of chocolate on top, if desired.

Store in airtight container.
Notes
Notes: updated recipe to make coffee optional
Nutrition
Calories:
164
kcal
,
Carbohydrates:
20
g
,
Fat:
9
g
,
Saturated Fat:
5
g
,
Cholesterol:
12
mg
,
Sodium:
35
mg
,
Potassium:
93
mg
,
Fiber:
1
g
,
Sugar:
17
g
,
Vitamin A:
140
IU
,
Calcium:
17
mg
,
Iron:
1.4
mg
Nutrition information is automatically calculated, so should only be used as an approximation.