Chicken Tortilla Soup is one of most easy, healthy, & delicious one pot meals you'll serve for family dinner and tastes even better with homemade broth.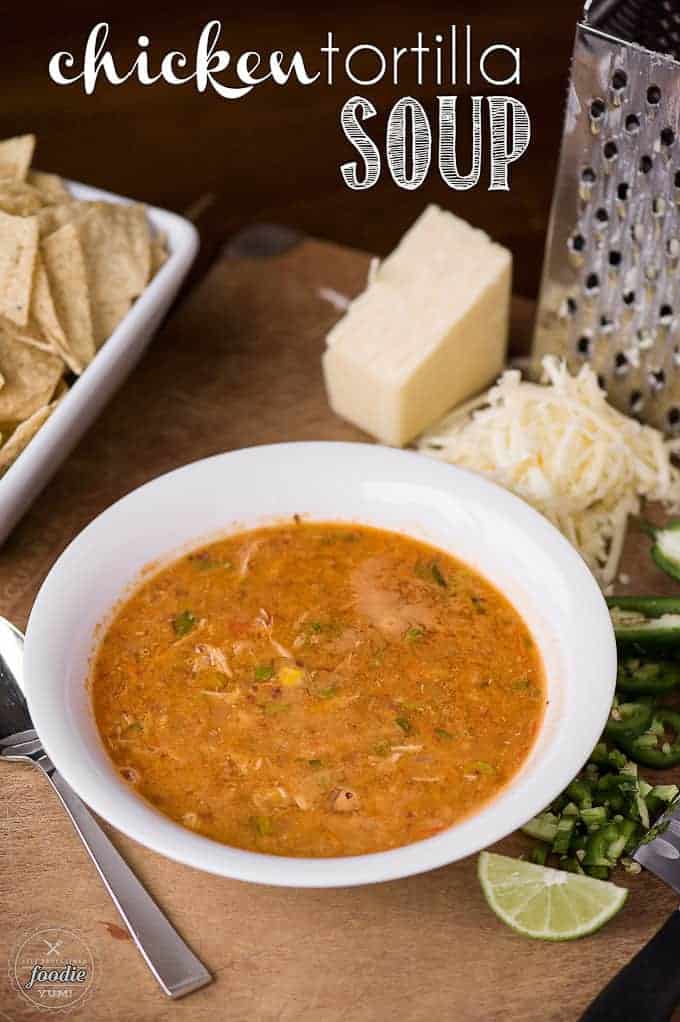 This soup was so freakin' good. In fact, I was extra proud of it because it was one of those recipes I created on the fly with the ingredients I had to use up before they spoiled in my refrigerator. The secret to the most delicious chicken tortilla soup, in my opinion, is to blend up half of the chunky ingredients and add them back in so that you don't just have a thin broth with lots of chunks, but a cohesive and flavorful soup with the right amount of chunks. I suppose they're actually a second secret to making this soup outstanding and that is to use really good meat as well as really good broth. I was able to check both of these boxes by making a whole chicken in my crockpot where I ended up shredding all of the chicken and using it for this soup, some chipotle chicken quesadillas, as well as for salads, and then I through the bones and skins right back in the crockpot along with all the flavors of the one spoon dry rub that I used, some water, carrots, celery and a bay leaf to make my own overnight crockpot chicken broth.  You can definitely make this soup with pre-cooked chicken that you bought along with boxed broth, by why not make your own and get a few extra meals out of the process while saving some money while you're at it?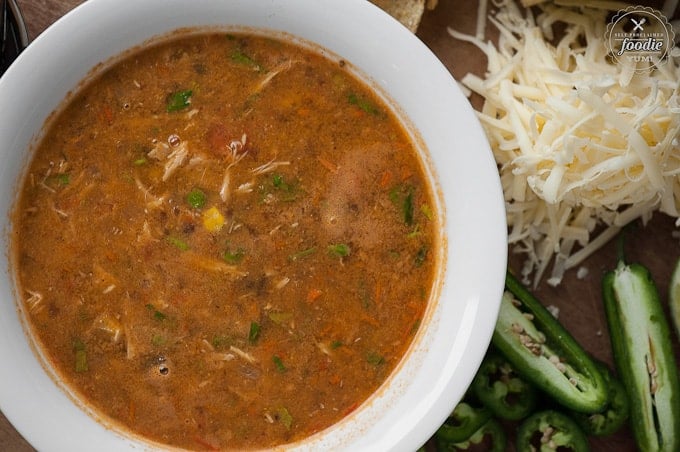 MY OTHER RECIPES
And like I said above, I made this particular recipe by throwing all sorts of stuff in the pot that I needed to use up and, oh my God, how wonderful it turned out. You can definitely substitute in canned tomatoes or other sized fresh ones, but I just happened to have a large container of cherry tomatoes that my son was finally tired of eating (he's a bit of a cherry tomato addict) so I dumped them in the soup. Once you blend them up, their skins and their juicy insides just add to the richness of the broth. Perfection.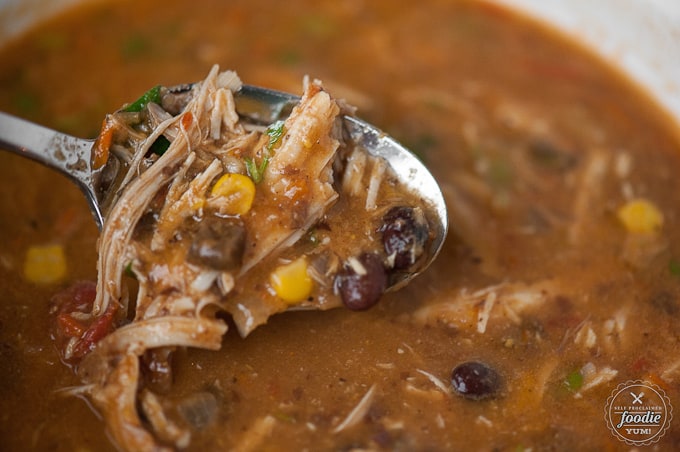 Chicken Tortilla Soup is one of the easiest & most delicious one pot meals you can serve your family for dinner and tastes even better with homemade broth.
Ingredients
oil (I used bacon fat only because I just made some and didn't want to wash the pot)

1

medium onion, finely chopped

2

cloves garlic, minced

3

cups chicken broth

2

cups cherry tomatoes (you can use other fresh tomatoes or canned, its what I had in my fridge)

1 1/2

cups corn (I used Trader Joe's frozen roasted corn)

15.5

ounce can black beans, drained (I used Trader Joe's Cuban Black Beans)

2

cups shredded chicken

1

tablespoon cumin

1

tablespoon salt

large handful cilantro

serve with chips, sour cream, cheddar, diced jalapeno
Instructions
Heat oil over medium heat in large pot or Dutch oven. Add onion and cook until tender and slightly golden brown, 4-5 minutes. Add garlic, stir, and cook for another minute.
Add chicken broth, cherry tomatoes, corn, and black beans. Heat the mixture for about 5 minutes.
Now here's how you get a nice creamy soup: use a large spoon to transfer all of your cherry tomatoes to a blender. Then, use that spoon to scoop up about half of the beans, corn, and onions and add them to the blender too. You'll want about 4 cups in the blender. Process what you transferred out of the pot until smooth and then pour all contents back into the pot with the remaining soup ingredients. Continue to cook until soup is almost at a boil.
At this time, add your shredded chicken, cumin, salt, and cilantro. Stir until heated through and then serve.
I always serve mine with some freshly grated white cheddar, diced jalapeno, a dollop of sour cream, and of course crushed tortilla chips on top. Store any remaining soup without any toppings in airtight container in the refrigerator.