Every summer I make enough low sugar organic Canned Vanilla Bean Peaches to last me all year. Our family loves them and they make great DIY gifts as well!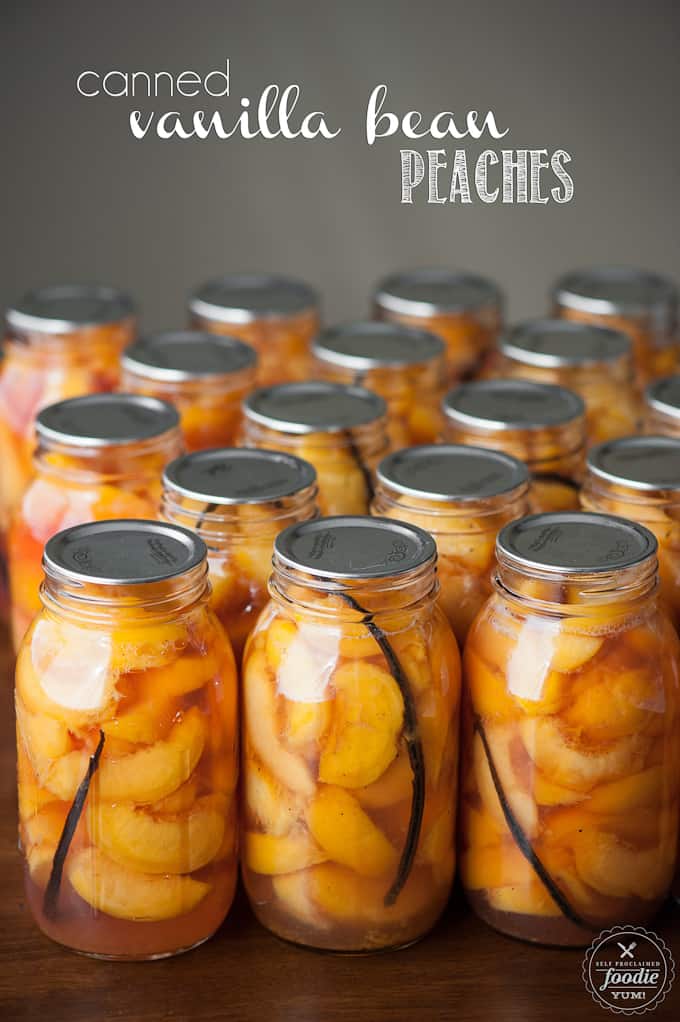 Why this recipe works:
Peaches were the first thing I learned to can. The process is super simple with these easy instructions.
Homemade canned peaches taste nothing like store bought canned peaches. The flavor is amazing!
This recipe uses a very small amount of sugar but they are plenty sweet.
I prefer to use organic peaches. They can be hard to find but the taste and quality are the best you'll get.
The optional (but recommended) vanilla bean takes this recipe to a new level!
Canning at home is a time consuming process, but one afternoon's work will provide you with a years worth of delicious canned peaches that can be eaten straight out of the jar or used in a wide variety of recipes!
Homemade canned peaches also make a fantastic gift!
Ingredients:
Fresh whole peaches
Sugar
Lemon juice
Vanilla beans (optional but recommended)
Equipment needed:
This recipe uses the water bath canning process, so a pressure canner is not needed. A basic water canning set up can be purchases as a set. You can also often find the components at yard sales as well.
To can peaches at home, you will need:
A large canning pot with lid and basket (mine will fit 7 quart sized jars)
Canning tools that include a jar grabber, funnel, and magnetic lid grabber
A large pot for the sugar water
A medium pot to blanch the peaches
A small pot to sterilize the lids
An ice water bath
A large bowl to hold the peeled peaches
Clean sterile mason jars (I recommend medium mouth quart sized)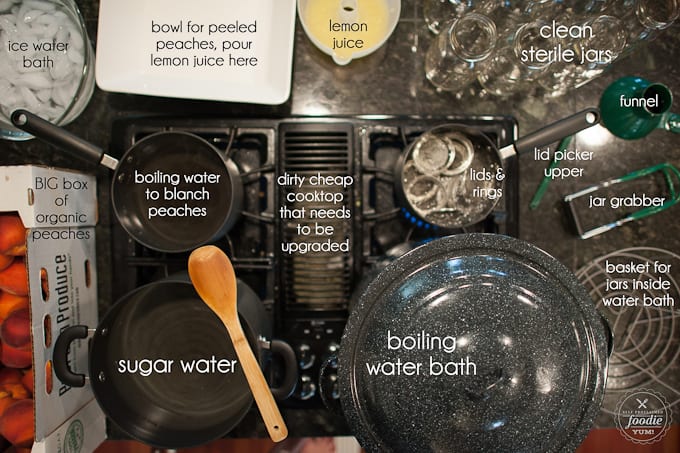 How to can peaches:
First step is to prepare everything. That means the water bath canning pot is filled with water and it is kept at a low boil. The sugar water is heated. The lids are heated in boiling water to sanitize. A pot of water is kept at a low boil to blanch the peaches. The lemons have been juiced. The mason jars are clean and ready to fill.
Next you will remove the skin from the peaches. You can do this simply by peeling them, but it is much easier to score them with a sharp knife, quickly blanch in boiling water, and then transfer them to an ice bath. By blanching them, the skin should easily peel off leaving only the gorgeous fruit.
The peaches are then sliced and added to the mason jars.
If using vanilla beans, split them in half lengthwise and add each half to a clean jar before adding the peaches.
Once the jars are filled with peaches (and vanilla beans, if using), you will add enough of the hot sugar water to fill the jars within a half inch of the top. Wipe the jars, place the sterile lids on the jars, and seal with rings. Be sure to close them tightly but not too tight because you want some of the air to be able to escape during the canning process. Add the filled jars to the hot water bath and ensure at least an inch of water is covering the jars and boil, covered, for about 22 minutes.
Carefully transfer the hot jars of canned peaches to the counter to cool. You should hear the lids pop within a half an hour or so.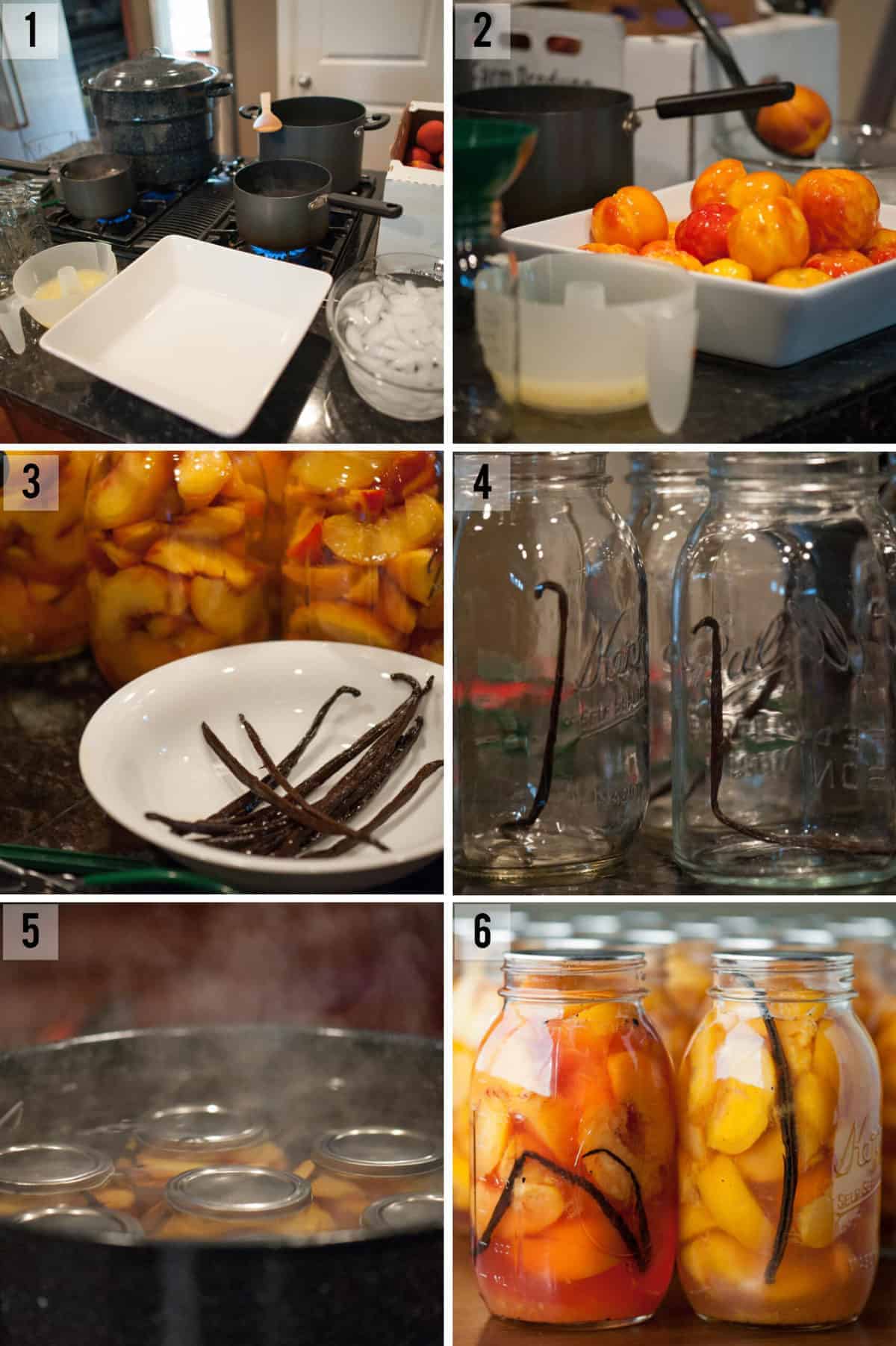 Cooking tips:
Before canning peaches, make sure the peaches are not only juicy and delicious, but that they are cling free. That means that when you slice them with a knife, the fruit falls off the pit. You do not want to have to battle a peach that is stuck to the pit.
Canning can be done alone, but it is much quicker and fun if you have more than one person helping.
Plan ahead. Be sure that you're not going to run out of any ingredients or equipment.
Where to buy peaches:
If they are grown locally, the cheapest way to get peaches to can is to visit a u-pick farm. Alternatively, a farmers market is a great option as well but it will cost more than if you pick them yourself.
I've actually found some amazing locally grown organic peaches at Costco. I will usually buy one pack to take home and eat and once I've verified they are juicy and delicious, I'll go back and buy a ton more to can.
The final option would be to purchase them at the grocery store, but it is very difficult to find consistently good peaches at the store and you'll have no idea how long they've been there.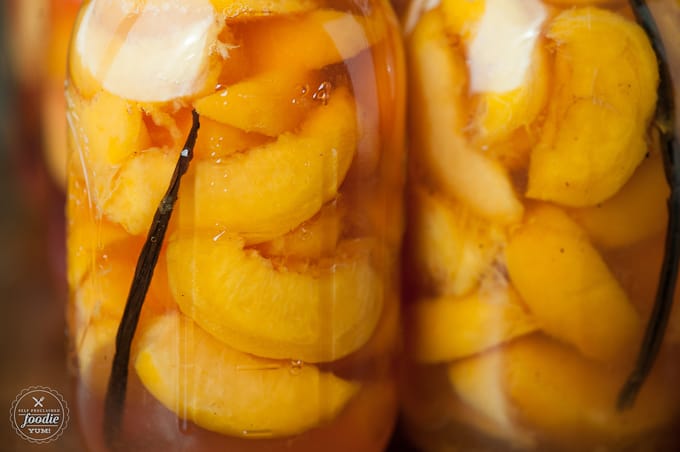 Related recipes:
Canned peaches are so delicious on their own, but you can also use them in so many different kinds of recipes. Here are some examples:
Canned Vanilla Bean Peaches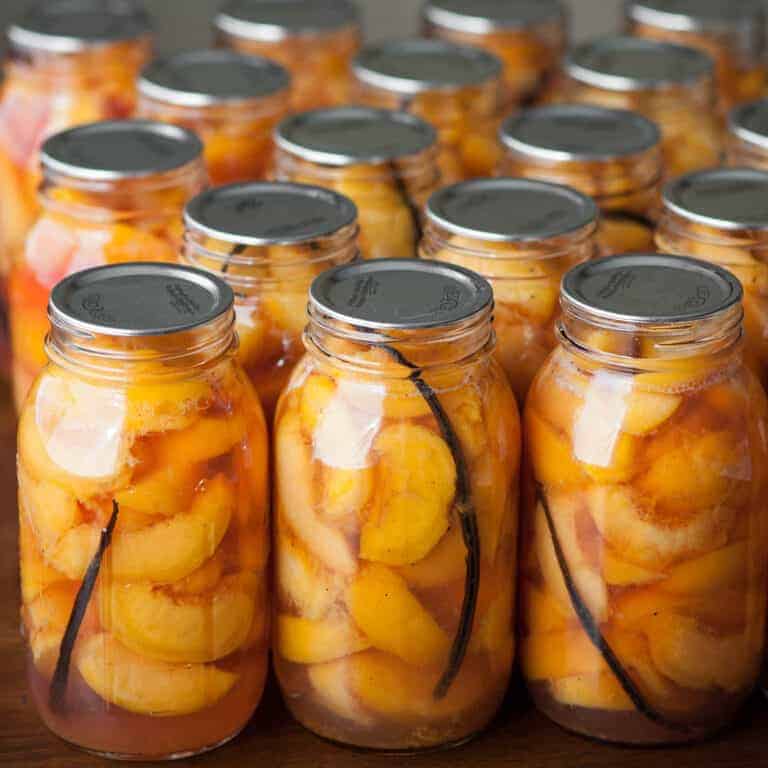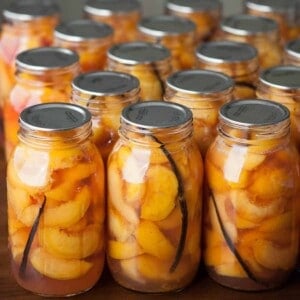 Every summer I make enough low sugar organic Canned Vanilla Bean Peaches to last me all year. Our family loves them and they make great DIY gifts as well!
Ingredients
ingredients:
2

cups

sugar

20

cups

water

30

pounds

peaches

free stone cling free peaches, perfectly ripe (barely soft and fragrant), organic recommended

1

cup

lemon juice

about 5 lemons

11

whole vanilla beans

split lengthwise
Instructions
You will need four burners for this recipe:
One large pot containing 2 cups sugar and 20 cups water. Heat on high until sugar dissolves, then turn heat to low to keep warm.

One medium pot filled with boiling water to blanch peaches. May need to refill as water level decreases.

One small pot full of water kept at a temperature just below boiling. This is where you put the lids and rings until you are ready to seal the jars.

Last burner is for your water canner. If you are going to fill canner to the max with 7 quarts, the water level should be about 4-6 inches below the top. Cover with the lid and set heat to high to get water to a rolling boil. Then reduce heat to maintain gentle boil or just below boiling. You may need to add/remove water once the jarred peaches are in.
My process start to finish:
Run all of your empty jars through the dishwasher prior to using. Alternatively, wash in sink and rinse well.

Get all four of your pots going as described above. Set out a large bowl of ice water as well as another large bowl to hold your peeled peaches. Juice your lemons and set aside.

Four peaches at a time, score the skin on the top and bottom of the peach in the shape of an "x" with a sharp knife and then place in your blanching pot. Allow to sit in the boiling water anywhere from 30 seconds to 3 minutes. Remove them with a slotted spoon when you start to see the skin peeling away. Transfer hot peaches to an ice bath and repeat that process with another four peaches.

Remove the skin from the peaches in the ice bath by pulling at the corners and transfer peeled peaches to large clean bowl. Cover with lemon juice. I typically pour all the lemon juice in at the beginning so that the peeled peaches can roll around in it and keep their vibrant color.

Add half of a vanilla bean to each empty clean jar.

When you have enough peeled peaches to fill 7 of your quart jars (for me that's about 4 peaches per jar, a total of 28), start slicing them up. I like to hold the entire peach in my hand over the peach bowl so that extra juices land back into the bowl and use a small paring knife to cut slices all the way around. Then, once the entire peach is sliced, I transfer them to the jar through the funnel by pulling the slices away from the pit. Fill each jar to the bottom of the rim.

Using a ladle and the funnel in the jar, fill each jar with sugar water. Be sure to leave a good half inch from the top empty. You will need this space in order to get a proper seal. Best practice is to use the plastic air bubble remover wand that came with your canning kit to move the peach slices around to let the air pockets rise to the top. This will let you know if you need to add more liquid.

Once all the jars are filled, use the magnetic wand to pull your clean lid out of the hot water and place it on the top of the jar. Pull a ring out of the hot water and secure it to the jar. You want to screw it on securely but not tight. If its too tight, the air bubbles can't escape and you can't get a good seal. If its too loose, you risk your peaches spilling out. Just nice and hand tight.

Place the 7 full quarts with lids into the boiling water. Either do this one at a time using the jar holder or place them on the round grate and lift them down into the water all at once. Ensure that the jars are covered by at least 1 inch of water. Keep temperature on high and cover with lid. Allow to process in water bath for 22 minutes (this time may vary by elevation and I'm close to sea level). If water starts to boil too rapidly, you may crack lid to allow some steam to escape.

Remove jars and place them on a towel on the countertop. Within about 30 minutes you should start to hear the lids pop meaning that they are vacuum sealed. Allow to cool overnight.

Repeat until all peaches have been used. You may need to make more sugar water if you run out with the ratio of 1:10 sugar:water. With the last batch, I always transfer the lemon/peach juice to the jars before I add the hot sugar water. This changes the color and the flavor, but I love it.

The next day, ensure all of the jars have sealed. You can see the little dip in the lid, otherwise press down and it shouldn't move. If any didn't seal, do not store. Just eat them up.

Remove the rings and soak to remove any stickiness. The rings are not necessary for storage; just the sealed lids. Rinse the jars, taking care not to bump the lids to break the seals. I keep mine stored on shelves under my stairs away from light in steady temperature. Best if used within 6 months but I've eaten them after two years of storage and they were still great.
Nutrition
Calories:
86
kcal
,
Carbohydrates:
21
g
,
Protein:
2
g
,
Fat:
1
g
,
Saturated Fat:
1
g
,
Sodium:
3
mg
,
Potassium:
326
mg
,
Fiber:
3
g
,
Sugar:
19
g
,
Vitamin A:
555
IU
,
Vitamin C:
12
mg
,
Calcium:
12
mg
,
Iron:
1
mg
Nutrition information is automatically calculated, so should only be used as an approximation.
This recipe was originally published in October 2014 and has been updated with helpful information, ingredient and process photos, as well as recipe tips. Don't worry – the recipe hasn't changed!