These Bacon Wrapped Dates are stuffed with blue cheese and blanched almonds, baked to perfection, then drizzled with maple syrup and garnish with mint. YUM!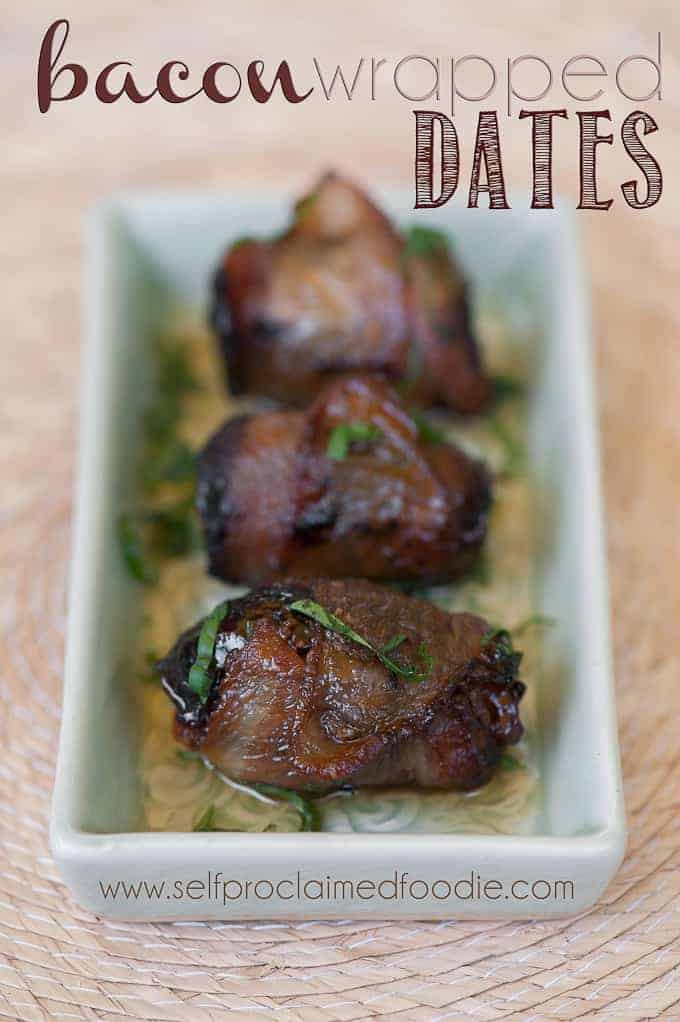 Bacon wrapped dates. There are few things in the world better than a good bacon wrapped date. I should just end my blog post right there.
But you know me and I have a food story for everything.
Here's my bacon wrapped date story: We were on an extended family vacation a few weeks ago in Sunriver, Oregon. There are usually 12-14 adults that go on this trip every year and we always play board games at night. One night, we were playing Taboo. If you aren't familiar with the game, the objective of the game is for a player to have their partners guess the word on the player's card without using the word itself or five additional words listed on the card. The word on my card was DATE and the five words I couldn't say were FIRST, RESTAURANT, KISS, DINNER and CALENDAR (or something like that). DATE is a pretty easy word to guess. You could go along the lines of two people dating or you could go the calendar route and get your team mates to guess the word DATE that way. What do I do? I look right at my team mates and say, "bacon wrapped …., you stuff them with blue cheese and almonds…, they're very sweet". In my mind, I was wondering how on earth they didn't know what I was talking about. Unfortunately, my convert-foodie-husband wasn't on my team but he later told me he immediately knew the answer. That made me proud.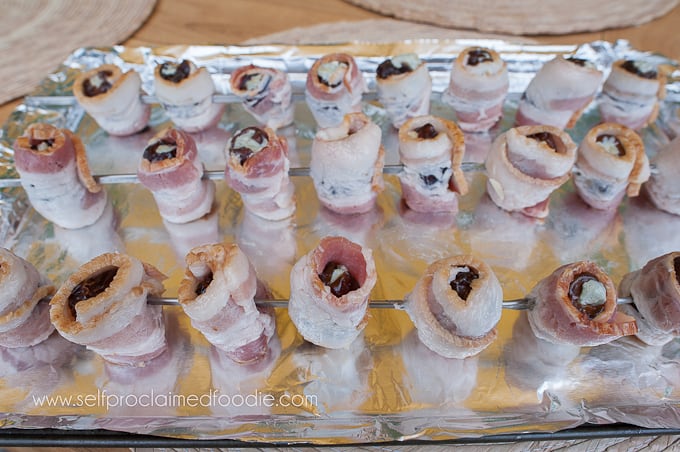 Now, you know I'm a lover of all things bacon. I'm not, however, a fan of photographing raw meat, even if it is bacon. For the purposes of these bacon wrapped dates, I stepped out of my comfort zone and took the above photo to show you how I had them arranged on the baking sheet. A lot of recipes call for toothpicks but I found it super easy to pierce them with metal skewers. This also kept them vertical which helped them cook evenly.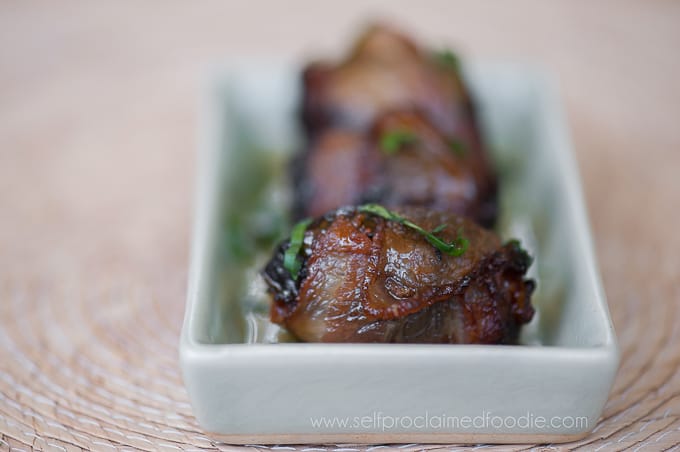 Don't they look good? I drizzled them with some pure maple syrup and thin ribbons of mint. I will not admit how any of these babies I devoured. Okay, okay. I think I put away an even dozen. I have no shame when it come to bacon.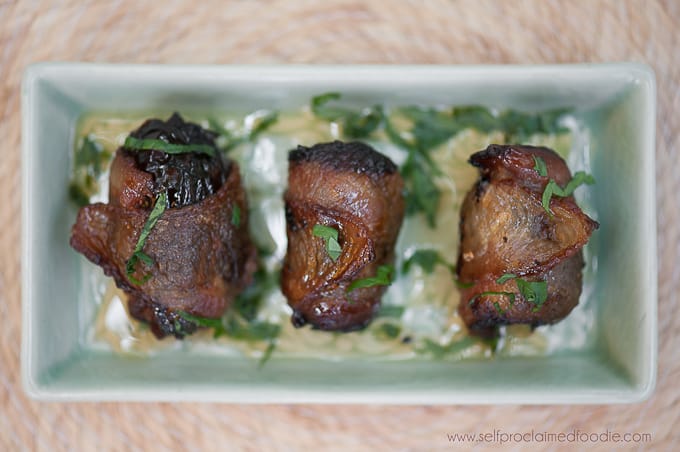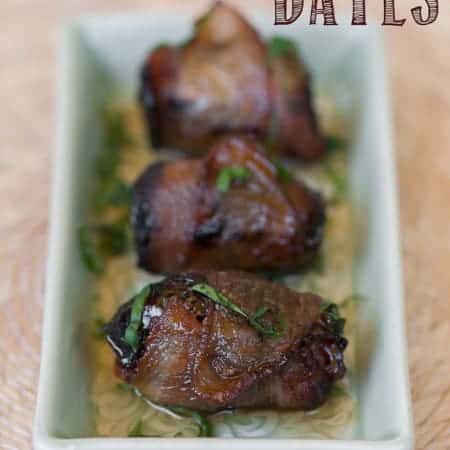 Blue Cheese and Almond Stuffed Bacon Wrapped Dates
These Bacon Wrapped Dates are stuffed with blue cheese and blanched almonds. baked to perfection, then drizzled with maple syrup and garnish with mint. YUM!
Print
Pin
Rate
Ingredients
24

medjool dates

pitted

1/4

cup

blanced almonds

whole or slivered

4

ounces

crumbled blue cheese

12

ounces

applewood smoked bacon

8 slices cut into thirds (24 total)

Pure maple syrup and fresh mint leaves to garnish.
Instructions
Preheat oven to 350 degrees F. Cover rimmed baking sheet with foil.

Split each date on one side and remove pit.

In small bowl, use hands to mix almonds and blue cheese. Squeeze into log, and then divide into 24 equal sized balls by dividing log into half, then quarters, then each quarter into halves, and each chunk into three balls.

Stuff each blue cheese almond ball into each date. Wrap each stuffed date with bacon, overlapping ends. Squeeze each wrapped ball to help form the shape.

Use three metal skewers to pierce through each wrapped date, ensuring the end of the bacon goes through the skewer first to create a tight wrap. Place 8 wrapped dates on each skewer, spaced evenly, rotated such that they are vertical. This allows the bacon to cook evenly and grease to drain down to the foil.

Place in oven and cook for 40 minutes or until bacon is crisp, rotating sheet and flipping skewers half way through.