Bacon Wrapped Meatloaf is the best comfort food recipe you can make for dinner.
Ground beef and bacon served as mini meatloaf for individual portion sizes! Bacon Wrapped Meatloaf should appeal to all bacon lovers, and the mini meatloaf portion size should appeal to everyone.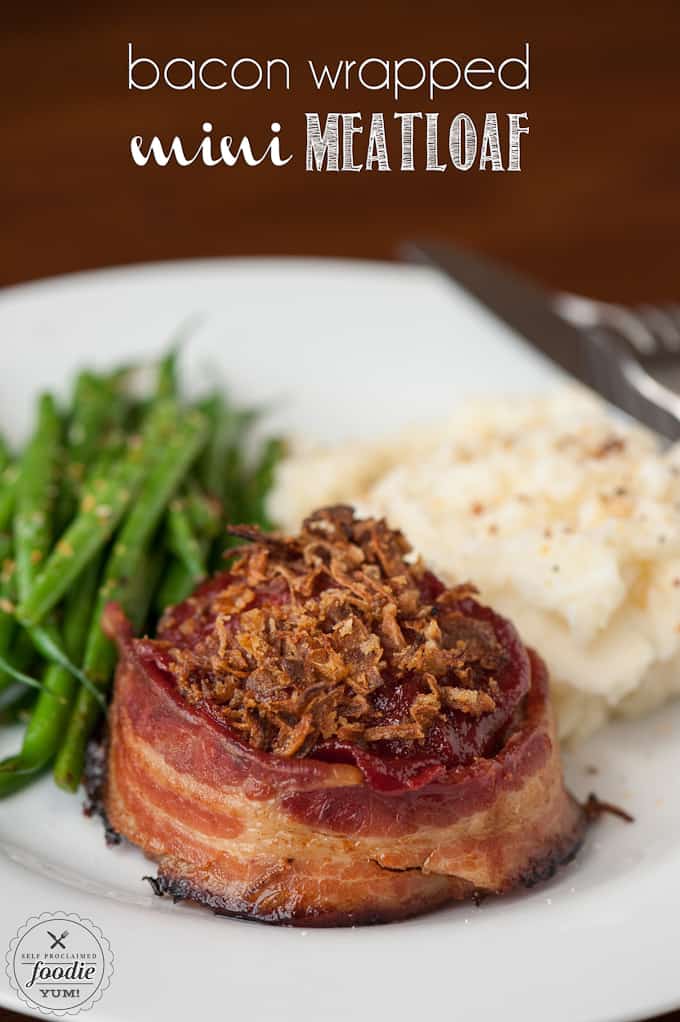 You know I'm a bacon lover, so you can only imagine how much I love this Bacon Wrapped Mini Meatloaf.
If you're familiar with my blog, you'll know that I cook with bacon all the time. There's nothing quite like it on earth. I love it so much I think it should be its own food group. For that matter, parmesan should have its own as well.
I digress. Let's get back to bacon.
Bacon can and should be enjoyed at any meal. Why should breakfast have dibs on bacon when there are so many wonderful things you can do with it? Take this meatloaf wrapped in bacon. I've made plenty of meatloaf in my day – it is one of the best comfort foods, after all. But when I make Bacon Wrapped Mini Meatloaf, I wrapped each little mini meatloaf in thick wonderful bacon and topped it with crispy onion pieces – OH MY. I can't even begin to explain how good it was.
Why this recipe is different:
I have to admit, I made the actual meatloaf portion different than I normally do. When I had made meatloaf in the past, I had mixed the ketchup in along with water and dried onion soup mix (with the egg and bread crumbs, of course).
I went in a pretty different direction this time by including onions and garlic that I had sauteed along with milk instead of water. At first, I was hesitant, but then I reminded myself how delicious my country sausage gravy is and I accepted that I was pouring milk on raw meat.
Secondly, I put the ketchup mixture on the top of the bacon wrapped meatloaf instead of mixing it in. I know that's how a lot of people make it, but I had never done it that way. The crispy fried onions on the top added the perfect amount of crunch and flavor. But most of all, creating individual servings of mini meatloaf and then serving that meatloaf wrapped in bacon – ugh, it was just so darn delicious.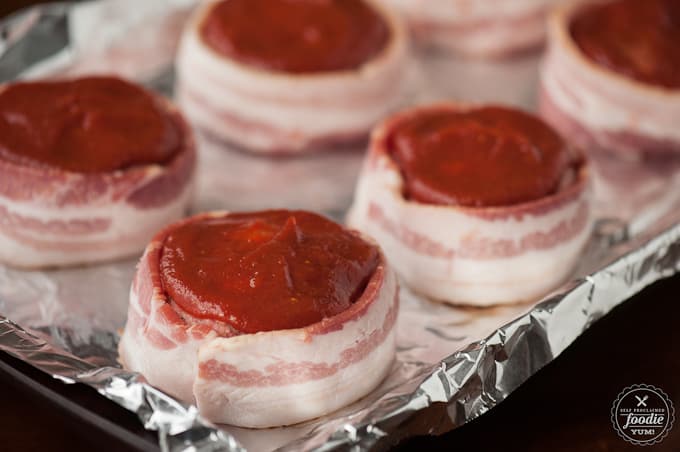 Reasons to make meatloaf with bacon:
Everyone knows a bacon wrapped filet mignon is pure decadent heaven, so it was a given that this meatloaf wrapped in bacon would be outstanding.  Since we buy our beef direct from a local grass fed farm, I've become accustomed to cooking with grass fed beef. If you haven't made the switch over to pasture raised beef, you'll never go back. The main difference you'll notice, beyond the incredible taste and health benefits, is that it's usually leaner. This is why wrapping bacon around your mini meatloaf is an even better idea!  Bottom line – meatloaf wrapped in bacon is not only super moist, but the flavor can't be beat.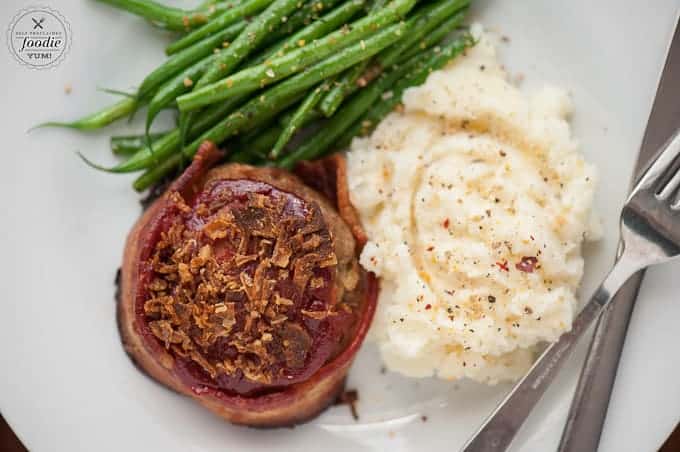 How to make this recipe:
This mini meatloaf recipe consists of three parts: the meatloaf, the topping, and the bacon.
Most meatloaf recipes call for an egg to bind everything together and some kind of starch like breadcrumbs. In lieu of the breadcrumbs, you can try using crushed crackers or even cornmeal when you make this delicious bacon meatloaf. Take care when mixing all of the mini meatloaf ingredients so that you don't overwork the meat. Use your hands to form the mini meatloaf patties.
The sauce on top is very similar to a homemade barbecue sauce. It mixes up quickly and is the perfect addition on top of this bacon meatloaf.
I have found the easiest way to wrap the bacon around the mini meatloaf is to use longer pieces of bacon if you can find them and then squeeze the mini meatloaf patty until the bacon ends meet. No need to secure them in place but you can use a toothpick if you wish. I have also made this meatloaf with bacon in a jumbo sized muffin pan instead of a baking sheet. The muffin pan helps the bacon wrapped meatloaf hold it's shape, but it doesn't allow for the grease to run off.
I was a little unsure how long to cook the Bacon Wrapped Mini Meatloaf and was tempted to increase the temperature, but I kept it at a solid 350 degrees for a full hour and fifteen minutes. I wasn't worried one bit that it would dry out because the bacon and the sauce were keeping everything perfectly moist and flavorful. I just waited until the bacon reached perfection and then I served them up with some fresh green beans and mashed potatoes. YUM!
This post was originally published in July 2015, but I've recently updated it to include the recipe video. Enjoy!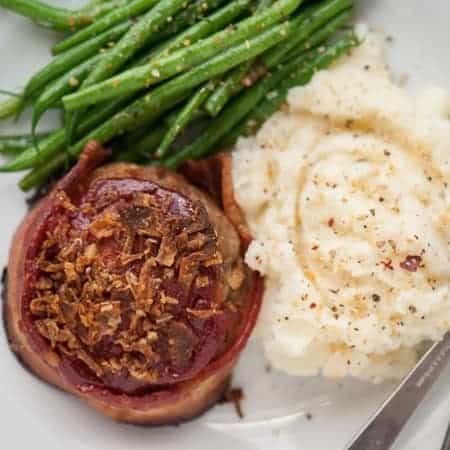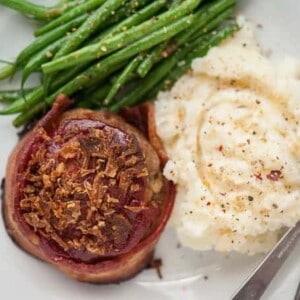 Bacon Wrapped mini Meatloaf is the best comfort food you can make for dinner. Grass fed ground beef, bacon, and more served as individual portion sizes.
Instructions
Preheat oven or grill to 350 degrees F. Line a baking sheet with foil for easy clean up.

Melt butter in saute pan over medium heat. Cook onions until fragrant and slightly brown while stirring occasionally, about 3-5 minutes. Reduce heat to low and add garlic, cook for 2-3 minutes. Remove from heat.

In large bowl, combine ground beef, egg, bread crumbs, milk, Worcestershire sauce, thyme, and cooked onions and garlic. Use hands to mix well, but try not to over work the meat. Divide into six equal sized portions and shape into disks.

Wrap bacon slices around edge of disks. Diameter of meatloaf should be so that the bacon ends just meet or slightly overlap.

In a separate bowl, combine ketchup with mustard and brown sugar. Divide equally and spread over the tops of the mini meatloaves. Sprinkle tops with crispy fried onions.

Bake in preheated oven or grill until bacon is just golden, about 1 hour and 15 minutes.
Nutrition
Calories:
575
kcal
,
Carbohydrates:
27
g
,
Protein:
27
g
,
Fat:
38
g
,
Saturated Fat:
15
g
,
Cholesterol:
131
mg
,
Sodium:
675
mg
,
Potassium:
561
mg
,
Fiber:
1
g
,
Sugar:
10
g
,
Vitamin A:
280
IU
,
Vitamin C:
3.4
mg
,
Calcium:
116
mg
,
Iron:
3.7
mg
Nutrition information is automatically calculated, so should only be used as an approximation.