Tender Pork Marsala, made with garlic and herb marinated pork tenderloin and smothered in a creamy mushroom wine sauce, is the perfect dinner.
Similar to chicken marsala, this recipe is ready in just 30 minutes. Pork marsala with mushrooms and shallots can be served over mashed potatoes or pasta.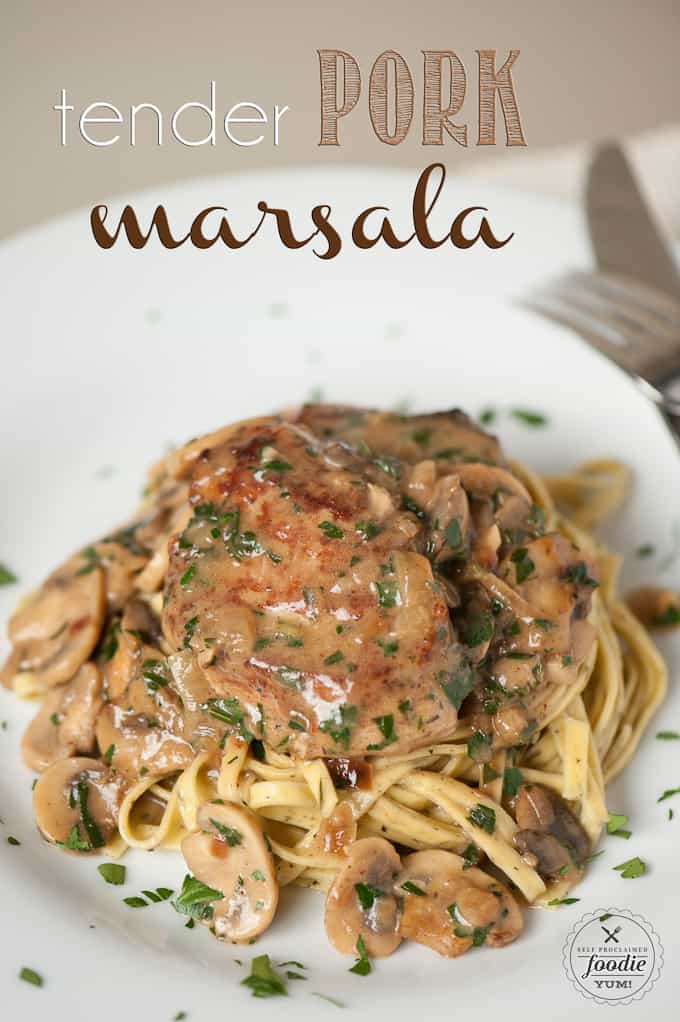 Pork Marsala is such a great dinner recipe. First, it uses pork tenderloin. This cut of meat is not only more moist and flavorful than chicken, but it is cheaper too! If you were thinking of making Chicken Marsala for dinner, you might want to think twice and make this recipe instead.
One of my favorite things about cooking pork is that it can be prepared any night of the week for an easy and delicious meal. Marinated pork tenderloin is especially versatile because it can be grilled, roasted or sautéed. It's an easy way to get real flavor, real fast, for quick and simple meals.
Whether you choose to serve this savory meal over pasta like I did in the photos, or creamy mashed potatoes as you'll see in the video, you will love this tasty and satisfying quick meal.
How to make Pork Marsala:
The first step is to marinate your pork tenderloin. This isn't necessary, but you'll be glad you did. If you're wondering what to marinate pork tenderloin in, my marinade consisted of fresh garlic, some herbes de provence, and olive oil.
There are so many ways to cook a pork tenderloin, but cutting it into two inch thick medallions and then smashing each piece with your hand to further tenderize it might just be the quickest possible way to cook it.
Get a nice sear on your pork medallions. This will add both flavor and texture to your final dish. I recommend using a really large pan so that the meat browns well. Then you'll set that browned pork aside in order to let it rest while you make the sauce.
The Marsala wine sauce starts with shallots and garlic cooked in the pan you seared the pork tenderloin. Next comes the mushrooms. You'll cook these until all of the liquid has cooked off and they get some nice color. You're starting to drool already, aren't you? A bit of flour cooked onto the veggies will create a roux so that your sauce can thicken.
Then you'll deglaze the pan with the wine to lift every ounce of flavor that may have stuck to the pan. Next you'll add chicken broth and homemade is always best. Once that reduces a bit, you'll add the heavy cream and parsley.
Pork Marsala is a super easy recipe to make!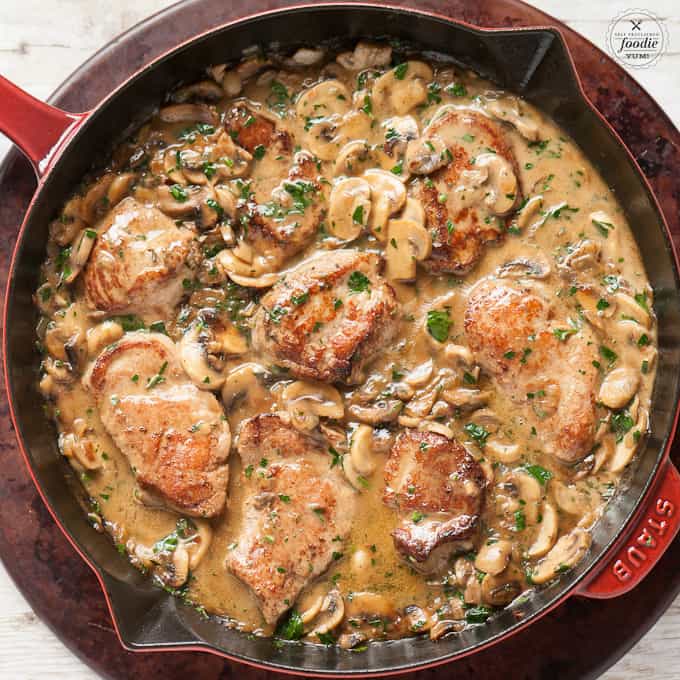 What else to make with Pork Tenderloin:
Smothering an already flavorful piece of pork with a homemade mushroom Marsala sauce is about as close to heaven as my taste buds get. If you love this cut of meat, here are some other great recipe options for you to try:
Pork Fried Rice, made with tender pork tenderloin, is a delicious and complete meal your family will love. See how easy it is to make pork fried rice just like a Chinese restaurant in your own kitchen!
Pork Wellington is a great dinner option if you're looking to make something fancy that doesn't cost too much. A seared pork tenderloin is wrapped in puff pastry, prosciutto, dijon mustard, and sauteed mushrooms and shallots. So good.
Delight the entire family by making this flavorful and healthy Pork Tenderloin with a savory balsamic Raspberry Sauce for dinner. You just can't beat a good sauce, right?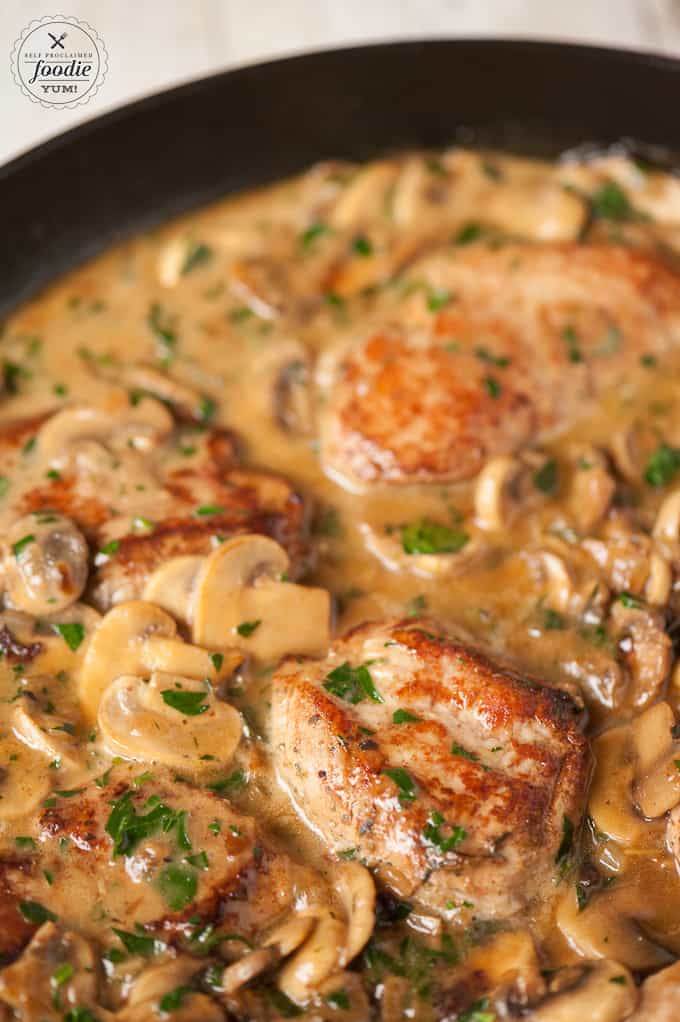 What to serve with Pork Marsala:
Since both pasta and mashed potatoes go great with this recipe, you can go with your basics or you can go with some over the top recipes.
If you've never made your own homemade pasta from scratch, it will change your life. It's actually really easy to make, whether you knead and cut the noodles by hand, or you're smart and use your stand mixer and a pasta roller to make the task a breeze.
You can make very basic mashed potatoes with butter, sour cream, cream cheese, buttermilk, or all of the above. Or, you can step out of your comfort zone and make something like roasted garlic mashed potatoes or gorgonzola celery root mashed potatoes.
Variations on a pork marsala or chicken marsala recipe:
Although I love this recipe just as it's outlined below, I think it would be equally delicious with some of these suggestions.
Pork marsala with spinach would be an easy way to squeeze in a dark leafy green to the meal. A big handful or two of fresh spinach into the sauce would taste delicious!
Pork marsala with capers would add the slightest pop of flavor. I'm a fan of putting capers in just about anything.
Pork marsala with porcini rice would be a savory change from the pasta or potatoes.
Pork marsala without wine would sort of defeat the purpose, in my opinion, but you can easily substitute some lemon juice and additional chicken broth if you want to enjoy this recipe without the wine.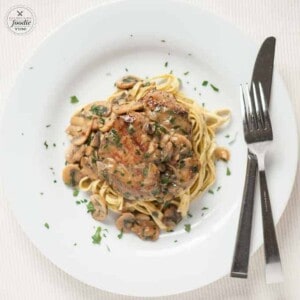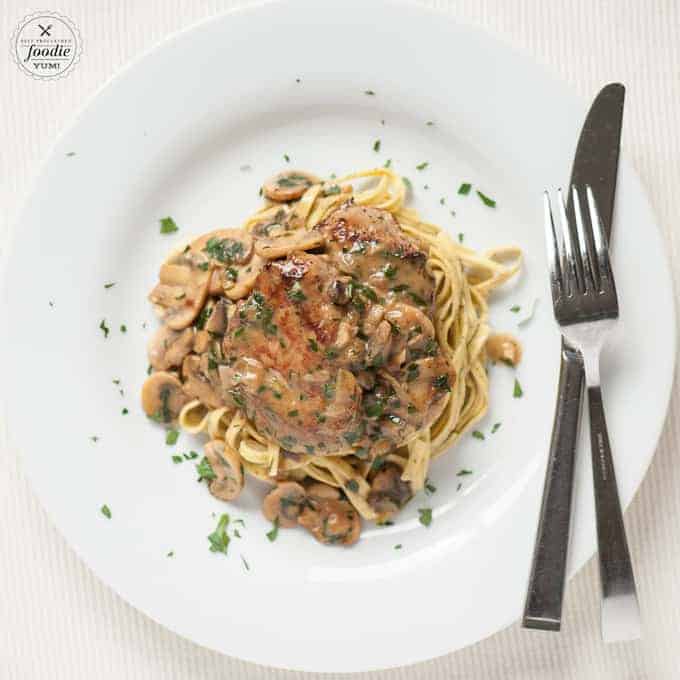 Ready in just 30 minutes, Tender Pork Marsala made with marinated fresh pork tenderloin smothered in a mushroom wine sauce, is perfect for any night of the week.
Instructions
Marinate the pork tenderloin in a resealable bag with the 3 cloves garlic, 1/4 cup olive oil, and herbes de provence at least one hour or overnight. Discard marinade before cooking.

Cut the tenderloins into 2 inch thick medallions and flatten each medallion slightly with the palm of your hand. They should flatten easily. Season both sides with salt and pepper.

Heat a large sauté pan over high heat. Add the olive oil and just 1 tablespoon of butter. Once heated, add the pork and allow to brown 2-3 minutes on each side. Once both sides have nicely browned, remove from pan, transfer to clean plate, and loosely tent with aluminum foil.

Using the same pan, melt the remaining 2 tablespoons of butter and add the shallots. Cook for about a minute until they start to brown and then add the garlic to cook for just a minute more. Stir while scraping the bottom of the pan to release any browned bits.

Add the mushrooms, stir well to distribute butter and flavor, and allow them to cook undisturbed for a couple of minutes before stirring. This will allow your mushrooms to get slightly brown. Continue to cook until the liquid has evaporated and the mushrooms are golden, about 3 minutes. Sprinkle with the flour, stir, and allow the flour to cook for a couple of minutes until fragrant.

Add the Marsala wine and allow to cook down until almost completely evaporated. Then, add the chicken broth and cook for an additional 3-5 minutes while stirring occasionally. Reduce the heat to low and stir in the heavy cream and parsley. Then return the pork and any accumulated juices to the pan. Cook the pork in the mushroom sauce, flipping the meat once, until it's firm to the touch, about 2 to 4 minutes or until it's no longer pink inside. Add salt and pepper, as desired.

Serve over pasta or mashed potatoes and a crisp green salad.
Nutrition
Calories:
545
kcal
,
Carbohydrates:
9
g
,
Protein:
65
g
,
Fat:
24
g
,
Saturated Fat:
9
g
,
Cholesterol:
221
mg
,
Sodium:
312
mg
,
Potassium:
1476
mg
,
Fiber:
1
g
,
Sugar:
3
g
,
Vitamin A:
545
IU
,
Vitamin C:
9.4
mg
,
Calcium:
65
mg
,
Iron:
5.3
mg
Nutrition information is automatically calculated, so should only be used as an approximation.