Imagine waking up to some warm Maple Bacon Cinnamon Rolls with sweet pure maple syrup glaze paired with crisp applewood smoked bacon. Yum!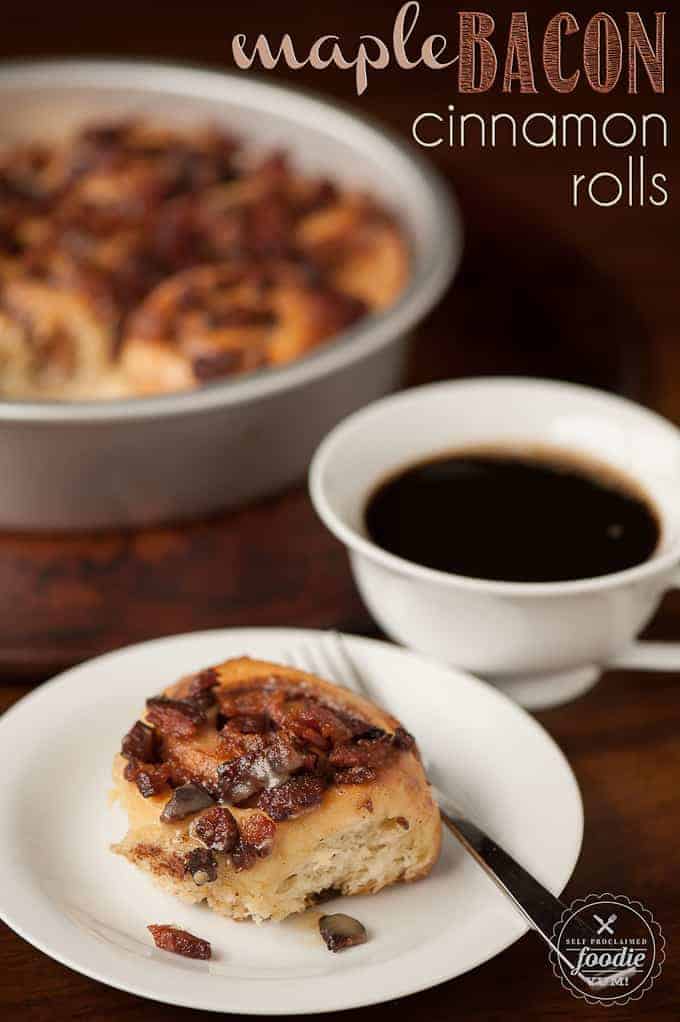 BACON. BACON. BACON.
I kind of figured that's all I would need to write for this post. Was I right?
Seriously, what's not to love about a well cooked good quality bacon? Absolutely nothing. How can you make such an amazing food any better? You pair it with pure maple syrup, of course. Who here hasn't taken a piece of bacon and swirled it around in the leftover pancake syrup on their plate? No one. I'm sure of it. Now take the magical pair of maple and bacon and put it on top of some from scratch homemade cinnamon rolls. Ah yeah.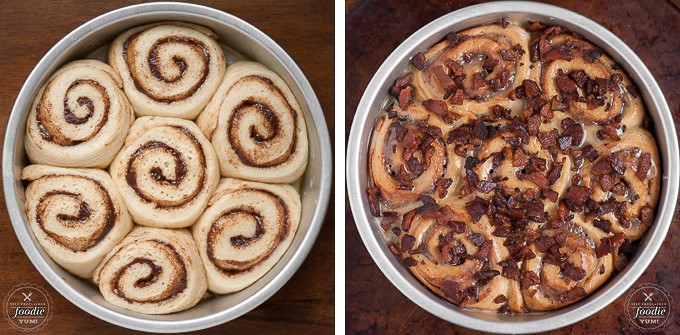 I did a little side by side comparison for you to see what they look like after they had risen but not yet cooked (left) against the maple glaze and bacon covered finished product (right).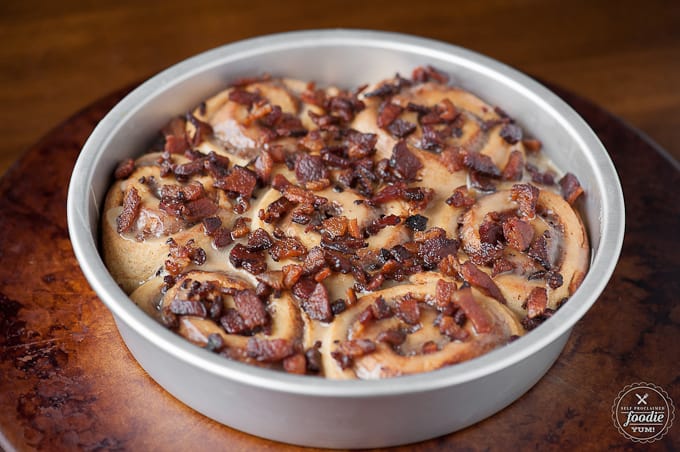 Don't you just want to reach into your screen and take a bite? I'm not gonna lie to you. These are not the quick and easy variety of cinnamon rolls. This is a labor of love. You must have patience while the dough rises. You must cook that bacon perfectly. You must evenly distribute that butter, sugar, and cinnamon mixture. Its worth it. I promise.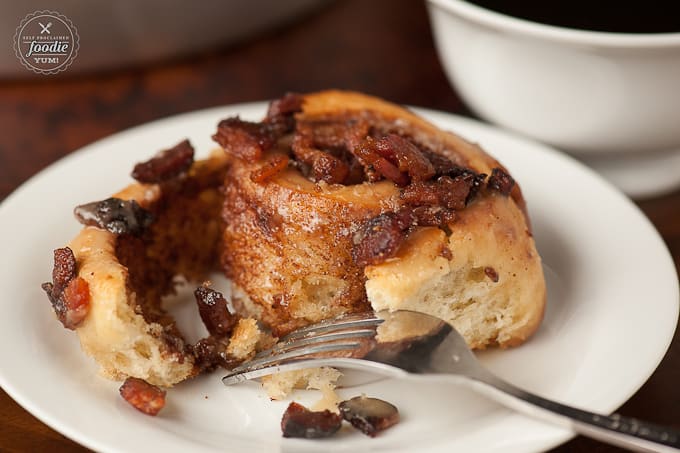 MAPLE BACON CINNAMON ROLLS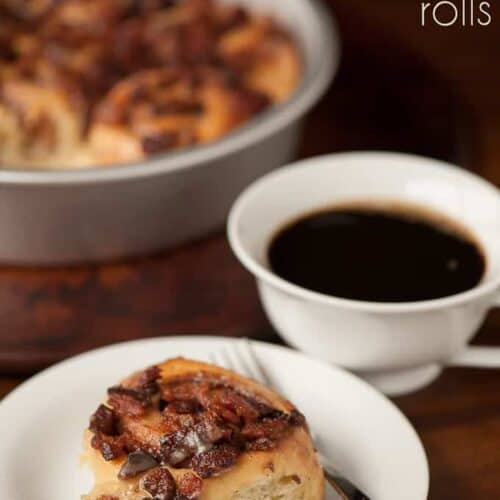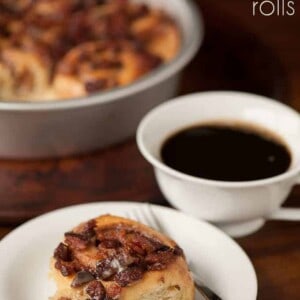 Imagine waking up to some warm Maple Bacon Cinnamon Rolls with sweet pure maple syrup glazed paired with crisp applewood smoked bacon. Yum!
Ingredients
Cinnamon rolls:
1/4 -

ounce

package yeast

1/2

cup

warm water

1/2

cup

scalded milk

1/4

cup

sugar

1/3

cup

butter or shortening

1

teaspoon

salt

1

egg. beaten

3 1/2

cups

all-purpose flour

more if needed

1

tablespoon

vegetable oil
Bacon:
16

ounce

package bacon ends and pieces - diced

cooked and drained
Instructions
In a small bowl, whisk together yeast in warm water and set aside. Heat milk in a pot over medium heat while swirling frequently until it just starts to coat the bottom. In the bowl of your stand mixer, mix milk, sugar, melted butter, salt and egg until well combined. Add 2 cups of flour and mix with dough hook until smooth. Add yeast mixture and mix to combine. Mix in remaining flour while mixer is running on low speed until dough is easy to handle. If after 3 1/2 cups of total flour you aren't able to touch the dough without it sticking, add more flour 1 tablespoon at a time (I did not have to do this). With the mixer running on low speed, knead dough on low speed for 5 minutes. Remove dough from bowl, wash out bowl, coat bowl with 1 tablespoon vegetable oil, and return dough ball to bowl. Cover with plastic wrap and let rise until doubled in size, usually 1 to 1 1/2 hours.*

Once dough has doubled in size, punch it down (I love that part). On a floured surface, roll dough into a 14 by 9 inch rectangle (about 1/2 inch thick). Melt half cup butter. Combine sugar and cinnamon. Mix melted butter with sugar cinnamon mixture and stir to combine. Once butter has cooled enough to slightly thicken the mixture, spread it evenly over your dough rectangle.

Beginning on the long side, tightly roll dough (end result will be a 14 inch long roll). Once you get to the end, stretch the dough to cover the seam and press gently to seal. Cut into 14 pieces that are 1 inch thick.

Coat the bottom of two 8 or 9 inch round cake pans with butter and sprinkle with sugar. Place cinnamon roll slices such that one is in the middle with six around it (they won't be touching). Loosely cover with plastic wrap let rise until dough is doubled, about 45 minutes.

Heat oven to 350 degrees F. Bake rolls for about 25-30 minutes or until nicely browned.

To make the glaze, mix combine butter, maple syrup, powdered sugar, and vanilla in small pot over low heat. Whisk until well combined. Spread over slightly cooled rolls. Sprinkle with bacon pieces.
Nutrition information is automatically calculated, so should only be used as an approximation.