The search for a good looking tasty big hamburger bun that won't fall apart is over with this simple and fun recipe for Homemade Hamburger Buns.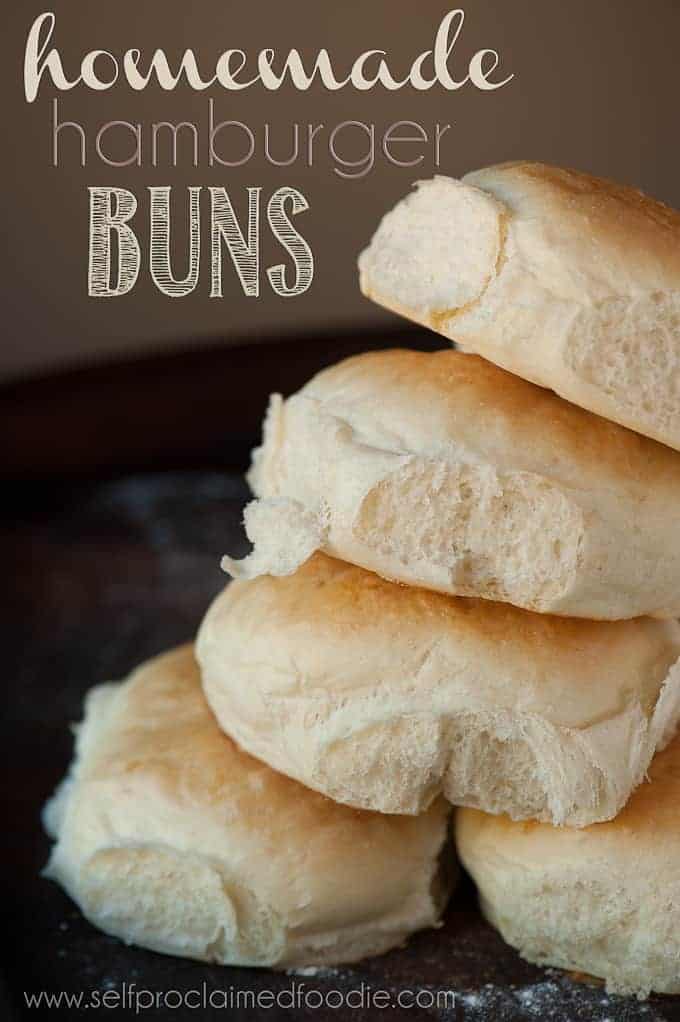 My husband's most favorite food is a good hamburger. I'd have to say a good hamburger probably ranks in my top 10 too. I can't even begin to tell you how many times I've heard him say "get good buns" which is usually followed by "those buns were too small" or "those buns were too dry" or "those buns tasted good but they fell apart". I have honestly never found a store bought bun that I fell in love with because it either failed in the too small, too dry, or fall apart categories. I'm sure I've found one that works but it failed my "costs way too much" category. I told him one day that I was going to make homemade hamburger buns which was followed by a "Are you kidding me? That's way too much work. Just find a good one at the store." I made him eat those words.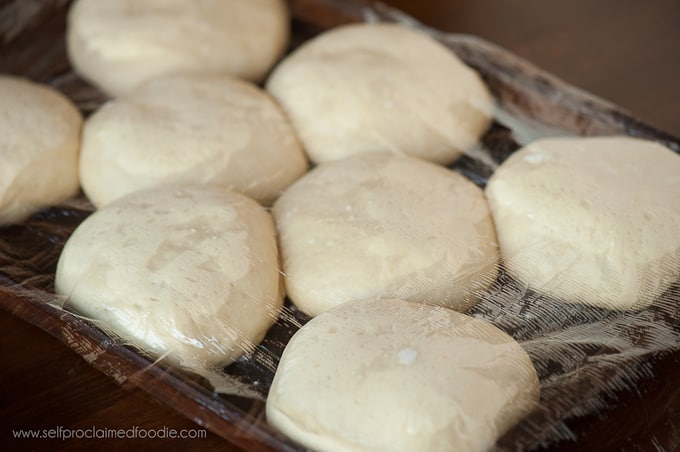 Not only did these turn out wonderful, but they were super fun and easy to make. They took a fair amount of time, but most of that time was allowing them to rise. The actual hands on time was very little, and playing with dough is something everyone should do.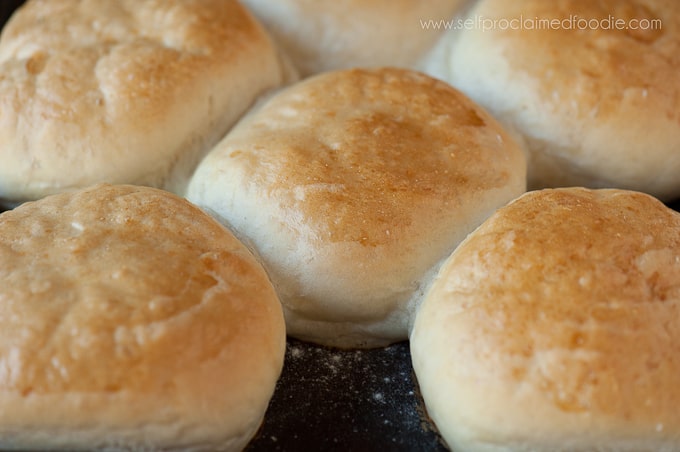 We were all so pleasantly surprised with the final product. They buns are huge and perfectly hold a half pound burger. If you can't handle a proper sized burger, and by that I mean a full half pound, you can easily make 10 buns out of this recipe. I made these buns the day before I intended on using them and they were eaten with two different dinners – a poblano jalepeno chipotle burger and good old fashioned sloppy joes. I'm proud to say that not only did they taste wonderful, but they held up beautifully for both meals and didn't dissolve or fall apart. Most importantly, they got the critical hamburger-loving convert-foodie husband seal of approval.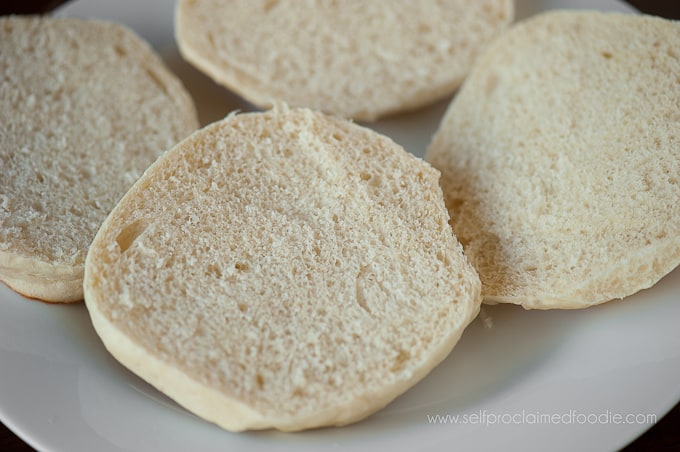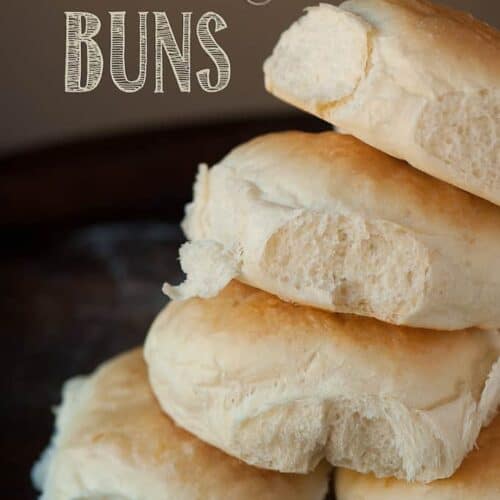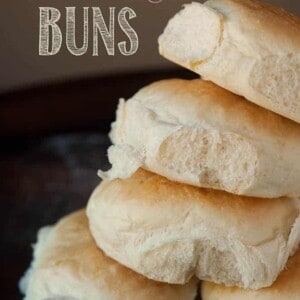 The search for a good looking tasty big hamburger bun that won't fall apart is over with this simple and fun recipe for Homemade Hamburger Buns.
Instructions
In bowl of large stand mixer, whisk together yeast, 1/2 cup flour, warm water and sugar until smooth. Allow to stand 15 minutes until foamy (like the top of a latte). The presence of foam is the indicator that your yeast is good.

Mix one beaten egg with the melted butter and salt. Add to the yeast mixture and stir to combine. Add 3 cups flour.

Using a dough hook, mix on low speed to combine ingredients and then knead dough, 5-6 minutes. If after a minute or so you have ingredients sticking to the sides or the bottom of the bowl, use a spatula to loosen and continue the mixing and kneading. Dough should be slightly sticky and elastic but not actually stick to a spatula when poked.

Transfer dough to another work surface. Wipe out bowl and drizzle olive oil. Form dough into smooth ball by pulling and tucking corners (this part is fun). Place in oiled bowl, cover with plastic wrap, and leave in warm room to rise and double in size, about 2 hours.

Transfer dough to a lightly floured work surface and pat to flatten any bubbles and form into a uniform disk that is about 1/2 inch thick. Dust dough lightly with flour if needed. Cut dough into 8 equal pieces. Form each piece into a round shape, gently tucking ends underneath as before.

Gently stretch and pat each piece of dough into a circular flat shape that is about a half inch flat. Arrange on a baking sheet (either stone or a metal sheet with a silcone mat) in a 2-1-2-1-2 pattern.

Very lightly dust buns with flour and cover with plastic wrap. Just drape the plastic wrap over the top, do not seal the ends to the baking sheet. Let buns rise for an hour or so in a warm room until doubled in size.

Preheat oven to 375 degrees F.

Whisk remaining egg with 1-2 teaspoons of water. Gently brush egg wash on top of each bun. Take extra care not to deflate any of the air so that buns remain light and fluffy.

Bake in preheated oven until golden brown, 15-17 minutes. Allow buns to cool before handling, then pull apart. Buns will stick together and give you a nice torn look. Store at room temperature in air tight container.
Nutrition
Calories:
277
kcal
,
Carbohydrates:
44
g
,
Protein:
7
g
,
Fat:
8
g
,
Saturated Fat:
3
g
,
Cholesterol:
52
mg
,
Sodium:
345
mg
,
Potassium:
82
mg
,
Fiber:
2
g
,
Sugar:
2
g
,
Vitamin A:
191
IU
,
Calcium:
16
mg
,
Iron:
3
mg
Nutrition information is automatically calculated, so should only be used as an approximation.