Homemade Gingerbread Pancakes are fluffy and delicious with just the right amount of sweet and spice. The kids will love these gingerbread men for breakfast!
Just as easy to make as my homemade banana pancakes, but perfect for the holidays! Add in some warm maple syrup or gingerbread coffee syrup and perfectly cooked bacon and you have a mouthwatering breakfast!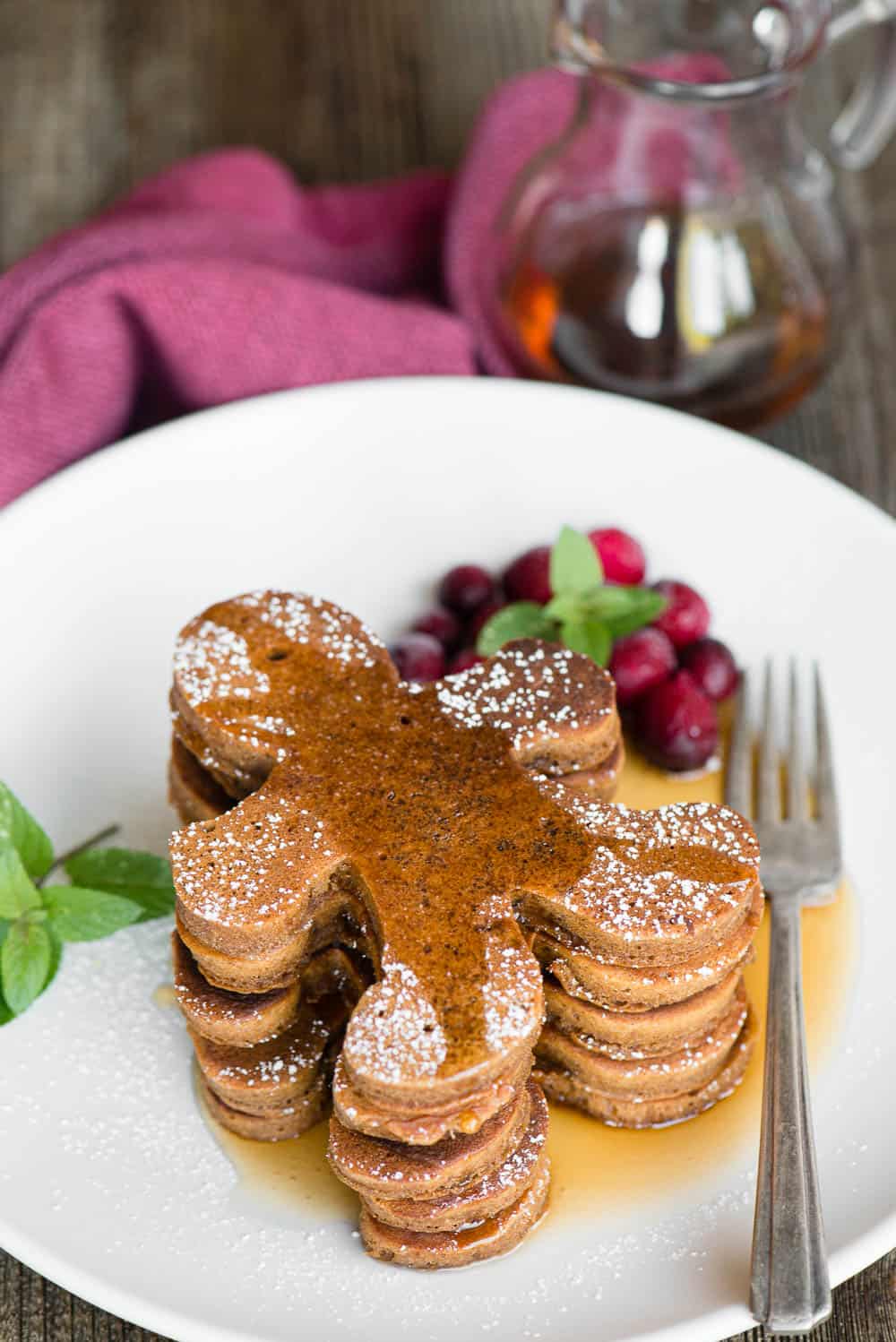 This post was sponsored by Whiskware™ by BlenderBottle but all opinions are my own.
Fewer flavors are better during the holiday season than gingerbread.
The batter is incredibly easy to mix together and comes out light and fluffy.
And the use of non-stick silicon molds makes the job of creating gingerbread men pancakes a breeze!
How to make gingerbread men pancakes:
First step when making any pancake recipe from scratch is to mix the dry ingredients and the wet ingredients separately. You do this because you don't want the baking powder or baking soda to start reacting until you're ready to make the batter (photo 1).
If you bought the Whiskware™ pancake art kit, you can add the ingredients to the Batter Mixer and give it a good shake to combine (photo 2). Head on over to their website RIGHT NOW because they're having a Black Friday sale where everything is 50% off!!!
Pancakes cook best low and slow, meaning a low temperature for a longer period of time. Heat the griddle on a low setting and grease it with butter. Place the silicon pancake shaper on the griddle and add the batter (photo 3). Don't over fill; rather, get a thick bead of batter into the head, legs, and arms, then spread the batter out to completely fill the pancake shaper. The batter will rise as it cooks.
Once the pancake has had a bit of time to shape, life up the pancake shaper and place it in a different spot on the griddle and fill as you did before (photo 4). Flip each pancake only once.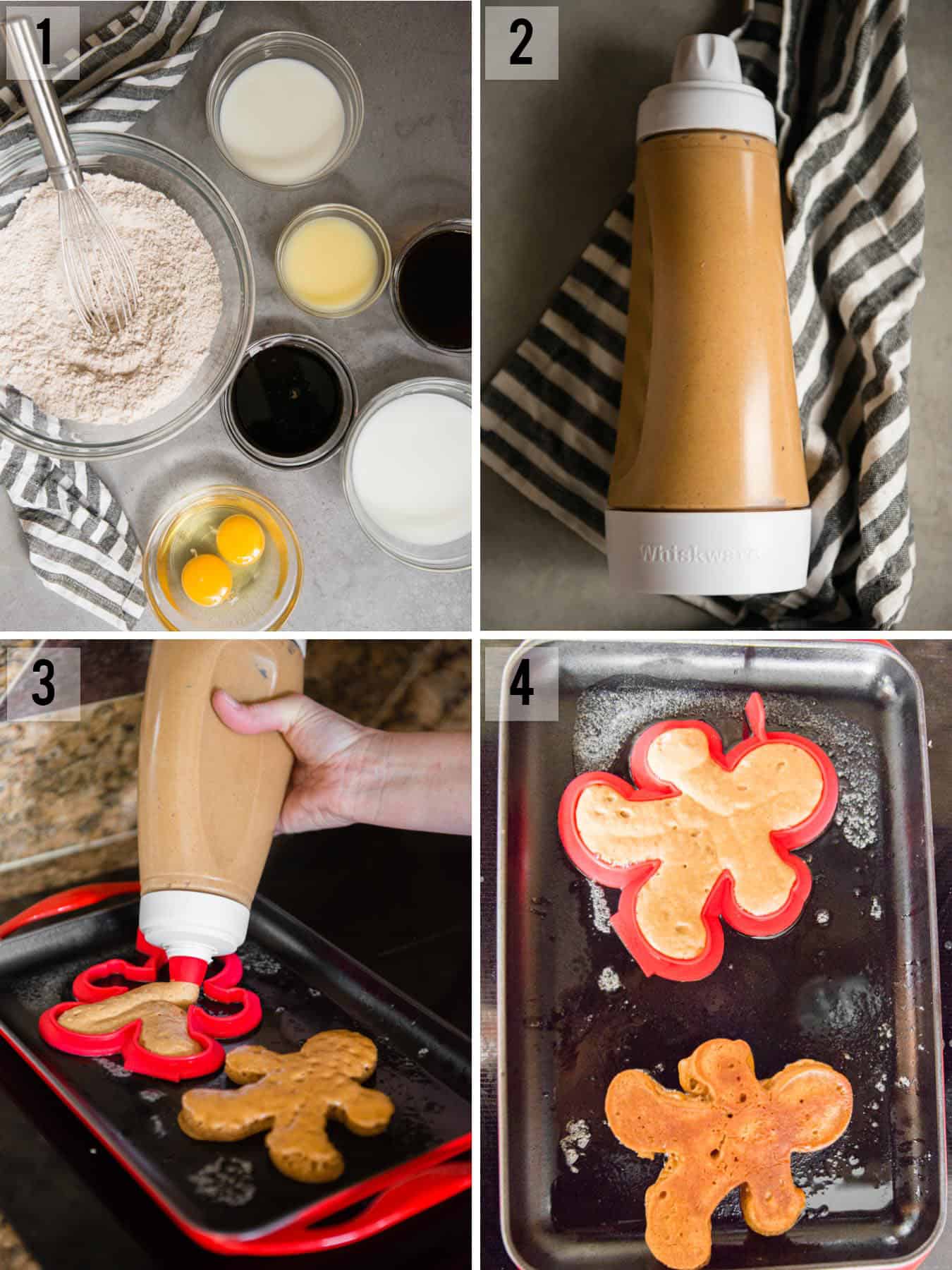 How to keep pancakes warm:
Not gonna lie... any kind of pancake art is a commitment. It's easier to just ladle a big scoop of batter onto the griddle and mass produce those pancakes.
Fun shapes like these gingerbread men or dinosaurs require a bit of extra time, especially if you make a second, thinner batter with a different color for the Pancake Art Bottle.
The trick to serving pancakes like this to a crowd is to make them one at a time, and then keep them warm until you're ready to serve them.
To keep pancakes warm, simply wrap them in aluminum foil or place in a large dutch oven with a lid and place in a 200 degree F oven. This will prevent them from drying out but keep them super warm.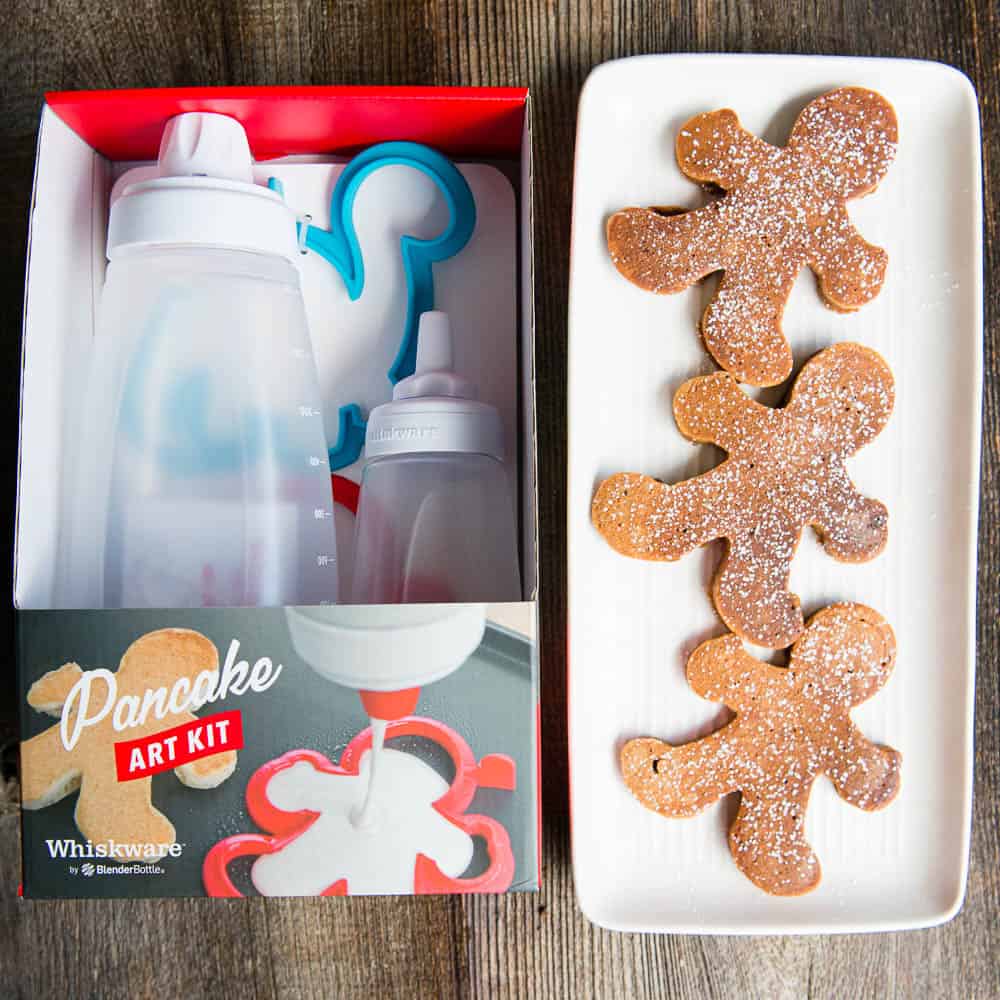 How to create the best gingerbread flavor:
Gingerbread refers to a broad category of baked goods, typically flavored with ginger, cloves, nutmeg or cinnamon and sweetened with honey, sugar or molasses.
As far as the spices go, I took a shortcut and opted to use pumpkin pie spice that is a warm blend of cinnamon, ginger, citrus, nutmeg, cloves and just a hint of cardamom.
Thick unsulphured molasses is what gives these pancakes their dark color. That, in addition to the secret ingredient of coffee, which gives these pancakes a subtle, yet very distinctive, gingerbread flavor.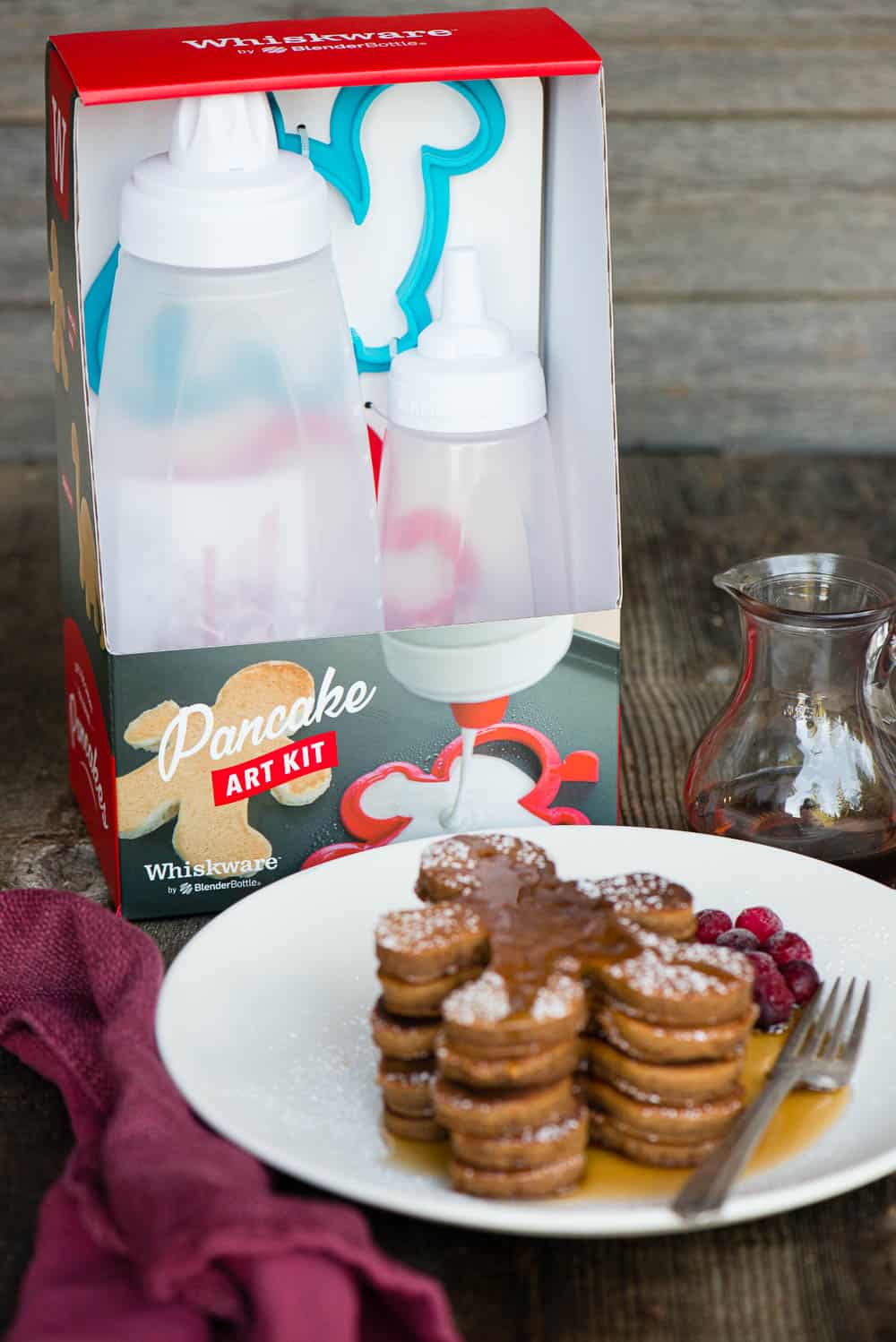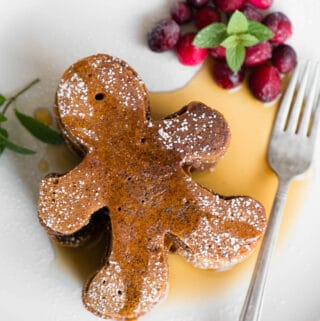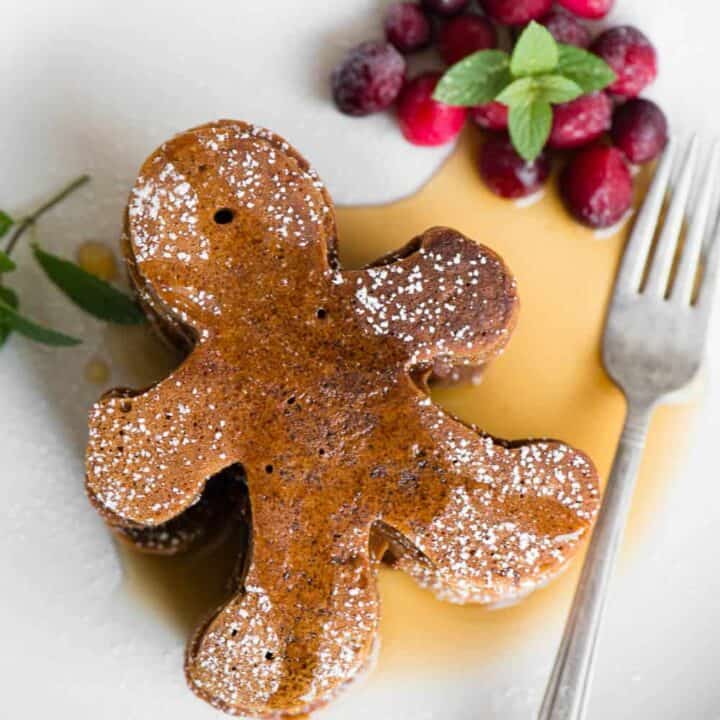 Gingerbread Pancakes
Homemade Gingerbread Pancakes are fluffy and delicious with just the right amount of sweet and spice. The kids will love these gingerbread men for breakfast!
Print
Pin
Rate
Ingredients
2

cups

all-purpose flour

2

tablespoons

brown sugar

1 ½

teaspoons

baking powder

½

teaspoon

baking soda

1

teaspoon

kosher salt

2

tablespoons

pumpkin pie spice

¾

cup

buttermilk

½

cup

whole milk

½

cup

cold coffee

⅓

cup

molasses

2

eggs

3

tablespoons

unsalted butter

(melted)
Instructions
In a large bowl, whisk together flour, brown sugar, baking powder, baking soda, salt and spices.

In a separate bowl, whisk buttermilk, milk, coffee, molasses, eggs, melted butter until well combined.

Add the wet ingredients to the dry ingredients and gently stir until combined. A few small lumps are fine. Alternatively, you can combine the ingredients in a Whiskware Pancake Batter Mixer and shake to combine.

Let the batter sit for 10 minutes before using.

Heat a lightly greased griddle or nonstick skillet over medium-low heat. Drop the pancakes into the pan by the quarter cup, making sure to leave plenty of room in between for the batter to expand. If using the Whiskware gingerbread mold and batter bottle, pour a thin layer of pancake batter into the mold and use a butter knife to help spread to all edges.

Cook until the batter bubbles on the surface and browns on the bottom, about five minutes, remove gingerbread silocon mold (if using), then carefully flip. Cook until the batter is completely cooked through and the pancakes are slightly dark brown. Repeat until all the batter is used. Serve pancakes as you make them or keep them warm as you cook them by setting them on a baking sheet in a 250-degree oven.
Notes
Serve with butter, warm maple syrup, and a dusting of powdered sugar.
Recipe makes about 12 gingerbread men sized pancakes
NUTRITION INFORMATION
Calories:
166
kcal
|
Carbohydrates:
27
g
|
Protein:
4
g
|
Fat:
5
g
|
Saturated Fat:
3
g
|
Cholesterol:
37
mg
|
Sodium:
276
mg
|
Potassium:
265
mg
|
Fiber:
1
g
|
Sugar:
10
g
|
Vitamin A:
168
IU
|
Vitamin C:
1
mg
|
Calcium:
86
mg
|
Iron:
2
mg