Treat your family to fresh produce and start each day with a delicious glass of antioxidant and vitamin filled Fresh Pressed Juice!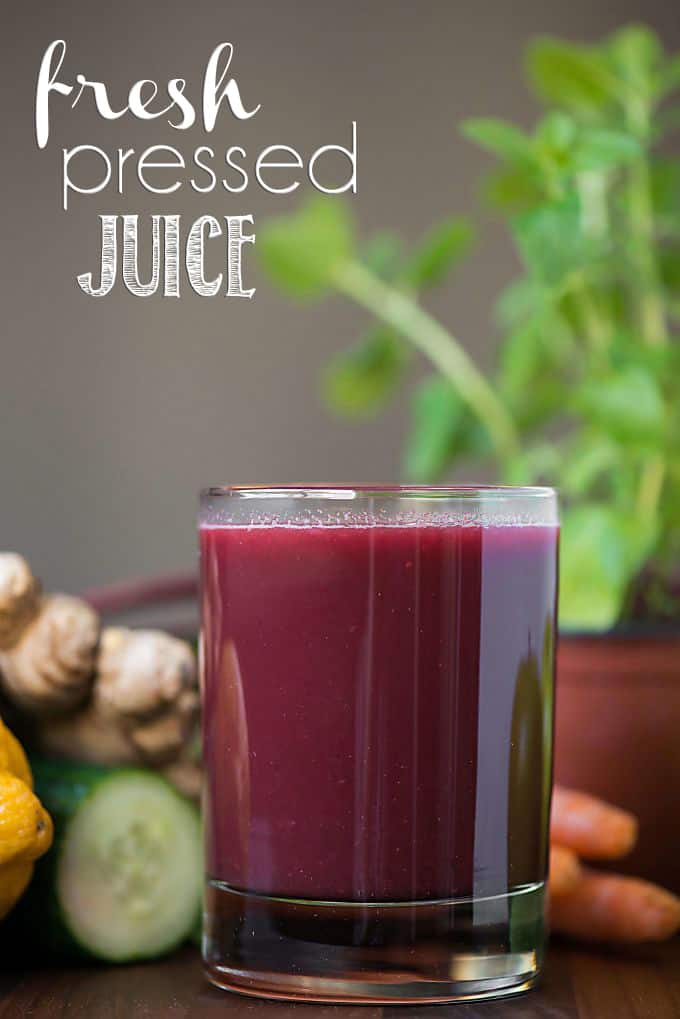 Equipment needed to make fresh pressed juice:
A few years back, we bought a juicer. I should actually say, we invested in a juicer. I say it was an investment because a) it was expensive, and I like to rationalize everything over $100 as an "investment" and b) it actually is an investment in our health.
Juicing is a hard habit to get into. You have to have a lot of fresh ingredients on hand. You have to be willing to spend the money on produce that you're going to crush up and reduce in size. You have to be willing to sacrifice your counter space and clean the darn thing every day. Let me tell you something – its completely worth it.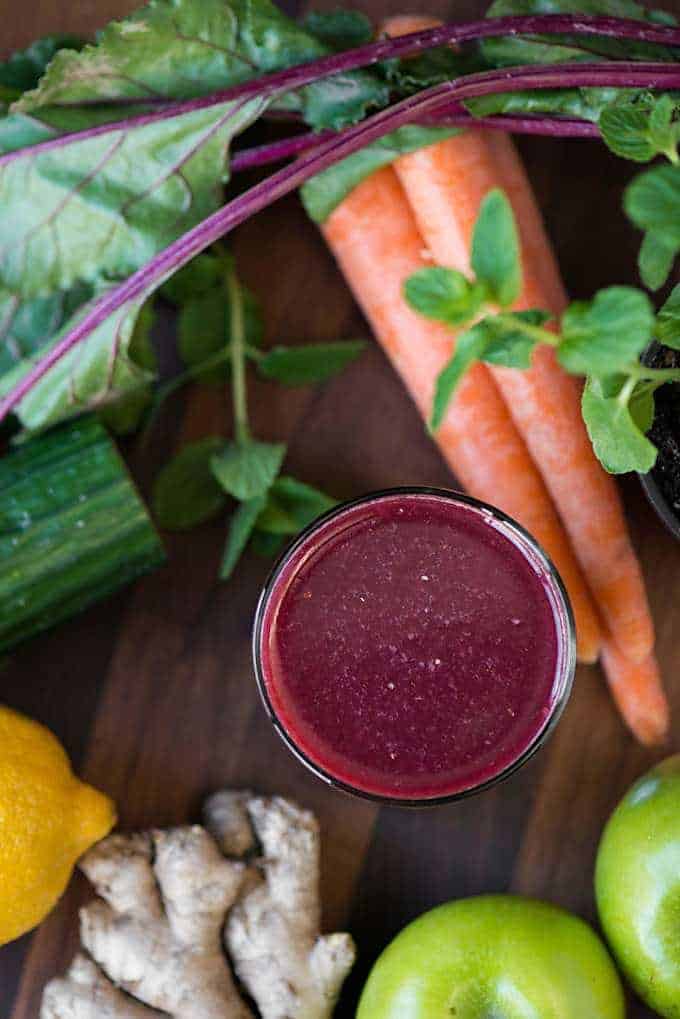 Fresh pressed juice ingredients and benefits:
We make this juice nearly every single day and we think we've perfected the combination of ingredients we use. We play around a bit with the greens we add which can be anything from spinach, to kale, to parsley, to radish greens, or any combination. For this particular post, we just used the beet greens. Here are some of the benefits to the ingredients we used in this juice:
Apples: Apples are extremely rich in important antioxidants, flavanoids, and dietary fiber. The phytonutrients and antioxidants in apples may help reduce the risk of developing cancer, hypertension, diabetes, and heart disease.
Lemon: The benefits of lemons are due to its many nourishing elements like vitamin C, vitamin B6, vitamin A, vitamin E, folate, niacin thiamin, riboflavin, pantothenic acid, copper, calcium, iron, magnesium, potassium, zinc, phosphorus and protein.
Ginger: Ginger has a very long history of use in various forms of traditional/alternative medicine. It has been used to help digestion, reduce nausea and help fight the flu and common cold, to name a few. It has powerful anti-inflammatory and antioxidant effects.
Carrots: Most of the benefits of carrots can be attributed to their beta-carotene and fiber content. This root vegetable is also a good source of antioxidant agents. Furthermore, carrots are rich in vitamin A, Vitamin C, Vitamin K, vitamin B8, pantothenic acid, folate, potassium, iron, copper, and manganese.
Cucumber: Here is a short list of the impressive benefits that a cucumber carries: they keep you hydrated, cucumber fights heat, it flushes out toxins, it nourishes you with vitamins, cucumber supplies skin-friendly minerals like magnesium, potassium, silicon, it aids in weight loss, and furthermore cucumber cuts cancer risk.
Mint: The popular herb has several benefits which include proper digestion and weight loss, relief from nausea, depression, fatigue and headache, treatment of asthma, memory loss, and skin care problems. It is an herb that has been used for hundreds of years for its remarkable medicinal properties.
Beets: Beets are high in immune-boosting vitamin C, fiber, and essential minerals like potassium (essential for good nerve and muscle function) and manganese (which is good for your bones, liver, kidneys, and pancreas). Beets also contain the B vitamin folate, which helps reduce the risk of birth defects.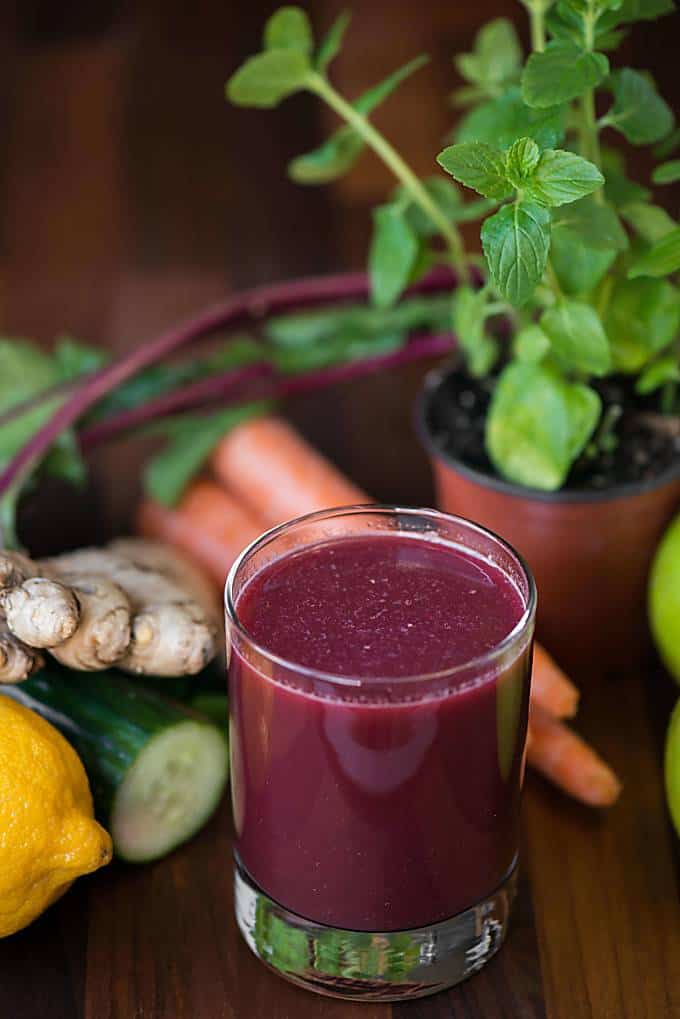 When you combine all of those incredible health benefits into a tasty glass of juice, your entire family benefits!
Recipe video below!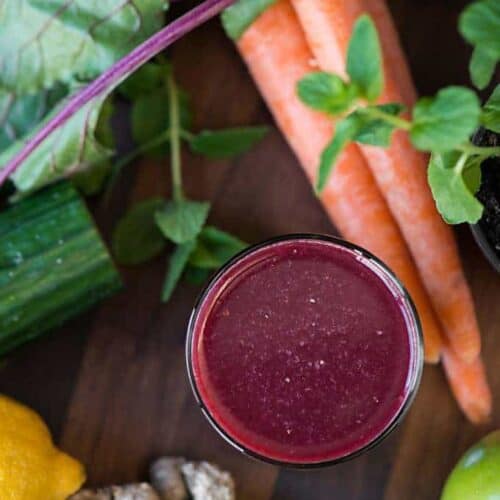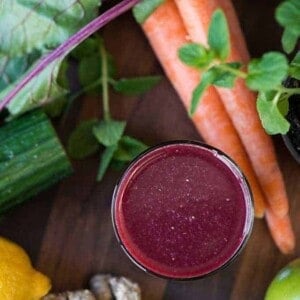 Treat your family to good health and start each day with a delicious glass of antioxidant and vitamin filled Fresh Pressed Juice!
Ingredients
3

apples

tart apples work best

1

lemon

peel removed

3

carrots

1/3

of a cucumber

4

sprigs fresh mint

1

inch

chunk ginger

1

medium sized beet with greens
additional ingredients we also love to add:
pomegranate arils

spinach

parsley

kale
Instructions
Run all ingredients through a juicer. Enjoy!
Nutrition
Calories:
110
kcal
,
Carbohydrates:
28
g
,
Protein:
1
g
,
Sodium:
50
mg
,
Potassium:
430
mg
,
Fiber:
6
g
,
Sugar:
18
g
,
Vitamin A:
7775
IU
,
Vitamin C:
25.4
mg
,
Calcium:
37
mg
,
Iron:
0.7
mg
Nutrition information is automatically calculated, so should only be used as an approximation.