Creamy Rigatoni with Mushrooms and Prosciutto di Modena PDO is a rich, flavorful, creamy pasta recipe full of authentic Italian ingredients! When you use genuine ingredients from Italy, you know you'll have the highest quality food to enjoy! Not only will I tell you how to make this outstanding recipe, but you'll discover more about the Italian products I used, from the healthy olive oil to the popular pasta to the tasteful tradition of salami and cheese.
If you love this recipe, you'll certainly love a similar version: Creamy Sausage Mushroom Rigatoni.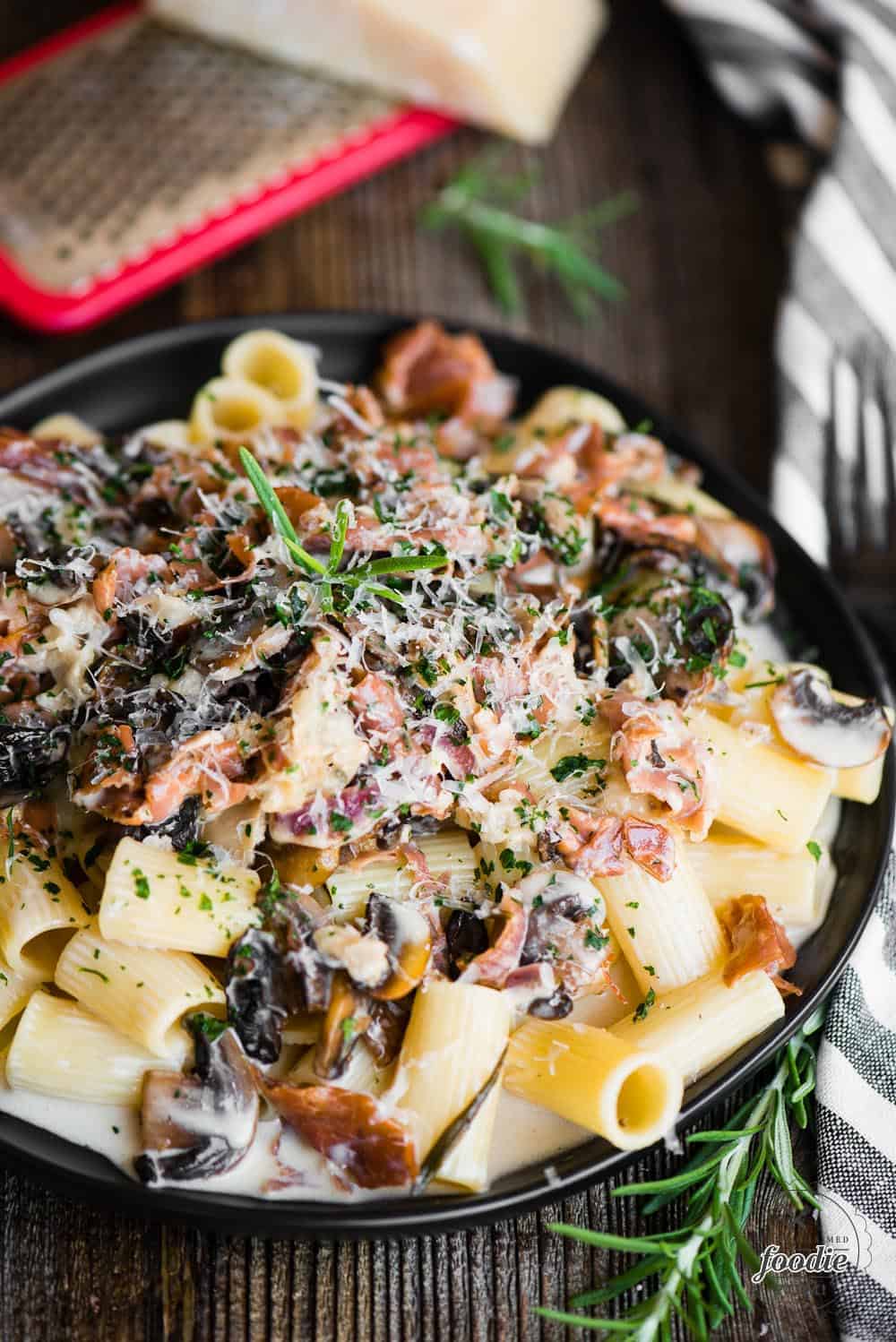 Unless you've cooked with genuine Italian products before, this rigatoni recipe is far better than any pasta recipe you've ever enjoyed. Why? The recipe is only part of the goodness. Without high quality, authentic ingredients, this meal wouldn't taste nearly the same.
Don't be fooled by all of those "Italian sounding" ingredients out there. There are tons of products like olive oil, pasta, cheese, and cured meats that appear to be from Italy, but once you look a little closer, you'll realize that they are imitations and simply aren't genuinely Italian made. These products typically focus on quality and usually come at a slight premium price. It is worth every penny, in my opinion. There is simply no distinction between small producers and factory made Italian food products. If the product is genuine, authentic Italian, it will always be a high quality product.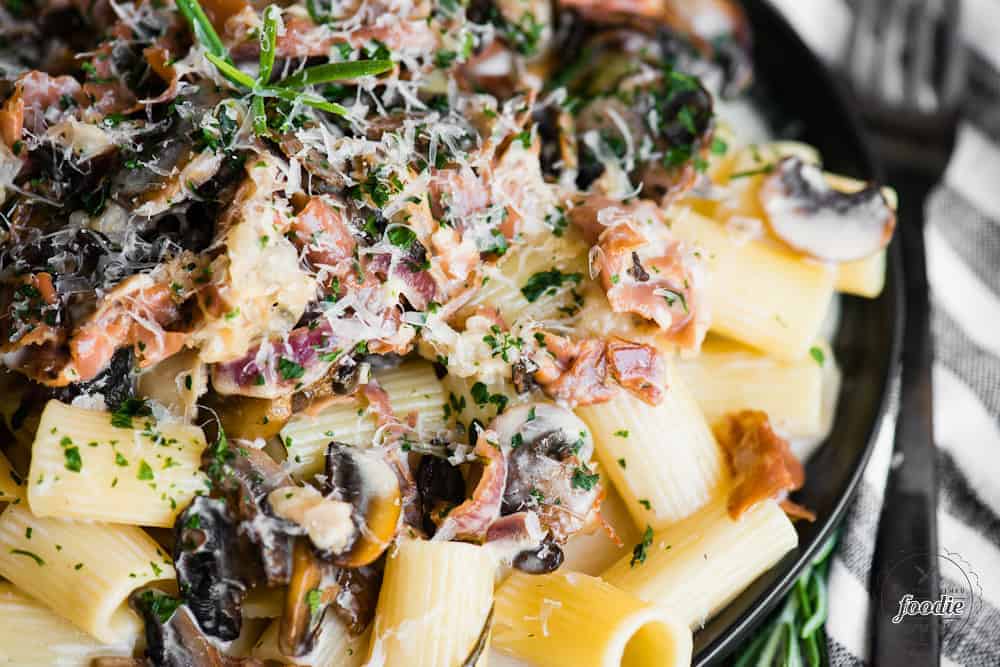 Prosciutto di Modena PDO
Prosciutto di Modena PDO is a raw, cured charcuterie product, obtained through the processing of fresh pig legs belonging to the Large White Italian and Landrace pure or crossbreeds, Duroc crossbreeds and other compatible breeds. The slice of Prosciutto di Modena PDO has a bright red color. The taste is savory but not salty, with a pleasant, sweet and intense fragrance. In the production process of the Prosciutto di Modena PDO the salting operations are repeated twice. Then, hams are left to rest for at least 60 days in special rooms with controlled temperature and humidity. The maturation period is 14-30 months long. Prosciutto di Modena PDO is served thin sliced to eat with bread or traditional "tigella" from Modena. This ham is perfect also to fill fresh pasta, as I have chosen to make, or to be eaten with melon or other fruits. If sliced, it has to be stored in the fridge. I can tell you that the difference between Italian Prosciutto di Modena PDO and its imitations is like night and day.
Olive Oil
It should be no surprise to you that Italy is considered the world leader in quality of extra-virgin olive oil and is also number one in the product's consumption. Much of Italian cuisine is based on tradition, and this is particularly the case with extra virgin olive oil production. Versatile in the kitchen and highly digestible, extra-virgin olive oil is a base condiment of a Mediterranean diet and also one of the most precious. Olive is considered one of the few truly healthy oils: it is a mono-unsaturated fat that contains anti-oxidants, and is low in cholesterol. Olive oil consumption is believed to reduce the risk of heart disease, as is shown by the lower incidences of heart disease in the areas where the Mediterranean diet is followed. Think of having a high quality olive oil in your kitchen as an investment. Always look for the seals either designating PDO (Protected Designation of Origin) or PGI (Protected Geographical Indication) so that you know you are using a true Italian Olive Oil.
Rigatoni Pasta
There is no secret about pasta being the most common food in Italy as well as the most beloved one. Pasta is the key ingredient of Italian cuisine from North to South, at every age, in every season. For a long time, at least outside of the Italian country, pasta has been believed to be nothing more than a guilty pleasure, however it is an easy, affordable way to assume complex-carbohydrates in a varied and tasteful fashion. Typically, pasta is made from unleavened dough of a durum wheat flour mixed with water or eggs and formed into sheets or various shapes, then cooked in boiling water.
Italian Made is best.
If you can't tell from the photos, I encourage you to make this Creamy Rigatoni with Mushrooms and Prosciutto di Modena PDO recipe at home using authentic Italian made ingredients. You will be able to taste the difference!
Take this dinner over the top by making Fried Calamari as an easy appetizer.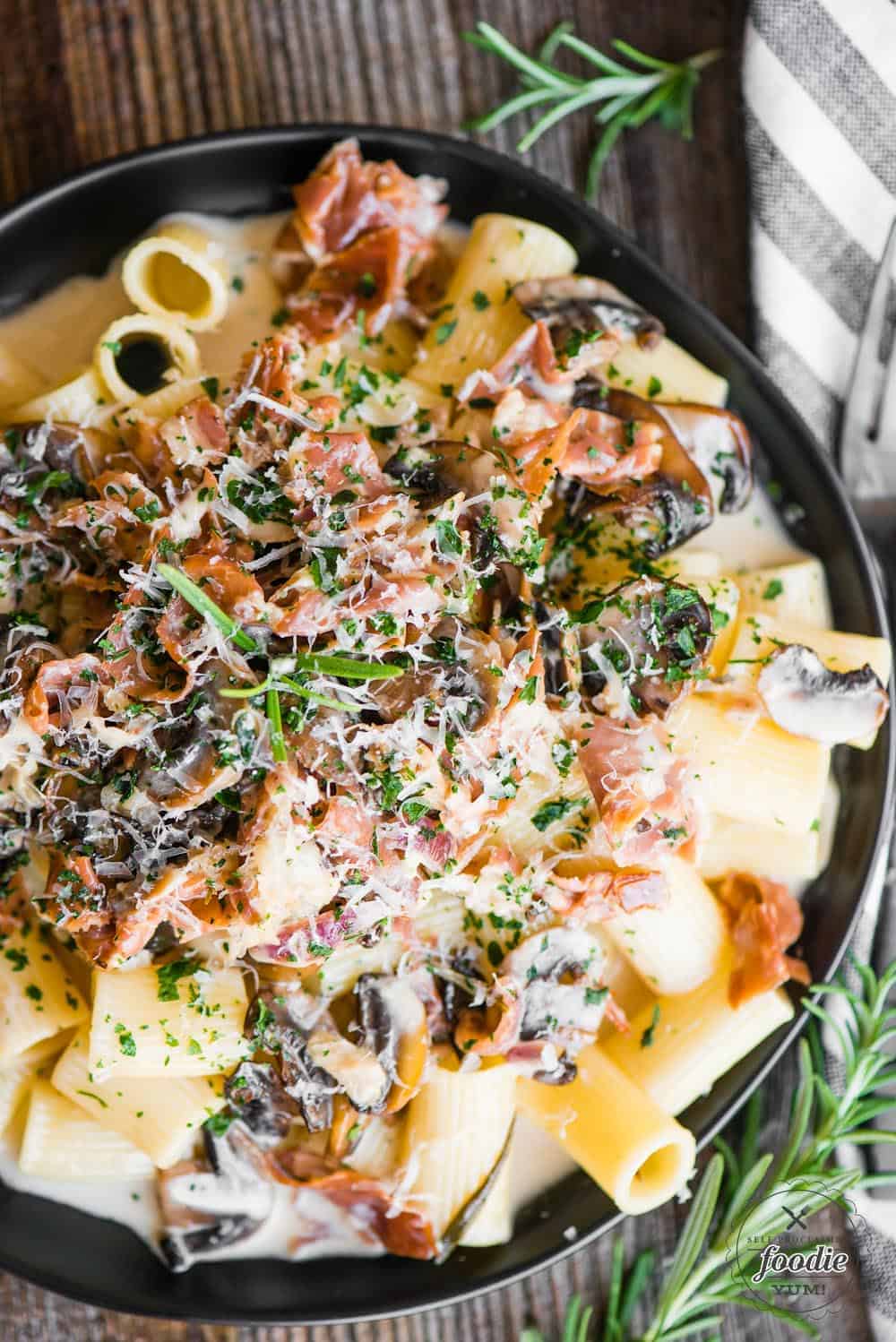 Creamy Rigatoni With Mushrooms and Prosciutto di Modena PDO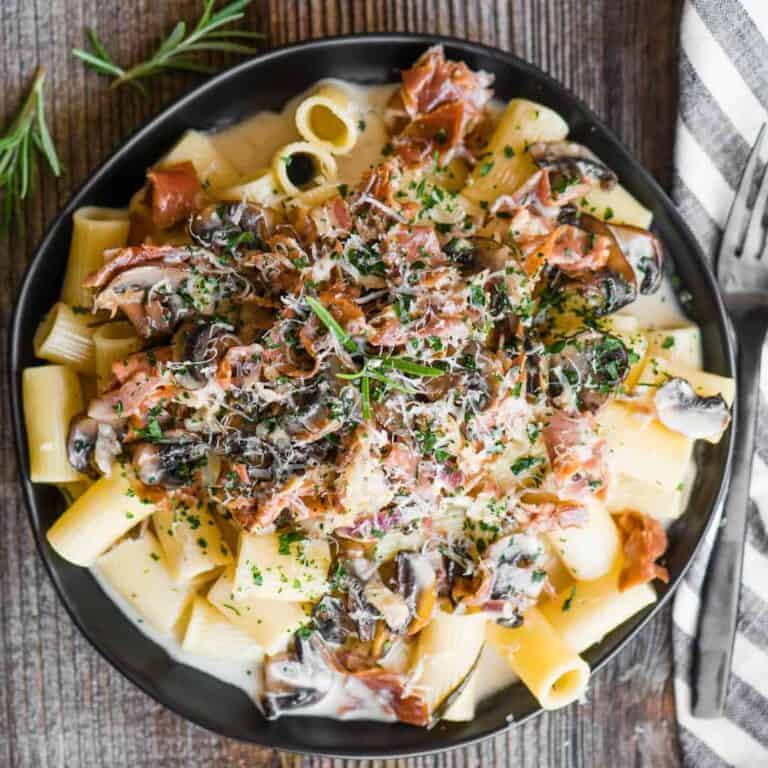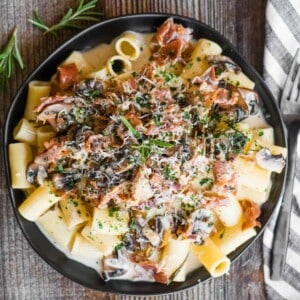 Creamy Rigatoni With Mushrooms and Prosciutto di Modena PDO is a rich, flavorful, creamy pasta recipe full of authentic Italian ingredients!
Ingredients
1

pound

Rigatoni Pasta

Italian made

4

Tbs

extra virgin olive oil

ITALIAN PDO/PGI

1

sprig of rosemary

1

sprig of marjoram

16

oz

mushrooms

fresh, sliced

1

large

shallot

diced

2

cloves

garlic

minced

1

cup

marsala wine

2

cups

heavy whipping cream

8

ounces

Prosciutto di Modena PDO

sliced into thin strips
Instructions
Cook pasta to al dente doneness in large pot of salted boiling water. When done, drain and set aside.

Meanwhile, heat olive oil in a large skillet over medium high heat. Sauté the sprigs of rosemary and marjaram along with the mushrooms and shallot until aromatic, about 5-8 minutes.

Add the garlic, stir, and continue to cook until the garlic starts to turn golden brown, about 1-2 minutes.

Add the Marsala wine and cook until it has mostly evaporated, about 10 minutes.

Reduce heat to medium and add the heavy cream and strips of Prosciutto, stir, and cook for an additional 2 minutes until sauce thickens. Remove stems from herbs.

Toss drained hot cooked pasta in sauce and serve. Season with salt and pepper, as desired.
Nutrition
Calories:
659
kcal
,
Carbohydrates:
51
g
,
Protein:
14
g
,
Fat:
41
g
,
Saturated Fat:
18
g
,
Cholesterol:
100
mg
,
Sodium:
219
mg
,
Potassium:
445
mg
,
Fiber:
2
g
,
Sugar:
5
g
,
Vitamin A:
885
IU
,
Vitamin C:
2.1
mg
,
Calcium:
57
mg
,
Iron:
1.3
mg
Nutrition information is automatically calculated, so should only be used as an approximation.