Eggs Benedict with Blender Hollandaise Sauce, perfectly poached eggs, and savory ham is easy to make at home for your family or when feeding a crowd.
Don't be intimidated! It's really not as hard as you might think. This delicious brunch recipe does not need to only be enjoyed in restaurants. Making a delicious Classic Eggs Benedict breakfast at home is much easier than you think, especially when you whirl up the hollandaise sauce in the blender.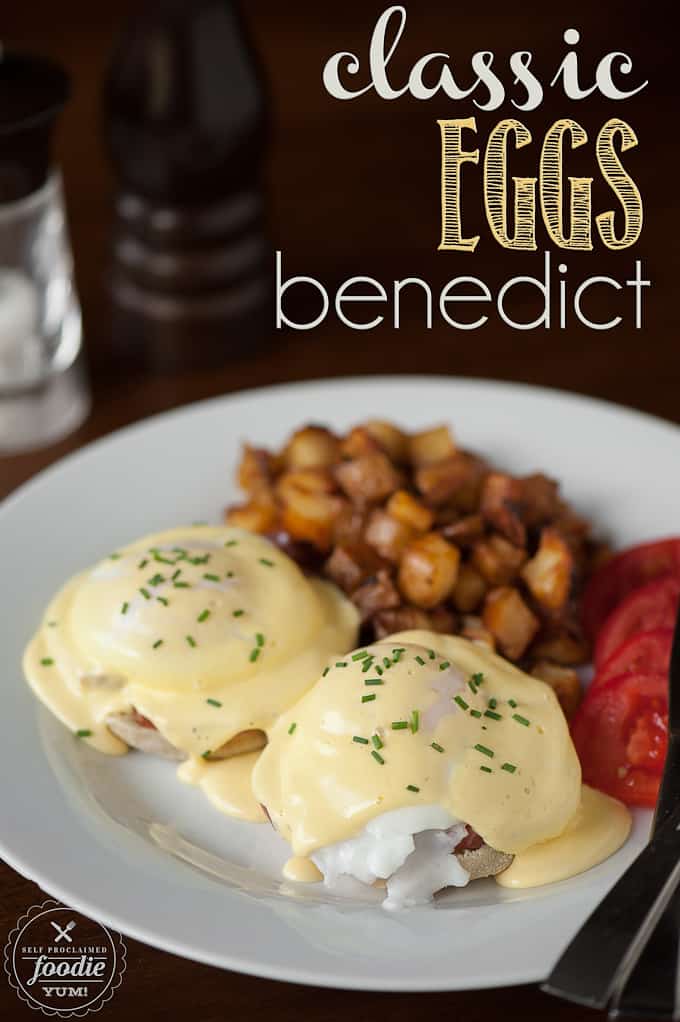 Eggs Benedict is easy to make!
Breakfast is my favorite meal of the day. Some of my most popular recipes including Flaky Buttermilk Biscuits with Country Sausage Gravy as well as Granny's Monkey Bread.
Eggs Benedict has always been a favorite of mine. I can't begin to tell you how disappointed I am when I order Eggs Benedict at a restaurant and it doesn't pass my standards.
For this recipe to pass my test, the eggs have to be perfectly cooked, meaning the yolks are runny but the whites are cooked. The hollandaise sauce has to be not too thick, not too thin, with the perfect balance of lemon and butter. The ham has to be flavorful and slightly crispy without being dry. The English muffin must be perfect as well.
I have very high standards for Eggs Benedict. That is probably why I adore this easy Eggs Benedict recipe.
What is Eggs Benedict?
Seems like a weird question since I've been eating it my whole life, but I'm sure there are people out there who are not familiar with this classic breakfast recipe.
Eggs Benedict, aka Eggs Benny, is basically a breakfast that consists of an English muffin, ham, poached egg, and Hollandaise sauce all stacked together.
Any idea where this dish originated? New York! A chef at the Waldorf Hotel made it for a man with the name of Benedict who happened to have a hangover and needed just the right breakfast.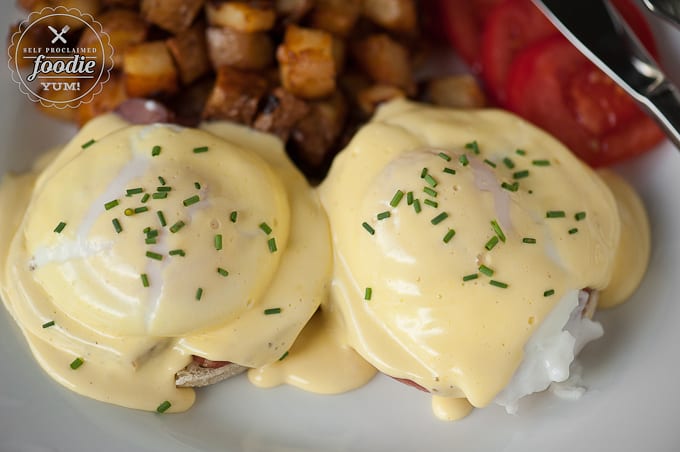 Hollandaise sauce ingredients:
Do you know what goes into Hollandaise sauce? If you've never made it, you might not. I will tell you this – if you're on a diet other than keto, you might not want to know.
Hollandaise sauce consists of egg yolks, lemon juice, a dash of hot sauce, a bit of dijon mustard, and hot melted butter.
How to make easy hollandaise sauce in the blender:
It is actually super easy to "cheat" and make hollandaise in the blender or with an immersion blender instead of over a double boiler.
Combine egg yolks, Dijon mustard, lemon juice, and hot pepper sauce. Blend on low speed to combine.
While the blender is running, add melted butter in a slow, steady stream. It will thicken immediately and you do not want to over mix. That's it!
How to make easy Eggs Benedict for a crowd:
Beyond the troublesome poached eggs and tricky hollandaise, challenge #3 was how to make this delicious breakfast for a crowd.
Simply toast the English muffins, only slightly, then place them on a baking sheet and top them with the Canadian bacon. Then, place them in a 200 degree F oven. Even if you can only make two poached eggs at a time, when you place them on the ham covered muffins, they will stay warm but will not continue to cook. If you're worried about them cooking too much, you can always heat up the oven and turn it off as soon as you place the eggs in there.
The main thing you want to keep in mind is that you want to serve the Eggs Benedict as soon as the blender Hollandaise sauce is made and poured on top.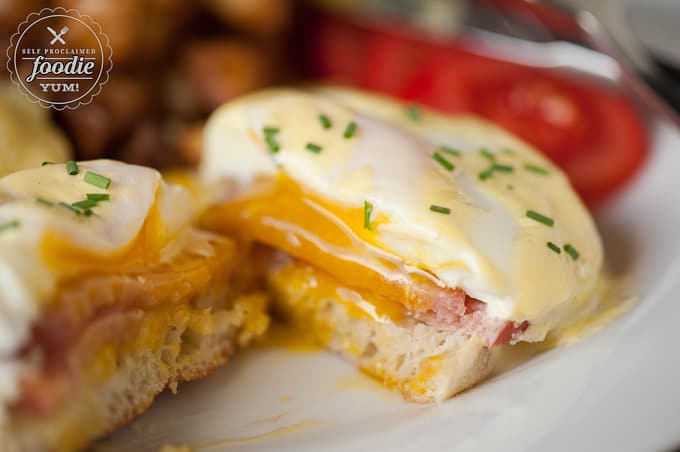 Variations of classic Eggs Benedict:
Ever go to a restaurant and see several different versions of Eggs Benedict? They pretty much all include an English muffin, poached egg, and Eggs Benedict sauce, or Hollandaise sauce. What varies is what else goes in.
Popular here in the Pacific Northwest is Crab Benedict or Salmon Benedict where you replace the ham with wild seafood. YUM!
Eggs Florentine substitutes wilted spinach for the ham or just adds it underneath. I love putting spinach on just about everything, expecially when decadent hollandaise sauce is involved.
If you're in California you could put avocado on your Eggs Benedict. Not sure if that's a thing, but it sounds good, doesnt' it?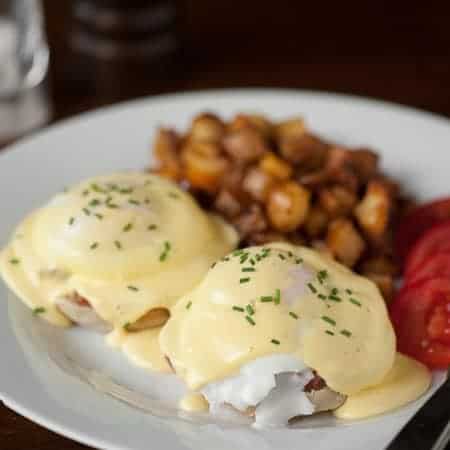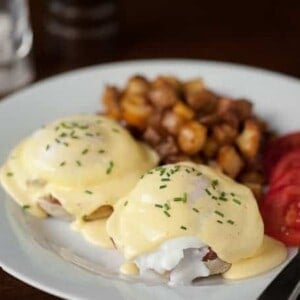 Eggs Benedict with Blender Hollandaise Sauce, perfectly poached eggs, and savory ham is easy to make at home for your family or when feeding a crowd.
Ingredients
Blender Hollandaise Sauce:
3

very large egg yolks

or 4 small yolks

1/4

teaspoon

dijon mustard

1

tablespoon

lemon juice

or more if you like it more lemony

1/2

teaspoon

hot pepper sauce

like Tobasco

1/2

cup

unsalted butter

kosher salt to taste
Eggs Benedict:
8

poached eggs

8

English muffins

split

8

ounces

Canadian Bacon

sliced or shaved
Instructions
Preheat oven to 200 degrees F. Lightly toast English muffins. Arrange on baking sheet. Top with equal portions of Canadian bacon. Allow to stay warm in oven.

Prepare

poached eggs

. If you are not able to make all 8 at the same time, do not worry. As the eggs finish, place each egg on top of the English muffin and Canadian bacon stack in the oven to stay warm.

To make the hollandaise, add the egg yolks, dijon, lemon juice, and hot pepper sauce to the blender. Blend for only 5 seconds to combine.

In a sauce pan over the stove or in a glass dish in the microwave, melt the butter until it is hot and bubbly. While the blender is running on low speed, pour in the hot butter in a thick steady stream. The hollandaise will thicken immediately. Do not over blend, otherwise your sauce will over thicken. As soon as all the butter is in, the sauce should be done. Add salt, if desired.

Spoon equal portions of hollandaise over each egg. Garnish with minced chives or freshly ground pepper. Serve immediately.
Nutrition
Calories:
607
kcal
,
Carbohydrates:
54
g
,
Protein:
23
g
,
Fat:
32
g
,
Saturated Fat:
17
g
,
Cholesterol:
243
mg
,
Sodium:
1073
mg
,
Potassium:
359
mg
,
Fiber:
3
g
,
Vitamin A:
905
IU
,
Vitamin C:
1.8
mg
,
Calcium:
88
mg
,
Iron:
1.8
mg
Nutrition information is automatically calculated, so should only be used as an approximation.
This post was originally created in September 2014 and has been updated with more fun facts and tidbits for your reading pleasure.