The perfect poached egg is a quick, easy and healthy method for making breakfast eggs.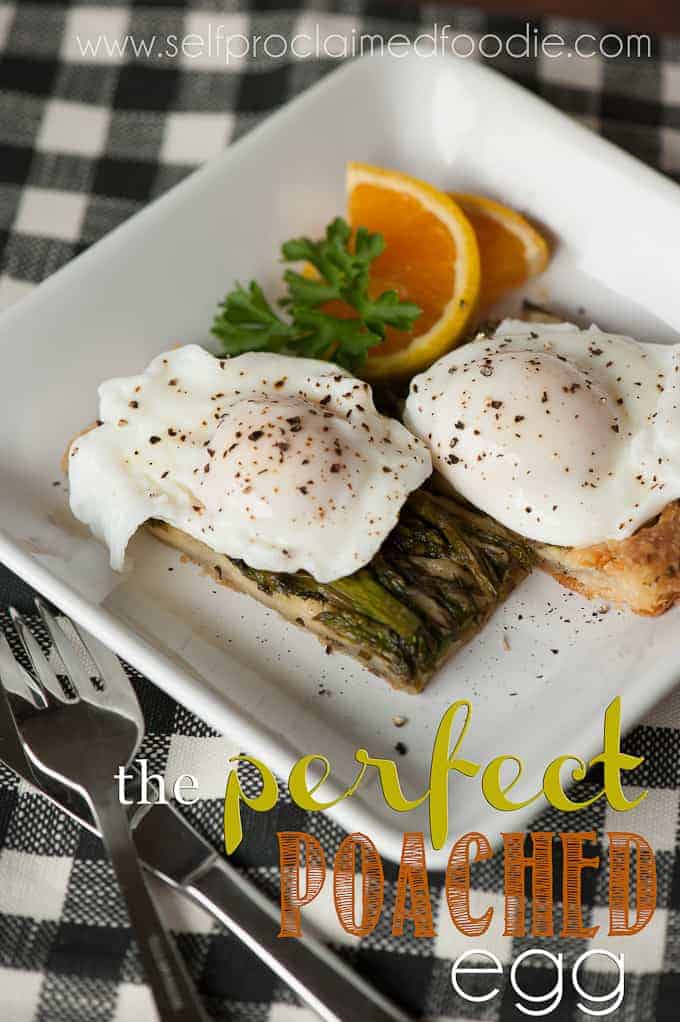 Making the perfect poached egg is rather easy. Poached eggs are super healthy because you cook them without butter or oil. Perfection is achieved when there are no messy stringers, your egg white is cooked through perfectly and your yolk is still runny for dipping. Impress others with eggs benedict or other poached egg recipes for the perfect brunch.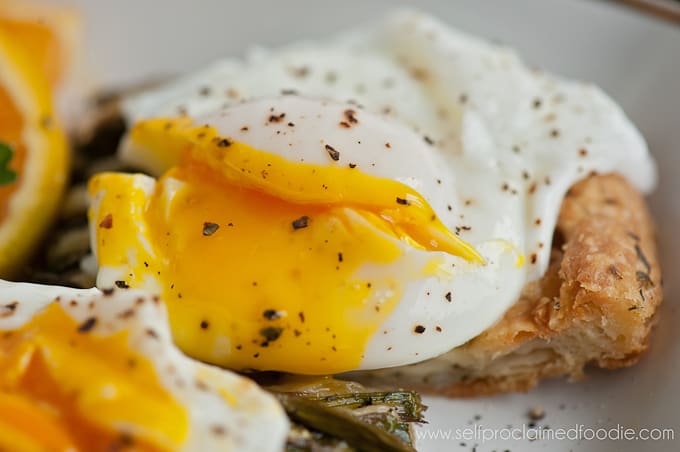 I'm friends with some pretty talented home chefs, yet even they shy away from the elusive poached egg. Most everyone sticks to scrambled or fried. Why? Most people that claim they can't make a poached egg have either tried and failed miserably, or are too chicken (get it? chicken? egg?) to try. Poached eggs are so easy to make and they're downright gorgeous. I used to be afraid of making poached eggs until I bought these little silicone floaty things. Did they work? Most the time, but the shape of the eggs were so perfectly domed that they bothered me. I wanted to know how to make a real poached egg. So, after a lot of research and experimentation, I think I pretty well have it perfected, as evidence by these mouthwatering photos (and you better believe I ate them as soon as I was done taking photos.
I think the main tip I can share with you is to be gentle with the eggs and then trust your instincts to determine if they're done. I'm not going to tell you exact times to cook your eggs because there's too much variability in not only the temperature of the water, but also how done you prefer your egg to be cooked. I'll just tell you how I make my poached eggs.
Also, if you notice that the yolks are huge and a vibrant color orange, then I'm very proud of you for being aware of such high quality eggs. You see, we get our eggs every week from "Egg Man". I don't know his name. He works with convert-foodie husband. We just call him Egg Man. Every week my husband comes home with a couple dozen eggs. Egg Man has a large piece of property and lots of egg laying hens. I never know what we're going to get – big or small eggs, brown or pale green or beige eggs. The only thing I can always count on are HUGE bright orange creamy yolks and hard thick shells. The yolks are so thick that when I make scrambled eggs, the yolks stick to my bowl and I have to scrub the dish just to loosen them. These eggs are so amazingly delicious that if we run out because I forgot to remind my husband to get more, I fall into a minor state of depression. If you can get pasture eggs from someone, you should. I think its appropriate to close this post with that public service announcement. You are welcome.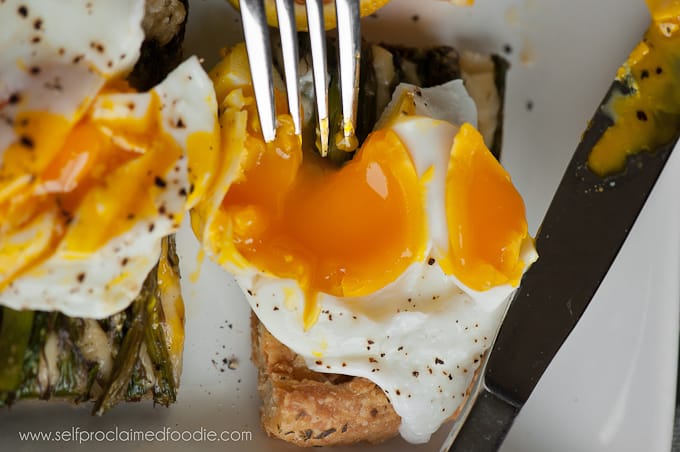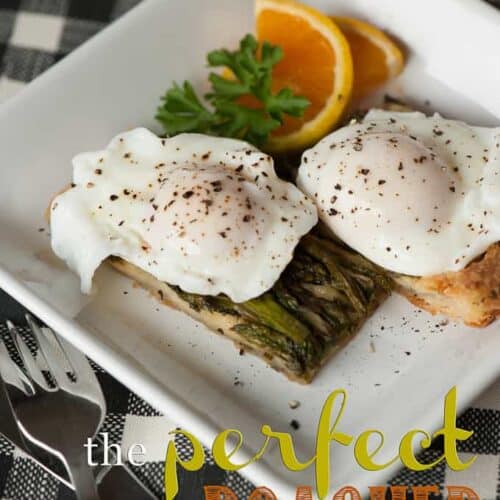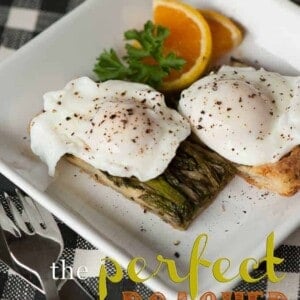 The perfect poached egg is a quick, easy and healthy method for making breakfast eggs.
Instructions
Fill large stockpot with at least four inches of water. Bring to a rolling boil. Add vinegar and cover. Reduce heat so that the water stays as hot as possible without maintaining a boil.

Crack one egg into a tea cup. Gently pour the egg into the water from the cup, holding as close to the water's surface as possible.

Repeat with as many eggs as you feel comfortable cooking at the same time, ensuring there is enough room such that the eggs don't touch. Cover.

After at least 30 seconds has passed to ensure the egg has partially cooked, release any eggs that may be sticking to the bottom of the pot by gently easing a spatula underneath.

To check doneness, use a slotted spoon to lift the egg to the water's surface. Remove from water when white appears firm but yolk is still jiggly.
Nutrition
Calories:
68
kcal
,
Protein:
5
g
,
Fat:
4
g
,
Saturated Fat:
1
g
,
Cholesterol:
163
mg
,
Sodium:
63
mg
,
Potassium:
60
mg
,
Vitamin A:
240
IU
,
Calcium:
25
mg
,
Iron:
0.8
mg
Nutrition information is automatically calculated, so should only be used as an approximation.