Chicken and Waffles, made with crispy buttermilk fried chicken and scratch made waffles, is a classic Southern breakfast recipe.
These are a perfect combination. Crispy spicy moist fried chicken on top of a crisp-on-the-outside soft-on-the-inside heavenly waffle, smothered in pure maple syrup. Whoever came up with this weird marriage is a hero in my book!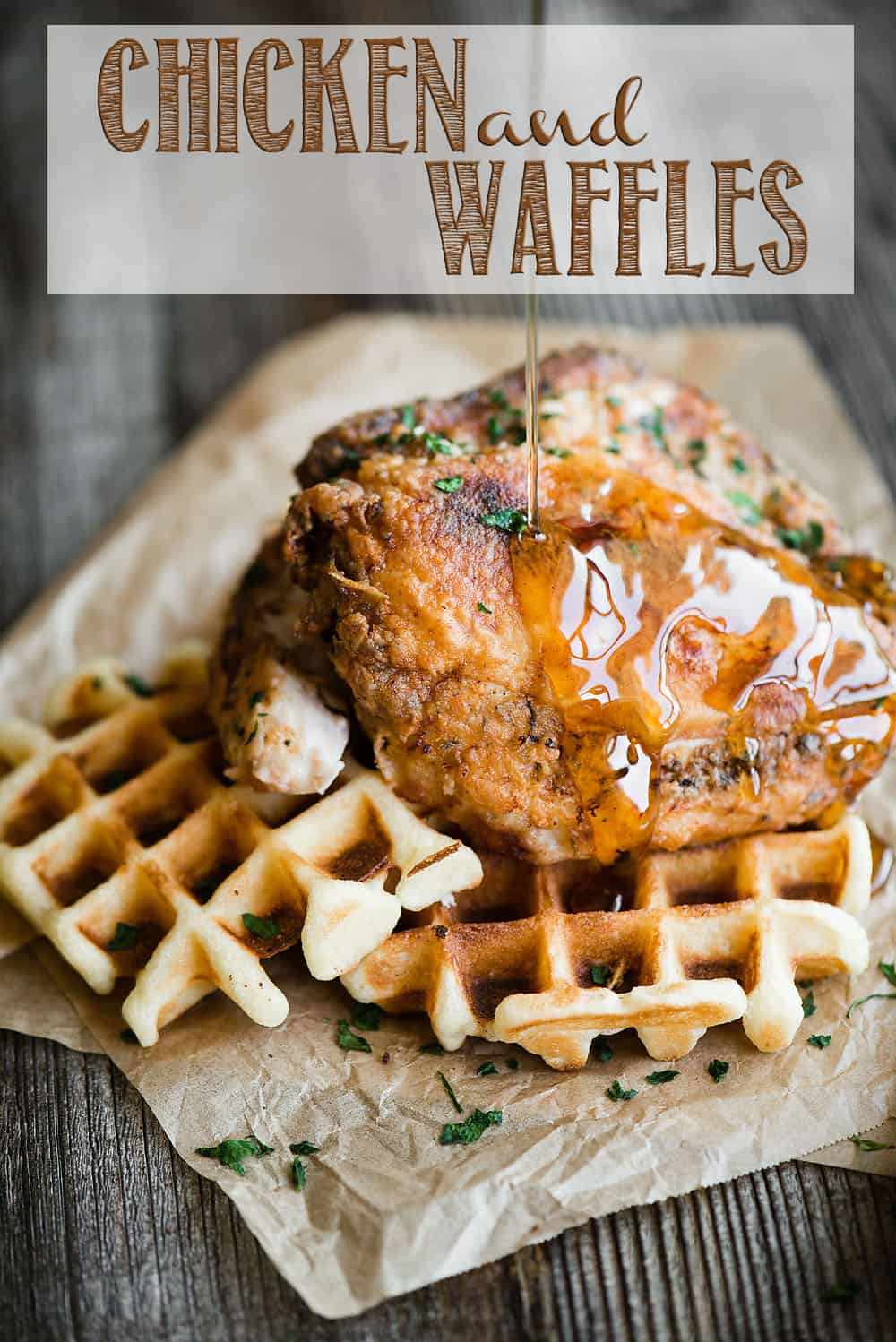 Why this recipe works:
Chicken and Waffles is something that you typically order in a restaurant instead of make at home. Why? Because real Buttermilk Fried Chicken and homemade Belgian Waffles aren't super easy to make.
I wouldn't say either recipe is particularly that difficult, but they both take time and technique. Sometimes it's just easier to wait an hour in line on a Sunday morning on the other side of town.
But easier isn't always best. That's why you should make this recipe at home. You won't regret it.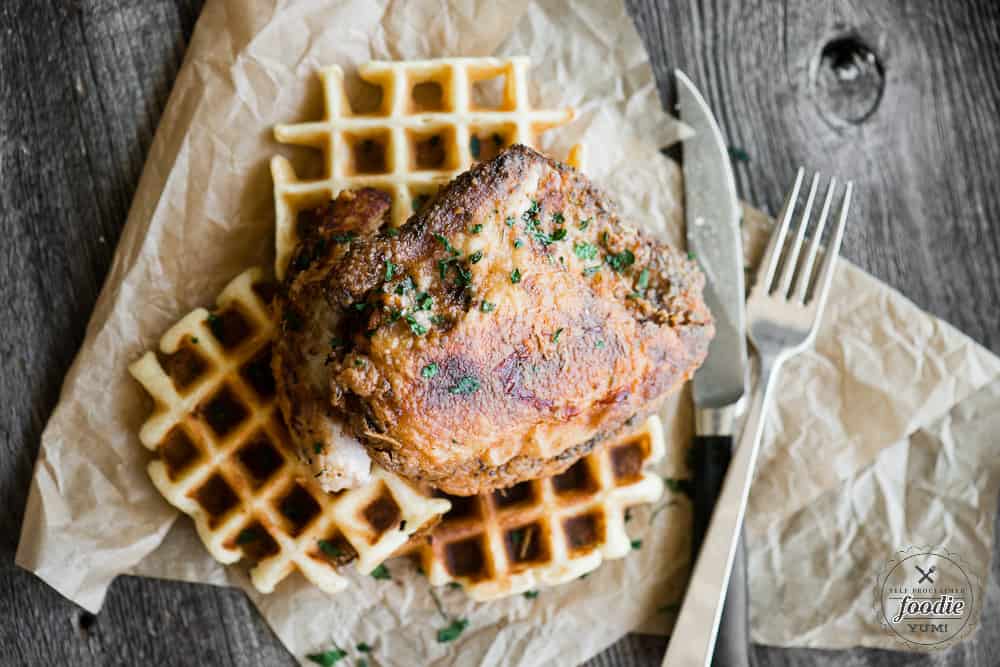 Why is chicken and waffles a thing?
Chicken and waffles are a weird, yet delicious combination.
This recipe is an American classic. Soul food at it's finest.
If you've never had the pleasure of eating chicken and waffles, you may be a little baffled at this combination. Fried chicken is something we enjoy at dinner with mashed potatoes and gravy. It just doesn't get any better. And waffles usually don't get much more exciting than a fruit topping.
But, for whatever reason, the combination of hot Southern fried chicken that's crispy on the outside and moist on the inside and perfectly cooked waffles is pure heaven. Sweet meets savory and the result is pure satisfaction. If you've never tried them, you must.
Do you put syrup on them?
Yes. But if you're going to go to the effort of making this recipe, please oh please use real maple syrup. If the ingredients on your syrup are anything other than pure maple syrup, you'll break my heart.
If you're worried about what fried chicken tastes like with sweet maple syrup, just remind yourself that we pair sweet with meat all the time. BBQ sauce is sweet, right?
How do you make homemade chicken and waffles?
Obviously, there are two main components to this recipe: the chicken and the waffles.
Buttermilk Fried Chicken:
The key to super moist and delicious fried chicken is a buttermilk soak. Don't skip this part.
After you've sufficiently soaked the chicken in buttermilk and spices, you'll coat it and fry it. Make sure your oil is hot before you add the chicken and be sure to give the chicken enough room. Don't crowd it. Don't worry - you can keep it warm in a very low temperature oven until you're ready to serve.
Belgian Waffles:
It is absolutely worth it to invest in a really good waffle maker. I have an All-Clad and couldn't love it more.
Don't be intimidated by the recipe. The trick is to beat your egg whites until they form nice peaks but don't beat them to the point of breaking. Then, gently fold them into the batter. Gently.
Once you've made the chicken and waffles, just serve them up with warm syrup and satisfy those taste buds!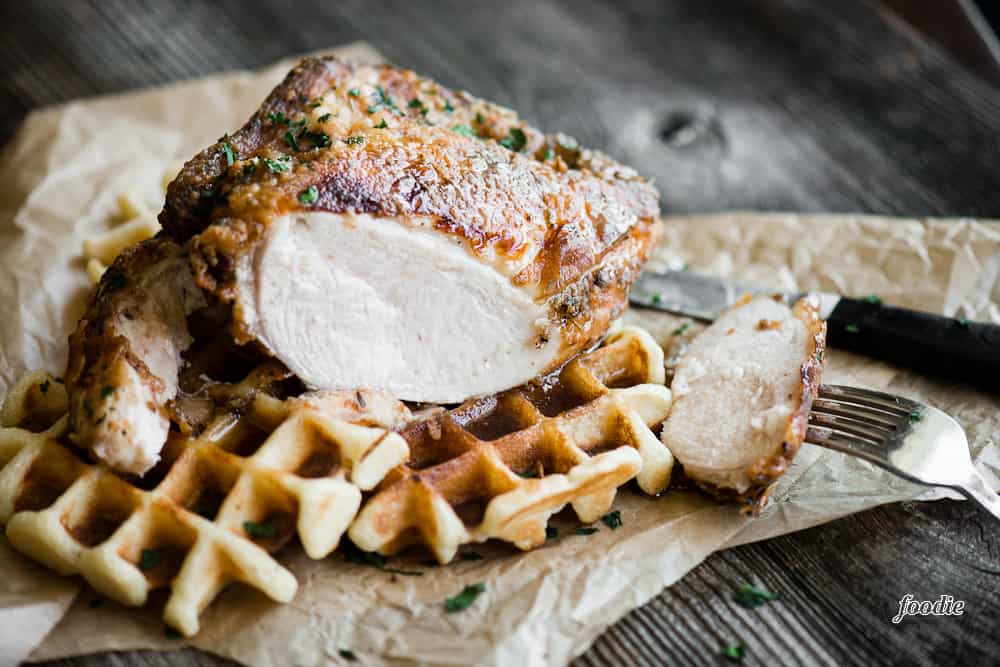 Full Recipe Instructions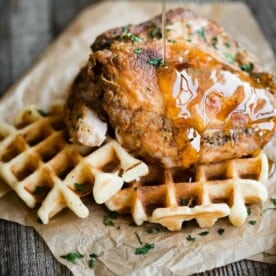 Ingredients
Instructions
TO MAKE THE FRIED CHICKEN:
Combine chicken pieces with black pepper, salt, paprika, rosemary, thyme, oregano, sage, white pepper, and cayenne in a large bowl or resealable plastic bag to coat.

Add buttermilk to fully coat chicken. Refrigerate for at least 6 hours.

Combine flour, salt, paprika, cayenne, garlic powder, white pepper, and onion powder in a large resealable plastic bag or shallow dish.

Remove chicken from the buttermilk and and shake to remove any excess. Dredge each piece in the seasoned flour. Shake off any excess and transfer to a plate.

Heat cooking oil in a large Dutch oven to 350 degrees F. Add the white meat pieces of chicken to the pan and cook for 16-18 minutes, turning halfway through. Remove chicken from the oil and transfer to a cooling rack set over a paper towel lined baking sheet. To keep warm, set on baking dish, tent with foil, and keep warm in 200 F degree oven.

Allow oil to once again heat to 350 degrees F. Add the dark meat pieces of chicken to the pan and cook for 18-25 minutes, turning halfway through. Remove chicken from the oil and transfer to a cooling rack set over a paper towel lined baking sheet.
TO MAKE THE WAFFLES:
In a large bowl, combine flour, granulated sugar, brown sugar, baking powder, and salt.

Separate egg yolks from egg whites. In a separate bowl, lightly beat egg yolks. When melted butter has cooled enough to touch but is still melted, combine with room temperature milk and vanilla. Mix well, then combine with beaten egg yolks.

Using a stand mixer with the whisk attachment, beat egg whites until soft peaks form and can just barely hold their shape. Take care not to over or under mix them.


Transfer wet ingredients (milk, butter, egg yolk, vanilla mixture) to the dry ingredients and stir by hand to combine. Add beaten egg whites and fold them into the mixture. Take care to gently mix in order to fully incorporate but also keep as much air in the mixture as possible.


Bake in a preheated waffle iron according to manufacturer's directions until golden brown.

Notes
FOR THE FRIED CHICKEN:
The oil should be at 350 degrees F to start, but when the chicken goes in it will drop to about 300 degrees. It should rise back to 305-310 degrees F  and the heat should continually be monitored and adjusted so that the temperature is held steady at these values.
Internal temperature of cooked chicken should be about 165 degrees F. The white meat should take less time to cook than the dark meat.
Since most of the buttermilk and a great amount of the oil is discarded, the nutritional information was based on consuming ¼ cup buttermilk and ½ cup cooking oil, divided amongst the 8 servings.
Makes 4 extra large waffles (16 5" squares). Each serving gets ½ large waffle (2 squares each).
NUTRITION INFORMATION
Calories:
1118
kcal
|
Carbohydrates:
86
g
|
Protein:
44
g
|
Fat:
65
g
|
Saturated Fat:
31
g
|
Cholesterol:
305
mg
|
Sodium:
921
mg
|
Potassium:
890
mg
|
Fiber:
2
g
|
Sugar:
29
g
|
Vitamin A:
2005
IU
|
Vitamin C:
2.7
mg
|
Calcium:
281
mg
|
Iron:
5.8
mg