Classic Belgian Waffles are the perfect breakfast! Crispy on the outside and heavenly soft on the inside, this is the best recipe! Just a few easy steps using the proper techniques combined with a really nice waffle iron, and you will achieve perfection!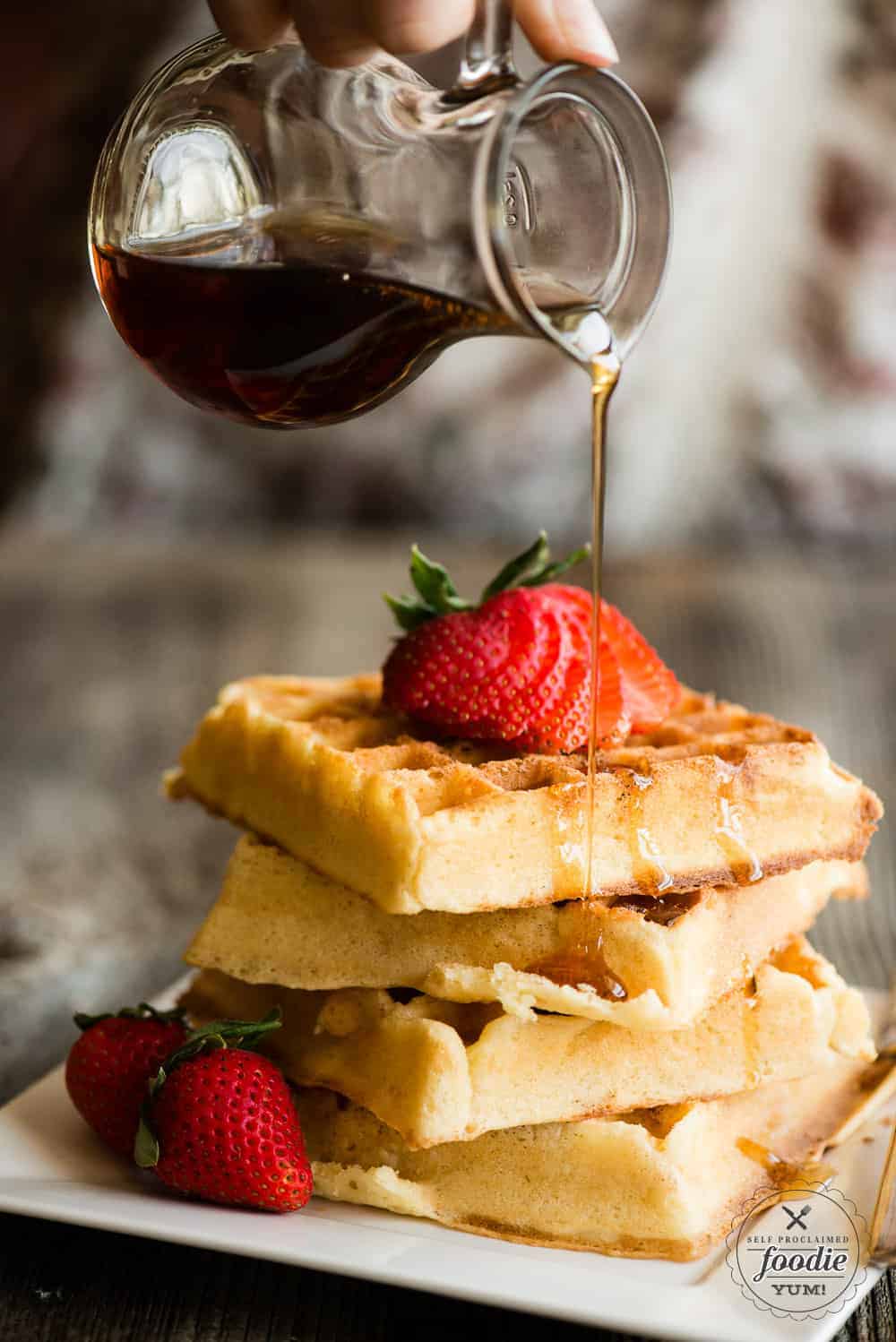 Classic Belgian Waffles are what weekend breakfasts are all about. Sure, we indulge in all sorts of breakfast treats like homemade biscuits and country sausage gravy. And who can resist the occasional batch of hot gooey monkey bread.
But if you ask my family what their favorite breakfast is, these Belgian Waffles will definitely make the top five. That's pretty impressive considering how many different kinds of breakfast we enjoy!
What is the difference between a waffle and a Belgian waffle?
There are two main differences:
The waffle maker. For traditional waffles, you can use a classic waffle maker. If I'm not going the extra mile to make Belgian waffles and am using a (gasp) just-add-water mix, then a classic waffle maker does the trick. A Belgian waffle maker, on the other hand, is much larger with deep wells. If you're in the market for one, you must invest in the All-Clad Belgian Waffle Maker. I bought mine this past Christmas as a present to myself and it was worth every penny. Any batter that spills over gets collected in a well for easy clean up and it cooks each and every waffle perfectly.
The waffle batter. Belgian waffles are lighter and fluffier than traditional waffles. This is accomplished by either adding yeast to the batter or, my preferred method, whipping the egg whites separately to incorporate air and fluff into the batter.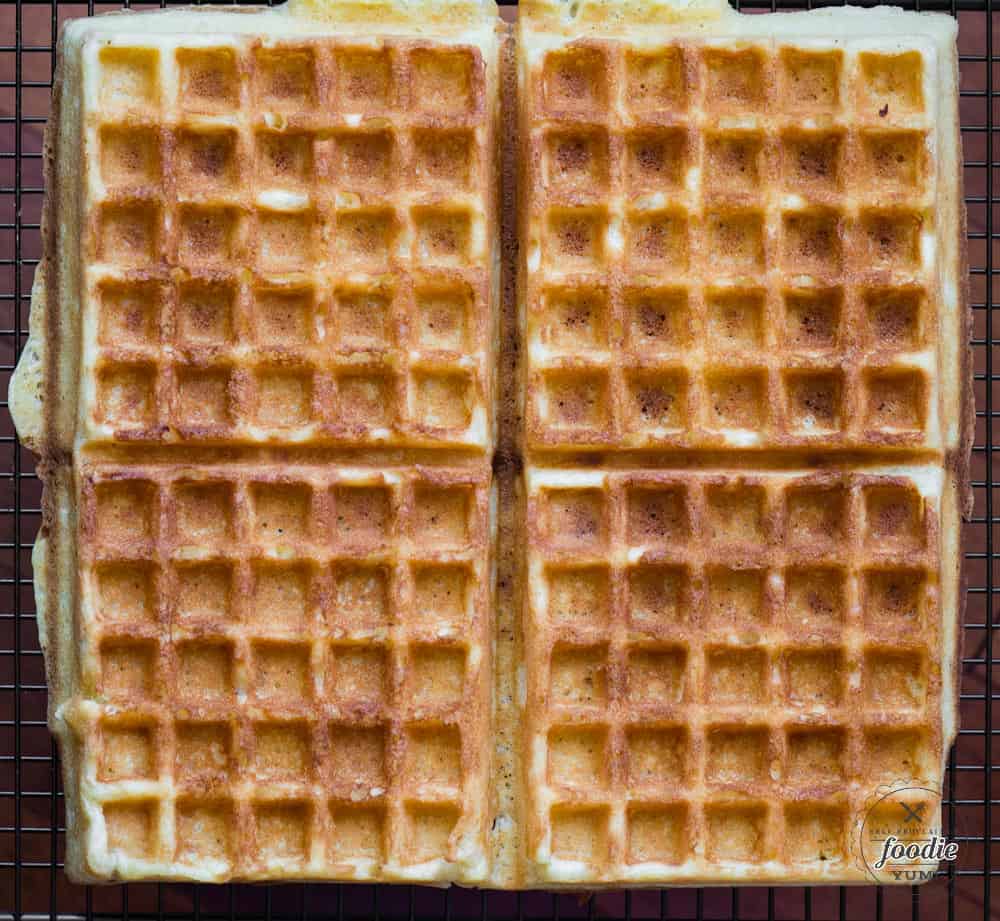 How to make Belgian Waffles:
There are three steps to properly mixing the Belgian Waffle batter in this recipe.
First, you must combine the dry ingredients. This is a pretty standard step.
Second, you will combine all of the wet ingredients (minus the egg whites). This step is only tricky because one of the wet ingredients is melted butter. You'll need the other wet ingredients to not be cold in order to not solidify the butter and you don't want the butter so hot that it cooks the egg yolk. You'll mix the wet and dry ingredients together.
Finally, you'll need to whip the egg whites. You'll want to whip them long enough that they can hold a peak, but not so long that they start to break. This step can take a bit of practice, but is really quite easy if you don't stress too much. You will gently fold the whipped egg whites into the batter. Fight the urge to stir it. Simply use a spatula to scoop the batter over the egg whites, rotate the bowl, repeat, repeat, repeat.
To cook your homemade Belgian waffles, simply spoon the batter onto the hot waffle maker, close the lid, and wait patiently while the magic happens. There's enough butter in the recipe that you shouldn't have to worry about them sticking, especially if you're using a high quality waffle iron, but you can always spray the surface first if you're worried they'll stick.
The longer they cook, the more brown and crispy they will be.
What do you put on a Belgian waffle?
The possibilities are endless.
I will travel long distances for an amazing plate of fried chicken and waffles (my recipe coming soon). Fresh fruit of any kind or recipes like my Apple Pear Pancake Topper are fantastic on a Belgian waffle. And one simply can't beat a crispy hot homemade waffle with a high quality butter and real maple syrup.
Please. For the love of all things delicious, if you're going to the trouble of making homemade Belgian waffles, do not use a cheap fake syrup. Pure maple syrup is worth every penny (as is that waffle maker!). Enjoy!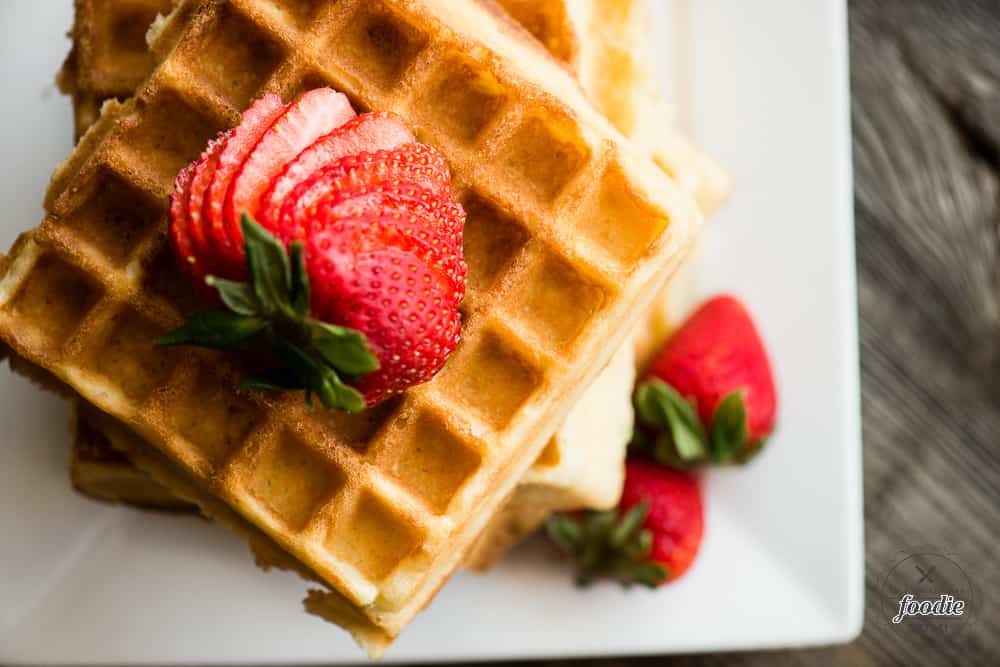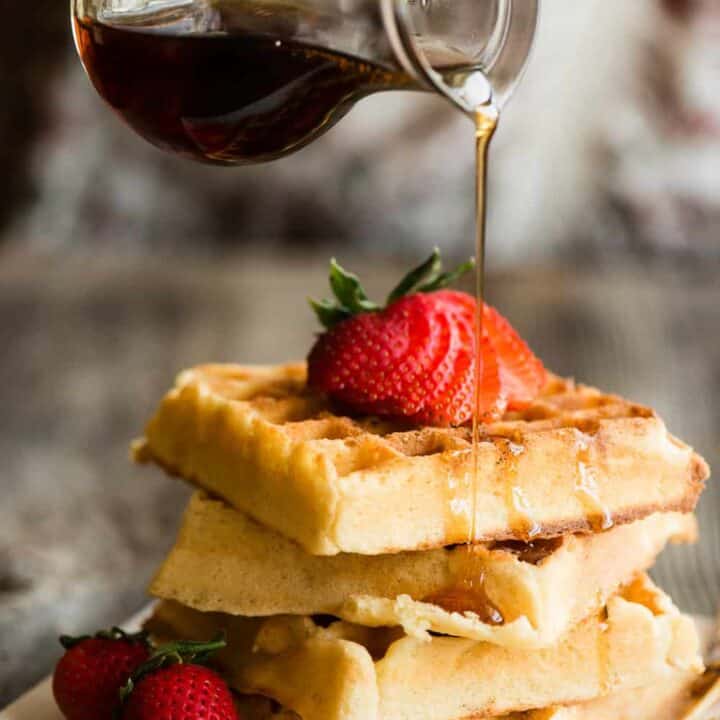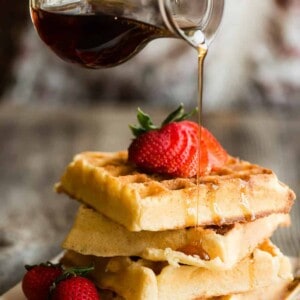 Classic Belgian Waffles are the perfect breakfast. Crispy on the outside and heavenly soft on the inside, this is the best recipe!
Instructions
In a large bowl, combine flour, granulated sugar, brown sugar, baking powder, and salt.

Separate egg yolks from egg whites. In a separate bowl, lightly beat egg yolks. When melted butter has cooled enough to touch but is still melted, combine with room temperature milk and vanilla. Mix well, then combine with beaten egg yolks.

Using a stand mixer with the whisk attachment, beat egg whites until soft peaks form and can just barely hold their shape. Take care not to over or under mix them.

Transfer wet ingredients (milk, butter, egg yolk, vanilla mixture) to the dry ingredients and stir by hand to combine. Add beaten egg whites and fold them into the mixture. Take care to gently mix in order to fully incorporate but also keep as much air in the mixture as possible.

Bake in a preheated waffle iron according to manufacturer's directions until golden brown.
Notes
Makes 4 extra large waffles (16 5″ squares)
Nutrition
Calories:
325
kcal
,
Carbohydrates:
33
g
,
Protein:
4
g
,
Fat:
19
g
,
Saturated Fat:
11
g
,
Cholesterol:
84
mg
,
Sodium:
106
mg
,
Potassium:
250
mg
,
Sugar:
14
g
,
Vitamin A:
640
IU
,
Calcium:
123
mg
,
Iron:
1.4
mg
Nutrition information is automatically calculated, so should only be used as an approximation.