Black Eyed Peas made with tender shredded pork roast and vegetables are quick and easy to make in the Instant Pot. No soaking is required and this recipe is so flavorful! You can enjoy this Southern black-eyed peas recipe any time of the year, but it's always a favorite on New Year's Day.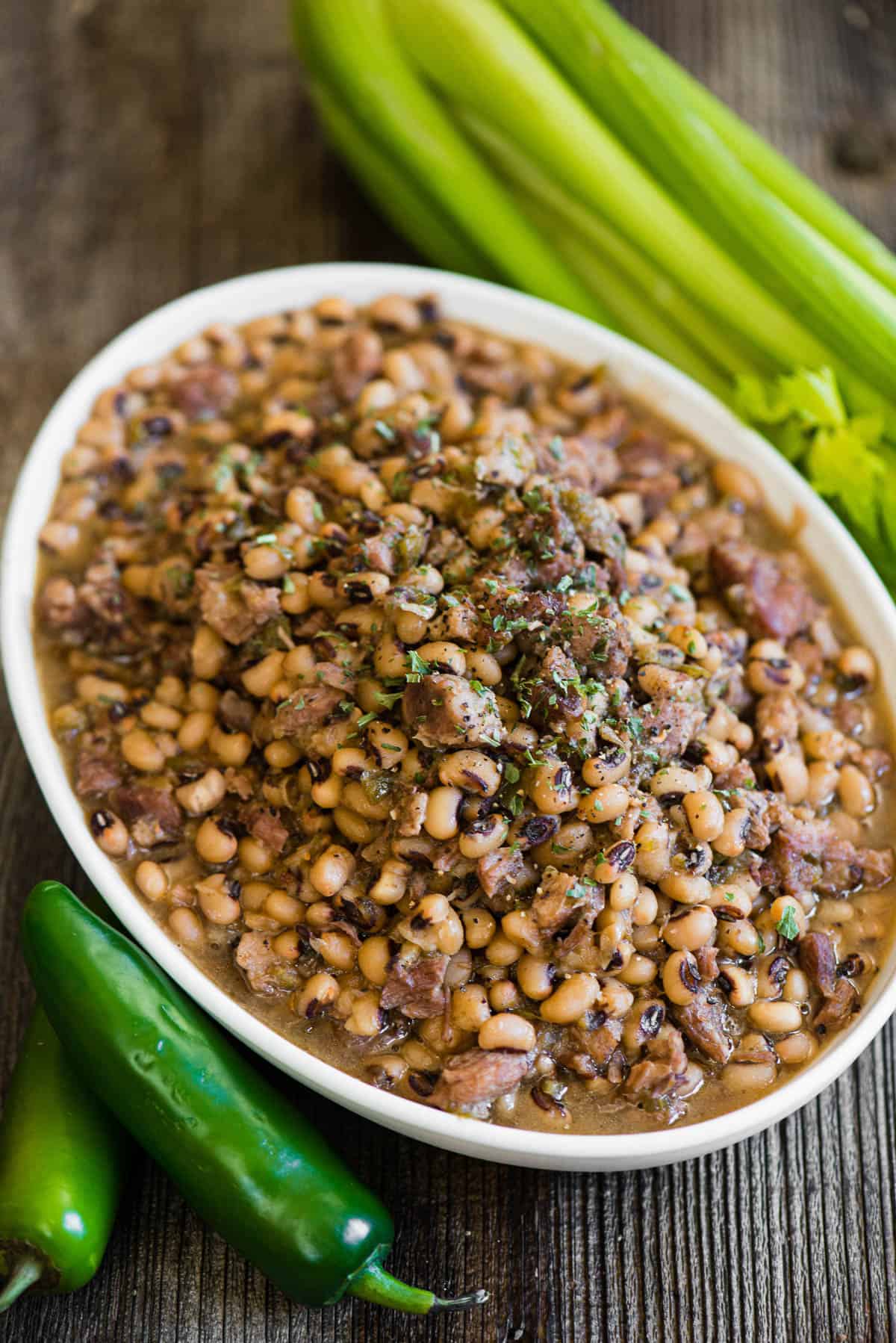 Why This Recipe Works
There are so many reasons to love these Southern style Instant Pot black eyed peas. Beyond the incredible taste, here are more reasons why you will love this recipe.
No soaking required. Typically, any time you use dried beans you'll need to soak them to soften them. Just a quick rinse is all that is needed when using the Instant Pot. From there, the beans will turn out completely soft and moist without being mushy.
Easy Instant Pot Recipe. Not only can you sear the pork shoulder roast before cooking it for that added boost of flavor and texture, but everything then gets cooked in the same pot. With most slow cookers, you'll need to sear the meat on the stove first. Why dirty another dish? This, combined with the fact that the cooking time is much shorter when compared to a slow cooker, is why I prefer to cook black-eyed peas in the Instant Pot.
Versatile Recipe. Unless you're making a vegetarian or vegan version of the recipe, black-eyed peas are almost always made with pork. I prefer to make mine with a pork shoulder or pork butt roast, but most commonly they are made with ham hocks, bacon, or leftover holiday ham. Serve it as a side dish or the main course!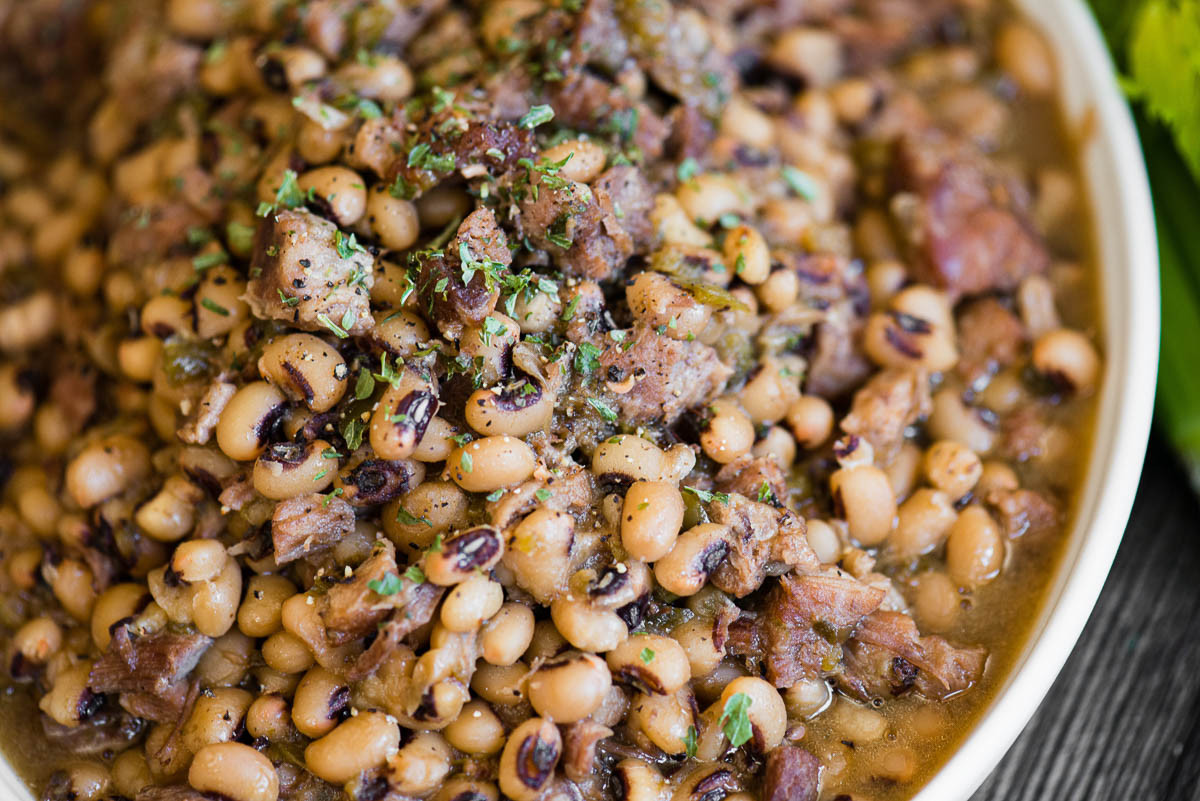 Ingredients Needed
Exact quantities can be found in the recipe card below. Only a few simple ingredients create this perfect meal.
dry black-eyed peas
pork shoulder roast with a bit of vegetable or olive oil to sear it in
onion, celery, bell pepper, jalapeno (for a little kick), and garlic
salt, black pepper, and garlic powder
chicken broth, some hot sauce (like Tobasco) for a bit more of a kick, and some bay leaves
How to Make This Recipe:
If you're used to making these in a crockpot or on the stove top for hours and hours, this Instant Pot recipe is going to blow your mind. Full and complete instructions can be found in the recipe card below.
Rinse the black-eyed peas
Because you are making this recipe in the Instant Pot, there is no reason to soak them overnight. Simply add them to a colander and rinse. Easy enough.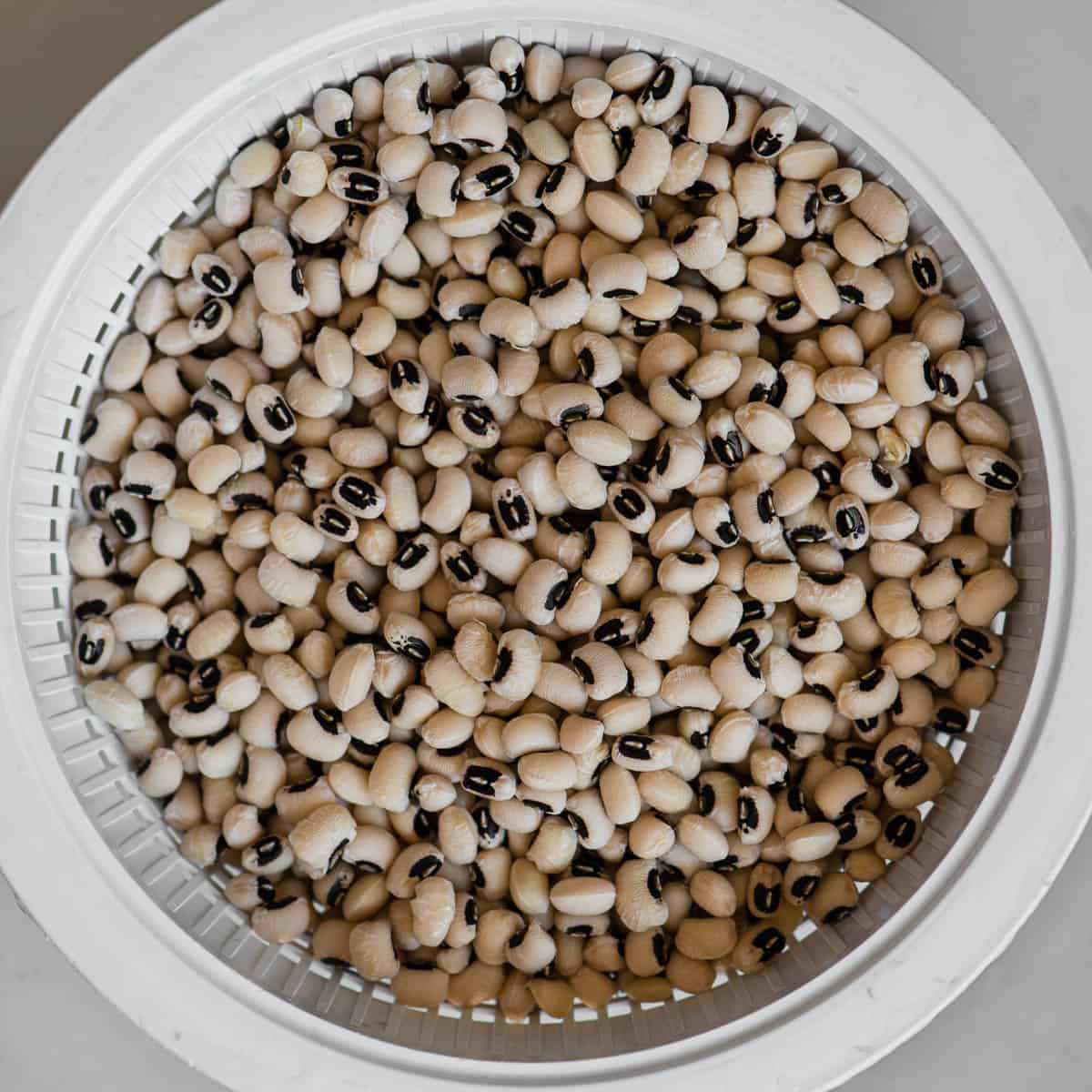 Sear the pork
Cut the pork into tiny cubes and sear it in oil in the Instant Pot. The trick is to do it in small batches to avoid overcrowding the meat. To get a nice sear, do not turn the meat until the bottom is nice and crispy.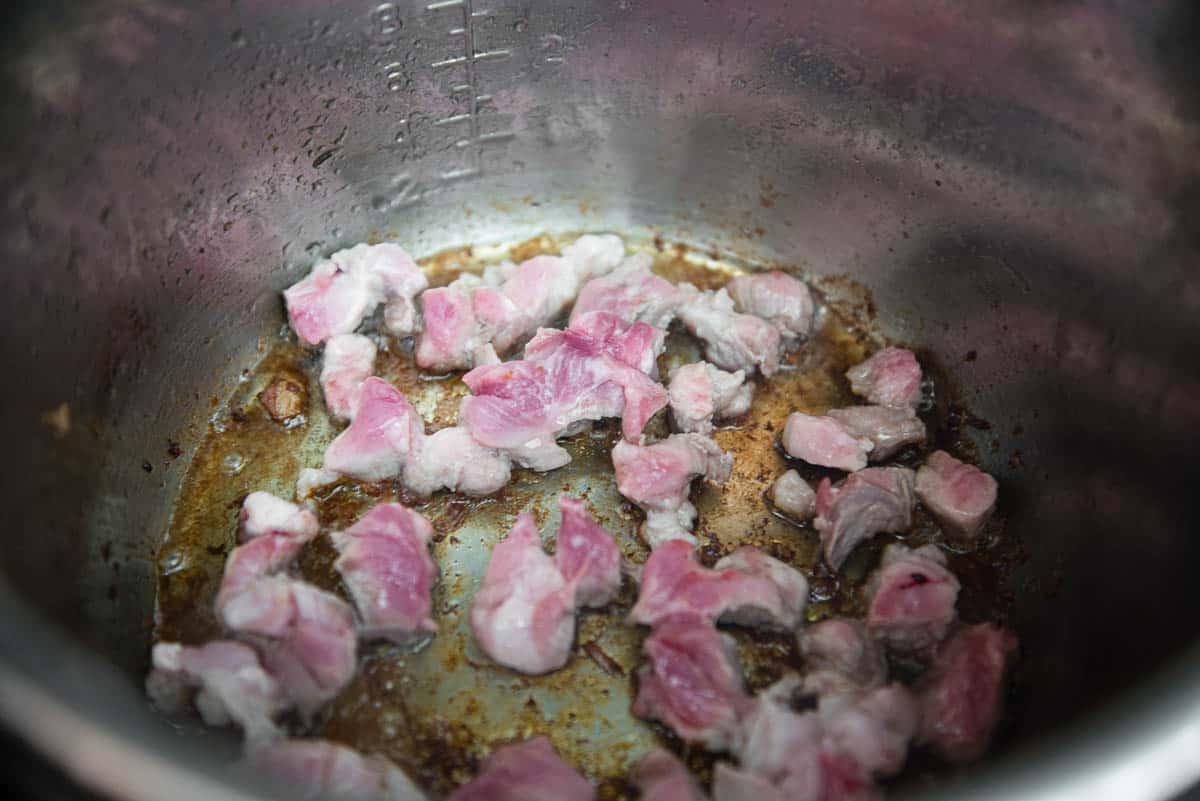 Sear the vegetables
Set that seared meat aside and give your veggies a quick sear. This also helps loosen any of that wonderful meat that got stuck to the bottom.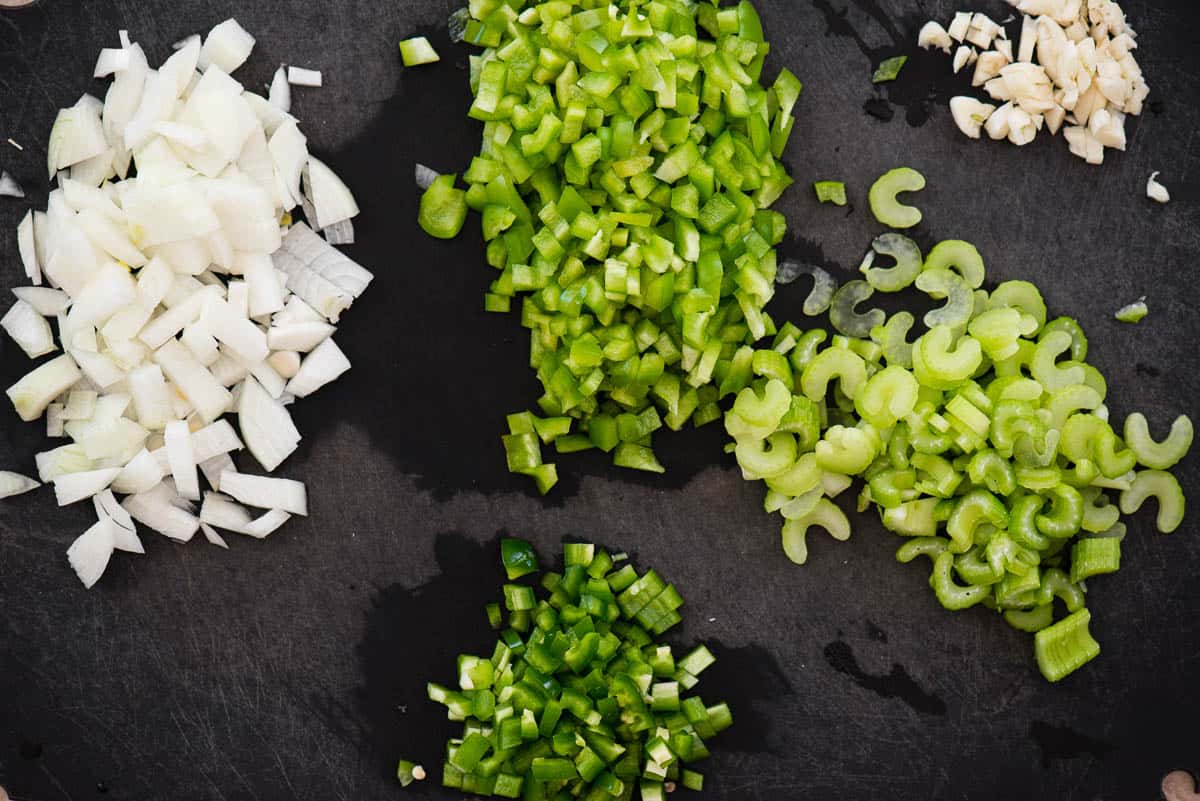 Pressure cook
You'll put all of the ingredients except for the peas in the pressure cooker and cook it for about 10 minutes under pressure.
Cook the black eye peas
Release the pressure. Open the lid, add the beans, stir, close the lid, then cook on high pressure for another 15 minutes. Done!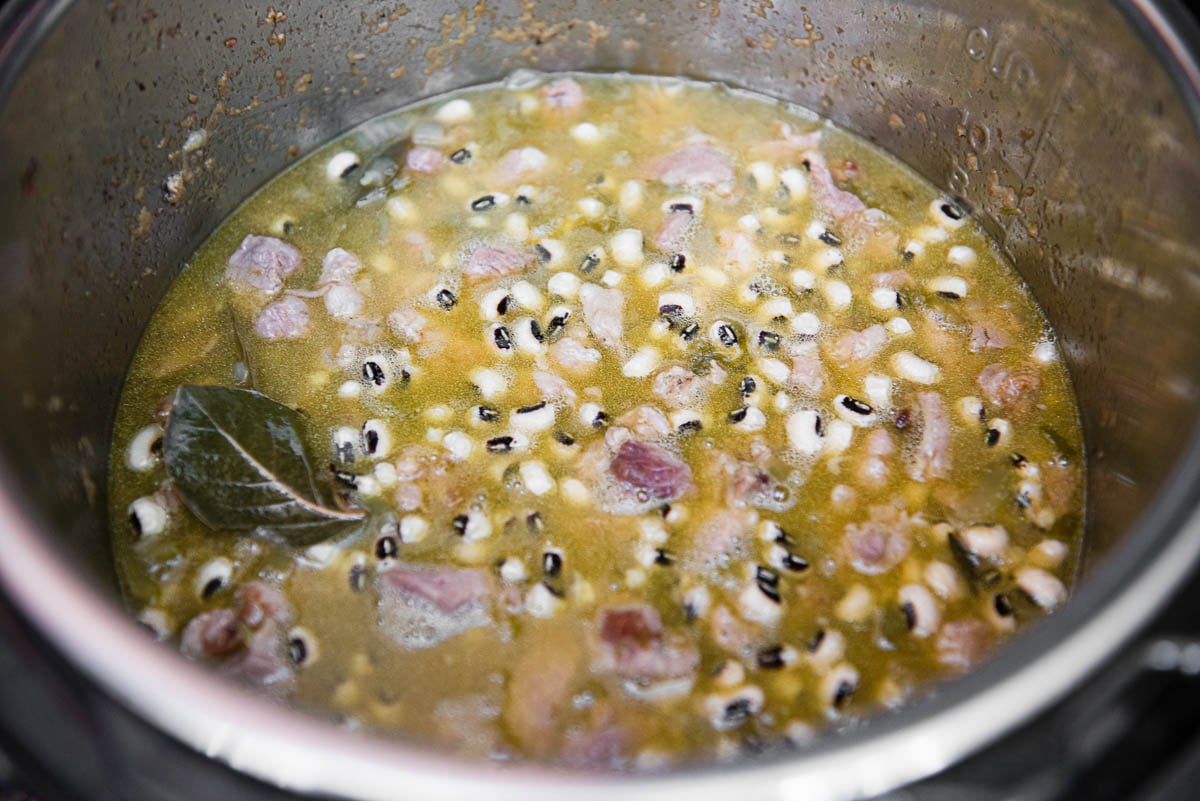 FAQs
Do I need to soak black-eyed peas before cooking?
Not with this recipe.
Why Do We Eat Black-Eyed Peas on New Year's Day?
Southern-style black-eyed peas are synonymous with New Years Day. According to Southern tradition, they are believed to bring good luck and prosperity throughout the coming year. This tradition started sometime around the Civil War.
There are several theories as to why people associate black-eyed peas with good luck if eaten on New Year's Day, but no one is completely sure of the origin of this tradition. I'm not very superstition, but this is one tradition I enjoy celebrating!
What does a black-eyed pea taste like?
They have an earthy taste that is similar to white beans but a thicker skin. Black-eyed peas have a creamy, yet dense, center. If not cooked properly, they will be crunchy and difficult to digest. But, if cooked properly, they will melt in your mouth.
Is Hoppin' John and Black-Eyed Peas the same thing?
Hoppin' John is another classic Southern cuisine recipe that is popular on New Year's Day. It, too, is made with black-eyed peas and pork, however, one of the key differences from this recipe is that it is served over rice.
What to Serve With Black-Eyed Peas?
To create a full meal, you'll definitely want to serve black-eyed peas alongside some Collard Greens and homemade cornbread!
Storage and Reheating
Store any leftovers in an airtight container and refrigerate. Leftovers also freeze extremely well.
To reheat, either microwave on low power, stirring every minute until heated through, or reheat on the stove in a large saucepan over low heat.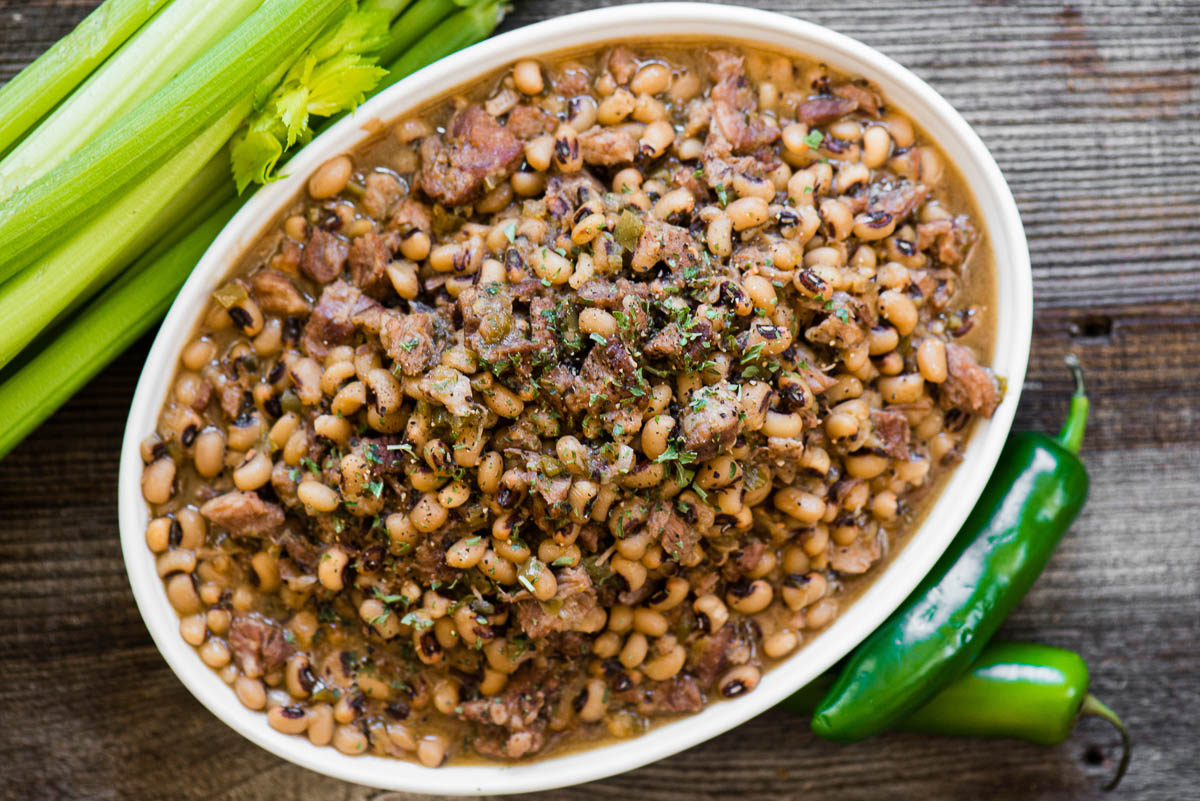 If you've never made this easy black-eyed peas recipe, I hope you're willing to start a new tradition with this soul food staple!
If you've made this or any other recipe on my site, let me know in the comment section how it turned out. I love hearing from my readers!
You can also follow along on PINTEREST, FACEBOOK and INSTAGRAM to see more amazing recipes to satisfy any foodie craving!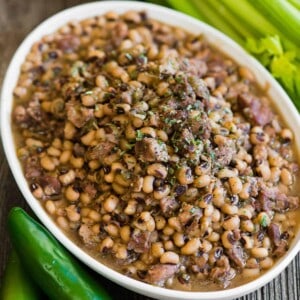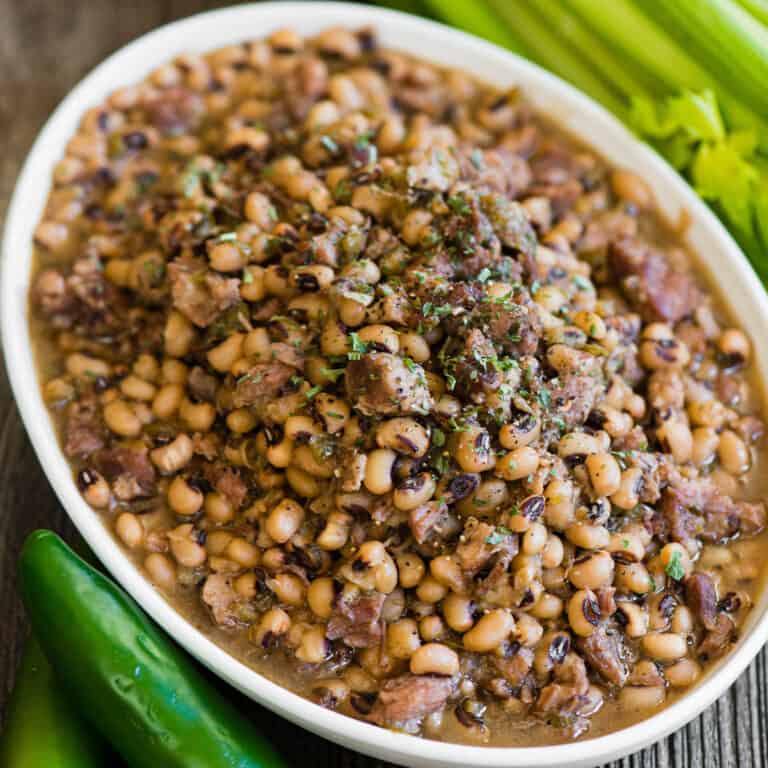 Black Eyed Peas with tender shredded pork roast are quick and easy to make in the Instant Pot. No soaking required and this recipe is so flavorful!
Ingredients
1

pound

black-eyed peas

dried

2

tablespoons

vegetable oil

or olive oil

2

pounds

pork shoulder roast

diced into 1/2-inch cubes with any large chunks of fat removed

1

medium

onion

diced

2

ribs

celery

diced

1

bell pepper

seeded and diced (green or red)

1

jalapeno

seeded and diced

4

cloves

garlic

minced

1

tablespoon

kosher salt

1

teaspoon

freshly cracked black pepper

1

teaspoon

garlic powder

4

cups

chicken stock

2

teaspoons

vinegar based hot sauce

like Tobasco
Instructions
Rinse the beans in a collandar and set aside.

Heat the oil in the Instant Pot on saute mode. When the oil is shimmering, add the pork in small batches. In order to get a nice sear, I divided my pork into three batches. Allow to cook without stirring until the bottom is golden brown, then transfer to a plate. You do not want to cook the pork; just make one side nice and crispy. Continue with remaining pork until complete.

Add the onion, celery, bell pepper, jalapeno, and garlic to the Instant pot and cook, stirring while scraping up any bits stuck to the bottom, until lightly browned, about 6 to 8 minutes. The total cooking time for the pork and the vegetables was about 30 minutes for me.

Add the remaining ingredients (except for the black eyed peas) and the browned pork along with any juice from the plate back to the Instant Pot. Attach the lid, lock, and cook on high pressure for 10 minutes.

Quick release the pressure. Add the black eyed peas, stir, and then close lid and cook on high pressure for 15 minutes. Allow pressure to naturally release for 15 minutes, then release remaining pressure (if anto open the lid. Disgard bay leaves. Add additional salt, if desired. Serve and enjoy!
Notes
Unlike many black eye pea recipes, you do no need to soak them ahead of time. Just a thorough rinse when using the Instant Pot.
Nutrition
Calories:
256
kcal
,
Carbohydrates:
19
g
,
Protein:
21
g
,
Fat:
10
g
,
Saturated Fat:
5
g
,
Cholesterol:
50
mg
,
Sodium:
1101
mg
,
Potassium:
581
mg
,
Fiber:
4
g
,
Sugar:
5
g
,
Vitamin A:
495
IU
,
Vitamin C:
23.6
mg
,
Calcium:
33
mg
,
Iron:
2.6
mg
Nutrition information is automatically calculated, so should only be used as an approximation.
This recipe was originally published in October 2014 and has been updated with helpful information, ingredient and process photos, as well as recipe tips. Don't worry – the recipe hasn't changed!